There's only one thing better than a roaring fire on a wintry night: a roaring fire that needs no tending, requires minimal cleanup, and doesn't leave the rest of the house freezing cold. That's what you get with today's gas fireplaces. Long gone are the anemic blue flames and unconvincing "logs." Modern versions burn much more realistically, with glowing red embers and tall orange-yellow flames that dance and flicker around ceramic-fiber logs molded from the real thing.
Want to find the best gas fireplace for your home? Read on.
Types of Gas Fireplaces: Inserts, Log Sets & Built-Ins
Gas fireplaces come in three types: inserts, for folks who want to retrofit a wood-burning firebox with something more convenient and efficient; built-ins, for those who want a fireplace where there isn't one now; and log sets, basic burners that sit in existing, open fireplaces.
Both inserts and built-in fireplaces are reliable heat producers, filling your room with a mix of warm air and radiant heat. Log sets are usually more for looks than warmth. With each gas fireplace type, you have a choice between models that vent the flames' fumes outside or vent-free versions that discharge all their heat, and exhaust, into the house.
We'll help you pick the type of gas fireplace that's right for you. We'll also walk you through the key features to look for and explain how to get a unit that generates enough heat for your particular space. So when the first icy night of winter arrives, all it will take is a click of a remote control for you to cozy up in front of your blazing hearth.
Insert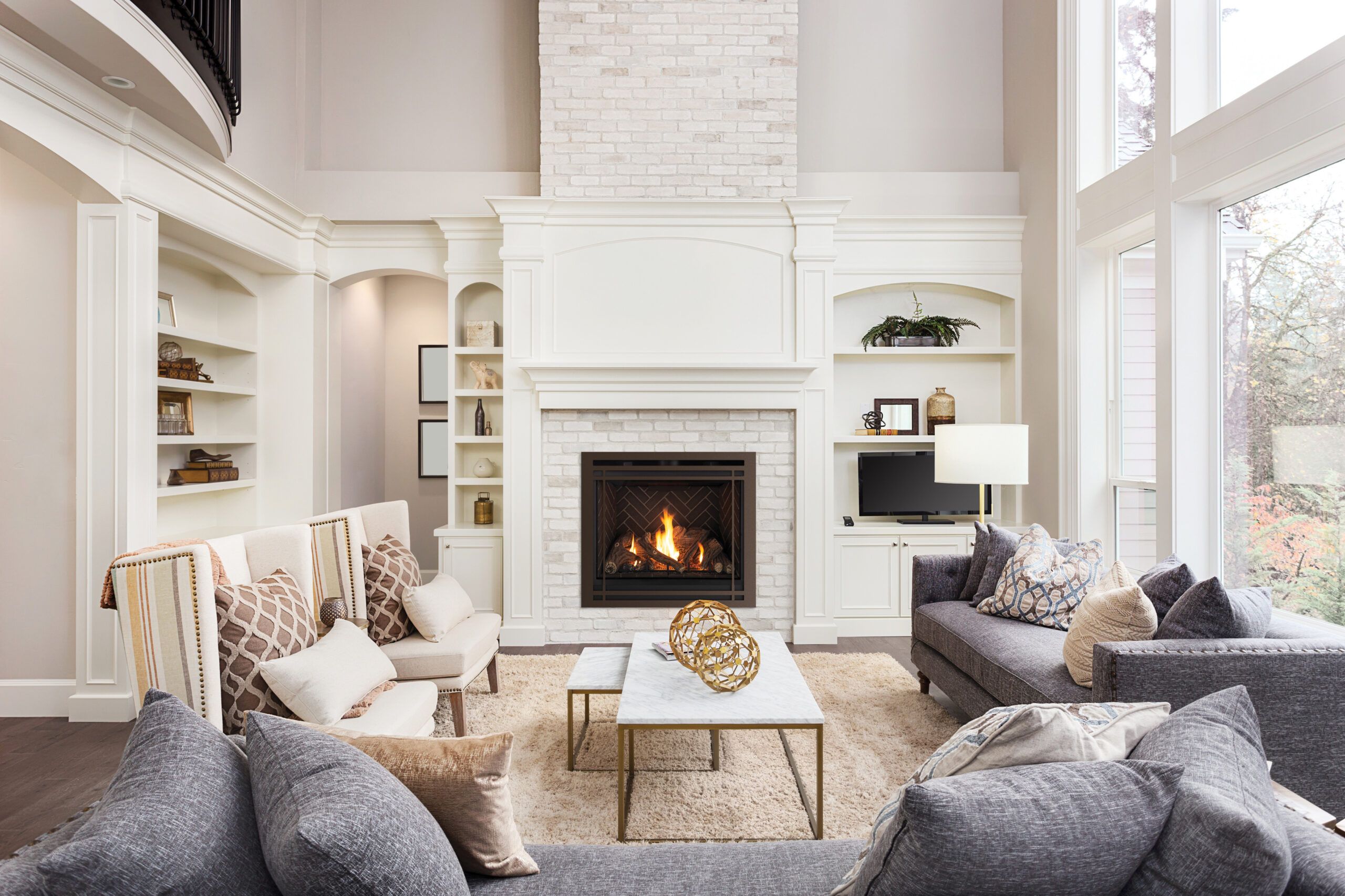 It's a log-and-burner set that sits inside a metal box surrounded by a larger metal box that fits inside an existing fireplace. An insert warms room air in the gap between the boxes and radiates heat from its firebox. Holes must be drilled for the gas and electrical lines. Available either vented, with a fixed glass panel in front of the flames, or ventless, with a fixed metal screen or glass panel.
For More: How to Install a Gas Fireplace Insert
Price: $2,000 to $4,000 installed.
Shown: Medina 31-inch direct-vent insert, 21,000-Btu output (maximum), $1,893; Lennox Hearth Products
Log sets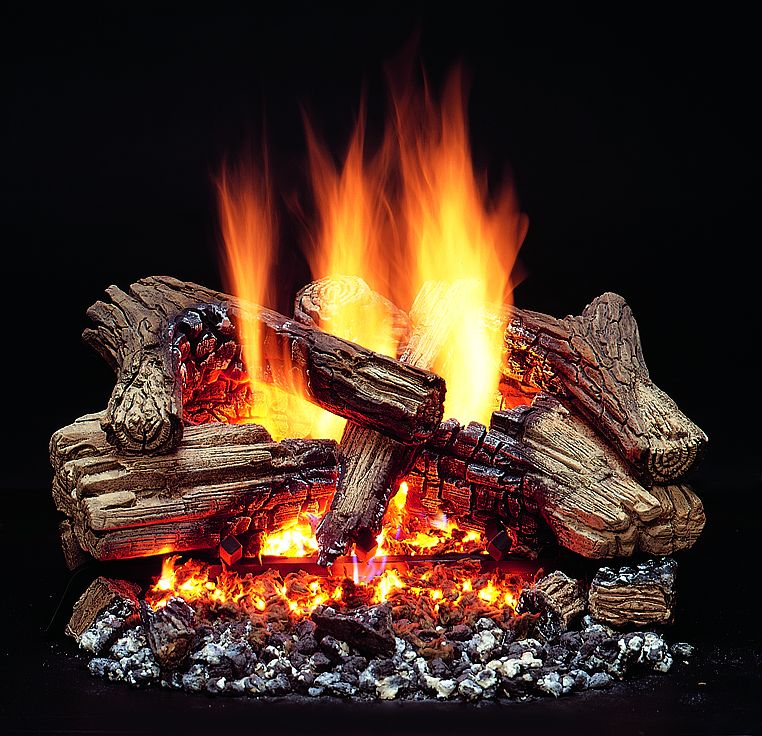 The least expensive choice, it's just a stack of ceramic logs with a gas burner that sits inside your existing fireplace. Installation requires drilling access holes for the gas and electric lines. Some units are ventless; others vent up the chimney. With vented sets, the damper has to be propped open at all times to prevent CO poisoning, so much of their heat—and your home's treated air—goes up the flue.
For More: How to Install a Gas Log Fireplace
Price: $400 to $1,000 installed.
Shown: Duzy 3 vented 30-inch log set, 17,000-Btu output; $933; Monessen
Built-In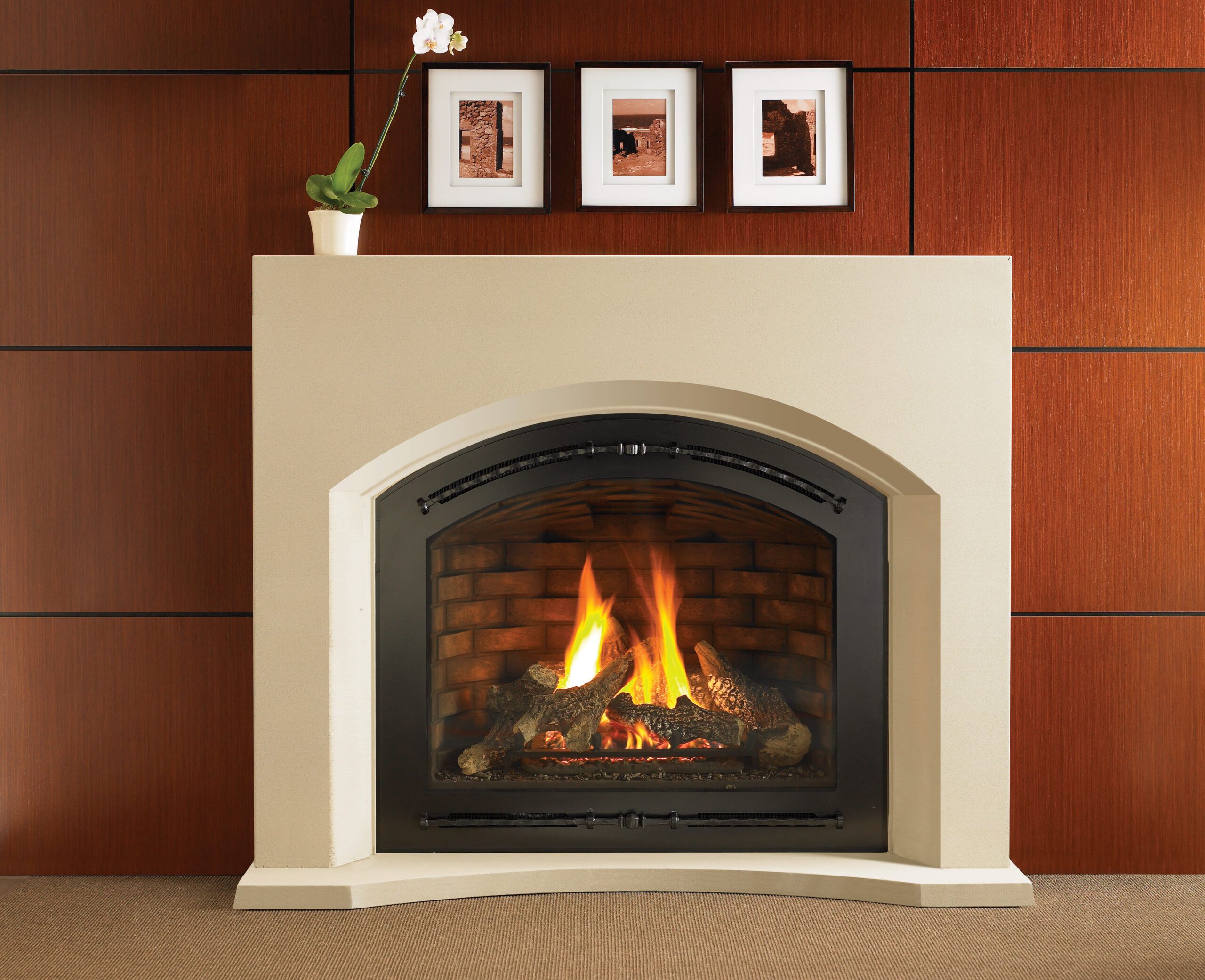 Although they're made like inserts, with metal box-within-a-box construction, built-in units don't require an existing fireplace or chimney. Vented units with fixed glass panels cycle air and exhaust directly through an exterior wall opening. Vent-free ones, which exhaust into the room, have a fixed metal screen or glass panel.
Price: $2,000 to $4,000; includes installation but not the mantel or surround.
Shown: Cerona 42-inch direct-vent fireplace, 29,000-Btu output (maximum), $3,808; Heat & Glo
Alternatives to Logs
Glass
A sparkling bed of tempered glass chips fits nicely in a modern fireplace. Prices start at $4 per pound. 36 pounds for a 24-inch firebox, $144; Diamond Fire Glass
Coal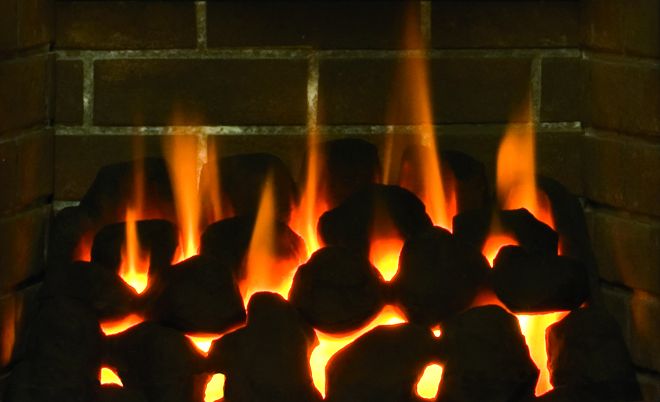 These black ceramic lumps generate a rosy glow reminiscent of the coal burned in Victorian-era parlors.
25 pieces for a typical coal basket, $39; Victorian Fireplace Shop
Stone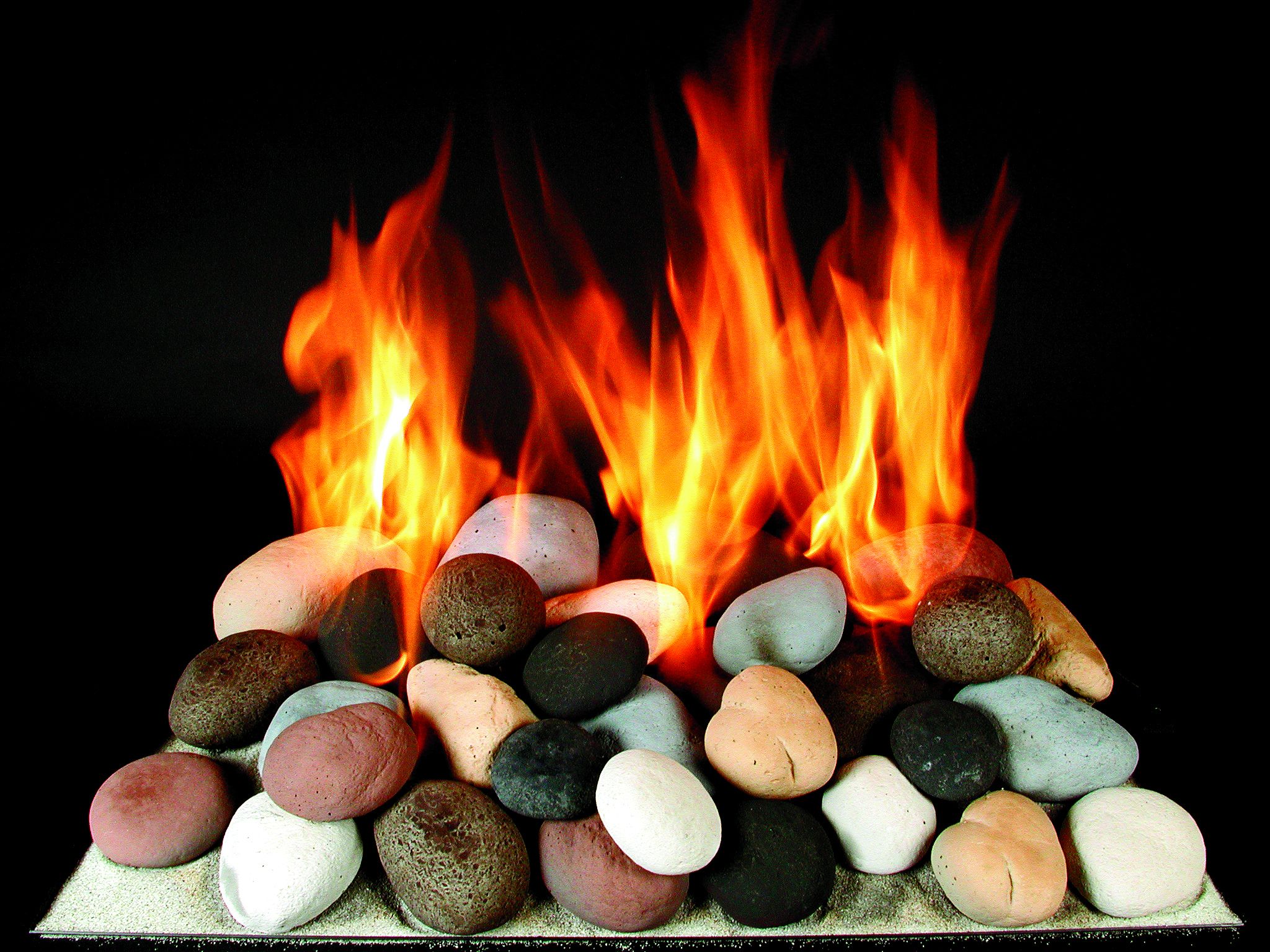 Calico-colored ceramic rocks have a rustic feel that would fit right in a mountain cabin.
32 pieces for a 24-inch fireplace, $259; Rasmussen Iron Works, Inc.
Traditional Replicas
At the height of the Victorian era, before the days of central heating, many urbanites warmed themselves with small, coal-burning fireplaces. Such fireplaces, with their decorative cast-iron surrounds, are still made today, although most people now opt for gas over hard-to-start coal.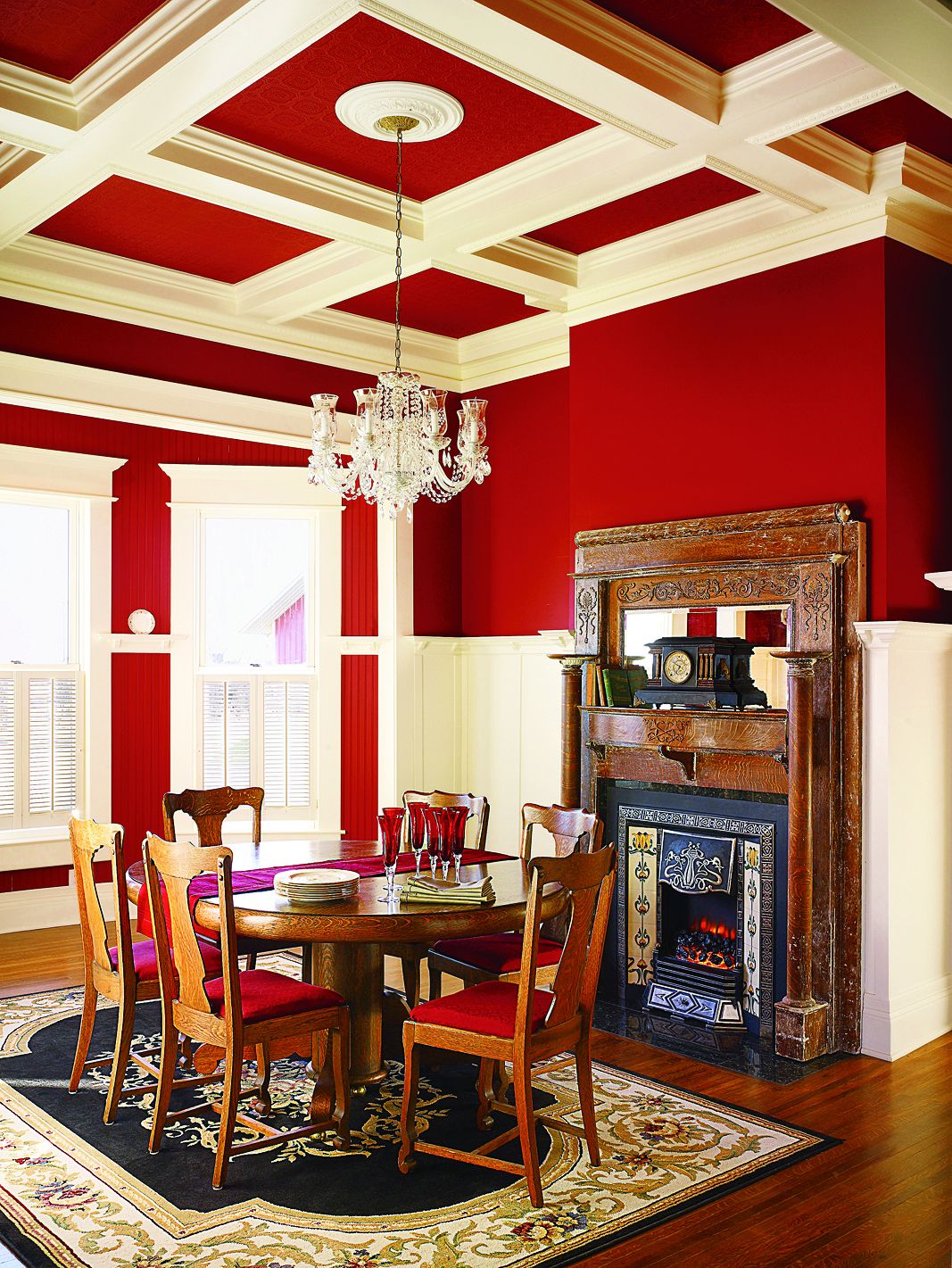 These replicas fit neatly into vintage coal- and wood-burning fireboxes or can be freestanding. Some have open flames and send emissions through metal B-vents; others have fixed glass panels with more efficient direct venting.
Similar to shown: Adorn 21½-inch B-vent, 7,320-Btu output, $1,900; Victorian Fireplace Shop
8 Reasons to Choose Gas
Wood-burning fireplaces provide great ambiance, but they can't beat the easy, no-fuss efficiency of gas.
You don't have to split, stack, season, or haul logs.
There are no ashes to bag, no smoky smells, no chimney to clean.
You can start, adjust, and snuff out fires with the touch of a remote control.
The fire needs no tending and won't die out from neglect.
A wall thermostat can control the flame size—and therefore heat output—to maintain a specific temperature setting in the room.
The fixed glass panels covering direct-vent fireboxes ensure that the furnace- or boiler-heated air in the rest of the house doesn't escape up the flue, as it does with a wood fire.
You can get as much as 75 to 99 percent of a fuel's energy back as heat, instead of the 10 to 30 percent for wood fires.
Gas fireplaces can go almost anywhere—in an upstairs bathroom, in a basement, or outdoors—without needing a chimney.
What to Consider When Choosing a Gas Fireplace
How much does a gas fireplace cost?
Expect to pay $2,000 to $5,000 (including installation) for a heat-producing insert or built-in fireplace. Decorative log sets run about $400 to $1,000.
Should you use natural gas or propane?
Gas fireplaces can burn either type. Natural gas is less expensive and produces about 5 percent more heat. Choose propane where natural gas isn't available.
Do you DIY or hire a pro?
For the safest, most efficient, and best-looking installation, leave the work to a local National Fireplace Institute-certified technician.
How much care and maintenance?
For about $150, have your certified technician come once a year to clean and adjust the burner, ensuring that you have realistic, soot-free flames.
How many BTUs?
A gas fireplace's heat output, in Btus, should match your room size, climate, and your house's insulation level.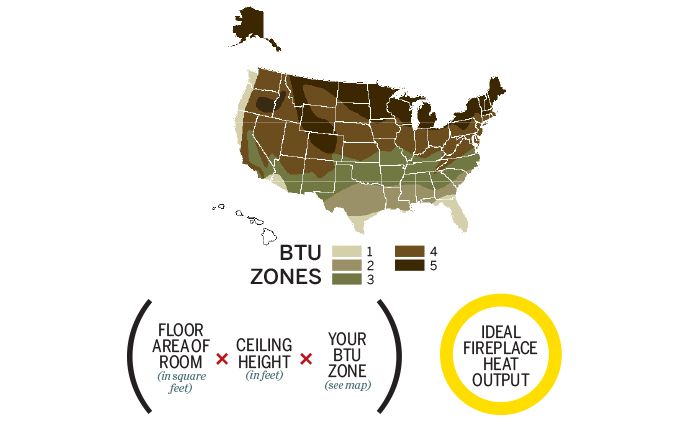 Gas fireplaces have a wide range of heat output, from about 7,000 to 60,000 Btus. Use this formula to determine which models generate enough heat to warm your room. The formula assumes that your house is well insulated and has tight windows, and that you like the temperature set at 72 degrees F.
Is a Vented or Ventless Gas Fireplace Better?
A gas fireplace doesn't produce smoke or odors, but its flames do create pollutants, such as carbon monoxide and nitrogen and sulfur oxides. Vented fireplaces send these emissions outside, while ventless ones direct them into your living quarters.
Vented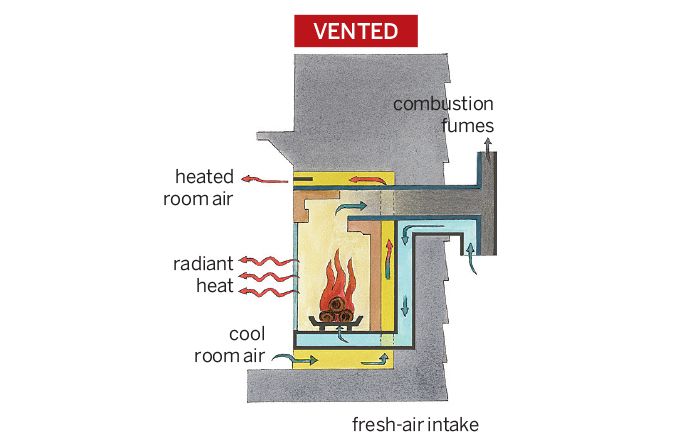 The safest, most efficient venting method is a two-pipe system known as direct vent. One pipe feeds fresh outside air for combustion to a sealed firebox and the other takes away the combustion fumes. The pipes can go up a flue or straight through an opening in an exterior wall, as shown. These units are 70 to 85 percent efficient.
A less common option, called B-vent, has a single pipe to carry away exhaust; the flames get combustion air from inside, making them about 50 percent efficient. B-vents should have a sensor to douse the fire if exhaust gases ever reverse course and come down the flue. Direct vents eliminate that risk.
Ventless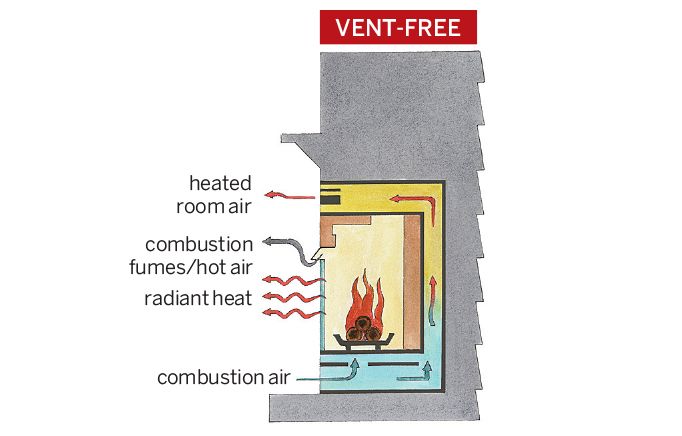 These units have no flue, so they can be installed anywhere—even hung on a wall like a flat-screen TV. They're up to 99 percent efficient because all their heat stays in the room—as do all the pollutants.
Because of concerns about air quality, indoor units are fine-tuned to burn extra clean, and their heat output is limited to 40,000 Btus. They have an oxygen-depletion sensor that automatically shuts them off if a room's oxygen level dips below 18 percent (20.9 percent is normal). Even so, vent-free units are banned in California and some U.S. cities.
Features to Look For
These upgrades enhance a fireplace's convenience, comfort, and good looks.
1. Variable-flame height adjustment
Allows you to dial in just the amount of heat you need, from a whisper of a flame to a roaring fire. (The best units adjust down to 30 percent of full output).
2. Wall-thermostat control
Automatically adjusts the fireplace's heat output to the temperature that you set manually or with a handheld remote.
3. Electronic ignition
Eliminates the need for a pilot light, saving up to $10 a month in fuel.
4. LED accent lighting
Adds a realistic flickering effect inside the firebox.
5. Battery backup
Ensures the fireplace will light during a power outage.
6. Built-in fan
Pulls indoor air into the space behind the firebox and pumps hot air out, heating a room in a hurry.
Where to Place a Gas Fireplace in Your Home
Bathroom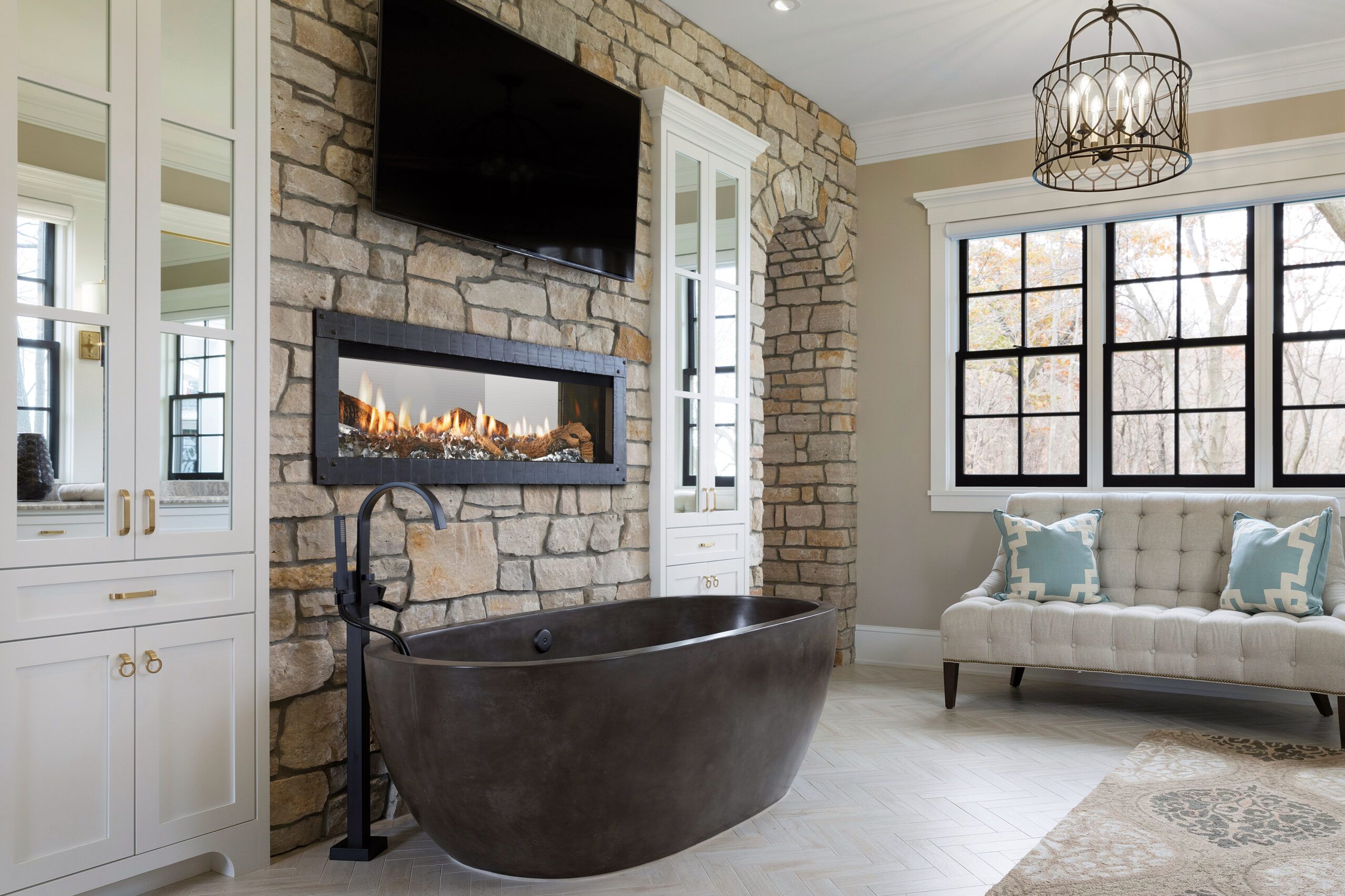 A fireplace above a bathtub? Yup, you can do it with gas. This modern double-sided unit also shows its flames in the adjacent bedroom.
Shown: Mezzo See-Through Gas Fireplace; Available in 36″, 48″, 60″ and 72″ single-side models also available. Starting at $6,905 by Heat & Glo
Bedroom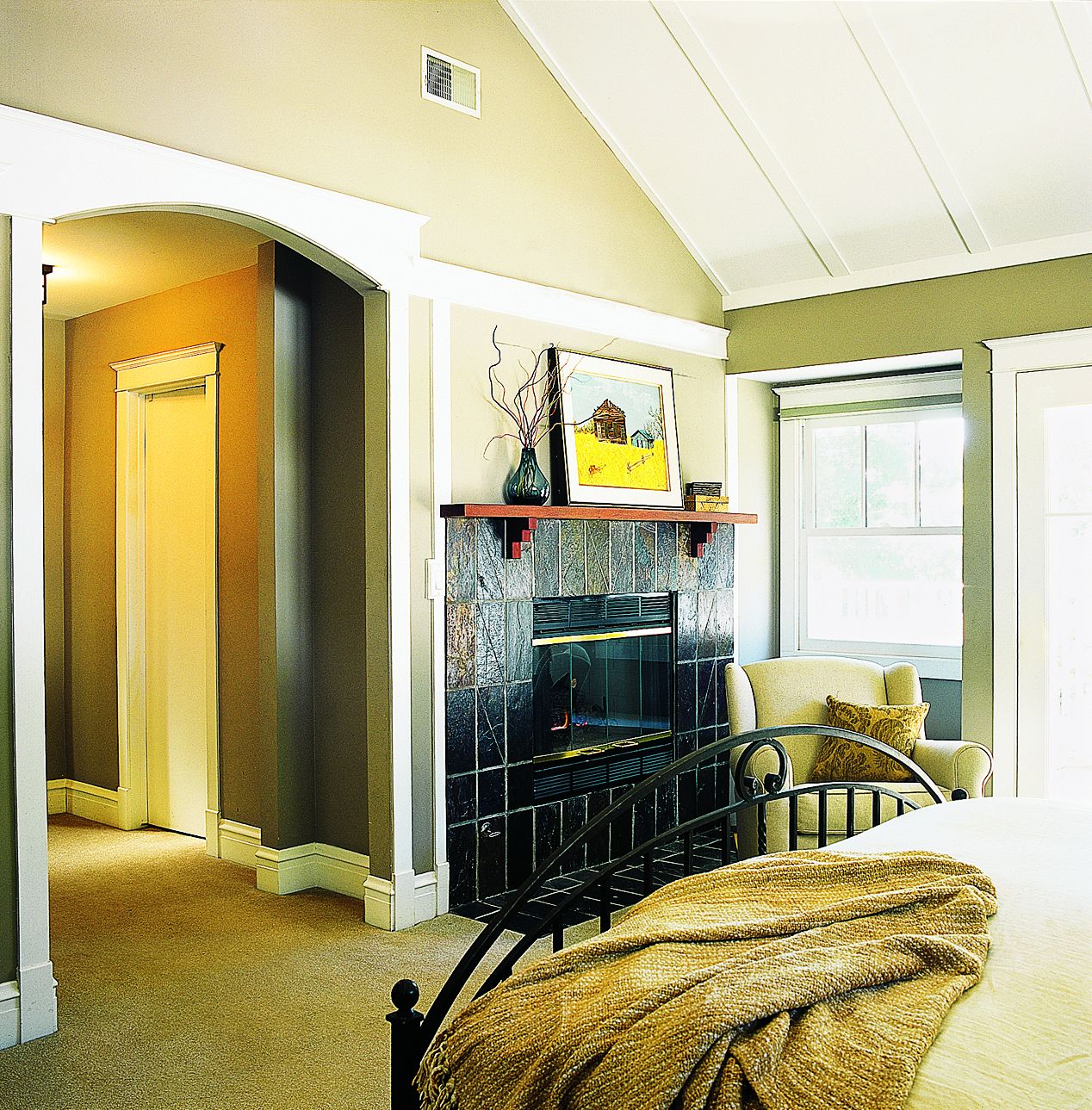 Not only is a fire romantic, you can use a remote to adjust flame size and room temperature without lifting your head from the pillow.
Similar to shown: Elite Series 40-inch direct-vent fireplace, 19,800-Btu output (maximum), $2,126; Lennox Hearth Products
Patio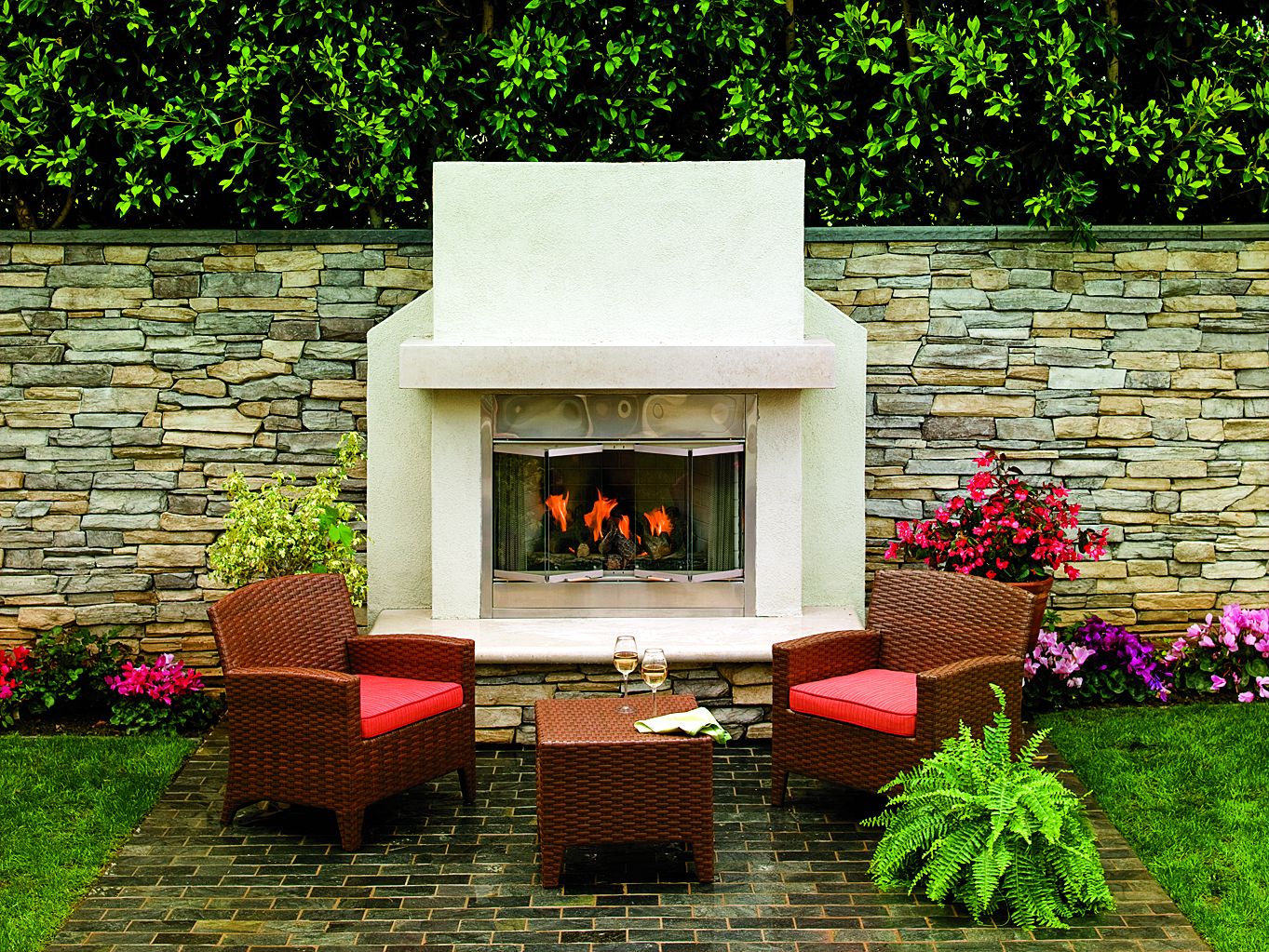 Cut the evening chill and add a flickering glow to your surroundings with a low-profile gas fireplace; no chimney needed. Outdoors, vent-free units have no Btu restrictions or oxygen-depletion sensors.
Similar to shown: Al Fresco 36-inch vent-free fireplace, 60,000-Btu output (maximum), $2,278; optional bifold glass doors, $324; Majestic Products
Living Room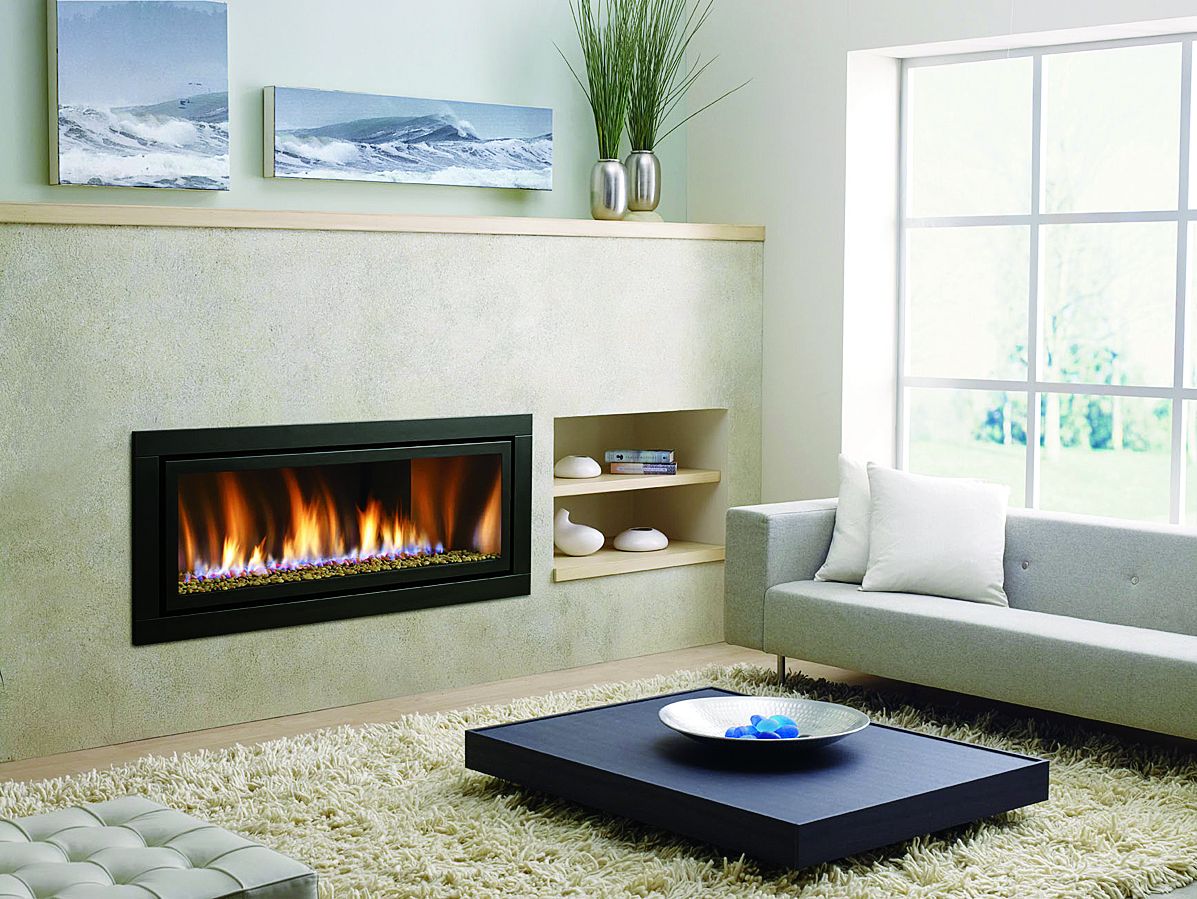 In this perennially favored fireplace location, gas creates looks you could never get before, such as this linear wall of fire burning up through a bed of glass.
Shown: Horizon 56-inch direct-vent fireplace, 29,050-Btu output (maximum), $4,800; Regency Fireplace Products
Basement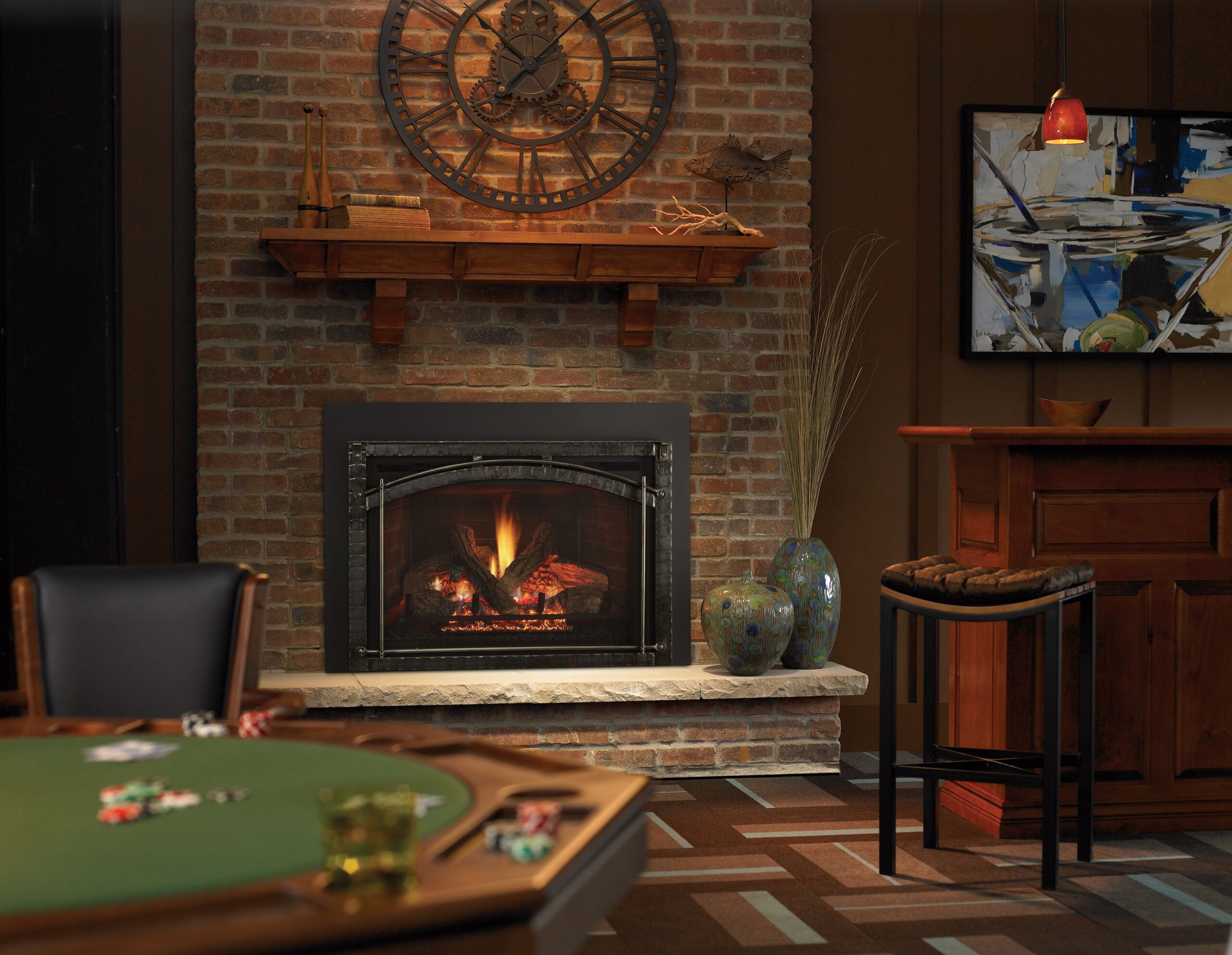 Direct-vent gas fireplaces are right at home in below-grade rec rooms, where wood-burning fires can smoke due to poor draft.
Shown: Heat & Glo Escape 35-inch direct-vent insert with decorative swing-out screen doors covering the fixed glass panel, 29,000-Btu output (maximum); $3,288; Heat & Glo