"Sponging additional color on a painted wall is a classic technique, with an effect that depends on the colors you choose," says decorative painter Ingrid Leess. "Here, I wanted to mimic a steel wall that had started to rust."
To start, she put down a medium-gray base coat. Then she mixed equal parts rust-color satin latex with clear glaze, which lightens the color. Leess wrung out a wet natural sea sponge, dipped it in the colored glaze mixture, squeezed out the excess, and patted this way and that.
When the pattern was dry, she patted on a mix of clear glaze and dark gray, making sure the base and rust colors peeked through.
"Colors that come together naturally work well—moss green and garden-urn gray, for example, plus yellow if you like—and layering them creates this interesting look," says Leess.
Experiment on poster board and get a feel for it. Then check the effect while you work on the wall as color and texture interact.
How to Sponge Paint a Wall
1. Paint the Wall in the Base-Coat Color Cover the wall in the first of the colors you've chosen with a paint roller. This hue will show through the least once it's topped with other glazes, so choose a paint color that won't dominate.
Paint: Behr's Dark Storm Cloud
2. Sponge on the First Top-Coat Color
Once the base coat is dry, mix equal parts glaze and a top-coat color.
Mask off any areas you don't want to sponge.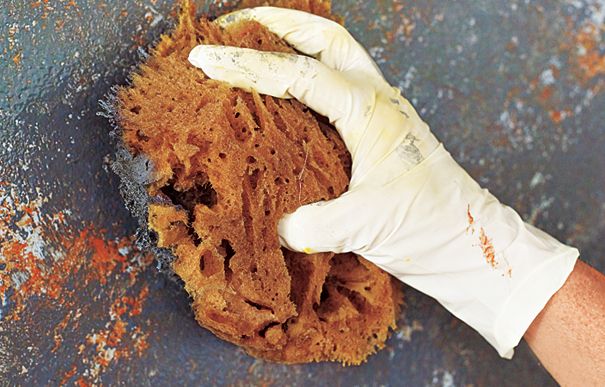 Wet a large sea sponge, wring it out, and dip it in the glaze. Squeeze out any excess and use the loaded sponge to cut in at the top left corner of the wall.
Continue, patting it against the wall in a random pattern, working out from the corner, top to bottom. The glaze should go on thick and textured but shouldn't drip. The base coat color should still come through.
Paint: Behr's Wine Barrel
3. Add the Second Top-Coat Color
For a more faceted treatment, like the rusted-steel look shown here, sponge on a third color after the second dries.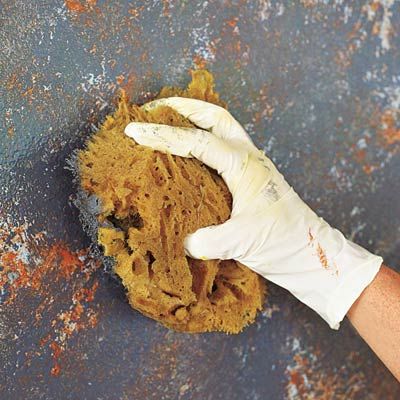 Paint: Behr's Cracked Pepper
---
Tools