Southern Gothic
Sometimes an impulse buy turns out to be just the right thing. Call it operating on instinct.
It was a decade ago when Chad Faries first got a glimpse of the tall, yellow turn-of-the-century house embraced by a mature live oak draped with moss. A published poet and memoirist, Chad was applying for a teaching job at the time, at Savannah State University. One of his interviewers suggested they take a drive to see the historic Bonaventure Cemetery (made internationally famous in Midnight in the Garden of Good and Evil), located not far from campus, in the Thunderbolt neighborhood, along the Wilmington River. As they meandered through what was once a small fishing village, they came around a bend and there was the house—with a FOR SALE sign out front.
Shown: Owner Chad Faries christened his early-20th-century cottage Diamond Oaks as an homage to the porch-railing design and the towering tree that first drew his notice.
Paint: color matched to the existing yellow.
Diamond Oaks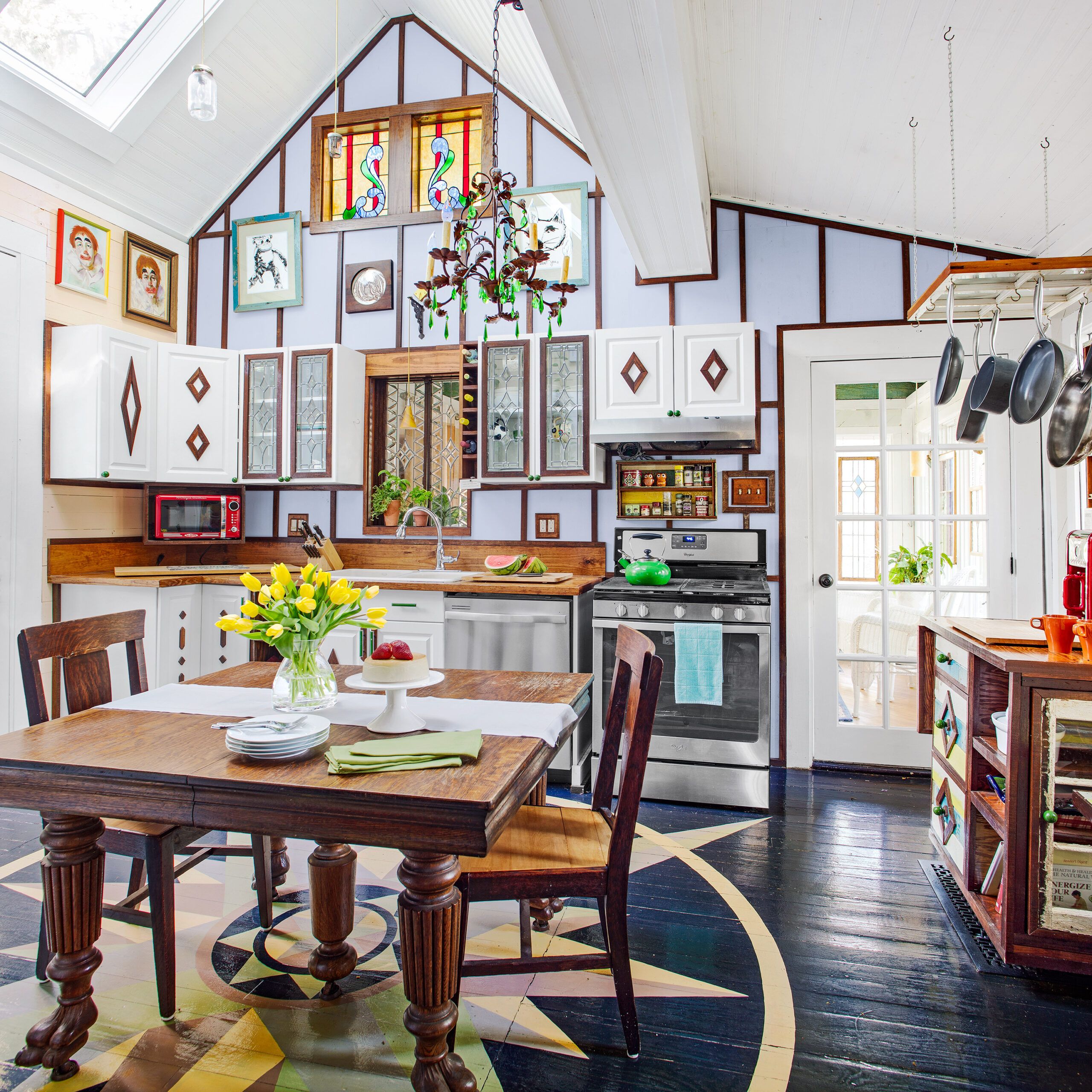 "I thought, Wow! If I get this job, that's the kind of house I want to live in," Chad recalls. The interview went well, and he liked what he'd seen of the area, so he called the house's owner. Chad was able to do a quick walk-through before heading to the airport to catch a plane back to Michigan's Upper Peninsula, where he grew up, to visit family.
A couple of weeks later, he got word the assistant professorship was his. About to leave for two months in Europe, he decided to jump first, worry later, and put in a bid without revisiting the house.
Shown: Diamonds reappear throughout the home, as a motif on kitchen cabinets, in leaded glass, even within the compass rose that Chad and artist friends painted on the kitchen floor.
Paint: Periwinkle (back wall). Dark Navy (floor). Periwinkle, Orchard Plum, Praying Mantis, Butter Cookie (compass rose)
Meet Chad
The second time Chad walked through the door he owned it. His mother was with him that day, and they both gasped—but for different reasons. "My mom thought the house was beautiful," he says. "I was like…I've got a lot of work to do."
Chad thinks the Folk Victorian dates to around 1903—town records are spotty and reports conflicting—and was originally built as a simple, square two-story, with the kitchen and bath in outbuildings. Both were later integrated into the house in a one-story addition in the back.
Shown: homeowner Chad Faries
Full-Color Kitchen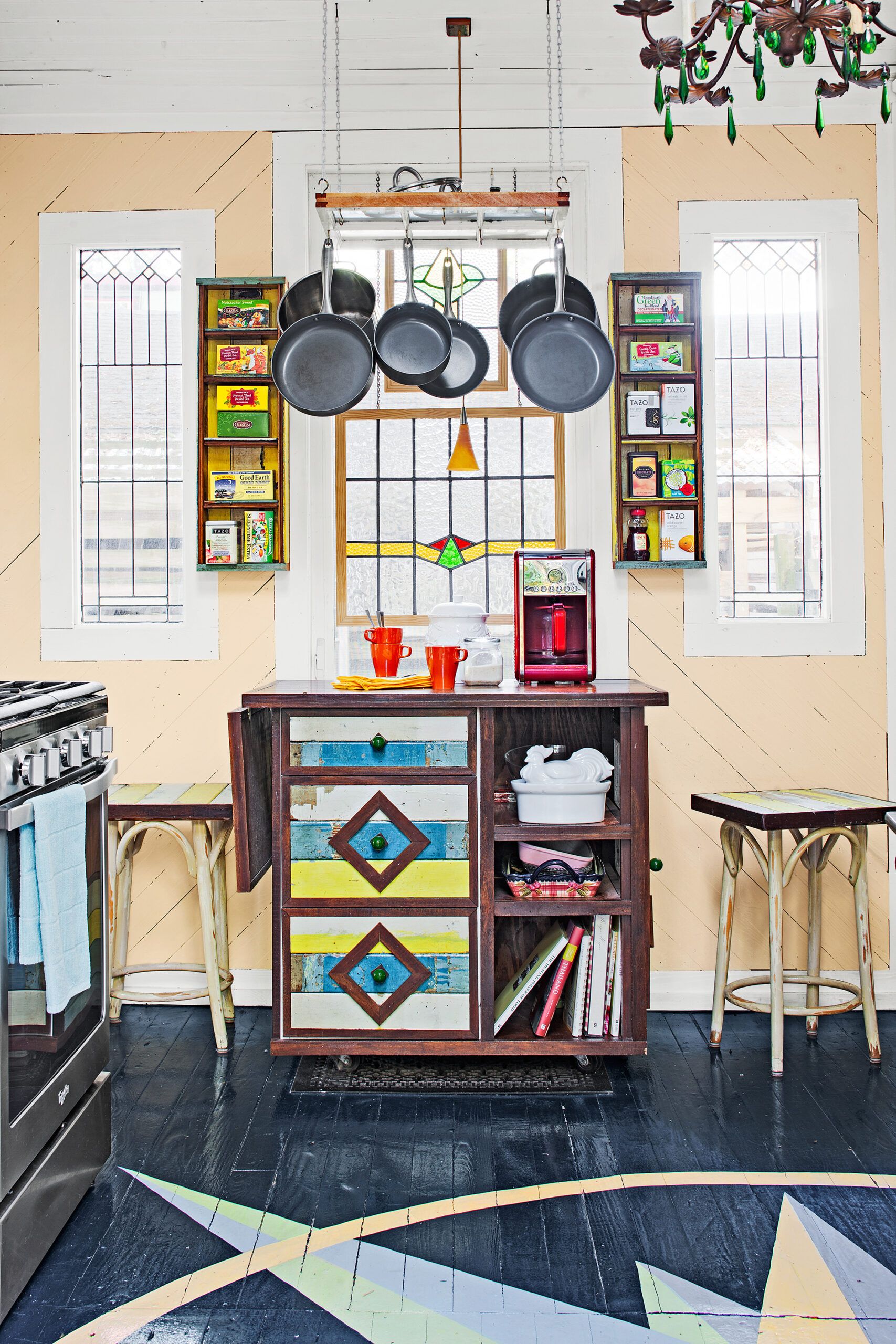 The previous owner's furnishings had masked a number of issues, and a home inspection didn't turn up unpleasant surprises like the squirrel nest embedded in a section of still-live knob-and-tube wiring. The interior was dark, chopped into small rooms with low ceilings. The heart-pine floors on the first level were covered in vinyl. The upstairs floors were uneven and cloaked in cat-urine-soaked carpet. But it was livable, and Chad was handy with a few power tools.
Shown: After homeowner Chad Faries removed wainscoting from the kitchen walls, he used it to face the drawers and sides of a small island. "I'm a storyteller, so it makes sense that I would want to reuse things," he says. He left much of the original "chippy" white paint, added other colors from leftover cans, then gave the boards a clear coat. After discovering stained- and leaded-glass windows at a rummage sale, he enlarged existing openings and created new ones to hold his vintage finds.
Paint: Butter Cookie (wall). Ultra Pure White (trim). Dark Navy (floor)
Second Floor Landing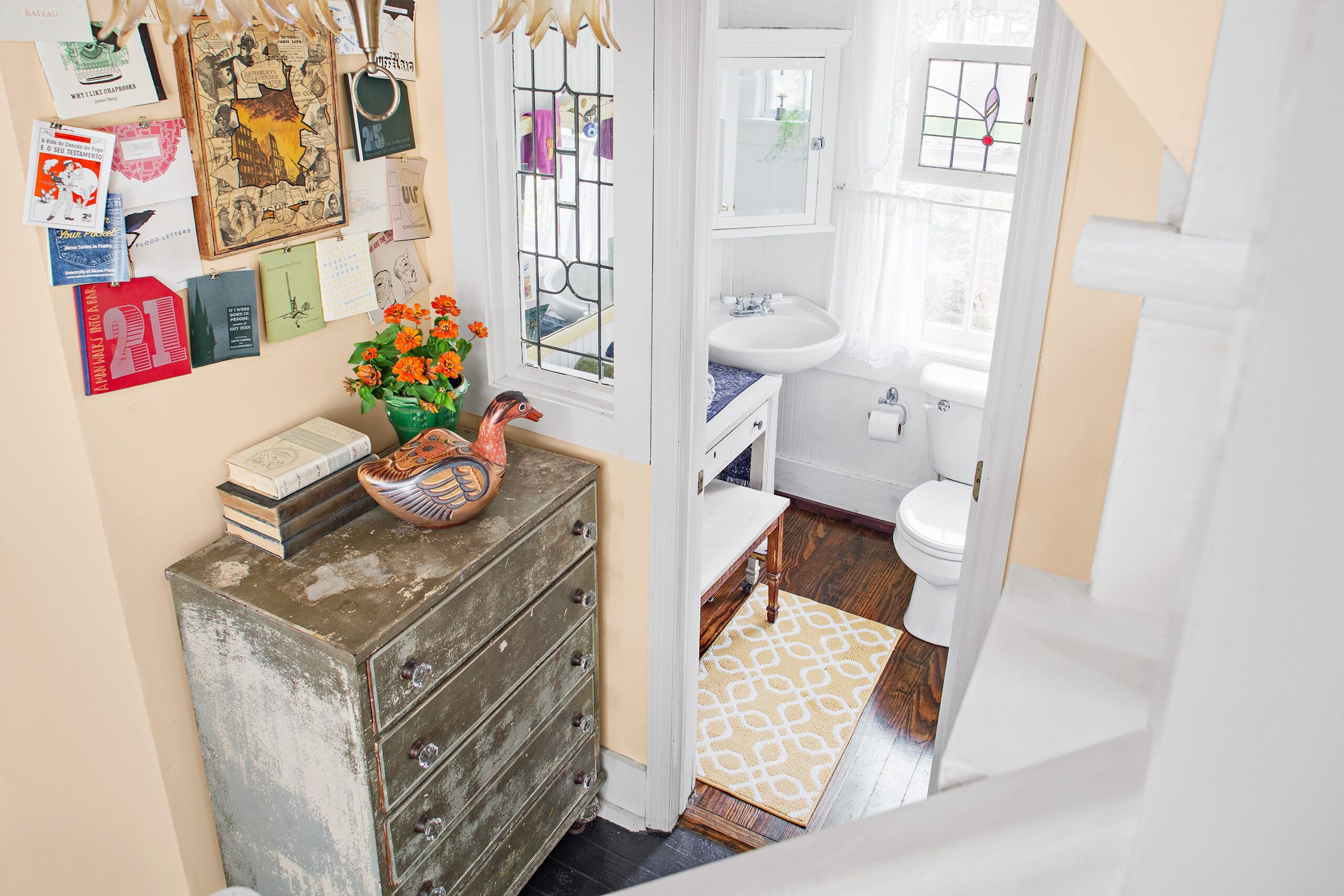 Chad had worked his way through college and graduate school, both in Wisconsin, first as a carpenter's assistant, and later working for Community Building and Restoration, a construction company reviving some of Milwaukee's abundant inventory of Victorian houses. Under founder Erik Lindberg's tutelage, Chad became well versed in dealing with lead paint, rotted wood, sagging joists, and the shoring up of old structures. It was an ideal proving ground for someone who would eventually tackle the DIY renovation of a 100-year-old wood-frame house in humid Savannah. He wouldn't do that work alone, however, gathering a small army of fellow artists to assist along the way.
Shown: The second-floor landing showcases some of Chad's various collections. Just outside the bath, which Chad updated with new and salvaged fixtures and a fresh coat of paint, a distressed chest of drawers holds rare books. A collage of poetry chapbooks, gathered at conferences and from other writers, makes for a tactile and interactive piece of wall art.
Paint: Butter Cookie (wall). Ultra Pure White (trim)
Decorative Bedroom Entry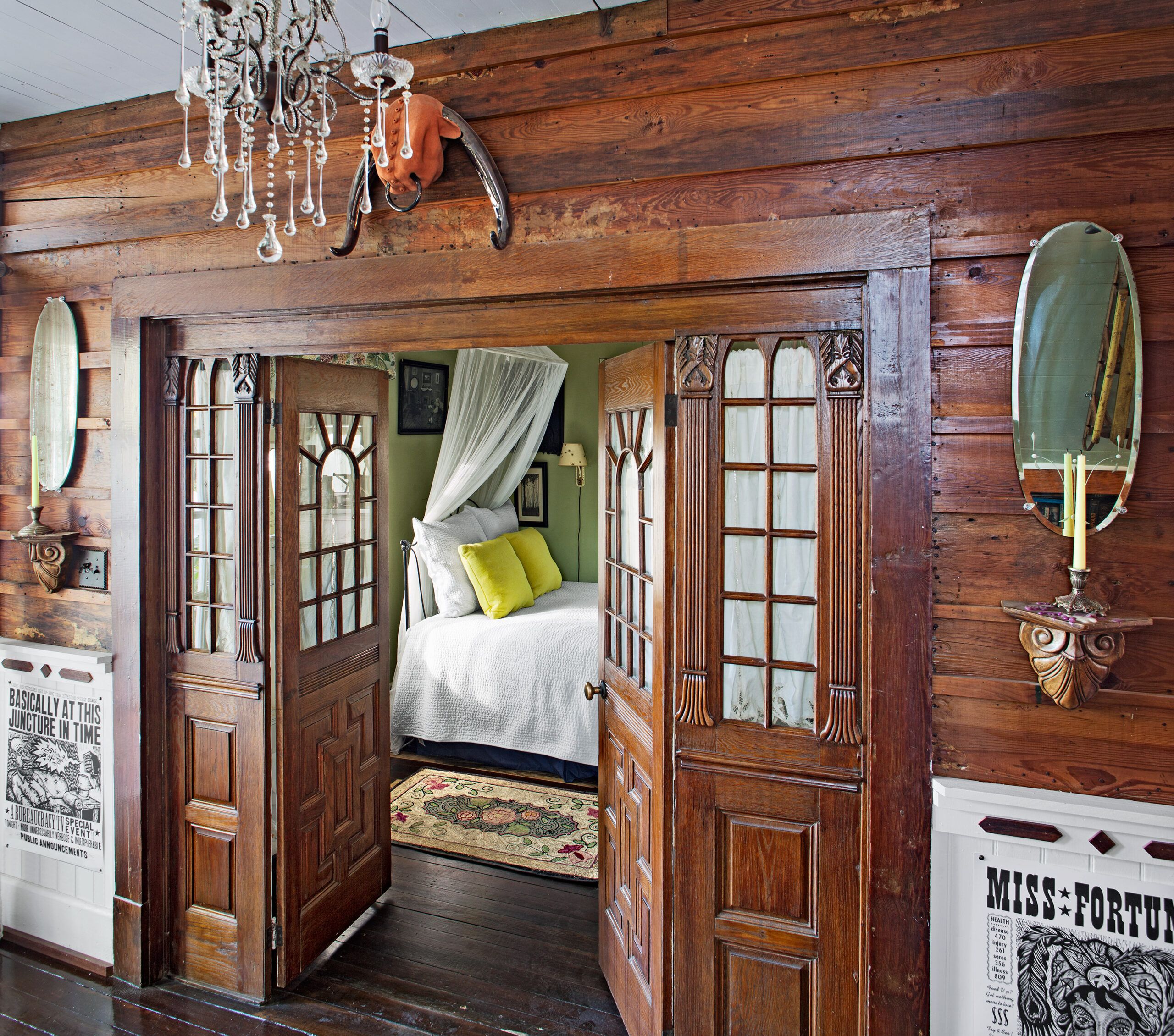 About a month after he moved in to Diamond Oaks, as Chad christened the house, for its live oak tree and distinctive flat-sawn porch-railing detail, he received a call from a fellow poet, one of his doctoral classmates, Robert Firth, who was at loose ends and needed a place to live. "I told him, 'You can stay as long as you want,' " Chad says. They were roommates for five years, and both put a lot of sweat equity into the initial house projects.
First up: replacing the porch railings on the first and second floors. Chad kept the same stickwork and diamond cutouts that had attracted him early on, often sourcing wood from a discount lumberyard nearby to save money. Then, while picking at some peeling paint beside the front door, Chad's finger went through the wood, revealing that much of the front entrance, including the door and part of the foyer, had been a years-long feast for termites.
Shown: Previous owners had already turned the front parlor into a bedroom. This room is where Chad camped out as he worked on the rest of the house. He believes the intricately carved French doors and sidelights are original to the home, because the front door—destroyed by termites—was framed in the same decorative moldings.
Paint: Praying Mantis (bedroom walls)
A Nook for Reading and Napping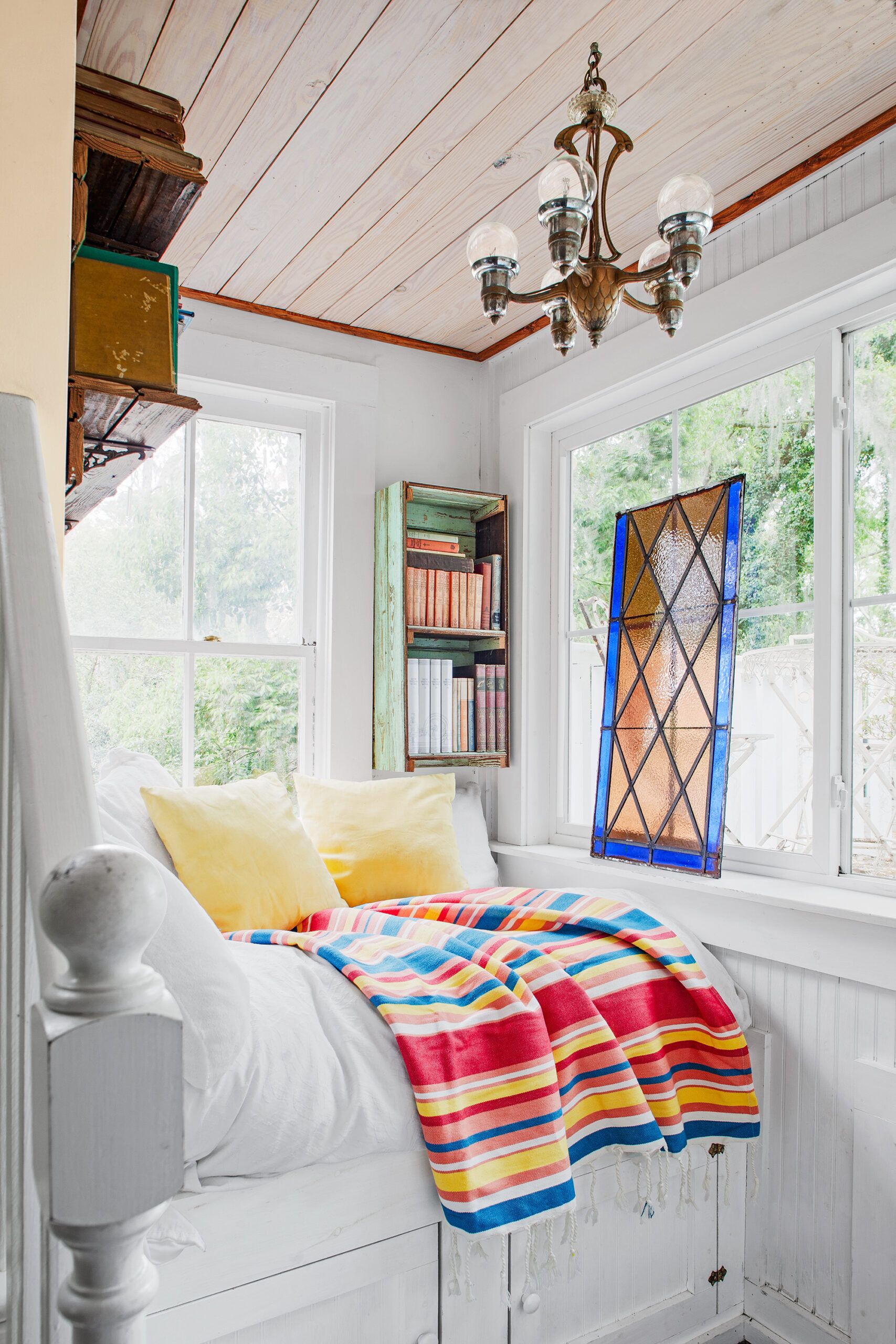 After he had the house sprayed and baited to keep the pests at bay, Chad began a major remodel that included removing the rotted front door frame and enlarging it, opening up the foyer wall into the living room, and pulling out parts of the ceiling. Underneath the plaster and lath in the foyer, he exposed roughcut heart-pine boards. He covered the living room walls and ceiling with oriented strand board (OSB) to have something to nail to and to act as a dust barrier. Then he put up inexpensive 1×4 pine strips. "They're already kind of rough, with knots in them," says Chad. "You can just nail them to the OSB and give it that old shiplap look with white paint. I did a lot of that in the house."
Shown: The intimate reading nook doubles as a secluded spot for a nap and a gateway to a side deck and ladder leading to the tree house. "I like to create these magical Peter Pan spaces around the house," says Chad.
Paint: Ultra Pure White
Boots on Display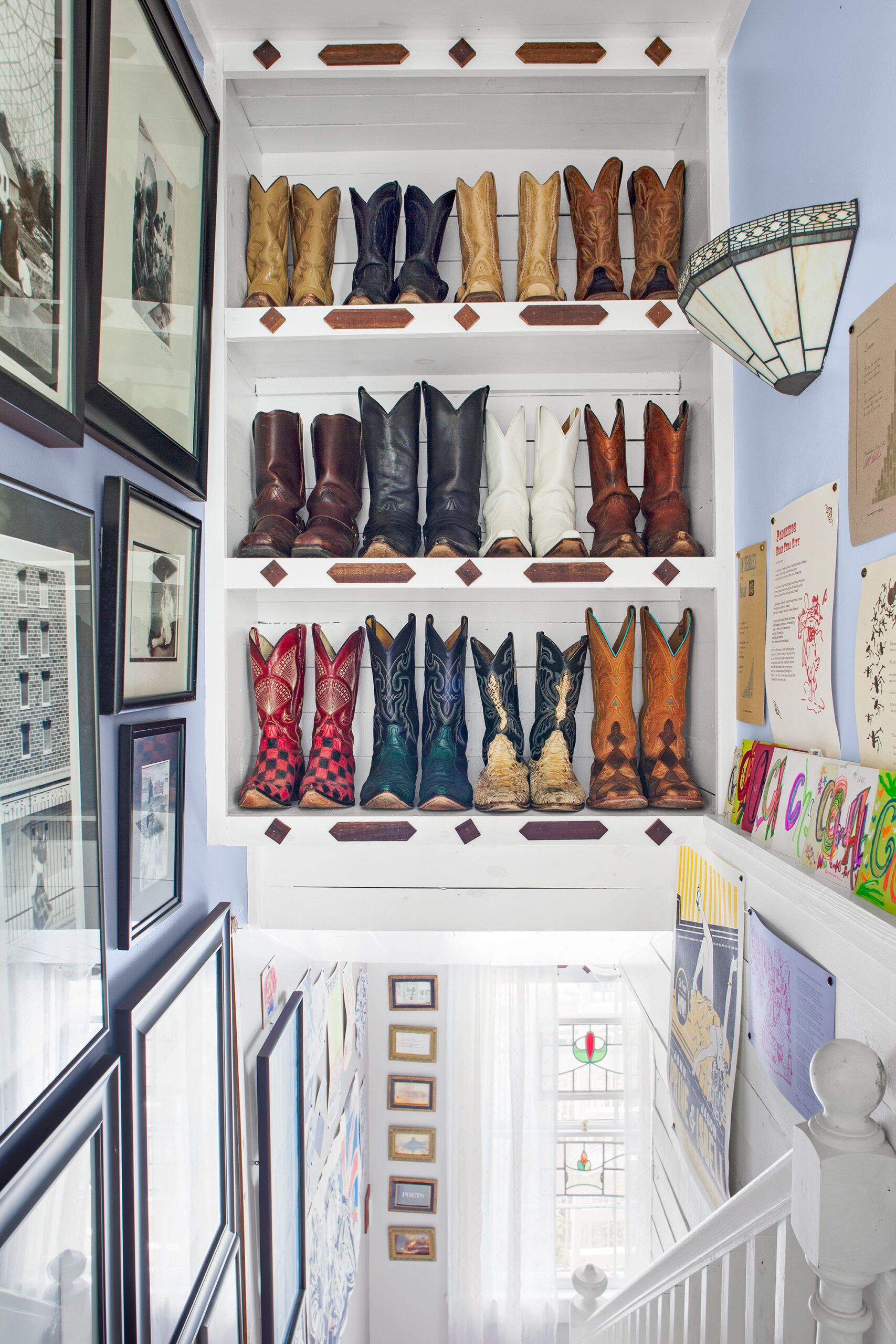 During this particular renovation project, he learned a novelist friend who was pitching in was great at demolition and using a nail gun—but not so much with a paintbrush.
Chad also took the opportunity to widen the entrances into the living room, the kitchen, and the sunporch to channel light into the spaces. "I wanted to be able to walk in the front door and see all the way to the back," he says. In the kitchen, which sits at the center of the house, he bumped out walls and incorporated texture and interest with repurposed trim and leaded glass. He dressed up stock home-center cabinets with mahogany strips he bought on the cheap, added windows, and started on the floor.
Shown: Chad is a saver and a collector of books, albums, masks, vintage belt buckles—and boots. His footwear serves as a decorative display on accessible shelves above the stairwell.
Paint: Periwinkle (walls). Ultra Pure White (shelving and trim)
Third Floor Bedroom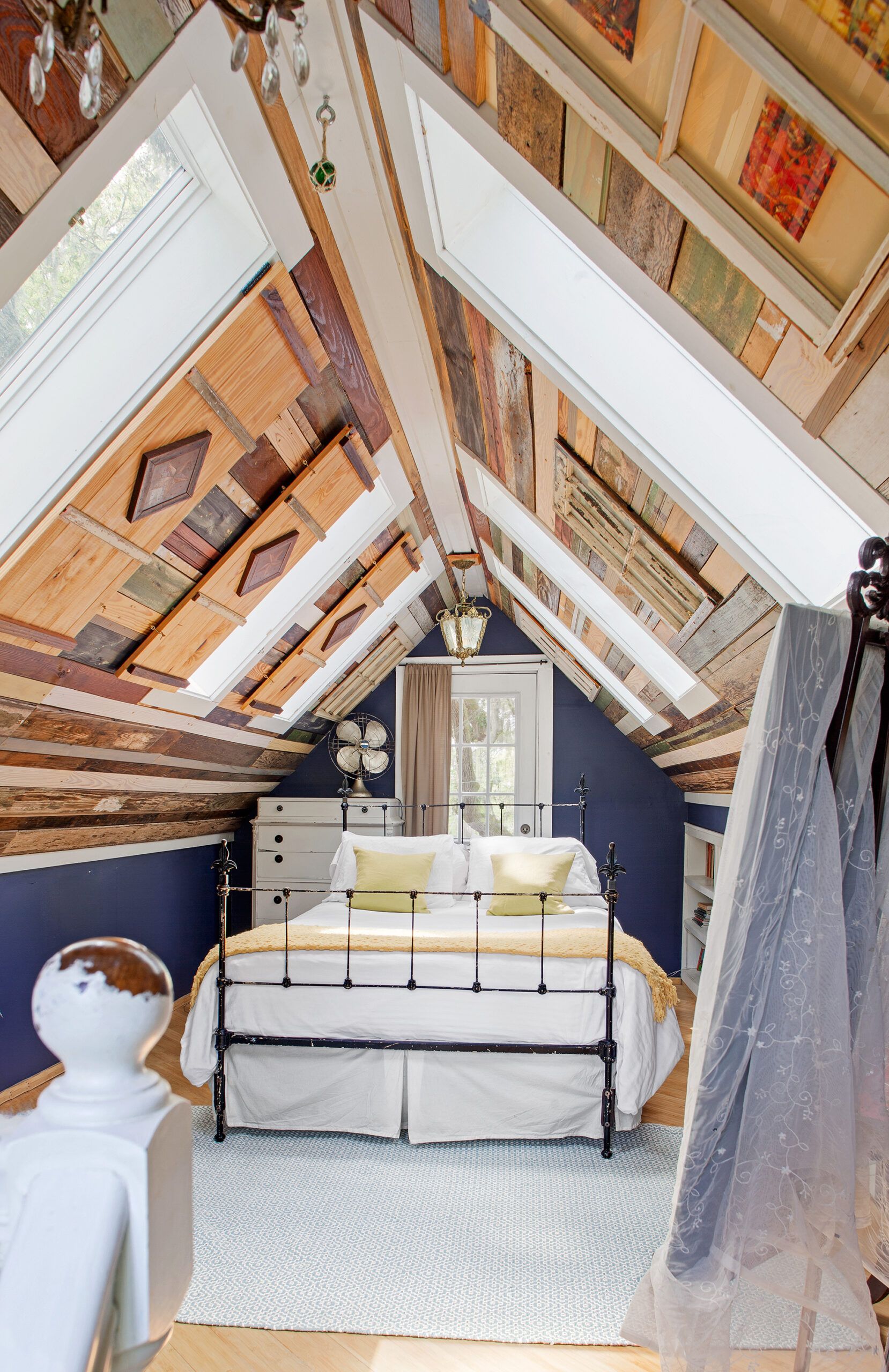 With the vinyl pulled up, he then had to remove, by his count, "about 10,000" staples from the subflooring—"I don't know why anyone would do that!"—and decided to paint rather than restore the very worn wood floors he found underneath. He chose a compass rose design and set about finding true north. "I've always been interested in maps and traveling," Chad says. "It also fit with the angles and the diamond stuff I was doing." He drew the design in the morning; three local artists came by, they all picked different colors from the array of leftover cans Chad had stockpiled, and they stayed up till 3 A.M. filling it in.
Shown: Chad's girlfriend, Emily Jones, is an avid antiquer who has lent her ideas throughout, including in the third-floor bedroom, where repurposed wood and shutters enliven the walls and ceiling. Old sash frames surround vintage postcards and prints.
Paint: Dark Navy (walls). Ultra Pure White (trim)
Sunporch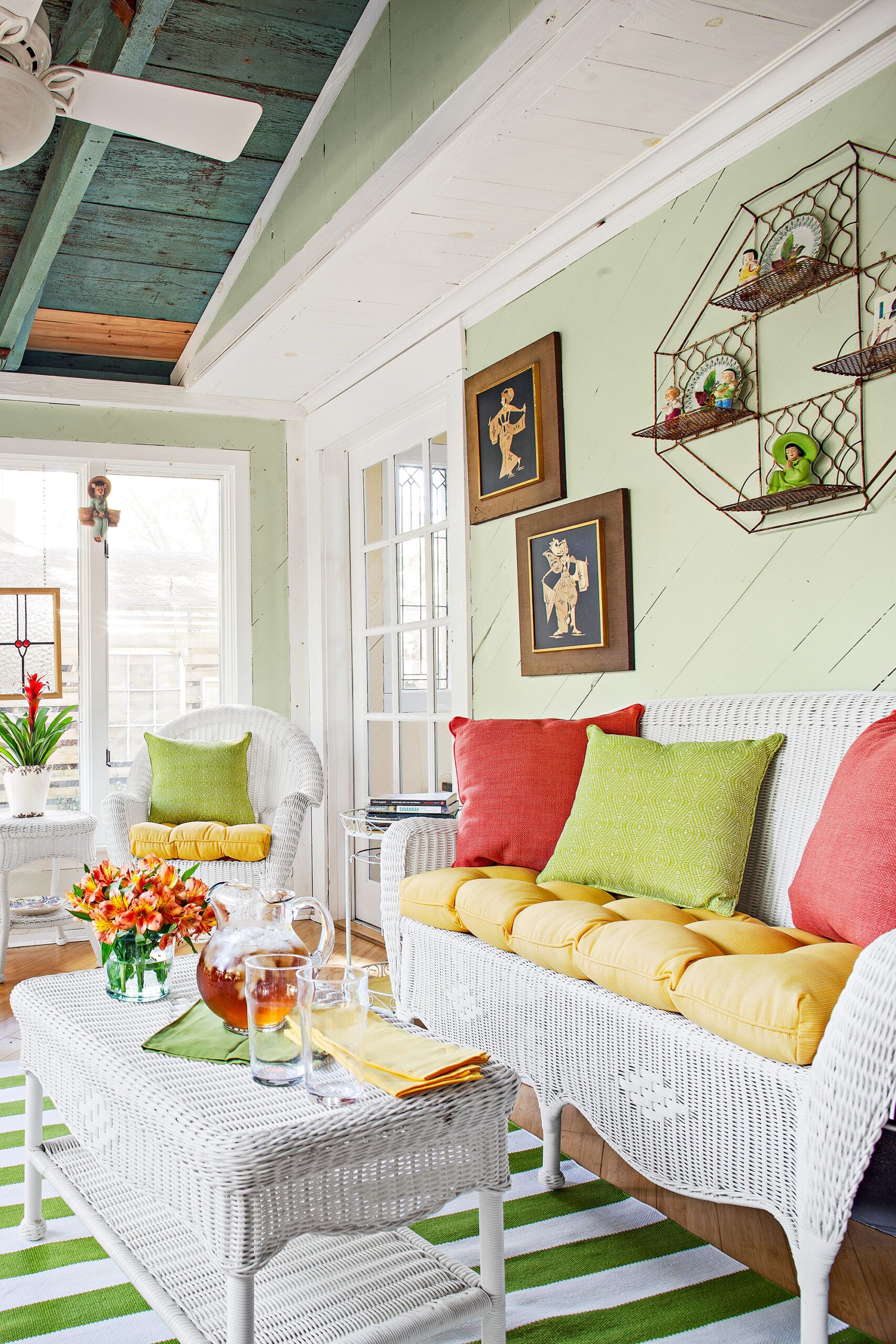 Most recently, Chad tackled vaulting the kitchen ceiling, which was covered in plastic latticework to conceal a bad drywall job. He exposed the roof structure to give the space breathing room, putting in a pair of skylights to flood it with light.
Between the kitchen and the top floor, he has installed eight skylights in the house—and none of them has leaked, even with Savannah's legendary afternoon thunderstorms. "It's all about the flashing," says Chad, who mastered the steps back in Wisconsin. "You can't take any shortcuts."
In coastal Georgia the heat, humidity, and water lead to a never-ending battle against mold, mildew, rot, weeds, termites, oak debris, and algae blooms in the fishpond—which is next on his to-do list, along with cutting back some kudzu that hasn't stopped growing since cows grazed in the backyard when it was pasture, in the early 1900s.
Shown: The sunporch is a 1950s back addition that was enclosed in the 1980s. Chad removed the ceiling, exposing the rafters, and painted it all a "haint" blue said to ward off evil spirits.
Paint: Praying Mantis (walls). Ultra Pure White (trim)
Entertaining Backyard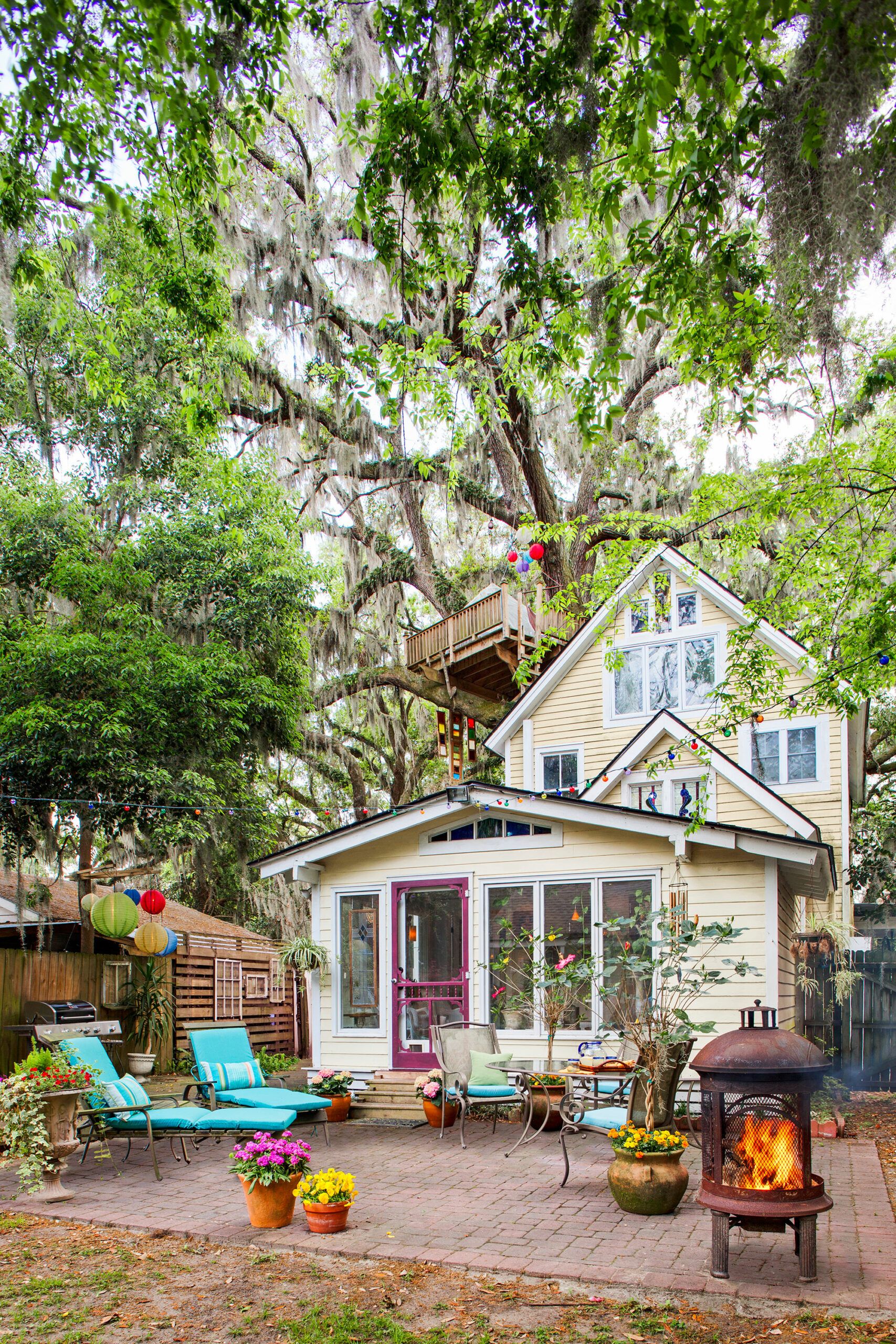 Chad doesn't seem to mind the upkeep that an old house demands, however. After a chaotic upbringing during which he constantly moved around—"24 Houses in 10 Years" is the subtitle of his childhood memoir—he finally has made and feathered a nest for himself and a rotating cast of friends and associates at the old yellow house that captivated him at first sight. But Chad remembers well that it wasn't just the house that he found so compelling. "It was this tree," he says of the towering live oak. "When I saw it I knew I wanted to build something in it and incorporate it into the house somehow." He envisioned the small deck he has since added outside the reading nook windows, and the ladder leading to the tree house. Careful to safeguard the tree, he figured out the engineering by doing research online. "I basically built a deck in a tree," says Chad, with help from another artist friend, Justin Shapiro. "He was very helpful—he'd been a climbing instructor." Chad eventually abandoned the idea of giving the platform walls so it could serve as his writing studio, and instead built an airier railing. "Then I thought, What if I put a hanging bed up here? That's when I got the idea for the engine hoist," he adds. The bed now hangs from one center point, so climbing aboard requires some skill—and steady nerves, as it rotates over a platform 35 feet up from the ground. A working chandelier and a canopy of mosquito netting add to the romantic gesture.
Shown: The cottage's evolution is etched in its rooflines. The steep topmost gable marks the original structure, followed by the kitchen and bath addition, then the sunporch. The backyard, once a tangle of kudzu, is now an oasis of calm and the stage for many a poetry reading. Floating above it all: the tree house, accessed via a ladder leading up from a small second-floor deck.
Paint: color matched to the existing yellow. Glitterati (back door)
Tree House Hammock
Like his writing, Chad's house is a work in progress, a highly personal place he is constantly lavishing with his restless creativity. "My childhood was all about uprootedness," Chad says, "and now I've really created a magical Faries-land here. It's a home that is uniquely mine that I never have to leave."
Shown: An engine hoist holds and balances the tree house's hanging bed. Panes of stained glass sprinkle shards of colored light all around. A testament to its sound construction, the entire contraption survived Hurricane Matthew and its nearly 80 mph winds in 2016. Game visitors are welcome to climb aboard—after signing a waiver.
Second Floor Balcony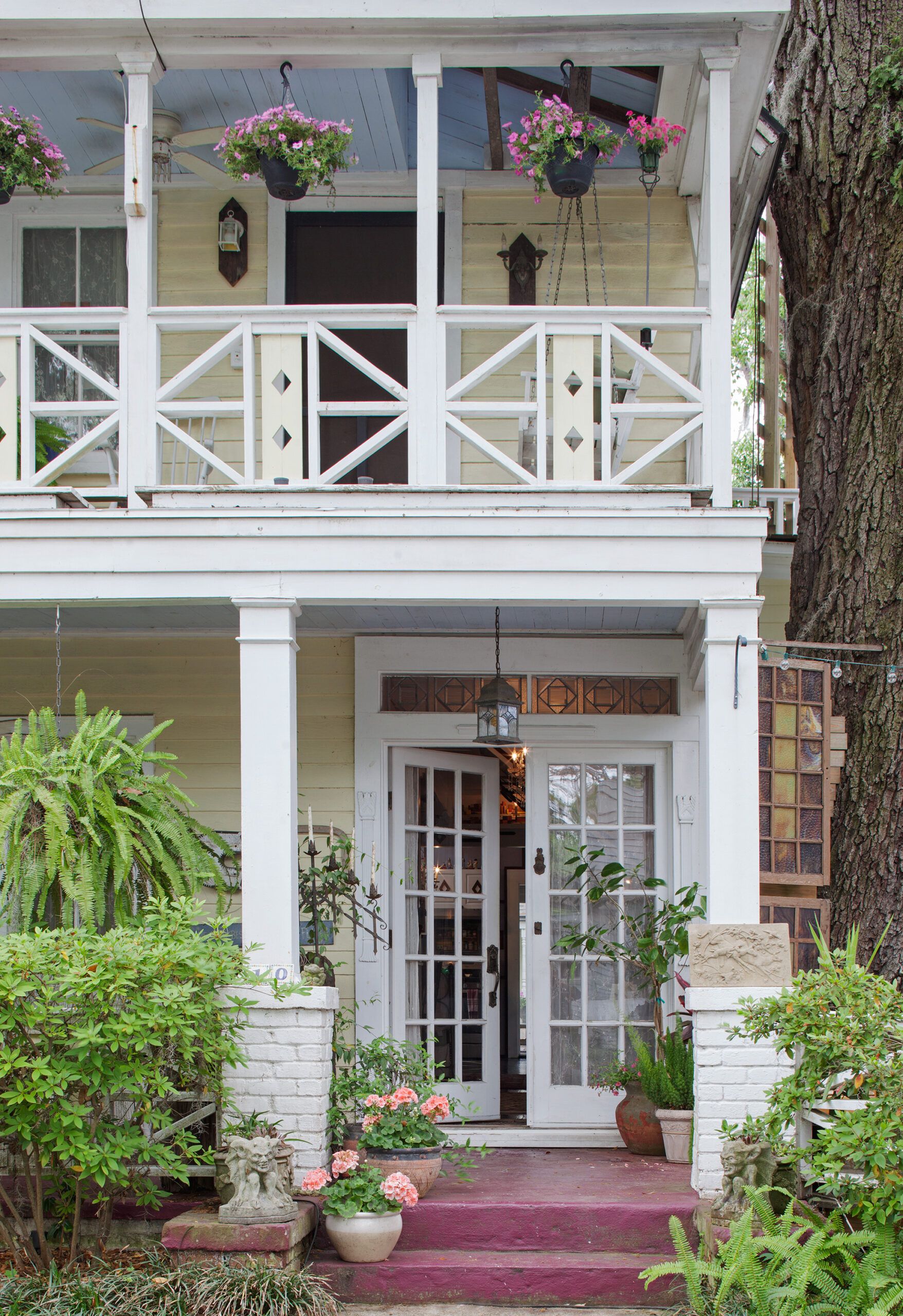 The second-floor balcony can be accessed only from Chad's office. "It's the one space that's just for me," he says. A bed offers respite during all-night grading or marathon writing sessions. On the first floor, Chad rebuilt and widened the front entry, installing salvaged French doors he found at a Habitat for Humanity Restore.
Paint: Glitterati (front porch floor)
Bright Stairs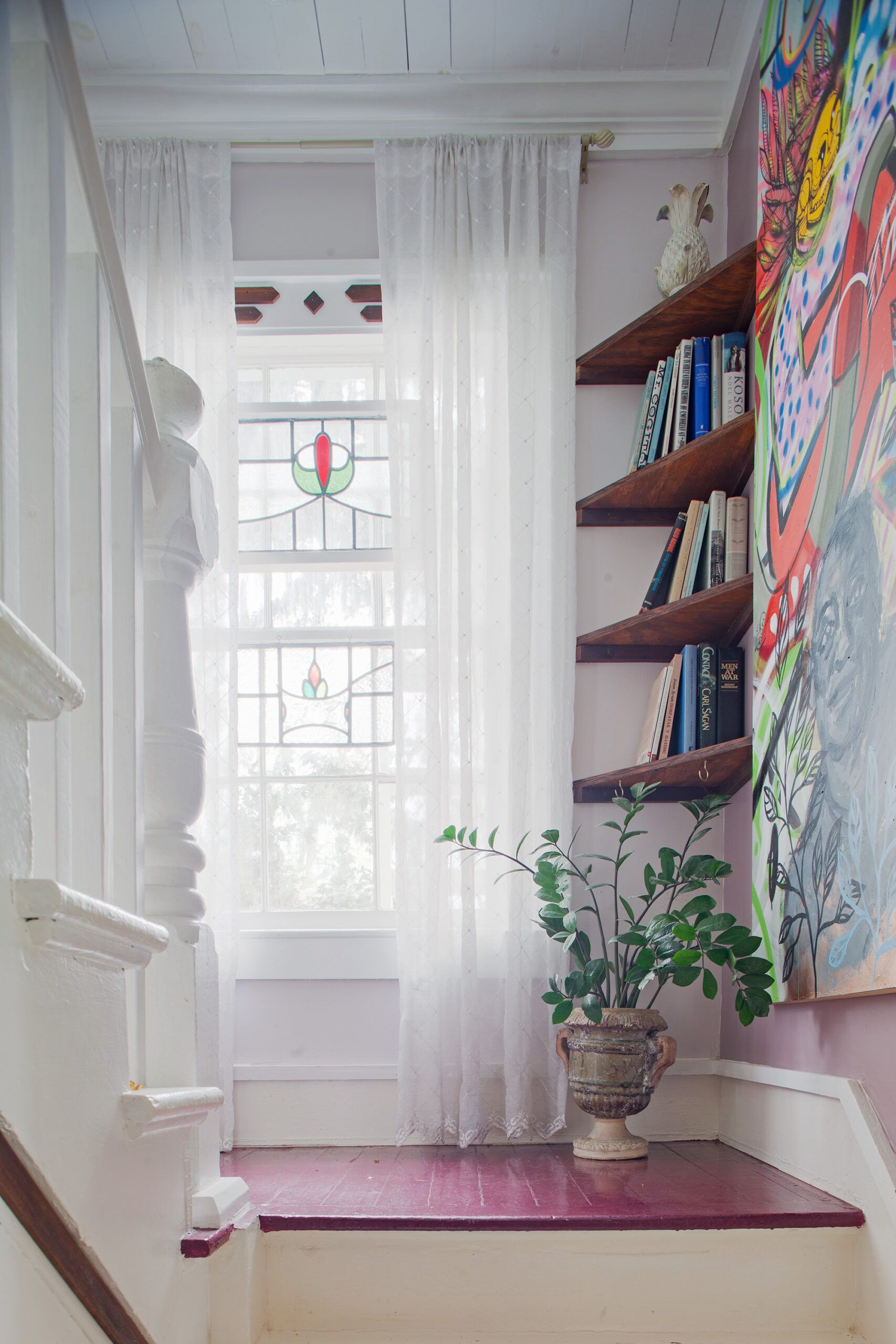 Once dark and enclosed, the stairway is now a bright and airy pathway with spots that call for lingering, including these shelves that Chad built to hold his ever-expanding library.
Paint: Glitterati (stair landing)
Carriage House Studio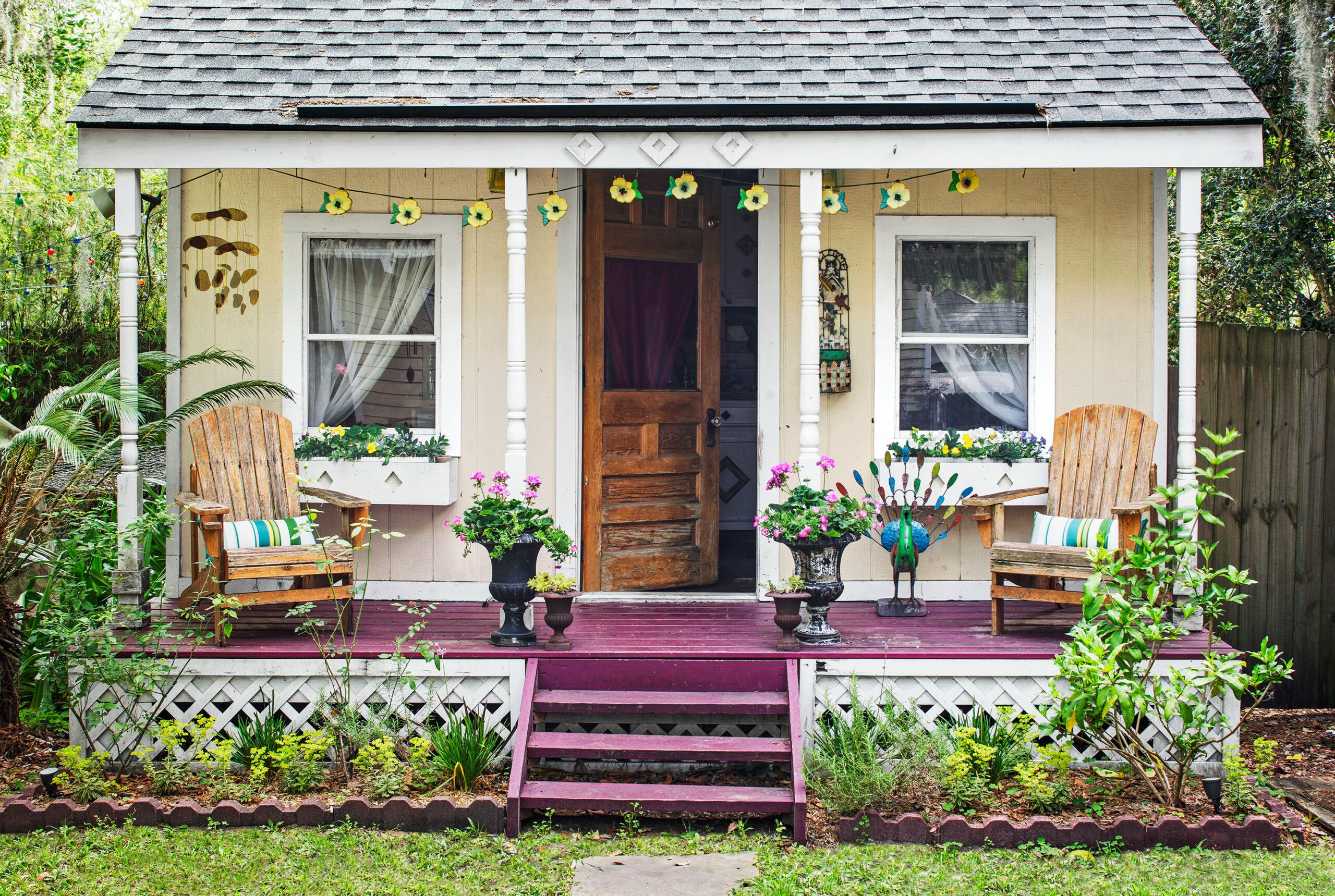 A once dilapidated carriage house came with the property. Now a charming studio with a new roof, a porch, additional windows, and fresh paint, it serves as an extension of the house.
Paint: Glitterati (porch floor)
Trailer Retreat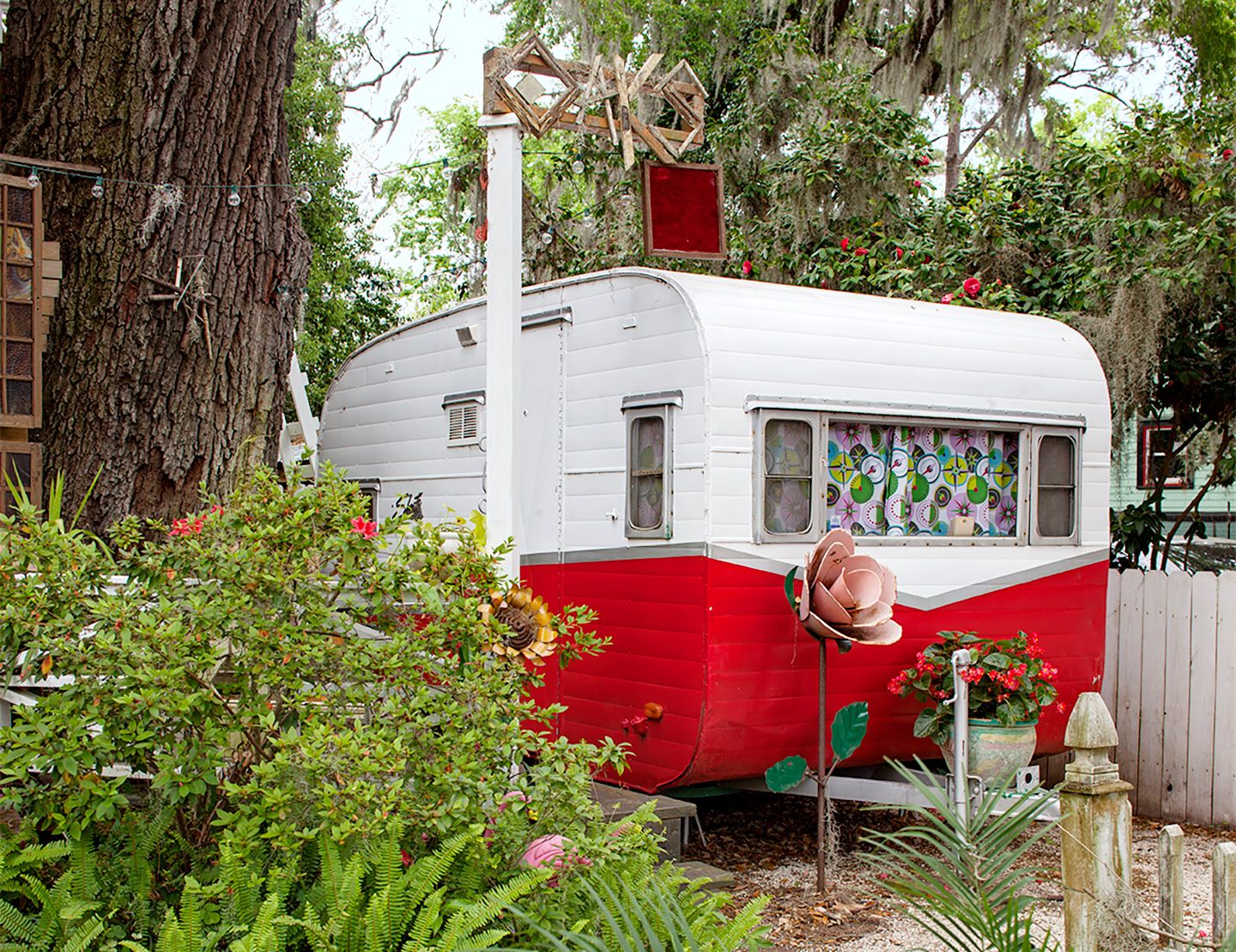 A 1957 Shasta trailer, which Chad repainted and refurbished with new benches, is his refuge when his home overflows with guests.
Colorful Mailbox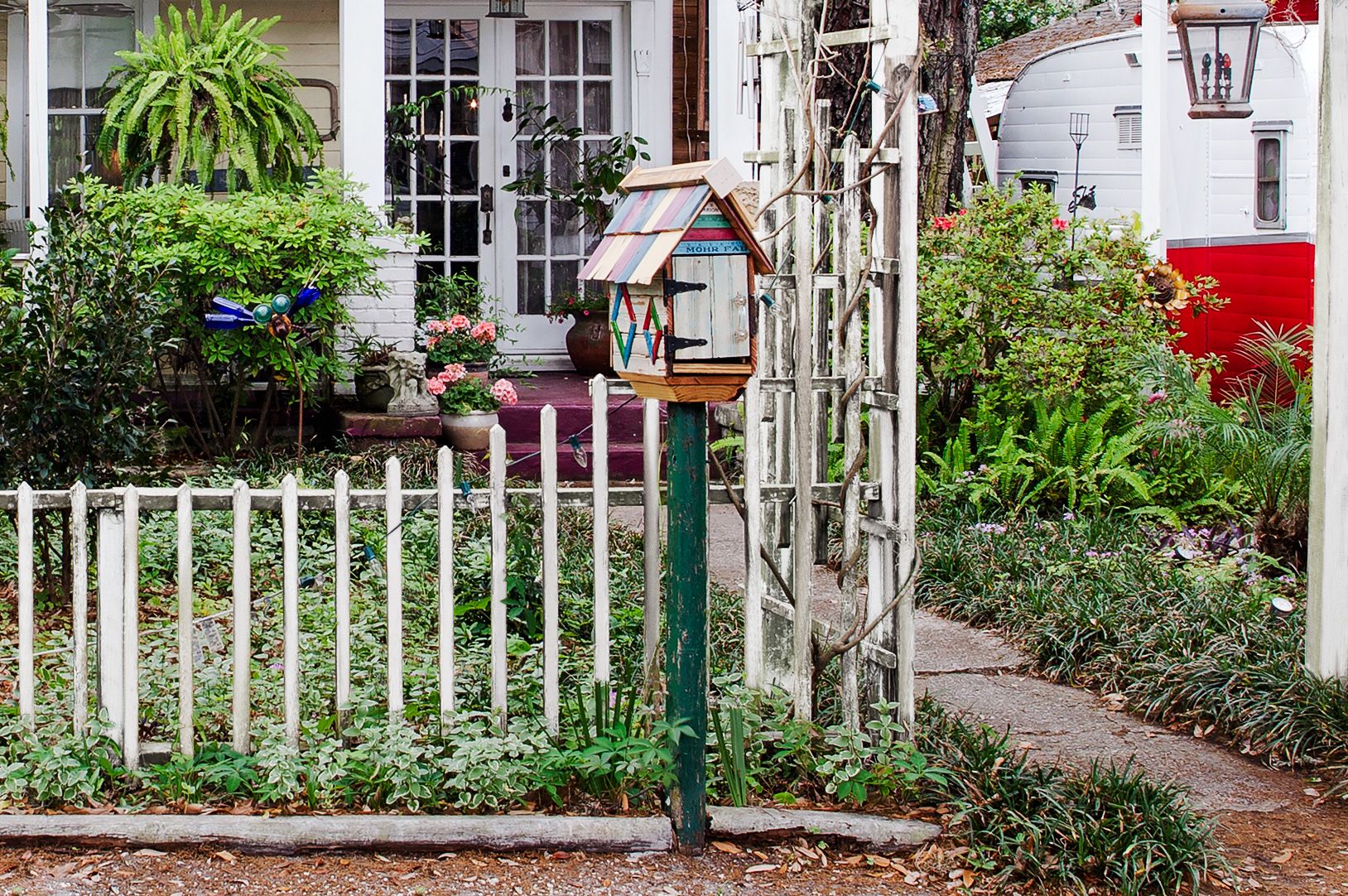 Even Chad's mailbox got an artistic treatment.
Floor Plans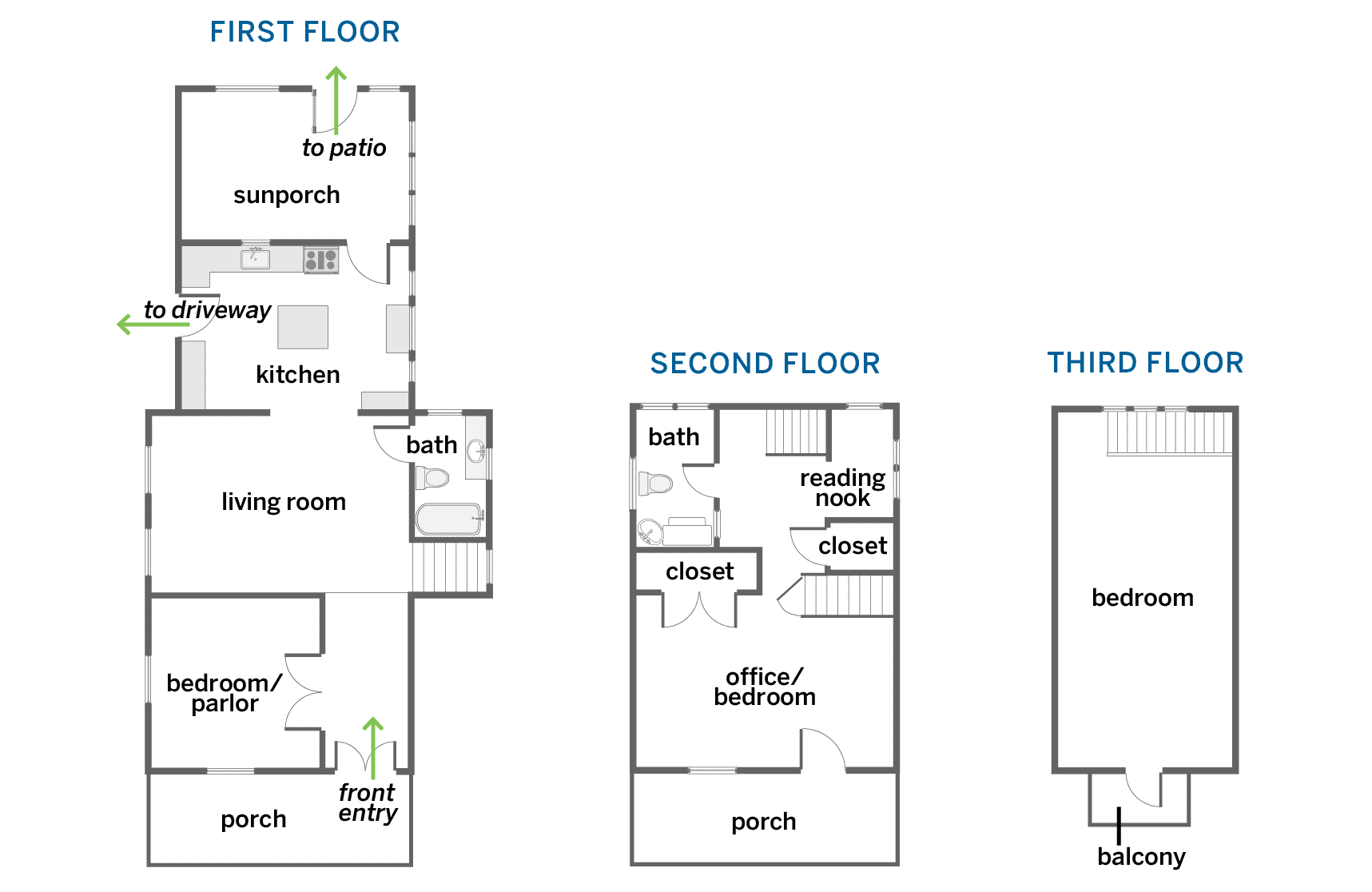 The front parlor had already been turned into a bedroom when Chad Faries bought the 2,500-square-foot house with two baths. Opening up the walls on the first floor helped draw natural light into the interior and create a sight line from the front entry all the way to the backyard. Chad turned the third-floor attic space into a proper master bedroom with its own balcony and six skylights, for a total of three bedrooms.