Bel Air Bungalow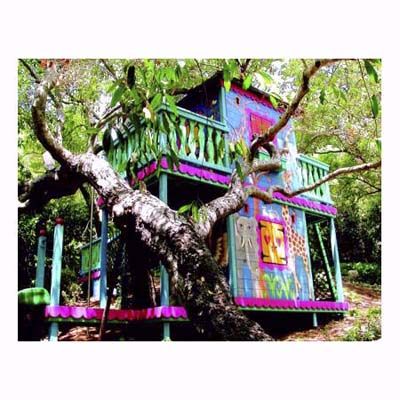 Kids have it pretty good—they can live out their playtime fantasies on play structures ranging from elaborate castles to simple swings. Given resources like personal design consultations, online 3-D imaging, and user-friendly DIY plans, their parents get to play too.
Barbara Butler, San Francisco-based artist and builder, hones the art of magical spaces. She creates custom play structures, incorporating natural features that might otherwise hinder design. Here, a two-story playhouse and large tree share the hillside.
Cost: $54,300.
Canyon Perch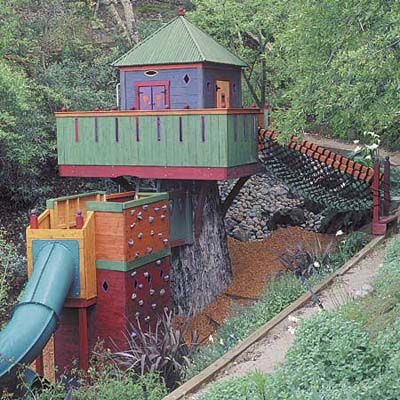 "We've become specialized in hard-to-build locations," says Butler. For the custom Canyon Perch, Butler worked with a steep hillside and a 9-foot-high tree stump. Butler's structures feature "loops of play," a continuous flow that leads from one play element to the next: Cross the swinging bridge to enter from the path, exit by ladder or fire pole, launch down the turbo slide, pop into the lower house, have a go on the swing, and ascend the rock climbing wall. "I try to encourage kids to run up and down and round and round the structure, wearing them out for a good night's sleep," she says.
Cost: $49,800; Barbara Butler
Cape Codder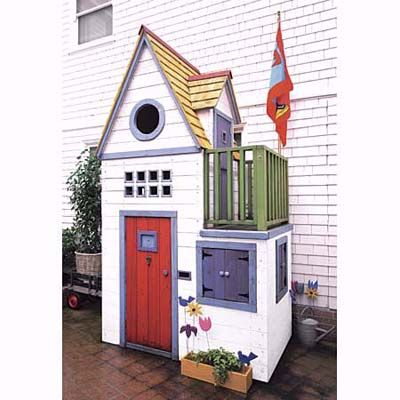 Butler builds with redwood—a durable, strong, and naturally insect-repellent wood. "When I started 18 years ago, everyone was building with the CCA pressure-treated lumber, which was treated with copper and arsenic! I just refused to believe that was okay for kids," she says.
She sands the wood to reduce splinters and then stains it with non-toxic Woodburst tung oil. Butler prefers the highly pigmented "pure color stains," which add deep color, yet allow the natural wood grain to show. She recommends re-staining every three years but notes that many choose to go longer. "Stains don't chip or peel, just slowly fade," she says.
Cost: $11,980; Barbara Butler
Hillside Hamlet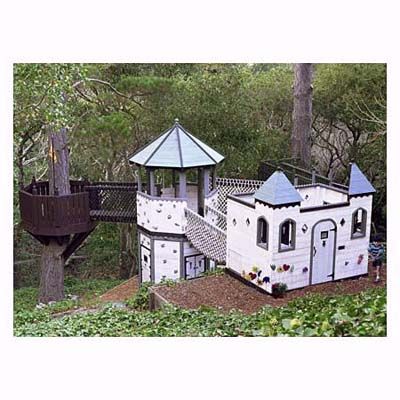 At such high price-points, Butler's elaborate structures are built to last. "The same structure can be one thing for young children and then change as they grow," she says. For instance, the upper shell of the Hillside Hamlet becomes a clubhouse for older kids.
"Certain elements are great kid pleasers and I try to always include them: good solid swings, fast slides, rock climbing, jailbars, secret escapes, fireman's pole, rope net ladder, and a high-up place," says Butler. Younger kids can swing and slide, while older ones challenge their climbing skills.
Cost: $99,560; Barbara Butler
Custom Homes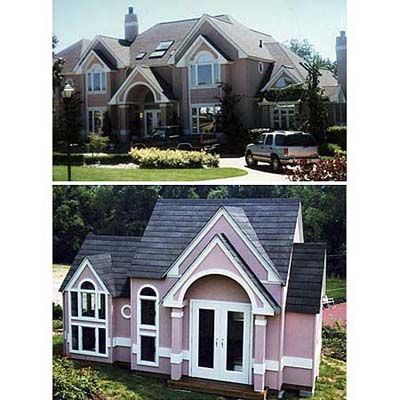 Playhouses don't have to be out of a fairy tale—they can come straight from reality. From their shop in Finleyville, Pennsylvania, Lilliput Play Homes will create a replica of your house for the little homeowner in your life. They supply everything you need for on-site assembly. Costs vary.
Olde Firehouse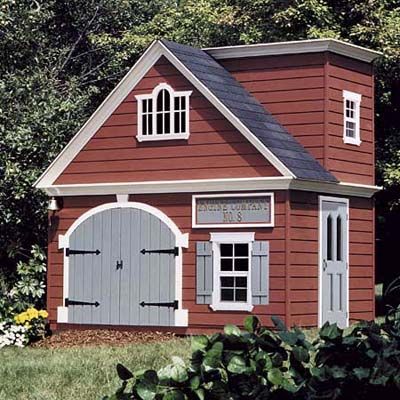 Lilliput also offers standard models. In the Olde Firehouse, a child can imagine growing up to be a firefighter, surrounded by all the elements of a real station, down to the pole and the bell. Standard playhouses take two people 4-8 hours to assemble and are easy to pack and move when necessary.
Cost: $5,999; Lilliput Play Homes
Jungle Five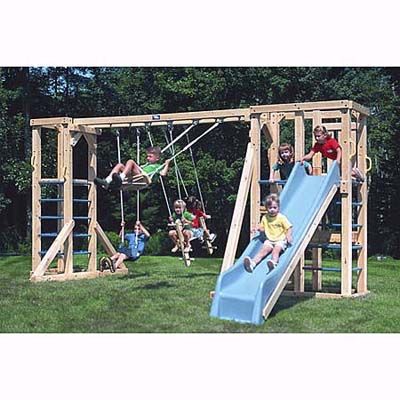 A number of companies provide customization options for play sets. CedarWorks' online design tool allows families to dream up sets by selecting components and viewing them with 3-D imaging. A CedarWorks consultant can assist with designing. Custom plans stay in the CedarWorks database, making it easy to add new components as kids' needs change.
The Jungle Five—composed of the Classic Jungle with its ramps and rails, the 4-Swing Ladder and its sky tunnel, and the Fun Deck Five and its Great Wall of Cedar—costs $6,980.
Tower Four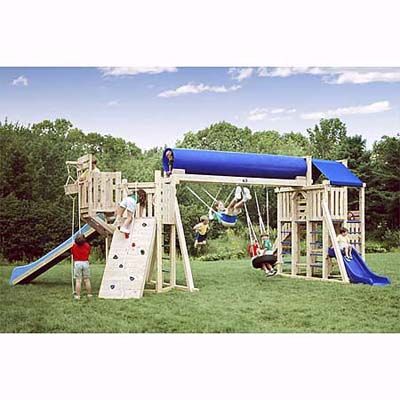 The company builds with 100-percent northern white cedar harvested in Maine, which is a naturally rot- and insect-resistant, splinter-free wood. It does not require sanding or sealing, painting or staining. "Parents love that because there are no chemical preservatives in the wood and no stains on the wood," says CedarWorks' Jack Tripp.
The Tower Four costs $2,215.
DIY Plans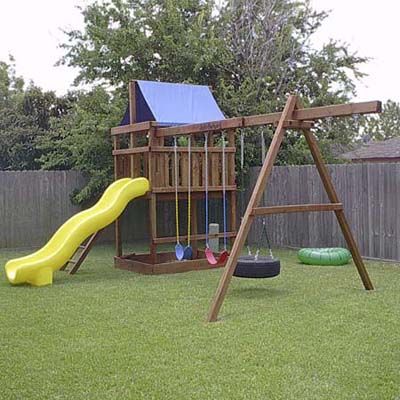 At the simplest and least expensive level of play-structure design are DIY plans. Jack Bowser, owner of Jack's Backyard, sells plans for a variety of forts and add-on swing sets. The kits come with complete lists of tools and materials. Build time is estimated at about 10-14 hours. Parents in the Houston area can hire Bowser for installation or custom projects.
Cost for this model, the Triton: $21.95 for plans, $800-1,000 for materials.
Surface Material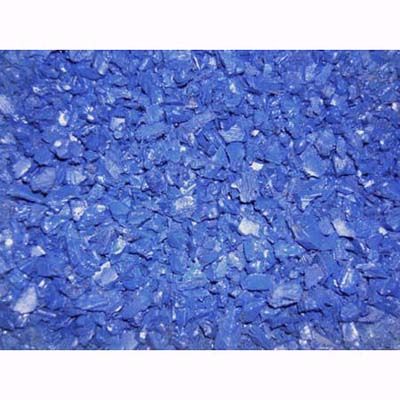 According to the U.S. Consumer Product Safety Commission, falling from equipment causes about 80 percent of home playground injuries.
A grassy lawn may be part of the problem. The soil below can harden in cold weather and get compacted due to foot traffic. Surface material can absorb shock to protect kids during accidents. Materials include play-grade wood chips, rubber tiles, pea gravel, sand, and rubber mulch.
Surface material should extend at least 6 feet on all sides of the play structure, and 12 feet in front of and behind swings. In general, loose-fill material should be laid on 12 inches thick; it will compress to 9 inches. Surface depth should increase with structure height.
Rubberecycle's Playsafer Rubber Mulch (shown)—made from 100% recycled rubber—is non-toxic, odor-free, low-maintenance, quick-drying, and available in blue, red, green, brown, and black. An online price calculator figures cost based on area size and surface depth.
Safety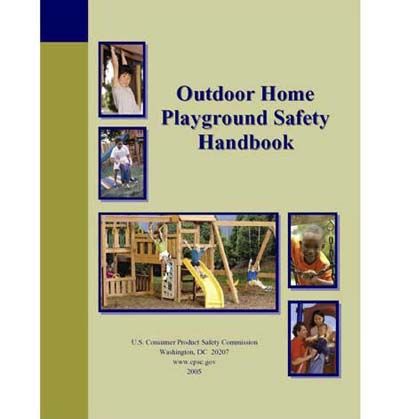 Other safety considerations include:
Space: There must be enough space around the structure—at least 6 feet around and 12 feet on both sides of swings?
Obstacles: Are there obstructions or tripping hazards in the play zone?
Protrusions: Things like protruding bolts should be covered with safety caps that can only be removed with a tool.
Openings: Openings should be large enough to pass through, or small enough to keep a child from trying.
Ropes: All ropes should be anchored.
Swings: Is there enough space between swings? Are swings with a 360-degree rotation in a separate bay?
Maintenance: Regularly check for loose hardware, splintering wood, and damaged parts. Rake surface material periodically and maintain appropriate depth.
Materials: Do not use wood that has been pressure-treated with dangerous chemicals. Avoid toxins in stains and paints. Use corrosion-resistant hardware.
For complete safety guidelines, check the U.S. Consumer Product Safety Commission's Outdoor Home Playground Safety Handbook.