Utility with Charming Details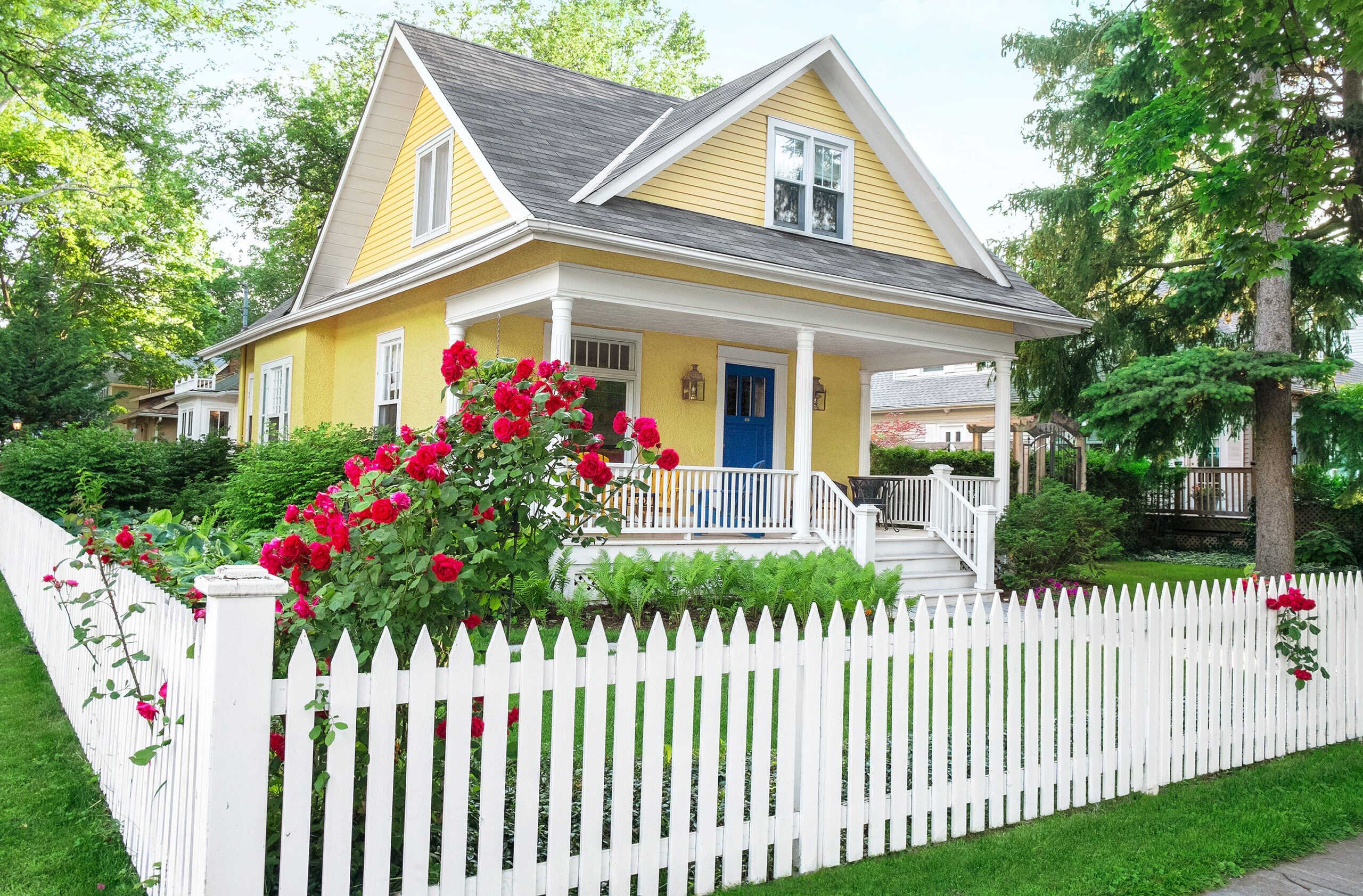 Like so many old-house details, the picket fence has roots planted squarely in utility: Colonists built them to keep chickens in the yard and to protect the garden. Then, as they are wont to do, the carpenters came along and, armed with pattern books, started introducing new details to the wood parts.
What you and I know as the picket is actually a paling—a flat board with a decorative or squared top that gets face-nailed to horizontal rails between posts. So what's a picket? That would be a 1½-inch squared stake with a pointed or round top that became popular during the Greek Revival period. Both were, and still are, homeowner favorites, and for good reason: They come in enough different styles to suit any house, from formal to casual. Today, they're all called pickets.
When you start looking for a picket fence, you'll find that wood isn't the only choice. There are a growing number of low-maintenance options like vinyl, cellular PVC, metal, and composites. But if it's a custom look you're after, wood still offers the greatest number of picket shapes and styles, and it can be stained any color.
From shopping advice to design inspiration, here's what you need to land the perfect picket fence.
Shown: a row of white pickets marks the front yard's boundary while allowing views from the street and the porch.
Anatomy of a Picket Fence
Styles vary, but all picket fences use the same basic parts to enclose a yard.
Picket Fence FAQs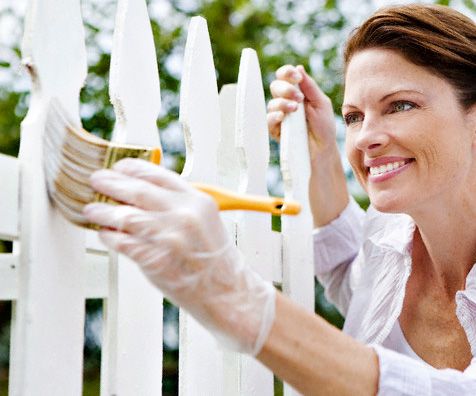 What do they cost? Depending on style and species, 3½-foot-tall panels of wood pickets run $3.40 to $50 per linear foot, not including installation. Vinyl or aluminum versions cost $5 to $12.60.
Are they DIY-friendly? A skilled homeowner can install a fence on a flat lawn, but hire a pro to handle the job on sloped turf.
How much maintenance? Two coats of a solid-color stain should last 5 to 10 years. Gates should be checked annually and adjusted to keep them plumb in the opening.
How tall should they be? A fence 3 to 4 feet tall makes for a nice barrier from the street. For fences enclosing a pool, code requires a minimum height of 4 feet.
Why White?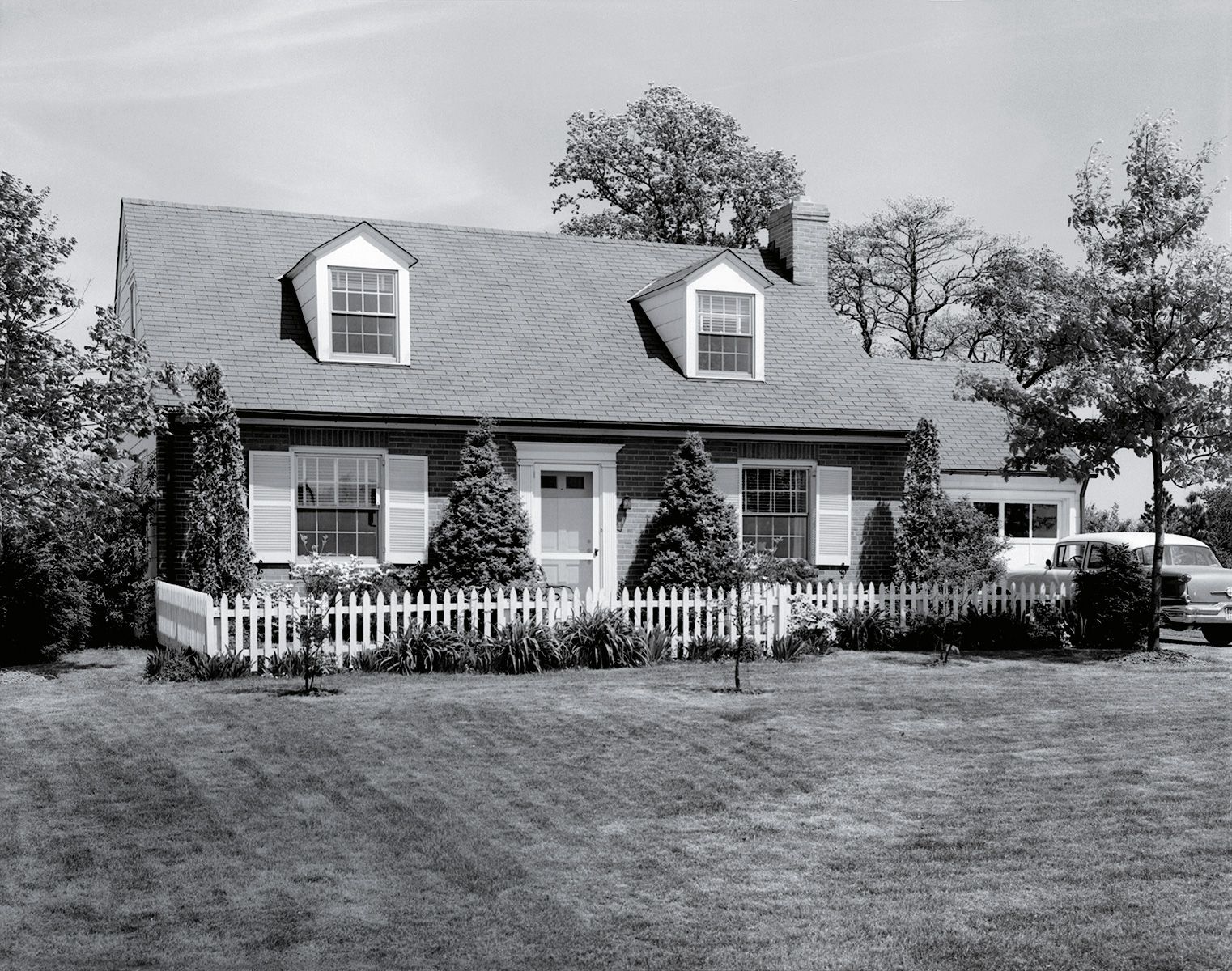 In early America, affluent colonists preserved their fences with creamy-white paint or whitewash, a mixture of lime and water, to match the home's trim color, which through the Greek Revival period usually meant white. Then, in the mid-1840s, Victorian homeowners, with access to a broader range of paint colors, began coating fences in park-bench green or brown to blend in with the landscape. When the Colonial Revival style arrived in the early 20th century, white came back into vogue on new suburban homes—and pickets became an icon.
Shown: The postwar Cape Cod helped make the white picket fence an American staple.
Pick a Material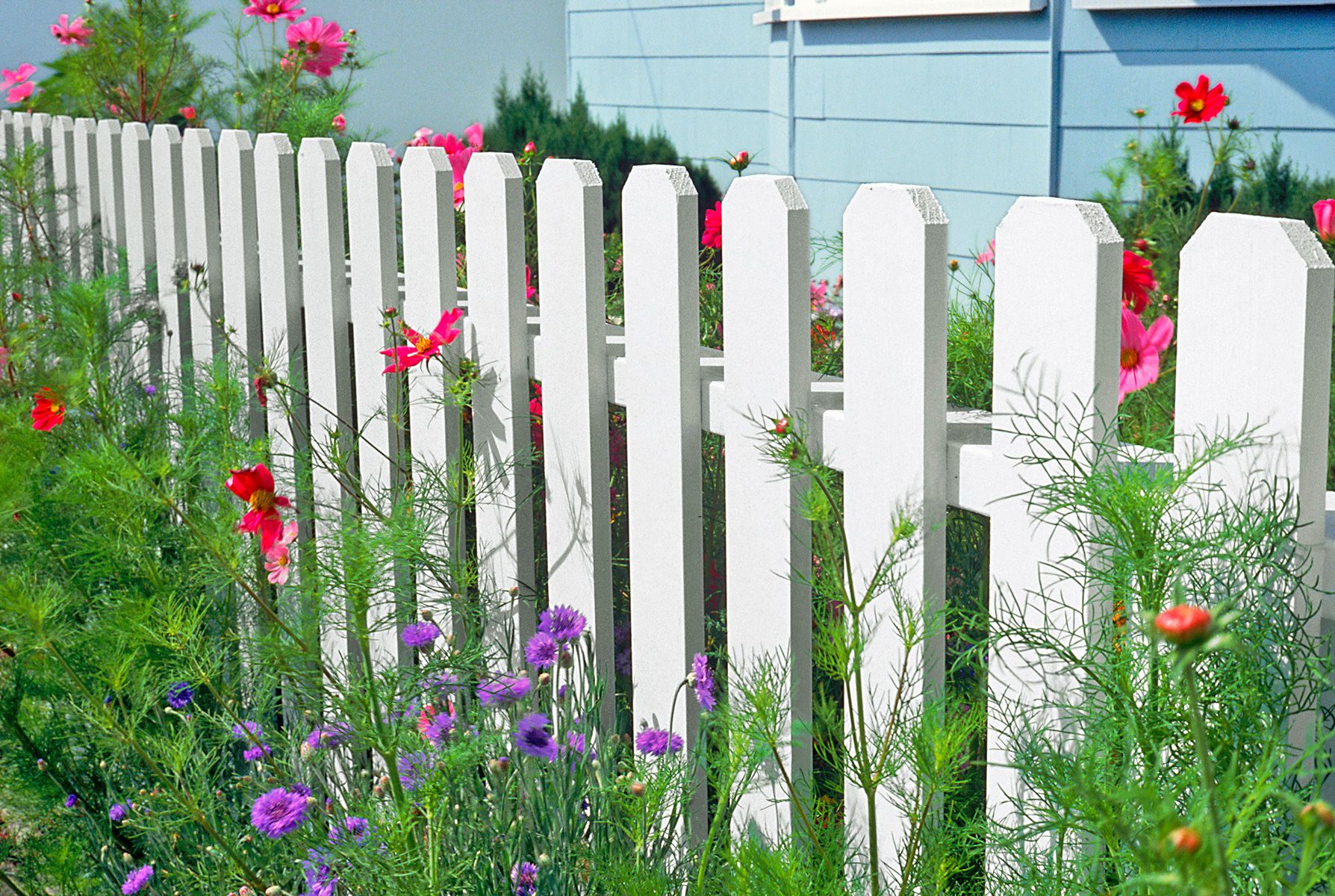 Wood is warm, but man-made is nearly maintenance-free.
WOOD: A favorite choice, wood pickets are available in everything from budget-friendly pressure-treated pine to redwood. They can be stained any color, will need periodic re-coating, and come in a variety of shapes.
CELLULAR PVC: This rot-resistant plastic looks like painted wood from a distance and can be milled to nearly any shape. The stock white color looks good as is—or it can be coated with an exterior paint.
VINYL: Hollow pickets attach to or go through rails for a lightweight fence that never needs painting. Vinyl's white color tries to mimic painted wood, but the material's glossy finish is unmistakable.
METAL: Square lengths of powder-coated aluminum or steel are capped by spear points. It's easy to clean with a hose and to repair scratches with a fresh coat of spray paint.
COMPOSITE: Similar to low-maintenance decking, these pickets have a wood-look texture and usually come prefinished in a stained tone.
Shown: Man-made materials, like these cellular PVC pickets, are the best choice around plants; they aren't affected by sprinklers.
Buying Options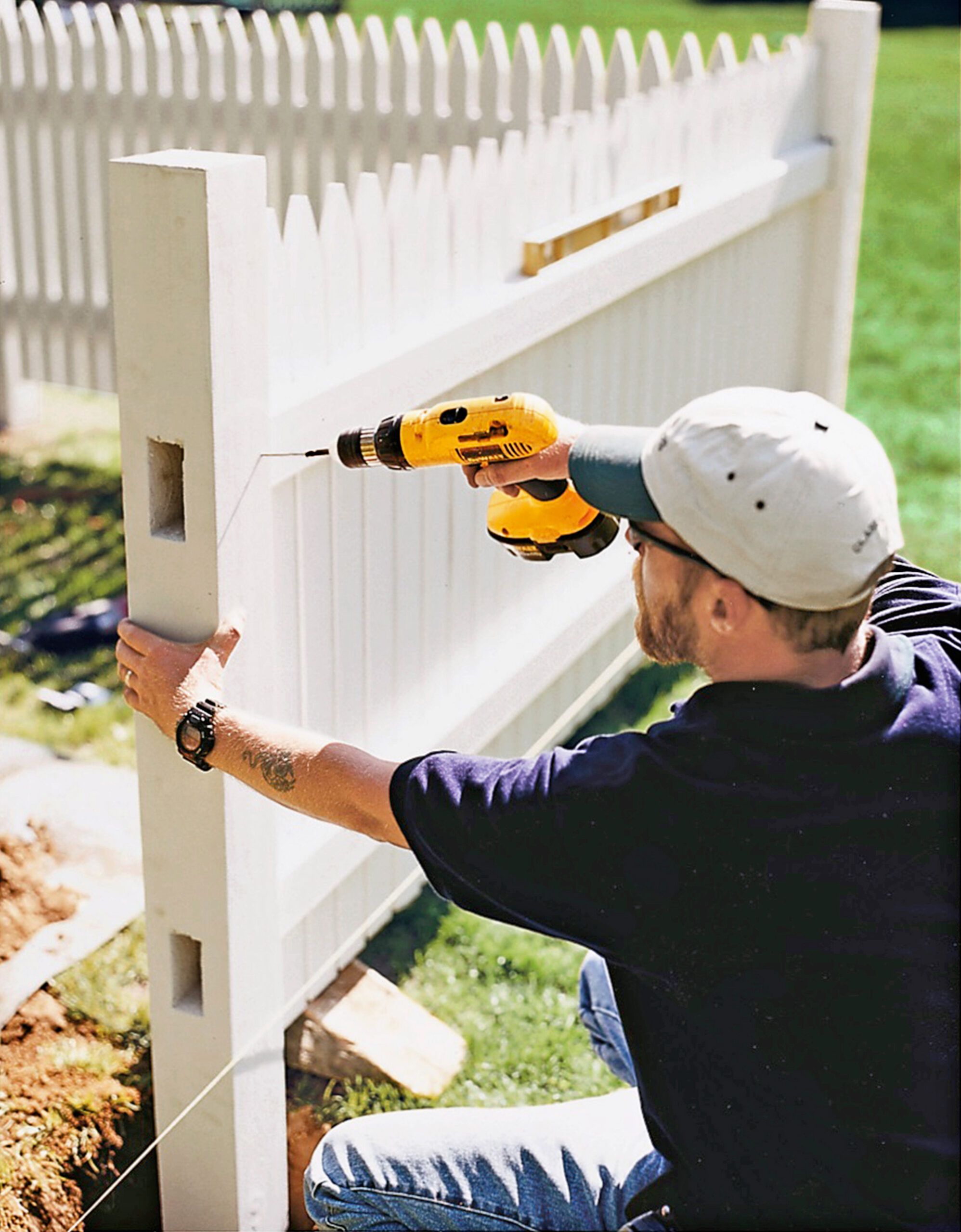 To DIY, find options at home centers or lumberyards—or hire a pro to install a fence for you.
Prefab: Home centers stock posts and prefabricated wood panels from 3 to 4 feet high and 8 feet long. The picket shapes are generally limited to versions of the traditional spear. Powder-coated metal panels tend to be closer to 6 feet high. Composite materials come in shorter, 6-foot-long panels, to keep weight down. Set the posts, then fasten panels in place.
MATERIAL OPTIONS: wood, metal, and composite
Ready to assemble: With vinyl and some metal fence systems, the pickets and posts are hollow, and the parts come boxed in cartons. Rails click into mortises in the posts, and the pickets snap into place.
MATERIAL OPTIONS: vinyl and metal
Pro-installed: Skip the digging, cement mixing, and measuring by having a pro erect the fence. It costs about 20 percent more than buying the materials, but gives you the greatest number of picket styles and configurations.
MATERIAL OPTIONS: wood, cellular PVC, metal, vinyl, and composite
Shown: A quality wood picket fence, like this stained white-cedar version, uses mortised posts to make a secure connection to the rails.
Pickets with Style: Functional Spear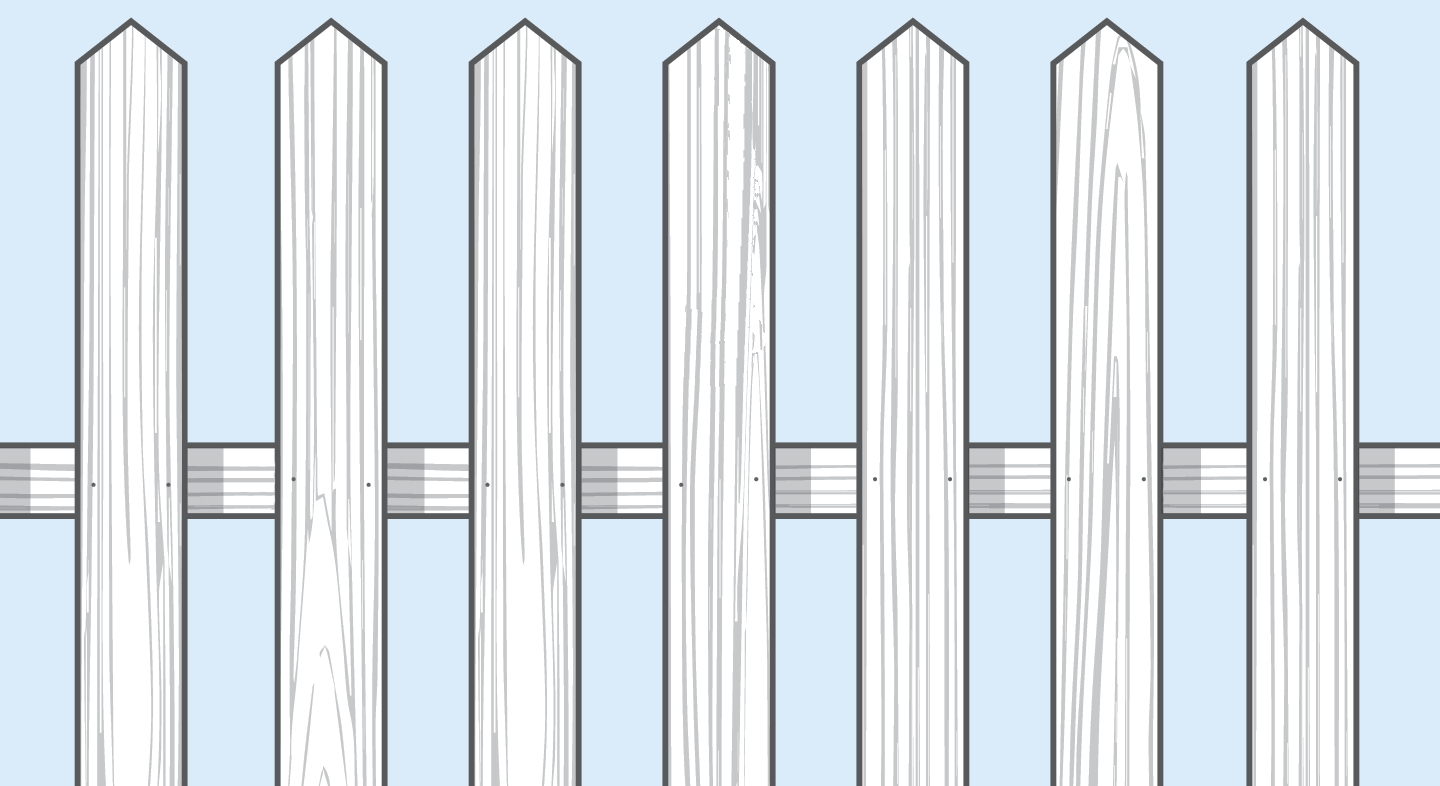 Pointed so it sheds water, this picket is similar to those found at Colonial Williamsburg. In the early Virginia capital, the boards, made from rot-resistant woods like locust, cedar, and white oak, were often left unpainted.
Need picket inspiration? Fences: Authentic Details for Design and Restoration, by Peter Joel Harrison (Wiley), features dozens of drawings of historic fence styles.
Pickets with Style: Turned Greek Revival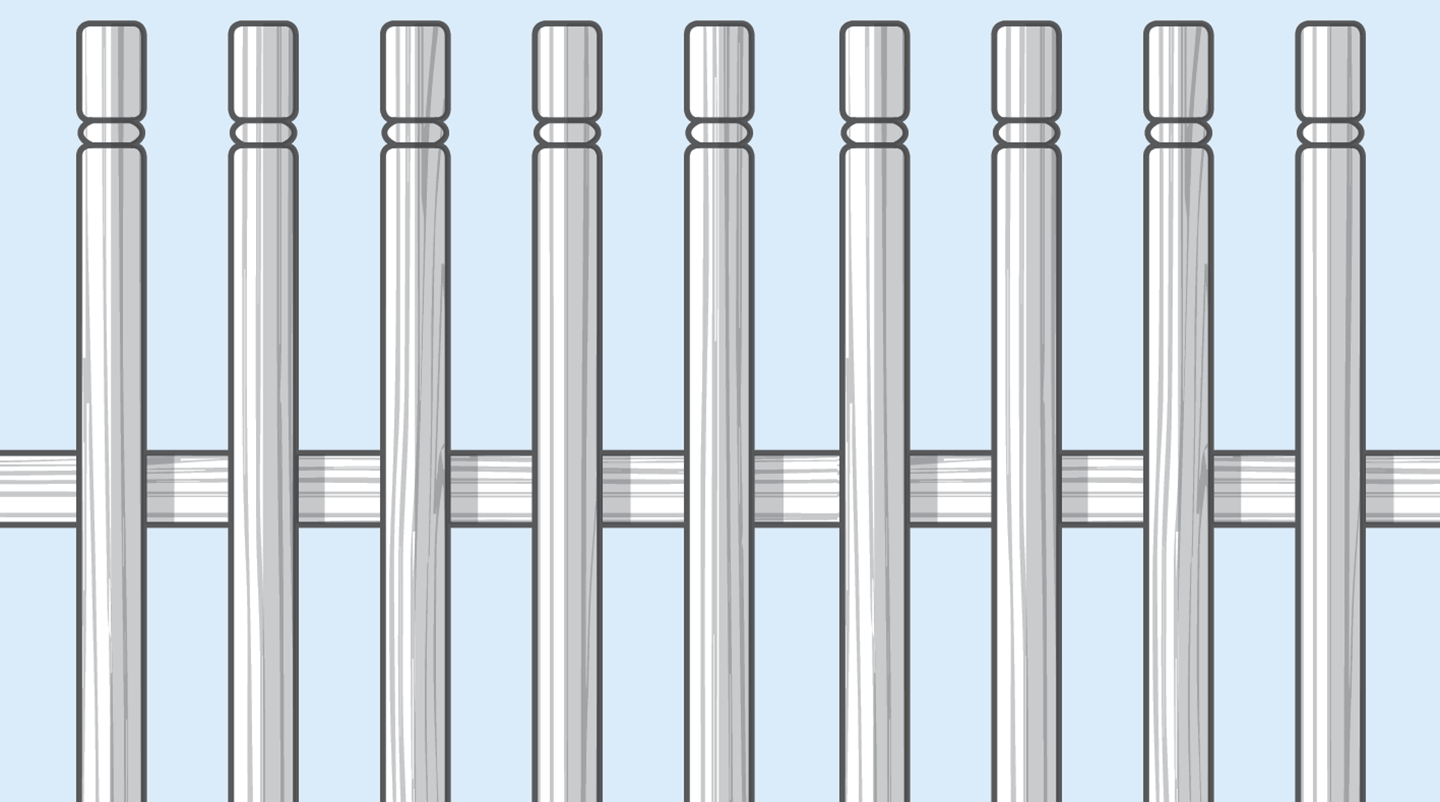 This round picket's eased top and bead, similar to those from the town of Tarboro, NC, would be right at home in front of a Greek Revival house.
Pickets with Style: Georgian Point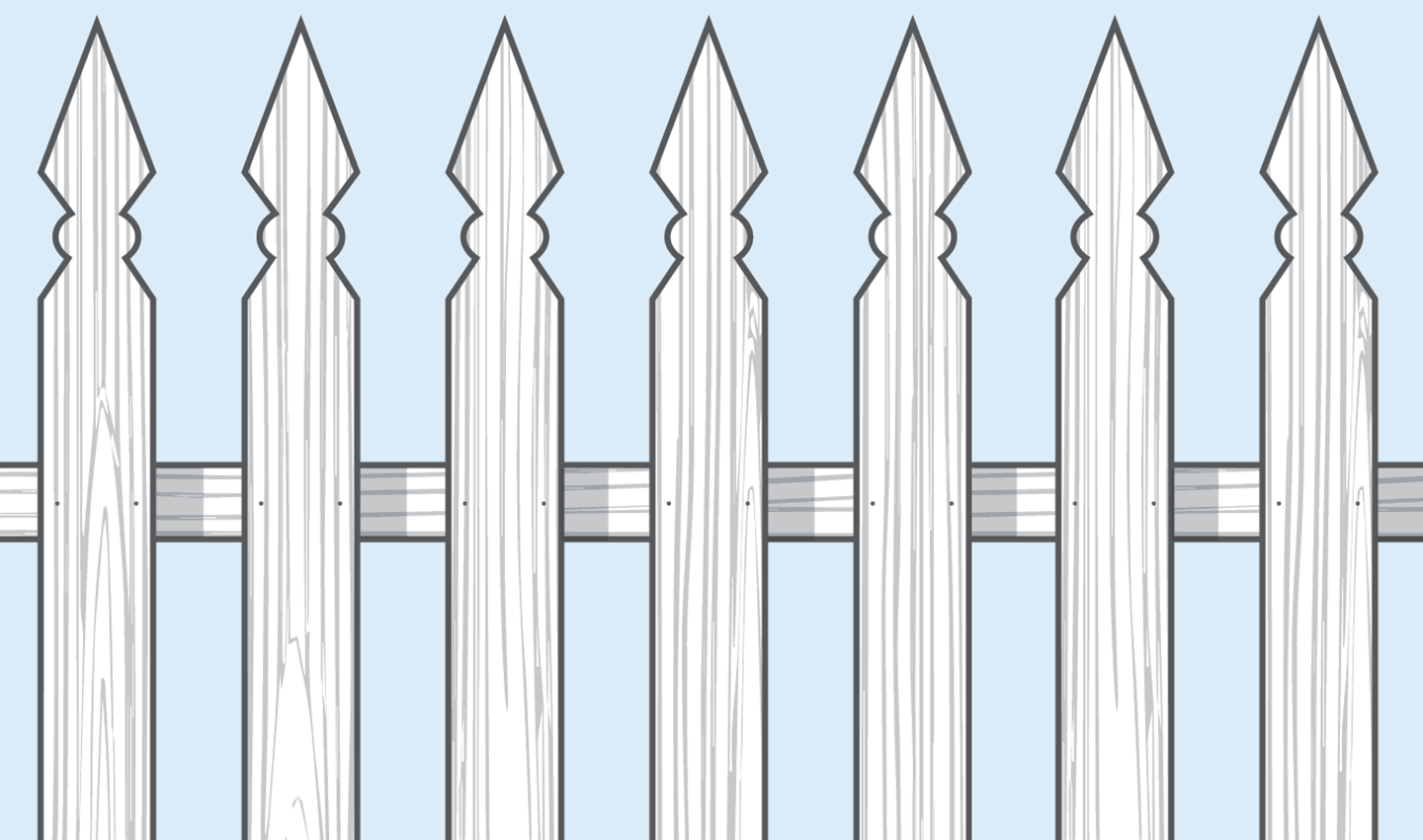 Made from cypress or locust, this picket surrounded George Washington's tomb at Mount Vernon. A carpenter spent extra time cutting the bead detail.
Pickets with Style: Classic Picket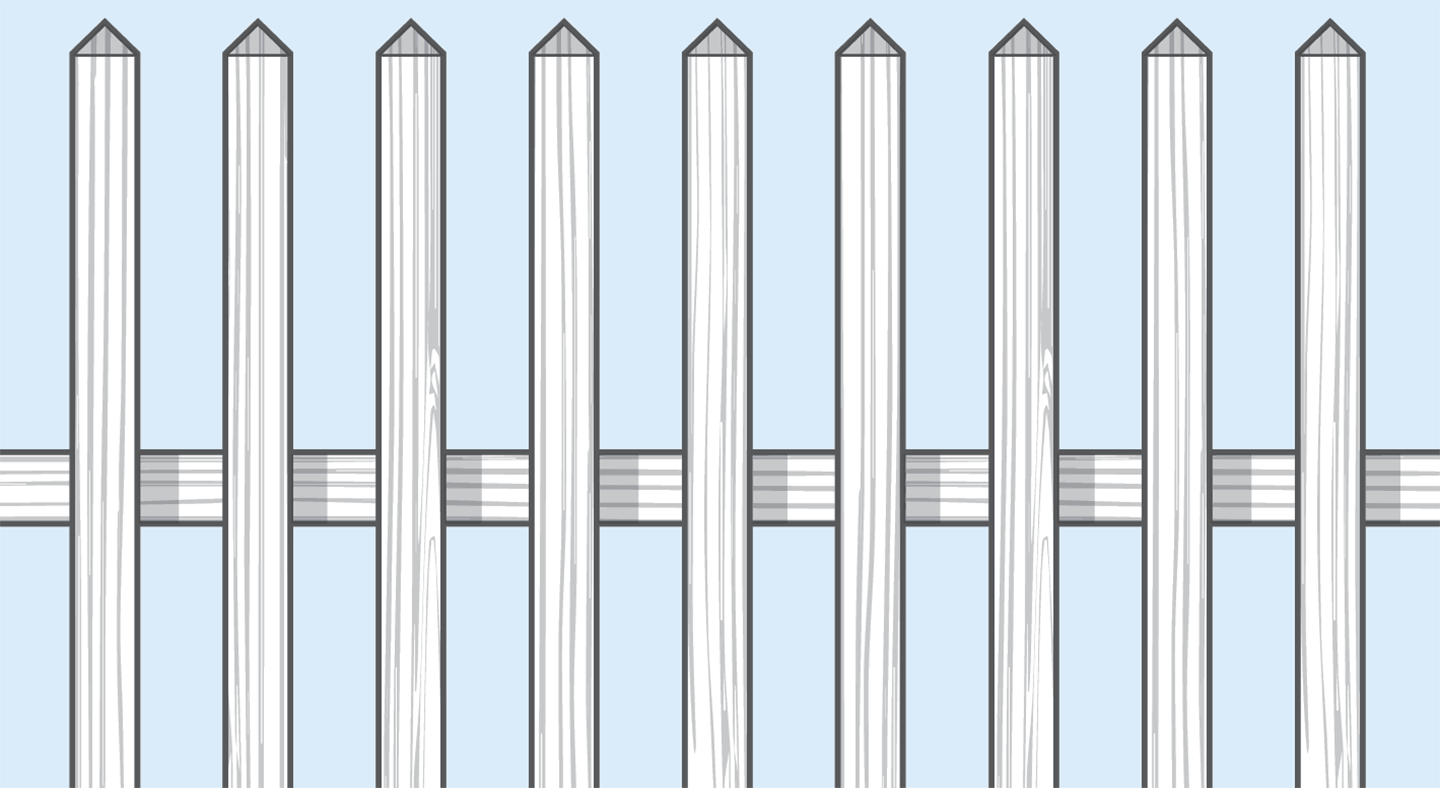 Pointed pickets like this were found at the Hopsewee Plantation house, a South Carolina estate built in 1740. The orderly appearance is similar to the balusters along its first- and second-floor porches.
Pickets with Style: Shapely Victorian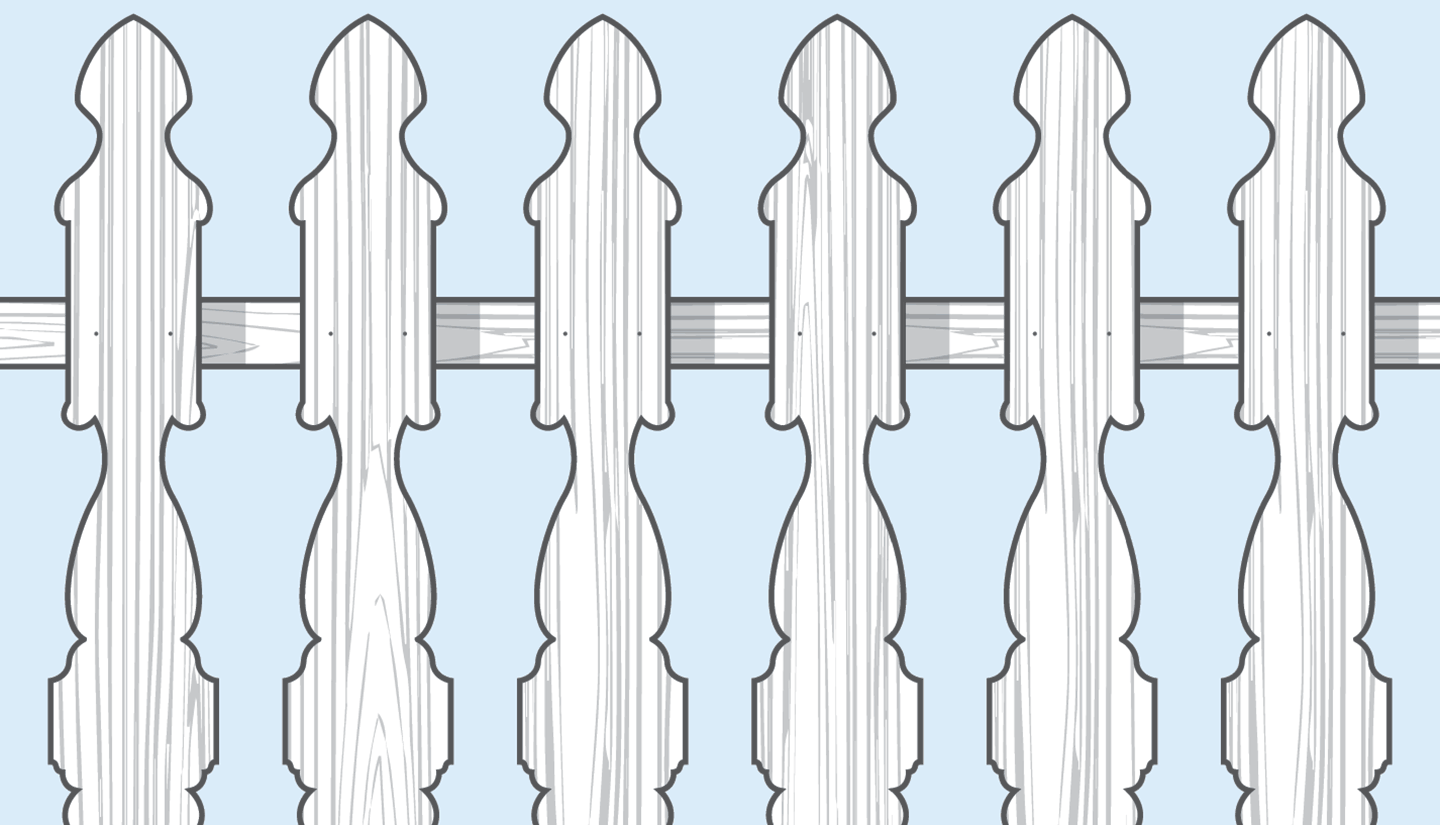 The Industrial Revolution gave homeowners access to machines capable of cutting intricate details. This elaborate picket, similar to ones seen in coastal Connecticut, looks like an interior baluster.
Design Variations: Arched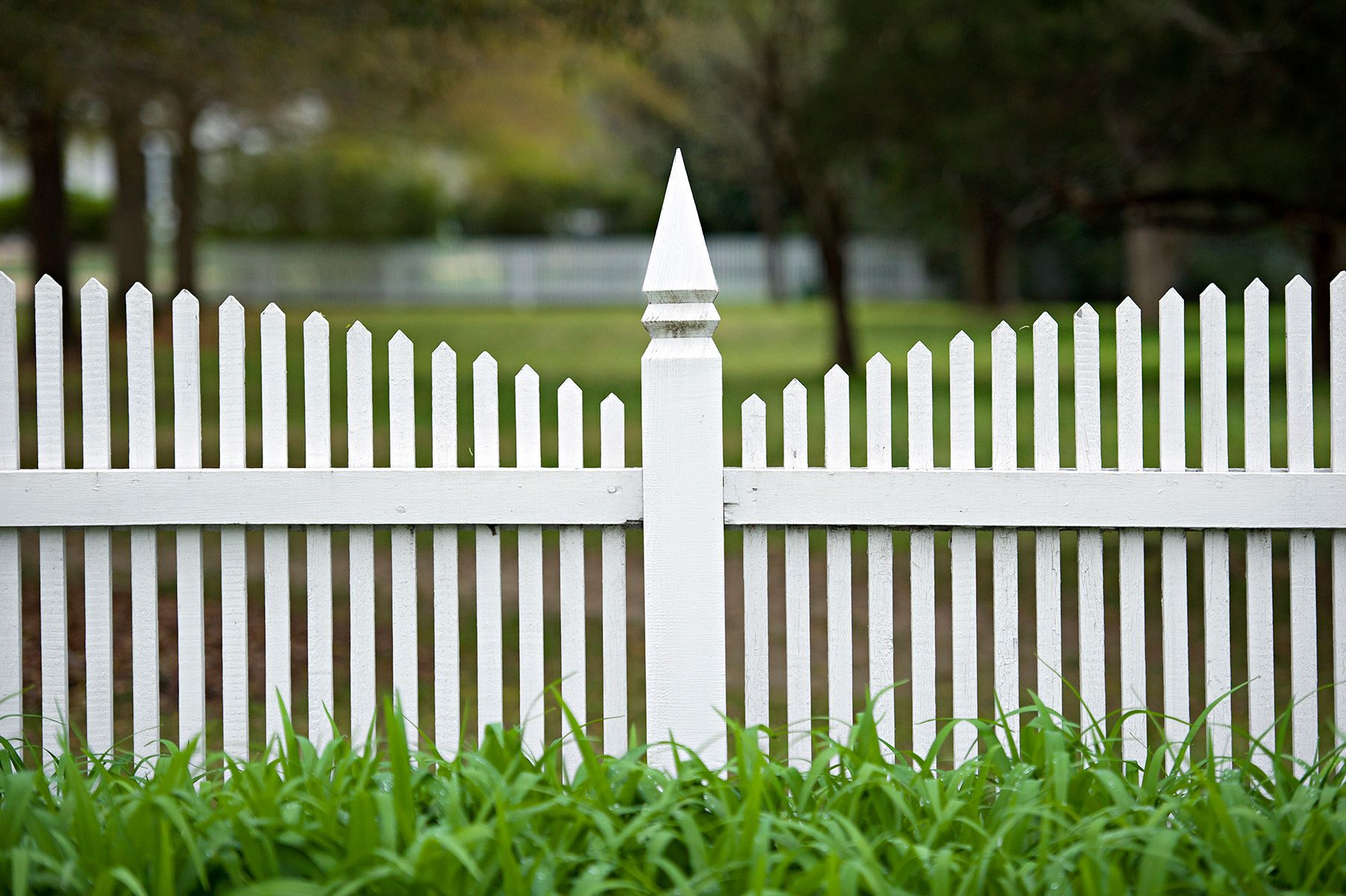 Starting from a post, each picket gets slightly taller than the last, before cresting to the next post. The tall post finials become a focal point in a design that is often available in wood or vinyl.
Similar to shown: 4-foot-tall chamfered picket panel in natural redwood, $46 per linear foot; Arbor Fence Inc.
Note: All prices are for uninstalled panels.
Design Variations: Staggered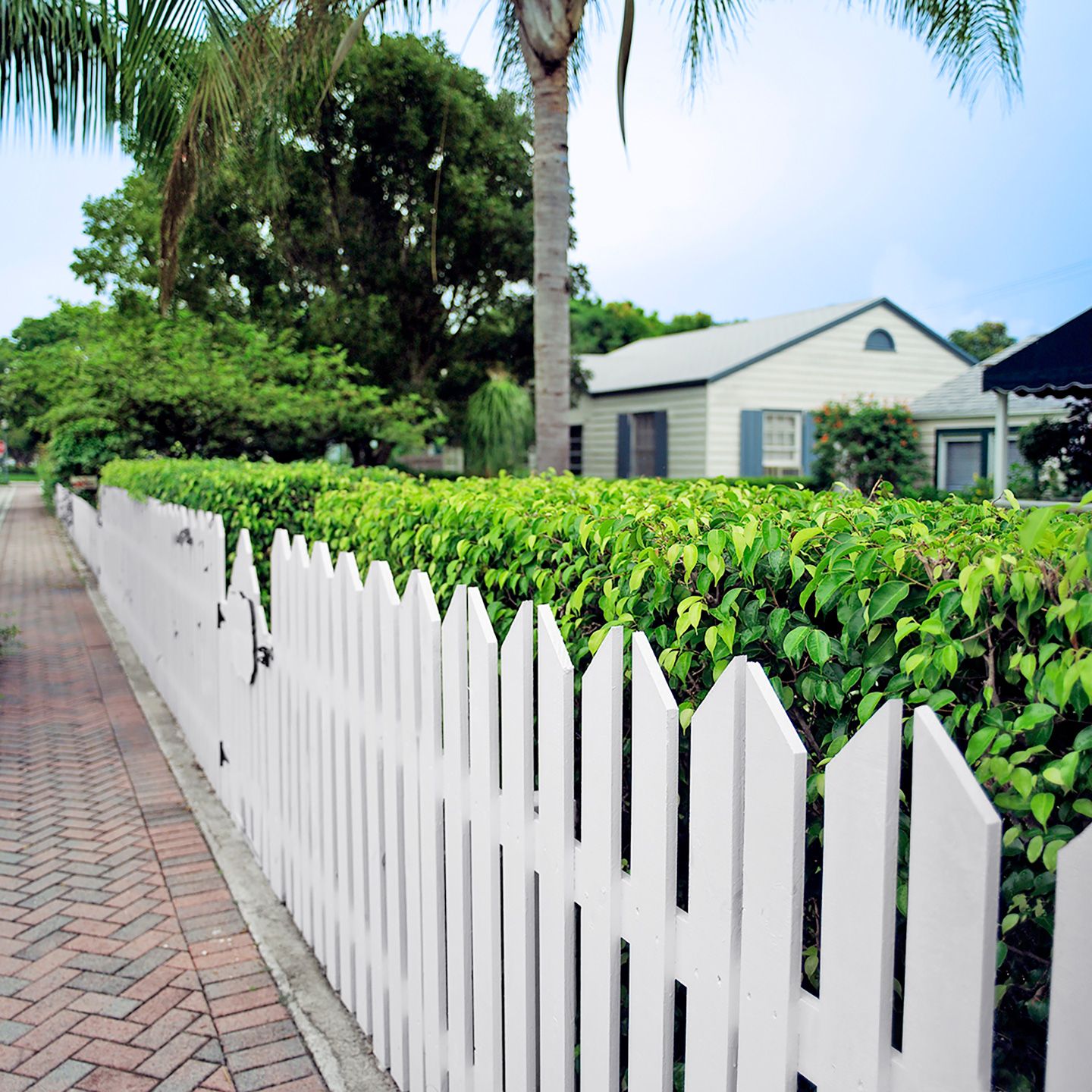 Arranging the pickets with alternating miters dresses up the basic boards.
Similar to shown: 3-foot-tall custom picket panel in natural white cedar, $10 per linear foot; Wayside Fence
Design Variations: Dual Pickets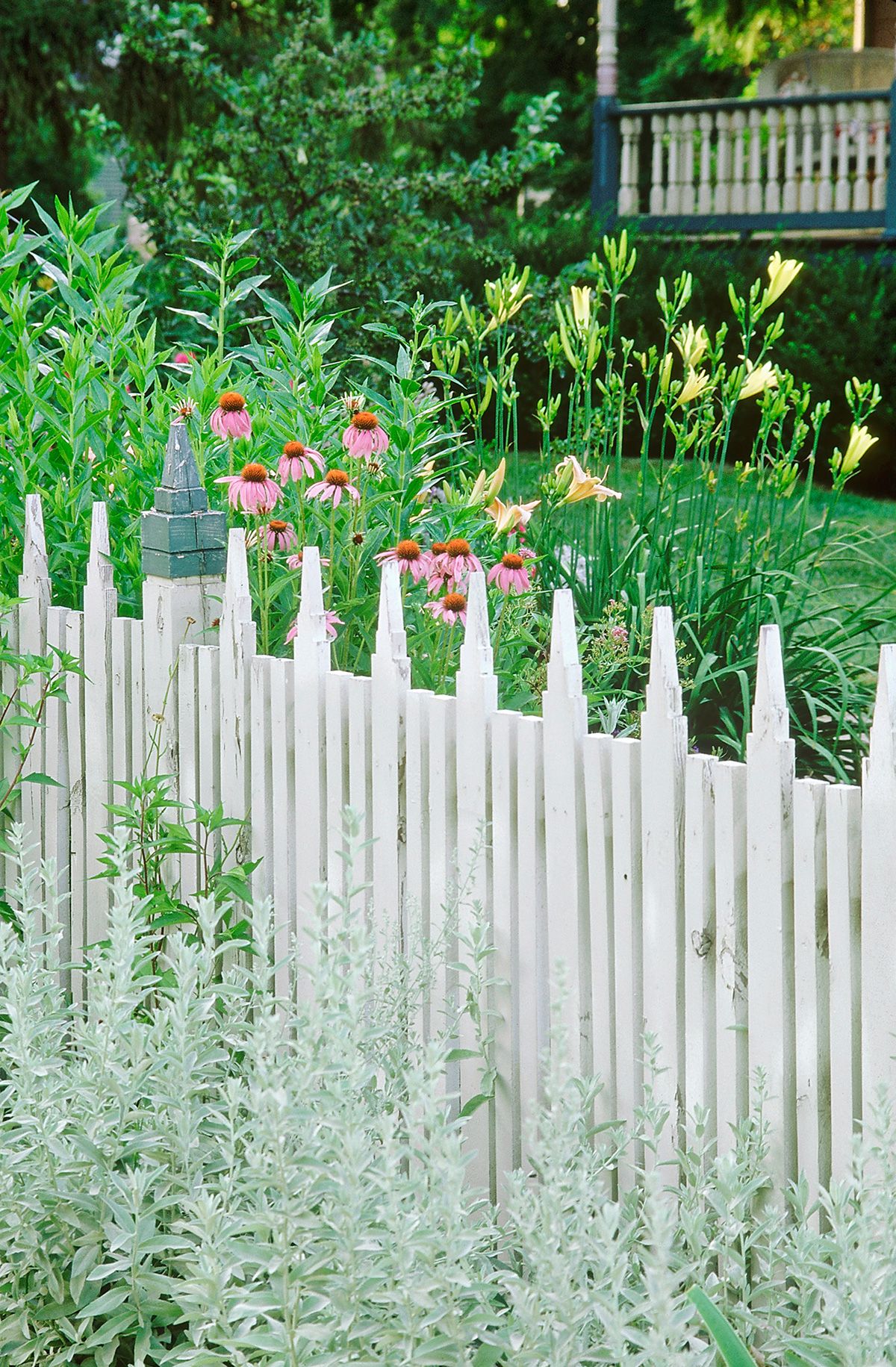 Squared-off boards set between spiked pickets soften the formal design and preserve garden views. The square pickets offer a safe place for birds to perch.
Similar to shown: 3-foot-tall custom picket panel in natural white cedar, $20 per linear foot; Wayside Fence
Design Variations: Irregular Heights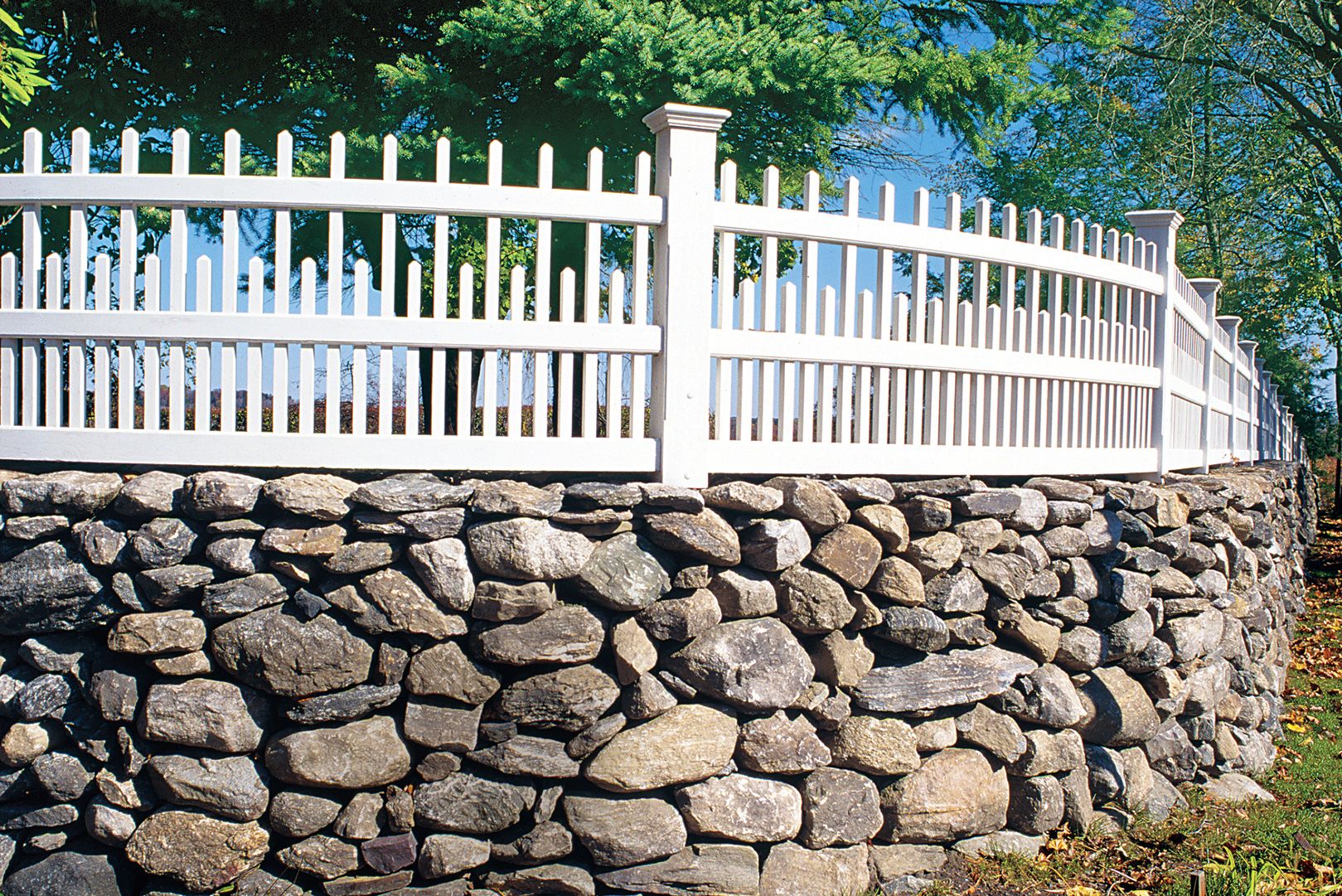 Alternating short and long pickets help set this formal fence apart. The smooth, white finish makes a pleasing contrast with the stone wall.
Similar to shown: 4-foot-tall Westchester picket panel in stained white cedar, $80 per linear foot; Walpole Woodworkers
Design Variations: Scallop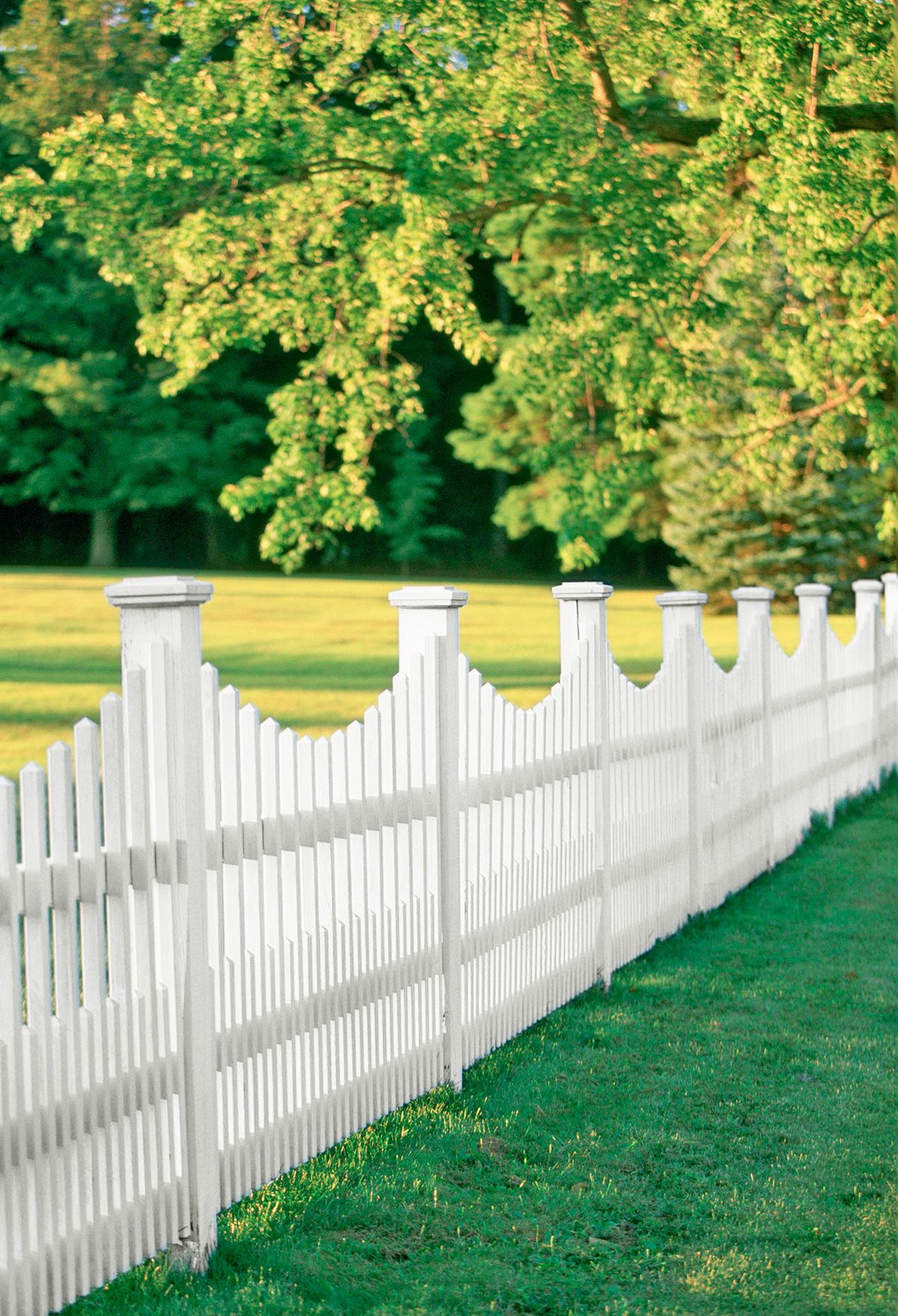 Pickets that gently curve down between posts create a sense of rhythm as guests approach on a driveway.
Similar to shown: 5-foot-tall scallop picket panel in natural red cedar, $72 per linear foot; Salem Fence
Design Variations: Capped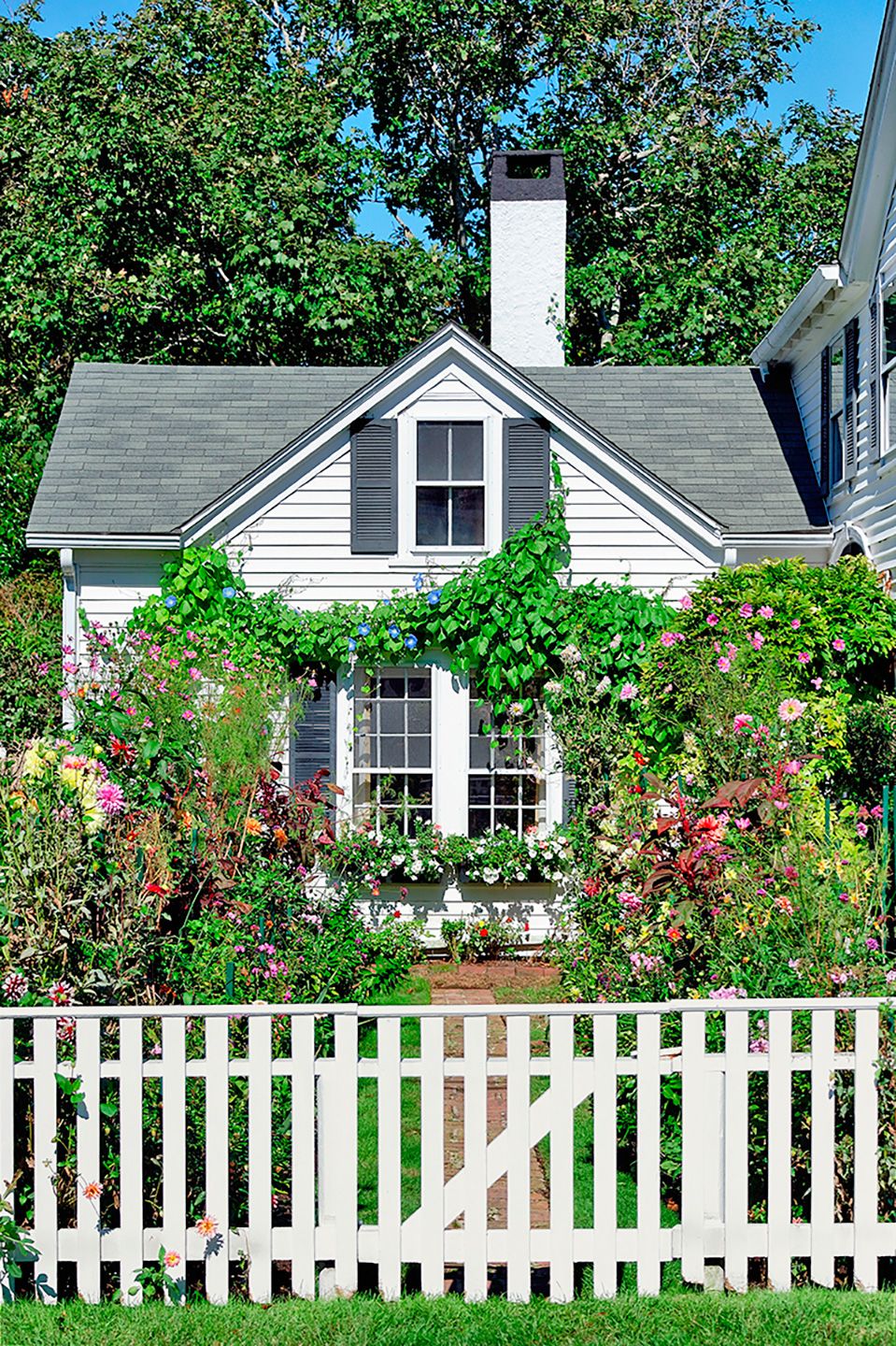 Pickets that end at a top rail have a clean look and a cottage feel. The diagonal bracing helps prevent the gate from racking but also makes it easier to find.
Similar to shown: 3½-foot-tall Hamilton picket panel in stained white cedar, $45 per linear foot; Colonial Fence Co.
Proper Post: Cap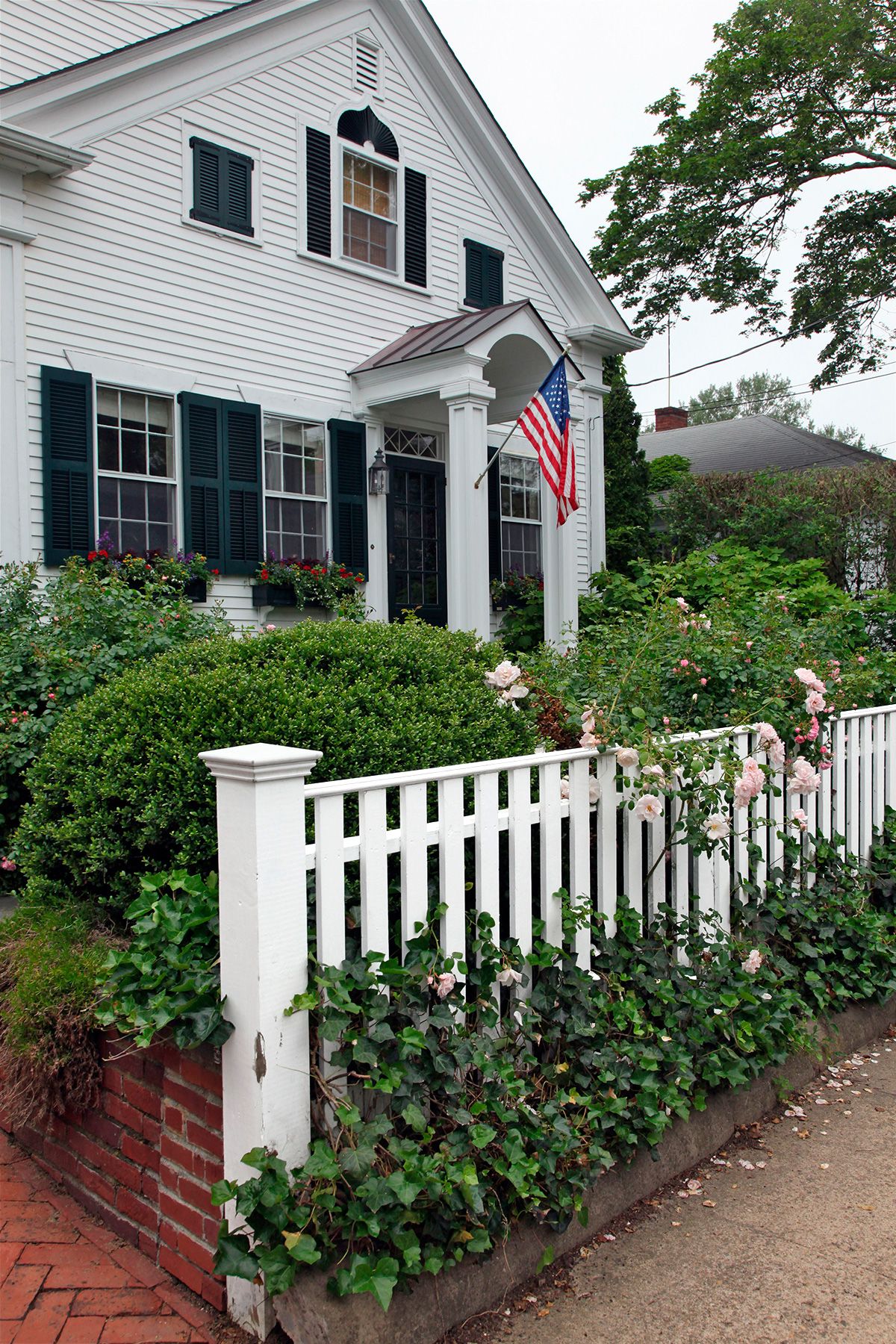 Water sheds off the shallow beveled cap, while the bead-and-cove molding adds understated detail.
Similar to shown: Maine Ornamental post cap in red cedar, $13; Lowe's
Note: All prices are for 6×6 posts.
Proper Post: Ball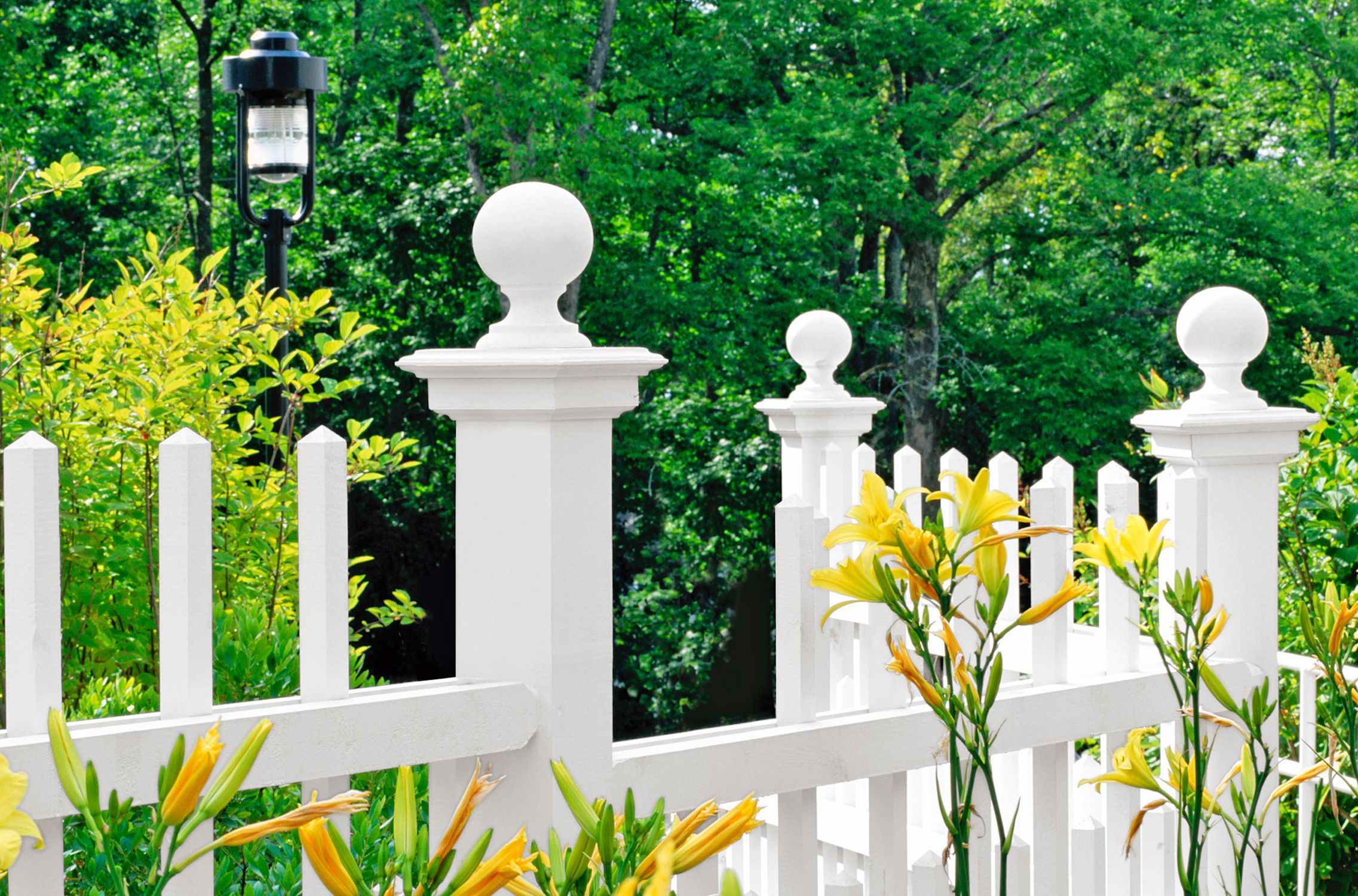 Topping gateposts, spheres define an entrance and suit a Victorian-era house.
Similar to shown: JT33 finial and NC-2E post cap, in red cedar, $42; Island Post Cap
Proper Post: Spike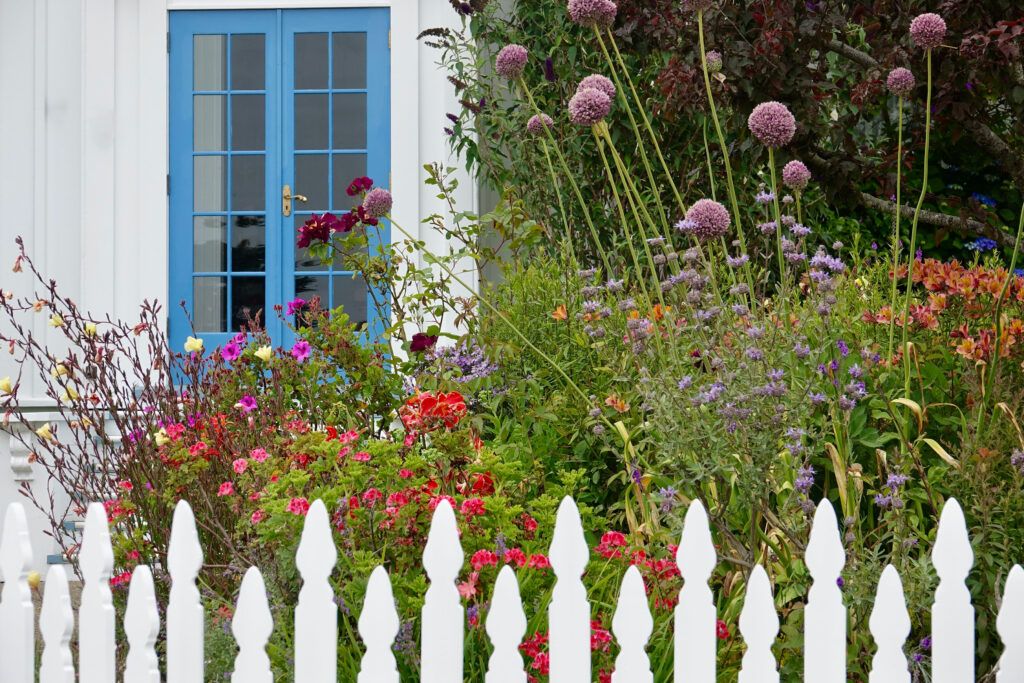 A chunky French Gothic-like spearhead on a field post mimics the shape of the nearby pickets.
Similar to shown: Custom finial in white cedar, $60; Hanson Woodturning
How to Add Color: Staining vs. Painting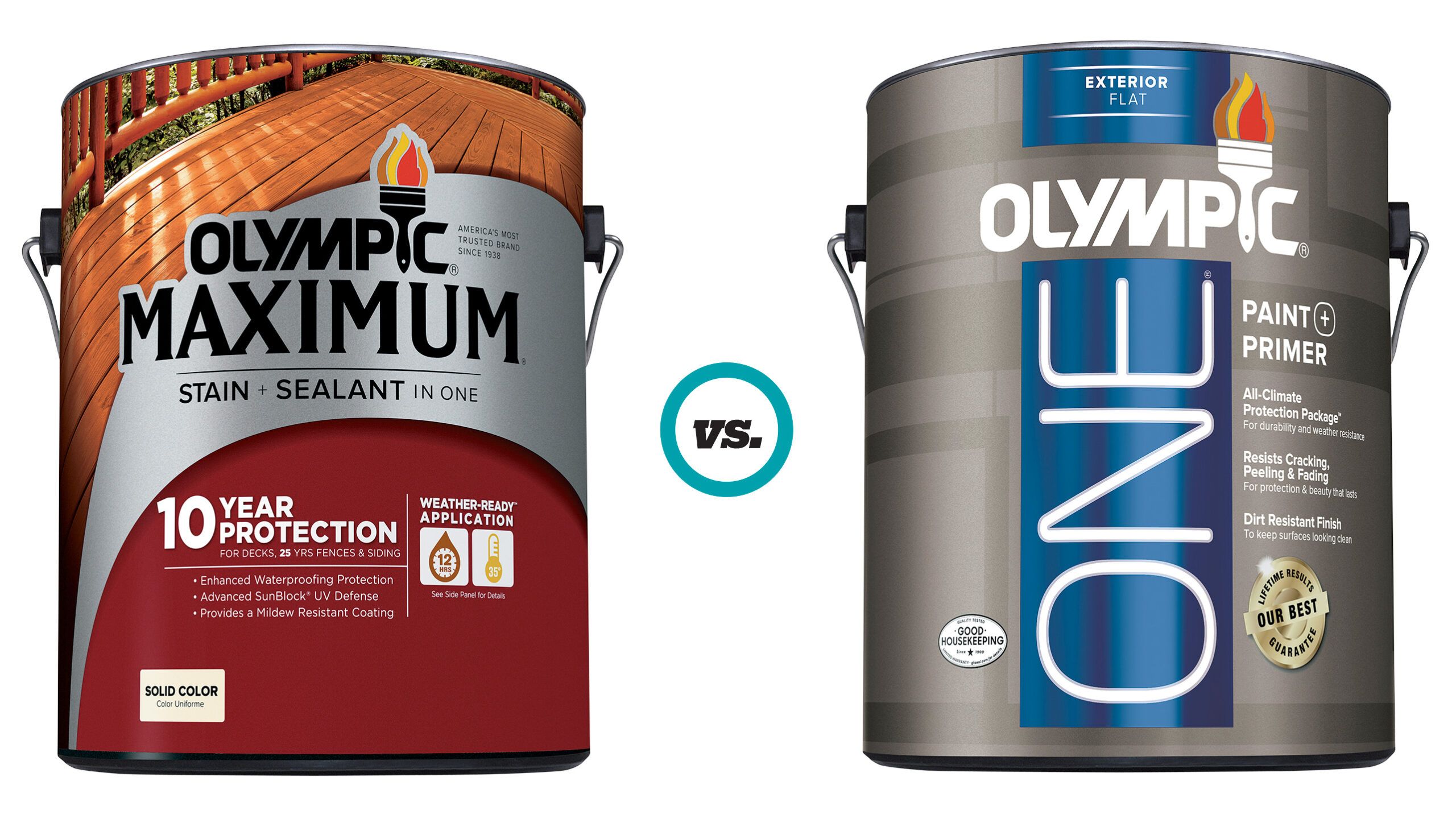 Stain and paint both protect wood from UV rays and moisture, but an exterior solid-color stain works better for a fence. A coat of stain is about 2½ millimeters thick when applied and dries to about half that. A coat of paint dries nearly twice as thick. Any moisture that gets beneath the coating will have an easier time escaping through stain, whereas water trapped under paint causes flaking. Expect about 5 to 10 years from two coats of a solid-color stain on a fence. And then it will be easier than paint to re-coat—no scraping away old layers.
Shown: A gallon of solid-color stain (left) is thin enough to be applied with an airless sprayer and worked into all the nooks and crannies of a picket fence.
Picket Partners: Hydrangea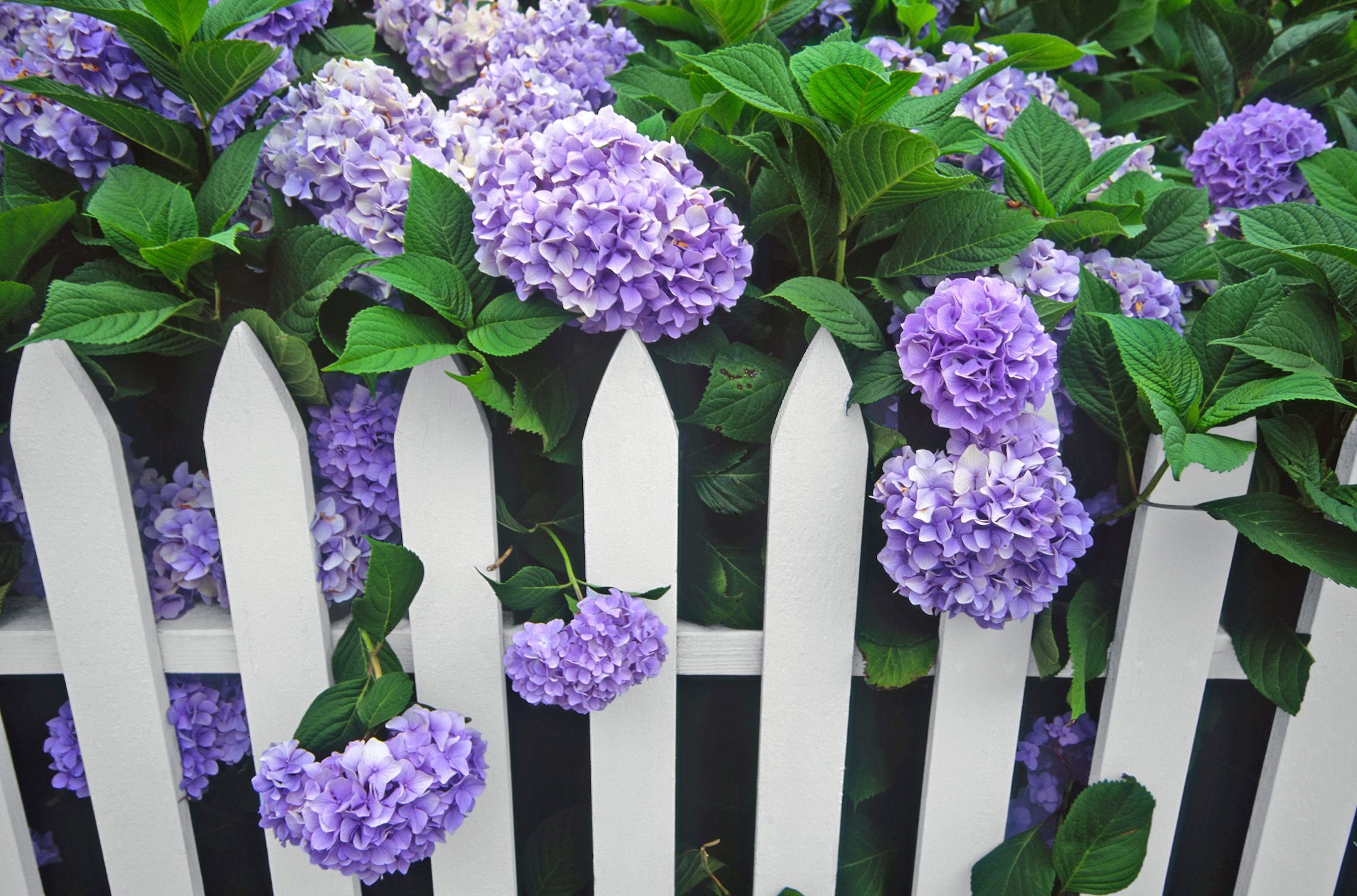 This mophead's softball-size pink-to-purple blooms arch over the pickets in summer. Use them against shorter pickets to fill in for added privacy.
Picket Partners: Marigold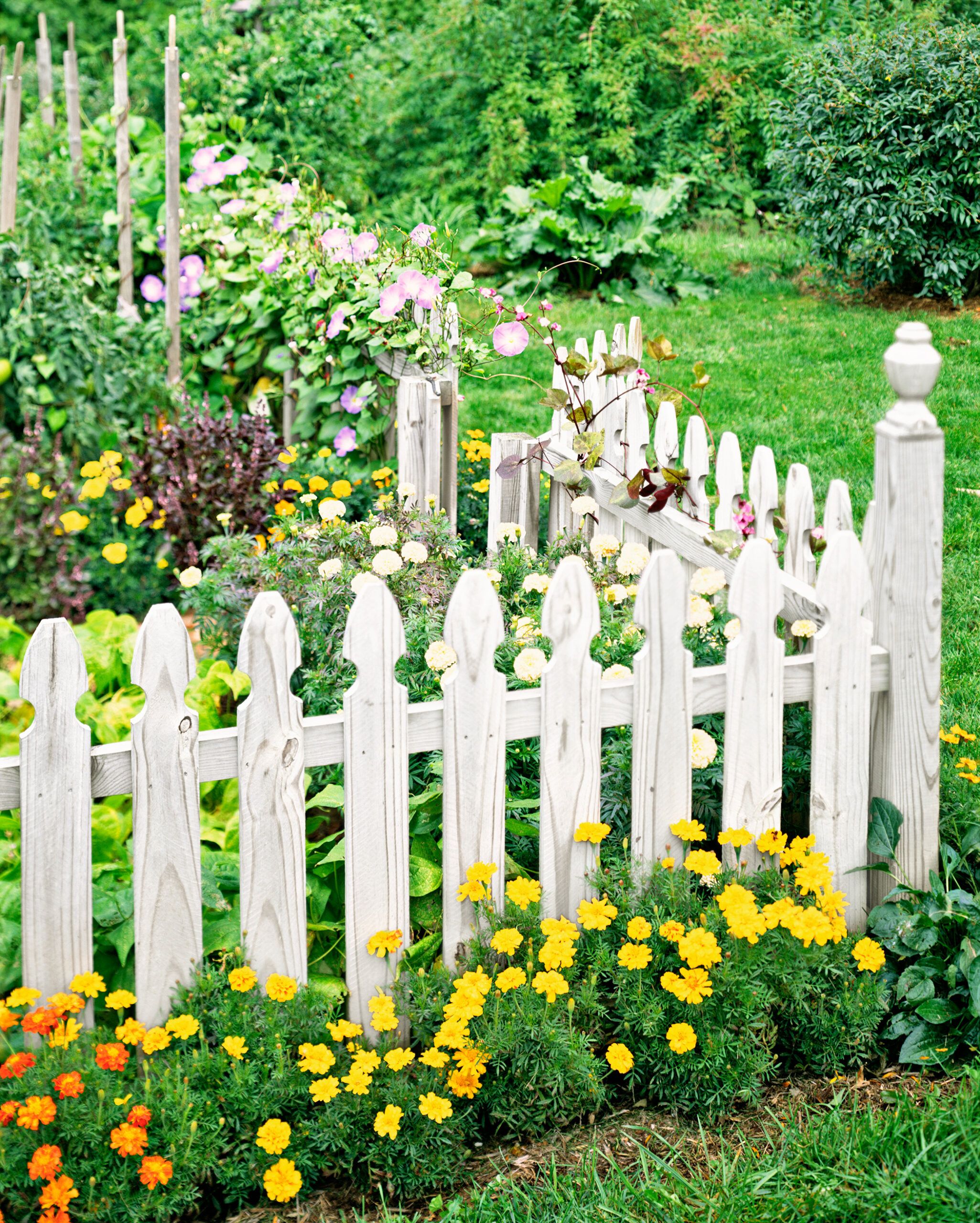 This drought-resistant annual flowers orange, yellow, white, or red. Plant a strip of marigolds along the outside of a fenced-in vegetable garden for a rush of color.
Picket Partners: Rose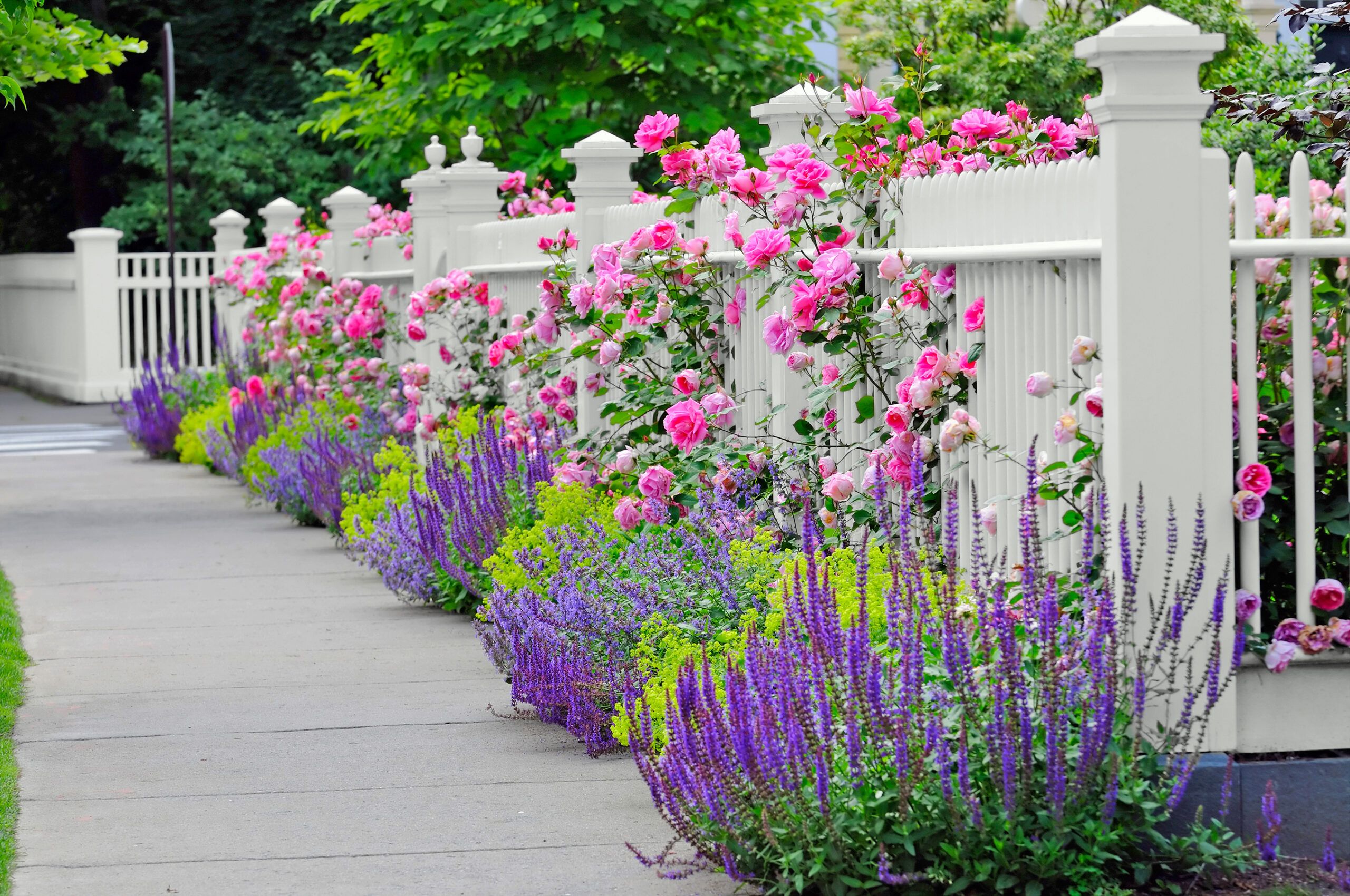 Bring a cottage-garden vibe to the neighborhood with pink climbing roses tumbling over the fence in an alternating pattern with purple salvia.
Finishing Touches: Latch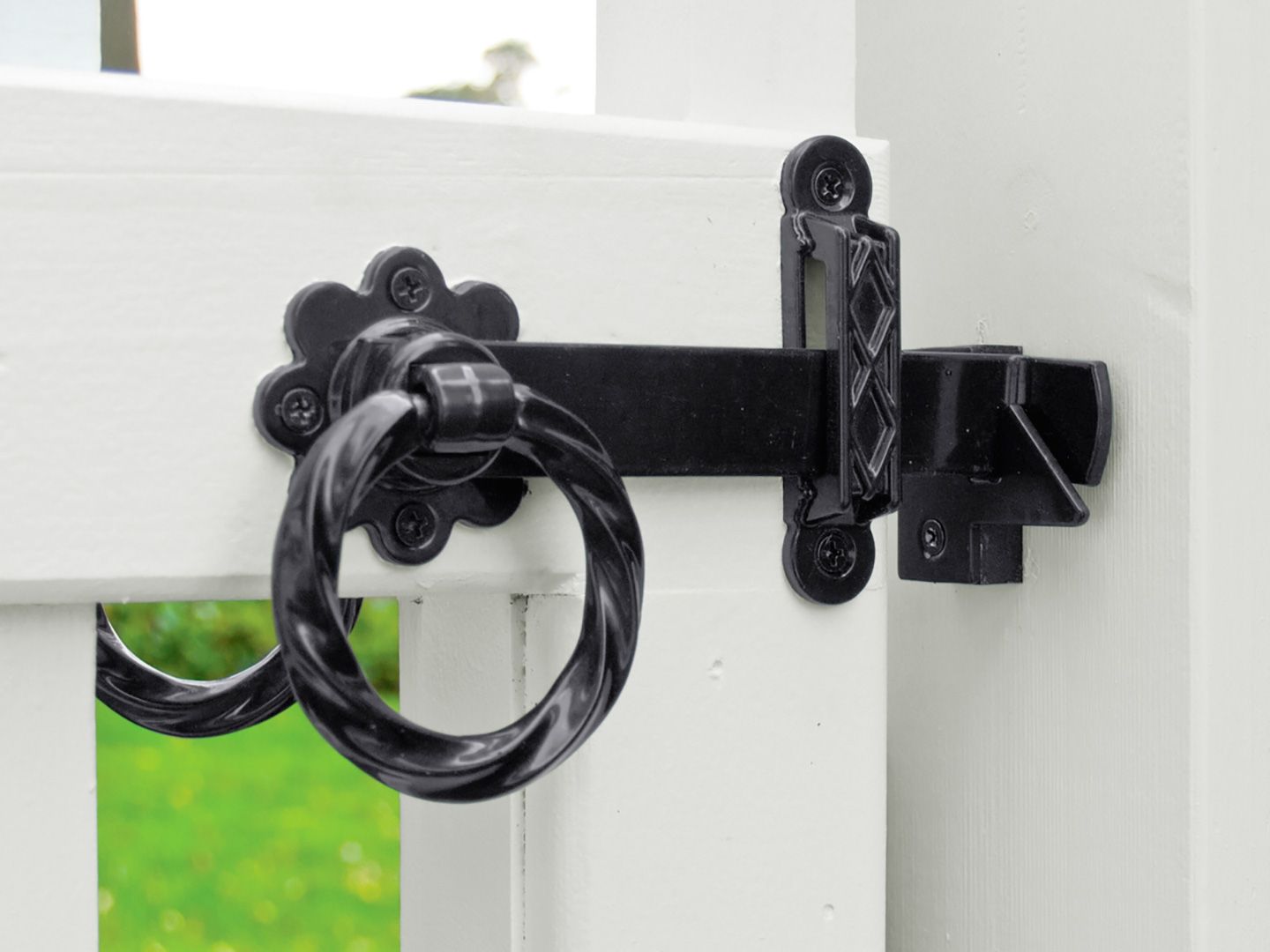 An aluminum-alloy, 3-inch-diameter ring latch looks just like twisted wrought iron—without the weight.
$42; Hoover Fence
Finishing Touches: Hinge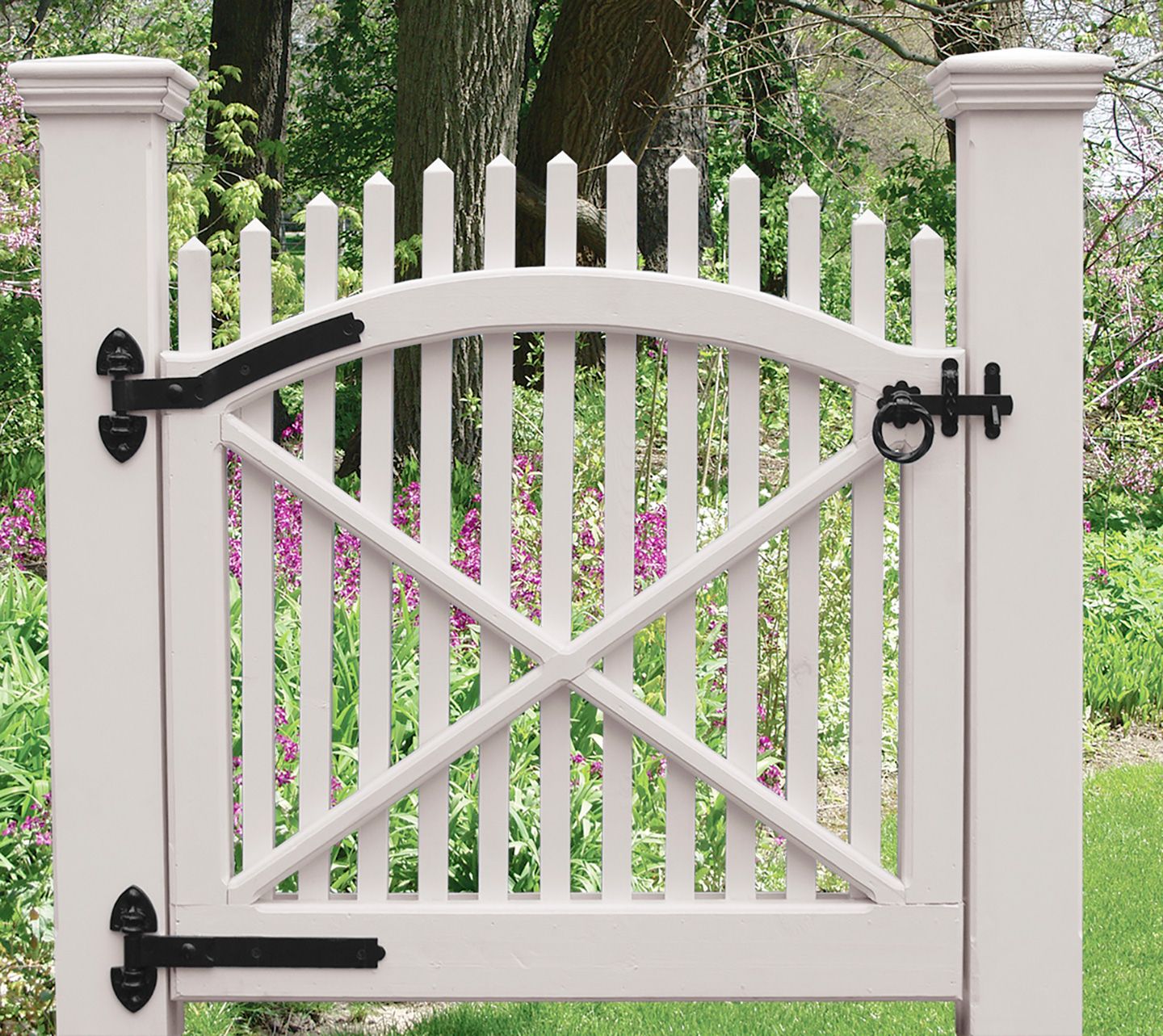 Arched gates break up a fence's horizontal lines, and this curved strap hinge looks like those hand-forged by a blacksmith.
$44; Hoover Fence
Finishing Touches: Closure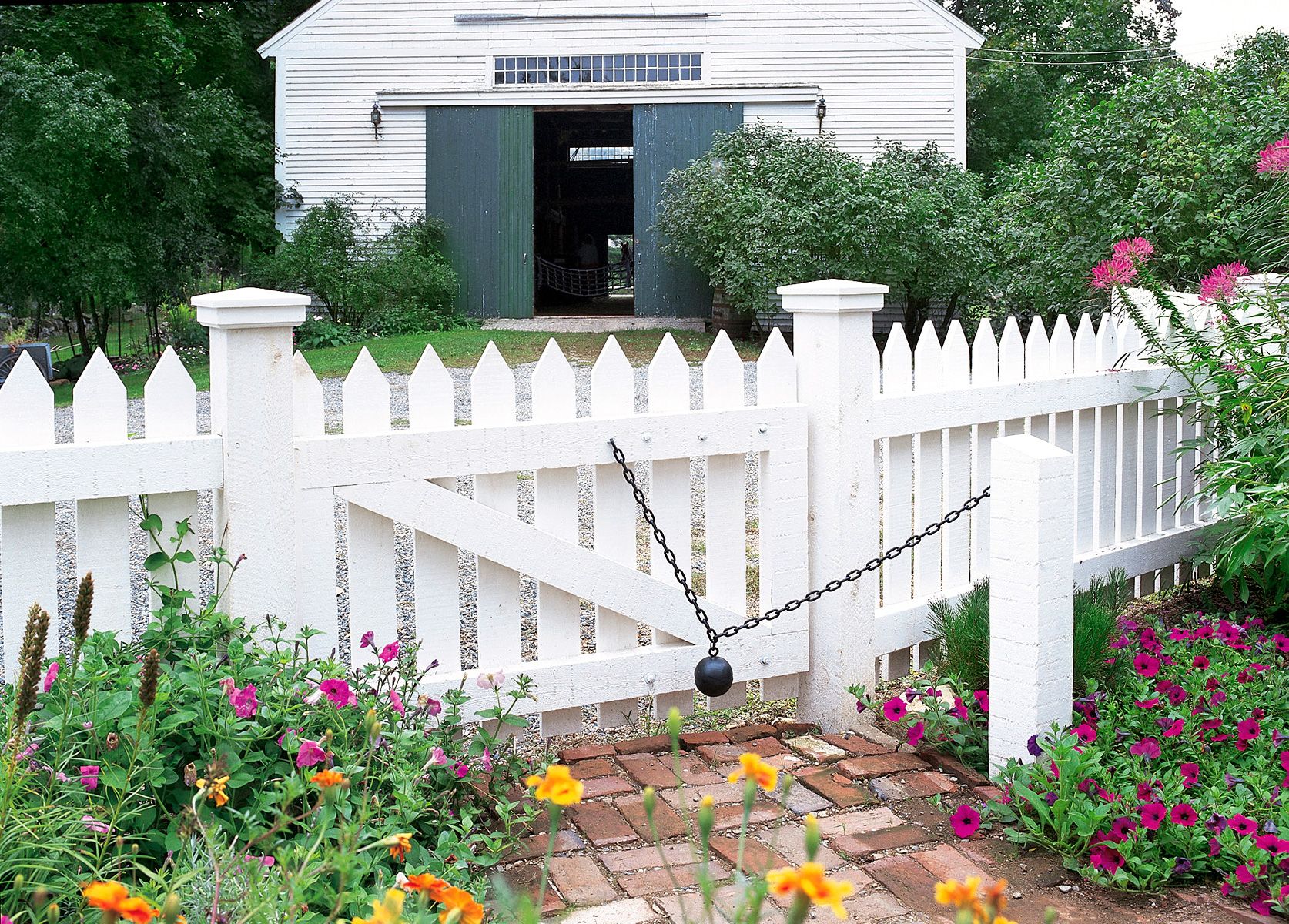 A colonial-style automatic gate closer relies on a nearly 6-pound metal ball to pull the outswinging gate shut.
$59; Walpole Woodworkers
Thank you:
Peter Joel Harrison, author, designer and historian
Susan Schnare, Mountain Brook Consulting, Andover, NH
Sally Zimmerman, Historic New England
Rich O'Neil, Masterwork Painting & Restoration, Woburn, MA, 781-275-3050