This article appeared in the Summer 2021 issue of This Old House Magazine. Click here to learn how to subscribe.
When speed of application is paramount, pro painters go for an airless paint sprayer. These sprayers work by pumping coatings through a tiny opening in the gun's tip. The pressures are so high—up to 3,000 psi—that the paint explodes from the tip into a fine mist. Such pressures also allow these sprayers to work with coatings of any type, from thin stains to pudding-thick latexes, without any need to adjust their consistency. And because the droplets they generate are so tiny, airless sprayers are also able to lay down a flawless finish on broad surfaces like cabinets and doors. By contrast, the high-volume, low-pressure (HVLP) sprayers often marketed to DIYers atomize paint using low-pressure air streams. The bigger, slower-moving droplets they create are less likely to drift off as overspray—a plus for small jobs and detail work—but these sprayers' lower output makes them impractical for covering large expanses.
With the development of nimble, handheld airless sprayers, self-contained pump-and-tank combo units, and high-efficiency paint guns, this method of applying a finish isn't just for pros anymore. Here's the latest on airless units for homeowners.
Spraying power: Doors, shutters, latticework, balustrades—anything with a large surface area­ or hard-to-reach spots—are all good candidates for spray-painting.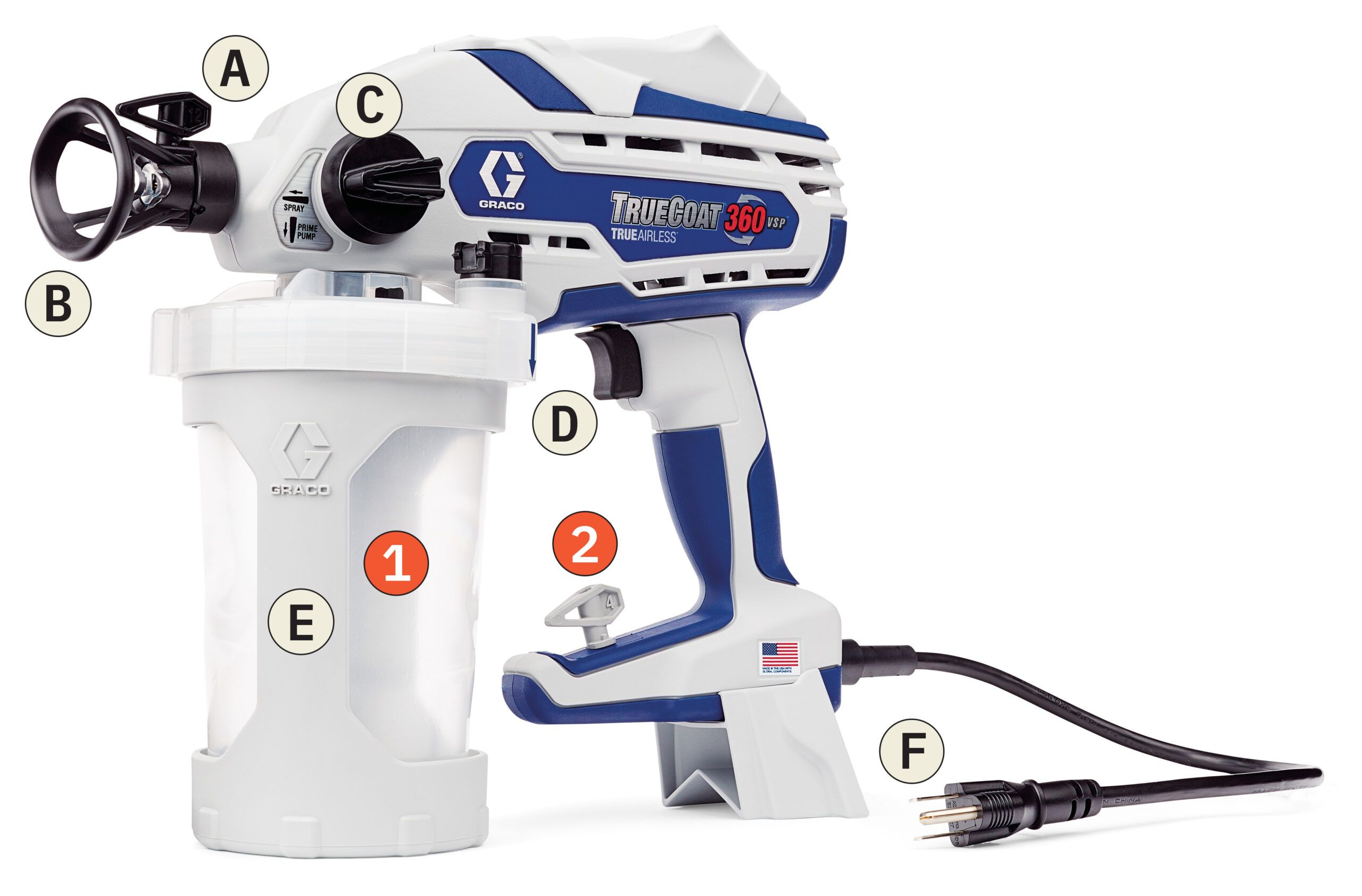 Standard features
A. Spray tip
B. Spray tip guard
C. Prime pump/spray knob
D. Sprayer trigger
E. Paint cup
F. Power cord
Helpful upgrades
1. Refillable paint-cup liner
2. Onboard tip storage
Guide to airless paint sprayers
Handheld: Small-project champ
The details: This little sprayer is incredibly convenient for painting cabinets, built-ins, doors, shutters, even the trim in a room. And it sprays in any direction, even upside down. The variable-speed feature lets you adjust paint output to suit the size of your project and finish viscosity: slower for thinner finishes and less overspray, faster for thicker finishes on larger surfaces. A flexible, refillable plastic bag inside the paint cup holds the finish, which simplifies cleanup and reduces paint waste. Comes with two tips.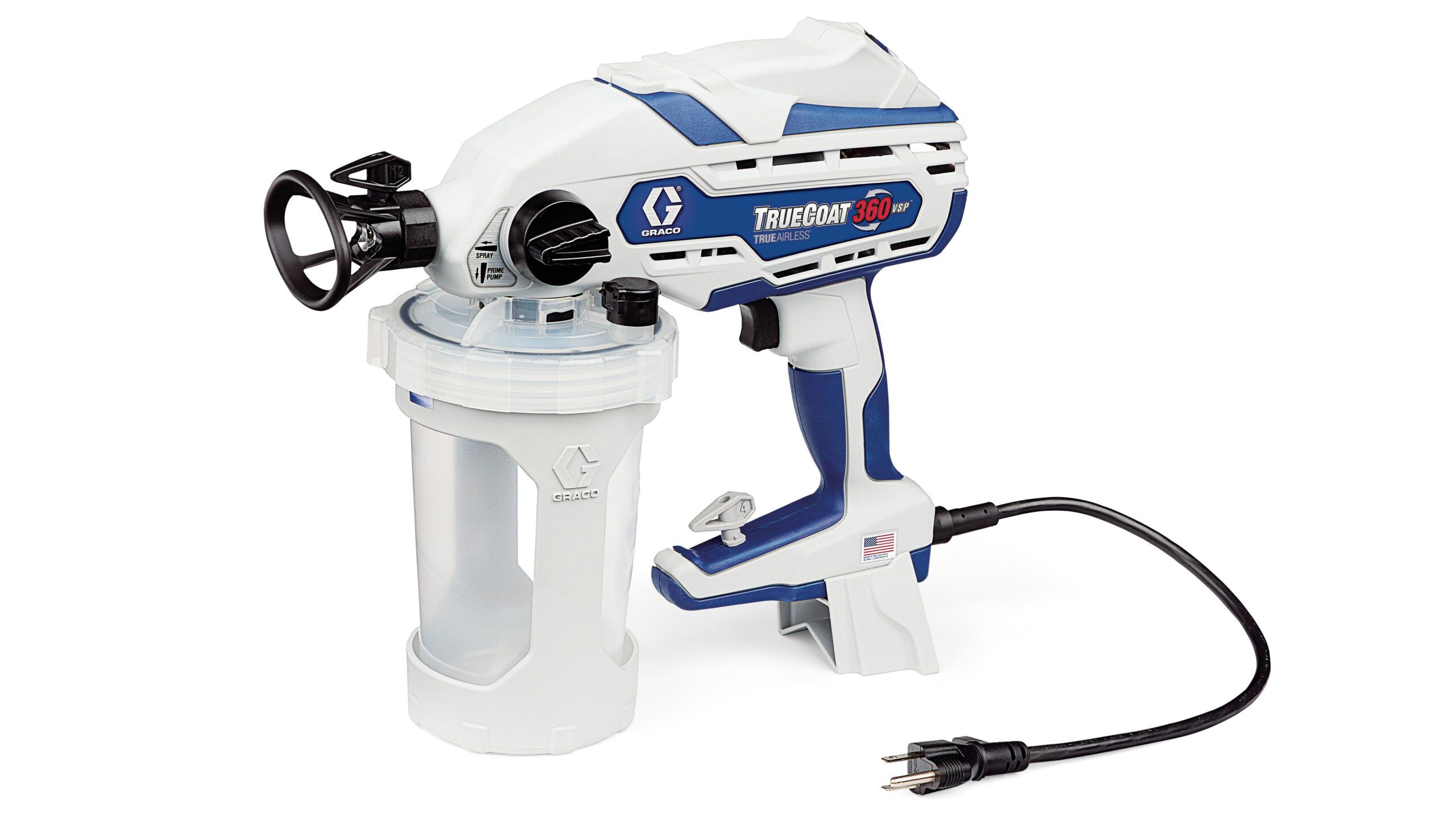 Graco TrueCoat 360 VSP Electric TrueAirless Sprayer
Max PSI: 1,500 variable speedMax output: 0.24 gpm
Tip size: 0.015 inchPaint-cup capacity: 42 fluid ounces
Weight: 4 poundsWarranty: 1 year
Price: $269; Graco
Combo unit: Airless made simple
The details: Pump and paint reservoir are integrated into one portable, gravity-fed unit that's simple to prime and clean. Its reservoir has a cover to keep debris from falling into the finish. The spray gun uses proprietary technology that reduces overspray (and wasted paint) by up to 55 percent compared with conventional airless sprayers. This sprayer comes with a 515 tip (see "Choose the Right Spray Tip,"), and can be fitted with four other tips to apply a range of paints and stains.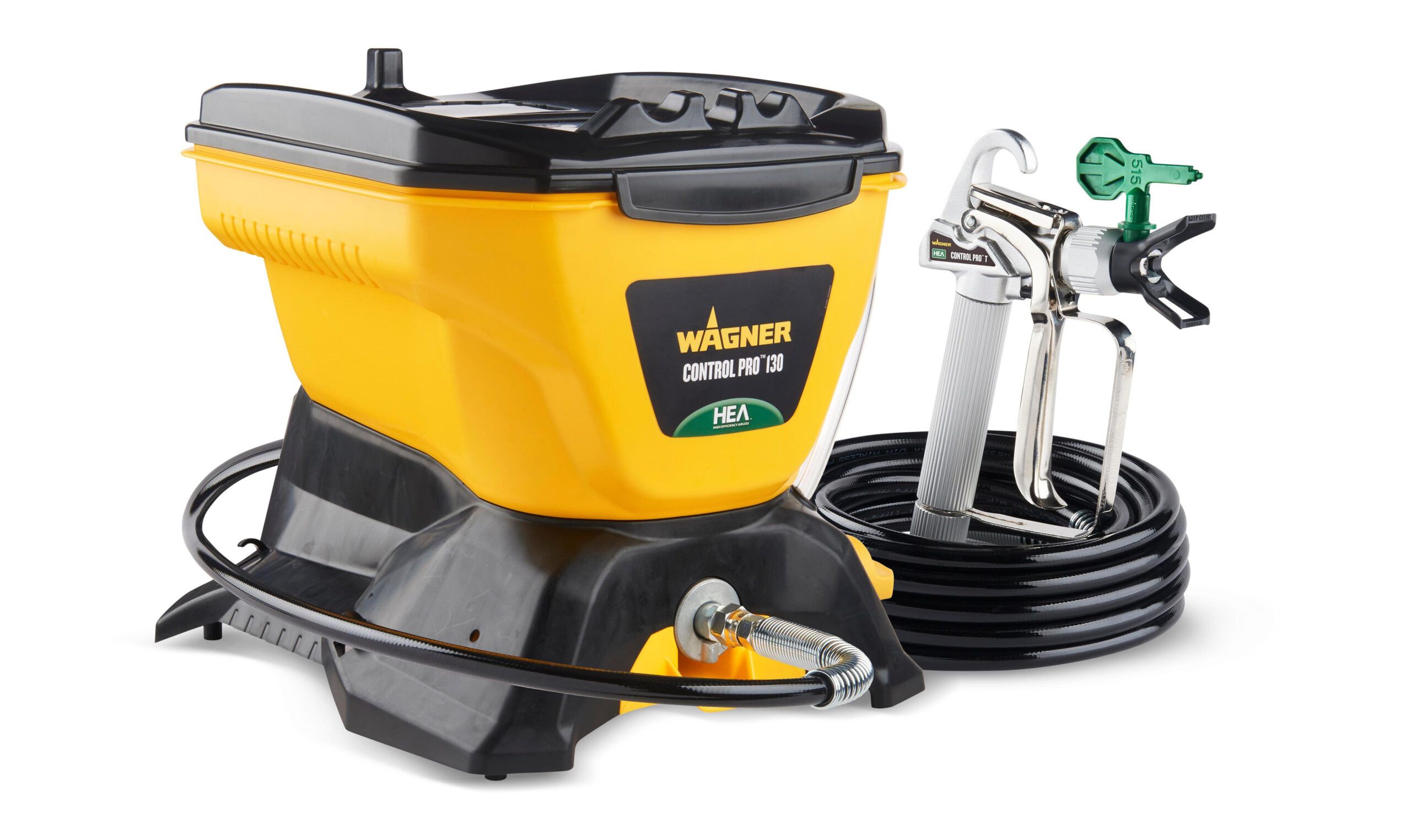 Wagner Control Pro 130
Max PSI: 1,600MAX Output: 0.24 gpm
Max tip size: 0.015 inchTank capacity: 1.5 gallons
Horsepower: 0.375Hose: 25 feet
Weight: 9 poundsWarranty: 2 years
Price: $250; Wagner
Heavy duty: Great for big jobs
The details: You get all the features, and complexity, of a high-output airless sprayer used by painting pros. Like standard airless models, this one sucks paint out of a separate bucket, but unlike those sprayers, it creates about half as much overspray. That makes it easier to get even coverage with less waste. Comes equipped with a 517 tip with a 10-inch spray pattern. You have a choice of three other tips, for stains (transparent and solid color), primers, and paints (oil- and water-based).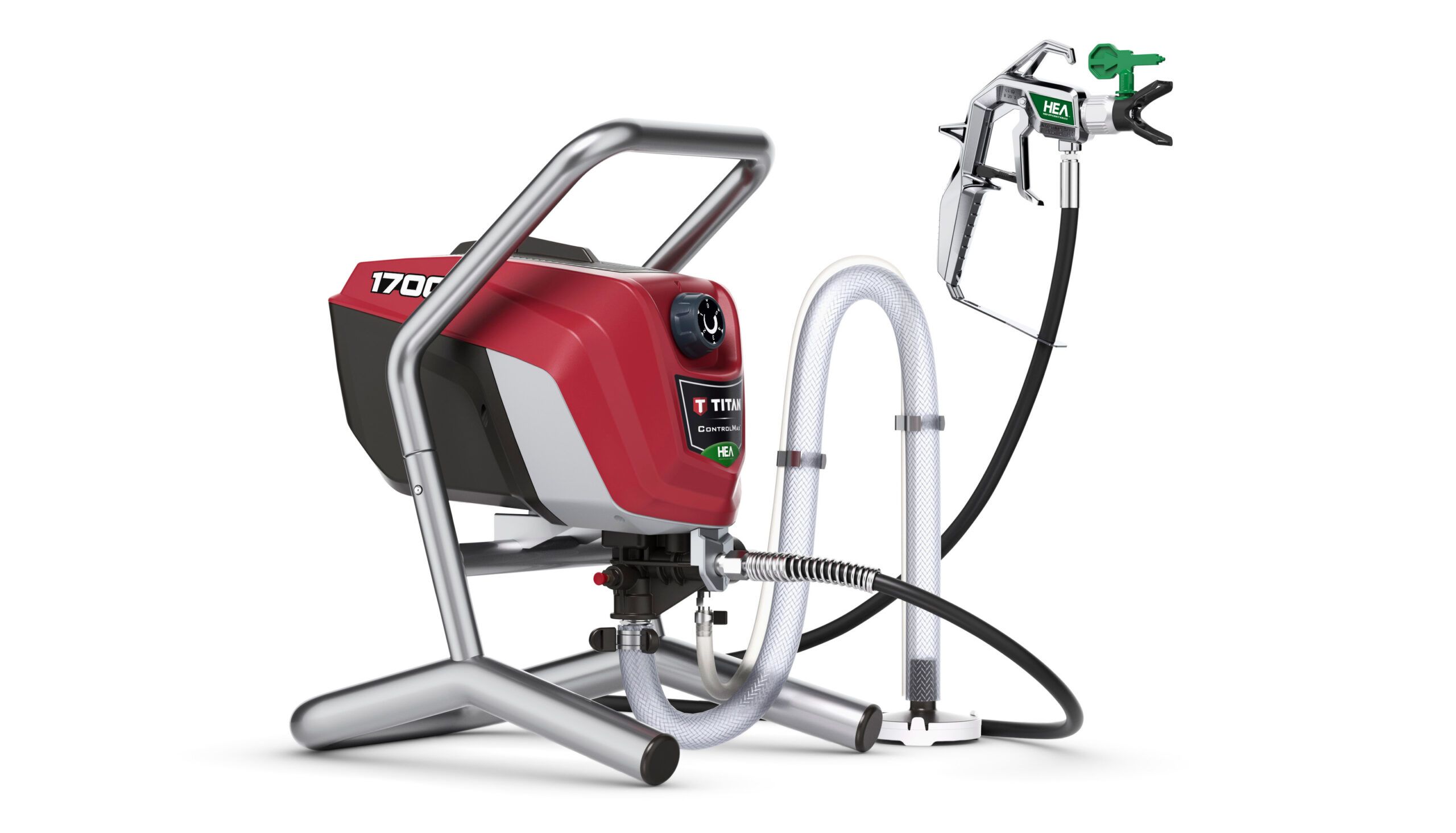 Titan Control Max 1700 SprayerMax PSI: 1,500
Max output: 0.33 gpmMax tip size: 0.017 inch
Horsepower: 0.60Hose: 30 feet
Weight: 22.25 poundsWarranty: 2 years
Price: $379; Titan
Technique basics: How to paint like a pro
Get ready: Cover or mask off any surfaces that don't need paint. Put on safety glasses and an appropriate respirator. Wait until wind is calm before spraying outdoors. Prime the pump and spray into a bucket to check for clogs. Test spray a big paper sheet. If coverage isn't even, dial back the pressure.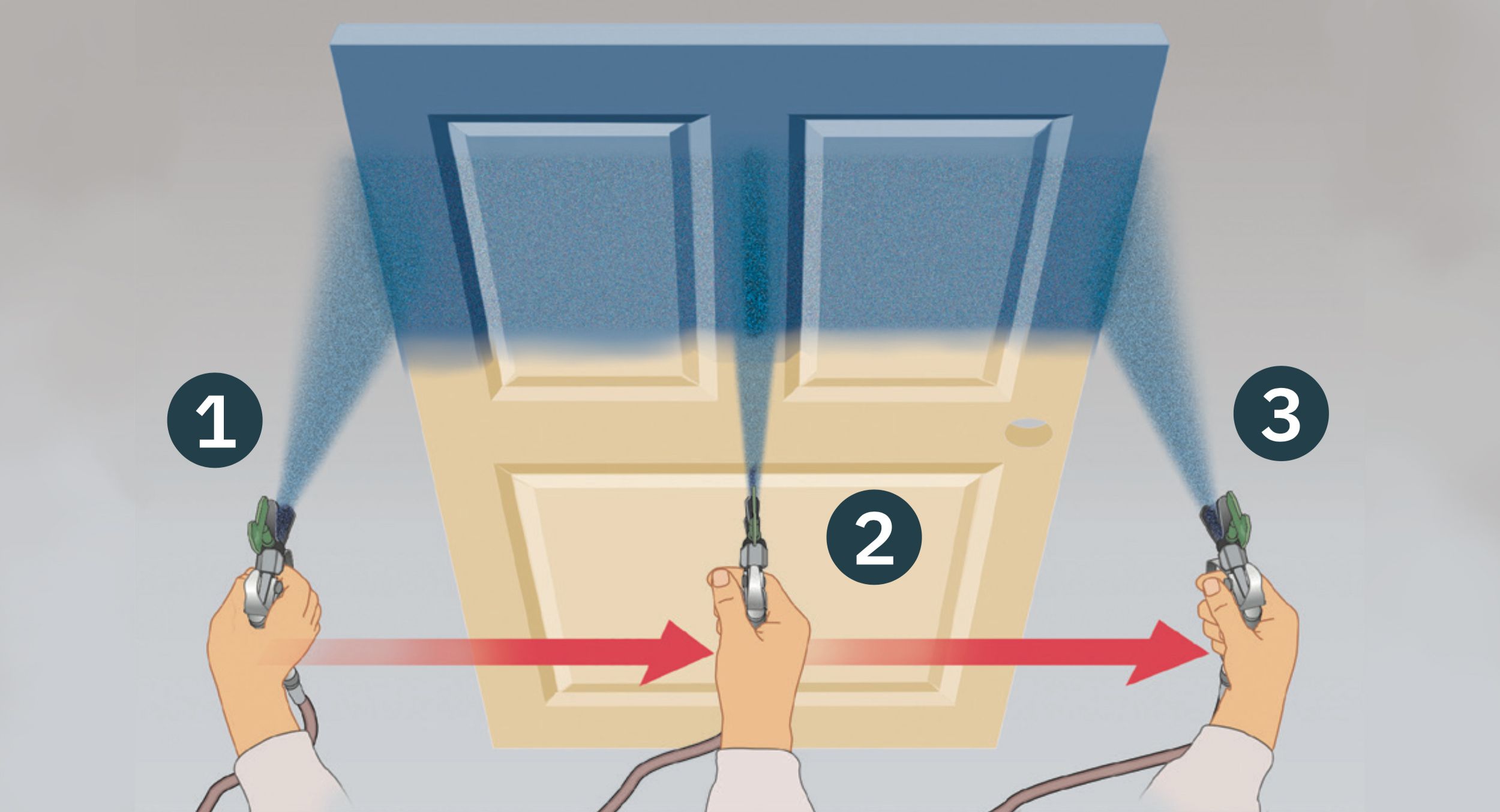 Step 1: Hold the gun perpendicular to and about a foot from the surface. Aim off to the side; squeeze the trigger.
Step 2: Move the gun quickly in a straight pass, parallel to the surface. Turn your wrist to keep the gun at a right angle to the surface.
Step 3: Release the trigger after the gun passes the opposite edge.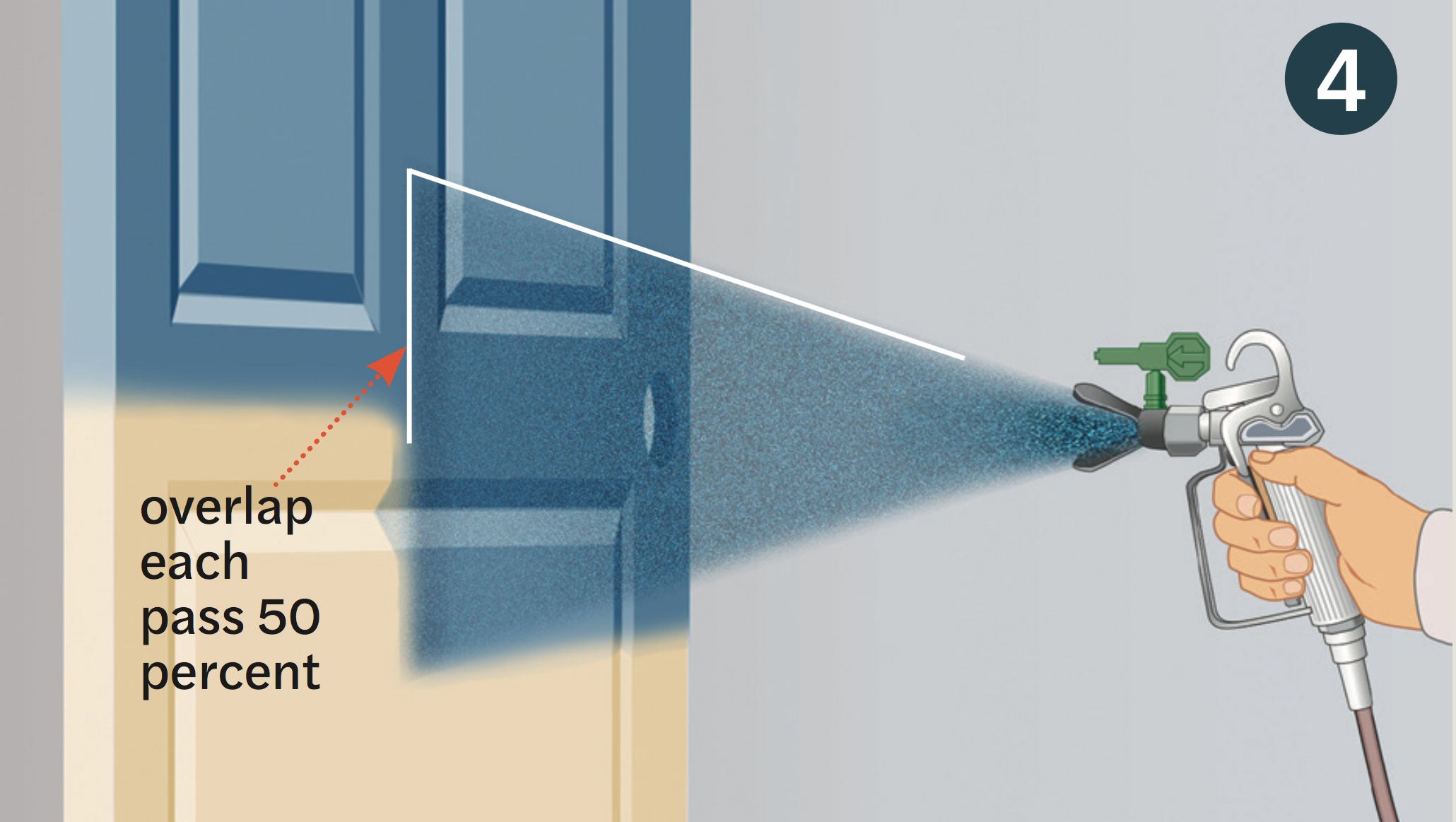 Step 4: Continuing to hold the gun at a right angle to the surface, overlap each pass by 50 percent. Always keep the gun moving while the trigger is pulled; not doing so can lead to drips, runs, and uneven buildup.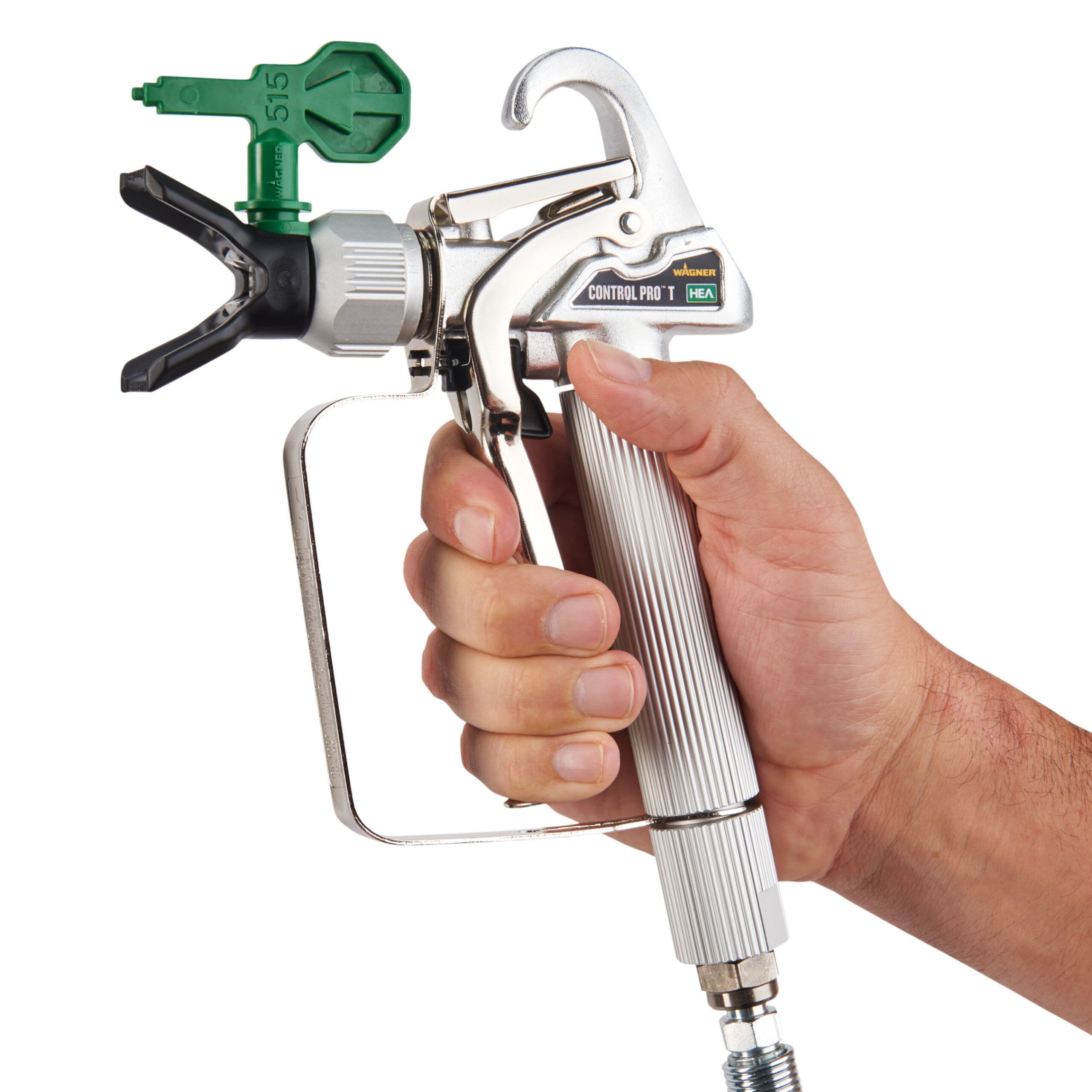 Key to spraying success: Choose the right spray tip
Paint sprayer tips determine how much coating comes out. To reach the sweet spot between application speed and good control, choose a tip size that's compatible with the viscosity of the coating being sprayed. Tips with smaller openings—0.009 to 0.013 inch—work best with thin stains, while thicker paints and primers call for tips in the 0.015- to 0.017-inch range. The last two digits embossed on a tip indicate its hole size. The first embossed digit, when doubled, tells you the width of the spray fan, in inches. For example, if that first number is 5, then the width of the spray is 10 inches, give or take an inch or two. The actual width depends on the pump pressure and the material being sprayed.
Troubleshooting sprayer problems
• Rounded spray pattern instead of a narrow stripe:

Tip is worn and should be replaced.
• Uneven spray pattern:
Pump pressure is too low, or tip size is too big.
• Too much overspray/paint doesn't stick to surface:
Turn down the pressure.
• Paint sputters from gun/no paint comes out:
The sprayer is clogged at some point. To clear the tip, twist it 180 degrees and spray into a bucket. If the gun sprays, turn tip back to the operating position. If it doesn't, clean the filter in the gun and on the end of the suction tube, then try again.
TOH Pro Tip: Spray-gun safety
"To keep a sprayer from accidentally driving paint under your skin (a poisoning hazard), always engage the gun's trigger lock when not in use." —Chris Ermides, host, Tool Lab