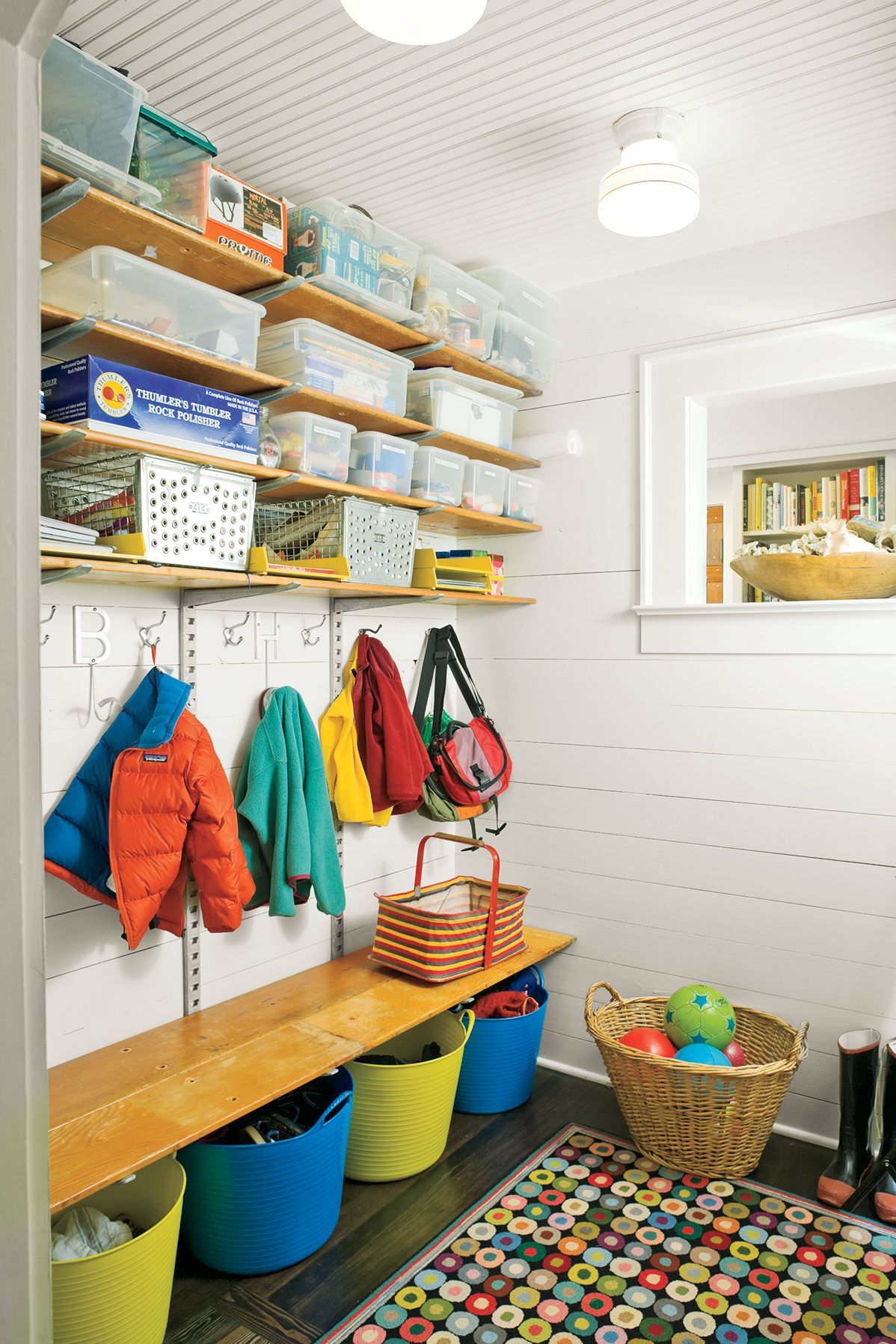 Every well-thought-out mudroom has five essential features. Here, one family worked the details to effectively and inexpensively bring order to what had been a toy- and school-supply-strewn back-door entry off their kitchen.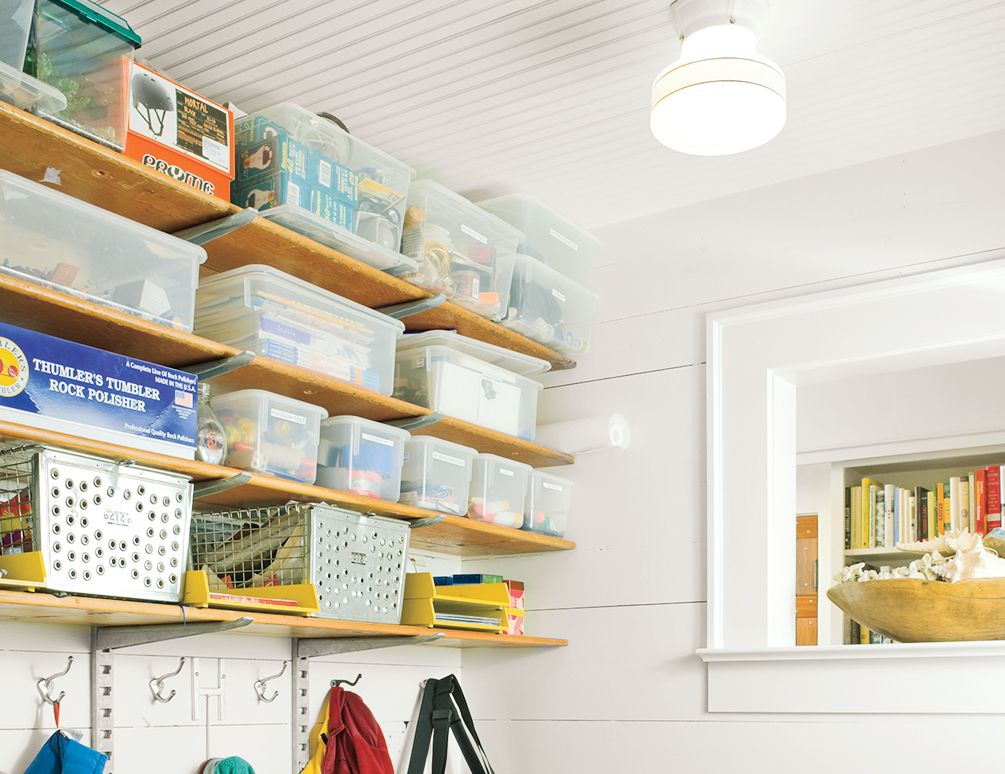 Storage
There's no easier—or thriftier—way to add multiple levels of stowaway space than with a wall-mounted unit like this one made from metal standards, adjustable brackets, and shelves fashioned from salvaged school bleachers (you can substitute ready-made shelves). Expect to pay about $175 for a similar DIY setup using stock parts from the home center.
Walls
To guard against wear, sheathe drywall in wood paneling painted with a heavy-duty semigloss. Mimic the rustic look of this horizontal treatment by stacking tongue-and-groove floor planks.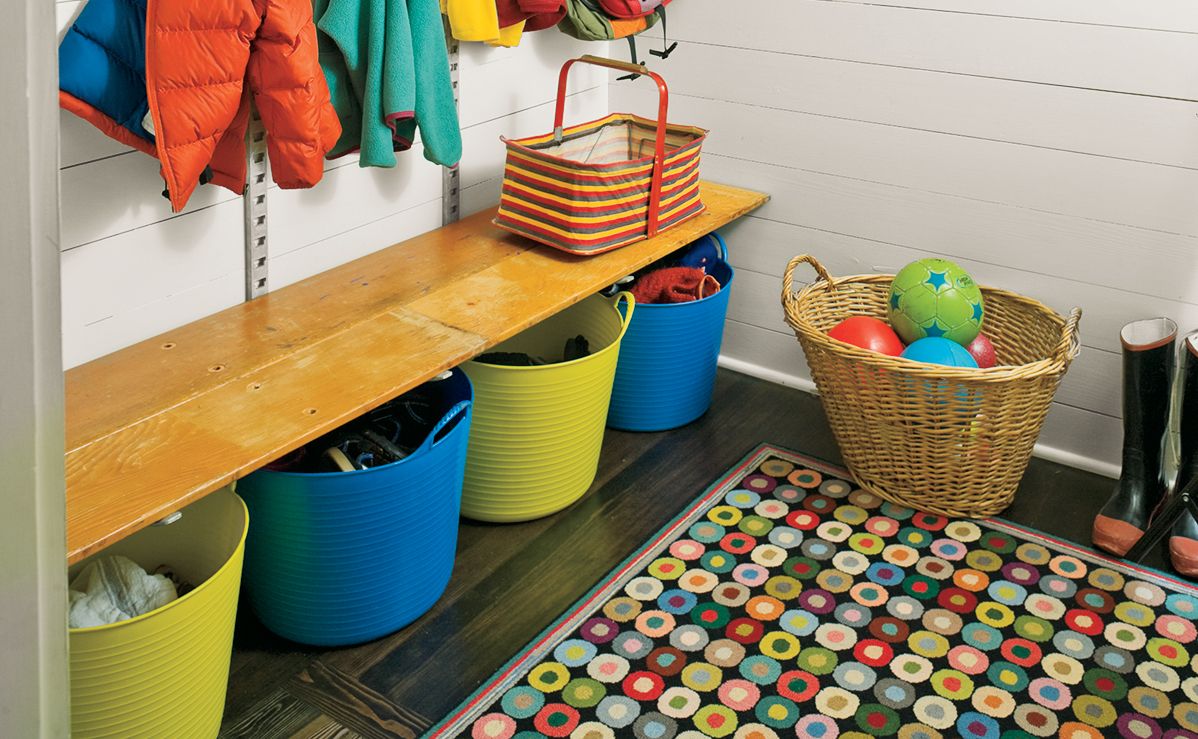 Seating
Make your own shoe-changing bench by pairing two shelves or lengths of reclaimed wood, such as these bleachers, one beside the other on beefy brackets. Two 12-by-48-inch-long laminate shelves that hold up to 200 pounds each, $20 total; homedepot.com
Accessories
Rubber tubs at floor level are good for grab-and-go items like shoes and toys. Lidded containers on upper shelves can keep art supplies dust free. Tubs, $18 each; amazon.com. Multipacks of clear containers, $8-$10; officedepot.com
Flooring
Protect wood floors with a rug that'll also warm up bare feet. The busy design of this wool one hides dirt. A 3-by-5-foot rug, similar to shown, $228; garnethill.com. If you plan to add new flooring, consider vinyl. ASI Organic Vinyl Collection tiles are made with recycled materials and go down with a low-VOC adhesive. $5 per square foot uninstalled; archsystems.com
This room was originally featured in Make a Mudroom That Works for You: 7 Inspirational Spaces.