What's the purpose of a mudroom?
A mudroom was once defined as a small room or part of a secondary entrance where shoes, jackets, and clothes could be removed—especially dirty, wet, or muddy items—before entering the house.
Today, the mudroom has evolved into a practical, multipurpose space for storing sports equipment, seasonal gear, and all manner of everyday items. Whether it's just a sliver of a wall or a dedicated room, a well-organized mudroom is essential for maintaining order and containing clutter in a home.
Mudroom Storage Ideas
To tackle your organization and storage needs, the following ideas will help you make the most of your mudroom:
Shoes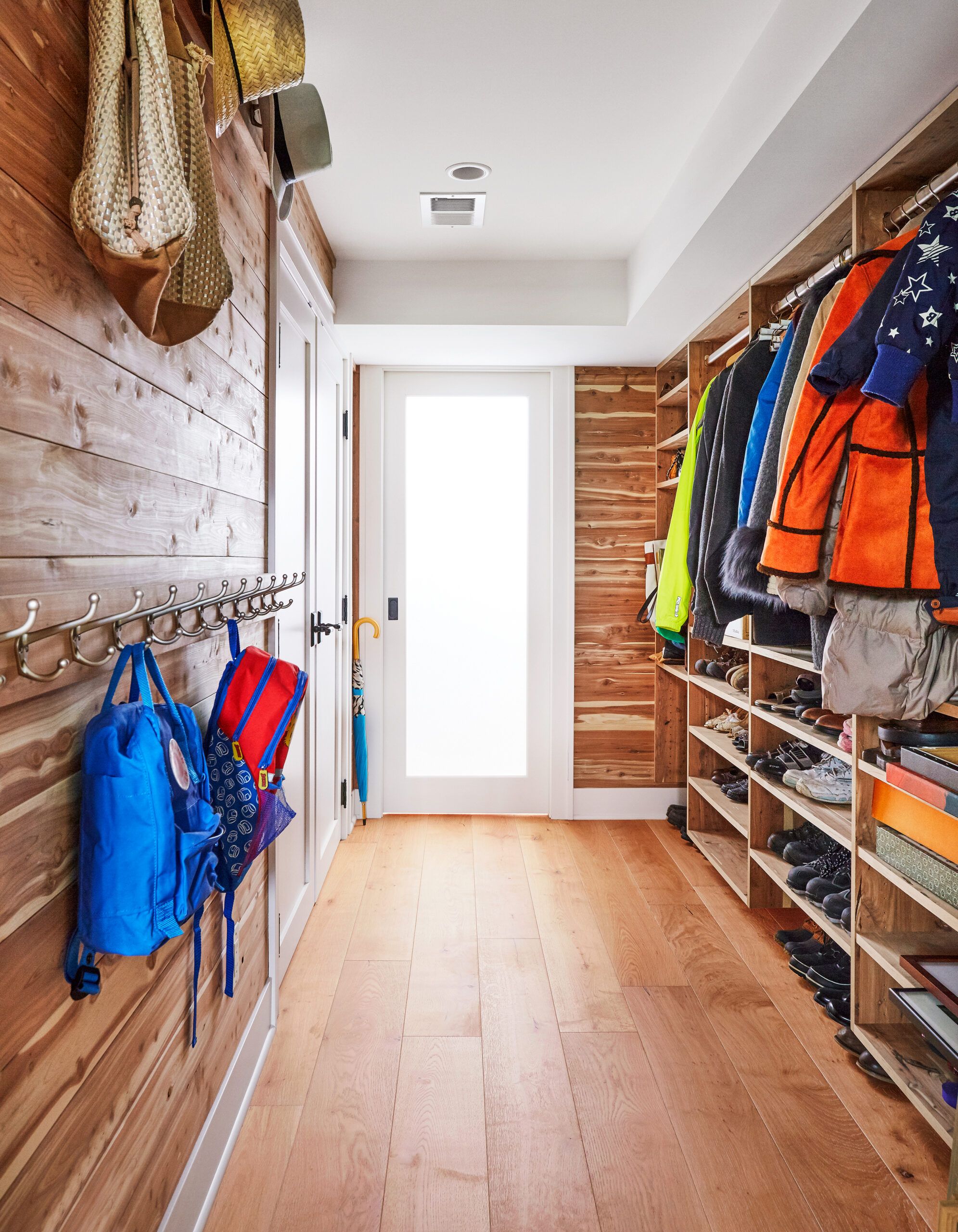 Shoes are a major hassle to organize and store, but a well-designed mudroom can help you meet the challenge. The best way to tackle shoe organization in the mudroom is to first determine what kind of shoes you'll need access to regularly (a person in southern California has different shoe needs than someone in Maine).
If you generally experience inclement weather, consider adding a boot tray or two to the mudroom. They're great for containing soiled shoes—keeping the mess in the tray rather than all over the floor.
The pros and cons of shoe storage solutions:
Individual Baskets: Great for containing (and hiding) multiple pairs of shoes. Add names to the front of each basket so everyone knows which is theirs. The disadvantage is that baskets tend to fill up quickly.
Large Catch-All Tote or Basket for everyone to use: A great solution, for both shoes and sports gear, especially since a super-sized receptacle will accommodate items of varying sizes. The con? It's harder to find things that have made their way to the bottom.
Individual Built-in Cubbies: Each pair of shoes gets its own spot—a great option for uber-organized families. The disadvantage? A limited number of shoes can be stored, and sometimes the cubbies don't accommodate larger shoes like boots.
Coats and Bags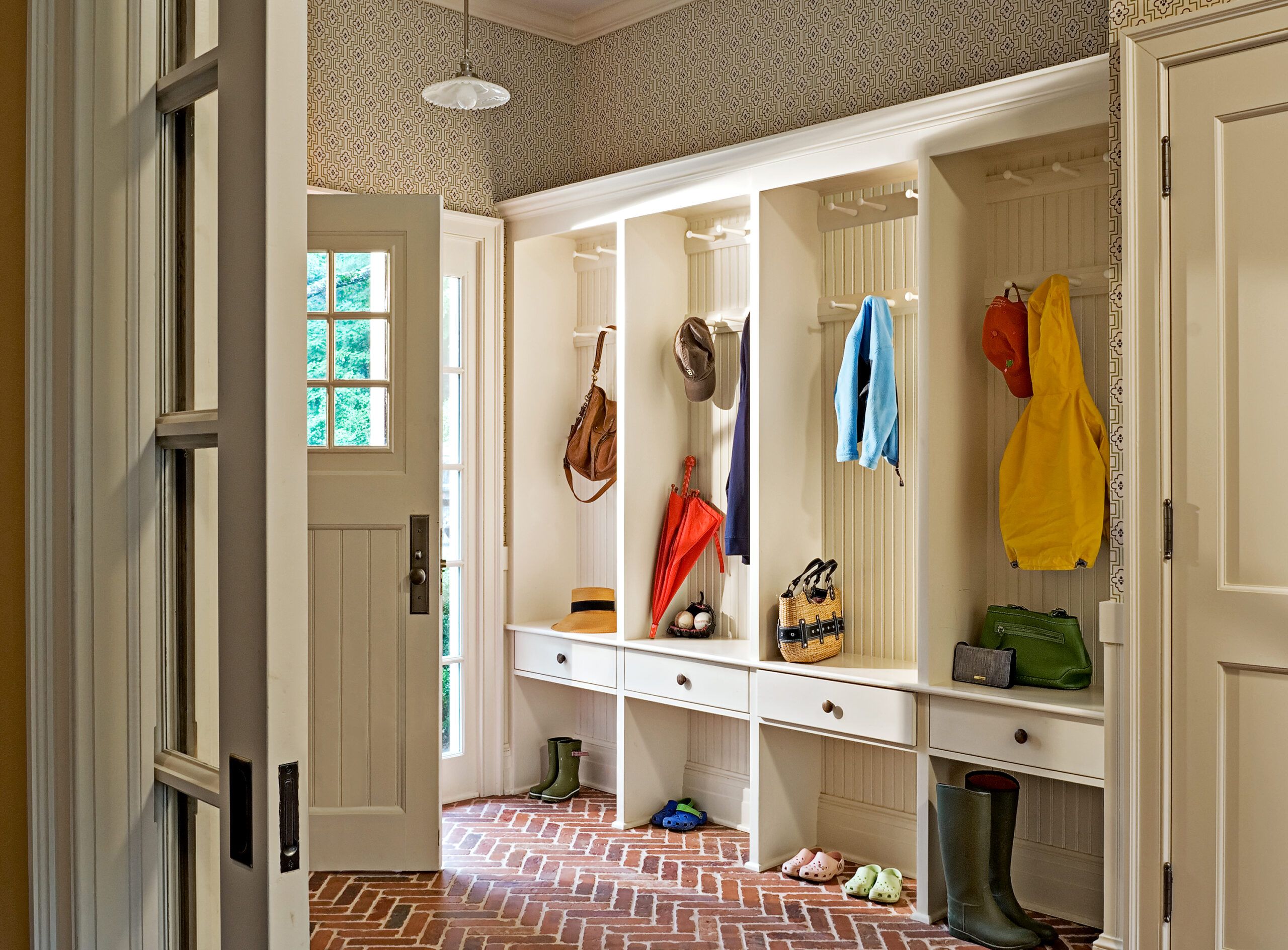 Save the hangers for closets and install hooks for coats and bags instead. Give each family member their own dedicated hook (including the dog, so you can quickly find leashes).
The beauty of this system is that outerwear is visible and each person knows where their stuff goes. If the hooks seem to be carrying more than their share of the load, clear out items that aren't being used regularly—like that ski jacket that hasn't moved from its spot since January.
If you have a smaller space (even if it's just behind the door), thanks to a hook's load-bearing nature, it's still the best option for keeping coats and bags organized and off the floor.
Umbrella Storage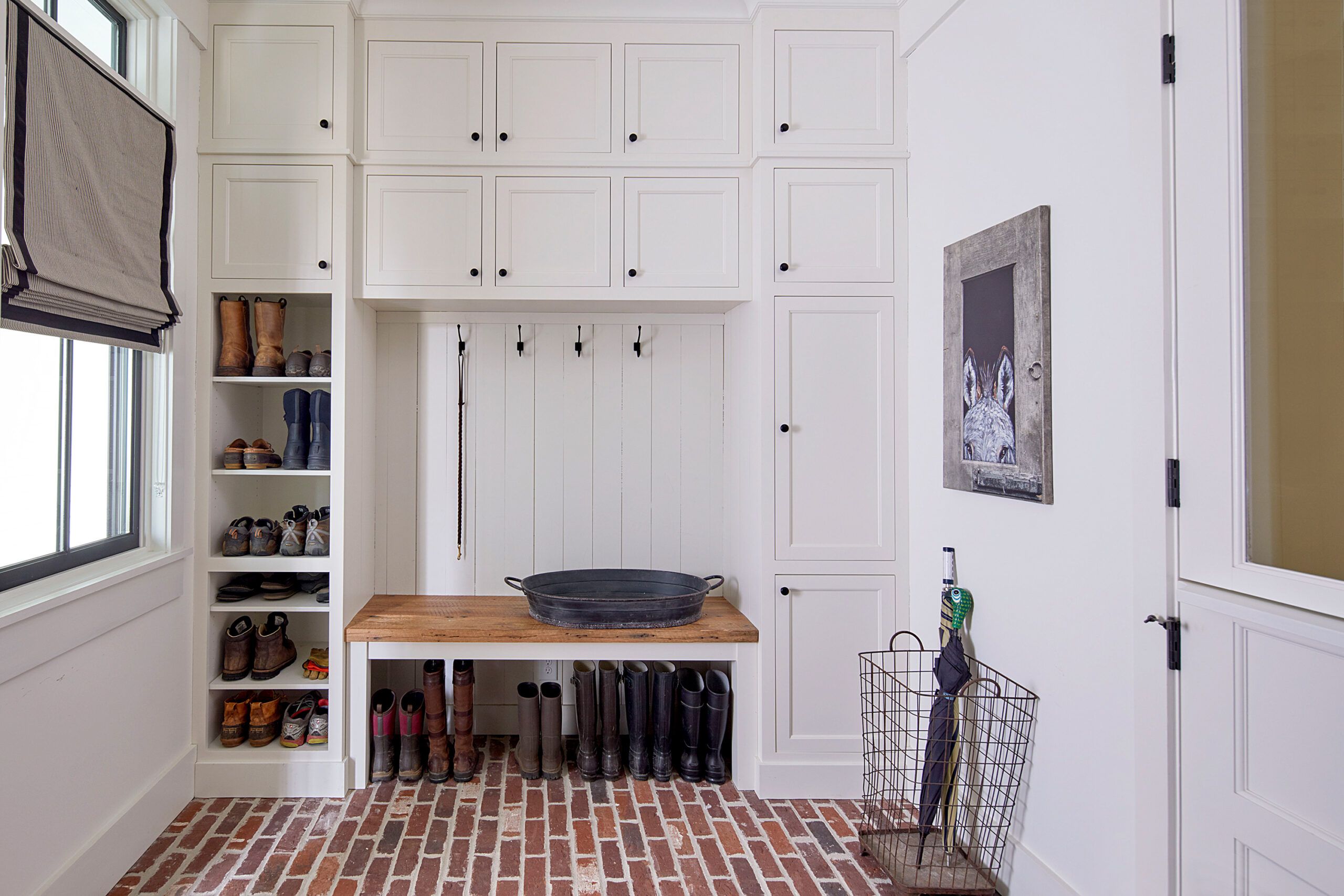 If you live in a rain-prone area, proper umbrella storage is key—not just for finding an umbrella when you need one, but to contain the water when you bring a wet one indoors. Umbrella storage doesn't need to be fancy—buckets work well.
Avoid hanging wet umbrellas on hooks where they can drip onto other items and avoid storage bins that may be susceptible to mold and mildew. Metal, plastic, and rubber are ideal materials for storing umbrellas.
Bench Storage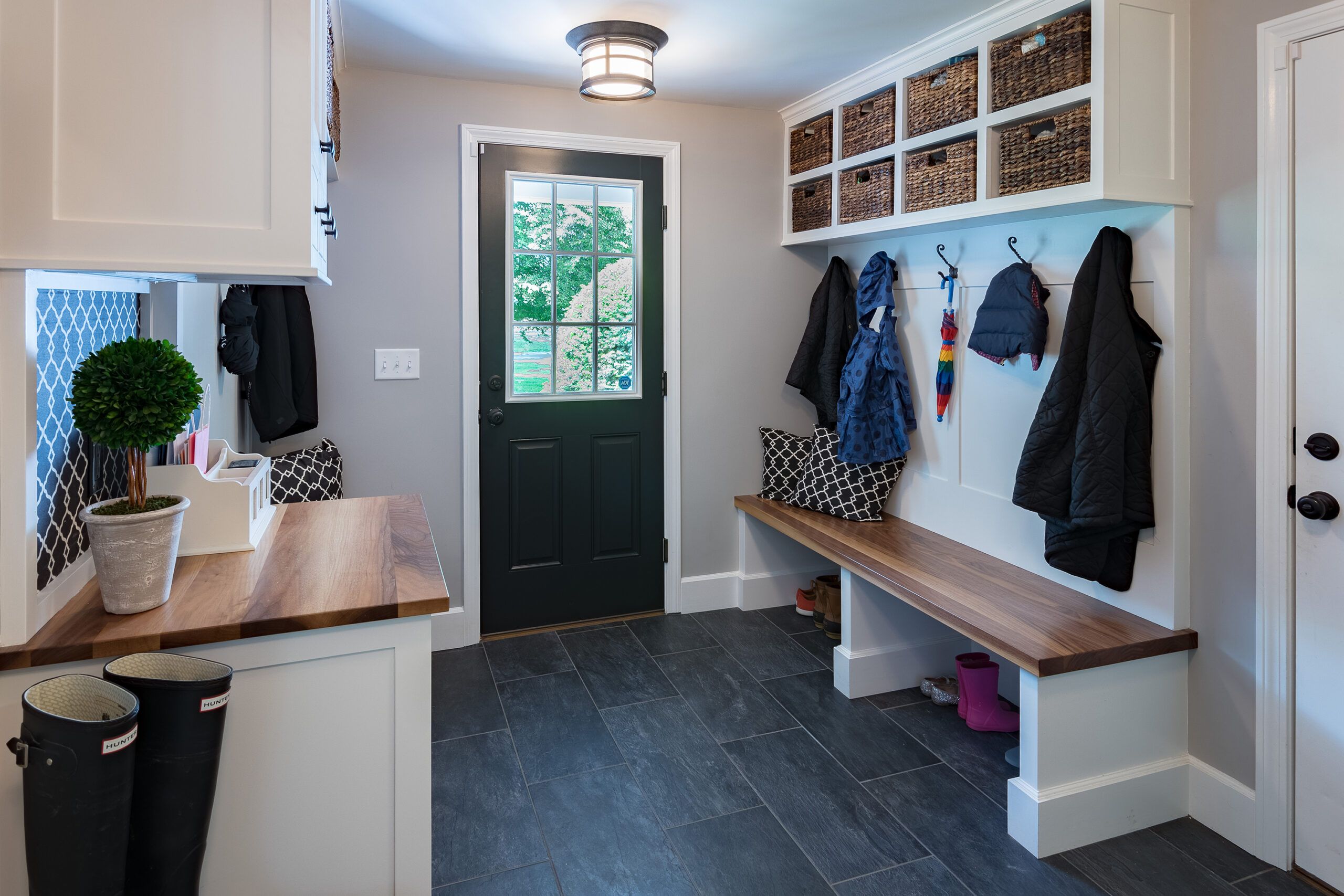 Have room for a seat in your mudroom? A bench allows you to sit and change your shoes, and also multitasks as a spot for resting bags or packages on your way in or out the door.
If space is at a premium, consider a bench with storage underneath, whether it's hidden under a hinged seat (great for storing bulk items like paper towels) or in the form of under-the-seat drawers, shelves, or cubbies.
Laundry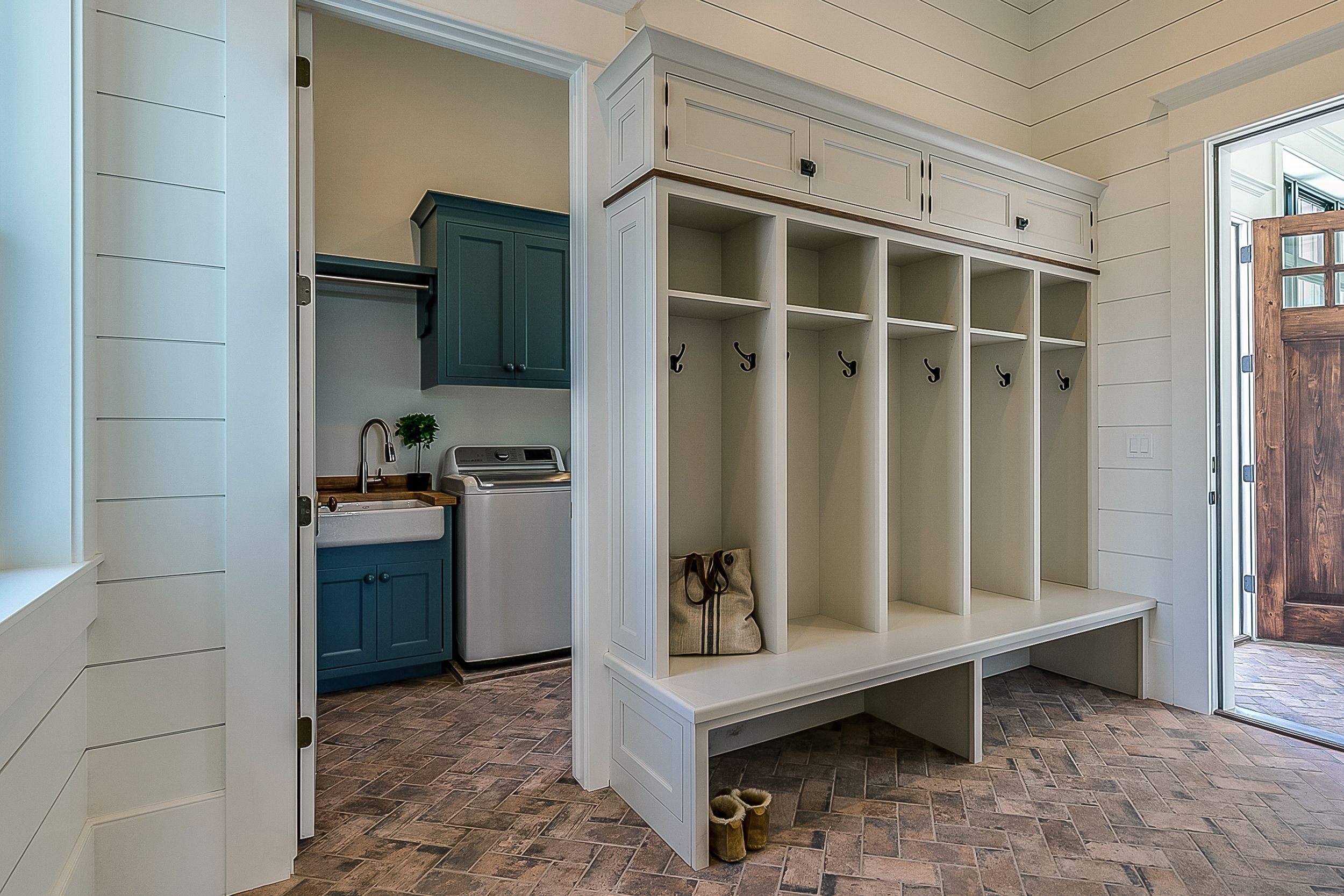 Sometimes the laundry room can double as an ideal mudroom, especially when dirty clothes frequently come into the house. Maximize the space by hanging retractable drying racks on the wall, rather than taking up precious floor space.
Install shelves above the washer and dryer to keep laundry products separate from the rest of the room. And dedicate a basket or other attractive hamper for soiled clothes that can be tossed into the washing machine easily.
Mudroom Built-Ins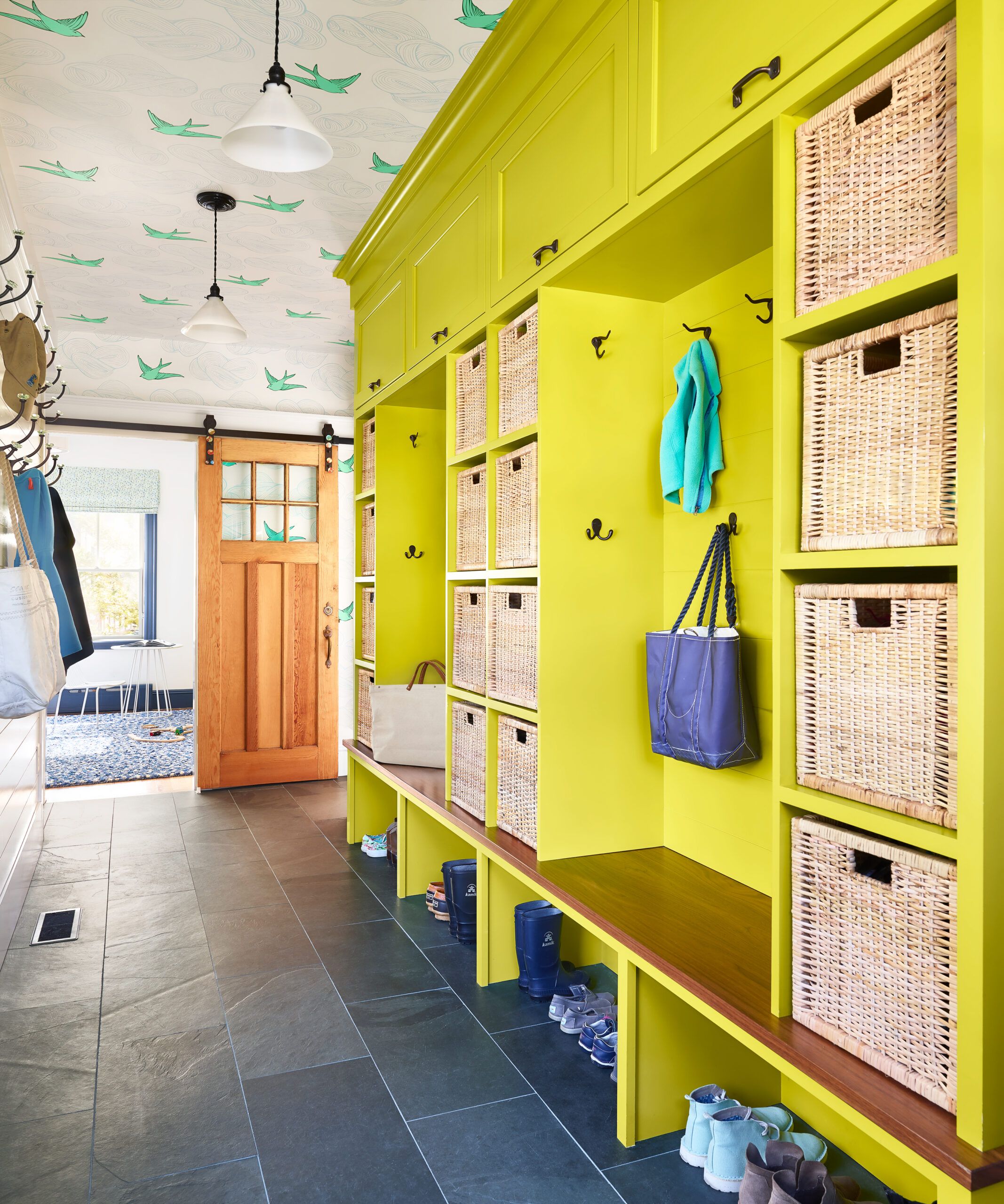 Maximize your mudroom's storage space by designing as many built-in features as possible. From shelves and cubbies to drawers and cabinets, let your mudroom be the workhorse of the house. When designing your mudroom, think realistically about how you're going to use it. Factor in how your needs are (or aren't) met by other spaces in your house.
Then consider your preferences: Would you rather see your items or have them hidden behind cabinet doors or inside baskets? Maybe shoe cabinets that slide open is a better option for you than cubbies or baskets. The beauty of this multipurpose space is that it can be customized to fit your and your family's needs.