This article appeared in the Fall 2021 issue of This Old House Magazine. Click here to learn how to subscribe.
Walking past the tidy new fence and neat foundation plantings, climbing the refinished concrete steps, and pushing open the old oak entry door, now brightened with high-gloss burgundy paint, Carol Wideman was filled with emotion. It had been nearly two years since the fateful July Fourth night in 2019 when a stray firework that ignited her neighbor's house caused her home in Dorchester, MA, to catch fire.
For many months afterward, Carol wondered whether her family home of four decades—where children were raised and countless memories made—would ever be livable again. "Before This Old House came in, I wasn't sure we'd be able to put the house back together," she recalls. Today, the 1905 triple-decker is transformed. "There's a lot of history in this house," says Carol. "It's been a fixture in our family and this community for a long, long time. I'm so happy it will be here for another hundred years or more."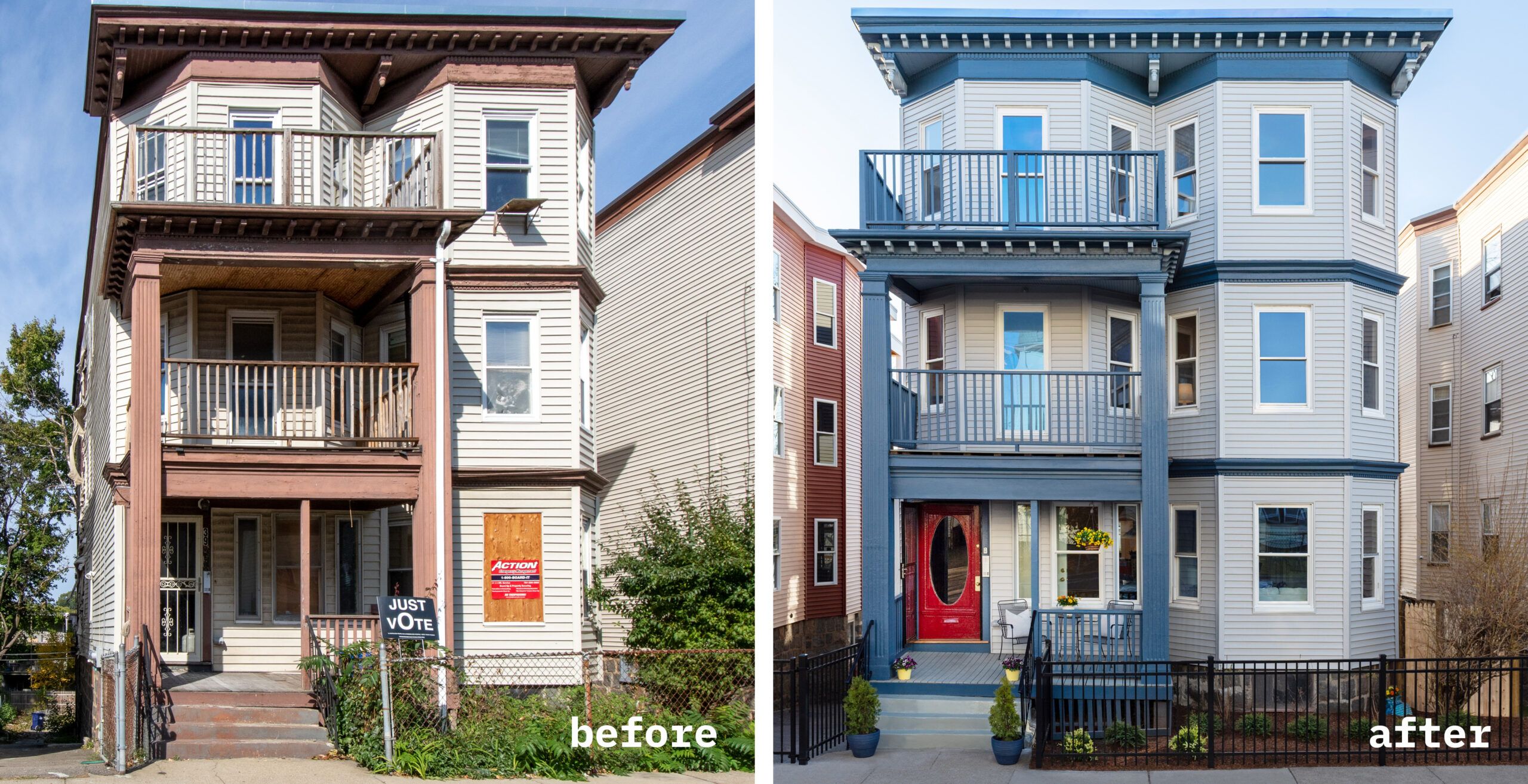 The project, part of This Old House's 42nd television season, was a homecoming of sorts for the show as well: The inaugural project house, renovated in 1979, is just up the road. "It was a rush of memories every time I drove by that old Victorian on the corner," says TOH plumbing and heating expert Richard Trethewey. "Our work back then helped change the neighborhood," he says of the area, which then suffered from urban blight exacerbated by discriminatory housing practices. "There was a similar goal this time around, not only to get Carol back in her house but also to do our part to keep the community strong and vibrant for years to come."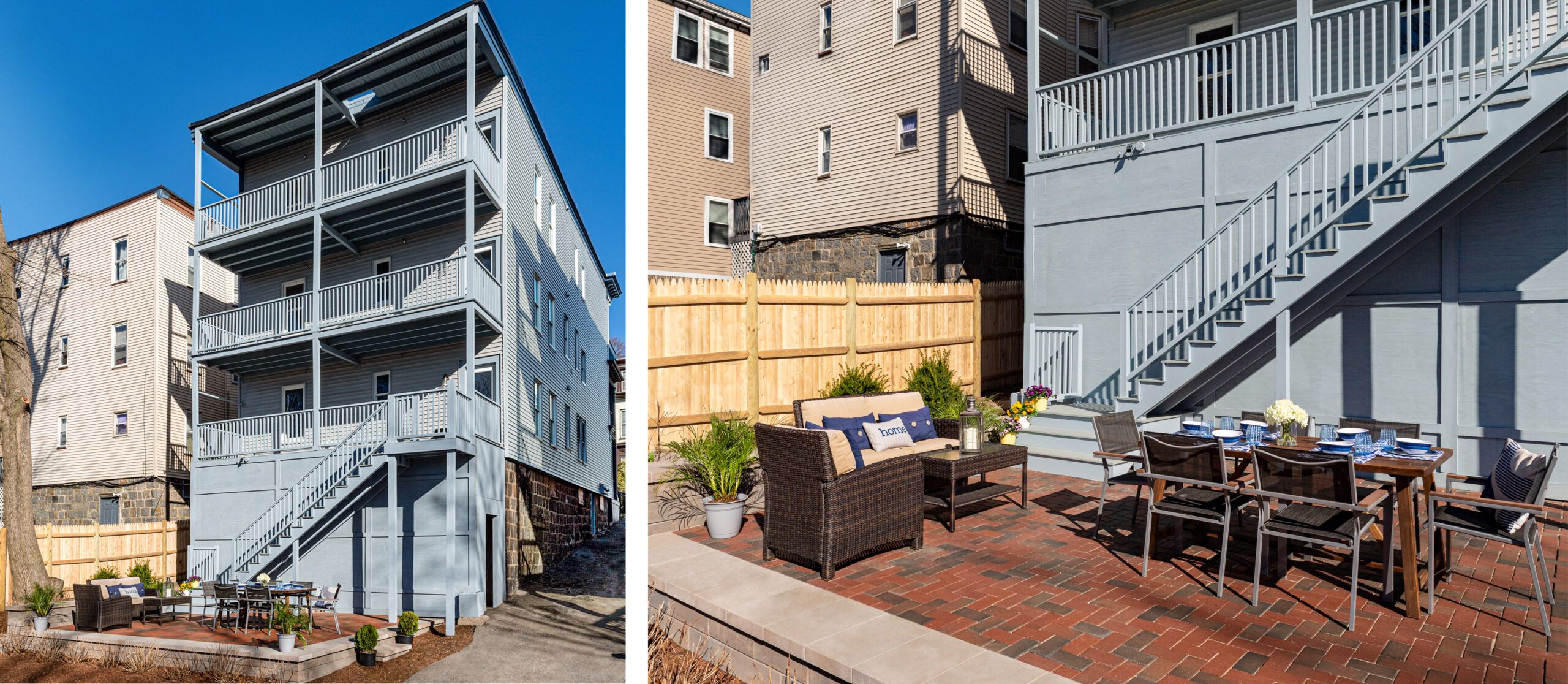 A happy ending was hardly guaranteed when TOH home builder Charlie Silva first showed up on the scene. Damaged by fire, smoke, and the water used to extinguish the flames, the building was uninhabitable, leaving Carol and her sister Willie, who shared the first-floor unit with a nephew, displaced in nearby rentals. The original contractor had dropped out of the project, in part because of hardships brought on by the pandemic, from labor shortages to product delays.
Then there were the vagaries of the insurance claims process, which put a major crimp in Carol's budget. For one, the insurance company required that the house be brought fully up to code but did not cover the full cost, so there was little to spend on appliances, fixtures, and other finishes. On top of that, Charlie's inspection revealed additional problems, including extensive asbestos on the existing ductwork. The house's worn wood floors and paint-encrusted trim also needed attention.
"It was important to me to save certain features of the house—like the original front door—even though I knew insurance wouldn't cover it." —Charlie Silva, TOH home builder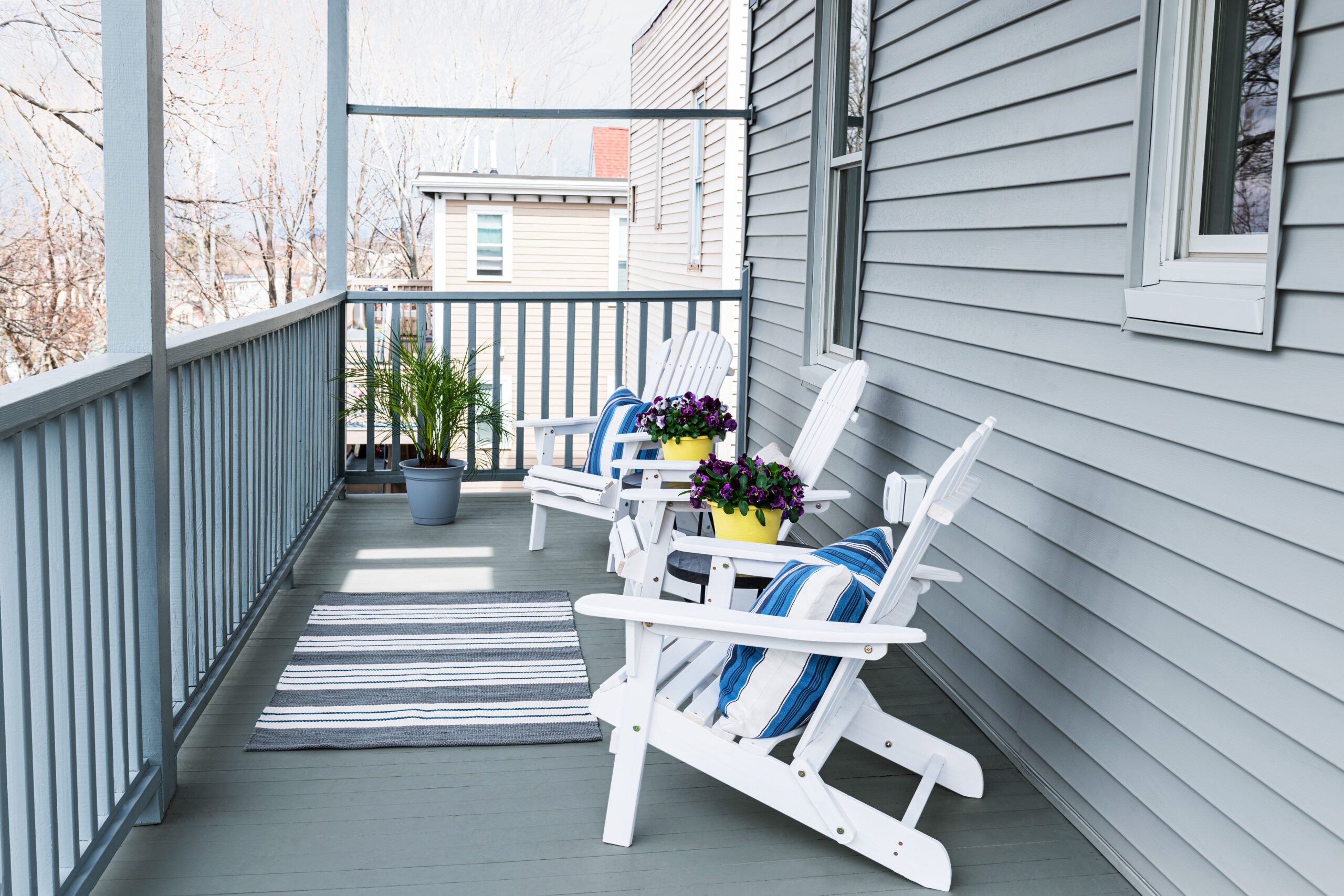 At least the crew didn't have to worry about knocking down walls or moving plumbing and electrical lines, since the building's basic layout would stay the same and much of the demo—such as opening up the third-floor ceiling and walls—had already been done. So they could get right to work restoring the triple-decker and overhauling its major systems, including replacing all the hot and cold water supply lines and drains.
TOH master electrician Heath Eastman ended up rewiring the whole house; much of the electrical had been damaged by fire and water, and some remnants of old knob-and-tube were uncovered. Richard worked closely with HVAC contractor James Bouchard on a high-efficiency hydro-air system to deliver separate hot water, heat, and air-conditioning to each level of the house. Ronnette Taylor, a local plumber and fire protection specialist, installed a code-mandated sprinkler system. Insulation followed—mineral wool for the walls and spray foam in the roof.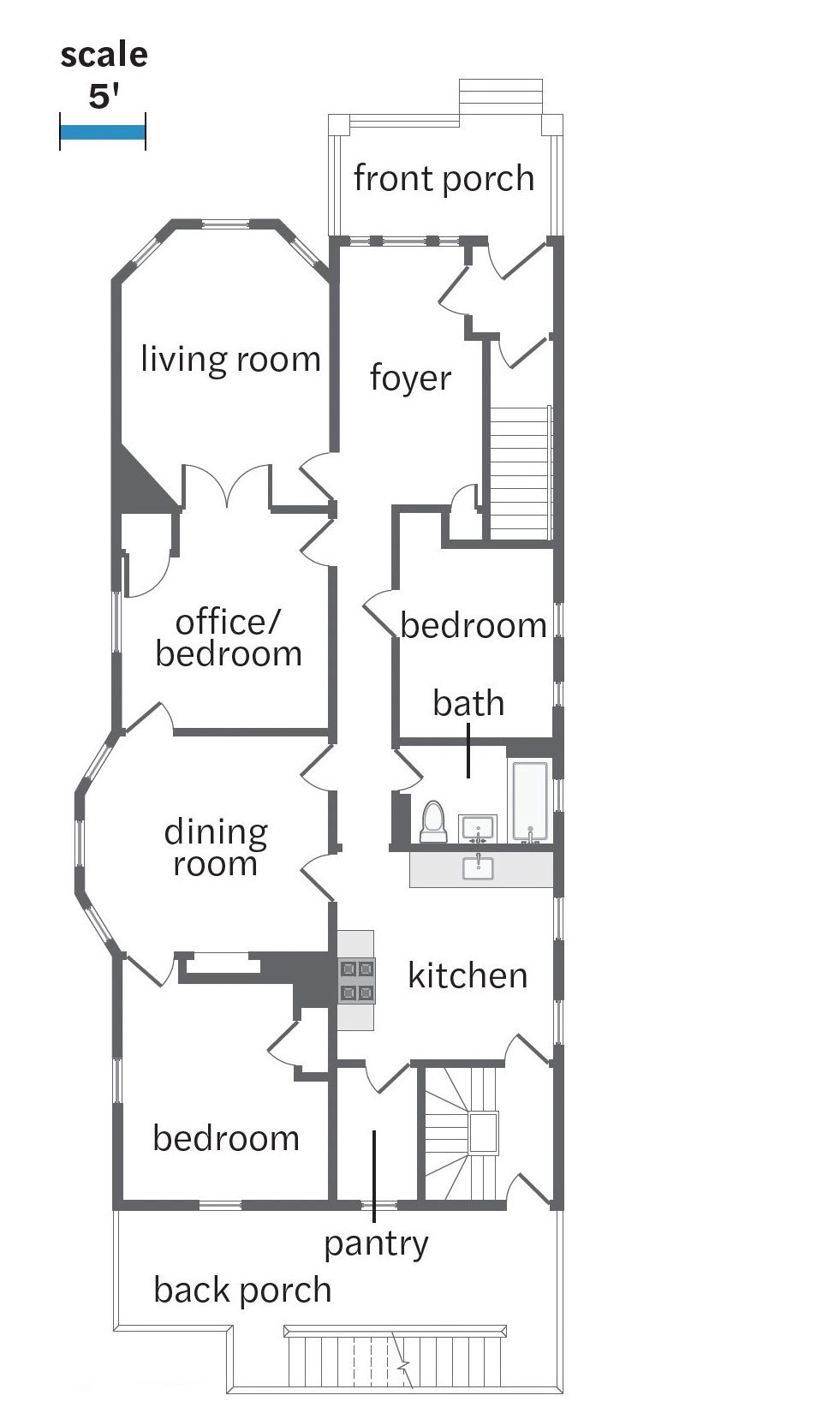 First floor:
Willie's apartment
Though their exterior features vary, triple-deckers almost always have the same floor plan: a center hallway with a foyer and living room out front, middle bedrooms, and the bathroom, kitchen, and dining room in the back, along with an additional bedroom, which historically would have been rented out. Willie's ground-level apartment, which she shares with a grown nephew, retains this layout, along with original porches at the front and rear.
Floor plans: Ian Worpole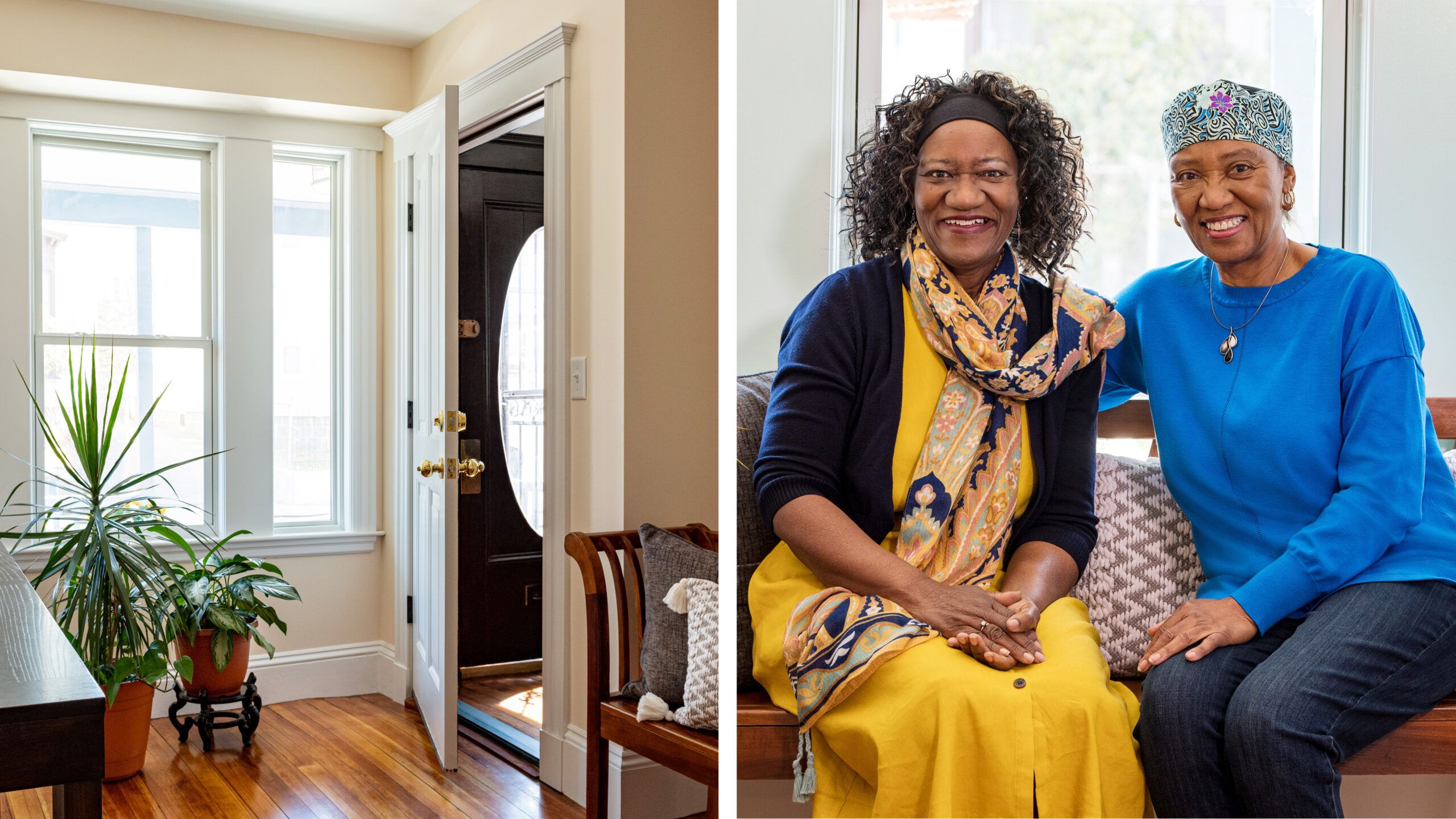 Normally these behind-the-wall upgrades happen first, then the kitchen, baths, and finish materials go in. But on this project the timeline was tight, since the insurer would only pay Carol's and her family's rent for a limited period, and the work had to be completed within two years of the fire. As a result, carpenters, painters, and tilers were jockeying for position alongside plumbers and electricians from the get-go. "I've never had to share a job site with so many other trades," says TOH painter Mauro Henrique­—a situation made more difficult with Covid-19 safety protocols in place, which mandated social distancing.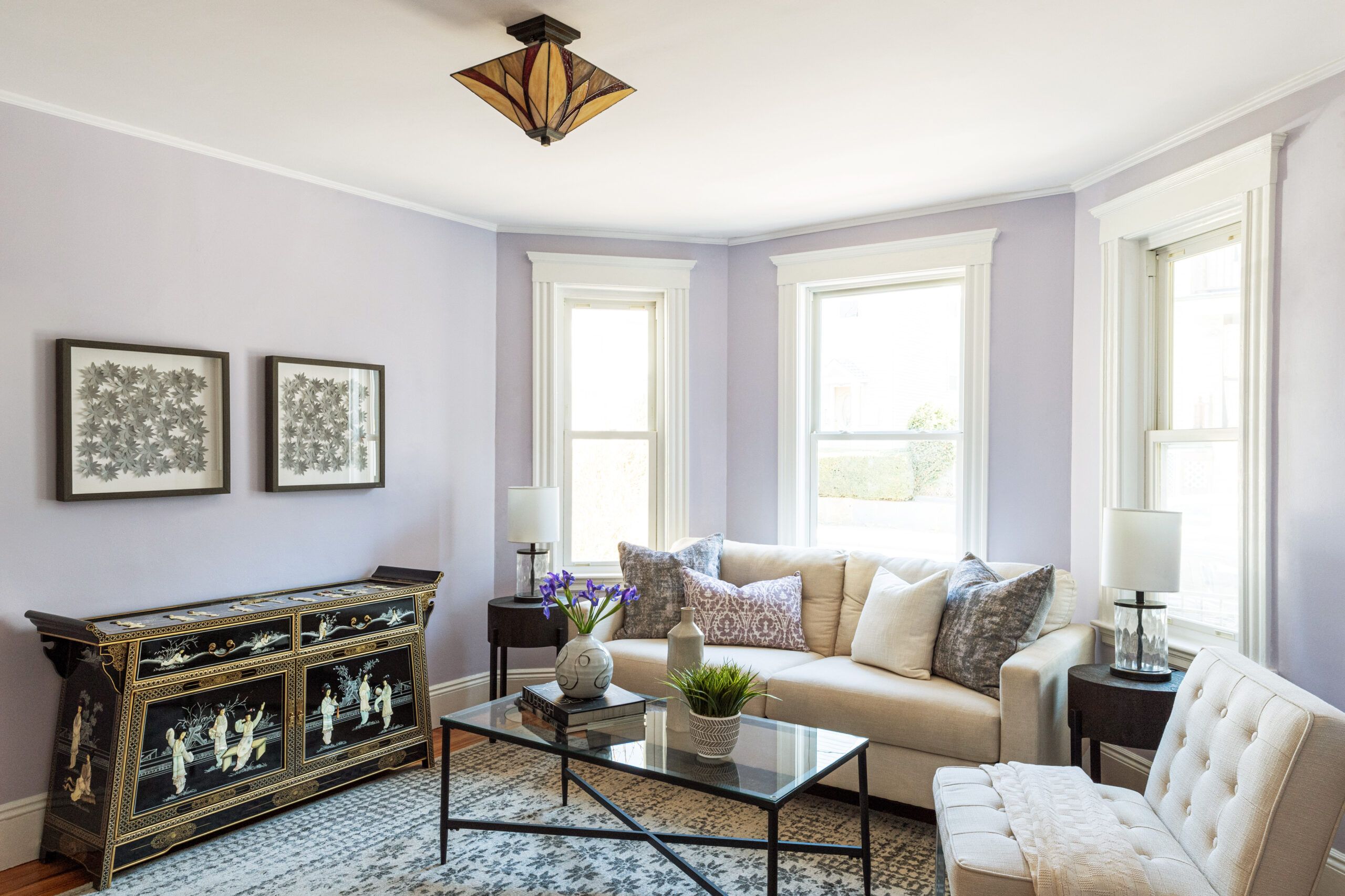 Still, the TOH team knew what a deserving homeowner they had in Carol, who has given much to her community over the years. "Everyone fell in love with Carol and Willie," says TOH landscape contractor Jenn Nawada. "They're two of the most authentic people you'll ever meet. The budget might have been small, but when the homeowner is so kind and respectful of the process, that goes a long way."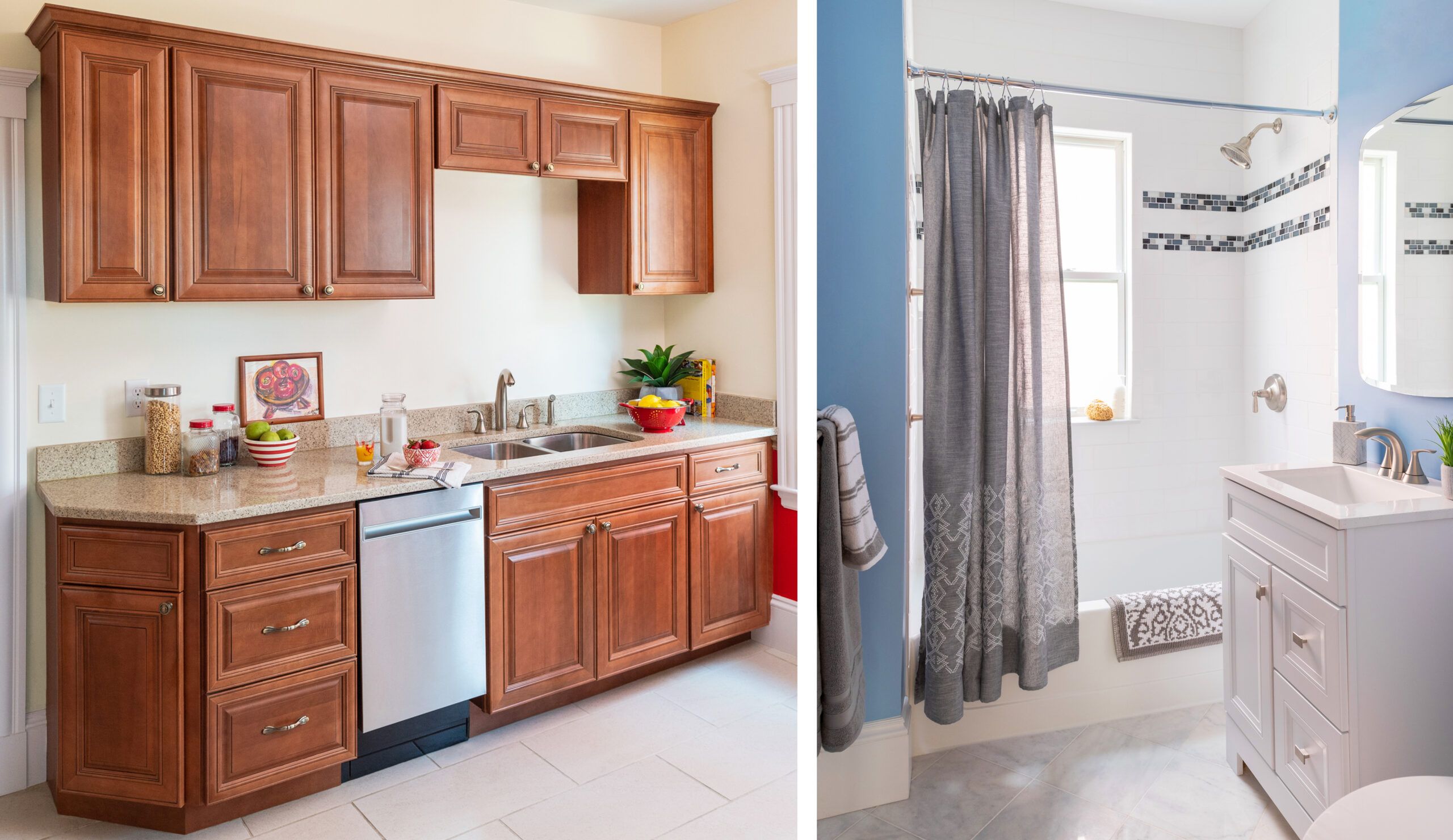 As the job progressed, nearly every surface in the home ended up being touched. "Many of the plaster walls were falling apart," says Mauro, "and that was before the electricians started punching holes to fish the new wiring." He and his eight-person crew often worked from dawn to dusk—forgoing overtime—and spent weeks rehabbing the stacked front porches, a defining feature of the triple-decker's facade. Each of the fluted columns and hand-turned balusters had to be scraped, puttied, and painted; the finish coats' soft mid-blue hue was chosen to coordinate with the new silver-gray vinyl siding.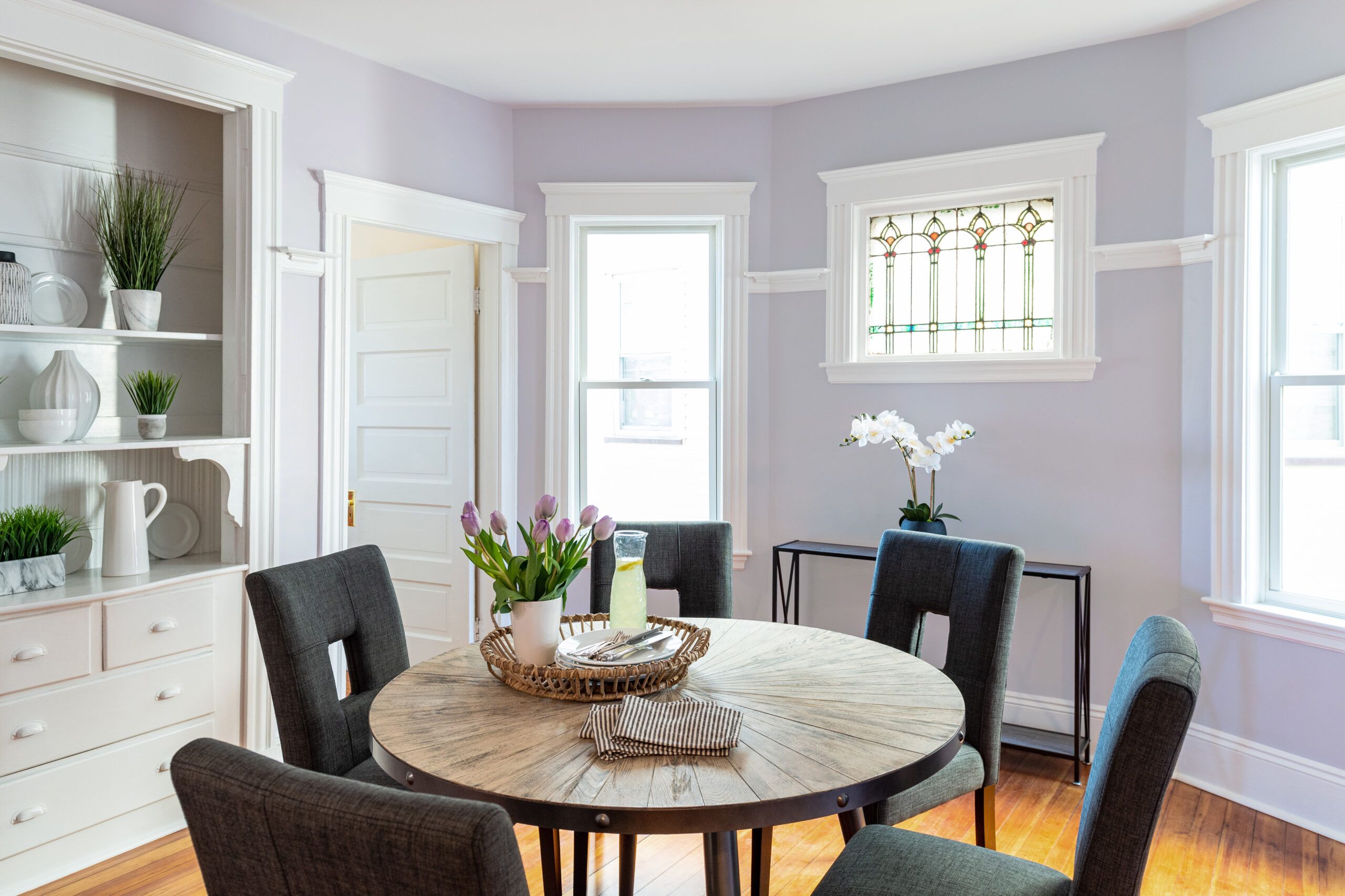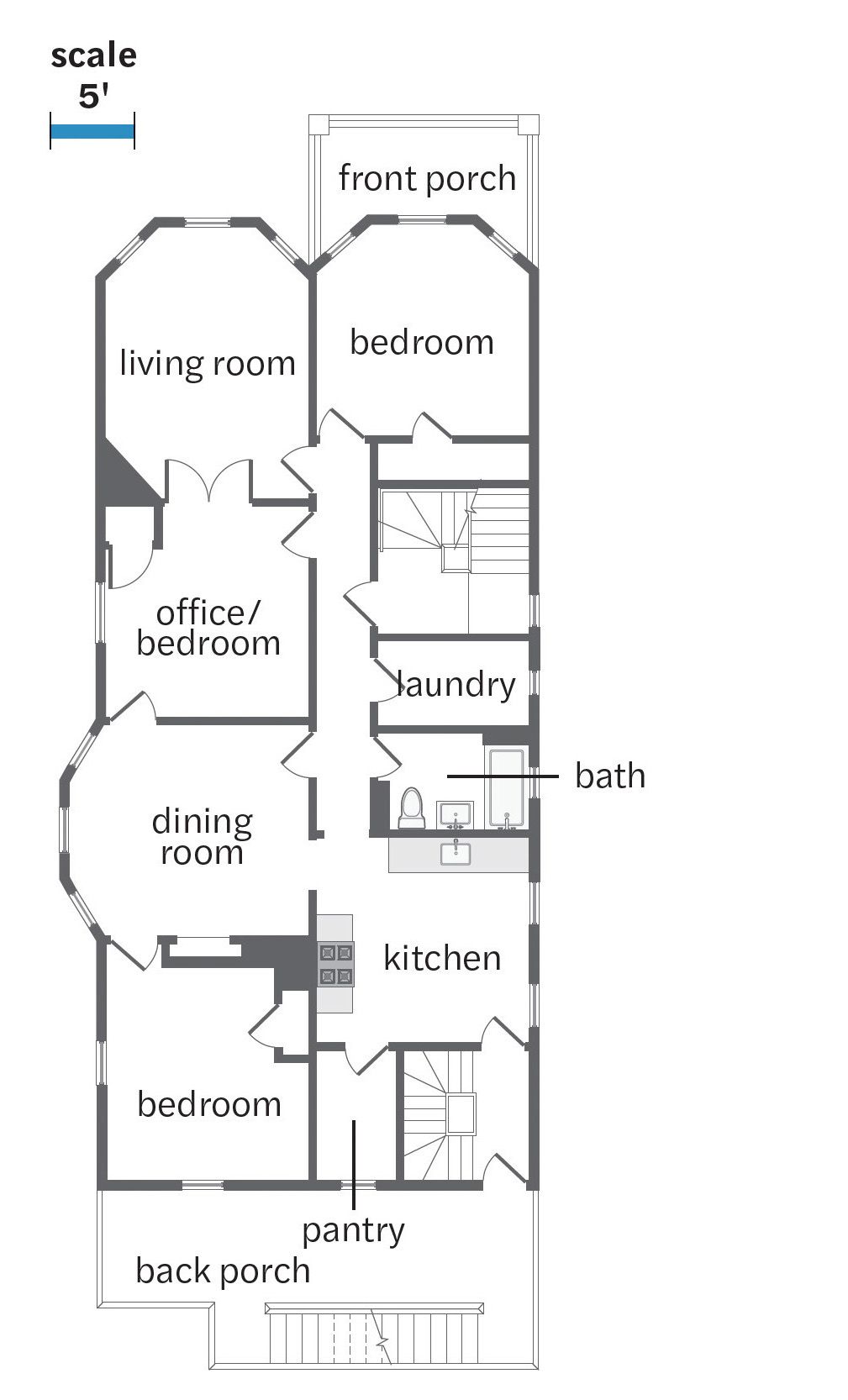 Second floor:
Carol's apartment
Before the fire, Carol lived on the top floor with her sister Dorothy, who has since moved away. Post-reno, she decided to take over the middle apartment, in part because it means fewer stairs to climb. The only floor-plan change is the addition of a laundry room tucked into a hallway closet; a washer and dryer in the basement serve the other units. The spare bedroom at the back of the house will provide a guest room for the stream of friends and relatives who come calling.
Floor plans: Ian Worpole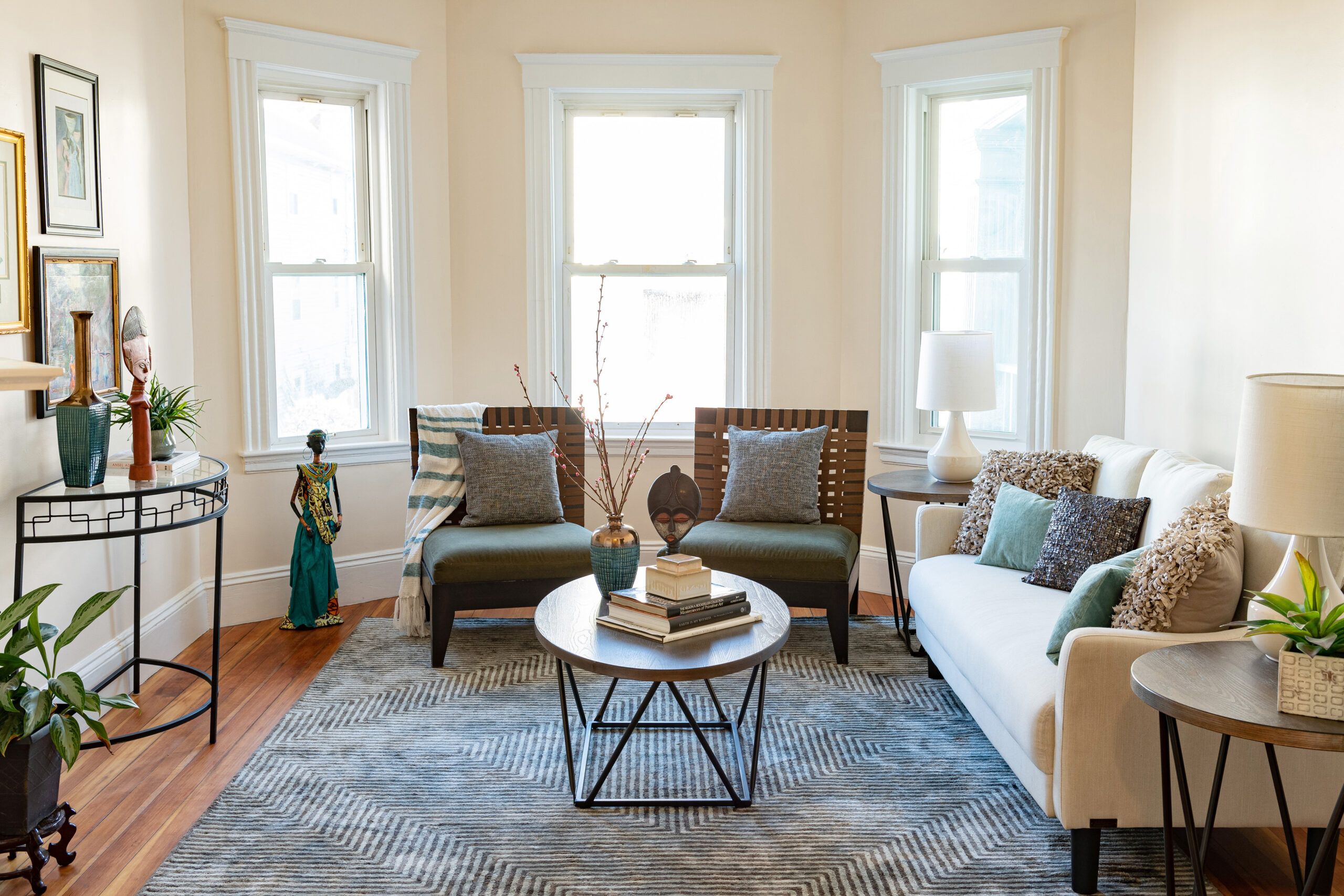 Through TOH's partnership with YouthBuild Boston, a nonprofit that helps young people learn job skills in construction and other high-demand fields, a pair of local apprentices arrived to pitch in: Yeren "Jay" Rivera Cruz and Bobbi Jones. The two got a lesson in repairing hardwood floors alongside TOH general contractor Tom Silva, patching holes left behind from the old radiators. They also helped Tom and Charlie install new fire doors in the back on all three floors. "It was incredible to be part of an actual job site and see how everyone has to work together," says Jay of the six-week experience. "I learned how to use a paint gun, patch holes in walls, run plumbing. Every day there was something new."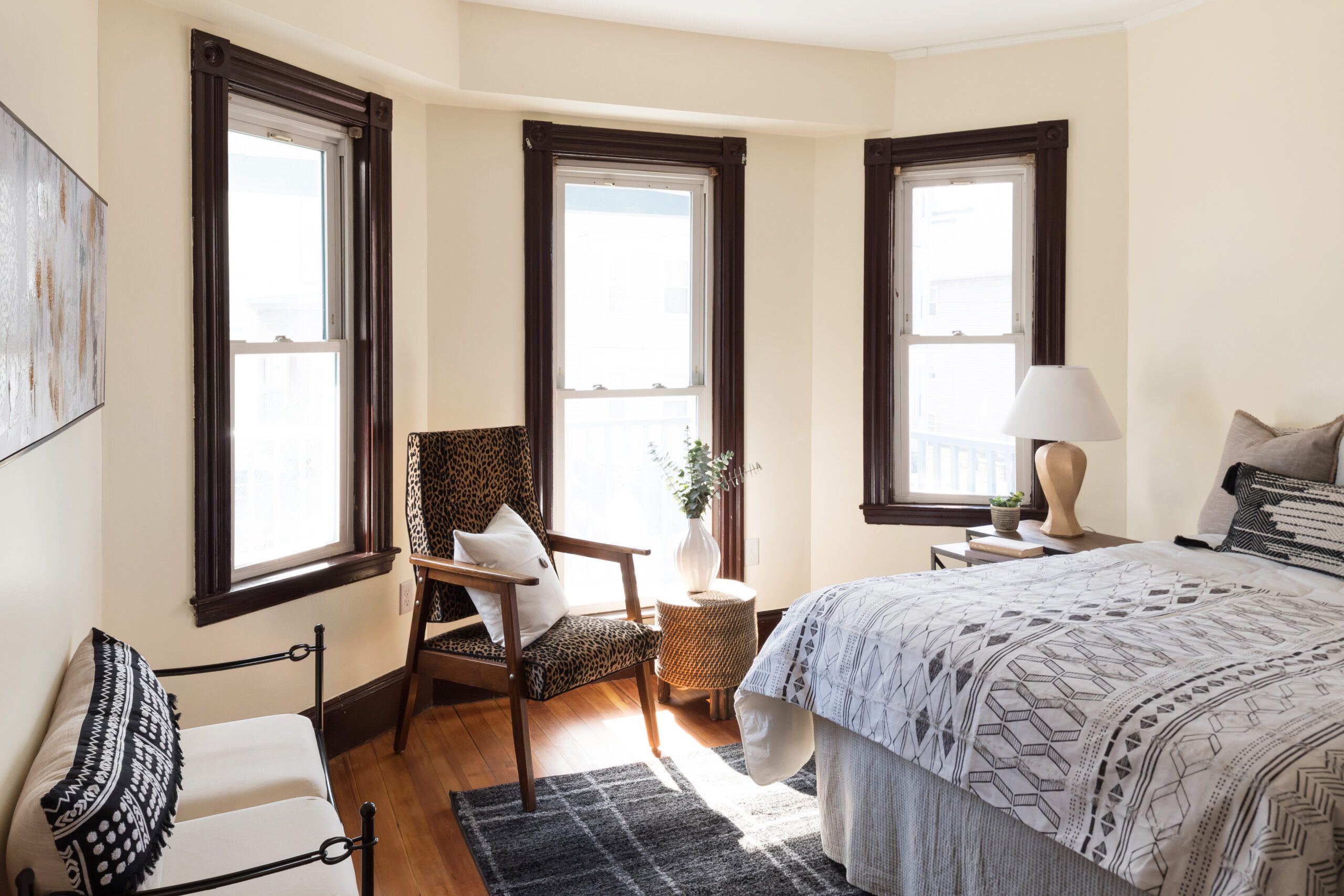 "Carol and Willie were so happy every time they saw that another room was done. It motivated everyone to keep going." —Mauro Henrique, TOH painter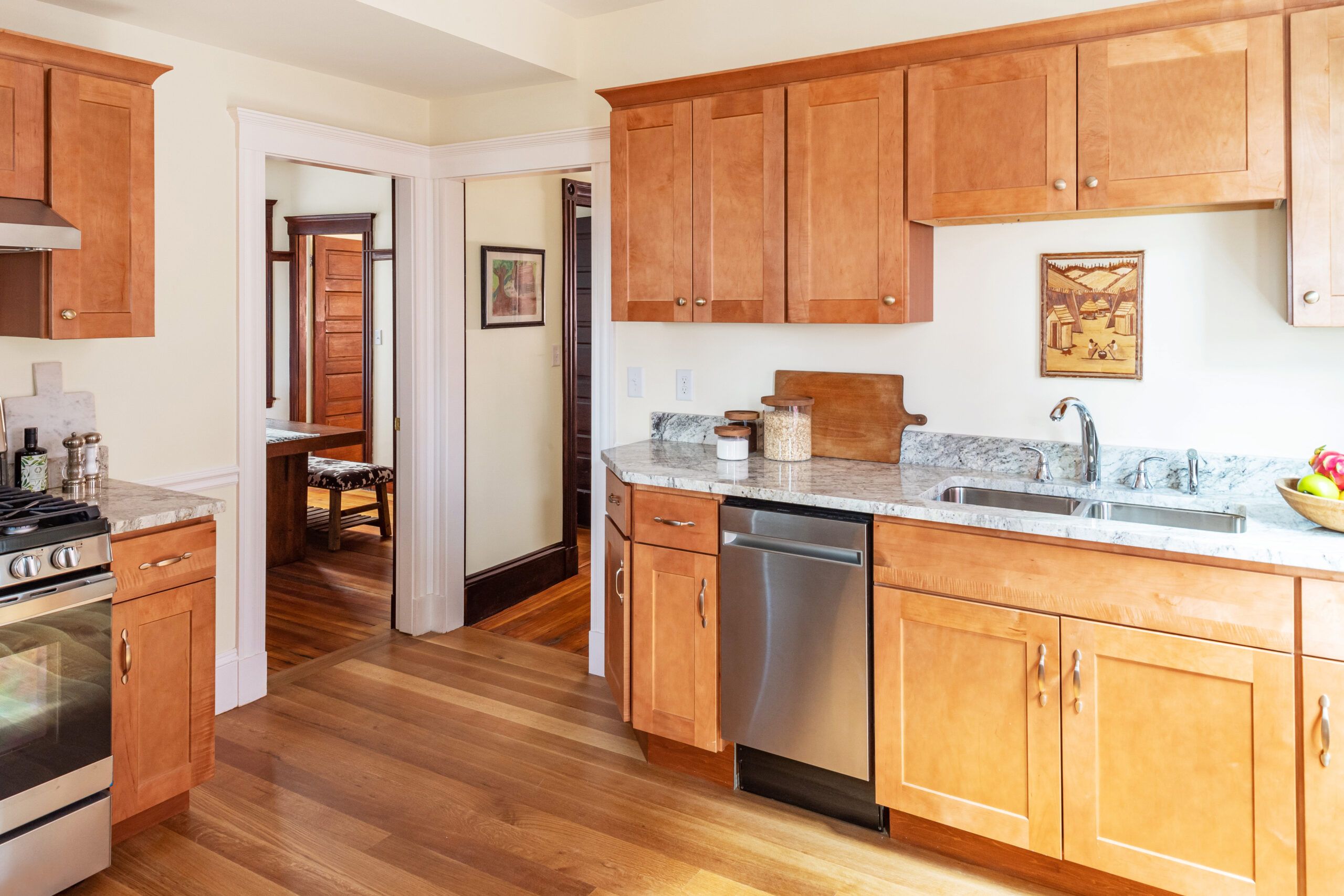 With improvements to the front of the house nearly complete, Jenn brought in fence installer Dan McLaughlin to replace the old chain-link with simple black aluminum panels—an affordable, rust-free alternative to the wrought iron that might have originally graced the street. The new fence sets off simple foundation plantings, including lilacs and Japanese hollies.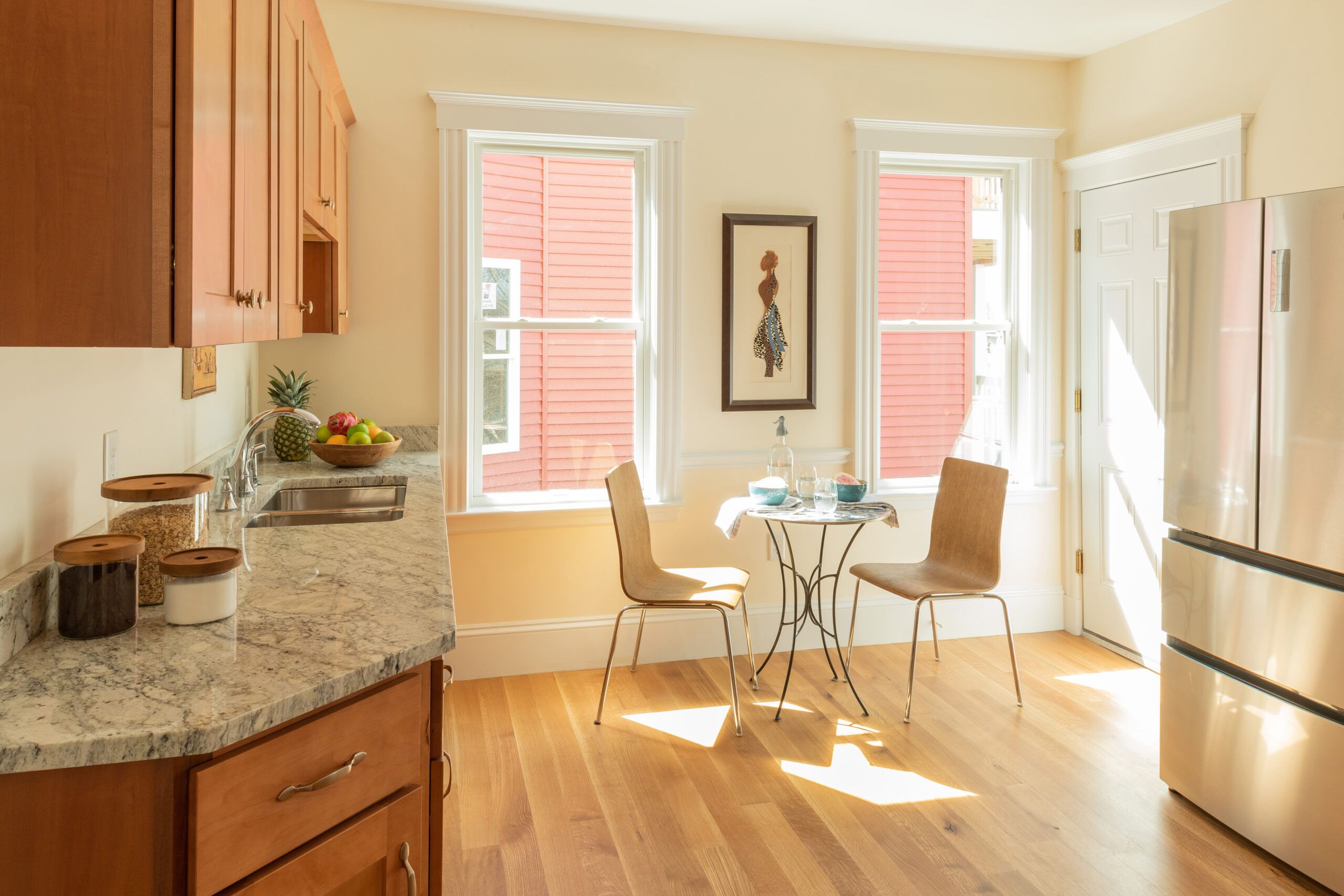 In the backyard, a Norway maple that had been severely damaged by the fire came down, creating a roughly 350-square-foot blank slate. Jenn decided the space was perfect for a patio, even though it wasn't part of the project's original scope. "We wanted to create an outdoor dining and entertaining area for Carol and her family," she says. "Her backyard has views of downtown Boston in the distance, so we tried to capture the historic feeling of the city by using natural brick pavers, which have an old-world charm."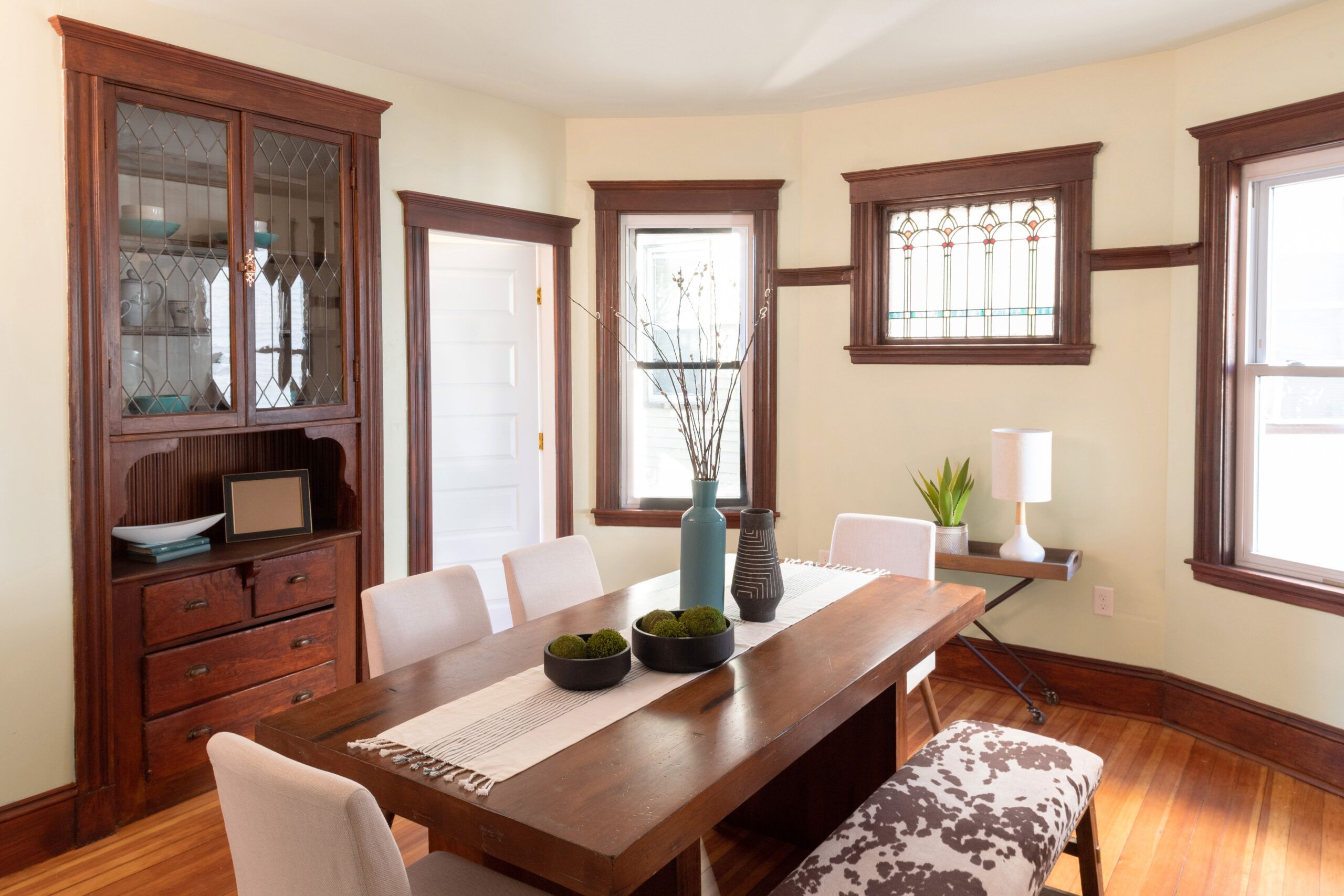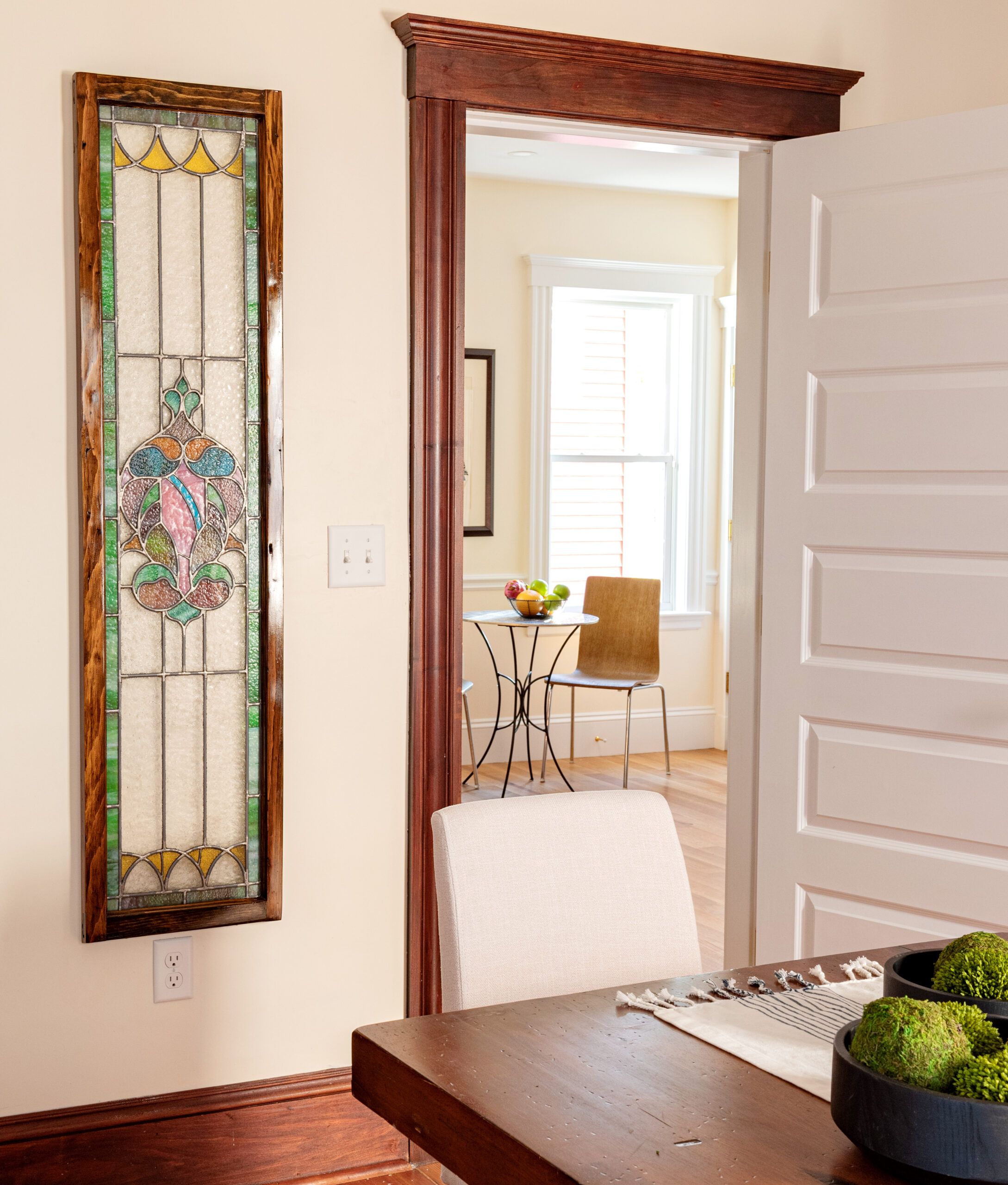 Since the budget and schedule were both depleted to zero at this point in the project, Jenn corralled donations, including a modular concrete-block retaining-wall system from Unilock and traditional clay-brick patio pavers from Pine Hall Brick. Getting everything installed required one last burst of communal can-do, with the TOH team pitching in to help lug and lay pavers, including Jenn, carpenter Nathan Gilbert, Mauro, Mark McCullough and his masonry crew, and landscaper Fred Pendleton, who put the finishing touches on the job. Of course, Carol and Willie were on hand at every step, assisting Jenn in choosing shrubs that promise three seasons of interest—spring-blooming fothergilla, hydrangeas that flower all summer, and viburnum, whose deep-green foliage turns cinnabar red in fall. The landscape plan leaves room for raised vegetable beds, which Carol and Willie will install and use to grow the collard greens and tomatoes they knew as kids growing up in Alabama farm country.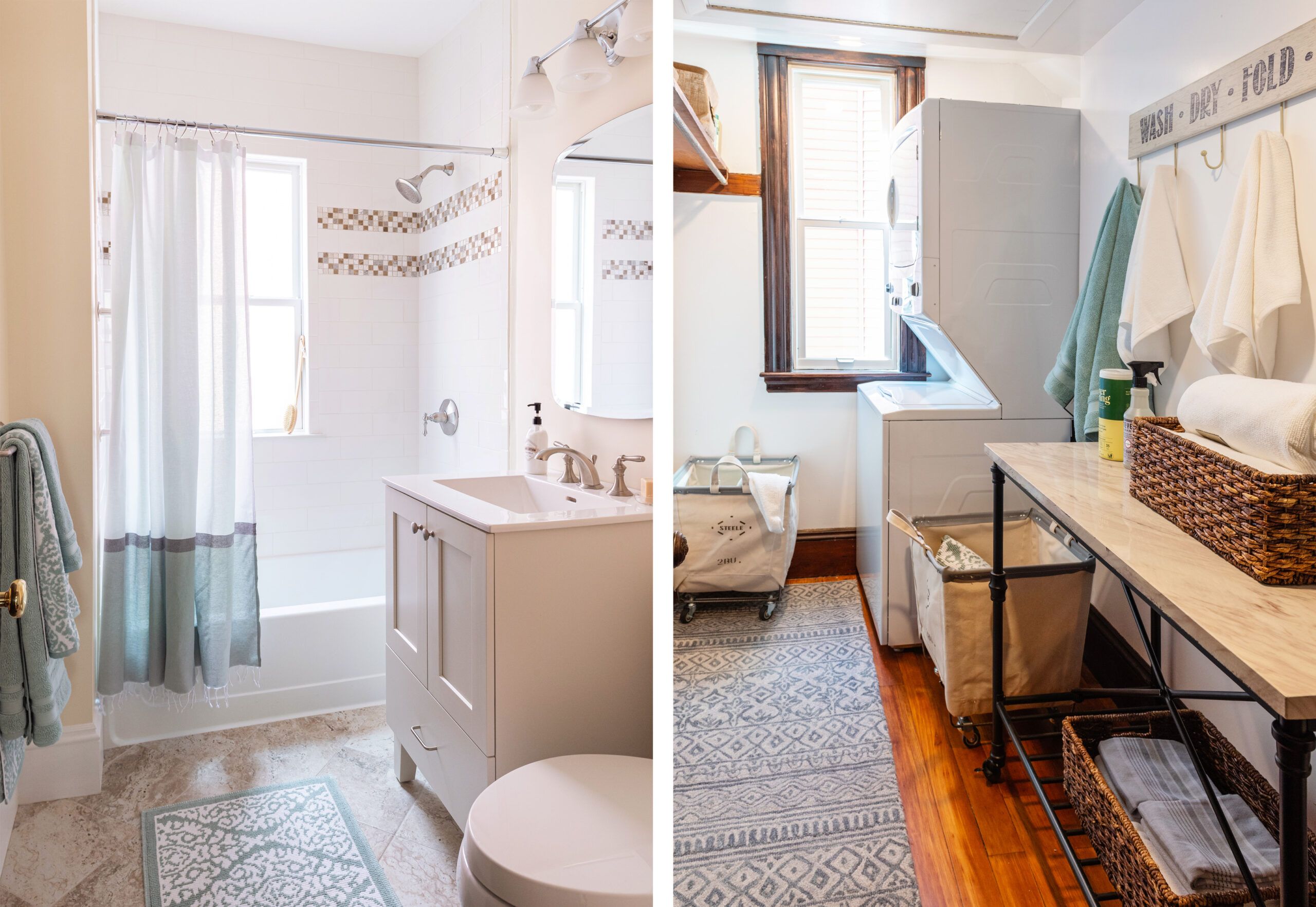 From an area scorched by fire, a new place to grow food and gather with family and friends has emerged. The satisfaction of making that transformation a reality is the reason Charlie was happy to take on the project, and why he went the extra mile to get it done, asking his community of longtime subs and suppliers to chip in extra time and materials.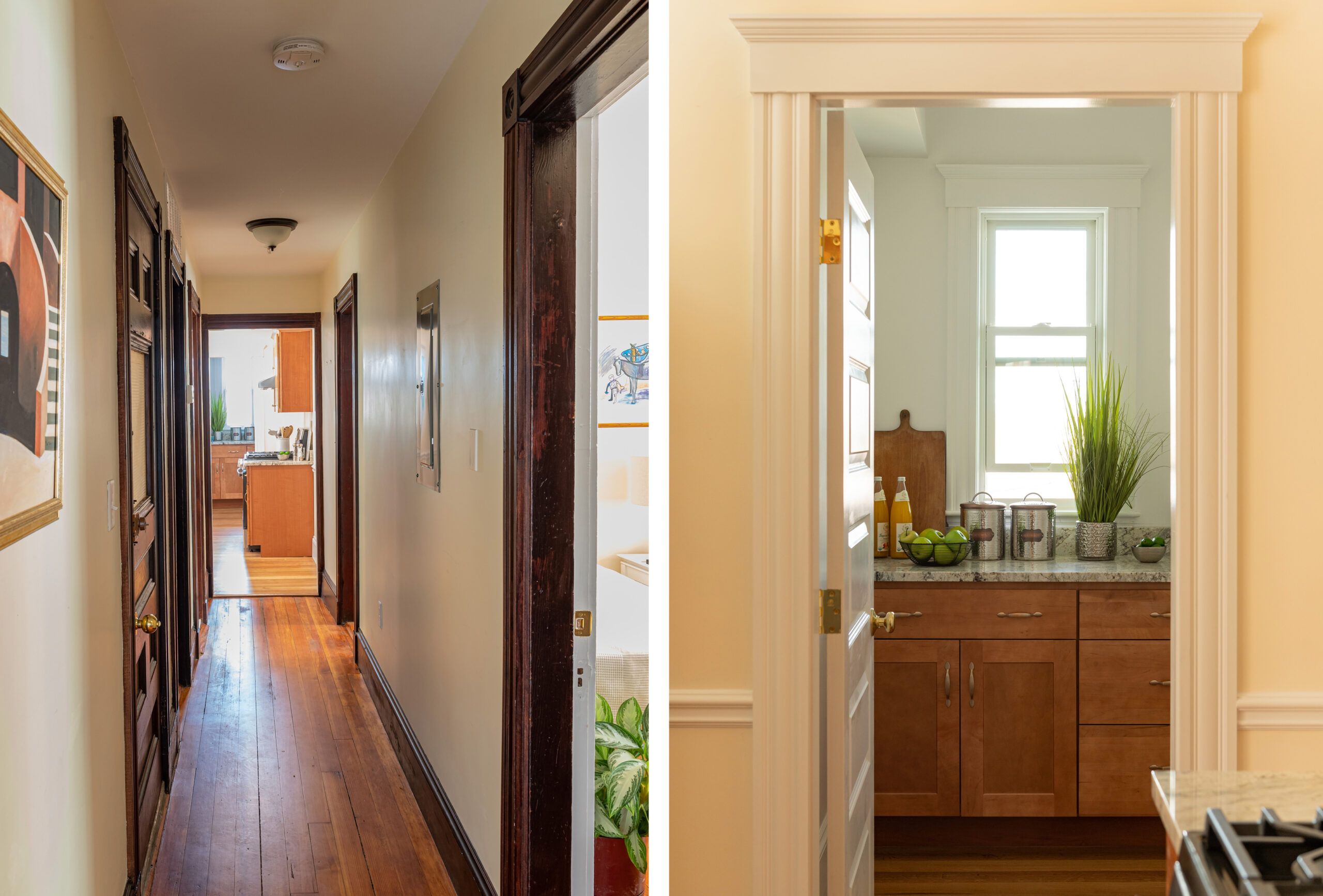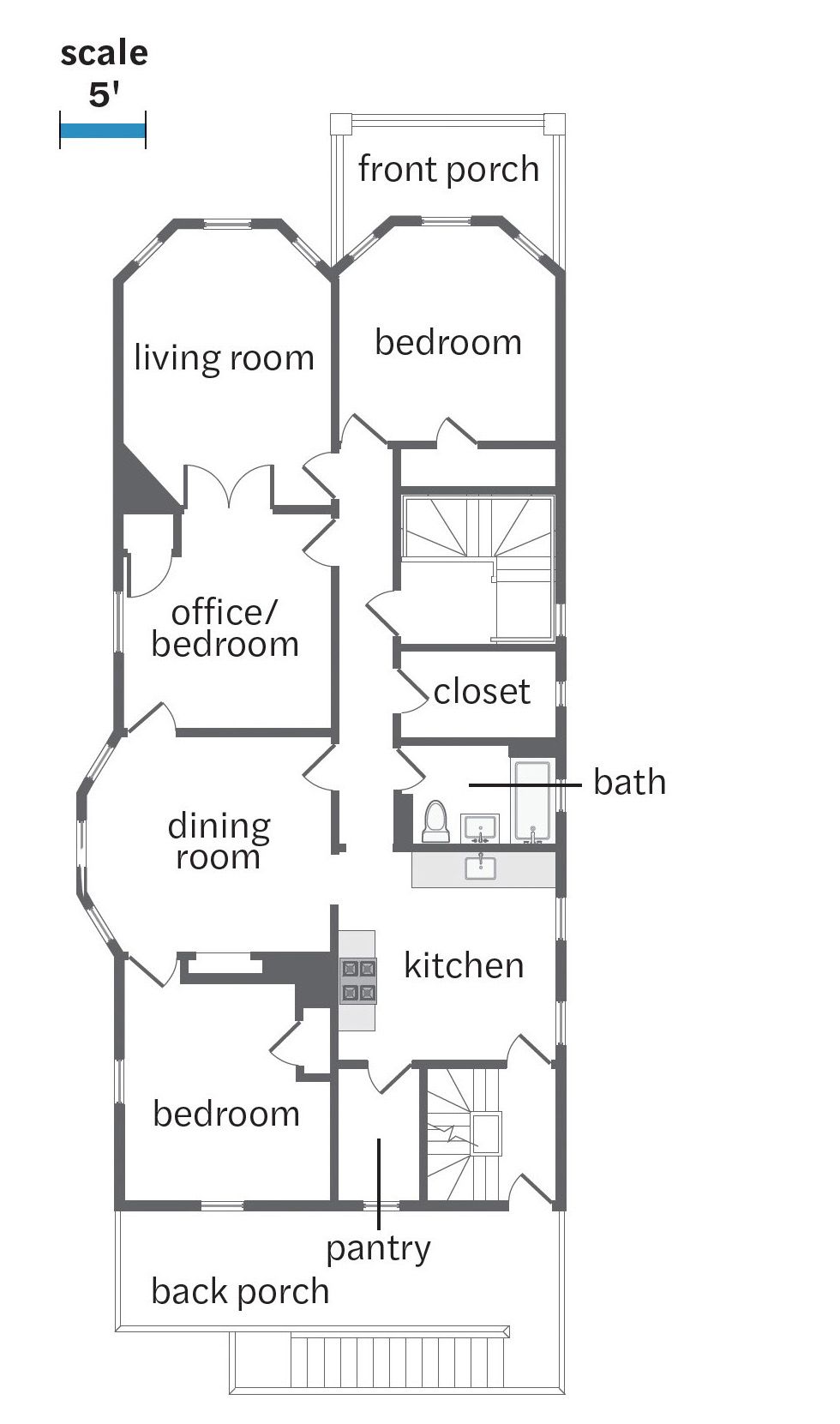 Third floor:
Tenant-ready
The top floor, which served as Carol's apartment before the fire, will become a rental unit, which will most likely be occupied by a family member or close friend. Swapping solid doors for French doors in the living room created a more open floor plan and allows natural light to filter into the adjacent bedroom, which might also serve as a home office. The rear porch offers the best views of downtown Boston, about 10 miles to the north.
Floor plans: Ian Worpole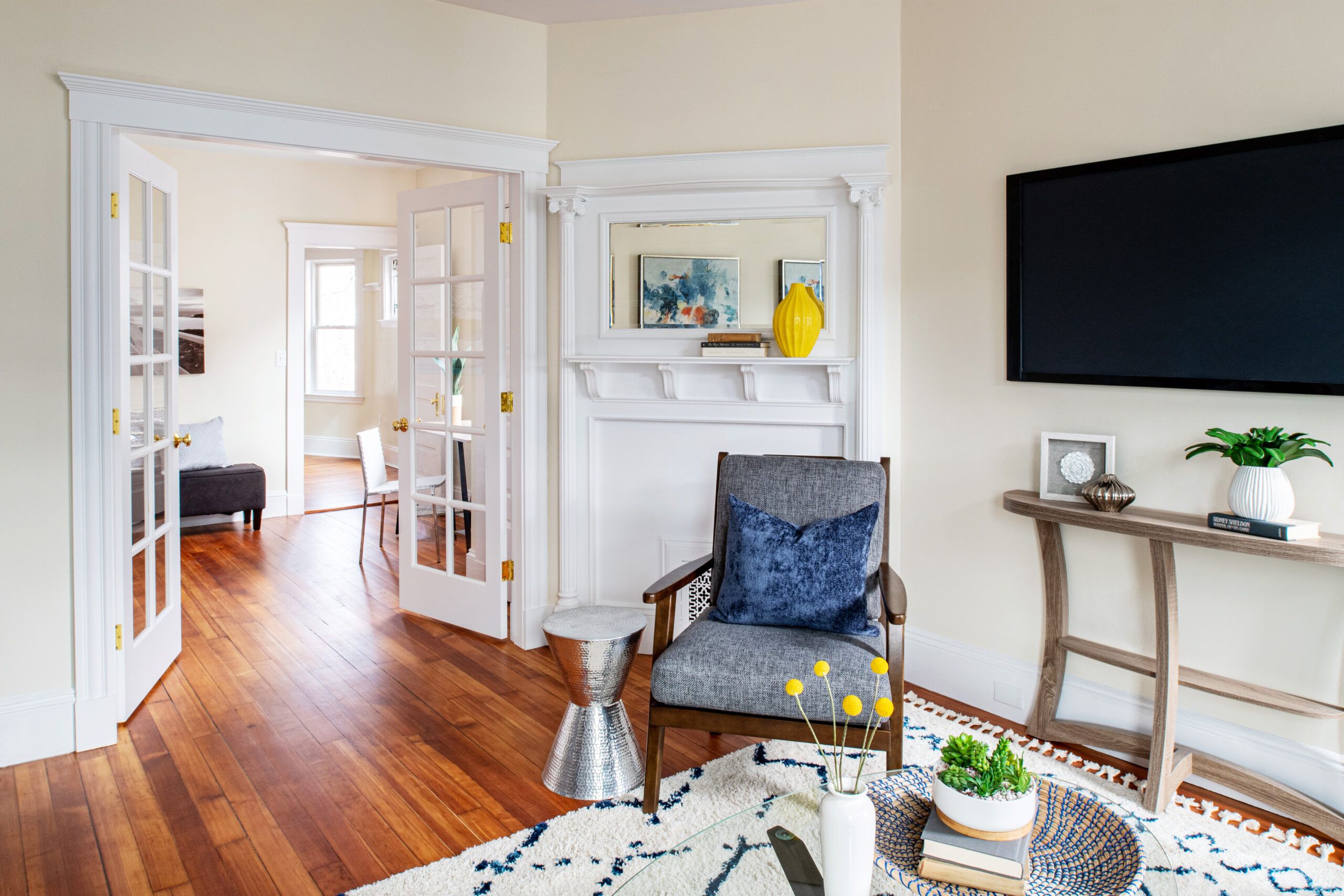 "When we first met Carol, she was behind the eight ball like nothing I'd ever seen before," he says. "The only thing that mattered was getting her and her family back into their home." With the house repaired and refurbished for another century of family living, that goal is met, and more. "I've gained a friend for life," Charlie says. "We already have an invitation for a home-cooked meal."