Adding a deck to your house is the easiest and most affordable way to increase your living space—and when it comes to deck design, the sky's the limit. Multiple levels, shady overhead structures, and spa-like amenities are all within the realm of possibility—with a little planning. You can use online sites to create virtual decks and you can glean design ideas from the work others already have done.
Whether you're building a deck or remodeling one, the only real design constraints are your budget, what's permissible in your neighborhood, and what complements the setting.
Take inspiration from these 9 smart deck ideas for a well-designed space built just for you.
Above Ground Pool Deck
Design and nature collaborate to combat the heat. A pergola with a pulldown screen stands sentinel against the sun. The redwood decking undulates around a cool pool and is cut to incorporate arboreal shade.
Lighting Considerations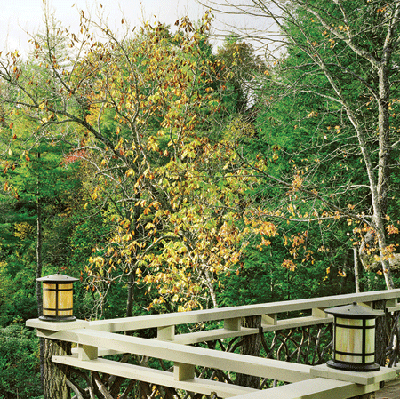 Though local codes rarely govern deck lighting, it's a good idea to install sconces around doorways and small recessed lamps on stair risers to prevent accidents at night. Other ambient light options include lanterns, spotlights mounted in nearby trees or on a pergola, and solar-powered deck lights, which are easy to install since they require no wiring.
Deck Railing Rules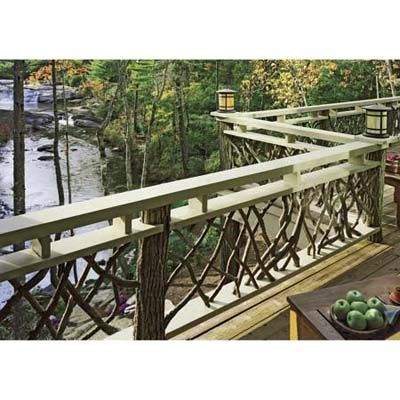 For safety, most building codes require that railings be at least 36 inches high for decks built more than 30 inches off the ground, with no gaps through which a 4-inch sphere could pass between balusters or beneath the handrail. Some local codes also bar railings with horizontal members that kids could climb like a ladder. Railings can be built out of a variety of materials to suit any style or circumstance. Popular options other than wood include taut horizontal or vertical steel cable, metal sheeting or mesh, tubular piping, resin posts and balusters, and even-tempered glass panels.
Cover Your Deck With Pergolas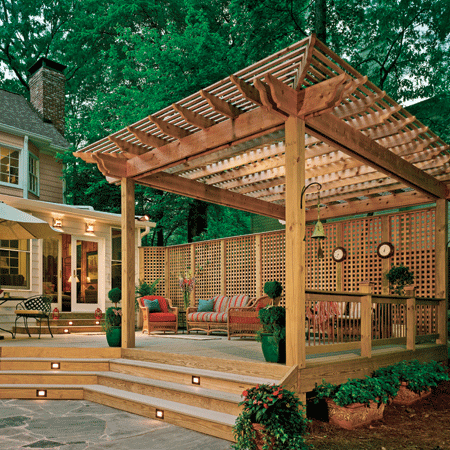 Overhead structures can offer shade from the baking sun, and airy walls provide privacy from too-near neighbors. Open lattice fencing helps establish private space while also letting light and breezes pass through. Should the homeowner eventually want something less transparent, climbing vines can be added. Encouraging vines to grow on the pergola above could transform the structure from one that not only creates an intimate sense of enclosure but also offers shelter from light summer rain showers.
Wood Deck Buffer Zone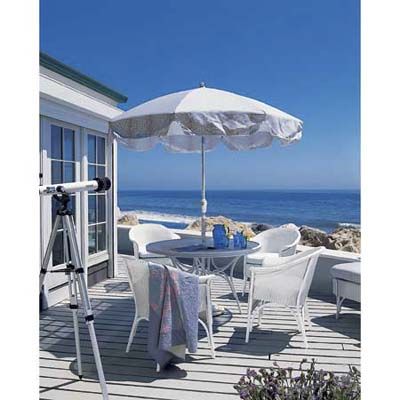 A deck can be the solution to a problem yard, whether that means an uneven grade, a rocky outcropping, or shifting sands. It can provide a solid foundation underfoot and a gracious transition between the house and the world outside. Here durable redwood planks were installed with a quarter-inch of extra space to allow water to drip between the cracks. The extra breathing room also allows the boards to expand and contract with changing temperatures and humidity.
Rambling Composite Deck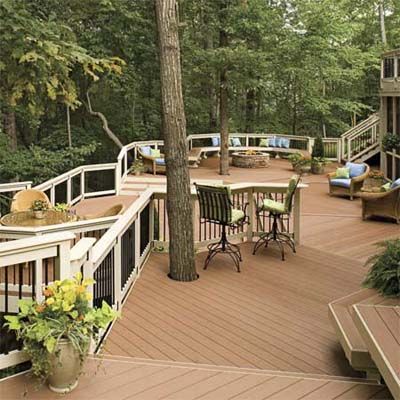 Lush trees appear to hug a multi-level, curved deck structure with copious room for entertaining. Building a deck to fit in with the angles and height of existing foliage adds a sense of luxury that only customization will allow.
Learn more about synthetic materials for a high-tech, low-fuss deck.
Levels and Views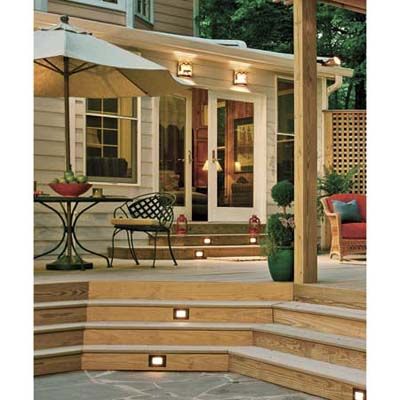 If you have a long run of stairs (like the seven in this project), split the difference: one set of three steps near the house, for instance, then four later on. Varying levels offer places to take in views from different vantage points. They also break up big space into distinct outdoor areas.
Build a Lower Level for Unobstructed Views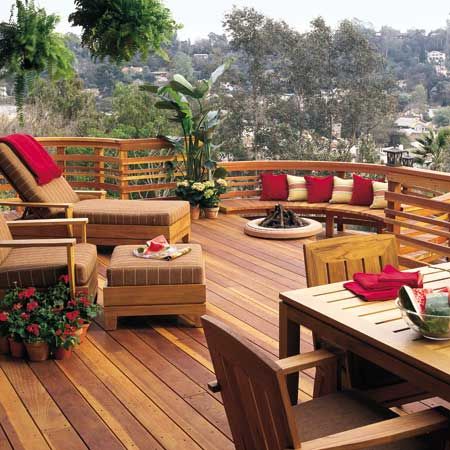 The lower-level built-in curved bench demonstrates clever design thinking. It provides seating, but because the lower level is a few steps down from the upper level its railing doesn't block the beautiful view for the people sitting in the upper-level chairs.
Outdoor Deck Kitchen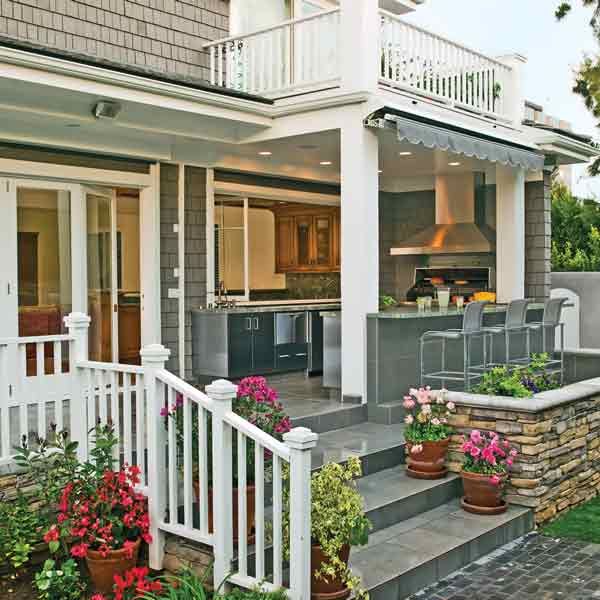 An outdoor kitchen positioned against a wall makes it easier to connect electrical and plumbing. Plus, a sliding window above the countertop means easy passing of plates and other kitchen essentials. A second-floor deck takes outdoor enjoyment to another level.
Make your open-air kitchen a prize-worthy cook space with this plan for a perfect outdoor kitchen.
Add outdoor dining spaces in other places with smart ideas for outdoor kitchens and dining.