The Benefits of Composite Decking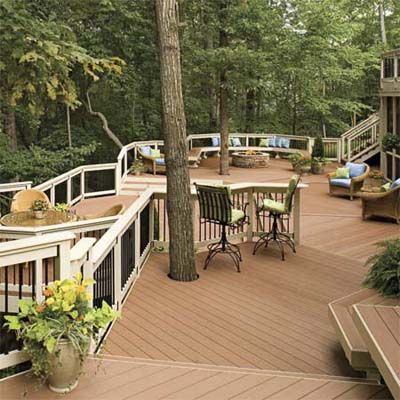 Forty years ago, pressure-treated deck boards were the greatest thing to hit the housing market since, er, vinyl siding.
But while treated lumber holds up well under most conditions, it's going to need work—cleaning, stripping, sanding, and sealing.
Today, composite decking does even treated wood one better by doing away with the bulk of the upkeep. Made of a mix of waste wood or cellulose fiber and plastic, composite boards typically require only an occasional cleaning. Same goes for new nonwood railings offered in a variety of materials, including composite, vinyl, glass, and metal.
Deck designs have evolved, too, with more homeowners seeking activity-specific spaces that mimic rooms inside their houses. The deck has become a hub for outdoor living and entertaining.
This deck, designed by Archadeck of North Atlanta, wraps the house with multiple activity zones, including a dining area, a breakfast bar, and
a hearth. The spaces are delineated by the deck's irregular footprint, by steps that lead up and down, and by the way the deck boards run in different directions. Designing around existing trees helps blend the deck into the landscape.
Design Features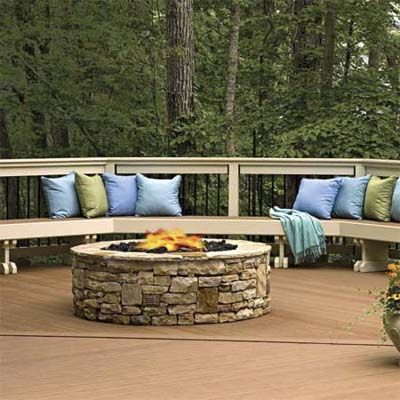 Before pouring the first post footing for the deck at his Atlanta home (pictured), Dan Smith met with a local designer from Archadeck, a national deck-building firm, to come up with a design based on how his family planned to use the space. The father of three social teenagers, and a frequent party host, Smith wanted lots of distinct areas on various levels for entertaining. "I also wanted to keep all the trees, so you'd feel like you're in the woods," he says.
While Smith's deck is large, the same amount of thought should go into designing even a diminutive deck for a small backyard. "The days of the deck that's just a plain, impersonal square are gone," says Bill Bolton, owner of Deck Creations in Santa Barbara, California. "People want the space to be their own. They're thinking in terms of outdoor rooms."
More Design Features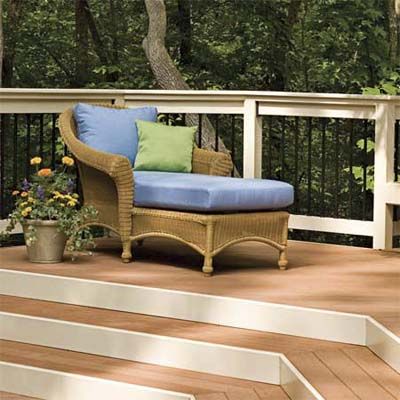 The same variety of spaces that you have inside your house, such as a breakfast nook or a quiet area for reading, can be reproduced on your deck. To create a hearth for warding off an evening chill, for instance, place an inexpensive portable propane heater or ceramic chiminea in a cozy corner where you can set down all-weather cushions or pull up a couple of lounge chairs. And while elaborate outdoor kitchens stocked with stainless-steel appliances are popular with the well-heeled, a charcoal kettle on wheels and a prefab potting bench with shelves for stowing plates and glasses will certainly fill the bill.
Delineating those spaces on your deck can be done by adding steps to change elevations, varying the orientation of deck boards, or even putting up a lattice wall. You can also use what your yard has to offer by building around a large tree to create a shady area for lounging.
Deck Boards
Composite decking means you can forgo the annual staining and sealing rituals that go along with wood. Though composite makeups differ—various types of plastics and strengthening fillers such as wood flour or flax fiber are used—all require less follow-up work than wood. The Geodeck boards used for the deck shown here are made from a mix of polyethylene, purified wood fiber, and other minerals. They won't rot, and they'll never need refinishing. What they do require is occasional cleaning. "The oak leaves make black marks if they sit for a long time," says homeowner Dan Smith. "But if I keep the deck swept and hit the occasional stain with a power washer, they come right off."
More Deck Boards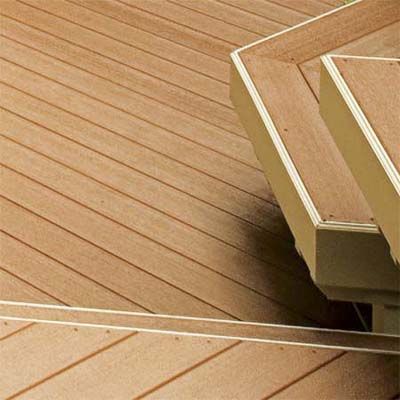 Even in the Pacific Northwest—the land of plentiful cedar and redwood—Kim Katwijk, owner of Deck Builders Inc., uses composites for almost all the decks he builds. It costs as much as $3.90 per lineal foot for premium 2×4 cedar boards, plus about $1 per square foot annually to keep the deck in top shape, using quality stains and sealers, says Katwijk. But he can buy his favorite composite, called Evergrain, a compression-molded polyethylene and wood fiber board, for between $2 and $3 per lineal foot, with virtually no upkeep costs attached. He also saves on overage. "When I use wood decking, I order about 15 to 20 percent more to allow for the inevitable split, checked, or warped boards." Not so with composites."If for some reason I get a bad board, I call the supplier and they send a replacement," he says.
If you're looking to compare composites, start by reviewing technical specifications, color charts, and cleaning instructions on manufacturer websites. Be sure to look at how the boards will be attached to one another and to the joists. Most are fastened with regular deck screws, but some boards have channels along the edges for hidden fastening systems, such as those made by Eb-Ty, so no screws will be visible. Another hidden fastener, Tiger Claw, holds boards together with clawlike spikes. Other boards go down like tongue-and-groove flooring, fastened to the joists with steel nails set at a 45-degree angle. Finally, you'll need to decide whether you prefer the look of smooth or textured boards. An embossed grain pattern will provide a little extra traction, but smooth boards are also slip-resistant.
Boards: Composite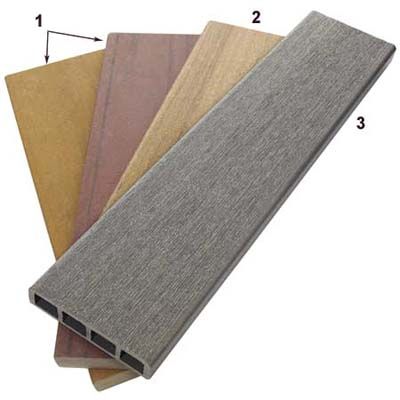 1. Brasilia boards, designed to resemble rare hardwoods, are made of polyethylene and waste wood. Shown in Burnished Amber and Cayenne. About $2.60 per linear foot; Trex
2. Part of the Exotics collection, this board is a mix of virgin plastic and recycled wood flour. It is textured on both sides, so you can always flip it over if one side gets marred. About $2.67 per linear foot; Monarch
3. This composite is lightweight yet exceedingly sturdy because it has a hollow-core center patterned after a steel I-beam. Decorative
end caps conceal the open channels. Shown in Driftwood. About $3.35 per linear foot; Geodeck
Boards: PVC and Flax Fiber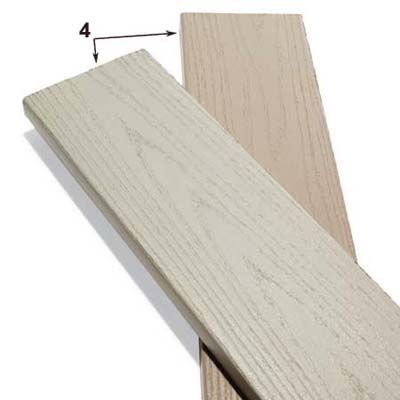 4. These textured boards are made from a unique mix of PVC and flax fiber fused together for stain and scratch resistance. Shown in Slate Gray and Brownstone. About $3 per linear foot; Azek Building Products
Railing Systems
It's even more of a hassle to maintain a deck's railing—with its posts, caps, and balusters—than it is to keep up flat boards. So the less wood the better. Non-wood railings generally cost more; a simple, square baluster style can run two-thirds more than a similar one in cedar. But there are more stock styles to choose from, and they save time and money over the long haul.
The only wood on Smith's deck is the painted posts. The Deckorators balusters are powder-coated aluminum with matching cups at either end that conceal fasteners. The handrail (as well as the deck's stair risers and fascia boards) is made of Azek, a paintable cellular PVC.
Alternative systems include composite balusters that resemble traditional 2x2s and metal handrails clad in white vinyl sleeves that evoke painted porch rails. Some companies offer turned balusters as well as handrails with curved profiles. Contemporary systems with tempered-glass panels or stainless-steel cables between metal or composite posts have the plus of preserving the view. Whatever style you choose, keep in mind that no other element does more to determine a deck's look than its railing.
Railings: Wood in Vinyl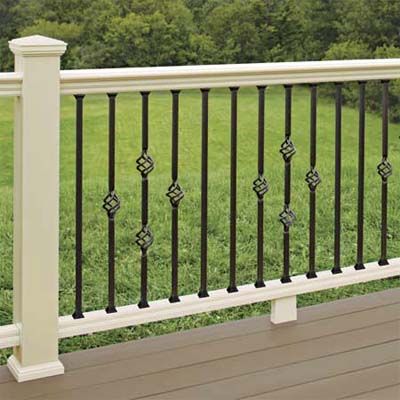 Metal is at the core of many new nonwood rail systems, ensuring their strength and stability.
The Panorama's vinyl sleeves conceal 4×4 wood posts. The coordinating rails are composite, and the ornate balusters are powder-coated steel. Starts at $34 per linear foot; CertainTeed
Railings: Composite Clad in PVC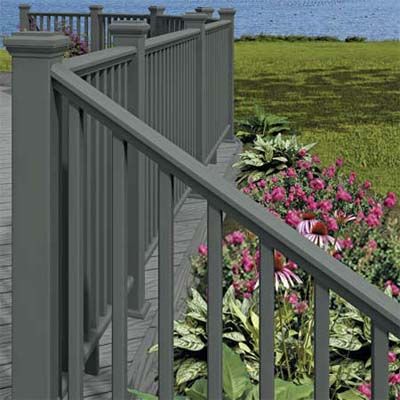 This clean-lined gray railing looks like painted wood, but it's actually a stiff composite clad in PVC. The various parts assemble so that all the fasteners are hidden. About $33 per linear foot; Composatron Composite Technology
Railings: Steel Sheathed in Composite Wood and Vinyl Sleeves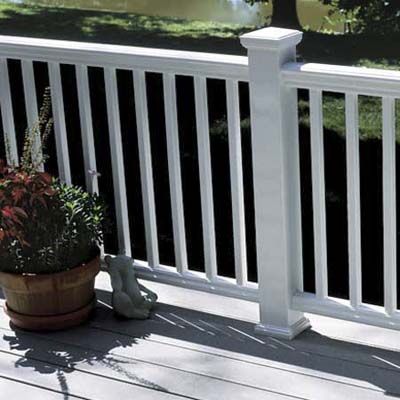 The steel posts in this traditional-looking Oxford railing system are wrapped in a layer of composite and then sheathed with white vinyl sleeves. The rails are aluminum with vinyl coverings; the balusters are composite. Starts at $33 per linear foot; CertainTeed
Railings: Stainless-Steel Cables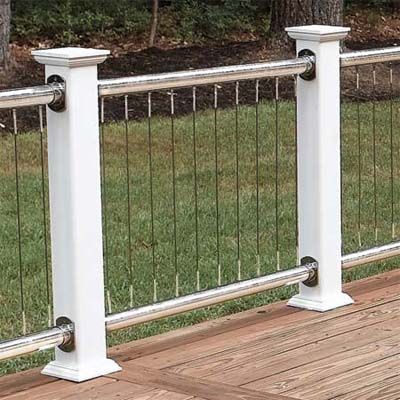 Vertical stainless-steel cables form a nearly transparent barrier when set between tubular steel rails and vinyl-clad wood posts. Triton system, about $125 per linear foot ; Atlantis Rail Systems
Railings: Tempered Glass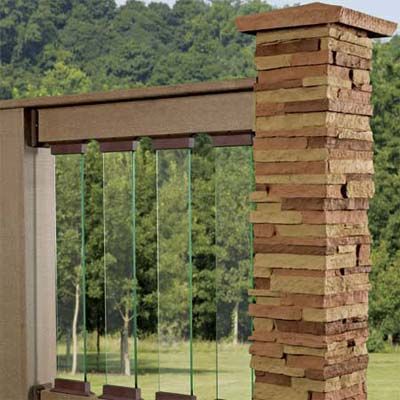 Anchored between composite rails and posts (one is clad in faux stone veneer), 5/16-inch-thick tempered-glass balusters offer uninterrupted views but may need frequent cleaning. About $32 per linear foot; Latitudes Decking
Railings: Powder-Coated Steel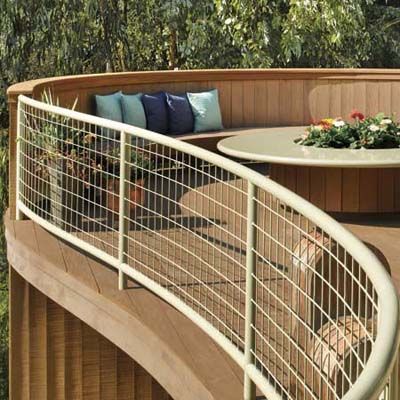 This custom powder-coated steel railing has industrial strength but a delicate look. Mesh panels between tubular posts and rails won't block the view. Steel mesh, about $40 per linear foot. Contact your local steel-supply company for similar styles.