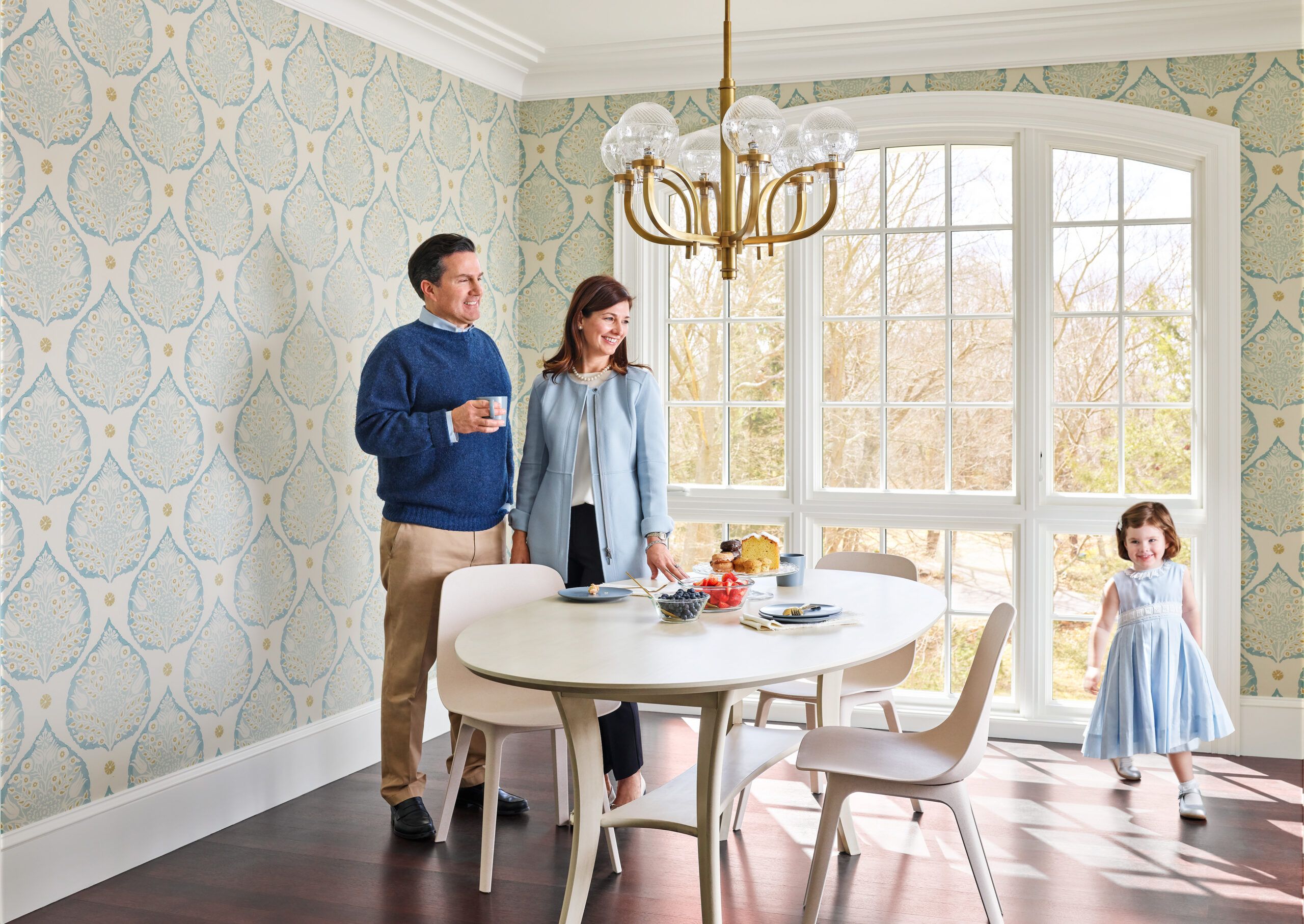 With party guests clustered around the kitchen island and their young daughter twirling from room to room in a princess costume, Molly and John pause to take in the scene. "We love this house," Molly says of the rambling, three-story Shingle-style home they bought in 2018 and brought back to life with the help of TOH home builder Charlie Silva, his crew, and a handful of talented local craftsmen. "As soon as we saw it, we thought, 'This is a house that could get us to leave Boston,' " she says.
Shown: Homeowners John and Molly look on as daughter Caroline, 4, takes a spin around the new breakfast room, where natural light pours through banks of custom arched windows.
Wall covering: Galbraith and Paul's Lotus, in aqua. Wall covering installation: Greg Booth, GJB Pro Wallcovering, Arlington, MA. Chandelier: Graham Globe on London, in brass; Juliska. Table: Barbara in maple; Circle Furniture. Trim color: White Dove, Benjamin Moore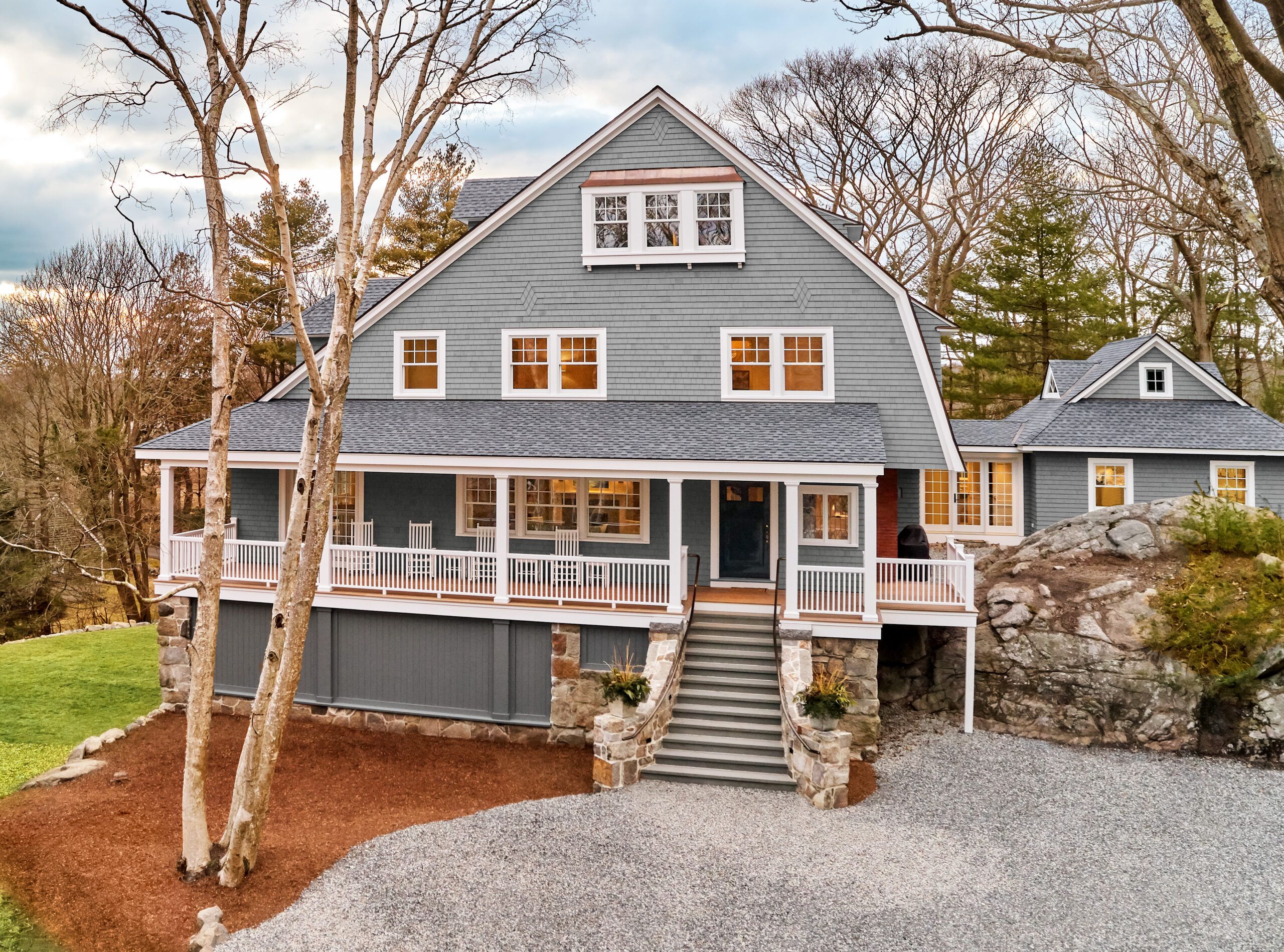 Rock solid
While the current homeowners loved the rocky ledge surrounding the house, to make way for the new garage, some of it had to go. To avoid blasting, TOH home builder Charlie Silva chipped away at the granite using an excavator equipped with a hydraulic hammer—not easy. "It was the hardest ledge you could possibly hit," he says. Once enough rock was removed, the crew inserted rebar into the remaining ledge, using it to stabilize the foundation on that side of the garage.
Dressed in ashen cedar shingles, the once stately house had been built as a summer home, used by generations of families escaping to the seaside town now known as Manchester-by-the Sea, just 30 miles from the couple's apartment in the city. It was this legacy as a gathering spot that resonated with John. "We realized immediately we could have everyone here," he says, envisioning the house's potential as a welcoming destination for the couple's parents, siblings, nieces, nephews, and friends.
Shown: Distinctive Shingle-style elements include the broad roof slope and the shingle siding with diamond-shaped details. Sweeping stone steps and a new front porch give the front door prominence, while a new garage entry accommodates everyday comings and goings.
Roof shingles, integrated solar panels: GAF. Housewrap: Benjamin Obdyke. Siding shingles: Maibec. Trim: AZEK. Windows: Marvin's Signature Collection-Ultimate. Light fixtures: Northeast Lantern's Waterford. Paint supplier: Fine Paints of Europe. Newburg Green (front door); Benjamin Moore. Sod: Sodco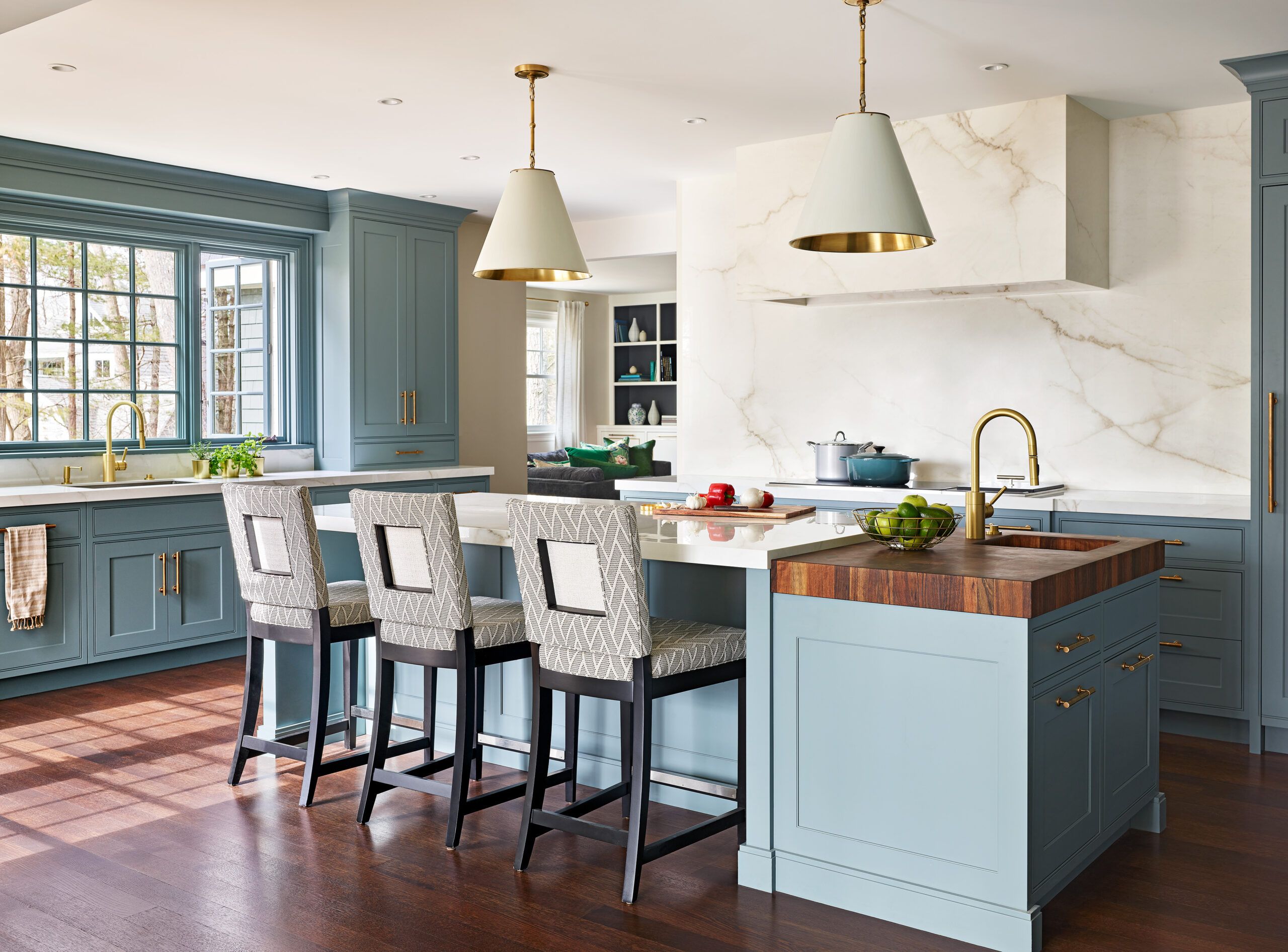 Pushing the envelope
To gain space in the kitchen—formerly the dining room—and connect it to the new family room, the crew bumped out the back wall to annex a deck built over the house's granite foundation piers.
This required new framing, which they tied into the newly leveled floor. To protect the water supply for the sink from freezing, Charlie insulated underneath the floor with foam and added supplemental baseboard heat and a thermostat control. "It's one of those things a lot of people don't even think of," he says, "but it's got to be done."
Before that could happen, though, there was much work to be done. Built in 1891, the house had seen better days. Its exterior was worn and in need of repair, and its interior was stuck in the last century. There was lead paint throughout, and some heating pipes and flooring contained asbestos. An ungainly garage addition, added in front in the 1970s, upstaged the formal entry.
Shown: The new kitchen's center island serves as a gathering spot and prep zone, with a marble-look porcelain top and a butcher-block extension. The induction cooktop and teppanyaki (a hibachi-style grill) are backed with an easy-to-clean porcelain backsplash that matches the vent hood.
Cabinetry: Premier Custom Built. Countertops: Lightning porcelain tile; Crossville. Countertop fabricator: TBR Marble & Granite. Wood countertop: Grothouse's End Grain Kensington. Sinks: Strive, Kohler. Faucets: Waterstone Faucets. Pendants: Visual Comfort's Goodman Large Hanging Lamp. Appliances: Wolf cooktop, teppanyaki, ovens; Sub-Zero refrigerator, freezer; Cove dishwasher; Best vent hood insert; all from Clarke. Decorative hardware: Kingsheath, Leebank Collections, in burnished brass, Armac Martin. Toekick and cabinet lighting: Häfele. Interior doors: Baird Brothers Fine Hardwoods. Paint color: White Dove (trim), Olympic Mountains (walls); Benjamin Moore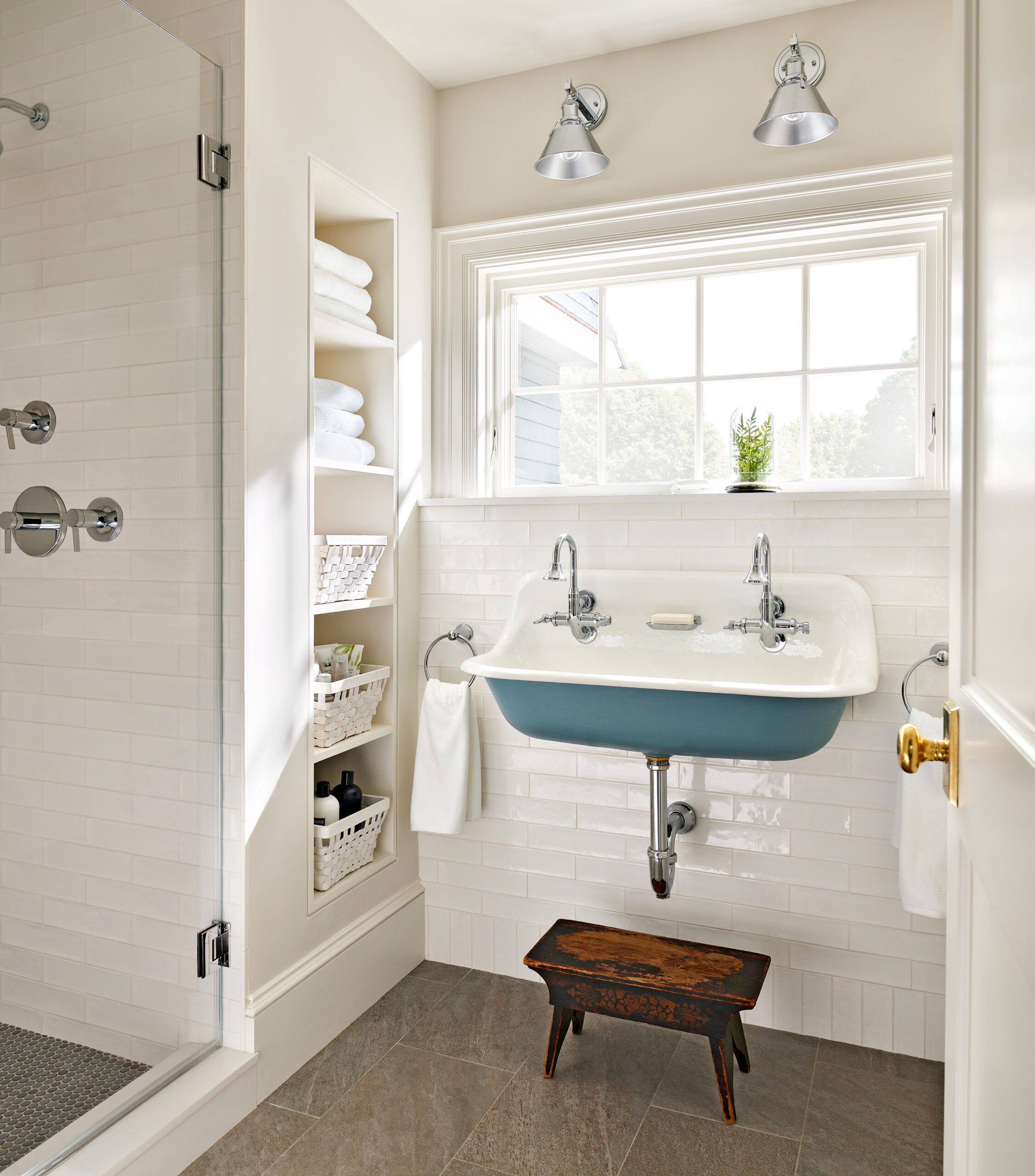 The first step in making the house work for Molly and John was to restructure its floor plan for contemporary living. "We tried to overlay a modern-living sequence of rooms on the existing floor plan to give Molly and John the functionality they need, while keeping the spirit of the old house," says architect Thad Siemasko of SV Design, who, along with project architect Tobin Shulman and interior designer Shelby Littlefield, brought the project to fruition. Much of what they removed, including the garage and a spiral staircase in the old kitchen, were remnants of previous renovations.
Shown: The full bath off the mudroom has a wall-hung sink with plenty of elbow room, and a shower for rinsing off after yardwork or visits to the beach.
Plumbing fixtures: Brockway Wash sink, Triton Bowe Cannock faucets, Purist showerhead; Kohler. Floor, wall tile: Tile Showcase. Paint color: White Dove (trim), Olympic Mountains (walls); Benjamin Moore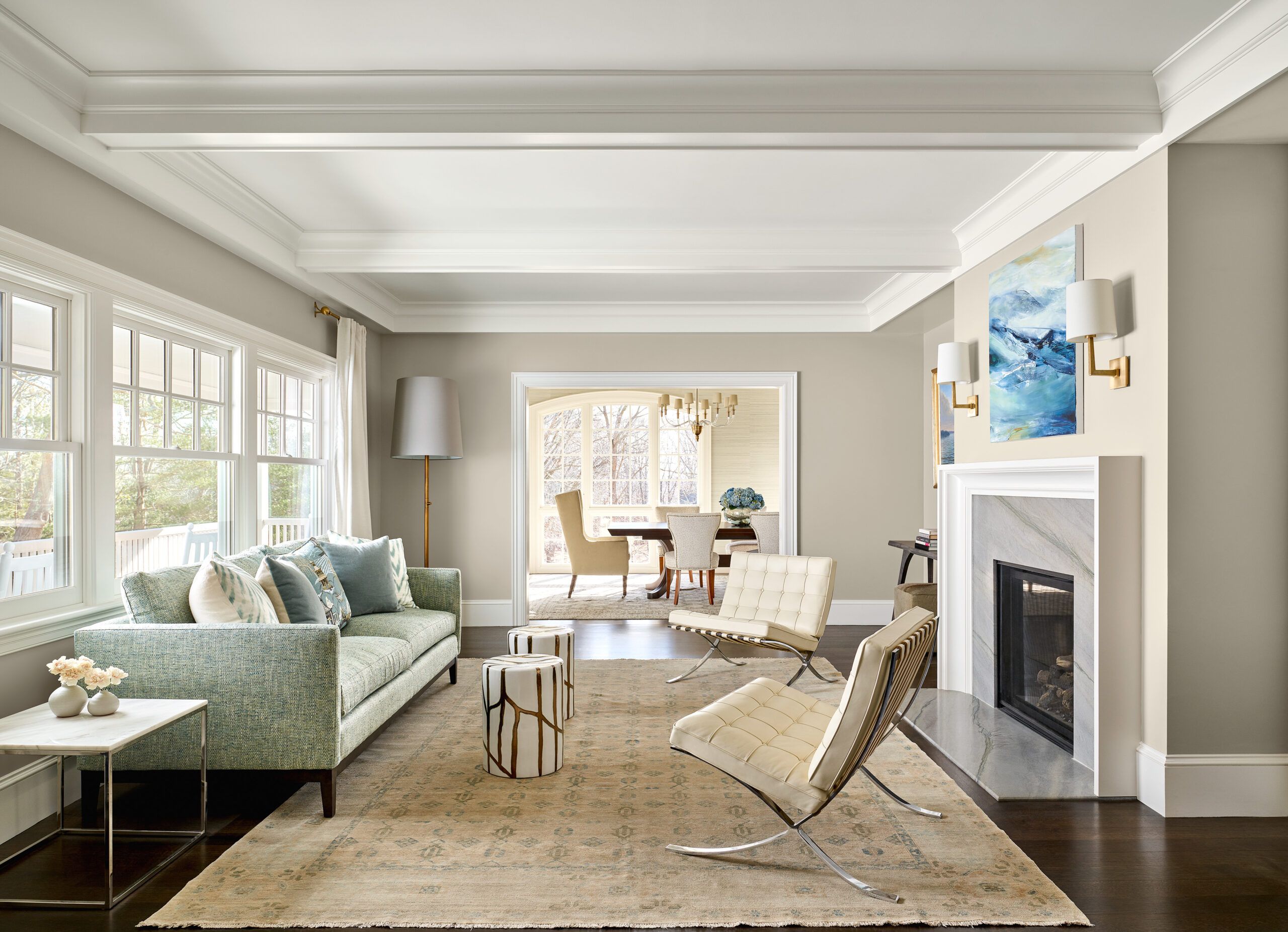 Keeping the house's Shingle-style spirit alive guided their work on the front of the structure. Today, stone steps with sweeping masonry sides lead up to a new front porch that extends the length of the facade and wraps the corner.
The original front door has been restored, and the remodeled entry foyer retains some 19th-century architectural elements, including a fireplace and diamond-paned windows. "It was a no-brainer to keep and preserve the leaded-glass windows in the front entry," says Molly. "We love those details."
The house's original stairway was painstakingly preserved and renewed, the treads faux-painted to match the new white oak floors installed to correct the uneven, damaged flooring throughout the house.
Shown: In the living room, deep crown molding replaced a thin existing trim, and faux beams were added to dress up the ceiling. The room's original wood-burning fireplace was replaced with a new gas-fueled unit with a sleek limestone surround framed with wood.
Interior designer: Shelby Littlefield, ASID, SV Design. Storm window inserts: Indow. Living room fireplace and ceiling trim: MF Woodworking. Rug: Landry & Arcari. Furniture: Circle Furniture. Artwork: Powers Gallery. Paint color: Revere Pewter (walls), White Dove (trim); Benjamin Moore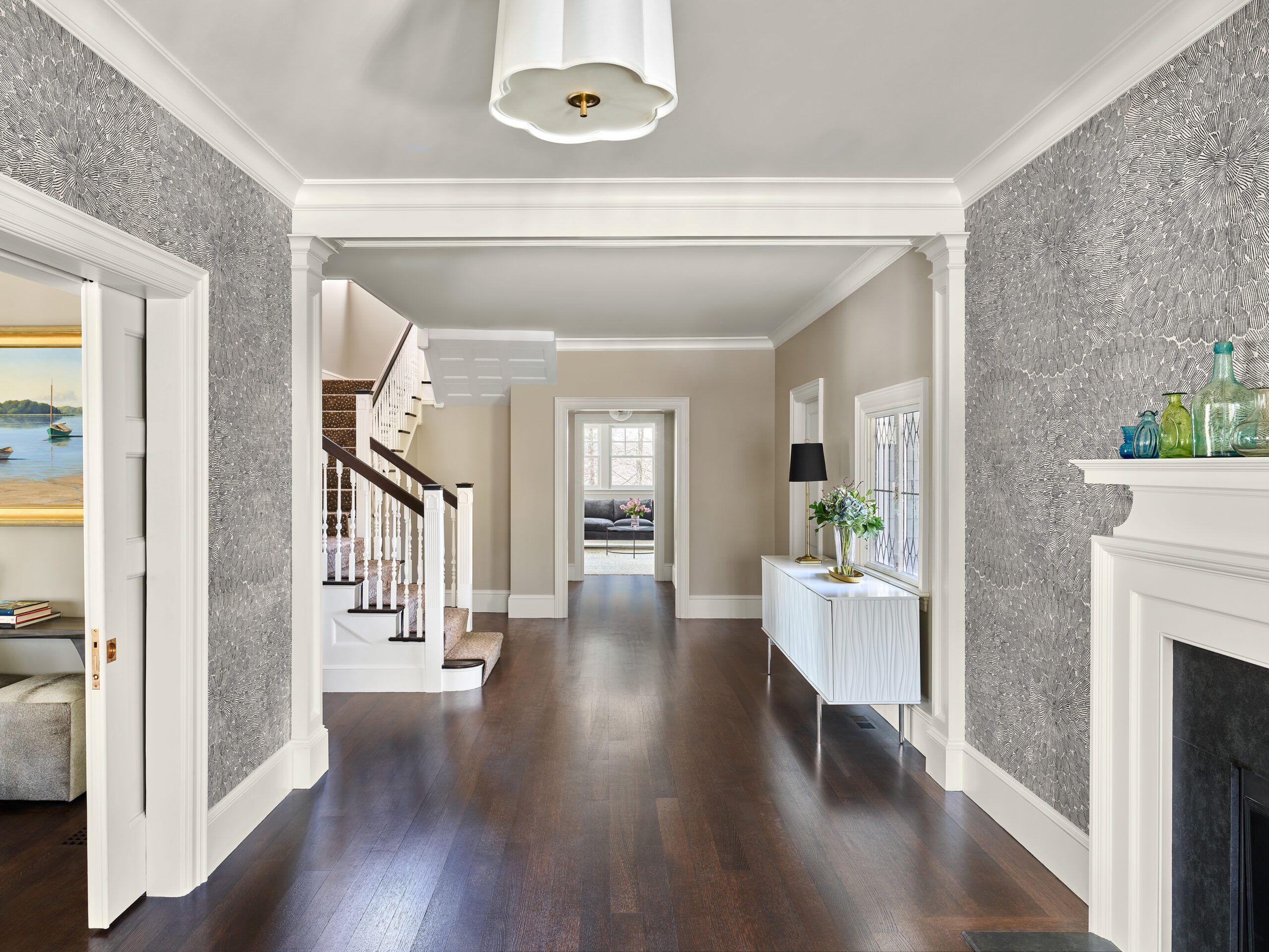 Baluster rescue
Of the more than 100 turned balusters on the original staircase, about a dozen needed repair. Master refinisher Wayne Towle removed the broken ones, numbering the parts to keep sections matched.
He stripped off the paint, then glued the broken halves together, using a jig to stabilize them. When the glue was dry, he filled the cracks with sandable epoxy putty.
Then, to ensure a long-lasting repair, he added reinforcement: Using a thin-kerf backsaw, he cut through the repair to make a clean break, and using a drill press, centered a hole in each cut end equal to half the length of a piece of 3⁄8-inch dowel. He glued the dowel into one end, slid the two sections together, and returned the baluster to the jig to dry before reinstallation.
Also in need of attention was an original set of pocket doors leading from the entry to the living room. One slid flawlessly, but the other wouldn't budge.
With the plaster removed from the wall on one side, TOH general contractor Tom Silva was able to access the door pocket from above to find the door had come loose from the iron wheels of its glide hardware. A few replacement screws had the door sliding again in no time.
Shown: The view from inside the front door takes in the original stairway, and beyond it, the hallway to the family room. Pilasters were added as a nod to earlier times and as an end point for new wallpaper. The leaded-glass windows to the right and the stairway to the left are original.
Foyer wallpaper: Schumacher's Feather Bloom in Gold & Onyx. Baluster refinishing: Wayne Towle, Needham, MA. Stair runner: Stark. Credenza: Circle Furniture. Foyer paint color: Temporal Spirit (walls), White Dove (trim); Benjamin Moore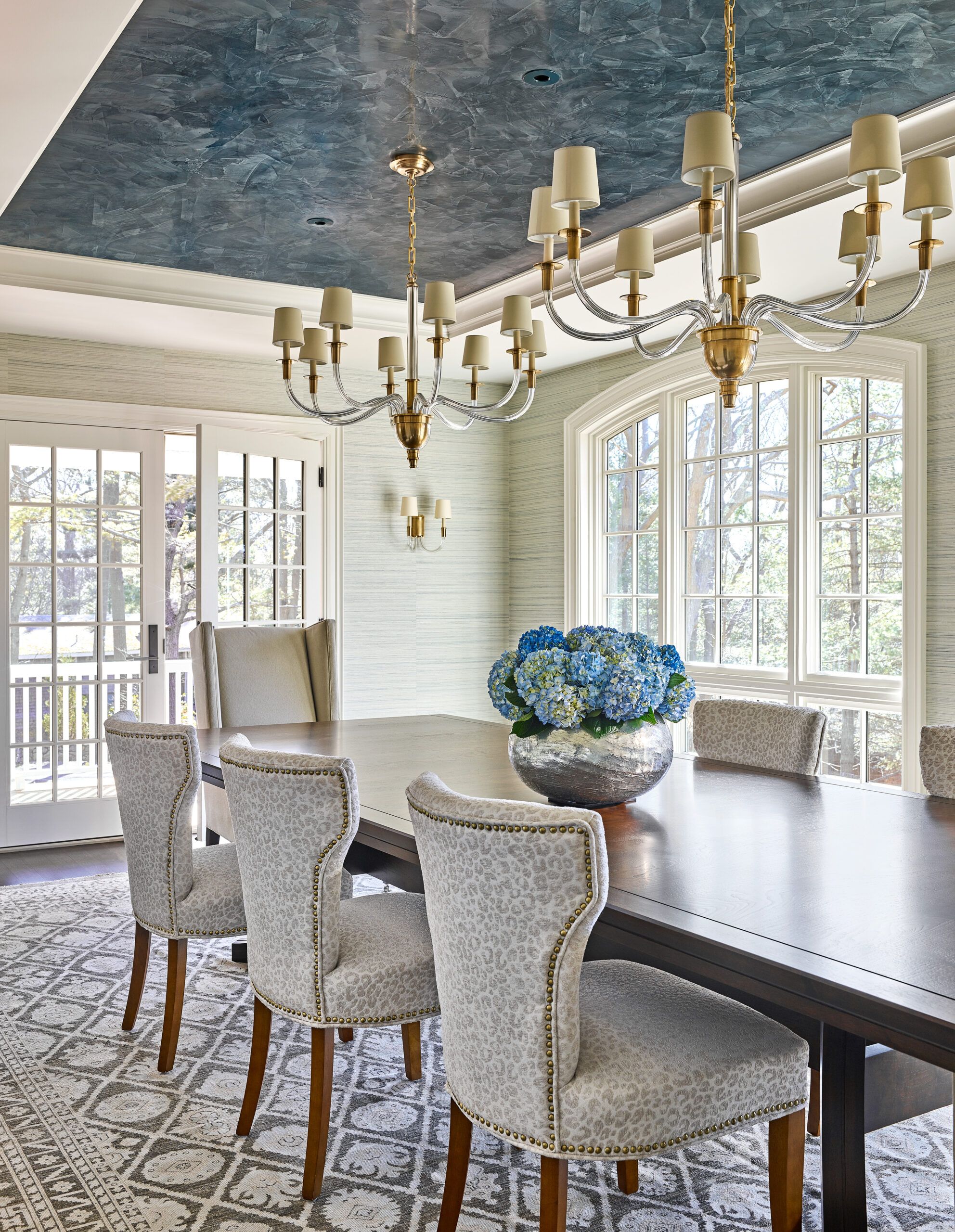 The living room, with a rebuilt fireplace centered on its interior wall, still serves as a formal entertaining area. It leads into a new dining room in what used to be a three-season porch. Who needs a dining room in this day and age?
On this, the homeowners never wavered. "We always knew we wanted a formal dining room for family gatherings and dinners with friends," says Molly. The team decided that the central location of the old dining room was better suited to a new kitchen. Partitioning off a section of it as a butler's pantry created a direct, storage-filled route between the new kitchen and dining room.
Shown: In the dining room, Venetian plaster highlights a tray ceiling created to make room for waste lines above. Faux-finish expert Maurizio Falcone troweled on the mix of limestone, powdered marble, and pigment, then waxed and buffed it to a stone-like finish. The table was designed by SV Design and built by Sweenor Builders.
Windows and patio doors: Marvin. Room Styling: Circle Furniture. Venetian plaster ceiling: Pietra Viva, Boston. Wall covering: Soho Hemp; Phillip Jeffries. Sconces, chandeliers: Vivian by Thomas O'Brien; Circa Lighting. Custom table: Sweenor Builders, Narragansett, RI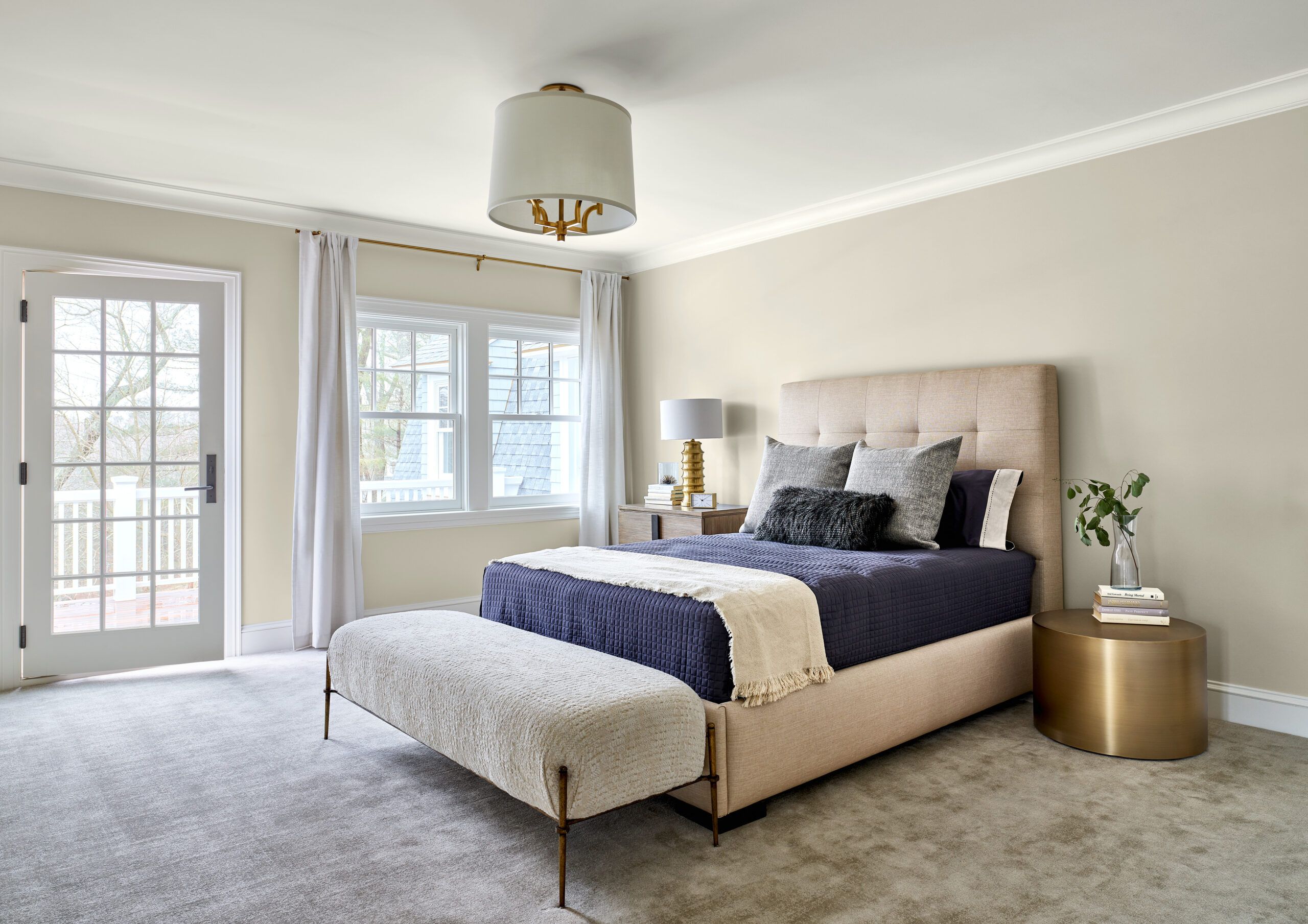 To turn the old sunporch into a comfortable dining room, the crew rebuilt the exterior walls and replaced the old floor framing with dead-straight engineered-wood I-joists and tongue-and-groove panels for a level, squeak-free subfloor.
The new room has French doors to the front porch and arched floor-to-ceiling windows facing the side yard to the southwest, capturing the natural light that is particularly important to California native Molly. Topping off the design is a focal-point tray ceiling finished in rich Venetian plaster that adds a shimmering effect to the room.
Shown: The master bedroom includes a door to an outdoor deck, which connects to a second-floor laundry room that is also accessible from the hallway. All the bedrooms are carpeted for comfort.
Ceiling fixture: Westport Large Hanging Shade; Circa Lighting. Carpet: Stark. Bed: M-Geough. Paint color: White Dove (trim), Olympic Mountains (walls); Benjamin Moore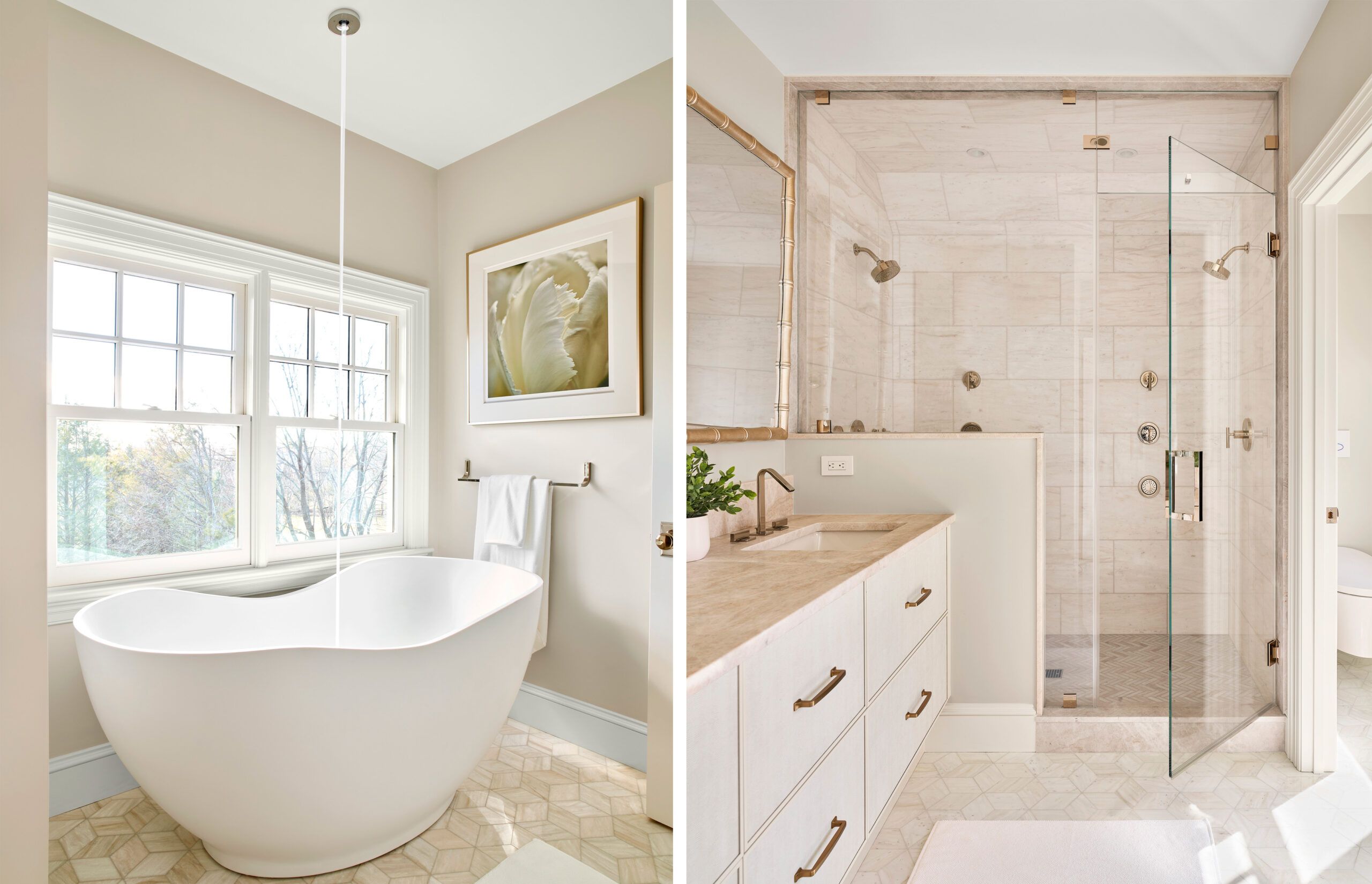 With the front of the house regaining its grand 19th-century presence, a new garage and mudroom addition on the side provides a convenient, on-grade entry.
Mudroom cabinets and benches offer a drop zone for keys, backpacks, shoes, and coats, with an adjacent full bath, complete with a shower for rinsing off after gardening or visiting the beach. The mudroom opens into a barrel-ceilinged hallway that connects the front entry with the family room, formerly the kitchen.
Shown (left): The master bathroom features a sculptural soaking tub with a surprising ceiling-mount tub filler.
All faucets and fittings: Kohler. Bathroom tile: Tile Showcase
Shown (right): Faux-leather-clad vanity cabinets, a roomy marble-tiled shower, and a separate water closet add function and a luxurious look in the master bath.
Vanity: Premier Custom Built
The new 15-by-23-foot kitchen is now located off that family room. Bumping out the back wall by 6 feet gained space for a wide connection to the family room as well as a window wall of cabinetry and a sink with a view of the backyard.
The kitchen's features, including the cheery blue-green of the cabinets, the vintage gleam of brass hardware, and the marble-like porcelain countertops, vent hood, and backsplash, reflect Molly and John's desire for a kitchen with timeless appeal.
"Molly has an eye for traditional style elements, but she wanted color and functionality specific to her family," says kitchen designer Michele Kelly. The 9-foot-long center island's countertop was left uninterrupted by a cooktop or sink to enable Molly and Caroline to roll out cookie dough side by side, and to serve as a gathering spot during parties.
At the far end, a beverage sink is set into a butcher-block extension, the wood protected with a mineral-oil finish. "I was afraid to cut on it at first," says Molly. "But now it's my favorite thing ever." Refrigerator, freezer, and dishwasher are all concealed with panels, and a breakfast station keeps a coffeemaker, a toaster, and a microwave hidden behind cabinet doors.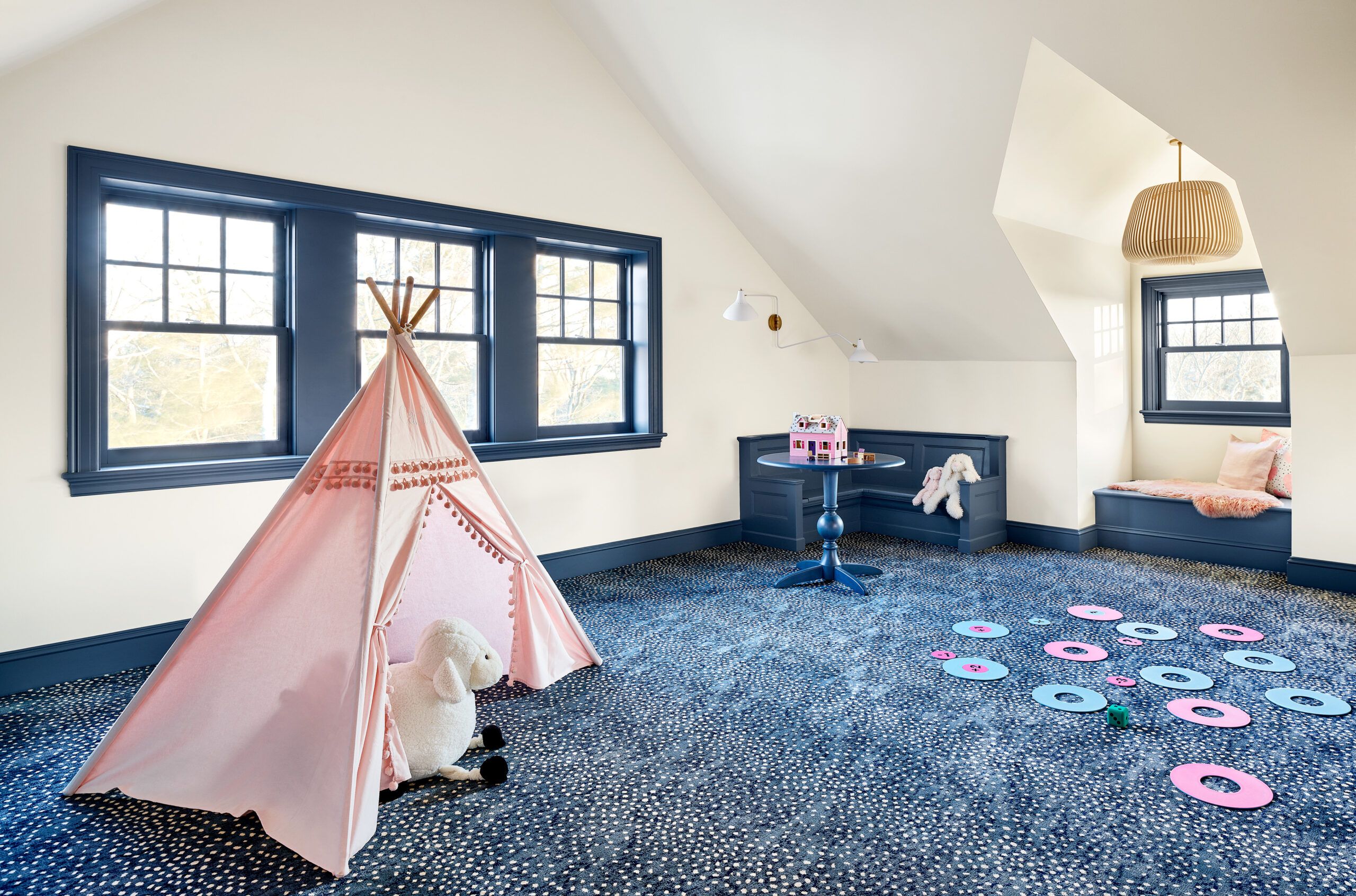 A loftier space
The secret to the ceiling vault in the third-floor playroom: a new and improved ridge beam. The 368-square-foot space had an 8-foot ceiling, which, once gutted, revealed a full height of 13 feet. Inspired, the homeowners requested a cathedral ceiling, and Charlie's crew obliged, building supports for each rafter in order to remove horizontal collar ties and a series of trusses.
Then they freed the original 2-by-10 ridge beam and slid it out of a hole cut in the gable end. The same crane that took it away hoisted up three 18-inch, 20-foot LVLs one by one. Each was slid into place, the three were screwed together and secured to the rafters with brackets, and posts were run at the gable ends down to a beam in the floor to transfer the load. "Voilà!" Charlie says. "Cathedral ceiling."
The second floor was reconfigured to create bedrooms with en suite baths, an office for John, and ample closet space, something lacking in 19th-century houses. On the third floor, the crew added a new ridge beam to form a cathedral ceiling in daughter Caroline's bright, spacious playroom. "I can just see Caroline and her five cousins having a sleepover there," Molly says.
Shown: A cathedral ceiling transformed a third-floor bedroom into a spacious playroom. The antique corner bench, originally built into the entry foyer, found a new home here.
Pendant: Mia; Arteriors. Wall light: Visual Comfort's Charlton Large Double Wall Light; Circa Lighting. Paint supplier: ECOS Paints. Carpet: Stark. Paint colors: Natural Wicker (walls) and Van Deusen Blue (trim); Benjamin Moore.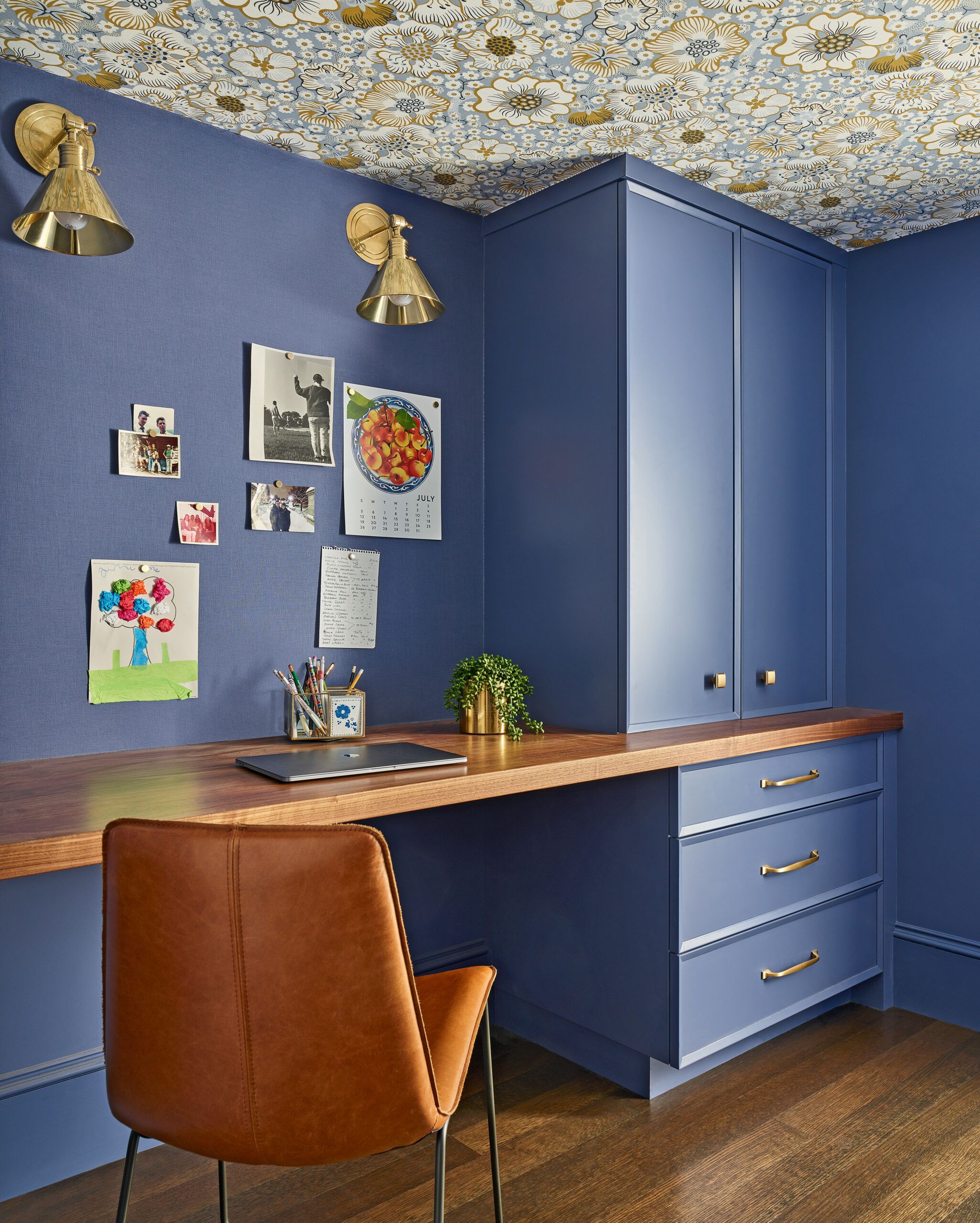 Meanwhile, the first-floor kitchen bumpout provided an unexpected opportunity to add a deck off the master bedroom above, offering John a welcome-the-outdoors moment every morning.
For Molly, the deck inspired a different idea: She asked that a French door be added to allow access to it from the nearby laundry room so she could dry freshly washed clothes in the sun. "That's how my grandma always did it," she says.
Shown: Wrapped in rich blue paint and with a fun patterned wallpaper on the ceiling, Molly's interior office is bright and cheery despite its lack of windows. Located just off the kitchen, it gives her a personal workspace that's close enough to the action that she never feels out of touch.
Desktop: Grothouse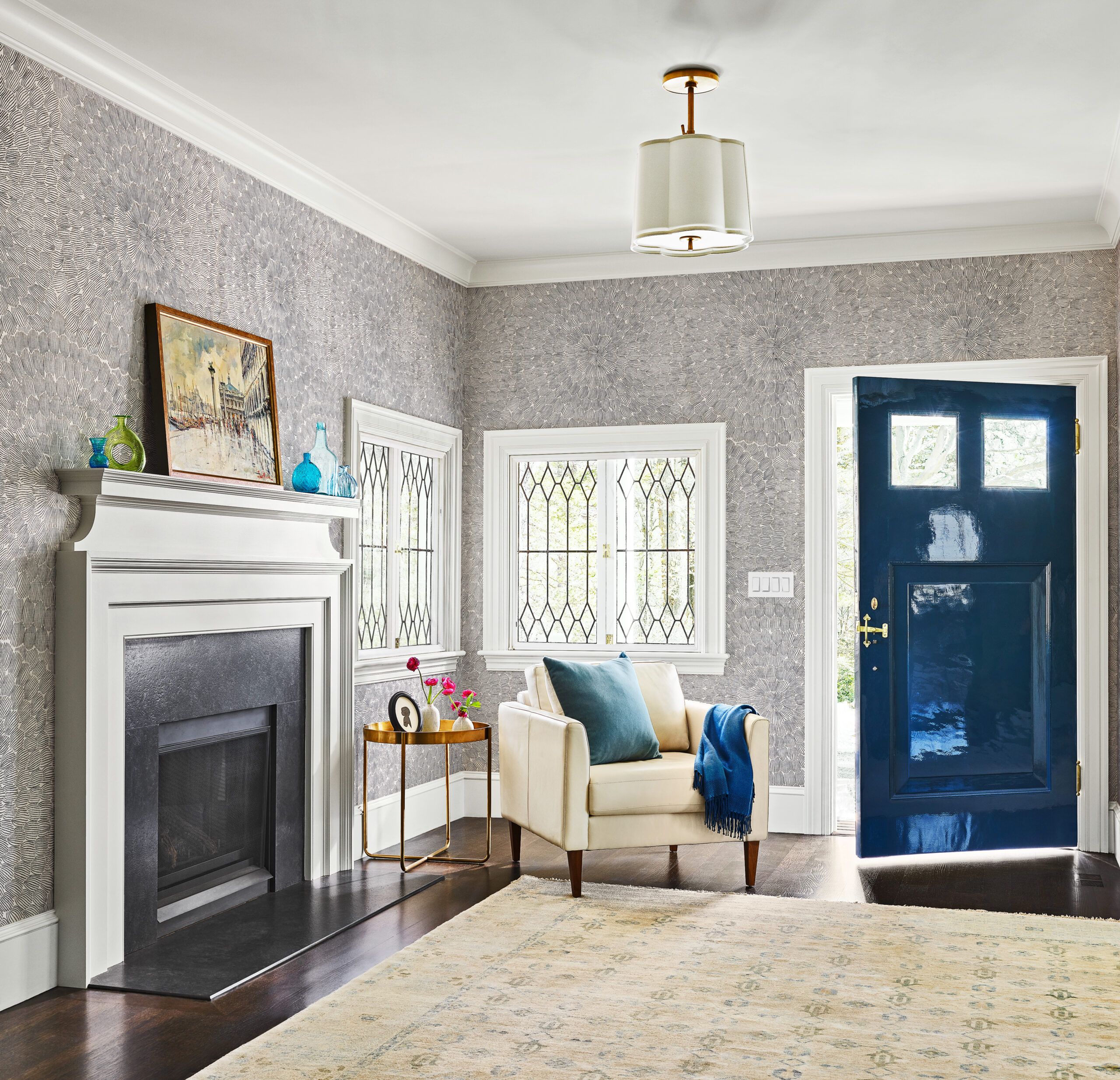 For more state-of-the-art comfort, the homeowners turned to TOH plumbing and heating expert Richard Trethewey, who suggested an entirely new HVAC system of radiant floor heating, with a high-efficiency condensing boiler and micro-zones allowing each room to be set at its own precise level of comfort.
Improved insulation, new windows, and a new electrical system that incorporates six solar panels and an energy-use monitor all bring this grand old house solidly into the 21st century.
"There were people early on who thought we should tear down the house," says John. "But we looked at how to make this the most efficient 1890s house possible."
Shown: The front door (painted in a high-gloss finish), leaded-glass windows, and fireplace are all original to the 19th-century house.
Wallpaper: Schumacher's Feather Bloom in Gold & Onyx. Rug: Landry & Arcari. Ceiling fixture: Visual Comfort's Simple Scallop Hanging Shade; Lightopia. Paint color: Newburg Green (front door); Benjamin Moore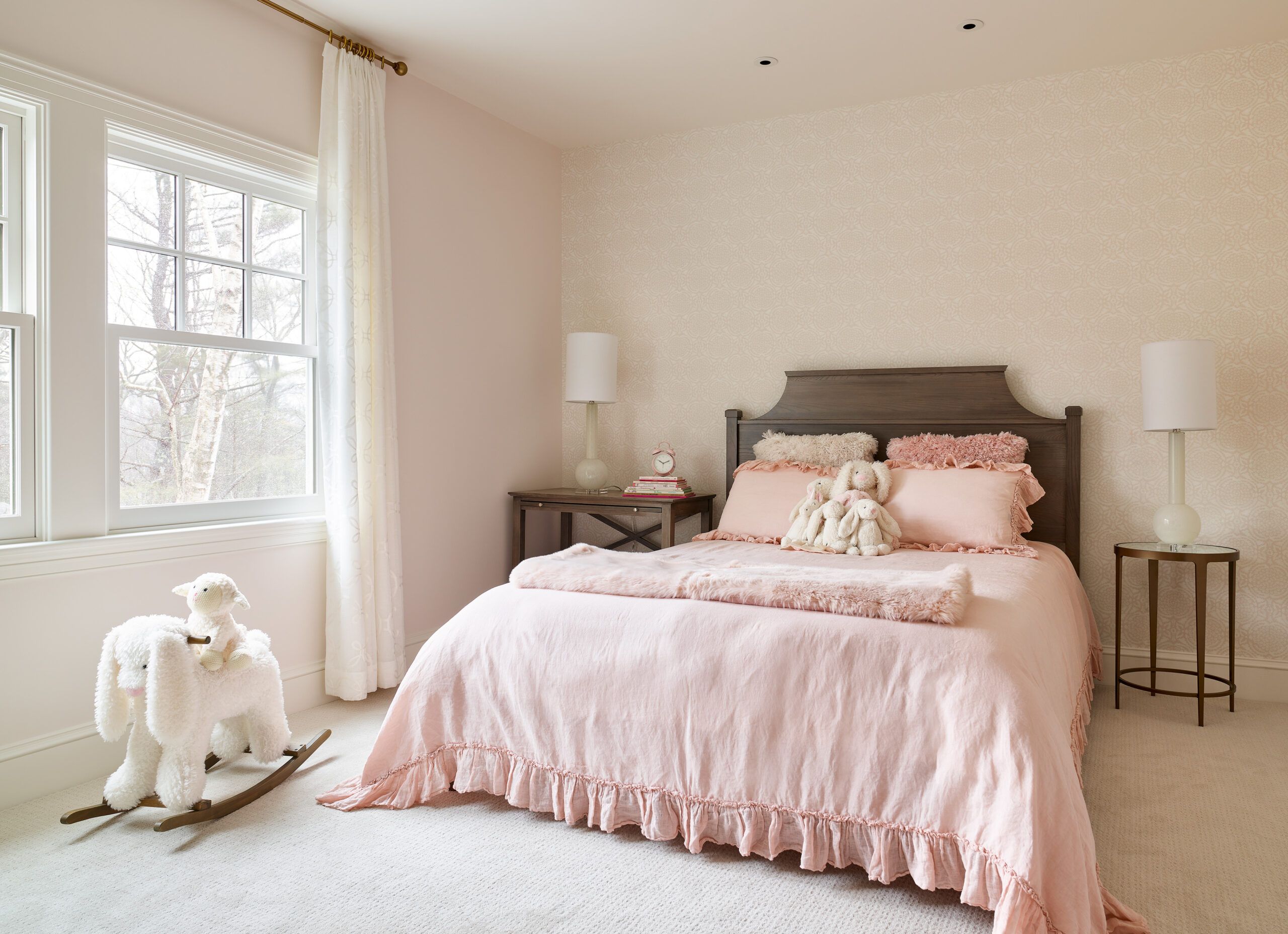 The result is a gracious home ready for another 130 years, with all-new systems and gathering spaces waiting to be enjoyed.
"When we first looked into the history of the house, we loved that every generation that has lived here made it a welcoming home and a place to gather for their friends and family," says John. "We want to fill the house in the same way."
Shown: Four-year-old Caroline's second-floor bedroom features soft pastel pinks and wall-to-wall carpet.
Wallpaper: Galbraith & Paul. Bedding: Bella Notte Linens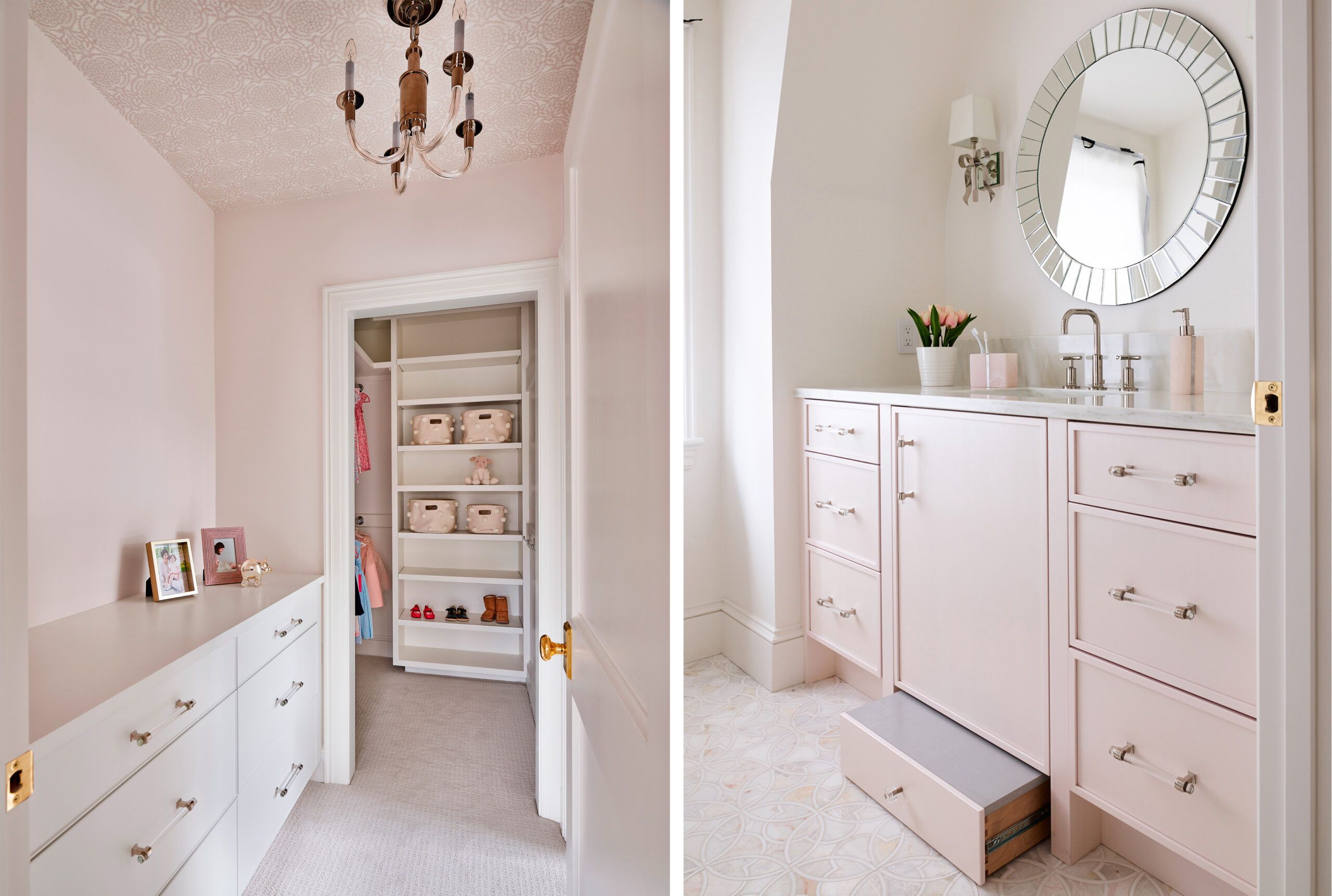 Shown (left): Off Caroline's room, a hall with a built-in dresser leads to a closet and a bathroom.
Ceiling wallpaper: Galbraith & Paul. White Dove (trim, cabinets); Benjamin Moore
Shown (right): A handy pull-out step enables Caroline to reach the top of the bathroom vanity.
Paint color: White Dove (walls, trim); Benjamin Moore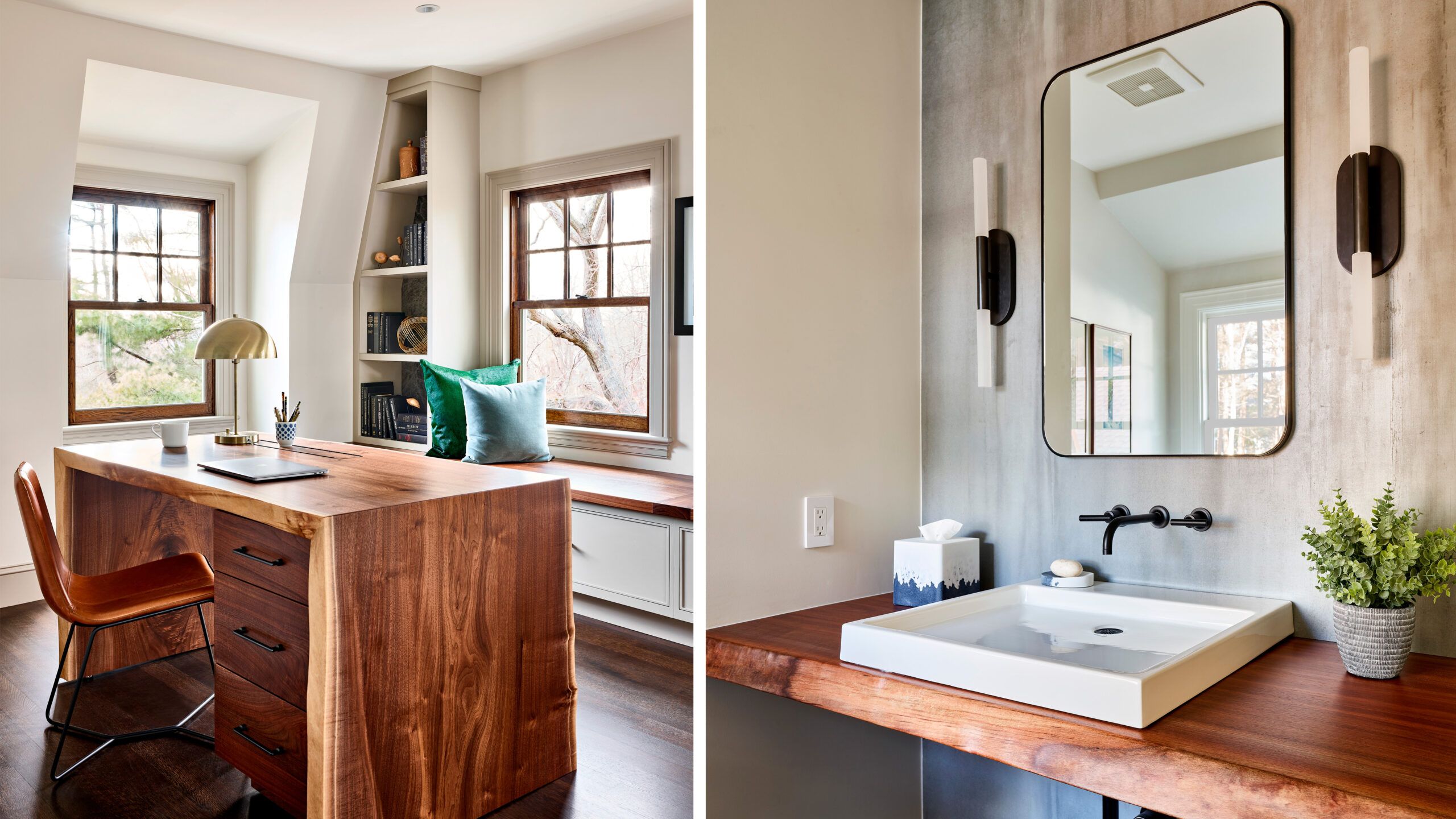 Shown (left): John's second-floor office includes a custom walnut desk, a built-in storage bench, and bookshelves lined with a wall covering made from old army tents.
Paint colors: Dove Wing (walls) and Revere Pewter (cabinets, shelves); Benjamin Moore
Shown (right): The woodland aesthetic of John's office continues in the nearby powder room with a live-edge floating vanity top.
Ventilation: Panasonic. Paint color: Dove Wing; Benjamin Moore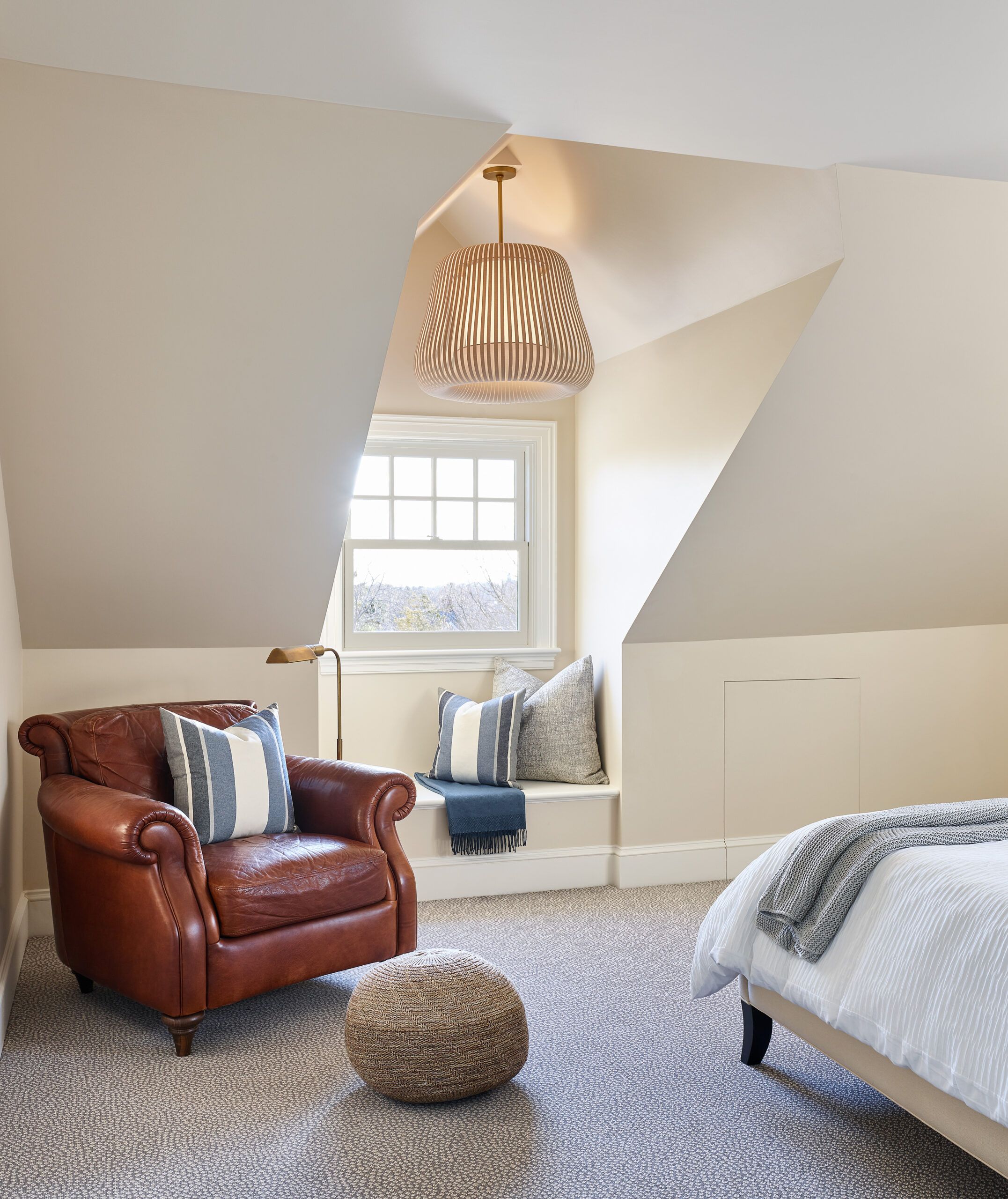 A built-in window seat and wall-to-wall carpet are some of the comforts found in the third-floor guest room.
Paint color: Edgecomb Gray; Benjamin Moore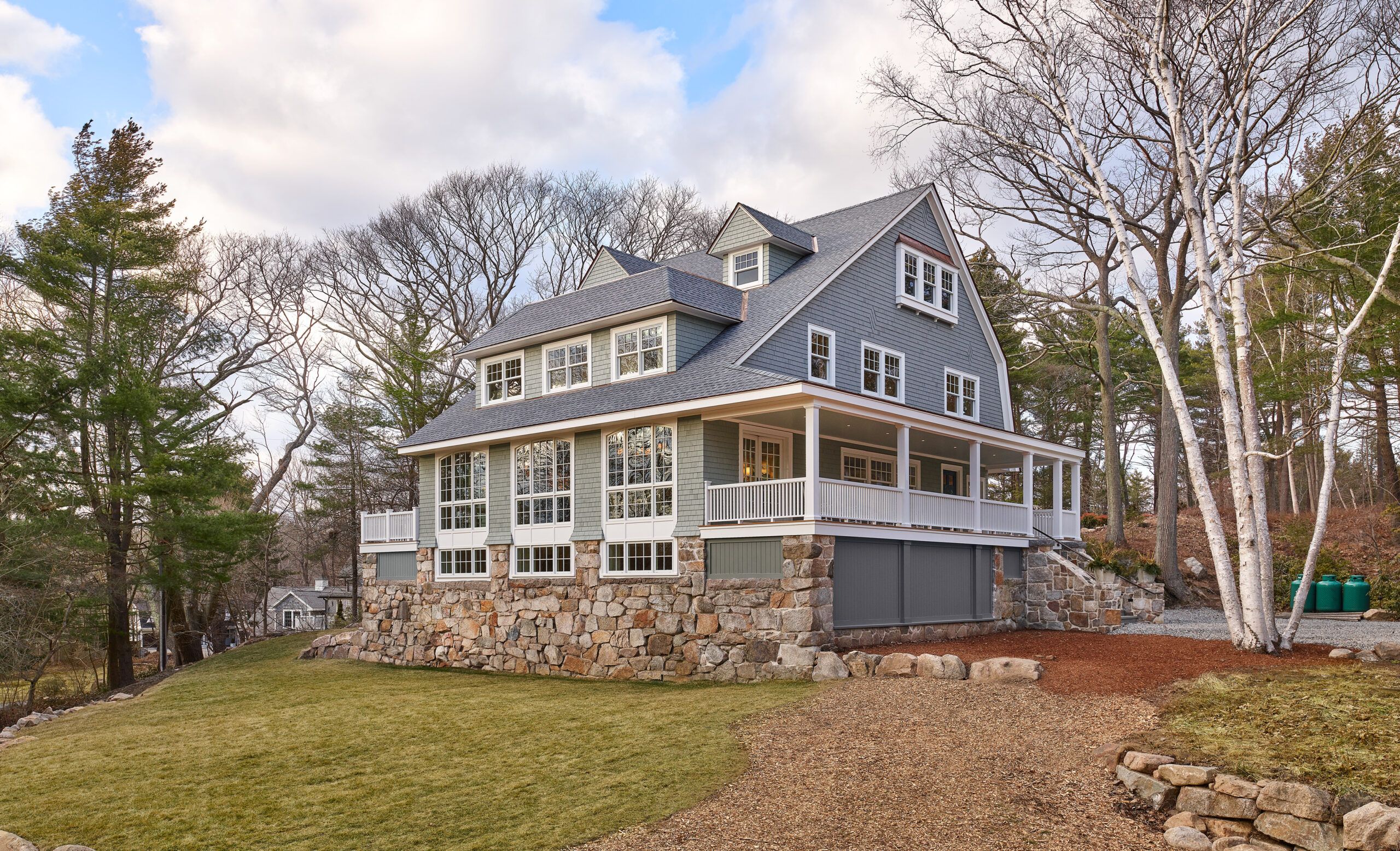 Using boulders gathered from around the property, TOH landscape contractor Jenn Nawada designed a retaining wall for a level play yard alongside the house.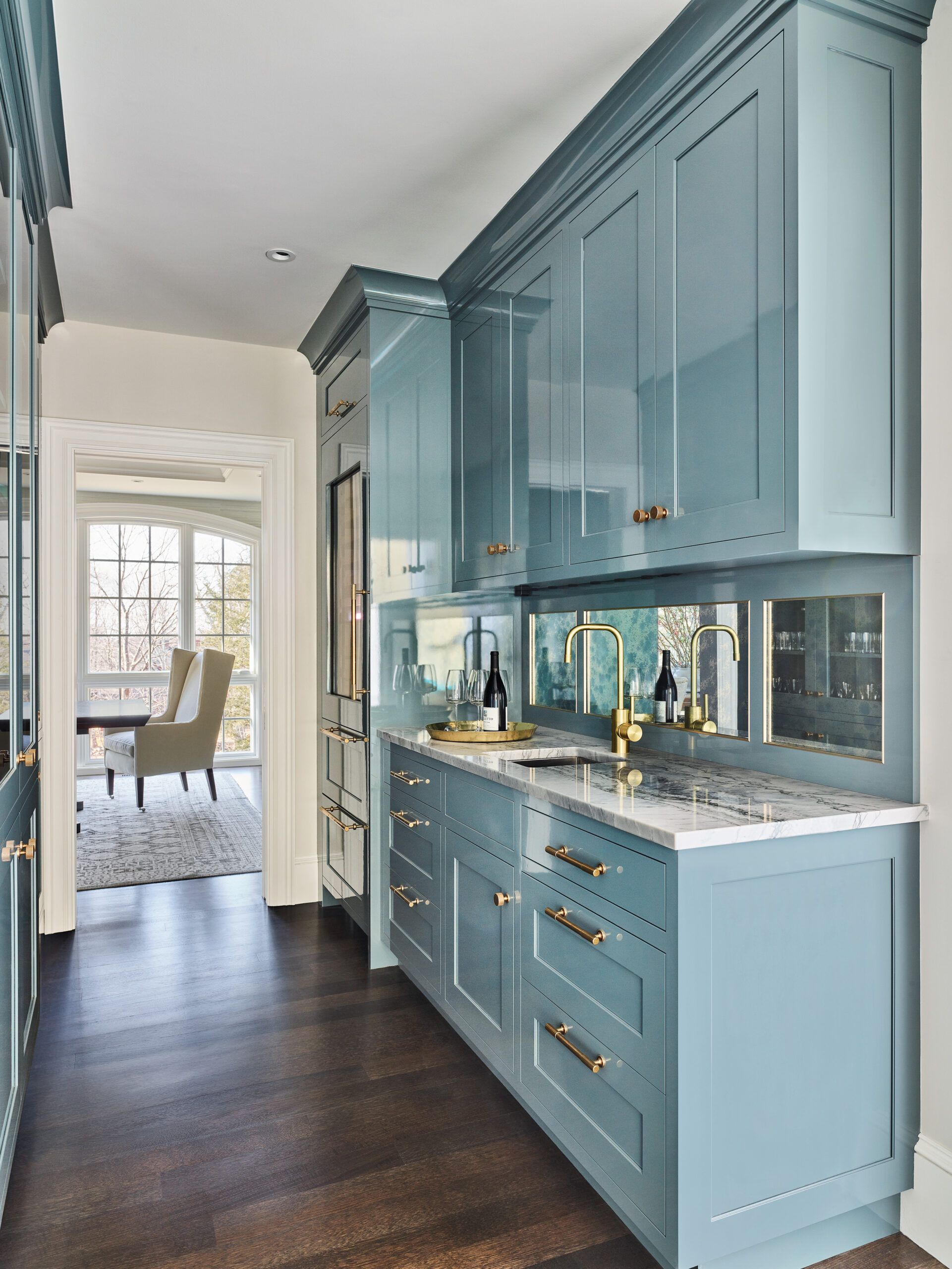 A butler's pantry connects the kitchen and dining room, with a utility sink and a wine cooler on one side and glass-front cabinets on the other that display favorite serving pieces.
The blue of the cabinetry is a deeper shade of the color used in the kitchen, with a showier, high-gloss finish. Faucets and hardware are brass, a nod to 19th-century style.
Cabinetry: Premier Custom Built. Hardware: Armac Martin
Panels made from brass screening on the mudroom cabinet doors provide ventilation while keeping stored items out of sight.
Floor tile: Tile Showcase. Cabinet paint color: Chelsea Gray; Benjamin Moore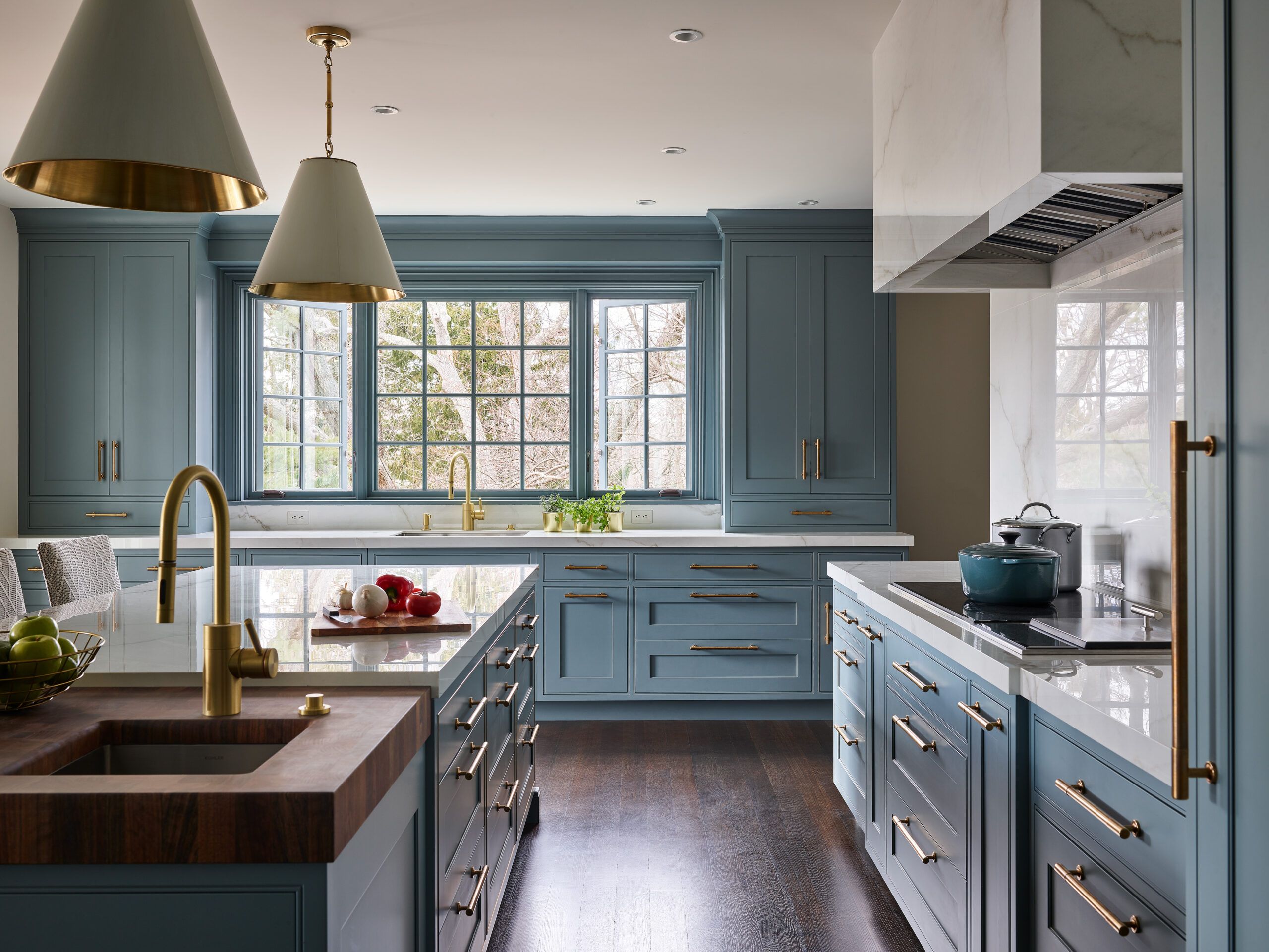 A narrow aisle separates the island from the induction cooktop and teppanyaki grill. A handy sink in the island helps out during meal prep; the main sink on the window wall offers views outside.
Pendants: Visual Comfort. Cabinetry: Premier Custom Built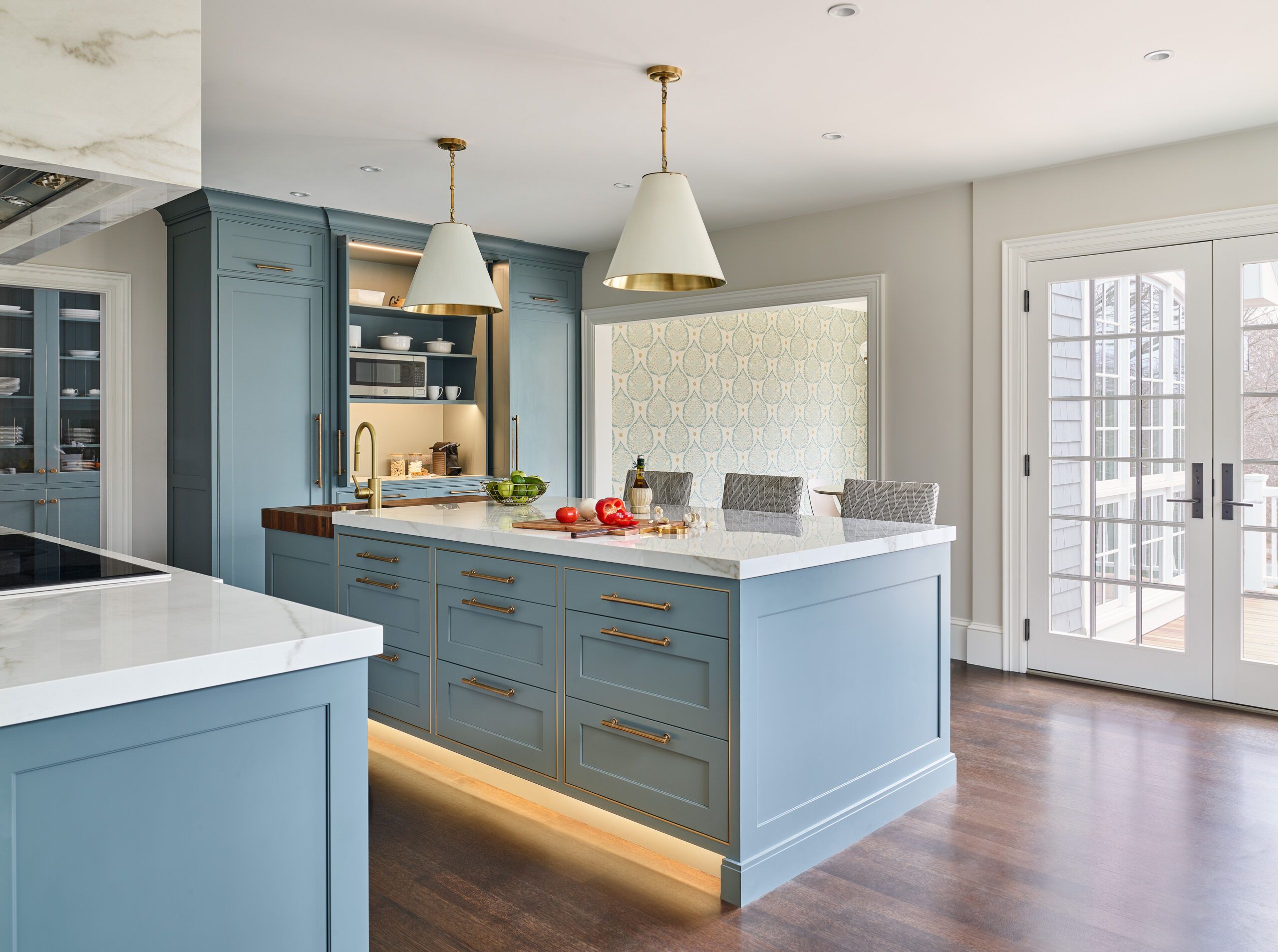 Toekick lighting beneath the island and perimeter cabinets illuminates the space at night. Coffee-making supplies are seen through the open doors of the breakfast bar.
Toekick lighting: Häfele. Island top: Crossville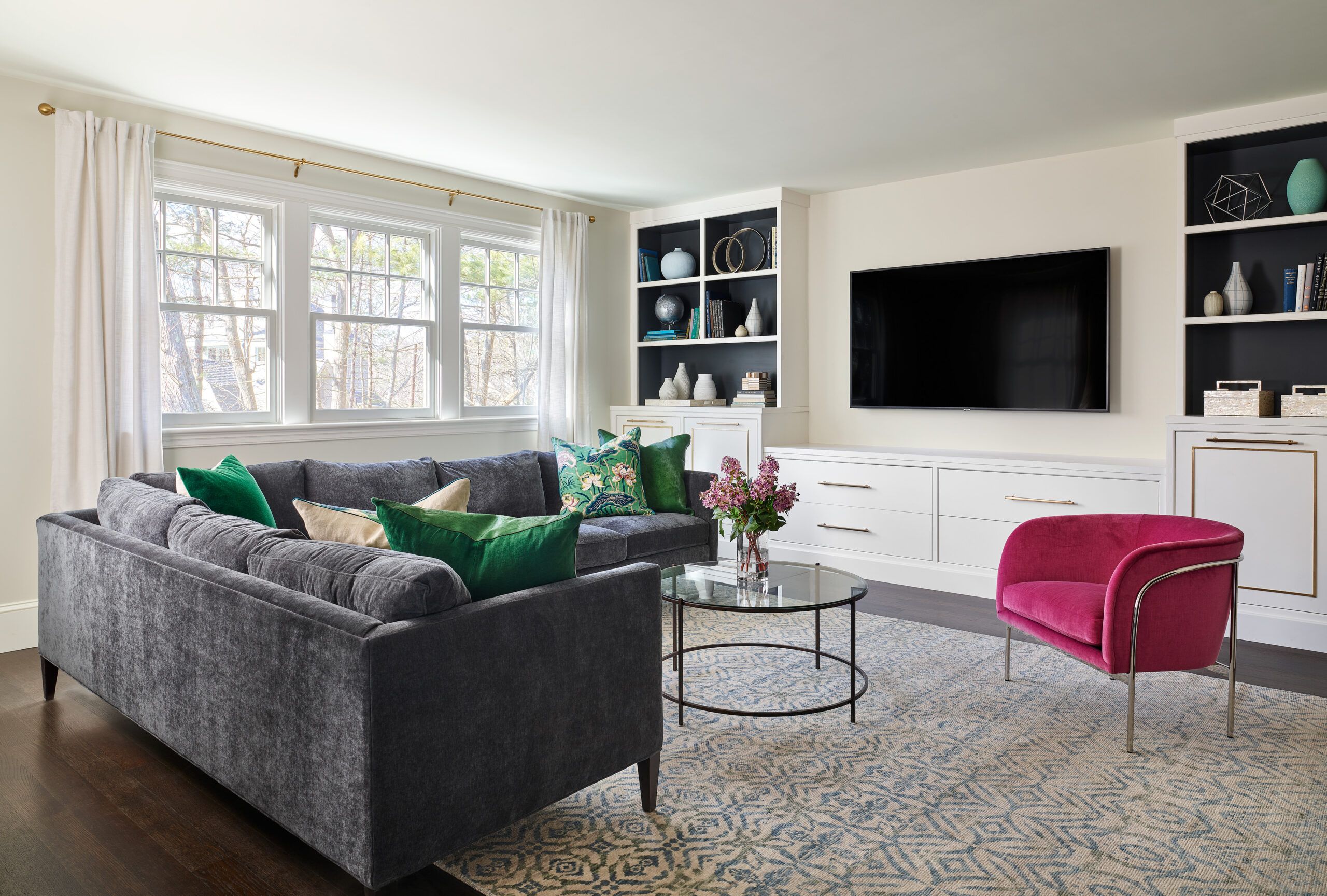 The former kitchen is now a comfortable, stylish family room directly off the new, expanded kitchen.
Rug: Landry & Arcari. Furniture: Circle Furniture. Paint color: White Dove (trim), Olympic Mountains (walls); Benjamin Moore
---
Floor plans

An expanded kitchen, a new mudroom, and a new bath added 363 square feet of living space to the house, which now has four bedrooms, five full bathrooms, and two half baths.
A new garage offers a casual entry. The former kitchen became a family room; the dining room, the kitchen; and a three-season porch, the new dining room.
The second floor got more baths and closets; the third floor, a playroom and guest suite.