When your ready-to-assemble (RTA) cabinets arrive at your home, be prepared for loads of boxes; decide ahead of time where they will go on delivery day. Building a kitchen's worth of RTA cabinets is a DIY-friendly job that doesn't require special tools. Read on to learn how to make RTA cabinet assembly easier.
4 Tips for Assembling RTA Cabinets
1. Prepare for delivery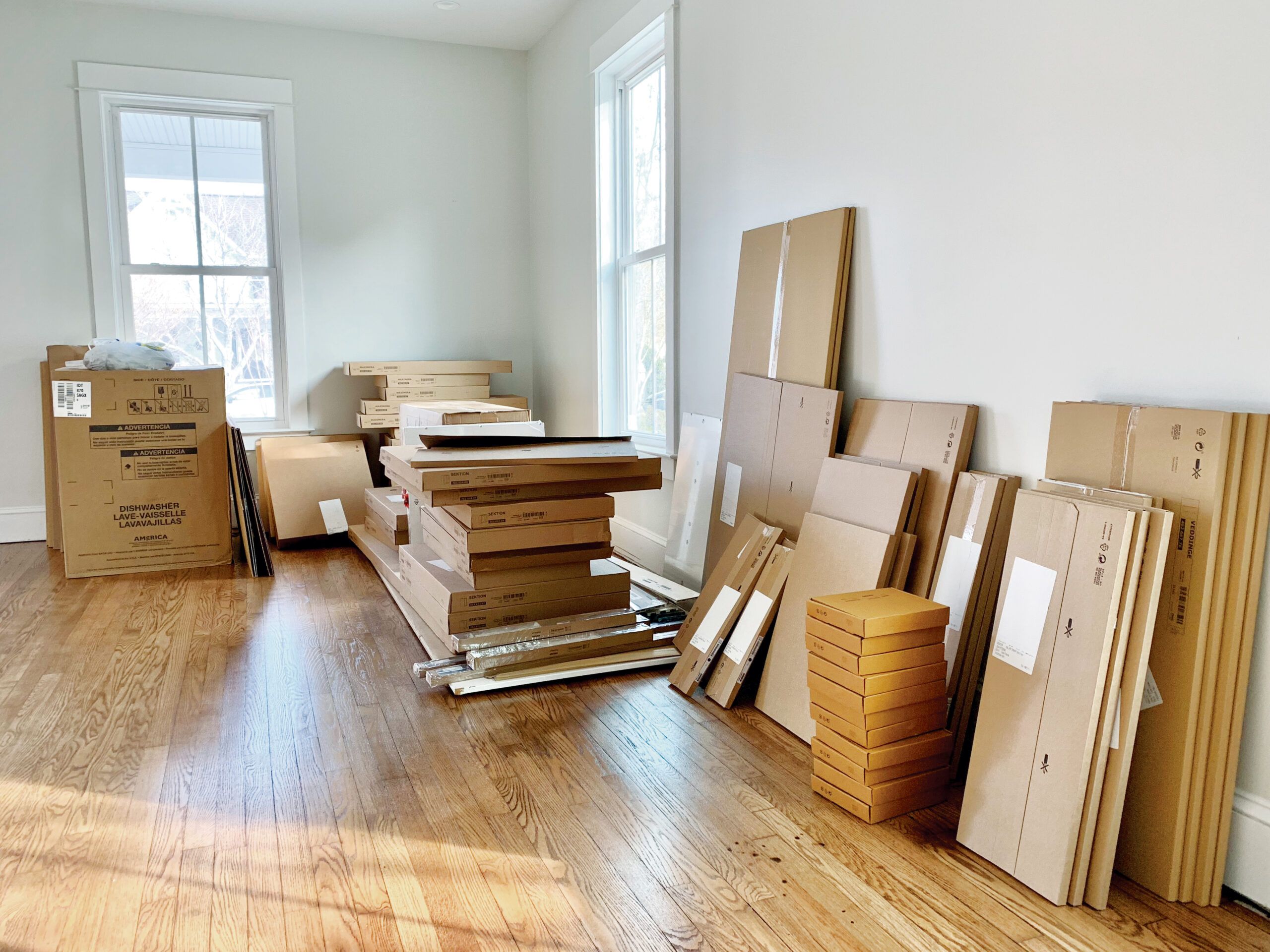 Make sure someone will be home to receive all the boxes. Set aside time for the task of taking inventory: There's a window of around five days after delivery to notify the cabinet manufacturer of any damaged products, so every single box will need to be opened. Snap photos of any damage, and make note of any missing pieces. If the cabinets won't be assembled right away, store them so they're protected from extreme temperature fluctuations—inside if possible.
TOH Pro Tip: "Ask the manufacturer how long you have to report a damaged part once you accept delivery. You don't want to get stuck with a dinged cabinet door or drawer because you waited too long to inspect every box."—Tom Silva, General Contractor
2. Get organized
It's easier and faster to assemble similar cabinets at the same time, so sort them by type: uppers with uppers, and lowers with lowers. The cabinet construction between like boxes doesn't change much based on the size, so a narrow base cabinet comes together the same way a wide base cabinet for a sink does. It's helpful to watch a video tutorial before starting. And be patient: You'll get faster with each cabinet.
3. Gather your tools
RTA manufacturers design cabinets to come together with basic tools such as a multibit screwdriver or a hex-key wrench; read through the assembly instructions to ensure you have what's needed. Resist the urge to speed up assembly by using an impact driver, which can strip screws easily.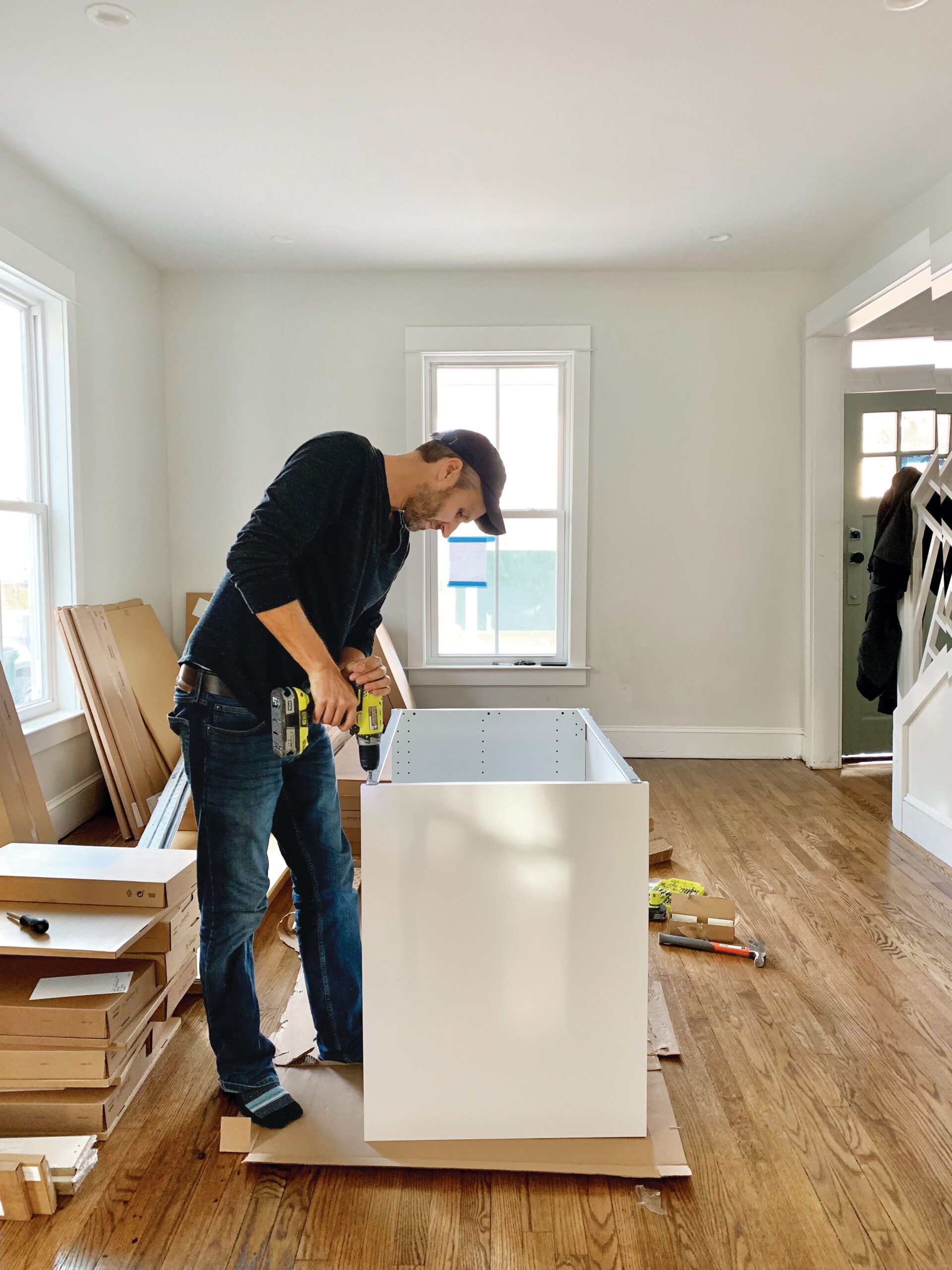 If using a drill/ driver, adjust the clutch to prevent it from overpowering the fasteners, and consider purchasing a hex bit to boost efficiency. Cabinets that require adhesive, such as those made from Conestoga parts, rely on yellow carpenter's glue; a stapler or pin nailer may also be needed to attach some parts.
A non-marring rubber mallet is a good way to bang together the box parts without scuffing. While building, it can be tempting to take extra steps to reinforce the cabinet, but that approach can backfire: "Unless they're specifically called for, don't add brads , staples, or glue while assembling the cabinets—you'll void the warranty that way," says TOH home builder Charlie Silva.
4. Set up a work area
It's easier to build the cabinets in the same room where they will be installed—if the kitchen is already demoed, that's ideal. Working at a waist-high table instead of on the floor is more efficient and more comfortable, but keep in mind that fully assembled cabinets can be big and heavy to move. Put down something soft, like a moving blanket, to avoid scratching the cabinets as you work. Once a box is built, tag it with a marker on a piece of painter's tape and correlate it to the printed kitchen layout.
Custom Looks for IKEA Cabinets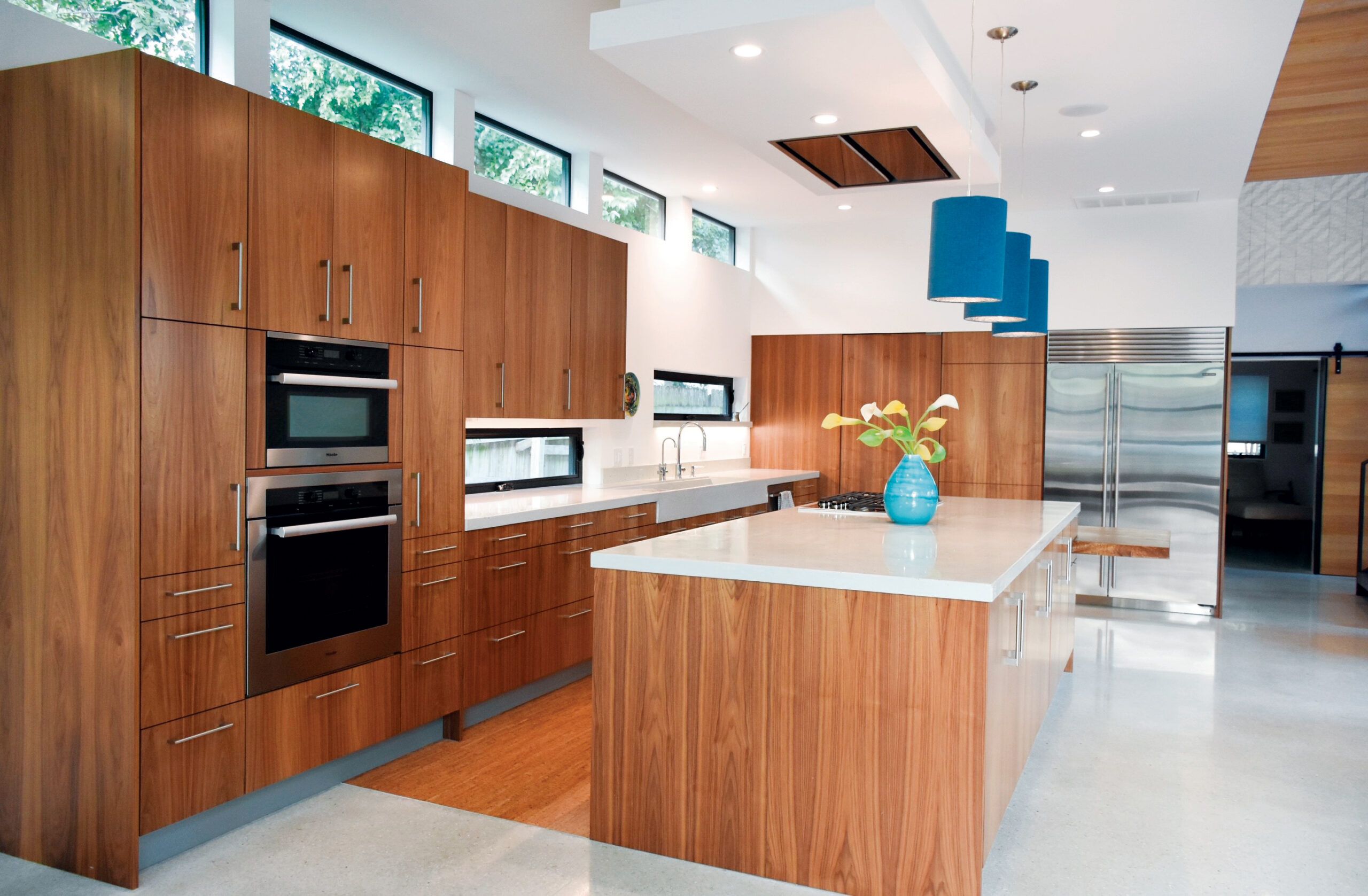 Buying replacement cabinet doors and drawers is nothing new—a number of retailers make them for existing boxes. But IKEA cabinet components can be purchased la carte—which means homeowners can buy cabinet boxes from the Swedish home store and then customize the look by ordering doors and drawer fronts from another company.
The doors arrive predrilled for IKEA's hinges, and the drawers are designed to fit the boxes; options include high-end materials like quartersawn white oak and specialty high-gloss metallic finishes. While the full overlay doors and drawer fronts will completely cover the frameless cabinet boxes from the front, you may need to order end panels and toekicks to get a cohesive look.
Pro Advice for Installing Cabinets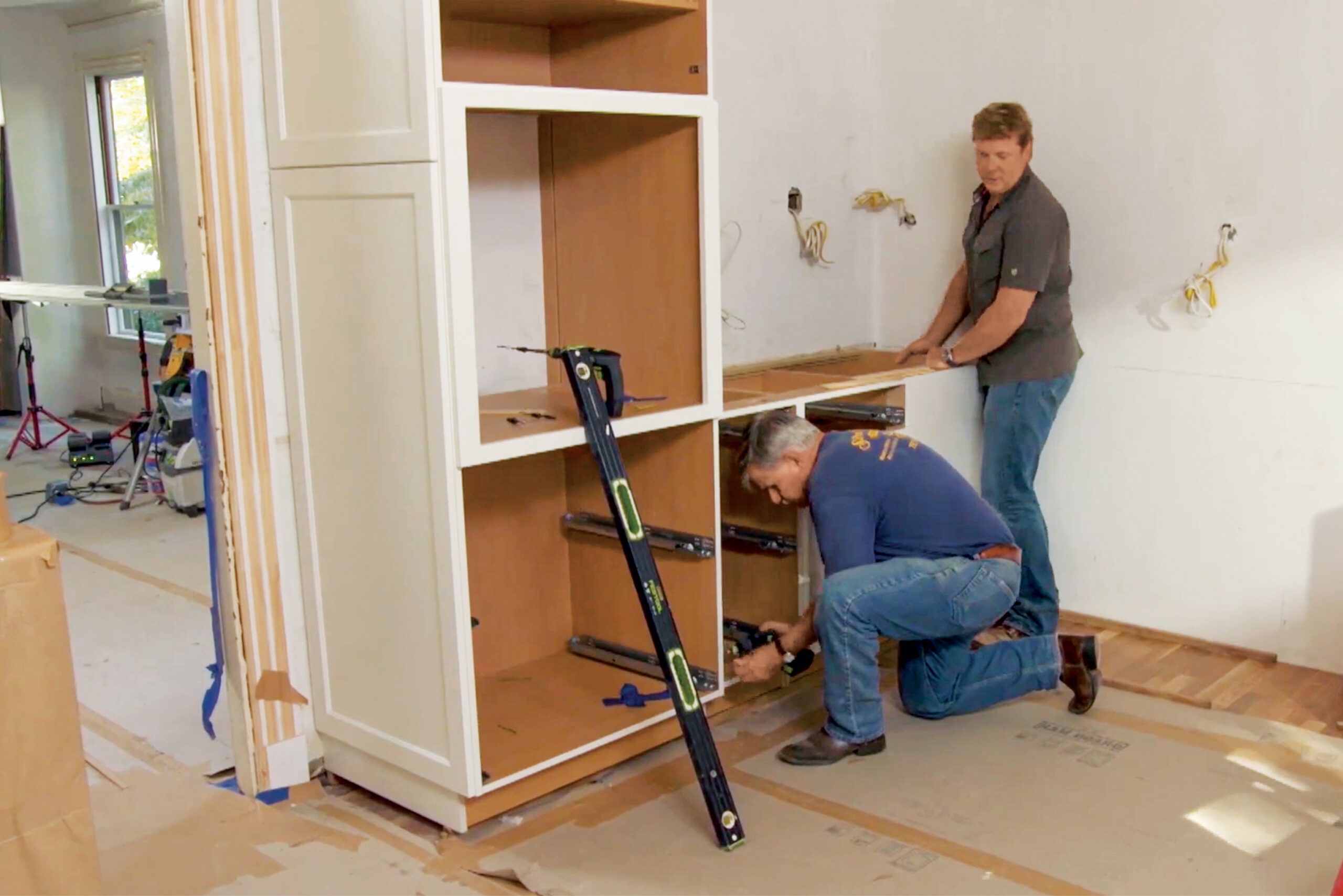 To stretch a budget even further, consider installing RTA cabinets yourself. In general, the process is the same as for traditional cabinets (though IKEA offers its own metal-cleat system). Here, TOH experts share their top tips.
Access the walls and floors
If the old cabinets were installed properly, with faces aligned and doors plumb, remove them slowly, taking note of where shims are on the floor and the wall. Those give clues as to where high and low spots might be.
With wonky floors more than 1 inch out of level, one option is to screw down tracks of scribed filler strips parallel to the wall so all the base cabinets rest on top of them and are level. "But most of the time, it's faster to shim the base cabinets as you go," says Charlie Silva.
Use the right screws
"A cabinet loaded with plates and bowls is very heavy," says Tom Silva. "Unless you want that all to come crashing down, use 21⁄2 -inch deck screws with washers or pan-head cabinet screws. They're stronger and provide better support than regular deck or drywall screws."
Install upper cabinets first
Following this order means you won't have to lean over bulky base cabinets while you work. "You don't need a lot of fancy tools, but if you're working alone, using a cabinet jack to hold the uppers in place while you fasten them can make your life a lot easier," says Tom. Use a clamp to join the second upper to the first and keep them flush while you screw them together.
Once you have two cabinets installed next to each other, lay a spirit level across their faces to make sure they're even with each other. Adjust for any bowing in the wall behind the cabinets by loosening the wall screws, shimming the back of the cabinet, and retightening the screws.
Tackle base cabinets differently
Tom recommends this time-saving approach to dealing with base cabinets: "We like to lay them on their backs and clamp a wall's worth of base cabinets together, making one long box," he says. He joins the boxes with 1 1⁄4-inch panhead screws, and then he and a helper tip up the assembly to move it into place.