For every successful kitchen remodel, many more never make it past the dreamy, dog-eared-magazine phase. And for good reason: Renovating a typical kitchen with about 171/2 linear feet of upper and lower cabinets can cost an average of $25,000 or more, with new cabinets accounting for at least a quarter of the budget. It's no wonder that many homeowners balk at the price and get by with a fresh coat of paint instead.
But there is an alternative to pricey traditional cabinets. Ready-to-assemble (RTA) cabinets arrive flat-packed in cardboard boxes with the hardware needed for assembly. Because homeowners handle building them, and they cost the manufacturer less to transport and store, RTA cabinets can be half the price of factory-assembled versions. And these DIY-friendly cabinets can arrive quickly, too: Pick an in-stock profile and color from a big-box store, and they could show up at your door in as little as two weeks.
But shoppers aren't limited to stock options; the RTA market is growing, and today there's an abundance of styles, colors, and finishes to choose from—although made-to-order options will take roughly 8-12 weeks to be delivered, longer if supply-chain issues continue. As RTA cabinet businesses have become more established, "design choices have expanded, finishes have improved, quality-control measures have become more rigorous, and manufacturing has been streamlined," says Samantha Rougeux, co-CEO of The RTA Store, who has been selling RTA cabinets for more than a decade. The ordering process is now easier to navigate, too.
As with any type of cabinet, you'll get the most for your money if you focus on the build quality and hardware, not just aesthetics. Here's what you need to know about materials, ordering, assembly, and more.
RTA Cabinet 101
What do they cost?
To outfit a basic 10-by-10-foot, L-shaped kitchen (about 12 cabinets), expect to pay from $1,200 to $4,400 for stock RTA units, or $7,000 and up for custom RTA cabinets. Some manufacturers and retailers, such as Kitchen Cabinet Distributors, offer assembly services for an additional charge.
Where to buy them?
RTA cabinets are mostly sold online. Homedepot.com and lowes.com sell them in stock sizes, as does IKEA, which carries a limited selection in stores. Custom RTA cabinets may be available through local cabinet shops as well.
How long to assemble them?
Expect to spend about 20-30 minutes per cabinet, so 6 hours for a 10-by-10 kitchen with 12 cabinets.
Install yourself or hire a pro?
Hanging cabinets is a job a handy DIYer can tackle. Pro installation starts at about $2,500 for a basic 10-by-10 kitchen.
What's the warranty?
Typically around five years for the boxes, hardware, and finish, but it usually covers only defects in materials and workmanship.
Are RTA Cabinets Right for You?
Consider these pluses and minuses to decide if they're a fit for your project.
Pros
Significant savings. RTA cabinets are priced 30 to 50 percent lower than their traditional counterparts.
Assembly is straightforward. Most RTA cabinets come together with screws and cam-lock hardware or angle brackets and require only basic tools, such as a screwdriver. Step-by-step instructional videos are readily available.
Made with sturdy materials. Just because RTA cabinets are more affordable doesn't mean their construction is subpar; they're made using the same range of materials as conventional cabinets.
Cons
Lots and lots of boxes. Expect to be inundated on delivery day: The parts for just one base cabinet often arrive in three or four separate boxes. When estimating how long it will take you to build all the cabinets, factor in time spent opening and breaking down boxes and taking inventory.
Design help is harder to come by. If the plan is simply to swap out cabinets, design help may not be needed. But more complex renovations may require a pro's guidance to get the layout right. That's a service that comes with ordering traditional cabinetry, but only some RTA cabinet manufacturers and retailers offer it.
Can't always see them before buying. Home Depot, Lowe's, and IKEA have some cabinets on display in their stores. But in many cases, you will have to settle for a sample.
Ordering: Map Out Your Kitchen
When purchasing RTA cabinets, it's essential to start with accurate measurements. Grab a pencil, graph paper, and a tape measure and follow these guidelines.
If you're replacing existing cabinets
Because the new kitchen will have the same layout as the current one, measuring should be fast and easy. On the graph paper, mark the location of every upper and lower cabinet and write down the height, width, and depth of each. Note the location and size of any filler strips needed, too. Keep the graph paper in a safe place; later, when the cabinets are delivered, you'll use it for reference to determine which cabinet goes where.
If you're designing a new kitchen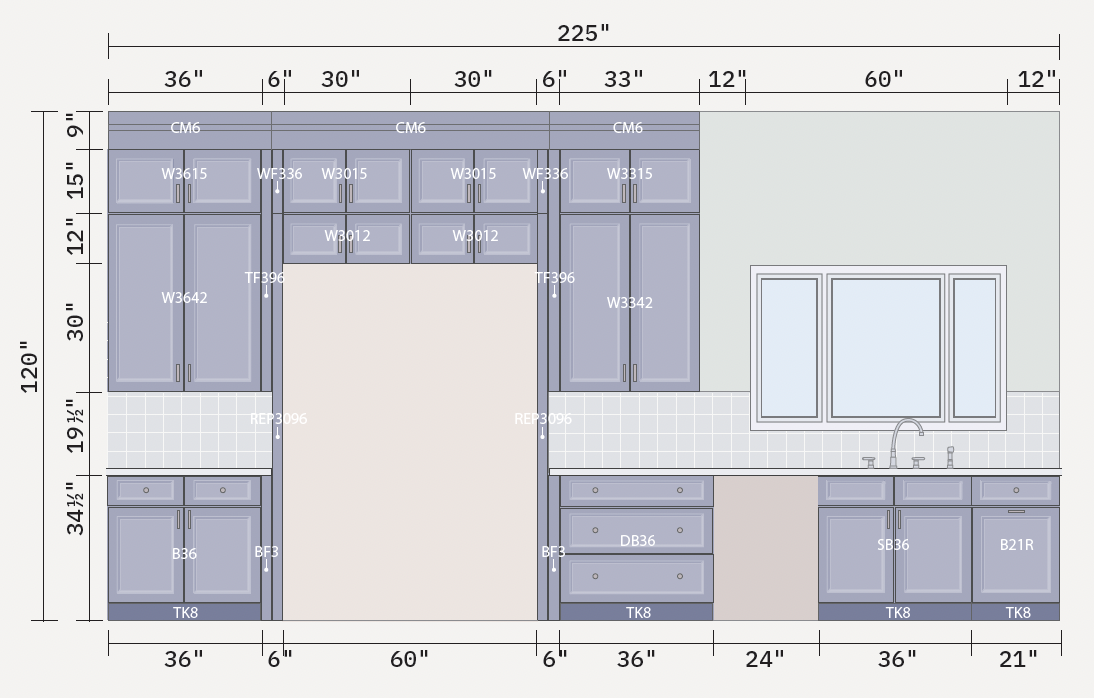 It's easier to measure after the drywall and flooring are installed, but as long as you know the thickness of those materials, you can measure the studs and subfloor and then account for the walls and floor.
Take a horizontal measurement of each wall, edge to edge, and mark it on the graph paper. Then take vertical measurements at each corner and in the middle of each wall. Measure and block out the location of fixed items such as windows, doors, sinks, and appliances like the refrigerator.
If the company you're ordering from offers design services, you'll submit these measurements and receive a kitchen plan showing the location and dimensions of every cabinet in the new space—so you know exactly what's in your order. If design help isn't available, consider using an online tool like kitchenplanner.net or hiring a kitchen designer at an average cost of $165 per hour.
What Options Are Available?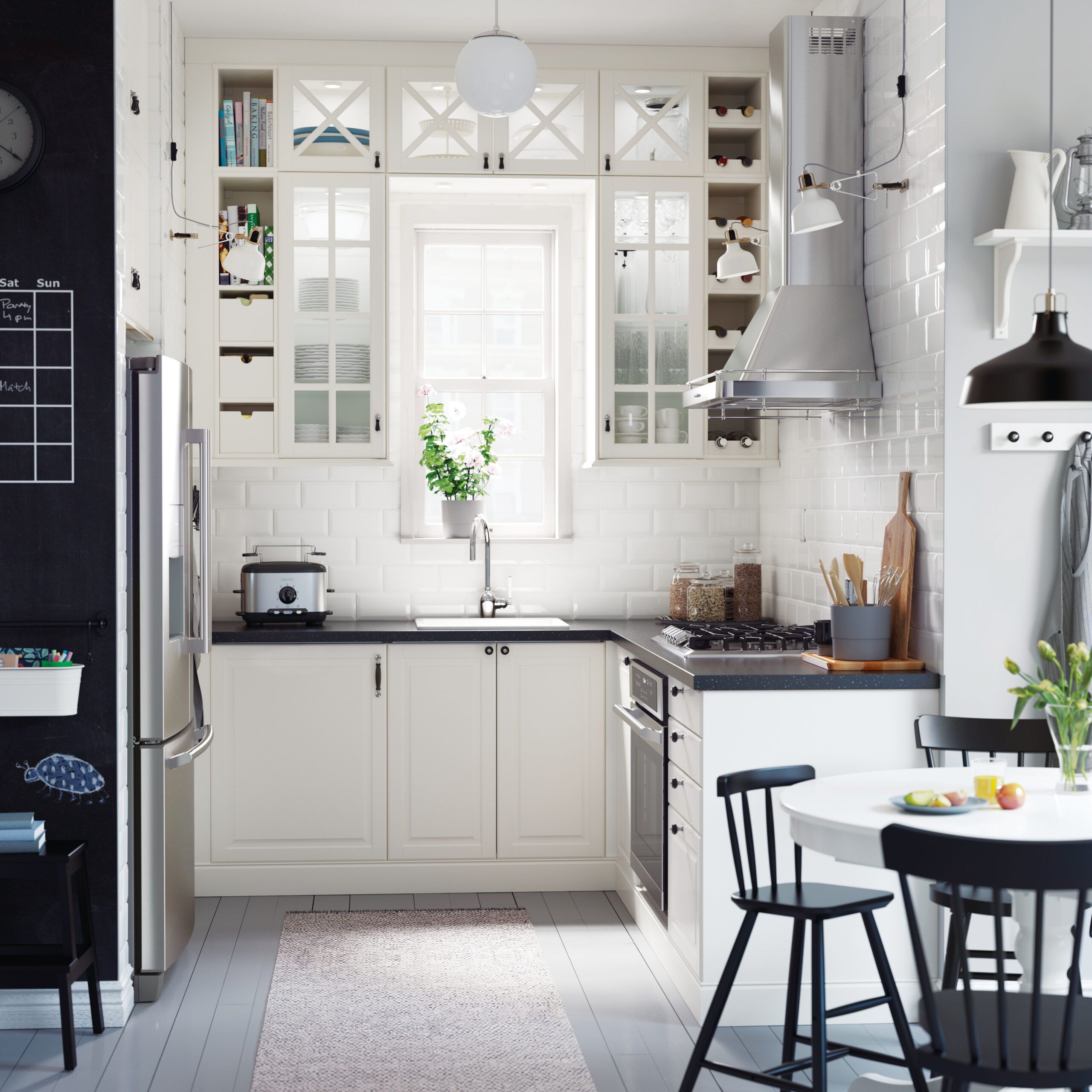 RTA cabinets offer many of the same upgrades that traditional cabinets do.
Sizes
Stock RTA cabinets come in standard sizes.
Widths start at 24 inches for uppers and 12 inches for lowers, heights start at 30 inches for uppers and are fixed at 34 1⁄2 inches for lowers, and depths are fixed at 12 inches for uppers and 24 inches for lowers. Custom RTA cabinets are just that—available in any size.
Materials
Particleboard boxes are a lower-end but economical option.
Better-quality ones are typically plywood, usually 1⁄2 to 3⁄4 inch thick for stock sizes, and 3⁄4 inch thick for custom units. Most come with a plywood or hardboard back panel. Doors generally have solid-wood stiles and rails with a medium-density fiberboard (MDF) panel or an engineered-wood slab.
Cabinet and door styles
Frameless RTA cabinets with full-overlay doors and drawer fronts and concealed hinges are the most readily available. Face-frame cabinets with full- or partial-overlay doors and drawers are also available; inset doors and drawers are less common (Conestoga is one manufacturer that offers them). The decision largely comes down to aesthetics and functionality: Frameless cabinets have a modern look and more accessible storage, while face-frame cabinets can be refaced and are less prone to racking, or tilting out of square.
Hardware
Undermounted, full-extension, soft-close glides made by well-known brands like Blum, Salice, and Grass are becoming a standard offering, as are six-way adjustable, soft-close hinges. You can still find budget-friendly cabinets with thin metal hardware, including side-mounted 3⁄4-extension drawer glides, however. Higher-quality glides are rated to hold a significant amount of weight, often 75 pounds or more; glides with metal ball-bearing rollers are usually smoother, quieter, and better able to handle heavy loads than those with nylon rollers.
Finishes
Thermofoil, a thin vinyl surface layer heat-wrapped over particleboard or MDF, is common in the most affordable stock RTA cabinets. Melamine and laminate are considered a step up, as these finishes are more durable and less likely to chip or peel. Stained or painted cabinets may be finished with polyurethane, but the gold standard is a catalyzed-conversion varnish, which offers superior durability and resistance to moisture.
Panels and accessories
Filler strips, end panels, and toekicks are generally separate items (and costs) that must be specified in your RTA cabinet order. These parts are usually made from the same material as the cabinet boxes or doors. One exception: IKEA's toekicks are made of polypropylene, and its filler strips are ABS plastic. As with traditional cabinets, a variety of accessories can be purchased la carte, including spice racks, island brackets, open shelf units, and range hood covers.
Check out samples before you buy
Many RTA cabinets are only sold online, so the best way to evaluate their look and feel is to call in samples. Often, companies will send full cabinet doors—and some don't charge, provided you put down a deposit and return the doors. Another option, and a good way to decide on a stain or paint color, is to buy blocks of finished wood. Cabinet Joint (cabinetjoint.com), for example, sells 14-by-6-inch blocks for $25 and up; a portion of the cost is credited toward a cabinet order.
Types of RTA Cabinets
While these cabinets all have a similar look, their materials and build quality vary, as the specs attest.
"Cabinet manufacturers can be vague about the hinges and glides, so be sure to ask for more details. Hinges will ideally be six-way adjustable, which makes it easy to fix a misaligned door. And although you may not need glides that hold 100 pounds, it's helpful to know the weight limit, especially in a kitchen with lots of pull-out storage." —Nathan Gilbert, Carpenter
Good
IKEA Sektion/Maximera in Axstad Matt White
$183 for a 15x24x30-inch cabinet; ikea.com/us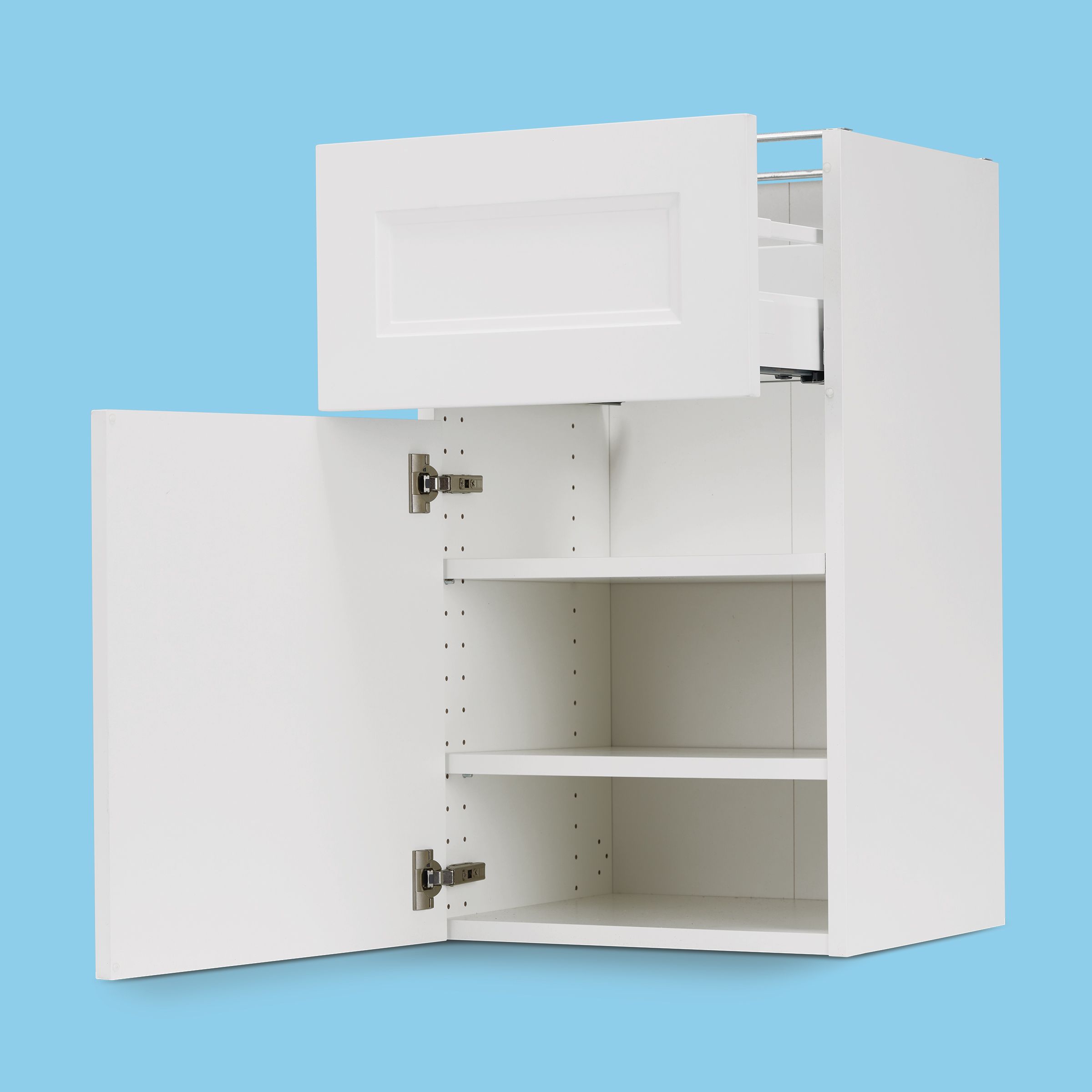 The frameless cabinet is particleboard, but its 3/4-inch thickness increases its durability. The door and drawer fronts are fiberboard. Two steel bars across the top support a countertop or sink; self-leveling feet (not shown) get covered by toekicks.
The galvanized-steel full-extension drawer glides (Blum Tandembox Plus) are soft close, rated for up to 55 pounds. The hinges (Blum) are clip-top, soft close, and six-way adjustable in nickel-plated steel.
There's thermofoil on the door and drawer fronts and melamine on the shelf and inside the cabinet box and drawer.
The cabinet gets assembled with screws, finish nails, and wood dowel pins.
Better
The RTA Store Brilliant White Shaker
$323 for a 15x24x34.5-inch cabinet; thertastore.com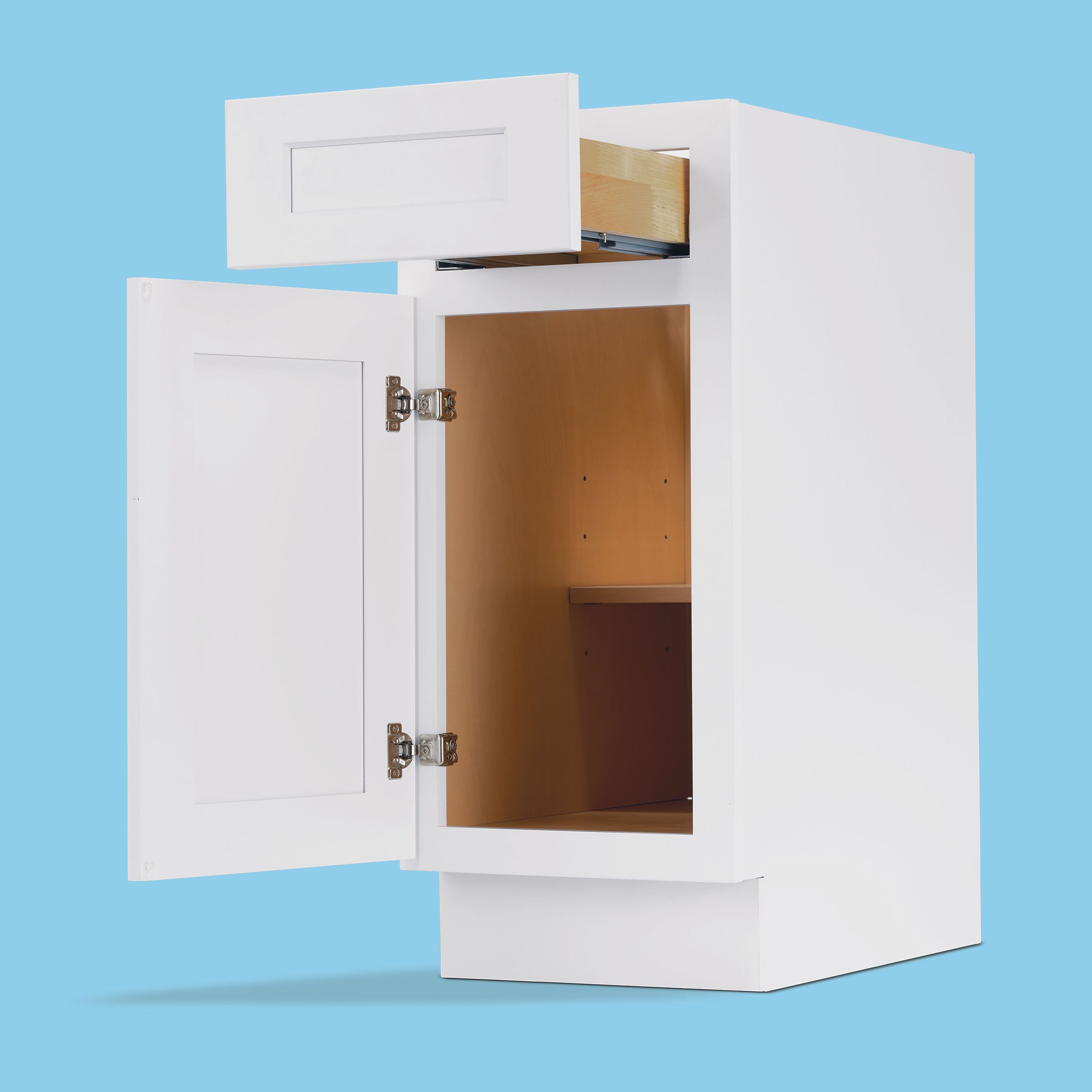 The face frame is 3⁄4-by 1 3⁄4-inch birch, the cabinet box is 1⁄2 -inch plywood, and the drawer box is 5/8-inch solid hardwood with dovetailed sides. Door and drawer fronts are high-density fiberboard (HDF), which is harder and more water-resistant than MDF, though both are more stable than wood. The half shelf is 3⁄4 -inch plywood.
The zinc-plated steel drawer glides (from Boke) are soft close, full extension, and rated for up to 70 pounds. The nickelplated steel hinges (also Boke) are soft close and six-way adjustable.
The cabinet is finished with a catalyzedconversion varnish.
Assemble it either with metal clips or glue and staples.
Best
Barker Cabinets 1 Door and 1 Drawer Base Cabinet in Pure White
$835 for a 15x24x34.5-inch cabinet; barkercabinets.com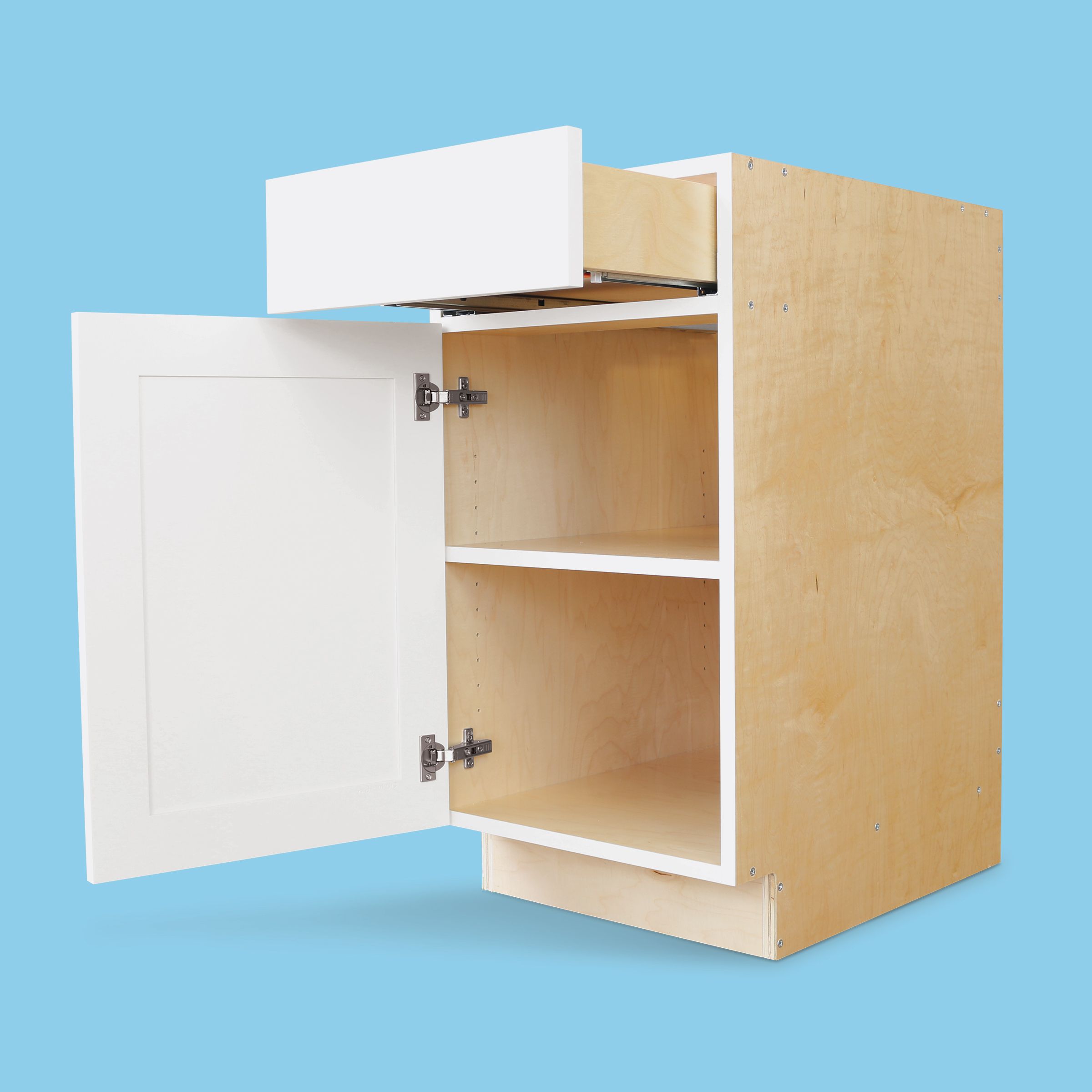 The cabinet box and shelves are 3⁄4-inch plywood, and the drawer box is 5/8- inch plywood with dovetailed sides. Door and drawer fronts are alder; the door inset panel is MDF.
Drawer glides are zinc-coated steel (Blum Tandem Plus), soft-close, full-extension, and rated for up to 100 pounds. The nickel-plated steel hinges (also Blum), are soft close and six-way adjustable.
The cabinet is finished with a catalyzed conversion varnish.
It gets put together with beefy confirmat screws; the drawer boxes arrive preassembled.