This article appeared in the Fall 2023 issue of This Old House Magazine. Click here to learn how to subscribe.
While open-plan layouts often work well, having a primary bath share space with the bedroom's closets isn't necessarily a home run. But that was the setup in Stamford, CT, homeowners Claudia and Chuck Jepsen's 1887 Queen Anne. "We never showered in that bath—the steam would have saturated our clothes," says Claudia, pointing out that the bath had no vent fans. The pink fixtures, green tile, and linoleum flooring also postdated the period of their house by decades.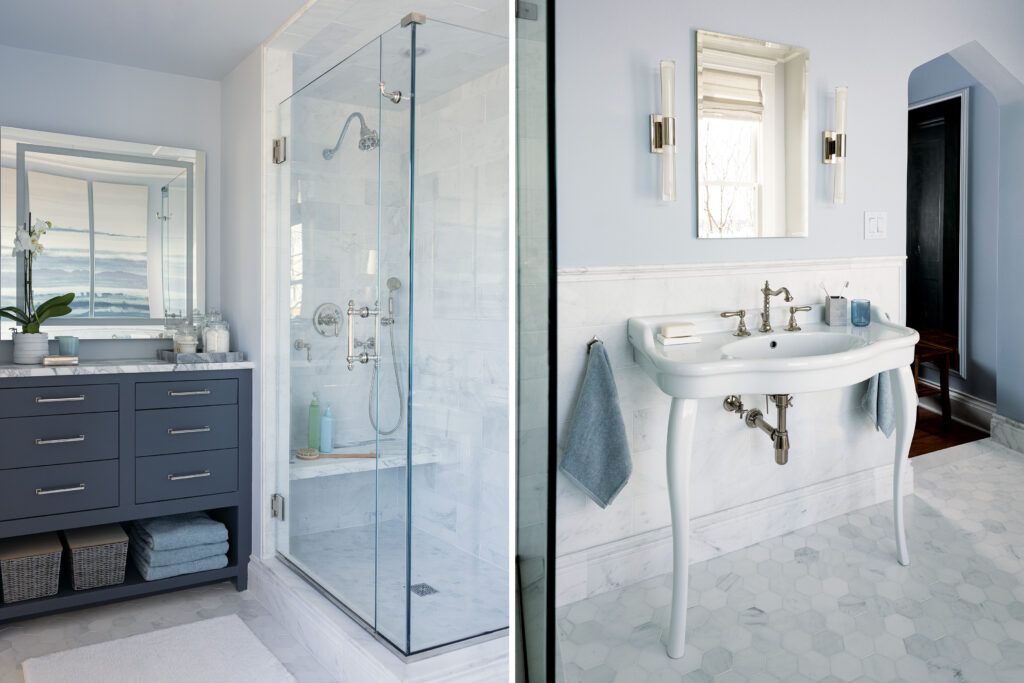 "We wanted to maintain the aesthetic integrity of our house while creating a bath that felt fresh and timeless," she says. To get there, the couple put up a wall to section off the existing closets, placing the sink and a new shower along its length. They kept stacked cabinets that sat near the bedroom door, and added curvaceous fixtures and marble surfaces for an updated Victorian look. In the new clothes-storage space, the DIY-savvy duo's clever solution was to fill in around the existing closets by adding wood fronts to cabinet components from IKEA and reusing the old doors.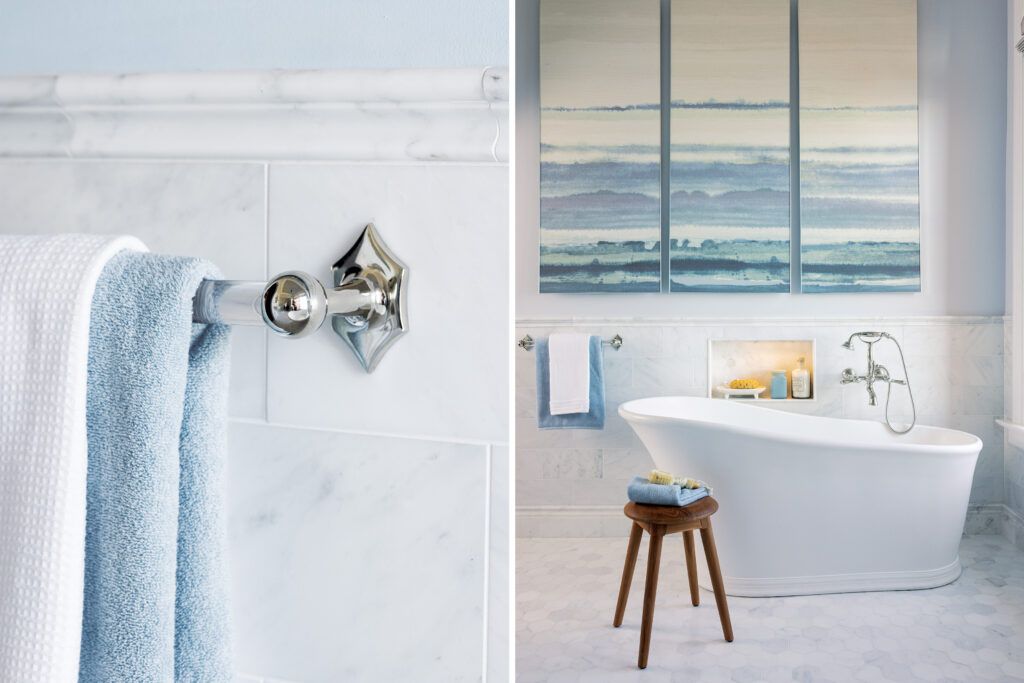 The Jepsens love the result. "We achieved our dream bath," Claudia says. "And we have more room for our clothes now and a separate dressing area."
Floor Plans
Closets and fixtures ringing the room left lots of vacant space.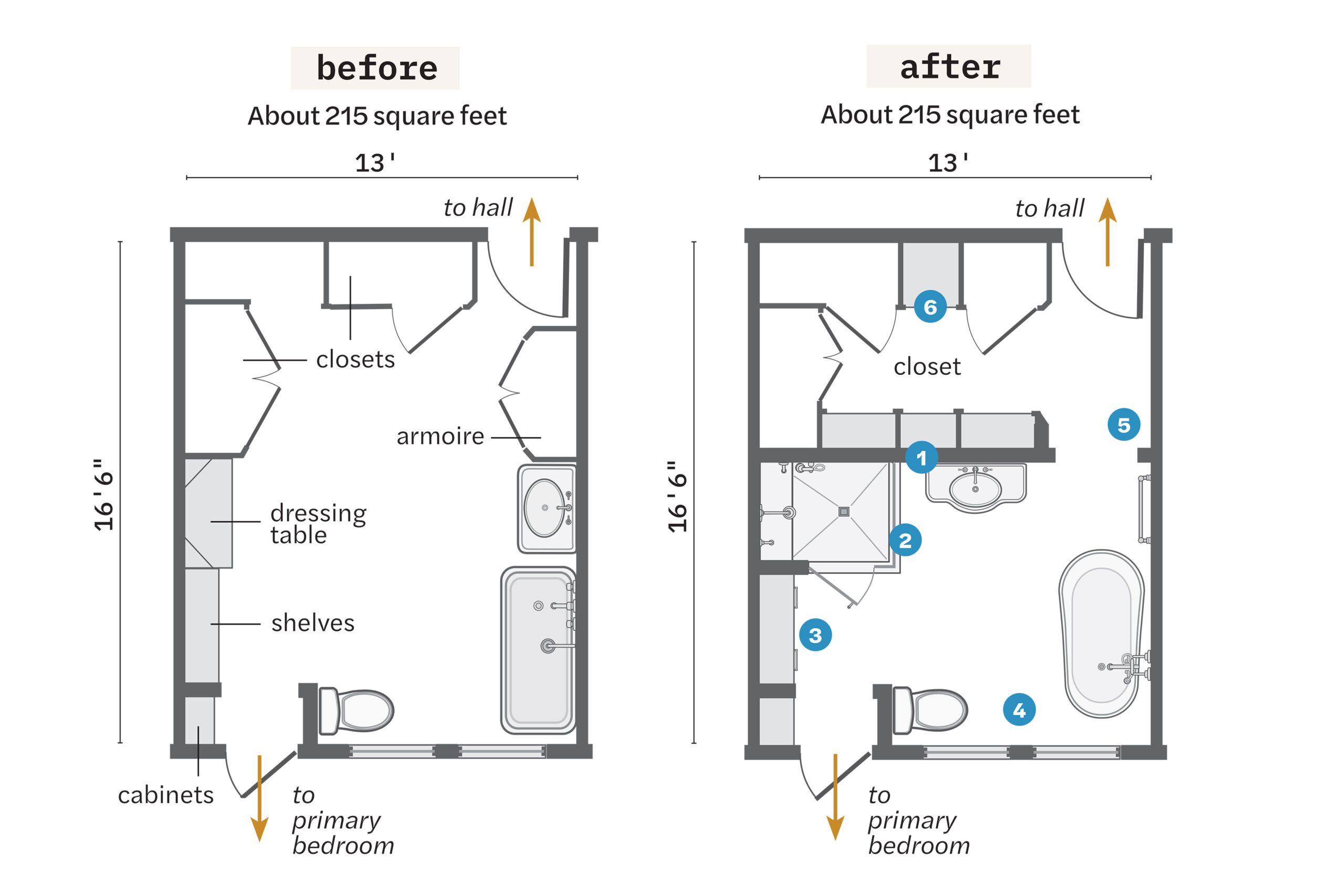 Put up a wall to divide the space into an 88-square-foot closet and a 124-square-foot bath, with a sink along the new wall.
Demoed a dressing table and added a shower in its place.
Built a new dressing table next to the shower; kept the existing cabinets outside the bedroom.
Upgraded the windows; kept the toilet and tub locations the same.
Built a pointed archway into the closet to match the others; removed an armoire that blocked the path to the hall.
Rebuilt the existing closets, filled in with drawer units that have shelves (or mirrors) above; added a top row of cabinets that reach the full height of the 10-foot ceilings.
Get the Look
These bath-appropriate pieces offer a mix of modern function and vintage flair, without breaking the bank