BEFORE | Crowded and Dated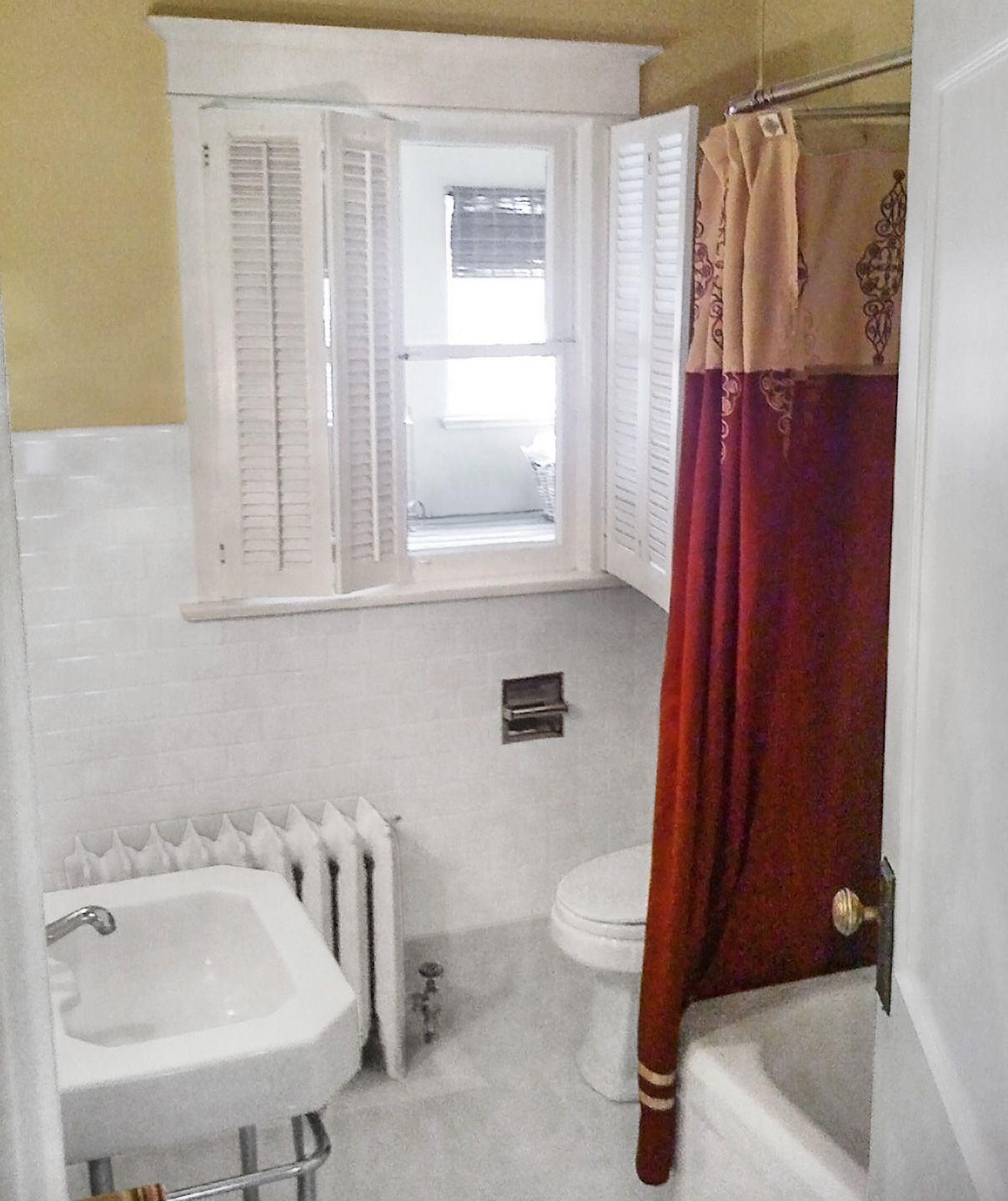 A bath where children start and end each day should set a cheerful tone. That means enough elbow room for a squabble-free cleanup zone—a challenge at Claudia Van Dijk and Chris Ciarallo's 1912 foursquare in Denver, where the existing bath was too cramped for their three children to share. It was dark, too, with its one window looking into a laundry room that had been tacked on to the house long ago.
Shown: The crowded bath was dated and looked into the laundry room.
AFTER | Bigger and Brighter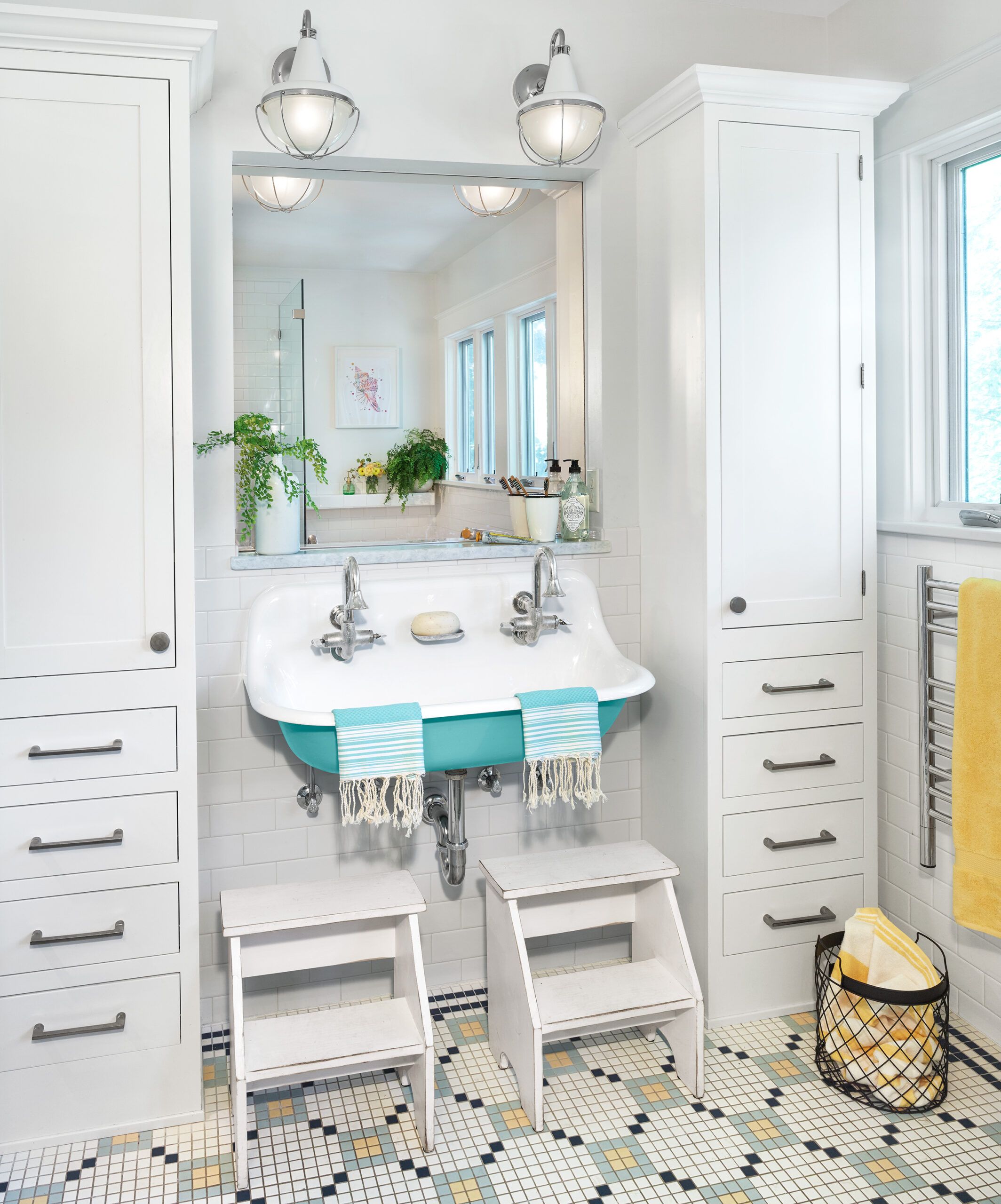 To find a solution, the family brought in Classic Homeworks, whose designers saw the virtue of swapping the bath and laundry areas. Now, just beyond the walk-through laundry sits a sunny, spacious bath with colorful kid-friendly touches like a turquoise cast-iron sink with two taps and a custom porcelain-mosaic-tiled floor with a vintage look. "Flipping the rooms made a world of difference," says Claudia. "Now the kids can all brush their teeth together, and there's no fighting for space!"
Shown: Bigger and brighter, the room gets a shot of color from a wall-hung double sink. Two banks of tall cabinets offer lots of storage, and a mirror recessed between studs accommodates a marble ledge to hold toiletries.
Sink: Kohler
Paint (sink): Sherwin-Williams's Mariner
Custom cabinets: Greenfield Cabinetry
Sconces: Feiss (discontinued)
Frameless Shower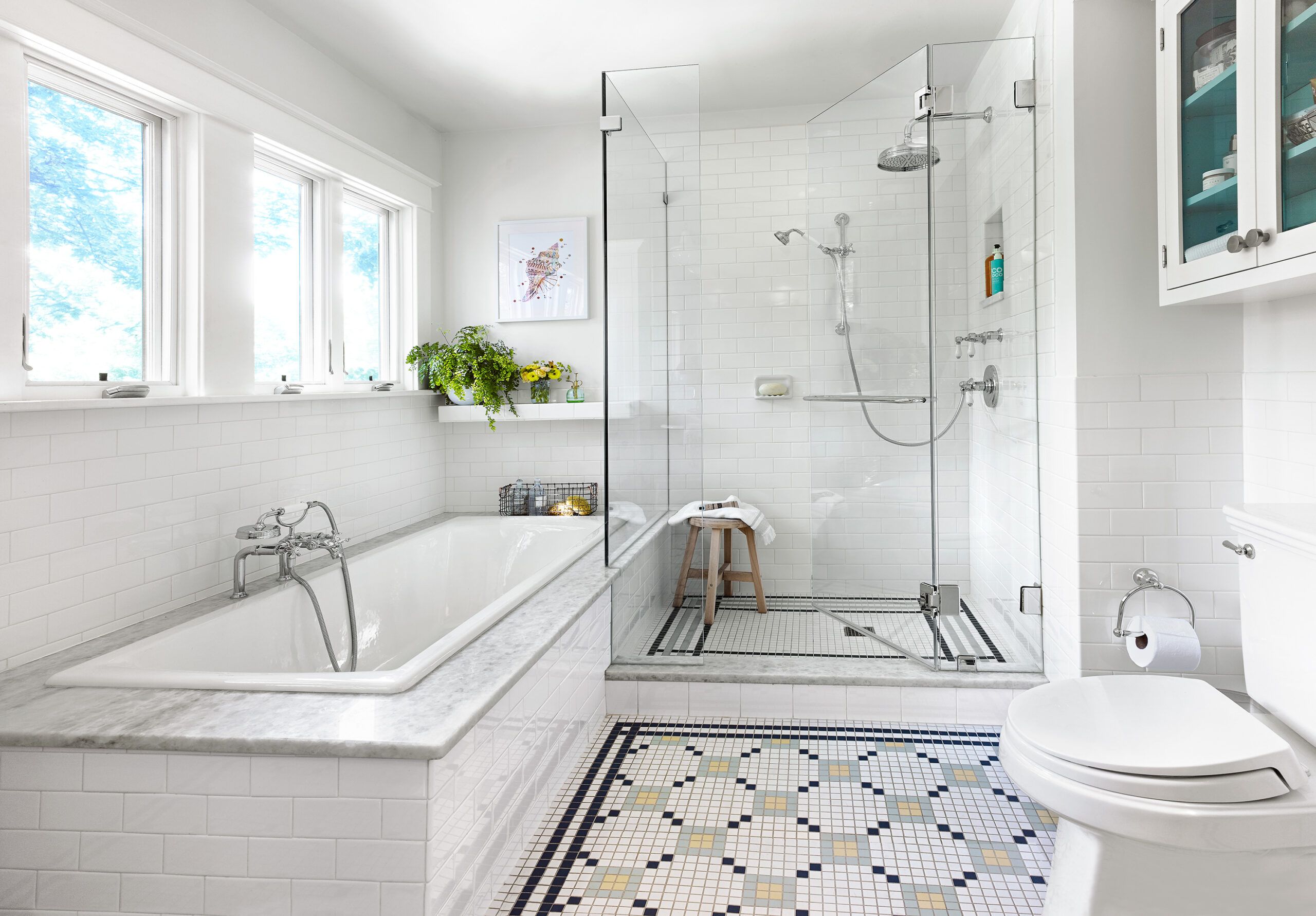 A frameless-glass shower enclosure serves a dual purpose: It keeps the space feeling open and bright, and it prevents the far end of the tub from appearing closed off.
Shower enclosure: L&L Glass
Showerhead: ROHL
Subway tile: Daltile
Tub: Kohler
Colorful Cabinet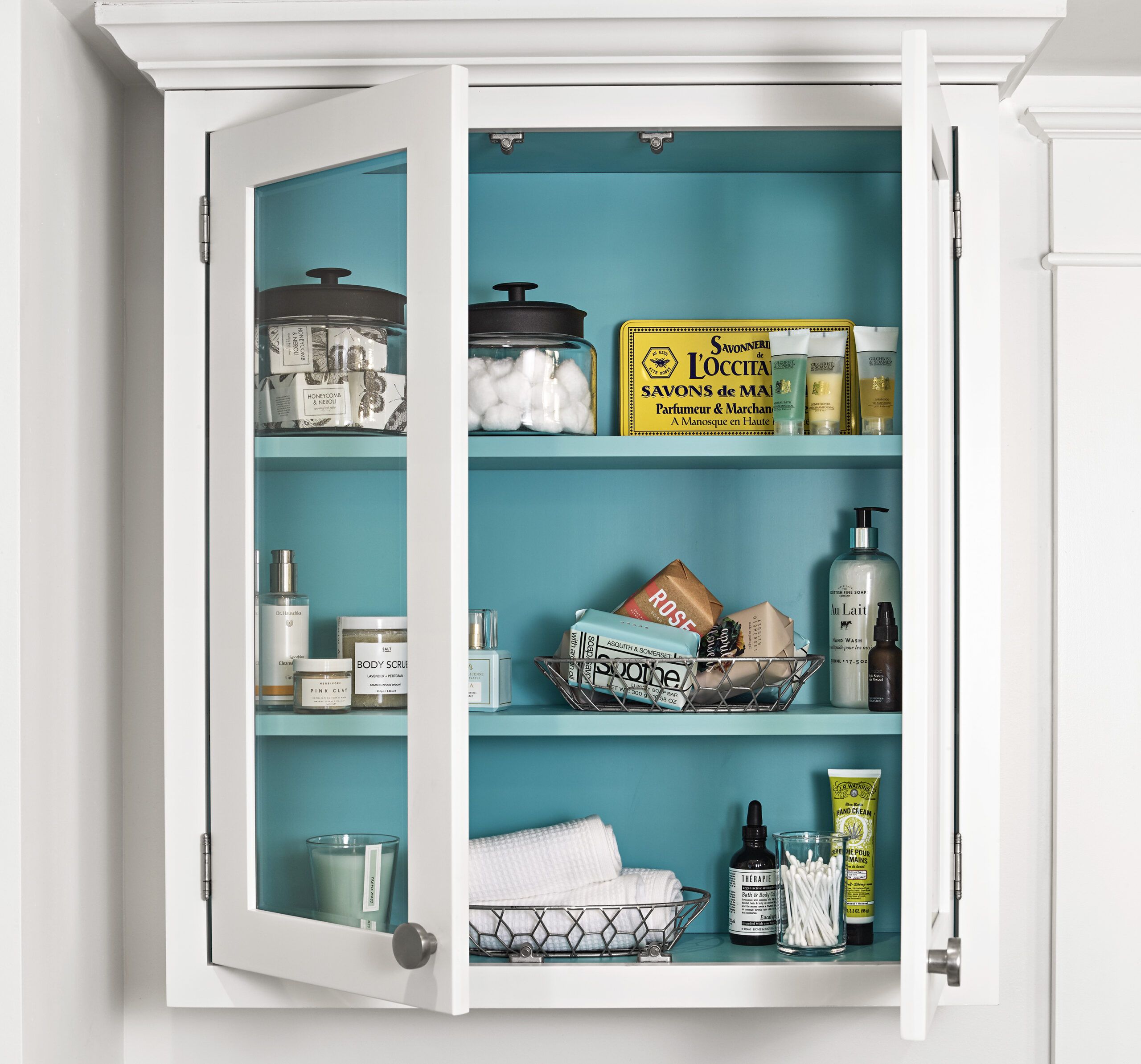 Painting the inside of a wall-hung cabinet the same color as the sink lends a cohesiveness, and helps break up the predominantly white bath.
Cabinet: Greenfield Cabinetry
Laundry Zone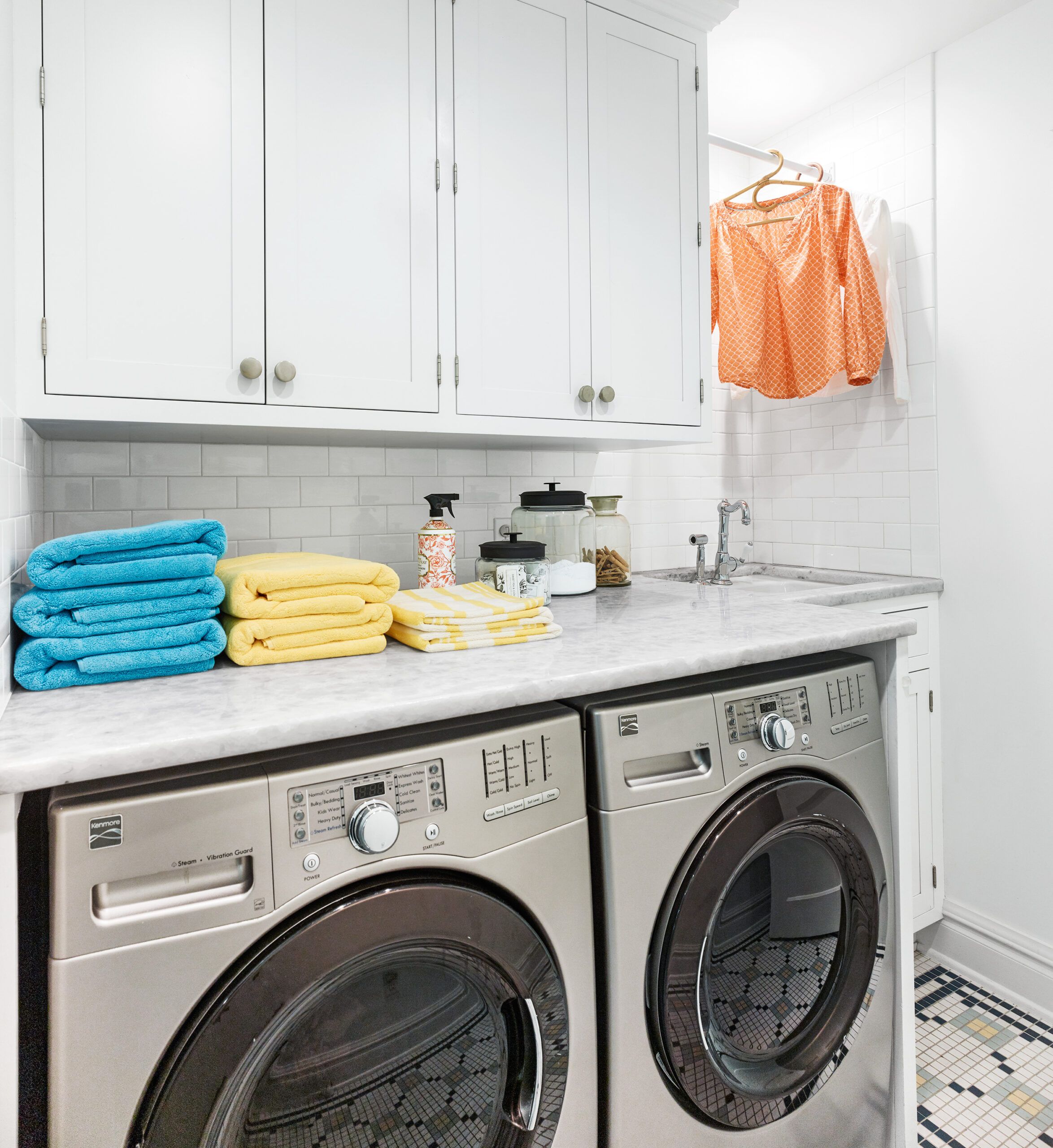 Arraying the washer, dryer, and laundry sink along one wall creates a tidy work zone, complete with storage cabinets and hanging space. The marble folding counter and sink top match the tub deck in the adjacent bath, and the same mosaic tile covers the floor in both rooms for a unified look.
Washer and dryer: Kenmore
Custom countertops and tub deck: InStone Granite and Marble
Wash sink faucet: Kohler
Homeowner and the Kids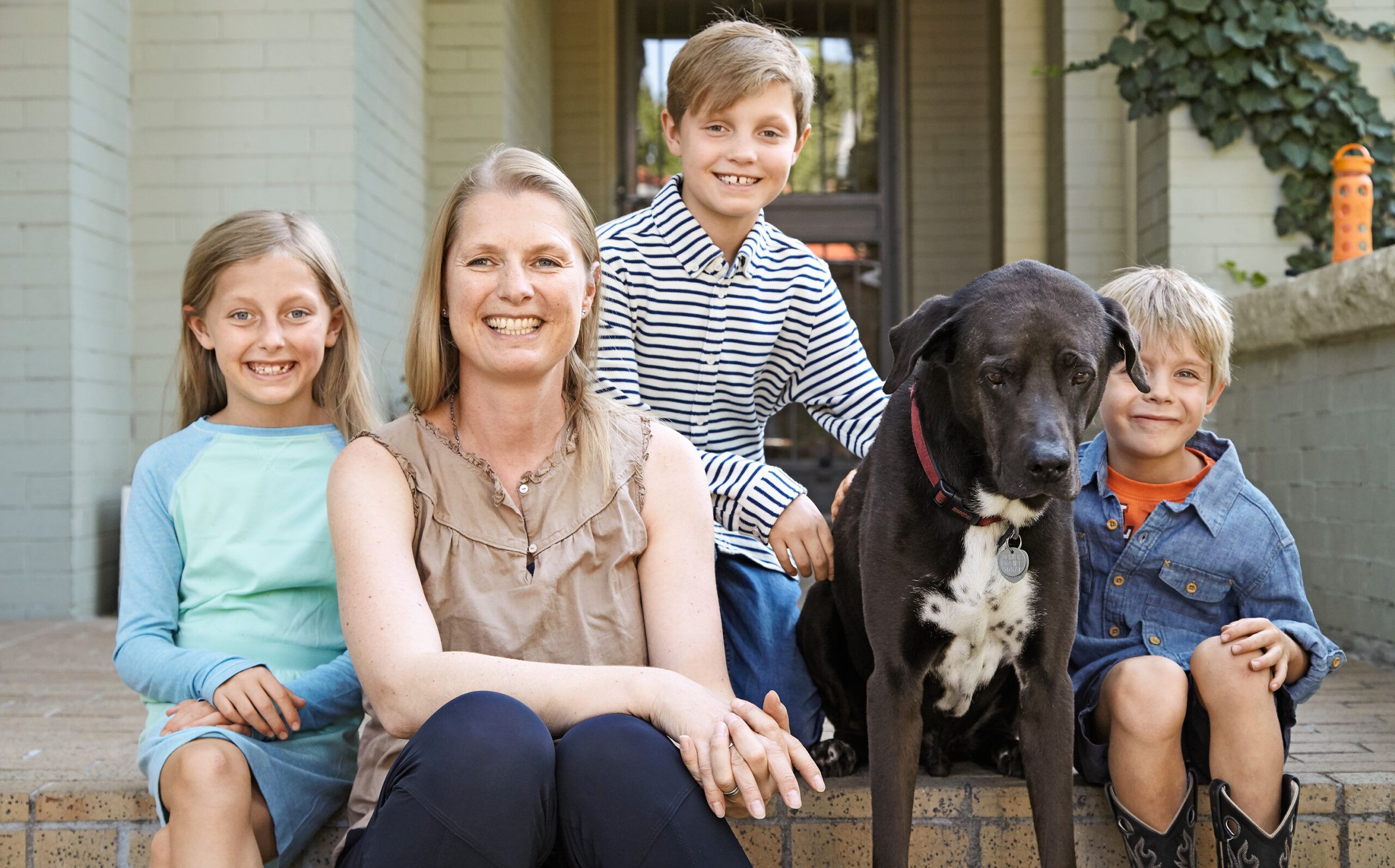 "The new bath is such a happy and bright space to use, and I love that our laundry is convenient," says homeowner Claudia Van Dijk, photographed with her daughters Isabella, 8, and Sophie, now 11, son Nicholas, 6, and Milo the dog.
Industrial Sconce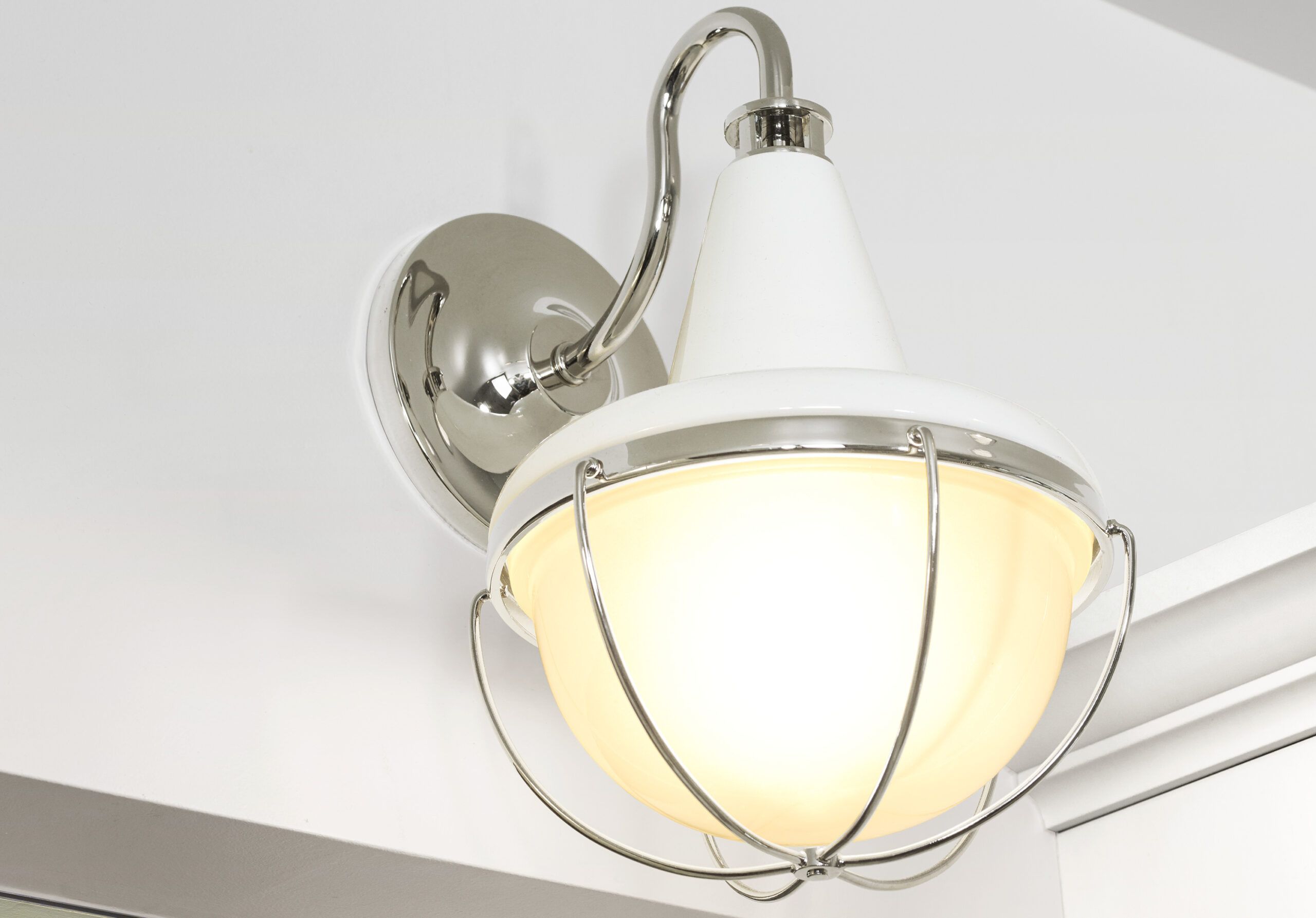 Gooseneck caged wall lights inspired by early-20th-century industrial fixtures provide plenty of light for bedtime rituals.
Sconces: Feiss
Lively Mosaic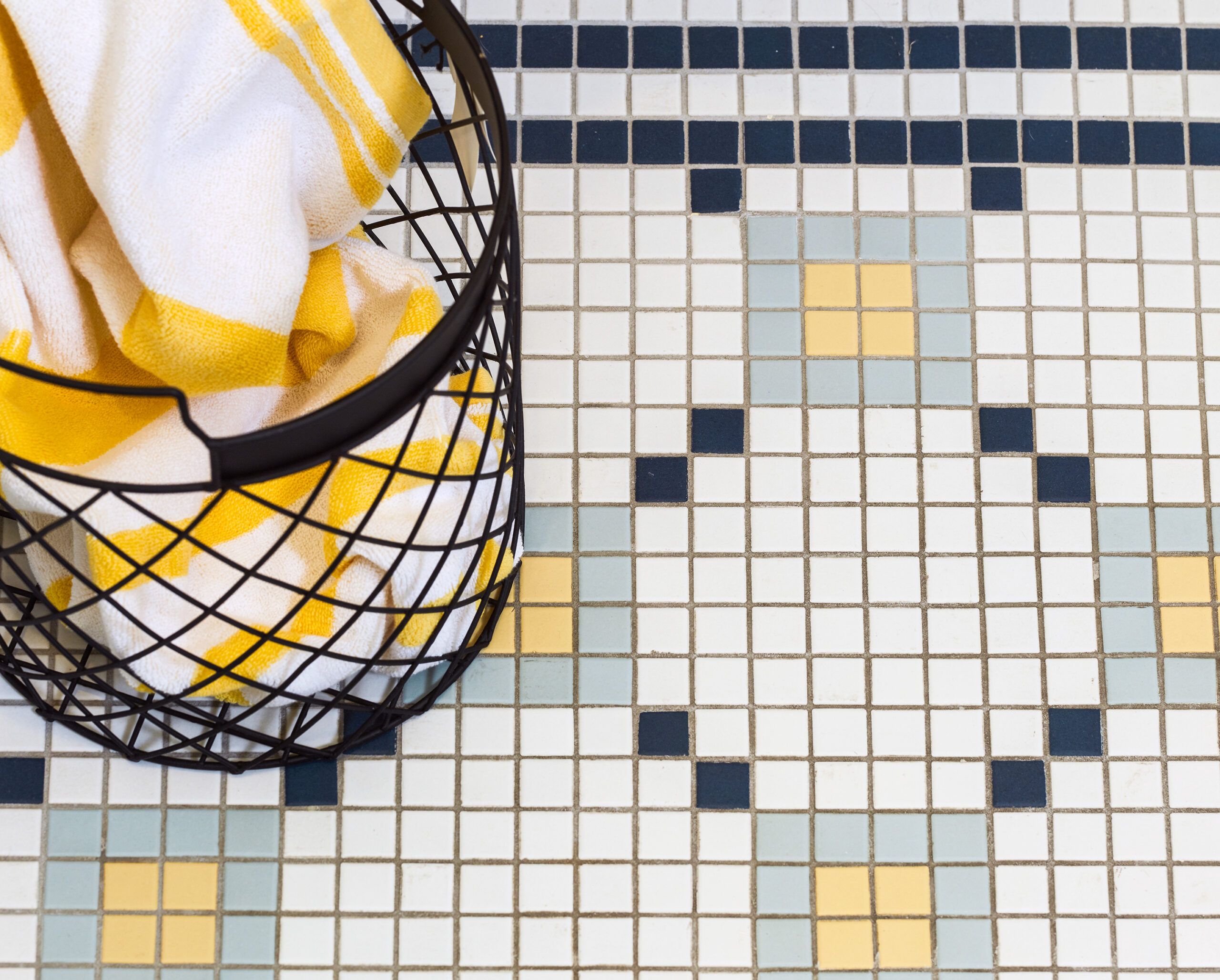 Matte white porcelain squares were swapped out for colorful ones by hand to make a lively mosaic pattern, lending vintage charm with an added bonus—small tiles with lots of grout lines help keep little feet from slipping.
Tile: Daltile
Floating Shelf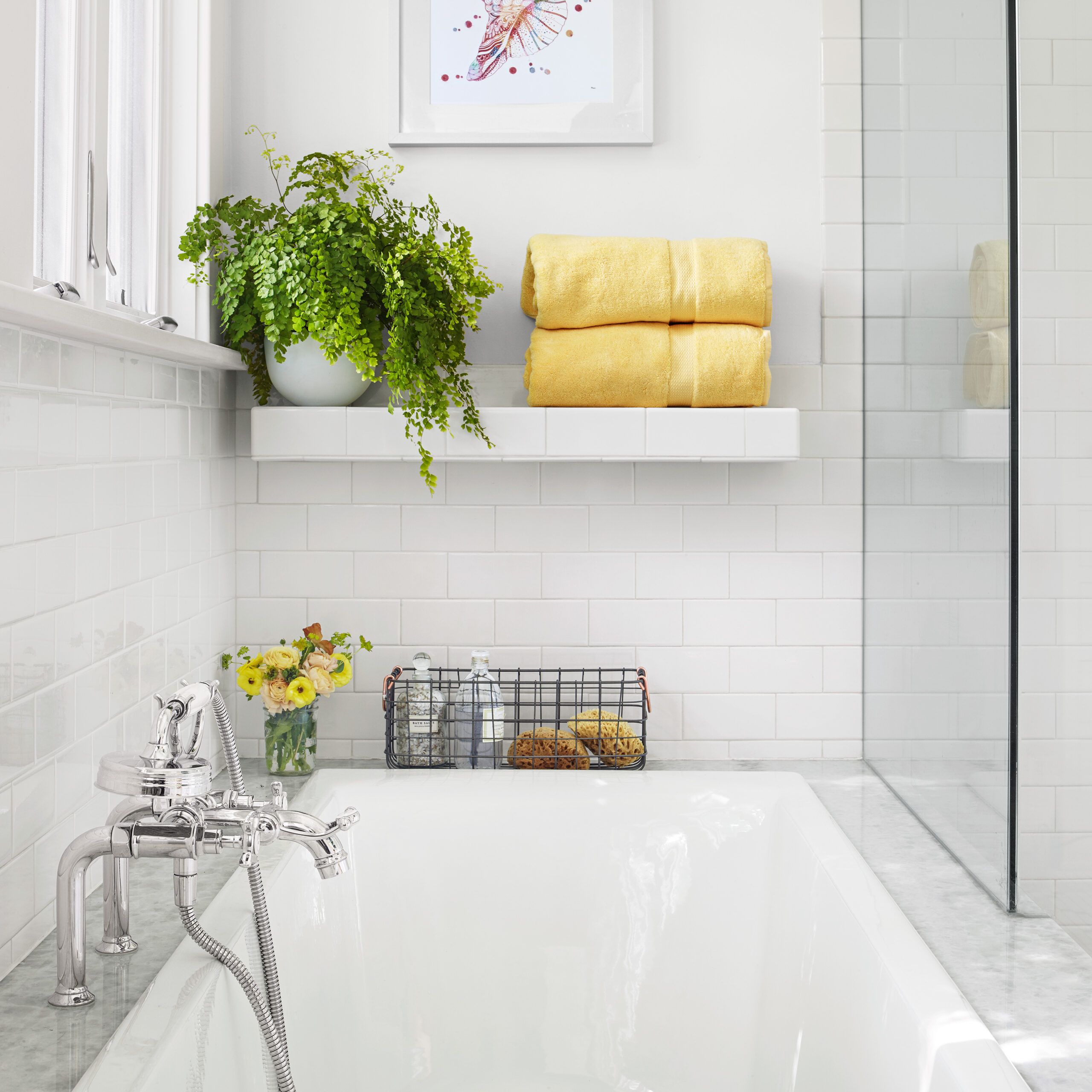 A low floating shelf covered in the same subway tile as the walls keeps extra towels handy by the tub.
Tile: Daltile
Tub faucet: Grohe
Yellow towels: Wayfair
Basket with soaps and wire baskets: Target
Shower Mosaic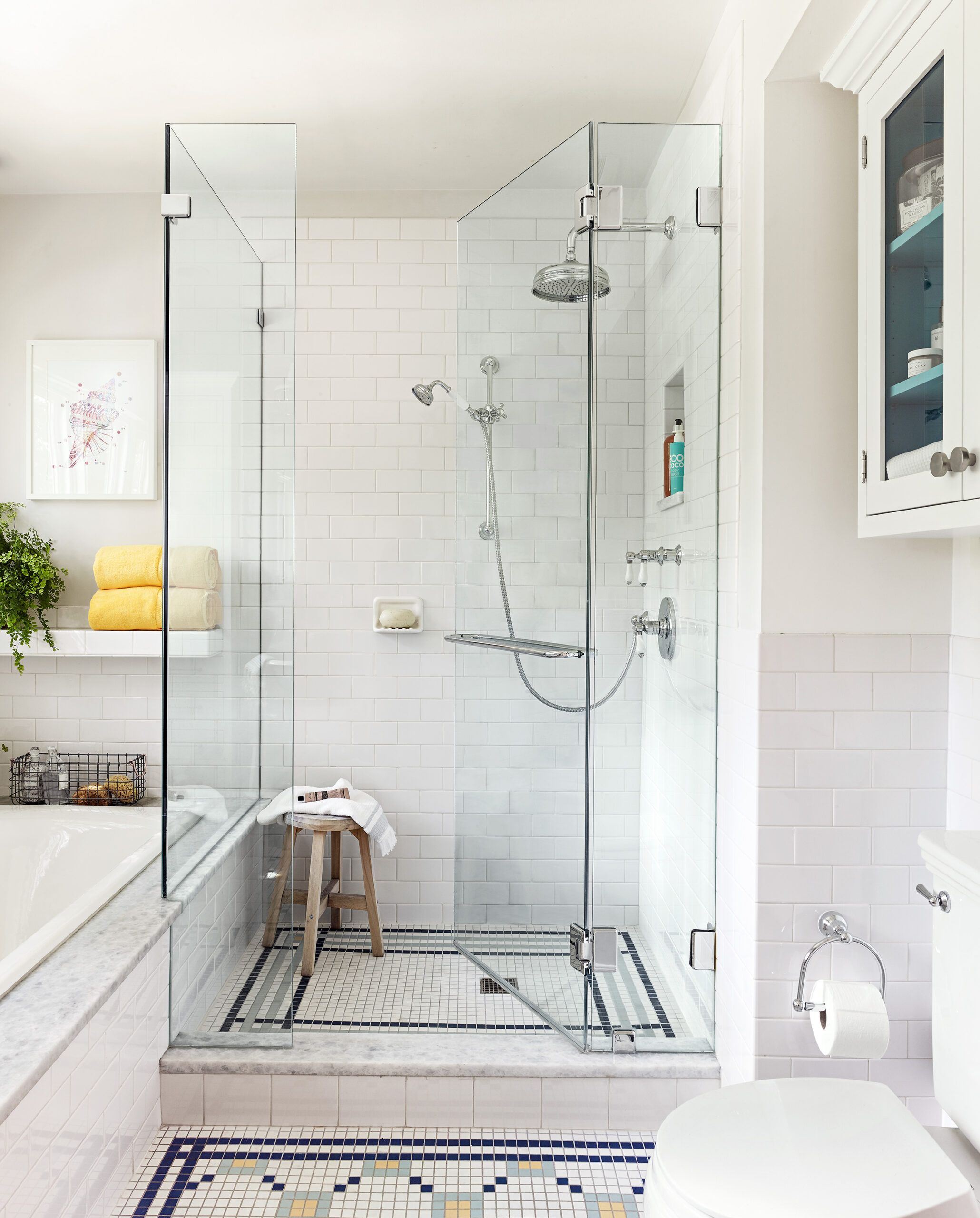 Using the same mosaic floor tiles to make a simple border inside the shower adds another custom detail without sacrificing continuity.
Tile: Daltile
Splash of Color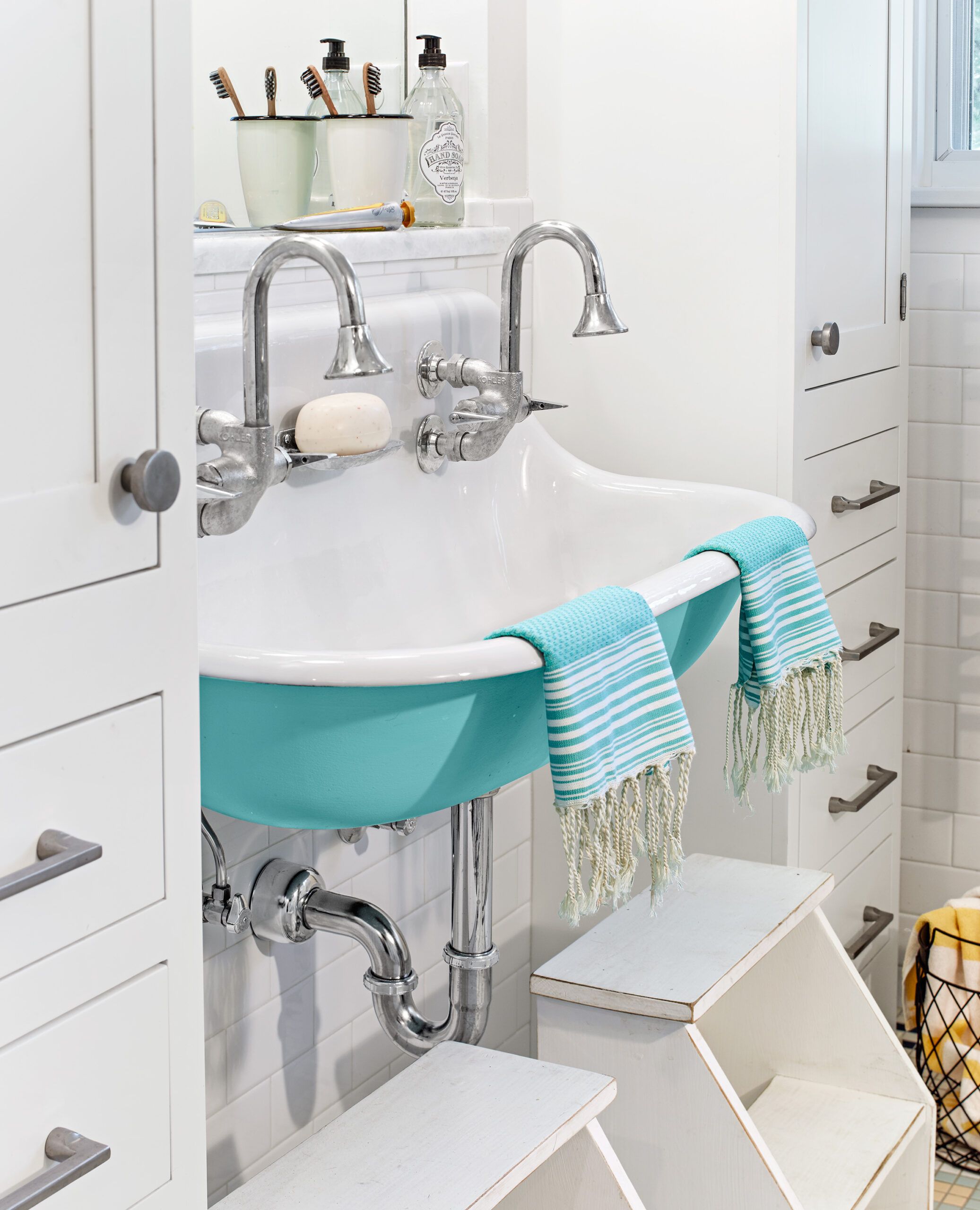 The 36-inch wall-mount sink not only packs a style punch, but allows two or more to brush teeth and wash hands at the same time. Tower-style built-ins feature drawers on the lower half, so kids can easily access gear.
Sink: Kohler
Paint (sink): Sherwin-Williams's Mariner
Cabinets: Greenfield Cabinetry
Faucets: Joss & Main
Before Floor Plans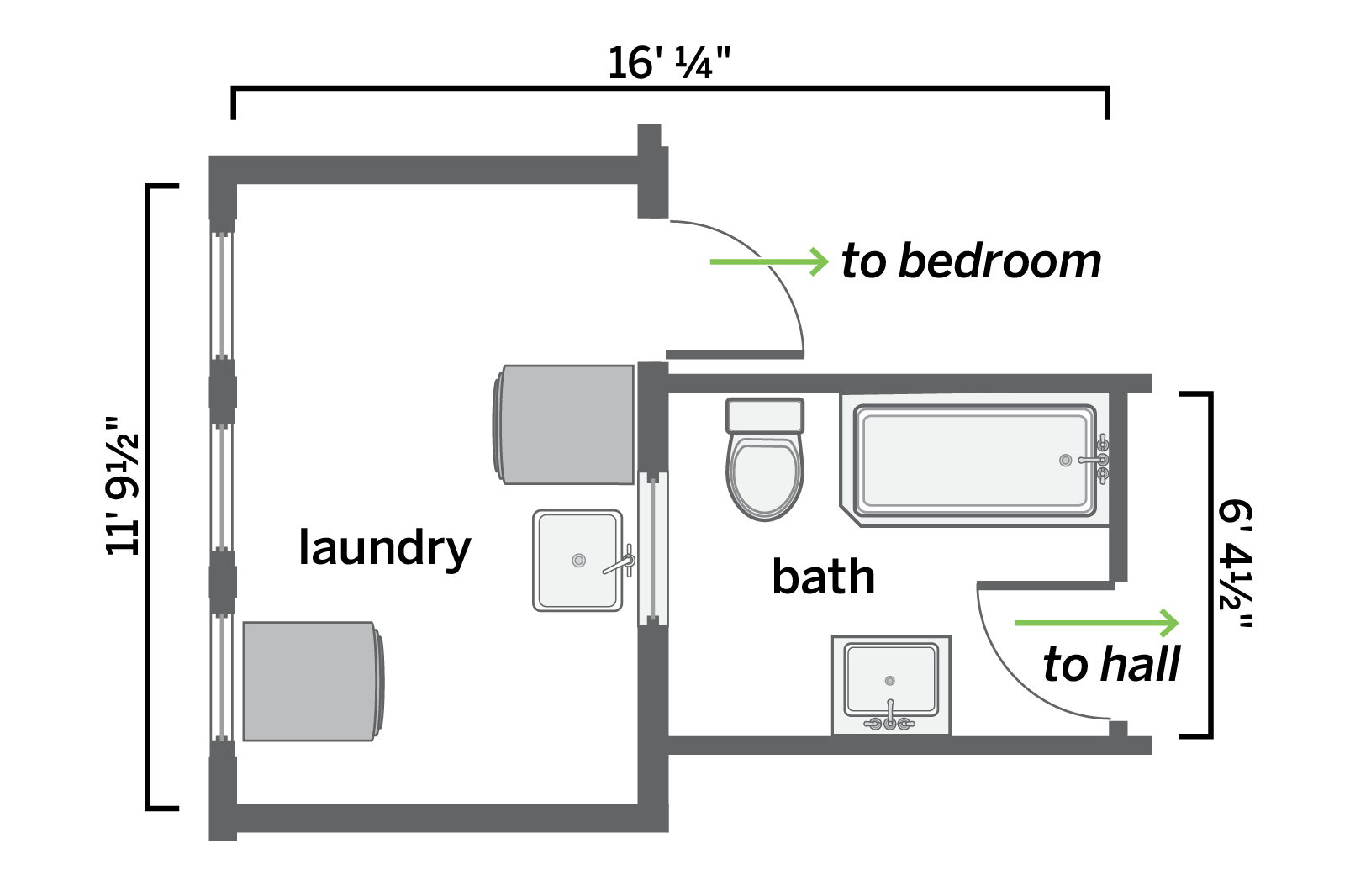 Tight quarters made the bath tough to share, and the laundry had to be accessed through a bedroom.
After Floor Plans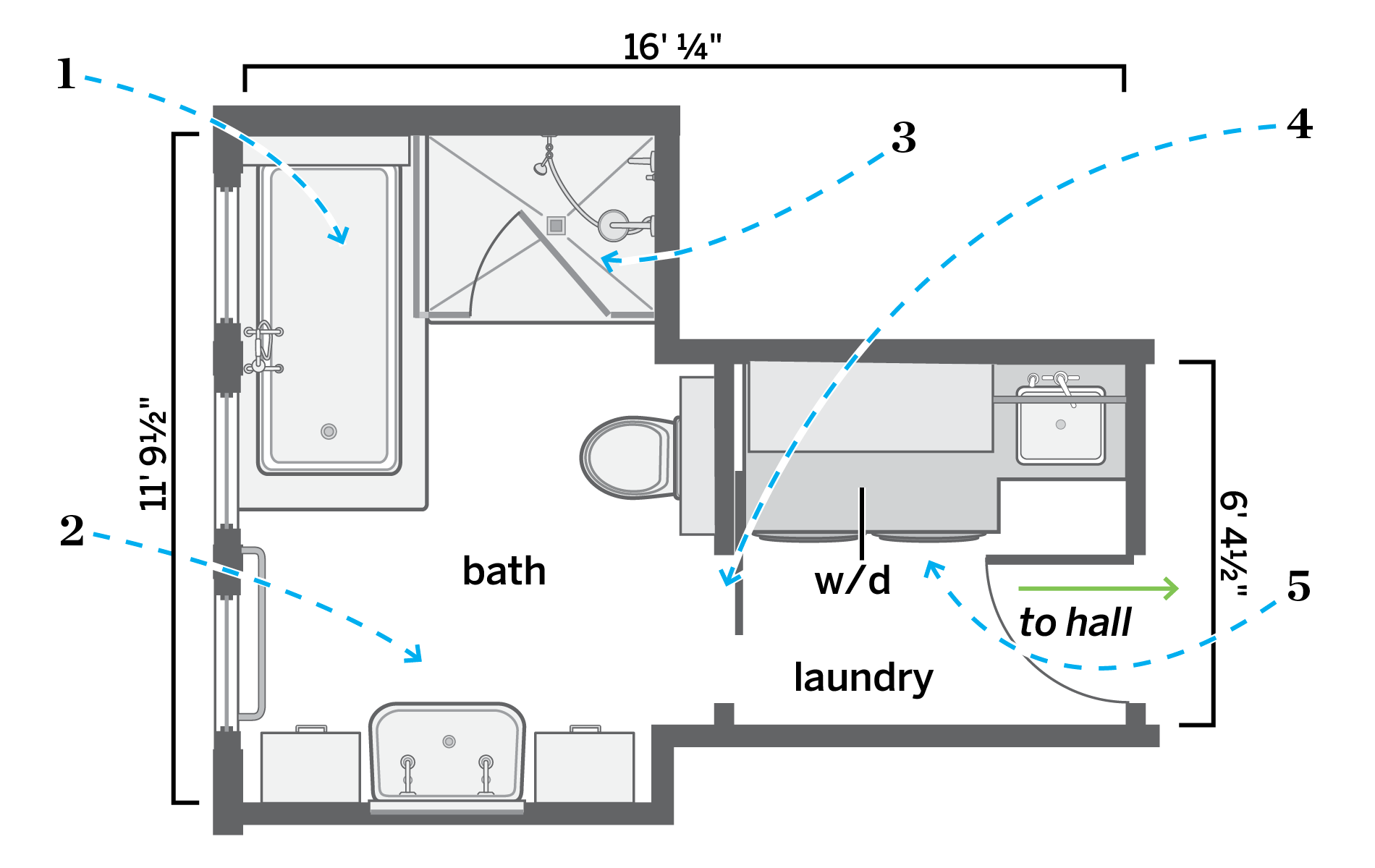 Swapping the spaces allows for a roomy bath with both a tub and a shower, as well as a more efficient walk-through laundry.
Relocated the tub to an exterior wall in the former laundry to take advantage of natural light.
Added a two-tap sink opposite the tub and shower, with built-ins on either side.
Closed off bedroom access to make room for a shower enclosure.
Removed 7 feet of existing masonry wall to add space around the toilet and a pocket-door entry to the new bath.
Installed the washer, dryer, and sink along one wall in the former bath, creating a walk-through laundry.