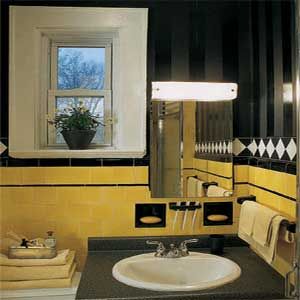 It's true. Little rooms can cost a lot. Consider these averages for a full bathroom remodel as calculated by R.S. Means, a construction-costs estimating company, for different regions of the country: South, $7,771; Midwest, $8,989; West, $9,458; East $9,500. If these amounts exceed your budget, don't despair. You can redo your present bath for a lot less. You might have to scale back on some extravagances, be willing to do some of the work yourself and give up a couple months' worth of weekends, but you can undercut those figures considerably. The baths remodels featured here cost $1,830 and $2,425, yet the results look as if they spent a lot more.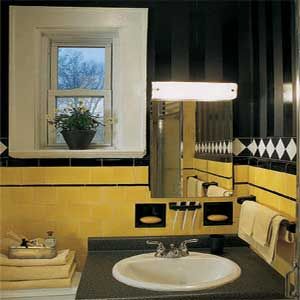 Staying on Budget
Redoing a bath on a tight budget usually means sticking to cosmetic changes and leaving the major fixtures and walls where they are. While that approach won't gain you extra closet space or a whirlpool tub with a view, cosmetic changes can be very powerful. Simply redoing window treatments, wallcoverings, tile and paint will revitalize the room. Continue the transformation by replacing faucets, drawer pulls and other hardware, such as towel bars. And don't forget the little touches. Crisp, clean lines of white grout and a fresh, even bead of caulk around the tub make quite a difference, especially in a small bath. Be creative when faced with a problem. For instance, rather than buying a new tub, have it relined, and then put the difference into another part of the job, such as top-quality lighting fixtures. Recycle what you can. Patrick and Lynnette Camus salvaged tiles from their old bath. It took some extra work, but the results speak for themselves. This approach has its limits. For example, restoring a faded finish on old plumbing fittings — not a task for the amateur — can cost more than purchasing a new lav set. Of course, some purchases are necessary. A low-flow toilet, a watersaving showerhead and a more powerful, quieter ventilation fan are requirements that are worth the cost. Working within a small budget requires some sweat equity. Painting and papering can be managed by just about everyone, and it's not hard to replace a toilet or swap a sink if necessary. Of course, calling in a pro is always a good idea when structural changes are on the menu or there's complicated electrical or plumbing work to be done.
Shopping Smarts
Comparison pricing may mean a lot of legwork, but this kind of preliminary research pays off in the end. In the increasingly competitive building supply market, it doesn't hurt to let a store know you're working on a small remodeling project, and, armed with a complete shopping list, inquire if it can offer any courtesy discounts if you make all your purchases there. Also ask about meet-or-beat pricing policy. And don't overlook online retailers, either. Inspect merchandise and gather model numbers at a home center or plumbing-supply house, then investigate Web outlets. Here's a solid tip: Rather than search sites one at a time, use a shopping bot like www.bottomdollar.com Stay away from extreme designs in lavs, light fixtures and vanity hardware. If you're a stickler for everything coordinating, purchase accessories and fittings from one manufacturer — what's silver to Brand X may be pewter in Brand Y. The same goes for paint and tile. In a small room, keep the number of colors, patterns and materials down; more than three different ingredients can quickly overwhelm the eye. The baths shown here put all these practices into play. In each case the homeowners planned their projects carefully, shopped around for the best values and got their hands dirty. Their experiences paid off not only in dollars saved but also in the satisfaction of a job well done.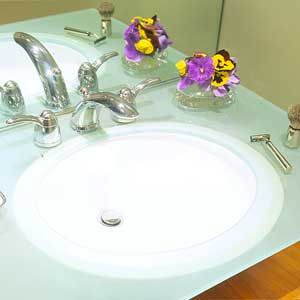 Accentuate the Positives
Does your bath have an outstanding feature that's a focal point? An unusual window, vintage plumbing fittings or interesting cabinetry? Consider keeping this element as is, and direct your attention to bringing other parts of the room up to par. In her bath redo, Julie Roffa Barkin capitalized on the classic 1920s tile work. The renovation stemmed from a need to update . . . the plumbing. Galvanized water pipes had collected so much scale they couldn't deliver enough hot water to the shower. To replace them, the basket-weave tile floor had to be broken up. "Things mushroomed," says Barkin, "and we decided to remodel the entire room." While the project is modest in scope — new sink and vanity top, medicine cabinet, light fixture and wallcovering — it's big on impact. "I like drama," Barkin says. "Normally, to make a small room seem bigger, you use a light color scheme. But I had seen a bathroom with a dark wallpaper that was really exciting." The flashy black-on-black striped wallcovering she selected was hung by a professional because of the challenges posed by papering over the tile and the tight quarters. (She describes the room as "2 by nothing," but it's actually 5×5.) For the border, Barkin chose a diamond pattern that picks up on the new tile floor pattern. "Because I was putting vinyl on vinyl, the border tended to pop up," she says. A special paste solved the problem, along with plenty of burnishing with a seam roller. The border was the source of further frustration. "I hadn't measured exactly, so there wasn't much room to play around. I did lots of fudging and fixing. By the time I finished, I had less than a foot of the border left over. I should have bought an extra roll." In her quest for the dramatic, Barkin even painted the door and window frame black. But her husband found that a bit too much. "I used a thick primer to block out the color. I put on two coats over the black, then two coats of white paint. And it covered just fine." What It Cost
Julie made thrifty purchases, allocating more of her budget for outside help.
Flooring
$300
Cabinetry
$120
Sink
$50
Counter
$50
Mirror/medicine cabinet
$30
Plumbing fittings
$125
Tub
n/a
Toilet
n/a
Toilet seat
$20
Light fixtures
$50
Paint/wallcovering
$125
Labor
electrician: install light fixture
$60
paperhanger
$100
plumber: replace corroded
$300
pipes and install sink
tilesetter:
demolish old floor
$500
pipes and install sink
tilesetter:
demolish old floor
and install new floor
$500
TOTAL:
$1,830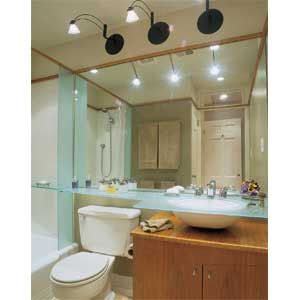 Eliminate the Negative
In their Alexandria, Virginia, home, Patrick and Lynnette Camus also had a character-laden bath — but hardly one they wanted to keep. "It was filled with heavy Victorian hardware and fixtures," Patrick says of the 4 1/2 x 7 1/2-ft. room. "We wanted to bring the room up to date, and spice it up visually so you wouldn't focus on its small size." Patrick designed the room in layers: the floor, the counter and the upper area defined by a simple picture rail molding. What makes the bath stand out is the way ordinary materials are used in extraordinary ways. Most everything came from the local lumberyard except the glass countertop. It proved more of a test. Because of the sink cutout, it had to be produced by a glass shop. Rather than cold-call glaziers out of the phone book, Patrick surveyed a few general contractors for their recommendations, and collected estimates that went as high as $2,500. Final price: $1,000. The couple reused simple white tiles from the bath as a border around new marble floor tile. This required a good deal of thought to make the grout joints align, but the result draws attention to the floor and makes it more than a surface to walk on. The project was demanding. Patrick remembers, "The hardest part was living with it — or more exactly, without it; it's our only bathroom. We house-sat for two weeks, so then we had access to running water and a toilet. Beyond that, we lived without a bathroom sink for four months, because we did the work over weekends and nights." Lynnette agrees, saying, "It was a difficult to do in our spare time; we were taking baths with plastic wrap on the walls, all the while telling ourselves how great the room would be when we finished it." What It Cost
Doing all the work themselves allowed Patrick and Lynnette to afford some high-end items.
| | |
| --- | --- |
| Flooring | $150 |
| Cabinetry (cherry plywood) | $100 |
| Sink | $110 |
| Glass countertop | $1,000 |
| Mirror | $200 |
| Plumbing fittings | $650 |
| Tub | n/a |
| Toilet | n/a |
| Light fixtures | $165 |
| Paint/wallcovering | $50 |
| TOTAL: | $2,425 |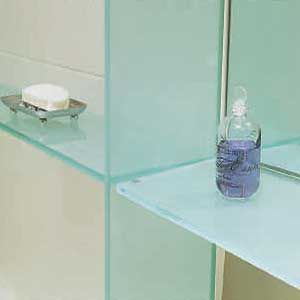 Where to find it:
Julie Roffa Barkin
614 Willow St.
Cranford, NJ 07016
908/276-5491
Designer
Patrick Camus
225 N. Pitt St.
Alexandria, VA 22314
703/549 0538
Architect
Jones Stephens Corp
3242 Moody Pkwy
Dept. TH400
Moody, AL 35004
800/355-6637
William Harvey Co.
4334 S. 67th St.
Dept. TH400
Omaha, NE 68117
800/228-9681
Wm. Zinsser & Co
132 Belmont Dr.
Dept. TH400
Somerset, NJ 08875-1285
732/469-8100
B.I.N. Primer Sealer