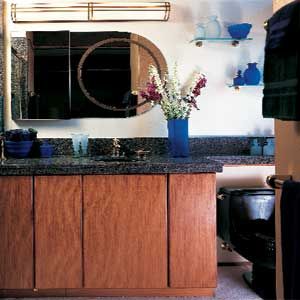 Planning a new bathroom or remodeling an old one is hardly a no-brainer. Doing it right involves becoming an expert on using space safely and efficiently. You also have to choose from a dizzying array of sinks, toilets, tubs and other products. And we aren't just talking large baths — the smaller the room, the more you need to come up with creative solutions that maximize its function.
Unfortunately, space planning and choosing fixtures are where most bath blunders occur. To help you avoid them, we asked prominent bath designers to share their expertise. Here are the five areas where bath plans often go awry, as well as some guidelines that will keep yours on course.
Showers and Tubs
First, determine whether you really need a tub. Especially in small baths, you're often better off tearing out a little-used tub and replacing it with a larger, more luxurious shower. "If you don't have time to take a bath, why have a tub, especially in a second bath?" asks kitchen and bath designer Daniel Lenner, of Morris Black & Sons in Lehigh Valley, Pennsylvania. Kitchen and bath designer Greg Rawson, of Richard's Kitchen & Bath Center in Muncie, Indiana, echoes this point: "A spacious, fully featured shower is more practical."
If you want to make the shower accessible under any circumstances, keep the shower floor on the same plane as the rest of the bath, and eliminate the curb.
Shower seats are another way to make showers comfortable and safe for bathers of all ages. Make the seat at least 12 inches deep, though 15 inches is optimal. If a seat takes too much space from the shower, create a niche or ledge where bathers can rest one foot while washing or shaving their legs. But, Lenner warns, don't count on recessed ceramic soap dishes for this function; they're too small and can't support the weight. Finally, locate the niche 14 to 18 inches above the floor, depending on the height of the bathers, according to Rawson.
Also try to include both a traditional and a handheld showerhead. Handheld units, which start at less than $50, are ideal for rinsing out shampoo, bathing children, washing pets and cleaning the tub. They're also useful if you can't shower fully due to an injury or surgery.
If you choose only one showerhead, opt for a handheld unit. Buy one that attaches to a vertical pole and slides up and down to serve users of all heights. If you include multiple showerheads, be sure the capacity of your water heater is large enough for the increased demand for hot water.
If you still want a tub, don't plan an additional step up to get into the tub — you'll end up with a bigger step down. And avoid sunken tubs. "They're too easy to fall into in the middle of the night," Rawson says.
Whirlpool tubs are another area where bath plans often founder. If you install one, note where the motor is located and plan an access panel or order a tub with a removable skirt. "If the motor needs service, you don't want to rip out a wall or pull out tile," Lenner explains. A simpler solution is to create an access panel within a bedroom closet if the tub shares a common wall with one. You'll also find these large, wide tubs easier to clean if you install a handheld shower on the deck along with the tub filler.
Remember, before buying any tub, carefully measure the doors and halls on the way to the bathroom to be sure the unit fits through them.
Toilets
Of all the necessities in a bathroom, the toilet ends up being the most obtrusive. "The toilet shouldn't be the first thing that you see when you enter the bath," says architect Pat Peterson, of Elswood, Smith, Carlson Architects in Overland Park, Kansas. If space permits, locate the toilet out of sight, for example, behind a partial wall or in a separate water closet.
These toilet rooms must be at least 36 inches wide and 66 inches deep; they should also include grab bars, lighting, and ventilation. Kitchen and bath designer Molly Korb of MK Designs in Newcastle, California, suggests using a pocket door for privacy if there isn't enough room to swing a conventional door. If you're relocating the toilet, ask a plumber if you need a new vent stack or if you can tie into the existing one.
When it comes to the toilet itself, buy the best you can afford. Federal law now requires new toilets to use just 1.6 gallons per flush, but not all gravity-fed models are created equal. Some work better on a single flush and stay cleaner than others. Choose a gravity-fed toilet with a fully glazed trap at least 2 inches wide. You can also opt for a pressure-assisted toilet. They flush more effectively, but they make more noise and start at about $300 compared with $100 or so for gravity-fed models. If buying a more expensive toilet means having to save somewhere else, use lower-priced tile, suggests kitchen and bath designer Pietro A. Giorgi Sr., of Giorgi Kitchens Inc. in Wilmington, Delaware.
Vanities and Cabinets
If you've always wanted a double-bowl vanity, think twice. "Two bowls are useless if two people don't have enough elbow room to use them at the same time," says kitchen and bath designer Judy Bracht, of Richard M. Tunis Inc. Fine Kitchens and Baths in Chevy Chase, Maryland. You'll need at least 60 inches from side to side, 72 inches if possible.
If you already have a double-bowl vanity and space is tight, consider replacing it with a single, centered sink. "You'll gain counter space and can locate storage on both sides," Bracht says. Include at least two electrical outlets, one on each side of the sink. A third outlet inside the medicine cabinet lets you put a blow-dryer, contact-lens cleaning device or electric toothbrush where it's out of sight but ready to use. If you must install a lavatory bowl to one side, Bracht suggests locating it based on whether primary users are left- or right-handed.
The standard vanity depth is 21 inches. But you can gain floor space in a small bath by trimming at least part of the vanity to 18, 15, or even 12 inches deep. Use a banjo top that extends over the toilet for added storage; just be sure you either hinge the section over the toilet tank so it lifts for repairs or use a one-piece, low-profile toilet. You might also find the 30- or 32-inch standard height of a vanity too low. If so, consider building up the toekick on a stock vanity or ordering a taller one that stands 34 to 36 inches off the floor.
Kitchen and bath designer Sharon Hopkins of Designpro in Lafayette, California, suggests choosing a vanity with drawer storage instead of doors; most items stored in a bathroom are small and get lost at the bottom of a cabinet or on shelves. Make drawers even more efficient with molded-plastic dividers and cosmetic trays. You can even consider narrow rollout shelves on either side of the P-trap under the sink; just get in the habit of storing cleaning supplies elsewhere. Wall cabinets that extend from the vanity top to the ceiling and 8-inch-deep recessed medicine cabinets also stretch storage space.
In all these cases, make sure you have clearance for drawers and doors to open. "Especially if you're using full-overlay cabinet doors, which extend to the edge of the cabinetry, you may need a filler panel next to the wall to space the vanity away from door casings," Lenner says. Rawson suggests using tambour doors where there's no room for swing-out versions. For example, a tambour door on a cabinet that extends all the way down to the counter keeps a clock radio or curling iron tucked away without taking up counter space required by a swinging door.
Lighting and Ventilation
The right lighting can help turn ordinary space into a luxury bath, according to kitchen and bath designer Colleen B. Langston of Albrite Bath and Kitchen in Tucson, Arizona. "Regardless of your bathroom size or budget, pay careful attention to lighting details and fixtures."
Langston recommends placing strip lights on either side of the mirror, rather than above, for grooming. (Overhead lighting creates shadows on your face.) She also recommends using frosted instead of clear bulbs for more even light and installing fixtures directly on a mirror so it can reflect and double their effect.
To minimize moisture problems, Lenner suggests installing an exhaust fan large enough to change the air in the bathroom eight times per hour. Figuring fan size is easy: Determine the total cubic footage of the room (length 5 width 5 height), multiply that number by eight, then divide by 60 to find out the cubic feet of air per minute (cfm) rating you need. If the cfm requirement of the room falls between fan ratings, choose a fan with the next-larger rating.
Keeping It Safe
Grab bars in the shower/tub area are a must given the wet surfaces in a bath. Towel bars won't work — they aren't made to support weight. Because grab bars can't be secured solely to drywall, you'll need to reinforce the area behind each bar with blocking. It should span the distance between the wall studs so that weight applied to the bar is transferred to the studs. An alternative to blocking is to line the entire shower niche with 3/4-inch plywood, which allows grab bars to be mounted anywhere on its surface.
Install at least two grab bars in the shower — one at the entry point and one at the water source. "Mount them on a 45-degree angle to put the most surface within easy reach," adds Rawson. Here are some other safety tips:
Locate shower-control valves so water can be turned on and the temperature regulated from outside the shower. And aim the water source away from the shower door.
Make sure all electrical circuits are ground-fault protected.
If you use slippery flooring materials, such as marble and glazed ceramic tiles, opt for wider grout joints and a matte finish. Finally, don't rush through the planning process. Take the time you need to tailor the bath to fit your family — think about who will use the room and how old they are. The answers will start you off on the right track toward planning a bath that meets your needs and adds comfort and value to your home.
Where to Find It:
Albrite Bath and Kitchen
Colleen Langston,
CKD, CBD,
3640 E. Ft. Lowell
Tucson, AZ 85716
520-795-3400
American Olean
7834 C.F. Hawn Fwy.
Dallas, TX 75217
215-393-2960
Glazed and unglazed floor and wall tile, grout, mosaics, porcelain, stone, waterjet cut tile.
American Standard
1 Centennial Ave.
Piscataway, NJ 08855
800-524-9797
Fixtures and fittings.
Ann Sacks Tile & Stone
8120 NE 33rd Dr.
Portland, OR 97211
503-281-7751
Handmade and hand-painted tile.
Avonite
1945 Hwy. 304
Belen, NM 87002
800-428-6648
Solid-surfacing products.
Broan Manufacturing Co. Inc.
Box 140
Hartford, WI, 53027
800-558-1711
Canada: 905/670-2500
Ventilation.
The Center for Universal Design
North Carolina State University, Box 8613
Raleigh, NC 27695-8613
919-515-3082
The center's free consulting service will answer your questions and provide technical help.
800-647-6777 for a basic information package and a thorough publications list.
Country Floors
8735 Melrose Ave.,
Los Angeles, CA 90069
310-657-0510
Crossville Ceramics
Box 1168
Crossville, TN 38557
615-484-2110
Tile.
Dal Tile
7834 C.F. Hawn Fwy.
Dallas, TX 75217
800-933-8453
Tile, grout, mosaics, porcelain, stone.
Designpro
Sharon Hopkins, CKD,CBD
Box 846
Lafayette, CA 94549
510-935-3701
DuPont (Corian)
Box 80012
Wilmington, DE 19880
800-4-CORIAN
Countertops, shower surrounds.
Elswood, Smith, Carlson Architects
Pat Peterson, 7133 W. 95th St.
Overland Park, KS, 66212
913-649-7557
Florida Tile Industries, Inc.
Lakeland, FL 33802
800-352-8453
Floor and wall tile, porcelain tile.
Formica Corp. (Surrell)
10155 Reading Rd.
Cincinnati, OH 45241
800-FORMICA
Countertops, shower surrounds, flooring.
Giorgi Kitchens Inc.
Pietro A. Giorgi, CKD, CBD
218 Philadelphia Pike
Wilmington, DE 19809
302-762-1121
Kohler Co.
444 Highland Dr.
Kohler, WI 53044
800-4-KOHLER
Fixtures, fittings.
Laufen Ceramic Tile
Box 6600
Tulsa, OK 74156
800-331-3651
Ceramic floor and wall tile.
MK Designs
Molly Korb, CKD, CBD
6835 Ravine Ct.
Newcastle, CA 95658
916-663-3412
Moen Inc.
25300 Al Moen Dr.
N. Olmsted, OH 44070-8022
800-553-6636
Fittings.
Morris Black & Sons
Daniel Lenner CKD, CBD
Box 20570
Lehigh Valley, PA 18002-0570
610-264-2700
National Kitchen & Bath Association
687 Willow Grove St.
Hackettstown, NJ 07840
800-367-6522
Call for a free copy of "41 Guidelines of Bathroom Planning."
Nevamar
8339 Telegraph Rd.
Odenton, MD 1113
410-551-5000
Countertops, shower surrounds
Nutone Co.
Madison Rd. and Red Bank Rd.,
Cincinnati, OH 45227-1599
800-543-8687
Ventilation, heaters, bath cabinets, lighting.
Osram Sylvania
100 Endicott St.
Danvers , MA 01923
800-LIGHTBULB
Call for a free copy of "A Guide to Lighting."
Radiant Panel Association
Box 327
Hyrum, UT 84319
800-660-7187
Call for free information about radiant heat and a directory of installers.
Richard?s Kitchen & Bath Center
Greg Rawson, CKD, CBD
4209 N. Wheeling
Muncie, IN 47304
765-284-0244
Robern Group
7 Wood Ave.
Bristol, PA 19007
800-488-2284
Bath cabinets, lighting.
Sterling Plumbing
2900 Golf Rd.
Rolling Meadow, IL 60008
800-783-7546
Fixtures, fittings.
Summitville Tiles Inc.
Summitville, OH 43962
330-223-1511
Floor and wall tile, grout, mosaics, porcelain, stone.
Richard M. Tunis Inc. Kitchens and Baths
Judy Bracht, CKD, CBD
7032 Wisconsin
Chevy Chase, MD 20815
301-652-5513
Wilsonart International Inc.
2400 Wilson Pl., Box 6110
Temple, TX 76503-6110
800-710-8846; 800-433-3222
The following books offer solid advice and design inspiration for tiling projects:
Tile, by Jill Herbers; Artisan, 1996; 192 pages, $35.
Tiles: Choosing, Designing and Living With Ceramic Tile, by Olivia Bell Buehl; Clarkson Potter Publishers, 1996; 208 pages, $40.