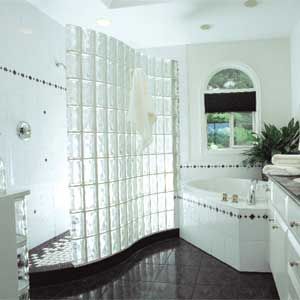 Showers are perfect for the speed-cleaning workday mornings require. But by the end of the week, when you're ready to unwind, it's great to be able to turn to the tub for a soothing soak.
If you're thinking about remodeling or adding on that master bath you've always wanted, you might want to consider substituting a separate tub and shower for the more typical combination model. You'll have more to choose from in terms of options and sizes with separate fixtures, and they offer more design flexibility, as you'll see from the projects shown in this feature.
The notion of separating the shower and tub has wide appeal. Eighty-five percent of Americans in the market for a home consider a separate shower enclosure an essential or highly desirable feature in the bathroom, according to a recent study by the National Association of Home Builders.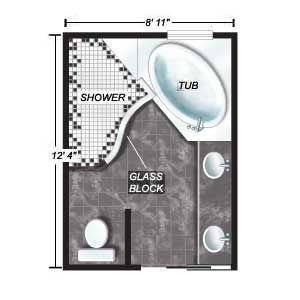 Fitting it all in
The first step in considering a separate tub and shower is to make sure you have enough room. Not every bath is large enough to accommodate separate fixtures, but you will be surprised at what can be done with even a modest-size bath. Using the sizes of typical fixtures, draw a scale plan of your bathroom and see what you can get to work.
Some typical dimensions: Older standard tubs are 60 X 30; newer ones, with a length of 72 in., offer bathers more comfort. Whirlpools come in comparable sizes. Stand-alone showers are widely available in 36 X 36-, 36 X 42- and 36 X 48-in. models. Corner shower or tub units can be particularly effective space-stretchers.
f your survey comes up short, don't despair. There are several ways to squeeze needed square footage out of dead space. In many homes, a bedroom closet backs up a bathroom wall; if you're willing to sacrifice all or some of this bedroom storage, the additional area may make it possible to build the bath of your dreams. Another likely place to "find" extra floor space is in the hallway. By walling off a door and backing the bath out into the corridor, you can claim extra room. Empty-nesters have it easier: As long as the floor plan permits, borrow from living quarters that are no longer being used.
Because all bath fixtures and bathrooms—and the needs of their users—vary, there's no one-design-fits-all solution to laying out a bath. Like kitchens, bathrooms are defined not so much by what you can squeeze into the room as they are by how much space is required to make the room work. So it's important to be conscious of clearances around fixtures. Some important ones to keep in mind include a 30-in. clearance for a standard swinging shower door; 2 ft., 8 in. between all major fixtures for compliance with the Americans With Disabilities Act; and 15 in. of clearance from the centerline of the toilet to any adjacent wall or cabinet. Specifications for these and other critical dimensions—including barrier-free standards—are outlined in the building code used in your community. Ask the local building department to outline the critical ones for you.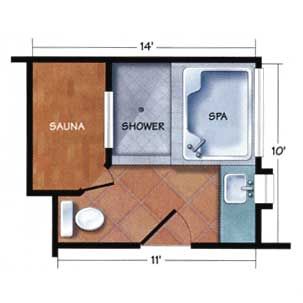 Planning around plumbing
A grasp of basic plumbing principles will also prove helpful as you go about planning your remodeling project. Even if you're hiring a contractor or plumber to do the work, having an idea of the relative difficulty and cost of various plumbing changes is beneficial.
There are two main components to any plumbing system: supply pipes (hot and cold), and the drain-waste-and-vent (DWV) system. If your design is limited to replacing or upgrading fixtures, the effect on your plumbing will be minimal, both in terms of cost and construction. But, if you'll be relocating or adding fixtures, you'll have to get inside the walls and beneath the floor, which increases the cost considerably.
However, it's often possible to minimize these costs in your planning. For instance, turning a toilet 90 degrees and hiding it with a half-wall can often accomplish what you need in reconfiguring a bath, but it might not require moving the closet bend (the drain opening) or reconnecting to the vent stack—both of which are expensive. And in the case of separating your tub and shower, although you will need to bring in both supply and DWV pipes, you can typically save a lot by placing them on the same wall. All of this argues for calling in a plumbing contractor as you're working on your new floor plan.
Beyond these practical considerations, keep in mind your personal preferences in how you configure the bathroom. Do you like to read while bathing? That has an impact on lighting. If there's a nice view from you bathroom, orient the tub or shower to take advantage of it. Space in bathrooms is almost always tight, so sequence fixtures logically. For example, try to keep the fixtures you use most—the sink and the toilet—closer to the door than to the tub or shower. By balancing good design decisions with construction and safety requirements, your new bath can allow you to rinse and go on work mornings or serve as a private spa at other times.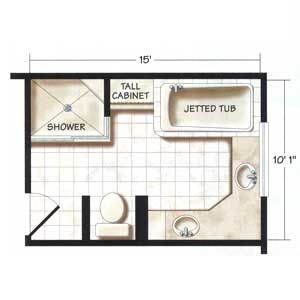 Luxury does have its price. In the case of quality whirlpool tubs, prices begin at $700 and
increase depending on the size of the tub, what it's made of and any extras. But there's nothing like a whirl-pool for soaking away stress or soothing aching muscles. Most homeowners are willing to make that investment. A jetted tub was rated a desirable or essential bathroom fixture by 67 percent of respondents in a National Association of Home Builders survey.
The most popular tubs for residential use range from 5 to 7 ft. or more in length and can accommodate one or two people. The number of jets varies from 4 to 12. They should be strategically placed and adjustable for flow; some can be programmed into sequences with different pulse rates and force. The jets are powered by a single-speed 3/4-hp pump or a 3-hp variable-flow unit, or something in between. Other extras include lumbar supports, neck rests and grip bars. Controls should be within reach when you're reclining. Finally, make sure the tub you want "fits" you well—if that great-looking curving style has you sliding down, you're missing the point. Some whirlpools can be used by people with limited mobility; the Kohler Precedence, for instance, offers a side entry and secure door seal.
Whirlpools do pose some design and construction challenges beyond those of a standard tub. Among the issues of which you should be aware:
Mechanics. Site the tub where the access panel is, well, accessible. Whirlpools come in corner, drop-in and alcove configurations; pick the one that fits your space.
Weight. A jetted tub might require extra underfloor bracing. If the total load exceeds 30 lbs. per square foot when its in use, you'll probably need to strengthen the framing. Look on the spec sheet for weights.
Movement and noise. Many pros set whirlpools in plaster of Paris because it helps keep the tub level and steady against pump vibrations. It also muffles motor noise (a rubber motor mount will also help).
Hot-water supply. The recommended fill level of a two-person jetted tub is 50 to 70 gal., with some models going up to 90 gal. Unless you're partial to bathing in cold water, consider pumping up the capacity of your water heater or opt for a tub that features an inline heating element.