1. How Much Room Do You Need for a Half Bath?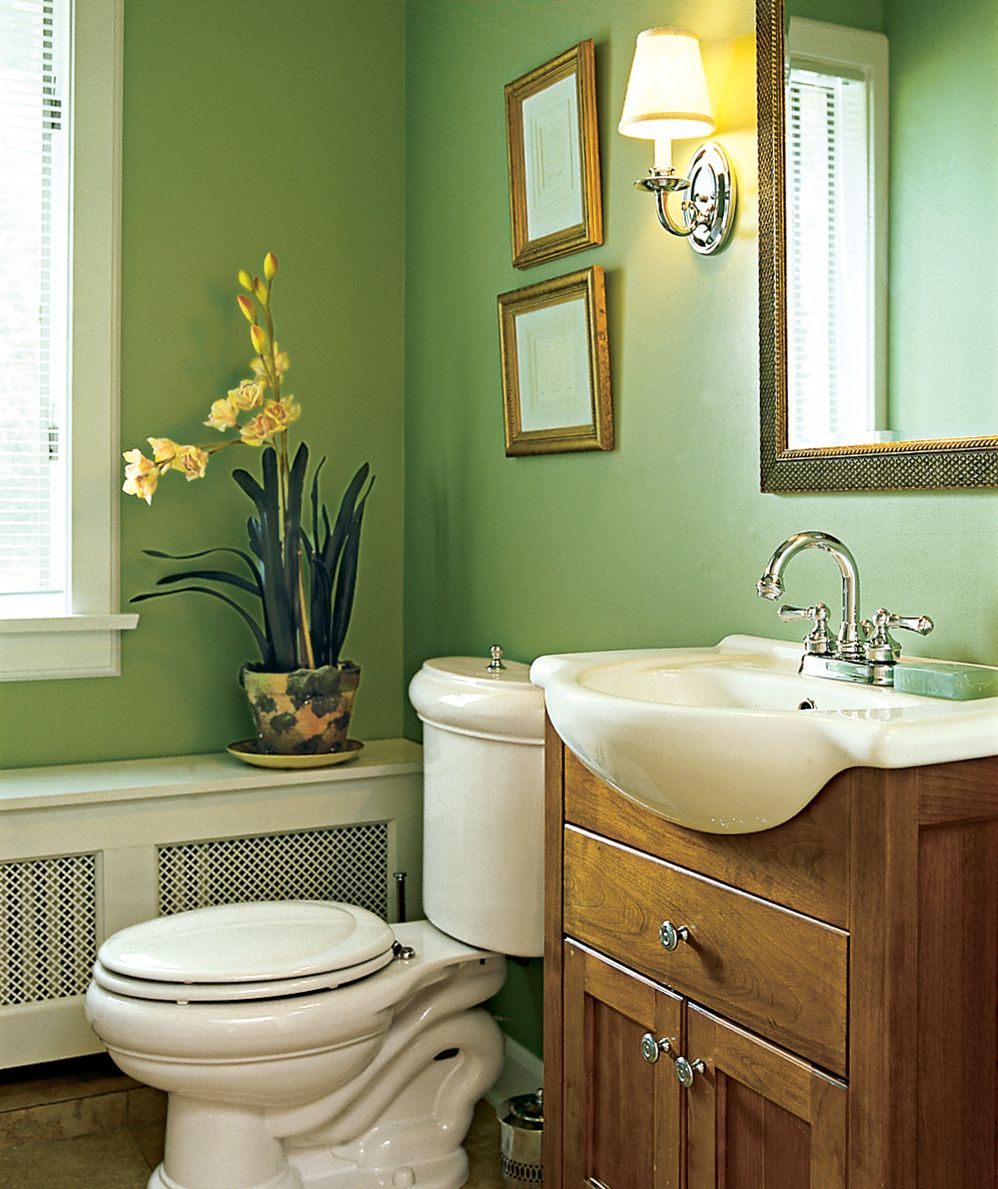 Theoretically, you can fit a sink and toilet into an 11-square-foot spot and still meet national building codes. But for comfort's sake, look for an area that's 3 to 4 feet wide and 6 to 8 feet long. Check local codes for additional requirements, and be sure to check out TOH's details on dimensions and clearances.
2. Design for Accessibility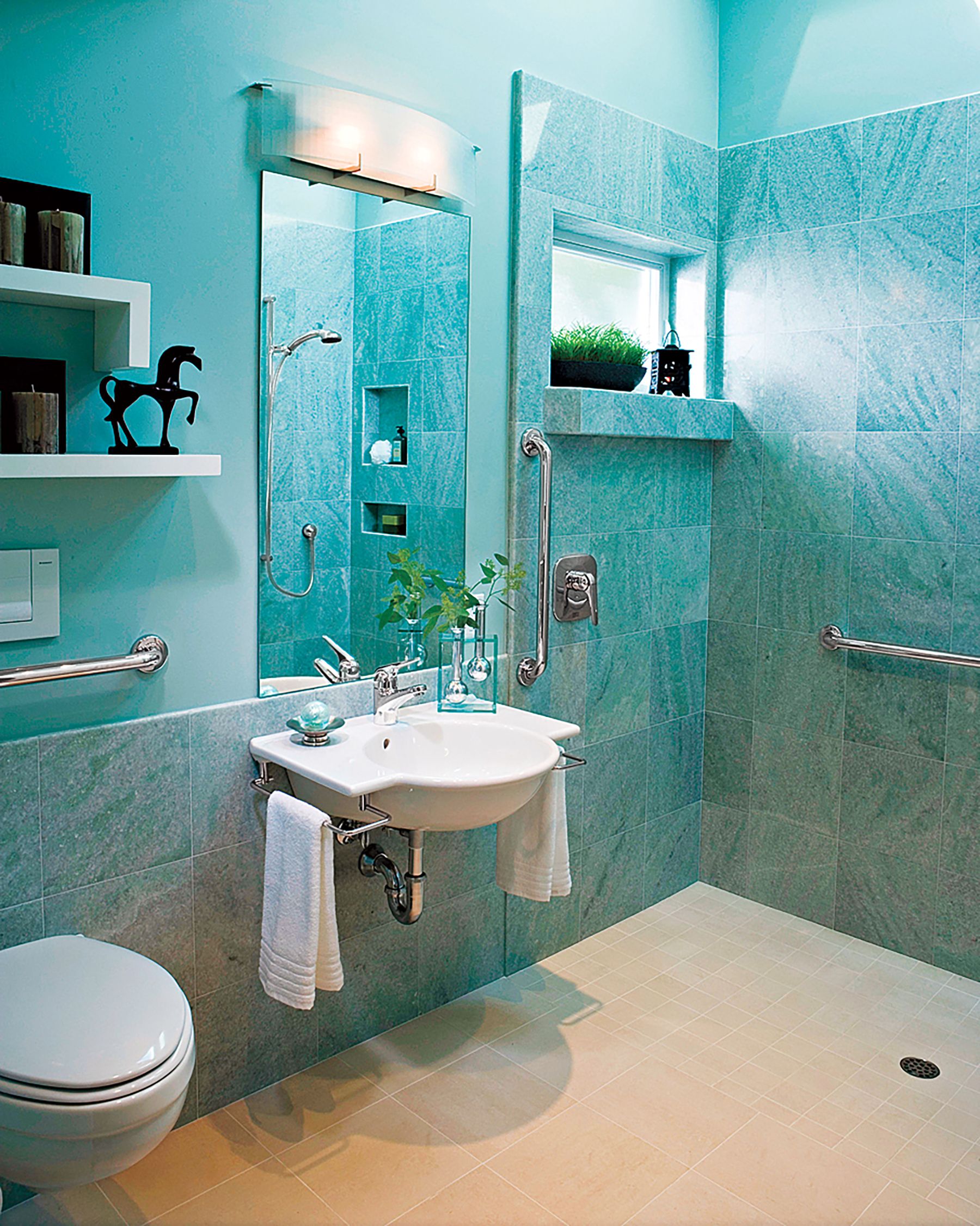 Handheld showers and easy-to-grip lever faucets suit people of all abilities and can be put in any time. But plan permanent features early on. Grab bars should be secured to blocking between wall studs and placed 33 to 36 inches off the floor. Other things to consider: a barrier-free shower, a wider doorway, and a lower sink height. Visit the National Kitchen and Bath Association's website for more guidelines.
3. Make Niches for Toiletries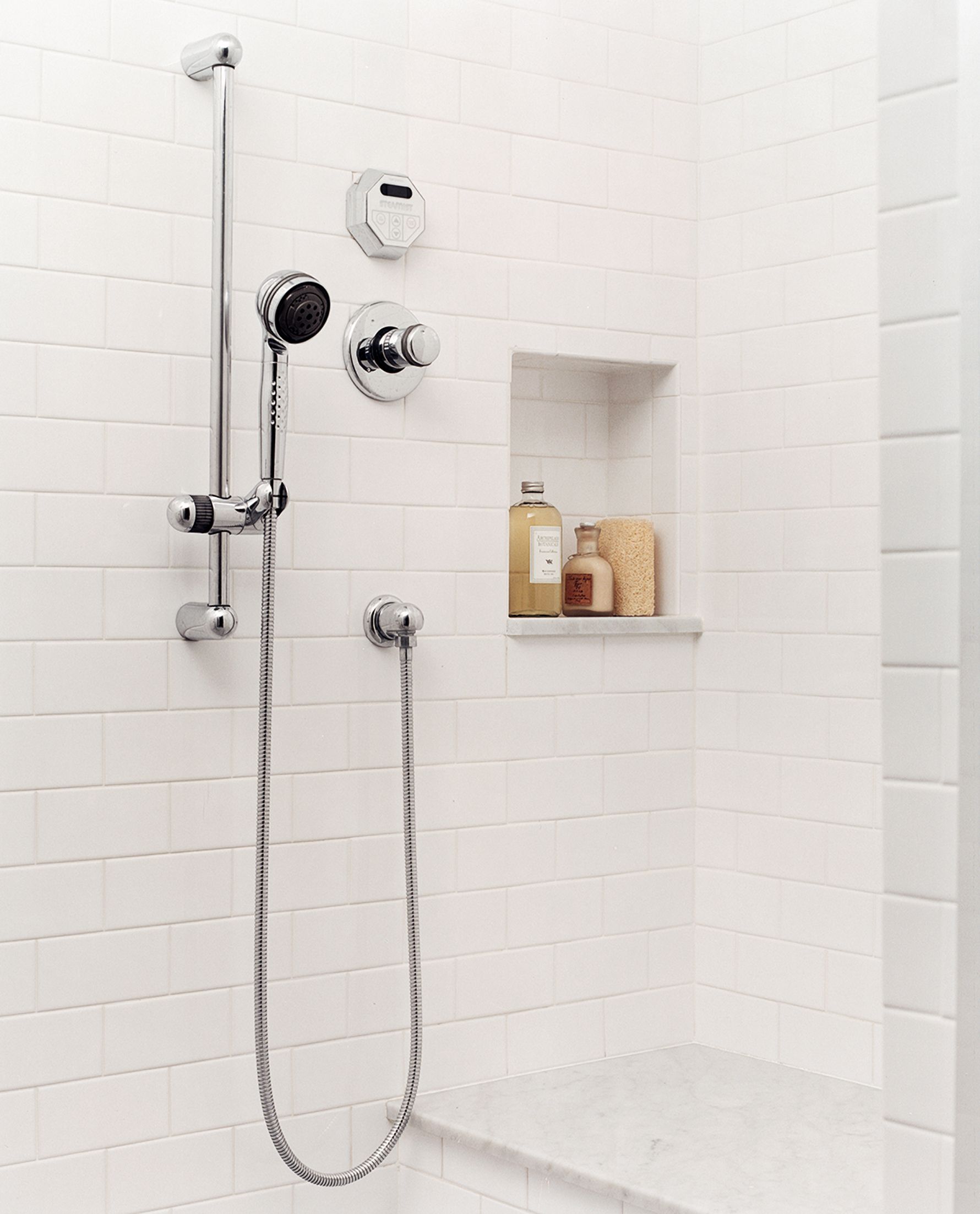 Unlike clunky over-the-showerhead organizers, a recessed cubby in a tub or shower surround gives shampoo and soap a permanent home and doesn't take up stall space. Size it to minimize tile cuts, and line the bottom with a leftover piece of stone or solid-surface countertop, not tile, so that you won't have to scrape away scum from grout lines. If you have kids, add an extra cubby around knee height so that they can suds up on their own.
4. The Right Height for Accessories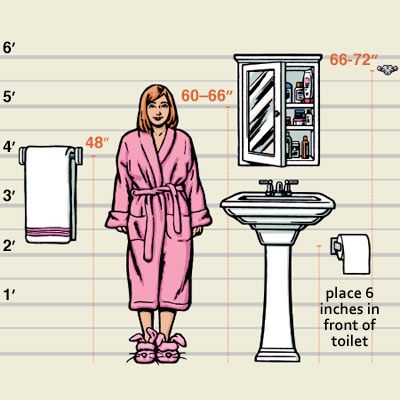 There are no hard-and-fast rules about how high to hang towel bars and robe hooks. Designers use the dimensions above as a starting point. Decide where to put things early on so that you can add extra blocking where needed before finishing the walls. If you can, mark potential spots with painter's tape first, then adjust for comfort.
5. Amp Up the Wiring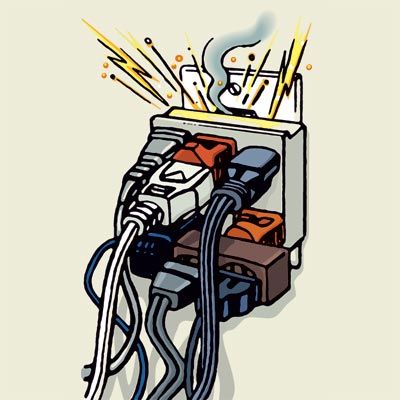 The 15-amp wiring in your prewar house's bathroom has likely been abused by years of high-power hair drying. So don't just swap in GFCI outlets. Replace the wiring too, with a dedicated 20-amp circuit and plenty of outlets for all the appliances you use, from electric razors and toothbrushes to hair-straightening irons.
6. Wake Up to a Warm Floor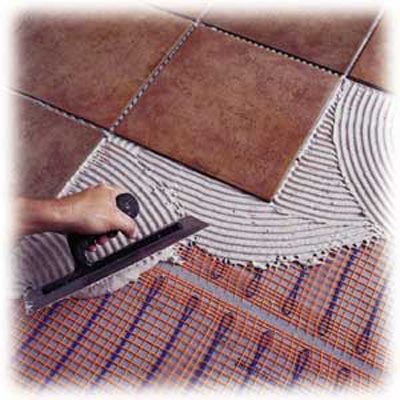 Radiant heat beneath tiles makes them toasty underfoot. But you don't need to have it throughout your house; you can simply add an electric mat to boost a bath's existing heating system. It can take as long as 45 minutes to warm up, so put it on a programmable thermostat to chase away the chill by the time your alarm clock goes off.
7. Light a Vanity Right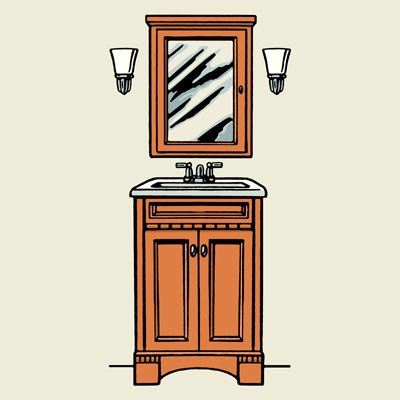 Flank the mirror with fixtures placed at eye level (around 66 inches), ideally spaced 36 to 40 inches apart. Try to see fixtures in action before you buy to make sure the amount and quality of light is sufficient. If there's no room for side sconces, install a long fixture on the wall above the mirror. Don't rely on a recessed ceiling fixture (think Dracula face).
8. Skip the Wallpaper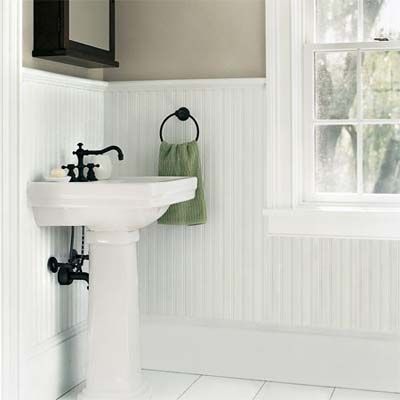 It just won't stand up to humidity. Consider wainscoting as a nontile wall covering instead.
9. Pick the Proper Vent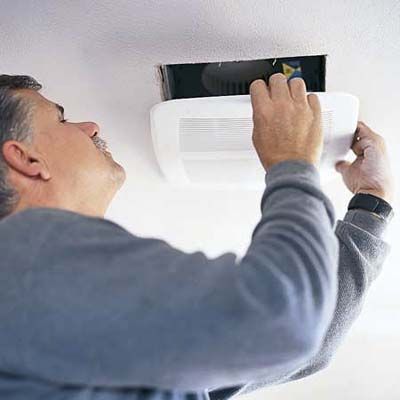 A fan is a must, but don't let it be an afterthought.
For a master bath: Splurge on an ultraquiet unit that won't wake up your mate during night trips. Make sure it has enough power for back-to-back showers, and put it on a timer so that you can let it run for 20 minutes to banish steam after you're done.
For a family or guest bath: A model with mid-range noise level and power will save you a few bucks. Or, spend a bit more for one with a humidity sensor so that you don't have to rely on kids or guests to turn it on.
For a powder room: Install a loud fan for maximum sound privacy near public areas. Opt for one with a built-in light, or wire it to a light switch so that it will turn on automatically.
10. Pipe Insulation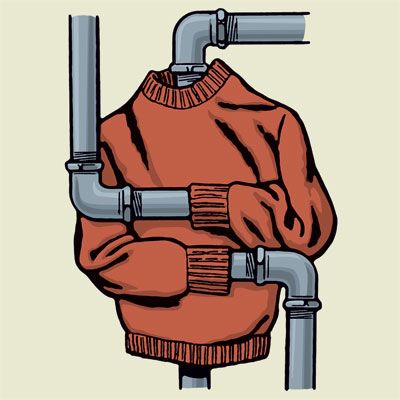 1. Arrange your bathroom so that there are no fixtures, and therefore no plumbing, on exterior walls.
2. Bring pipes up through the floor instead of the wall if it's a first-floor bathroom.
3. Run pipes in the wall on the interior side of the insulation. If codes allow, use flexible PEX tubing, which doesn't crack at low temps.
11. Replacement Parts for Free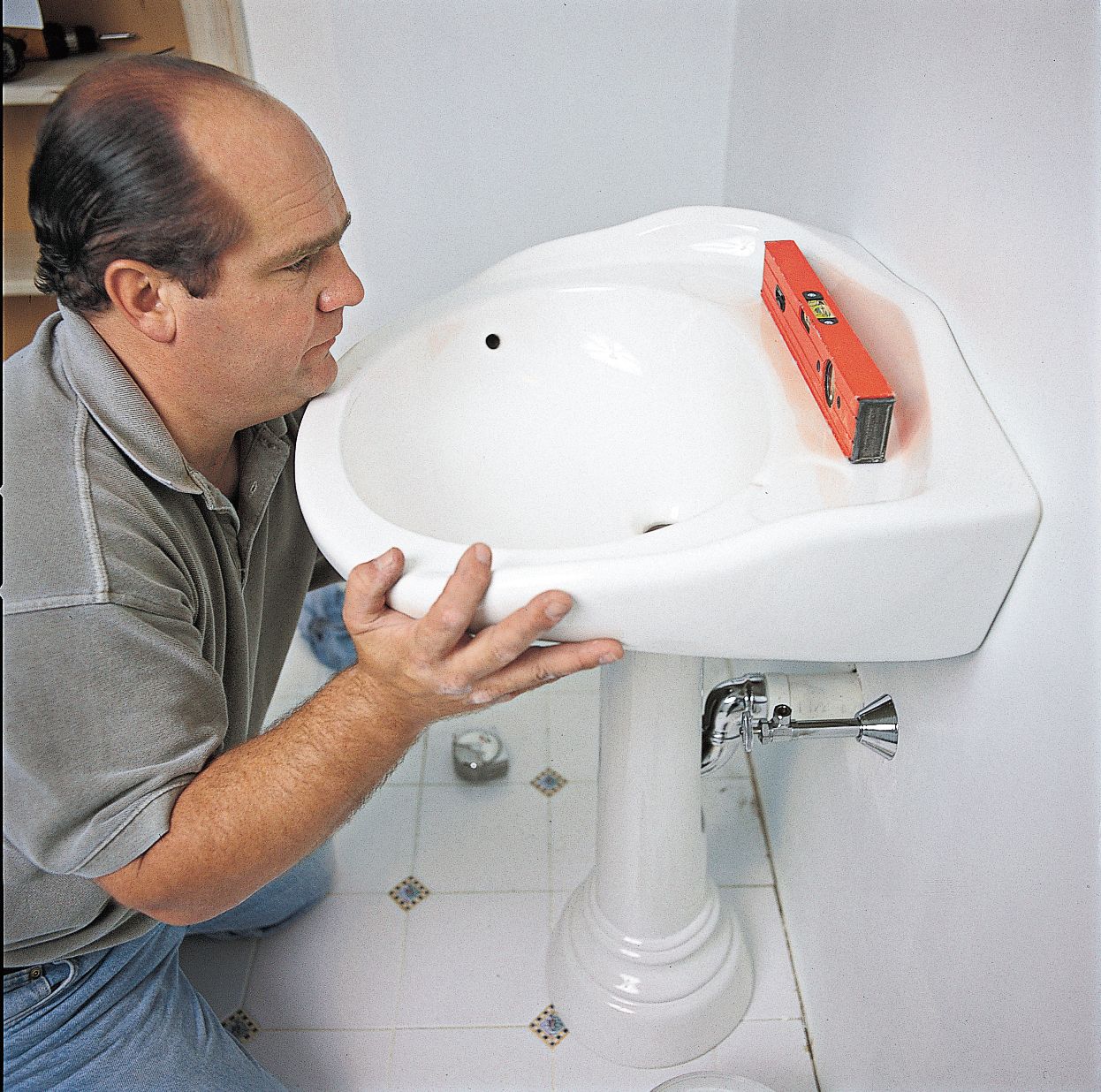 If you have trouble with any part of a brand-name plumbing fixture—no matter what may have caused it—call the manufacturer's toll-free number and explain the problem. Most will rush you replacement parts at no charge.
This originally appeared in Read This Before You Redo Your Bath, a comprehensive remodel guide.