Go outside and get to work on these gorgeous garden structures that you can enjoy all season long. From building a fire pit to making an arbor bench, TOH brings you detailed step-by-step instructions, shopping lists, and tool lists to do it all yourself.
DIY Backyard Project to Try
Arbor bench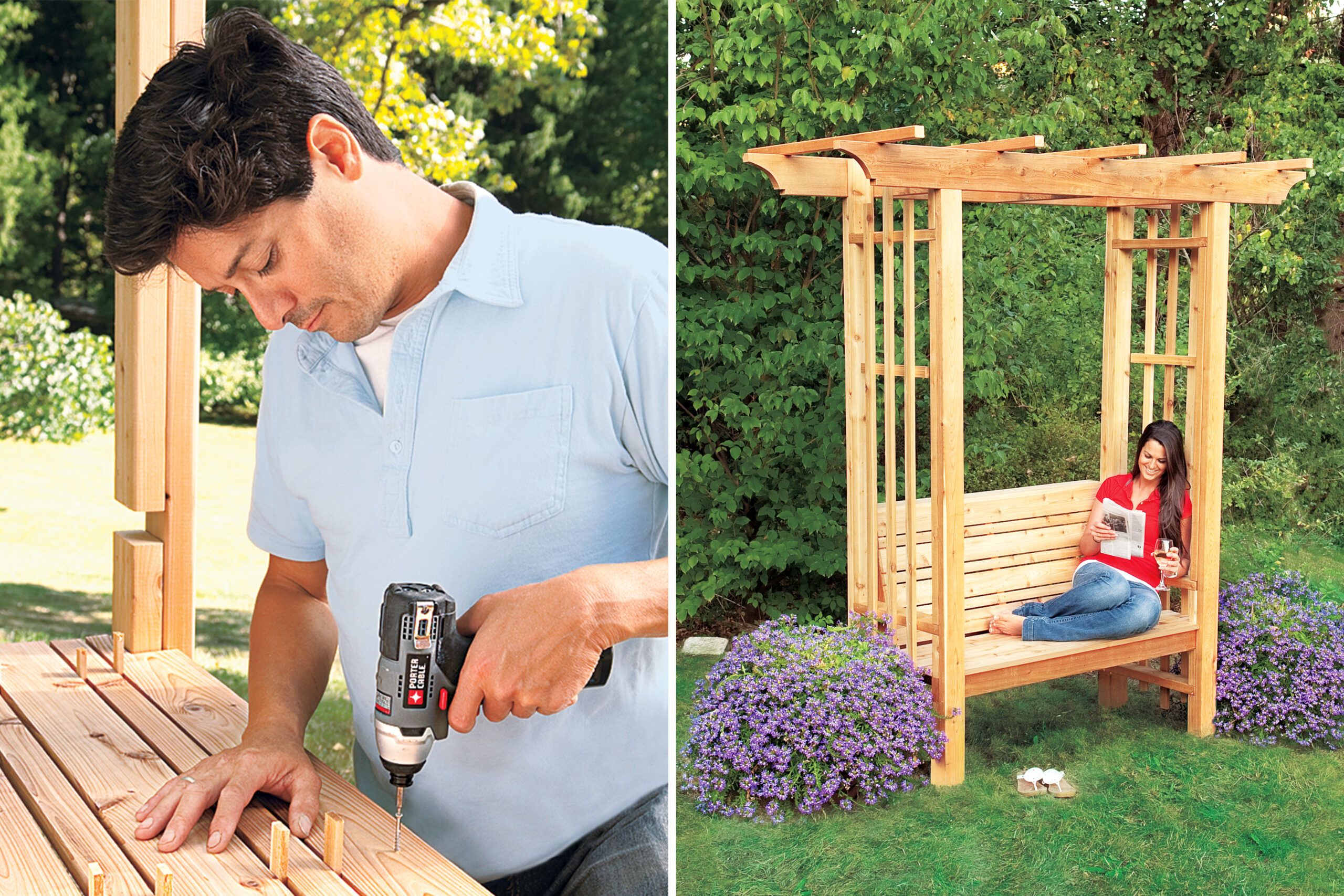 Sure, you could plop a couple of deck chairs in your backyard for an impromptu sitting area. But a hand-built cedar bench, framed by an arbor, gives you a more permanent place to kick back as the weather warms up, and adds an elegant architectural feature.
Our design incorporates classic touches such as profiled rafter tails, alternating wide and narrow boards for the seat and backrest, and trellis sides to let your favorite climbers ascend to the overhead structure. Or you can let the bench remain free of greenery—it's eye-catching enough on its own.
See How to Build an Arbor Bench for full step-by-step instructions.
Garden tool shed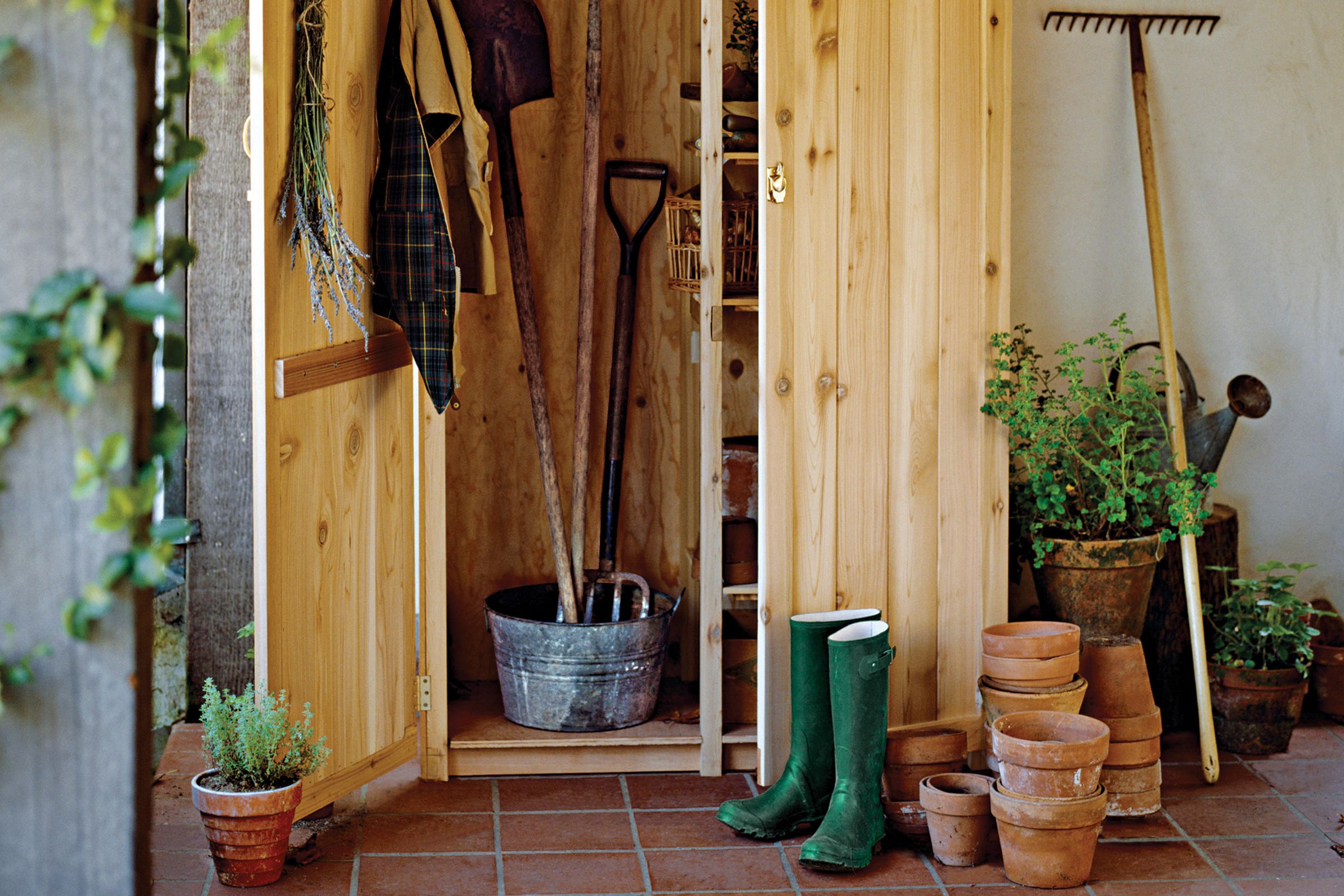 Your garden tools need a clean, dry, and accessible locale to keep safe from natures elements. A smart option is to build a handsome wood lean-to shed against the house near the patio or garden. If it's made from cedar, a naturally rot-resistant wood, it will weather nicely while protecting your goods from precipitation and insects alike. You can make one in a weekend out of off-the-shelf lumber or buy a panelized kit that screws ­together in under an hour.
See How to Build a Garden Tool Shed for full step-by-step instructions.
Fire pit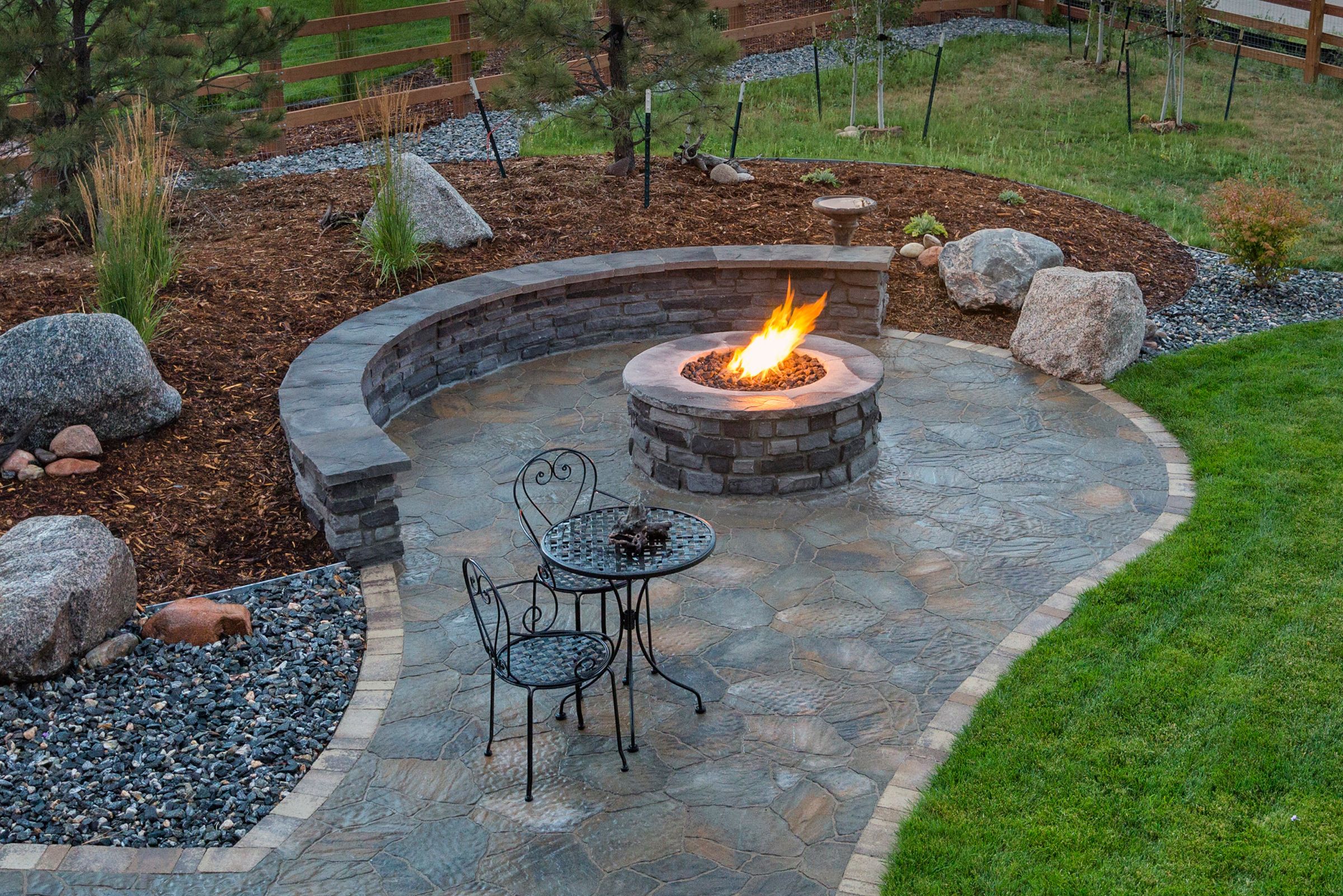 Outdoor fires are so hot right now. Seriously. Mankind has called the hearth home for the centuries, it's true, but these days people are going ultra-retro and getting their heat from stone-walled pits set into the earth. If you really want to light up right, do it in style. Take a few days to build your very own ring of fire.
See How to Build a Fire Pit for full step-by-step instructions.
Weather-resistant planter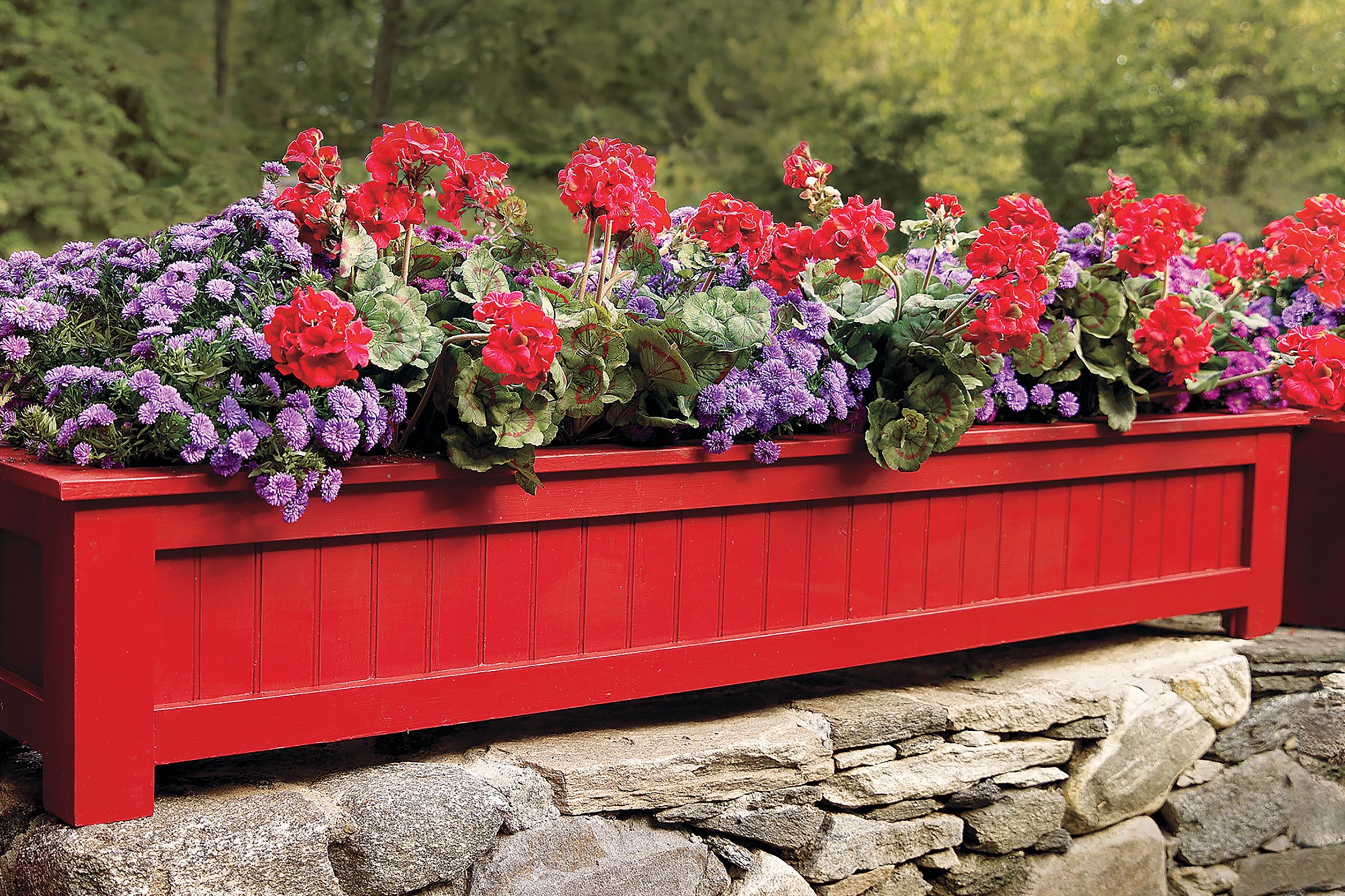 Whether big or small, used in pairs or on their own, planter boxes are a cheery way to flank an entry, break up an expansive patio, or simply add a splash of color to a small yard. This roomy, rectangular version gives you plenty of space for your favorite bloomers. It is built from cellular PVC, which is easy to cut, holds up well, and won't rot. Beadboard detailing and a bright coat of paint add extra charm during those inevitable showers, too.
See How to Build a Weather-Proof Planter for full step-by-step instructions.
Sitting wall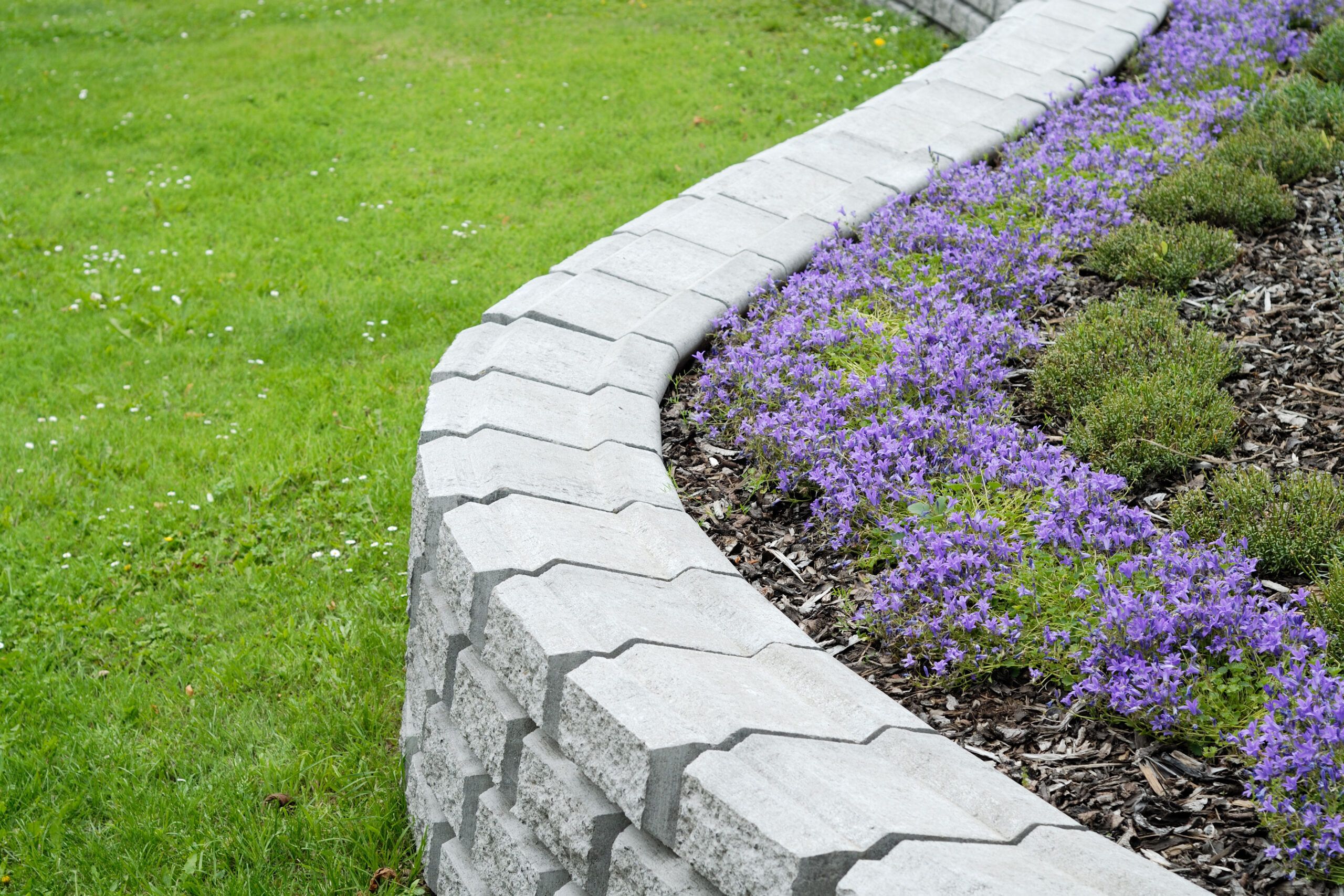 Take a scenic drive through the back roads of New England and you will inevitably spot some of the 240,000 miles of stone walls built by 19th-century farmers trying to delineate their land. You may not have a large plot to mark off, but your patios and flower beds are still deserving of a border, and one that doubles as a place to sit down will make your landscape all the more enjoyable.
But no need to dig up the yard looking for rocks like the Yankee farmers had to. A wall built from cast concrete blocks made to look like stone is just as beautiful and much easier to build—especially when your "planting season" is confined to the weekends.
See How to Build a Sitting Wall for full step-by-step instructions.
Garden arbor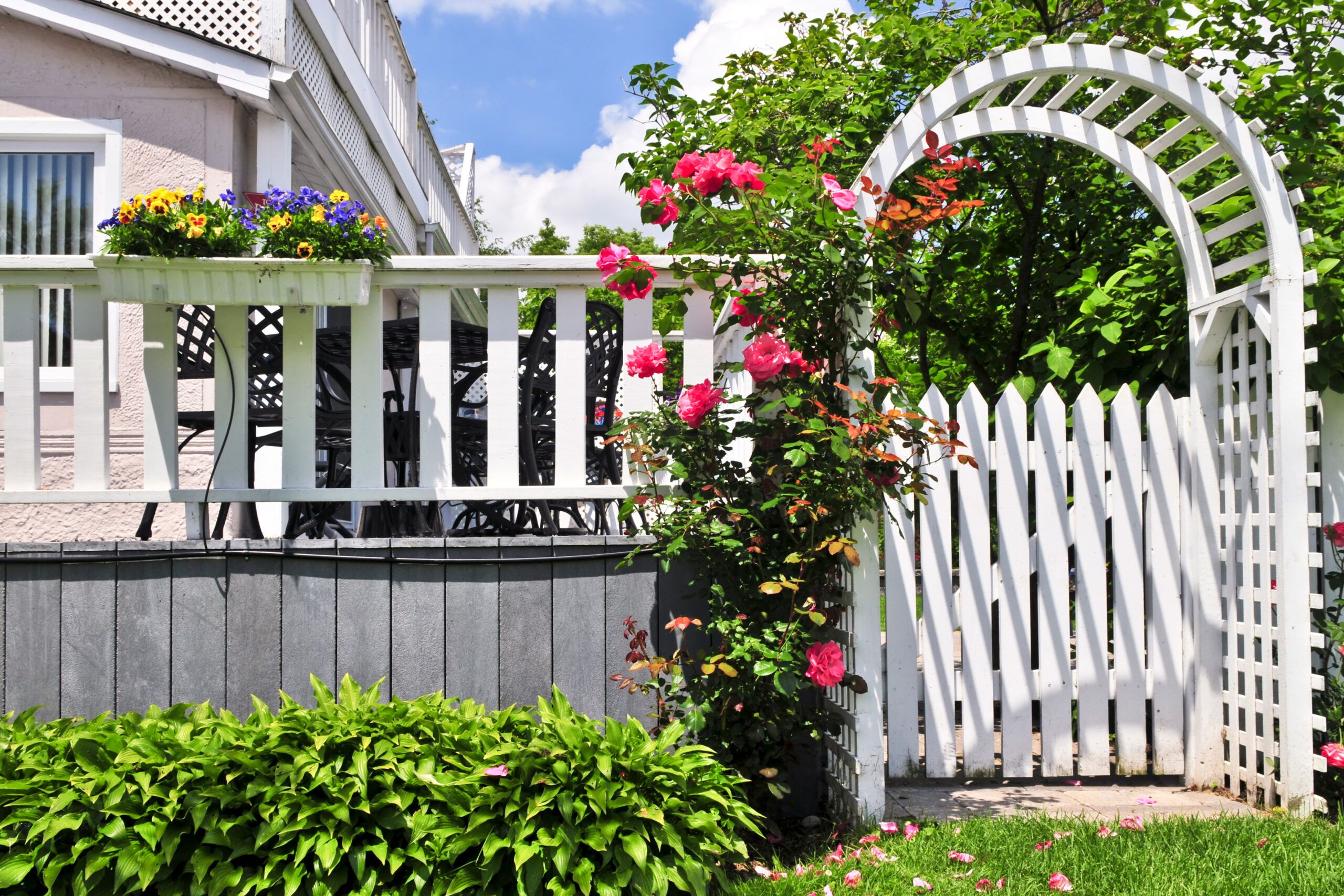 A well-placed arbor is your garden's ultimate multitasker: It can serve as an entryway to an outdoor spot; frame a focal point, like a flowering shrub or garden shed; and, of course, take your beloved climbers to new heights. The go-to material for this project is rot-resistant cedar, though you can also make it from treated lumber. Whether left unfinished or given a coat of paint, you'll love how this piece adds personality to your outdoor space.
See How to Build a Garden Arbor for full step-by-step instructions.
Potting bench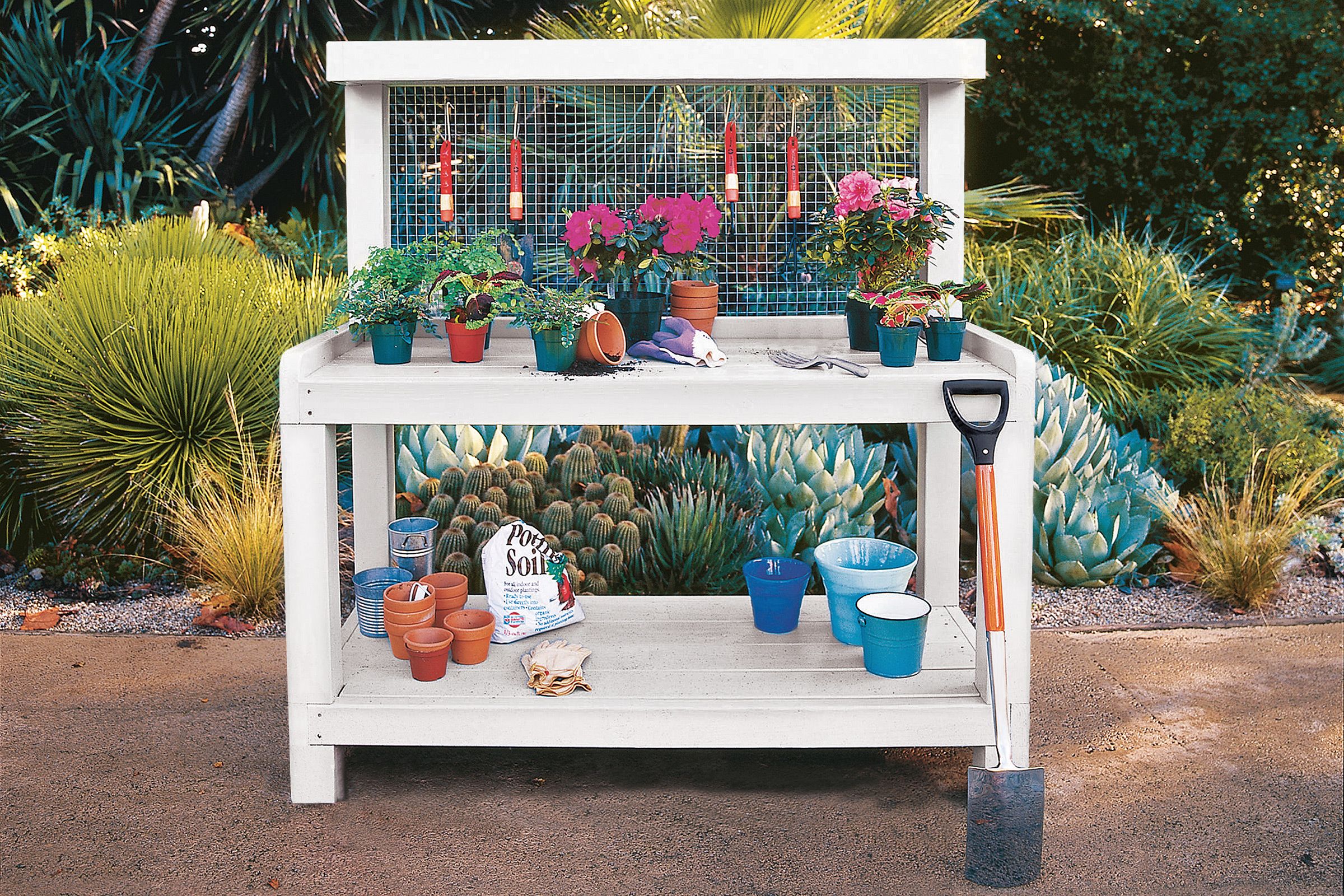 Even if you love gardening, repotting plants or dividing flats can feel like a real chore if you have to scavenge for supplies in the dark corners of the garage. Park them on a dedicated workstation, however, and you'll never waste time hunting them down again. Our simple, three-tier potting bench features a wire mesh backing that keeps your favorite hand tools right at your fingertips. Once you start using it, you'll wonder how you ever did without this green thumb's staple.
Here's How to Build a Potting Bench for full step-by-step instructions.
Planter bench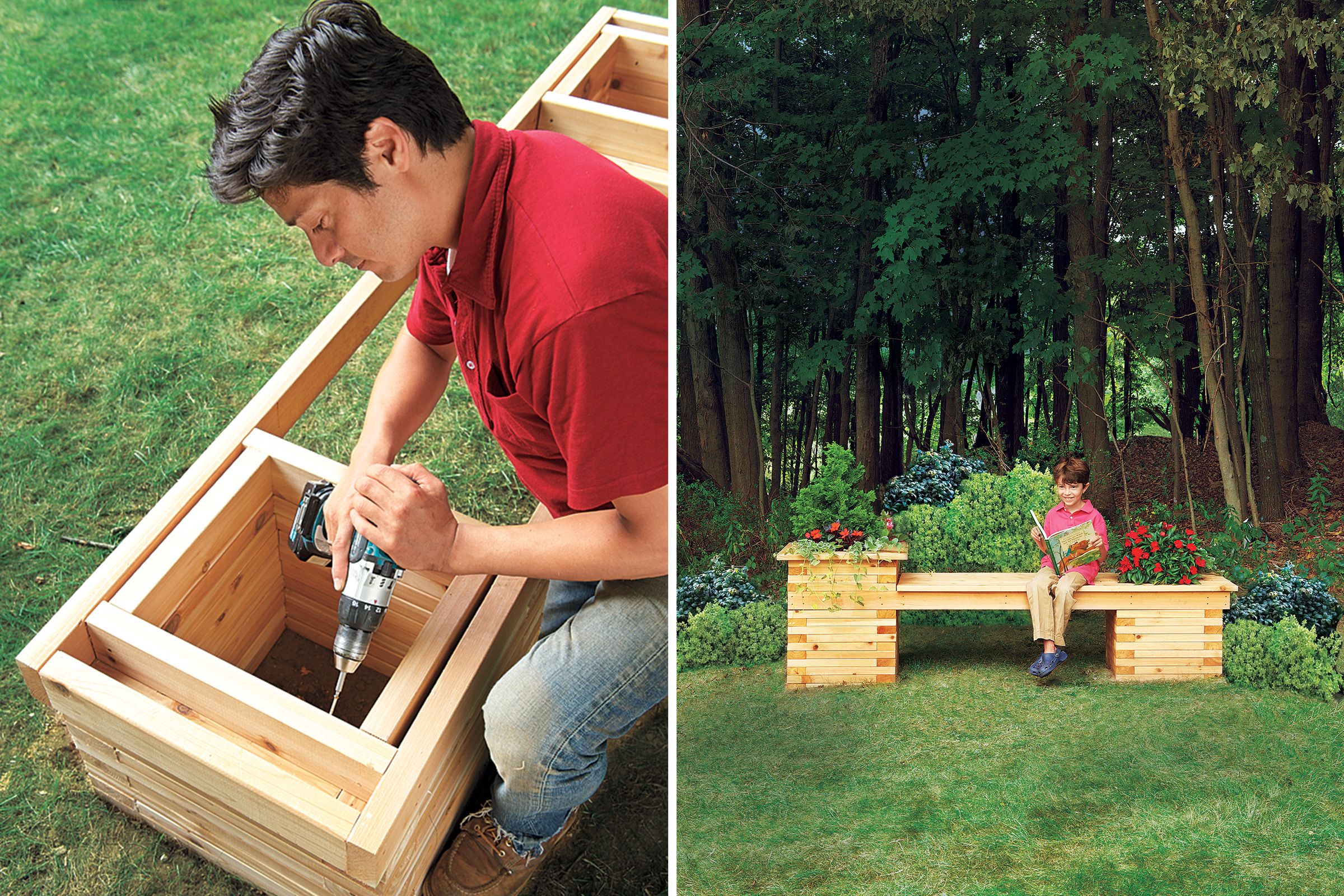 There is lawn furniture, and then there is what you might call landscape furniture—custom seating built right into the terrain. Done right, it can create a little oasis in your yard or even on your deck. Take, for instance, this bench with planters for piers. The entire structure is made from rot- and weather-resistant cedar lumber. It was built using lap joinery, a sturdy construction method meant to keep the planter walls from bowing against pressure from roots, should you decide to plant trees.
See How to Build a Planter Bench for full step-by-step instructions.
Garden fountain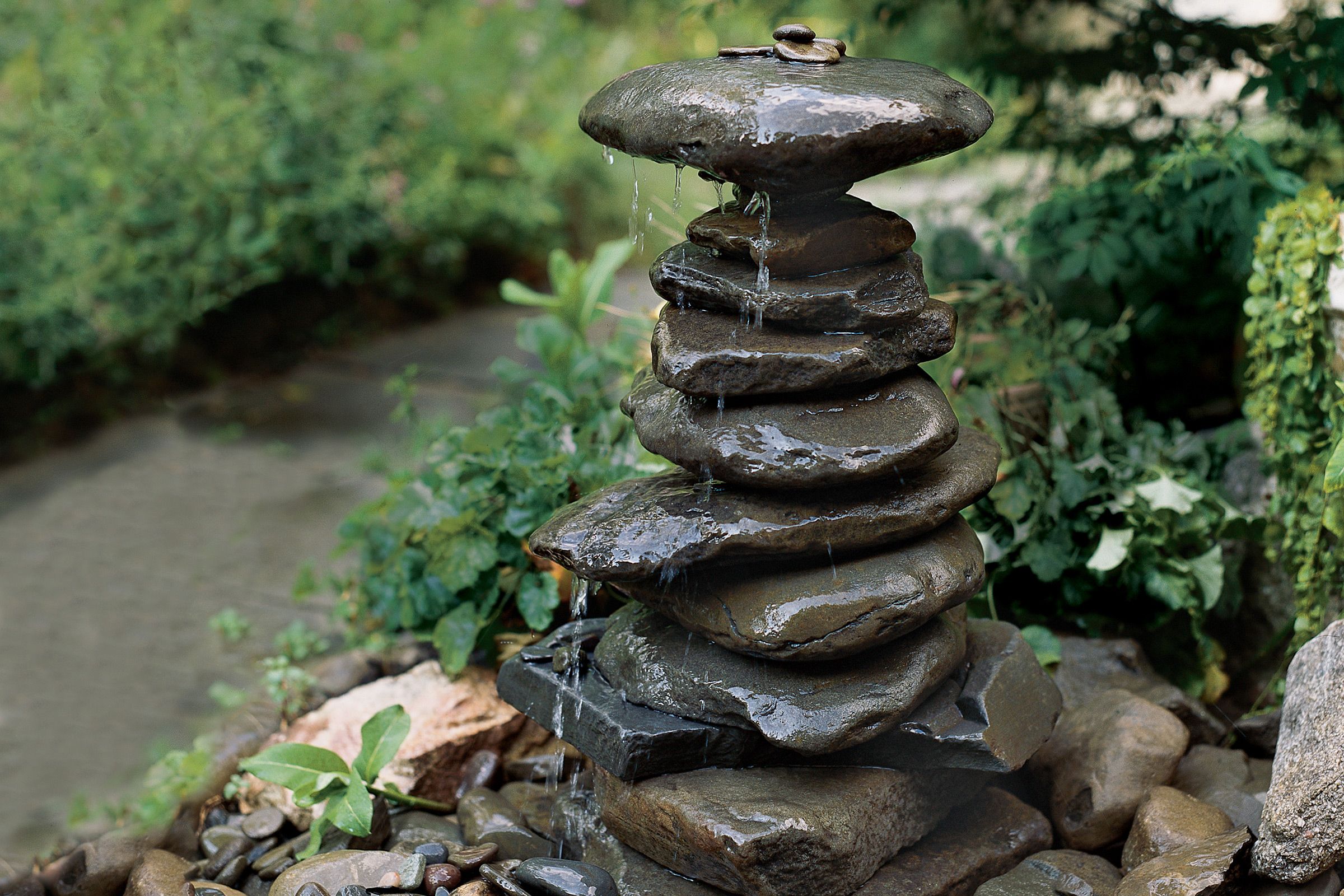 Need is a place to sit quietly and contemplate the sounds of nature? Birds chirping, breezes blowing, brooks babbling… What—no backyard brook? Not a problem. Just build yourself the next best thing, with a softly trickling garden fountain. The project is nothing to get stressed about. In a mere weekend, you can fountain-ize most any leftover garden ornament, turning it into an enduring monument to tranquility.
See How to Build a Garden Fountain for full step-by-step instructions.
Adirondack chair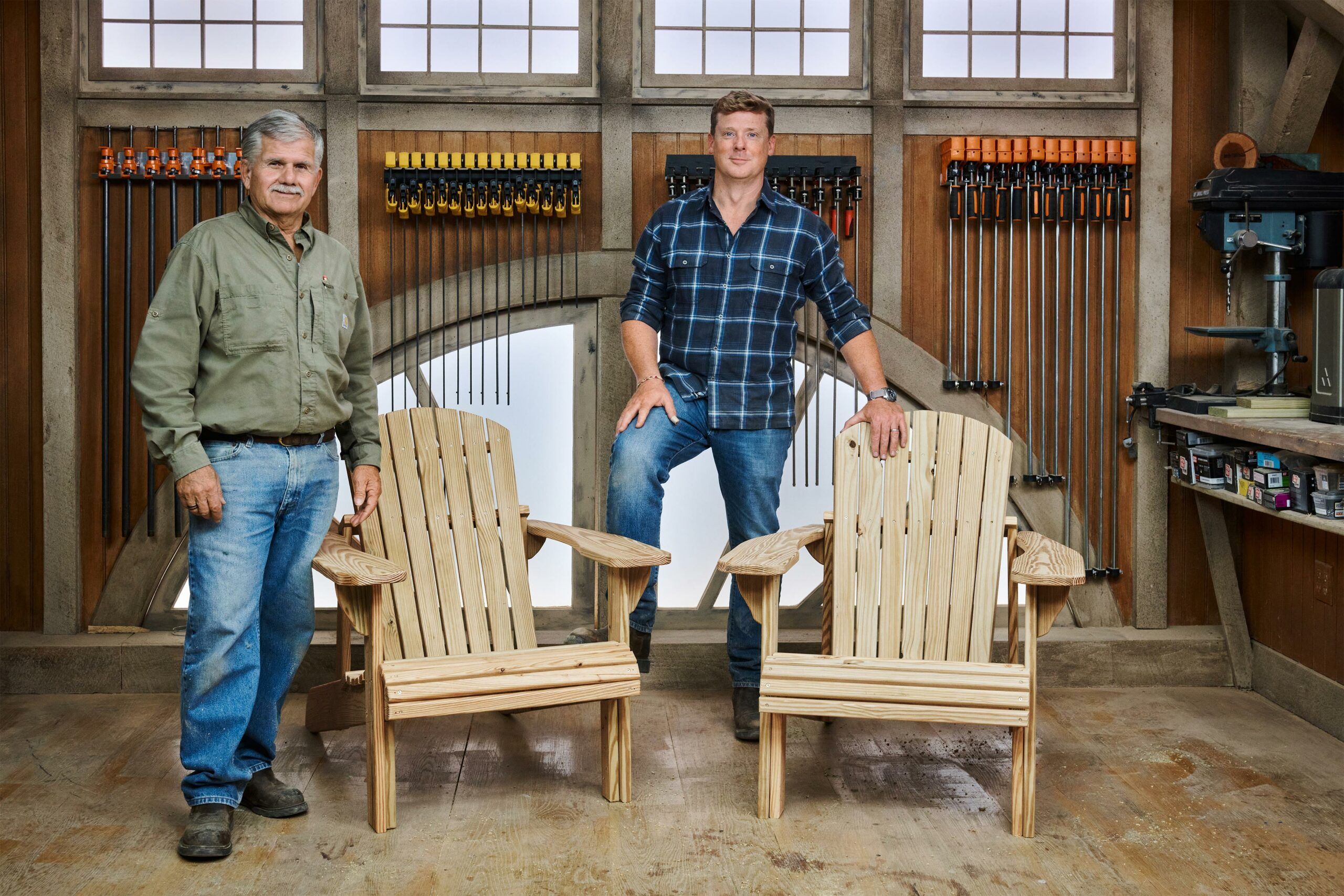 You can make a roomy, reclining seat with a fan back and wide armrests out of weather-resistant decking lumber.
See How to Build a Classic Adirondack Chair for full step-by-step instructions.
Grilling station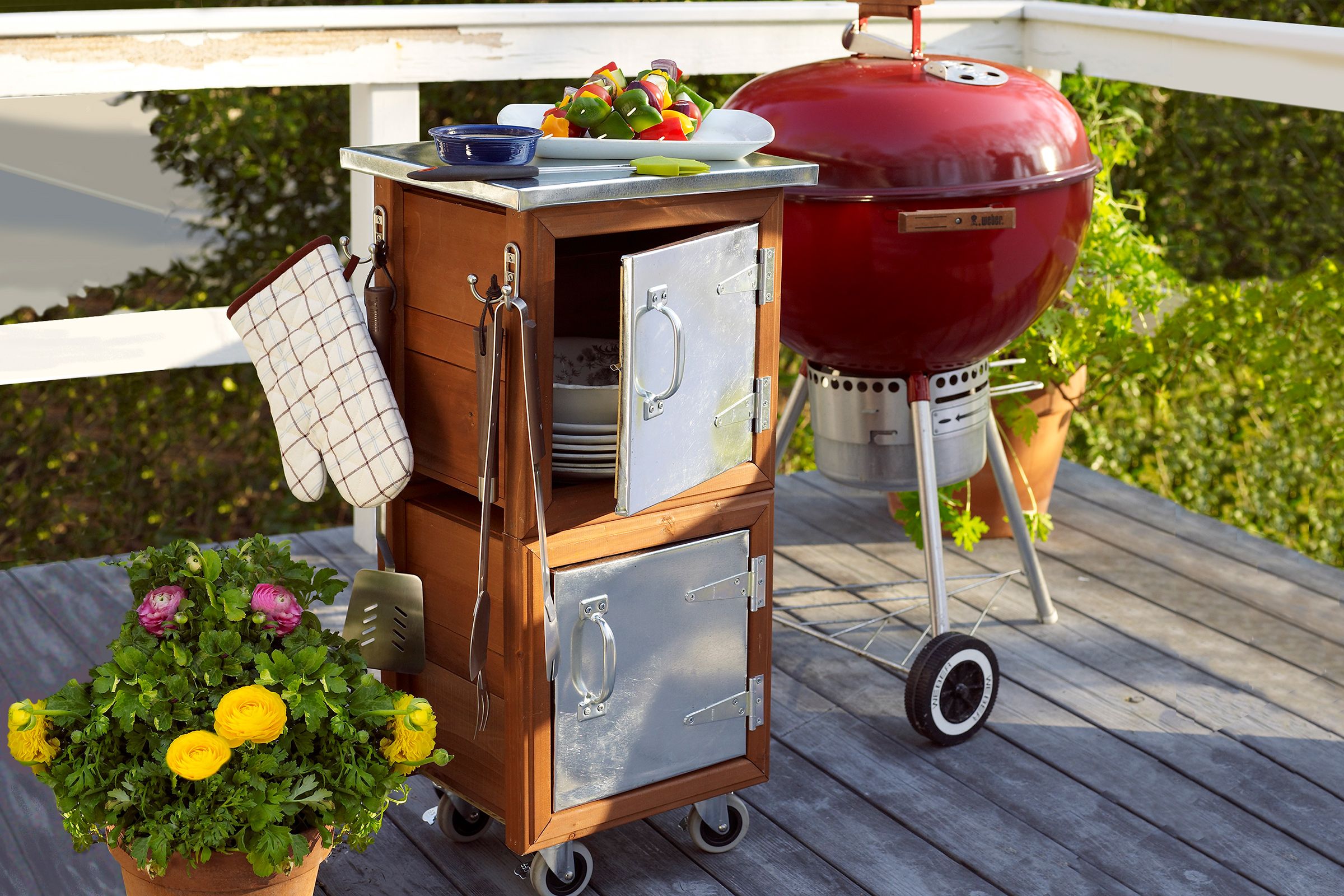 Burgers, steaks, veggies—or whatever your go-to backyard party-fare is—it ought to be done on the grill. If you're the grill-master all summer, you will need a proper cart that stores all the necessary tools and platters.
See How to Build a Grill Station for full step-by-step instructions.
Garden bench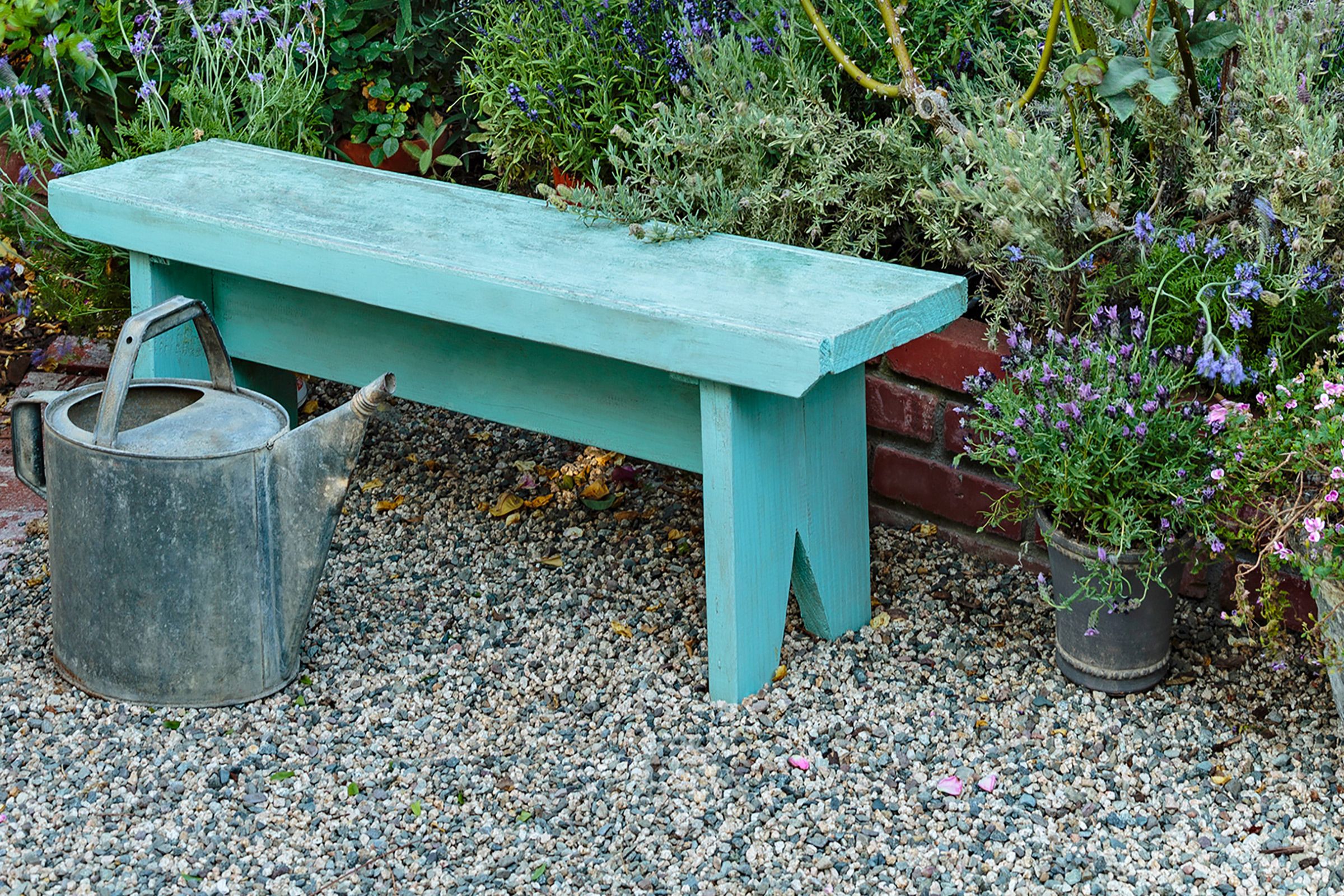 You'll probably want a nice place to plant yourself for the best view of your landscape. Building yourself a simple but comfy bench, and position it in a shady spot—a place to take leisurely breaks. If you're good with a jigsaw, it's not difficult to make a nice contoured one with simple horizontal slats. A well-placed bench will be a welcome respite for the constant gardener, or any visiting admirers.
See How to Build a Basic Garden Bench for full step-by-step instructions.
Pyramid trellis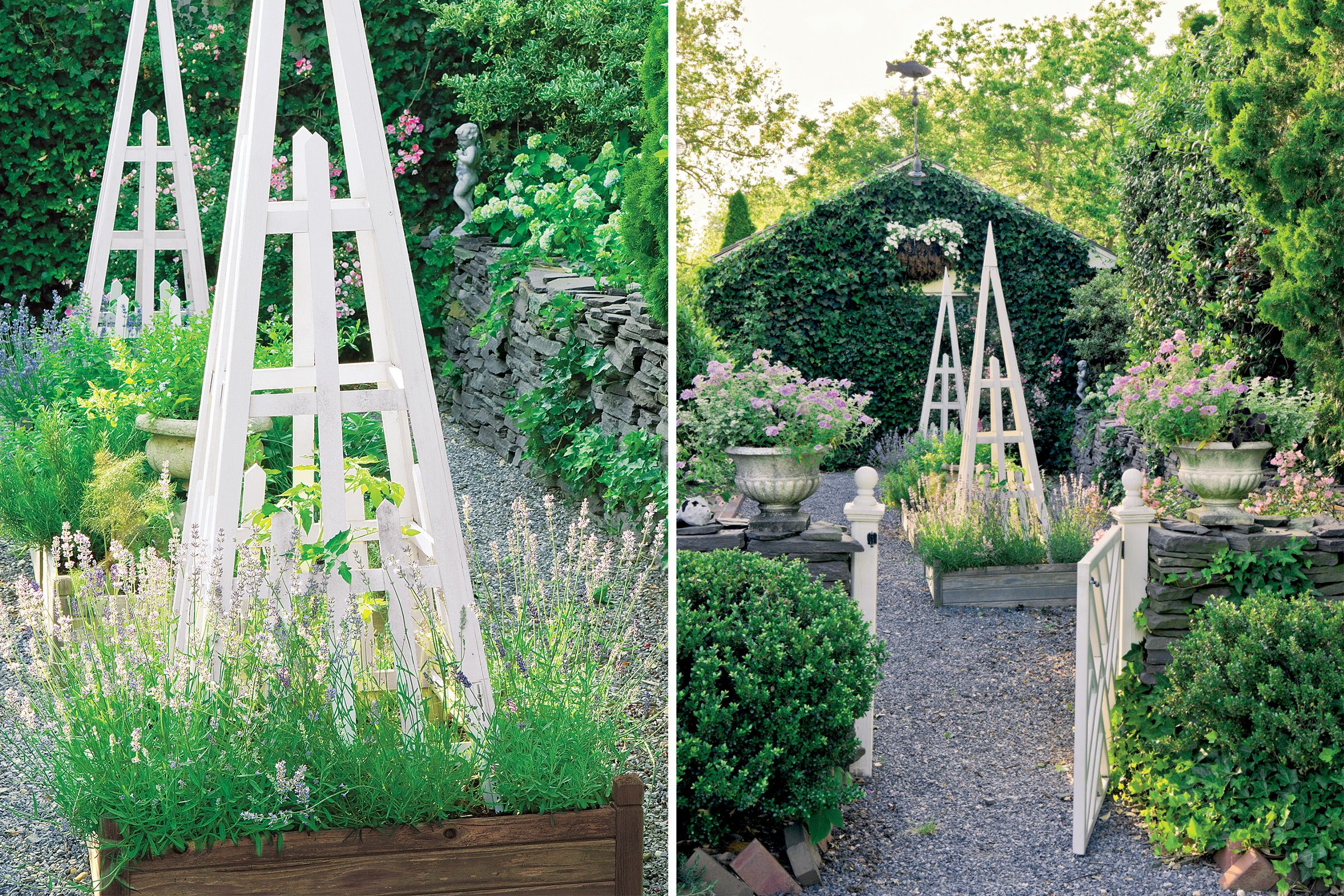 Whether you call it a pyramid, an obelisk, or a tuteur trellis, this distinctive garden structure is a hallmark of cottage style. Trellises have a long history of supporting climbing and vining plants, and the tapered, freestanding version shown here remains a fixture of many an English garden. You can build one yourself without too much fuss.
See How to Build a Pyramid Trellis for full step-by-step instructions.
Porch swing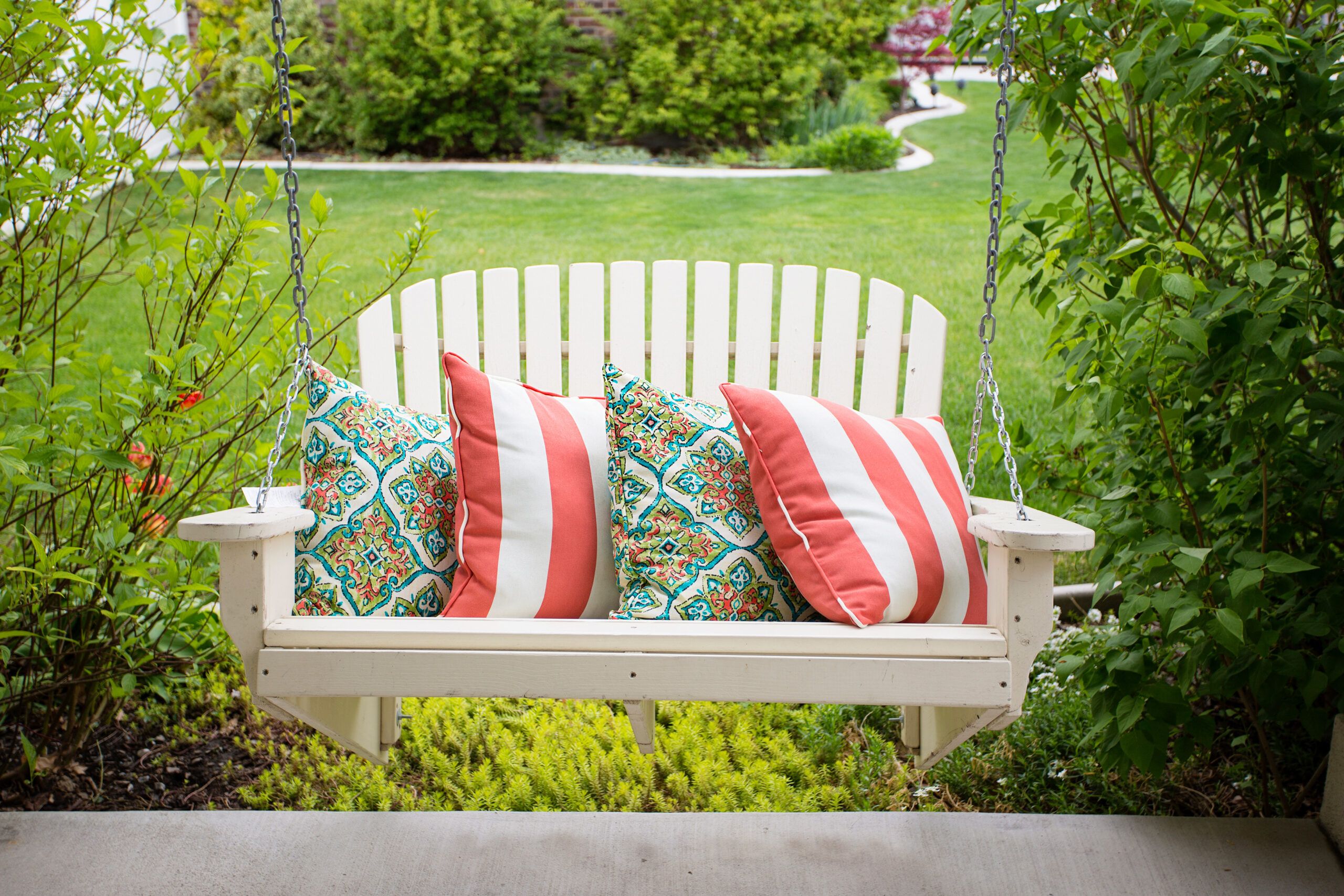 Nobody says you have to build your own porch swing. You could buy one, costing hundreds of dollars. But wait. Why not make it yourself and save some cash? Were you crafty enough, you could start from scratch… But let's also say you're willing to hit the halfway mark between scratch-built and store-bought. For this building project, we selected a 5-foot-long swing made of solid teak. No cutting is needed, so assembly takes only a few hours. And the effort is doubly repaid: in savings and in satisfaction.
See How to Build and Hang a Porch Swing for full step-by-step instructions.
Outdoor bar cart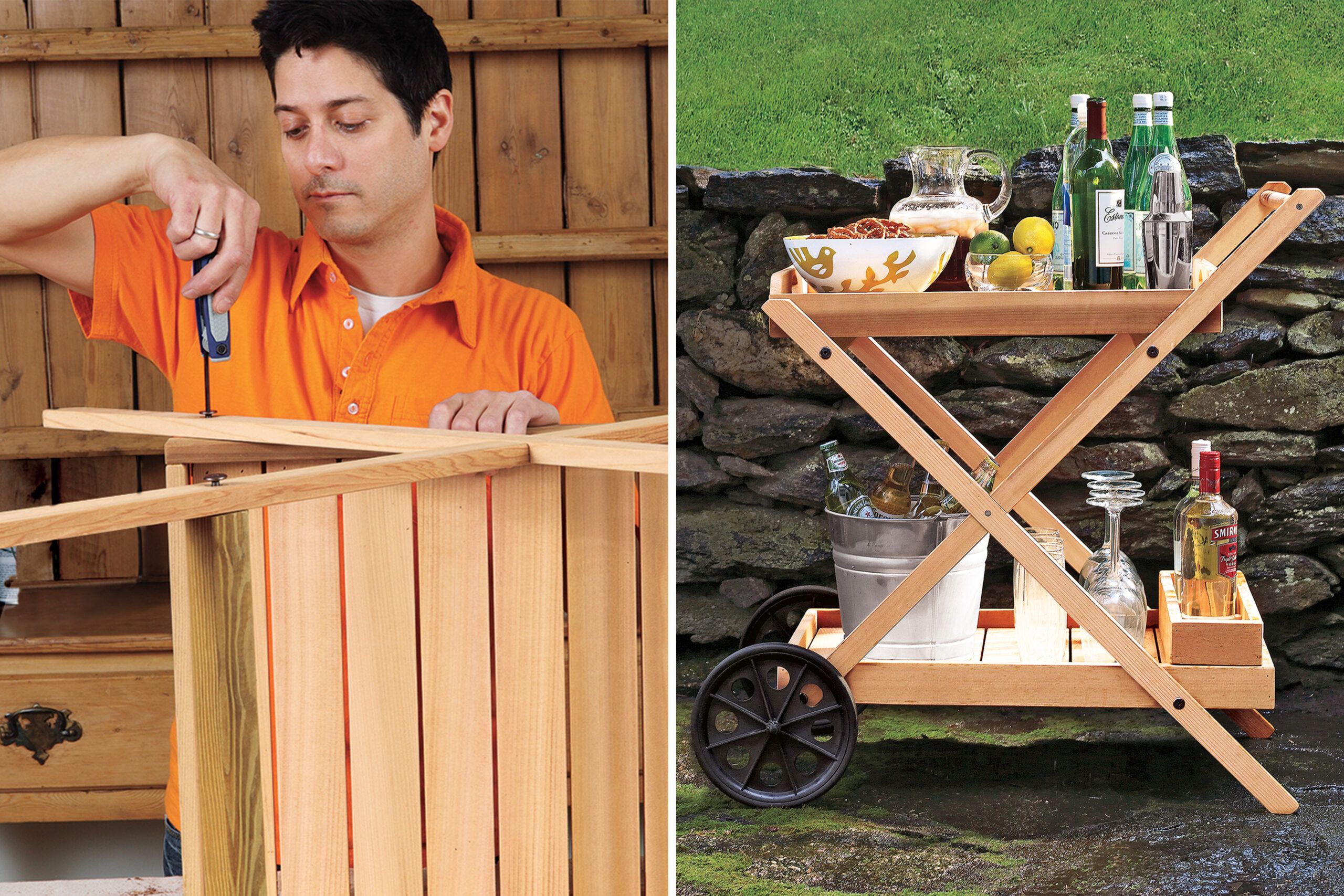 If your usual method of serving beverages at a barbecue involves a Styrofoam cooler and a bag of ice, it's time to think about an upgrade. This mobile cart is tough enough to withstand sun, rain, and spills of your libation of choice.
See How to Build an Outdoor Bar Cart for full step-by-step instructions.
Diamond-patterned twig trellis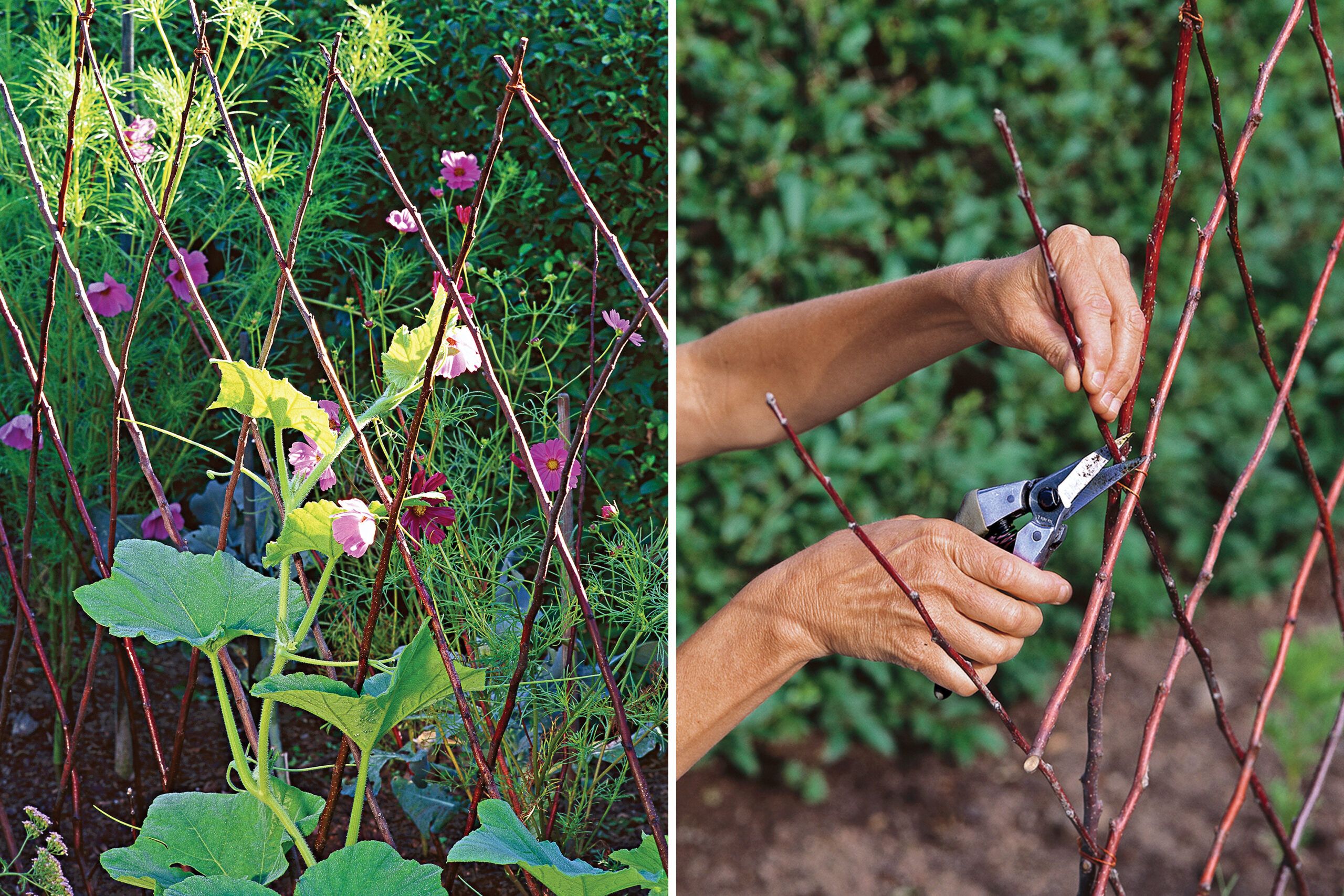 Ever since colonial-era homesteaders wove wattle garden structures from unbranched shoots of willow or hazel and set their peas to clamber over rows of tiny-twigged birch limbs, countless generations have used sticks to prop up their plants.
Today, homeowners who want to combine beauty and ­utility can do the same. Connecticut gardener Thyrza Whittemore, reaches for branches pruned in early spring to construct a diamond-patterned trellis for her vegetable garden. Branches are close at hand, easy to fashion to the right size, biodegradable, and free.
See How to Build a Twig Trellis for full step-by-step instructions.
Tree bench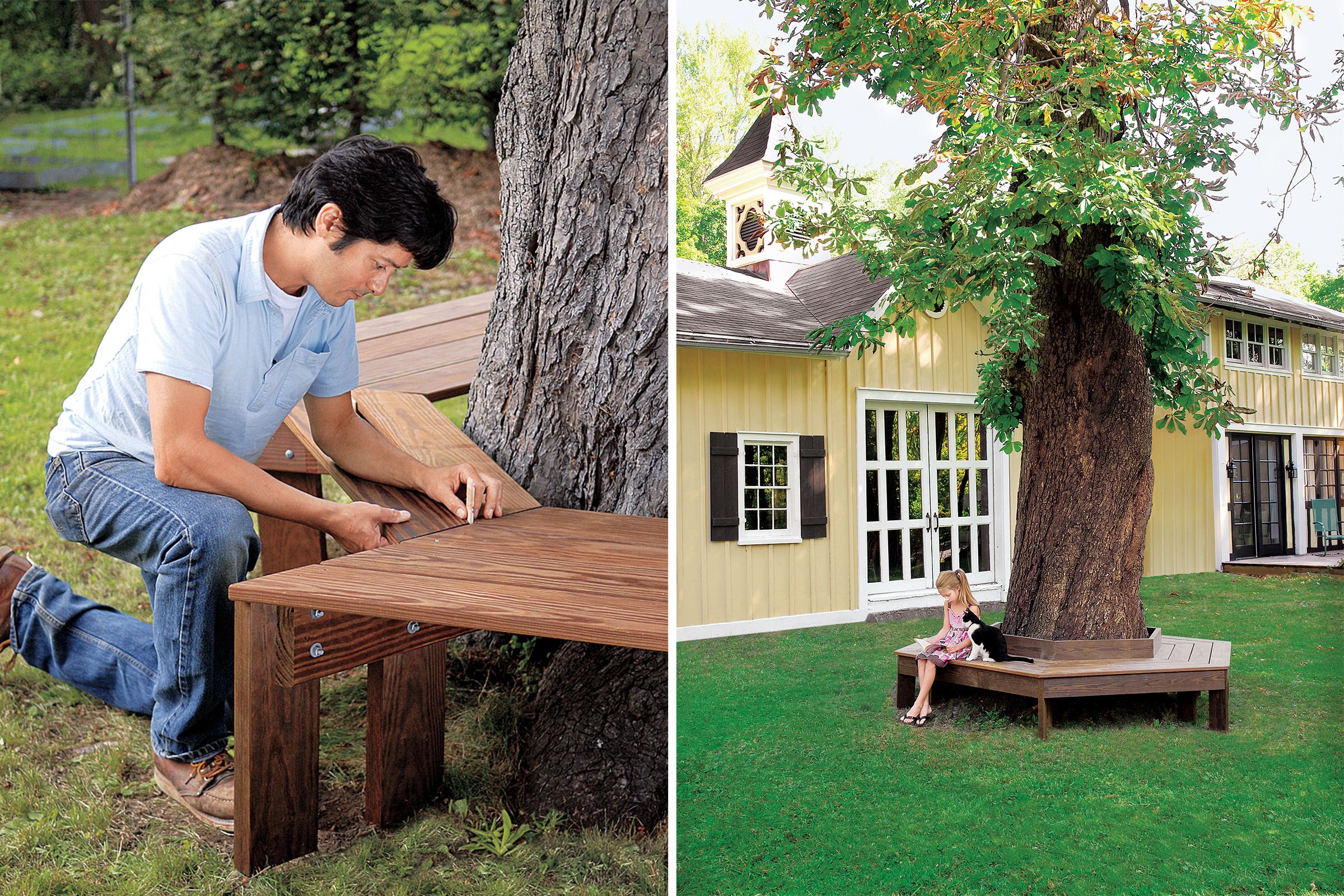 This comfy, stay-cool spot has room for the entire family. To build it, we choose a specially impregnated and thermally modified pine that's as hard and dense as an exotic hardwood, and resists decay and termites, too. Put your bench together, and you'll enjoy lounging on it with a favorite book all summer long.
See How to Build a Tree Bench for full step-by-step instructions.
Picnic table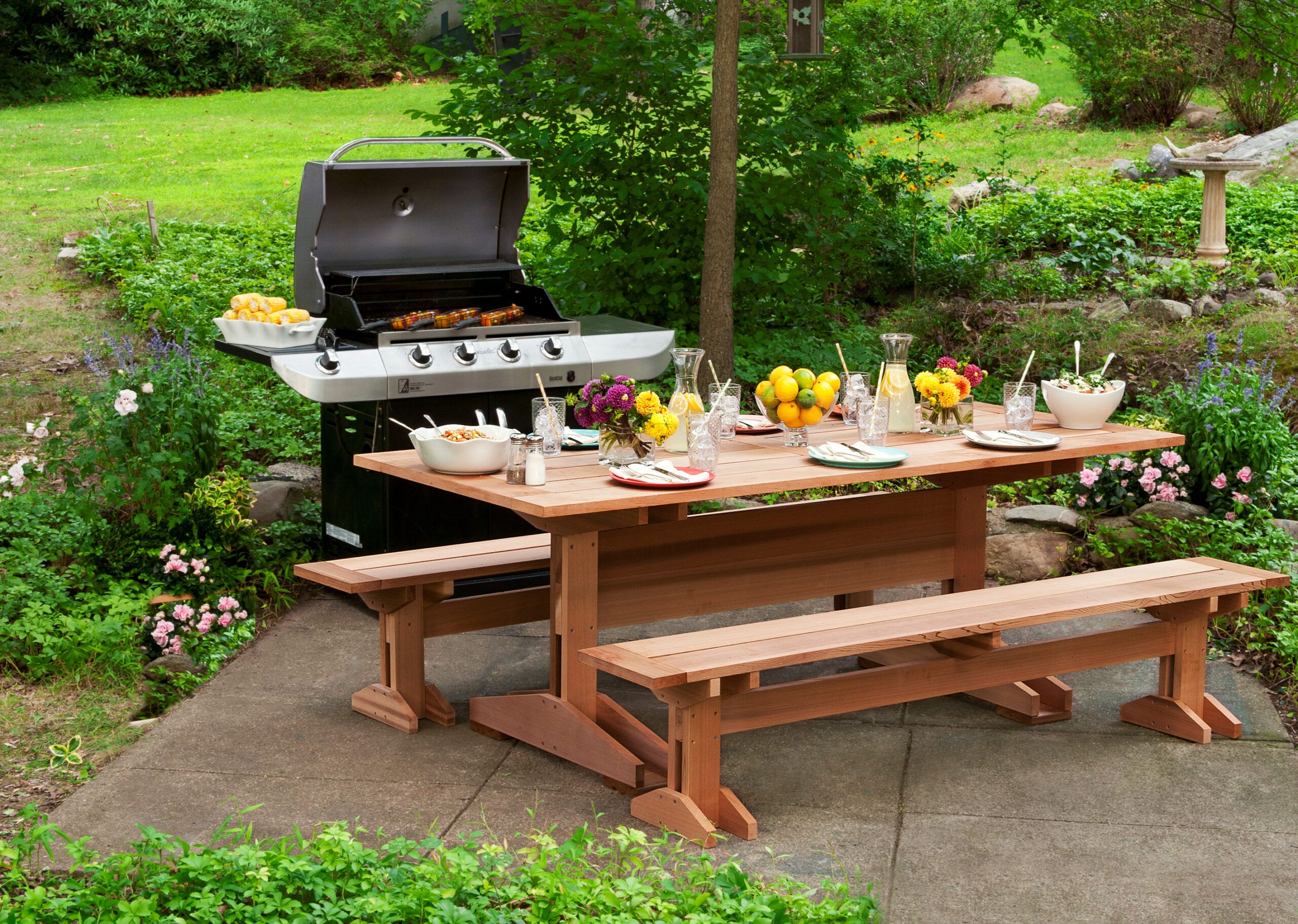 If you wanted to set up a folding table and chairs for your barbecue guests, party planners say you'd need to allot 10 square feet per person to create enough access. Do that on the average deck or patio and your Fourth of July celebration will get so chaotic that it may end with the wrong kind of fireworks.
A classic picnic table with attached benches is the perfect solution. This staple of backyards and parks—with its elbow-to-elbow dining and climb-over seating—works in all terrains, so you can move off the deck and onto the grass.
See How to Build a Picnic Table for full step-by-step instructions.
Lattice trellis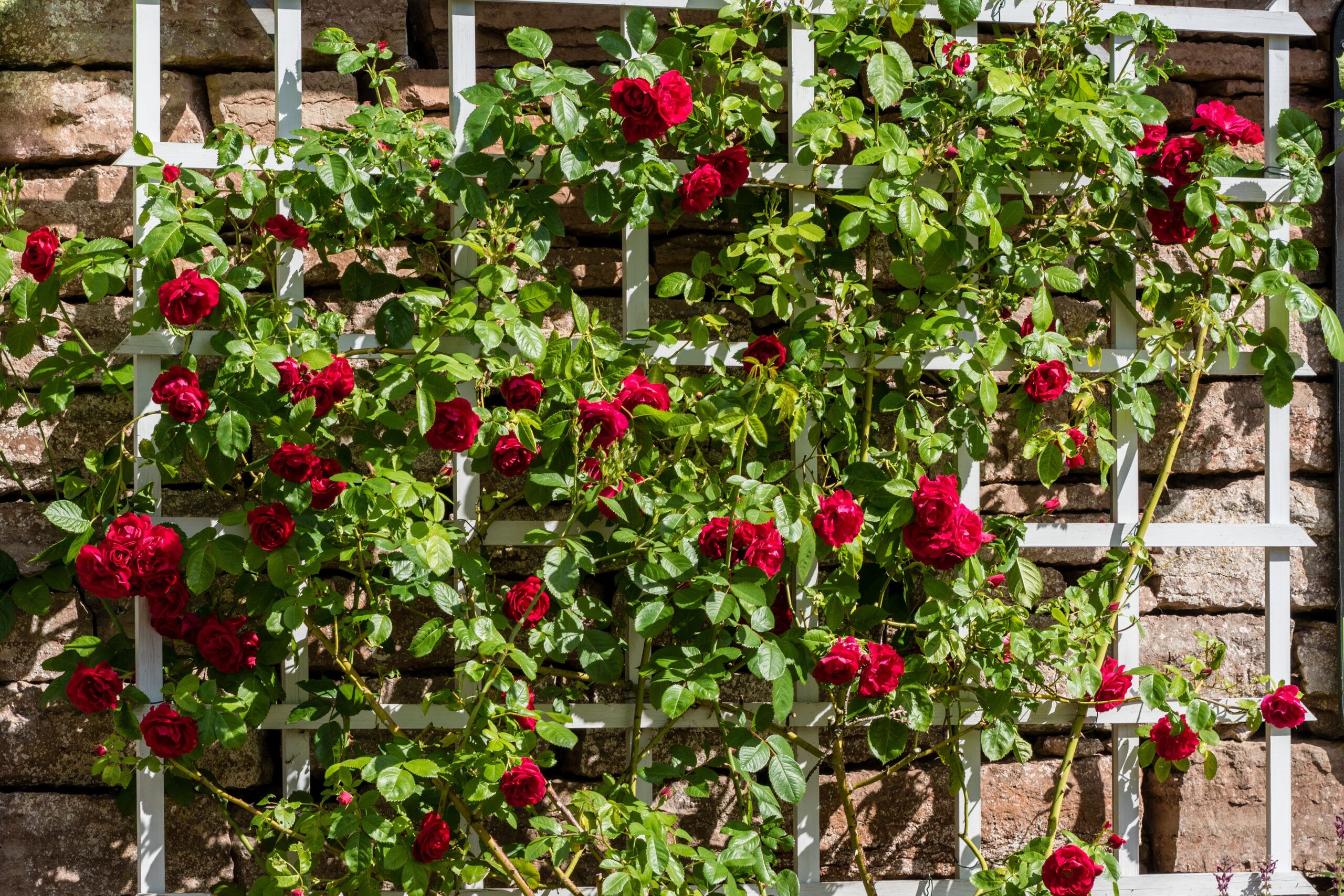 A wall covered with climbing vines may look lovely, but in reality vines will wreak havoc on your house's siding. Better that you create a buffer between the foliage and the facade with a garden trellis. Not only will it provide the plants with a more appropriate host, but it will also give you something better than a blank wall to look at when summer's greenery fades. It is simple to turn lattice fencing and 2x4s into such a three-panel focal point. Put it in place, and invite your garden to new heights.
See How to Build a Garden Trellis for full step-by-step instructions.