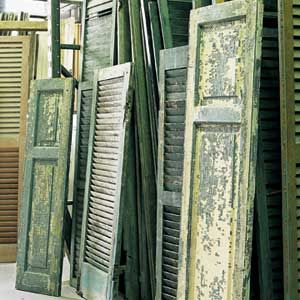 Vintage Shutters, Part 1
It's been said that American colonists pulled thick wooden shutters closed to shield their families from the arrows of attacking natives. While it's true that exterior shutters have provided protection against intruders, their primary purpose back then, as now, was to control light and air flow.
Some of the first American shutters adorned simple, wood frame houses in 17th-century New England. These shutters were actually single boards, or board-and-batten panels, that were hung to one side of the window and could be barred from within. "This would have been a crude method of keeping out the elements and providing security," says Joseph Cornish, senior stewardship manager for Historic New England, a preservation group that oversees dozens of historic house museums. "Glass was also very expensive in those days and they wanted to protect it from being broken."
By the second half of the 18th century, exterior shutters came in pairs that flanked both sides of a window. These modern models, seen on Georgian and Federal style houses, were either solid with raised panels, louvered, or a combination of the two. On the first floor, solid shutters offered security, insulated windows, and kept sunlight from fading drapery and furniture. The centered slats on louvered shutters—which came in both fixed and adjustable versions—provided ventilation, light control, and privacy on second-story windows.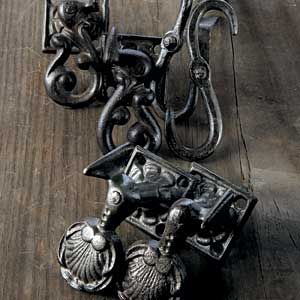 Vintage Shutters, Part 2
Dark paint colors, such as a forest green, black, and brown, were typical for shutters of Gothic Revival and Italianate-style houses in the mid-1800s. Matched to the color of the sash, the shutters maintained a cohesive look when they were open, and simulated the dark void of a window when closed, says Cornish. By the end of the 19th century, paint companies sold earth tones, including deep red, russet, and gold, for Queen Anne and Stick-style homes. White or black painted shutters, which made a bold contrast against the brick facades of Colonial Revival houses, were typical in the first half of the 20th century. By this time, shutters were used more for decoration than function. "This was also when you started to see romanticized creations (or cutouts) of squirrels, half moons, and quatrefoils in the tops," says Cornish.
Today, new shutters with a traditional look come in a variety of materials, including wood, vinyl, and fiberglass. But for the real deal, hit an architectural salvage yard. There you'll find dozens of shutters, many of which were hand-carved from old-growth timber and still have their original paint. Some of them bear a Roman numeral, typically carved into the top or bottom of the frame. "Each shutter was custom built for the one window, so when you took it off to paint, or make repairs, you had to have a system of identifying which one went where," says Mike Whiteside, co-owner of Black Dog Salvage in Roanoke, Virginia.
When searching for a single replacement shutter, keep in mind that horizontal rails, vertical stiles, louvers, and center panels can vary in size and thickness. Whiteside suggests taking a sample with you when you shop. Expect to pay anywhere between $35 and $200 per shutter, depending on its age, condition, wood type, and size.
Salvage yards occasionally get a large quantity of shutters rescued from a single source. These matched sets can lend a period look to a new house. Just be sure they fit in your windows before you buy. A pair should be equal to the width and height of the window itself, and fit snugly within the exterior casing. Even if you don't plan to open and close them, they should look as if you could.
Of course, fit and paint color only matter if you plan to use old shutters as they were originally intended. Many salvaged finds are destined for creative projects inside the house or in the garden. Tall ones, hinged together like a folding screen, help block winds around an outdoor dining area, or cordon off space between dressing and sleeping areas in a bedroom. A single louvered panel, hung with its slats pointing down toward the wall, can double as a magazine rack, says Whiteside. You could also repurpose a pair of salvaged shutters as doors on a bathroom vanity, or use them as sides for a curio cabinet or bookcase like the one Whiteside built (shown at left) using 100-year-old heart pine panels with crackled paint.
Their long-standing use as both functional and decorative architectural elements ensures that shutters will continue to be popular additions to houses old and new. The challenge will be choosing whether to install them on the house on inside it.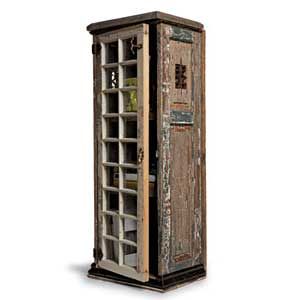 Making New Furniture Out of Old Shutters
To create the sides of this combination curio cabinet and bookcase, Mike Whiteside of Black Dog Salvage (blackdogsalvage.com) used a pair of raised-panel shutters rescued from a demolished turn-of-the-century house. By cutting holes in the top of each shutter and insetting antique iron scrollwork, Whiteside added visual interest to the piece. The filigreed openings also allow natural light to pass through and illuminate what's inside the cabinet.
For its top, Whiteside used the stiles and rails of a badly damaged 1850s shutter. The door is actually a narrow 18-light window that gives the piece the look of an old English telephone booth, minus the glossy red paint.
As with most of Whiteside's furniture projects, the cabinet is made almost entirely from salvaged materials. "Only the nails and screws are new," he says.