On their own, windows are really just holes in the walls. But add a window covering like shades, blinds or shutters and you suddenly have privacy, control over the amount of sunlight that fills the area and a better-looking room. Whether you're picking window coverings for one window or for an entire house, you'll need to consider window shape and size, how you use the room and the amount of sunlight you want to let in and keep out.
Where to Shop
You can buy blinds in home furnishings stores, home centers, paint and tile stores and through a decorator. All allow you to see and feel the products, and these outlets often provide swatches and samples (for a refundable fee) so you can test selections at home. If you're anxious about accurately measuring windows, decorators and some retailers will do the job. If the blinds don't fit properly, they'll make it right at their cost.
Purchasing blinds from a mail-order catalogue or by phone (many home magazines carry small ads offering "direct from manufacturer" prices) means you're responsible for the accuracy of measurements; if the blinds don't fit properly, it's your problem. While you can save money this way, the quality of the blinds can vary; beware of unfamiliar brands, and ask if the blinds are first- or second-quality. You also might not have as great a selection as you will at a home center. Read return policies and guarantees carefully before you buy. But before you shop, you need to know what to buy.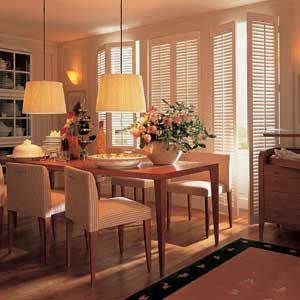 Not Just For Windows
Blinds and shutters have lives beyond the window. Hinged together, tall shutters can act as room dividers. Hung from the ceiling, blinds can also separate spaces and conceal messy laundry or work areas.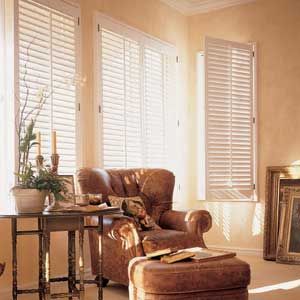 Where to find it: Hunter Douglas Window Fashions
Customer Information Center
1 Duette Way
Broomfield, CO 80028
800/937-7895
Full line of window coverings. Kirsch Custom
4110 Premier Dr.
High Point, NC 27265
800/528-1407
Full line of window coverings. Levolor
4110 Premier Dr.
High Point, NC 27265
800/225-1988 Pinecrest
2118 Blaisdell Ave.
Minneapolis, MN 55404-2490
800/443-5357
Shutters. Smith+Noble
Box 1838
Corona, CA 91718-9933
800/248-8888
Full line of window coverings. On the Web: Decorating Den
800/332-3367.
This franchise outfit will provide complimentary loaner blinds while your orders are being made up.
Honeycomb Shades
Made of spun polyester, honeycomb shades are extremely flexible, making them a good choice to fit windows of unusual shape. They come in single, double or triple combs (see photo below). The combs give this product its distinctive look, but they also trap air, making these shades fair sound and thermal insulators. For example, Hunter Douglas' triple-cell honeycomb boasts an R-value of 4.8—at the center of the shade. Light in weight, honeycombs can be installed vertically or, more conventionally, horizontally. They also offer varying levels of light control. On windows facing west, you might want to totally block out all light on hot days; if your bedroom faces east, you may be more interested in keeping early-morning sun out of your eyes. On other windows, sheer or translucent shades may be more appropriate.
Pleat sizes begin at around 3/8 in. and go up to 2 in. With their crisp, tailored lines, honeycomb shades work well in contemporary surroundings and in windows without molding. Many people like the subtle look of honeycomb shades that blend with the wall color, but you can create a dramatic effect by contrasting the shade color with the walls. If you want a softer treatment, choose fabric-look shades and pair them with boldly patterned draperies or an upholstered valance.
When attached at the bottom of a window, cellular shades can be pulled up rather than let down, letting light in while maintaining complete privacy. A 36 by 42-in. double-cell shade runs around $100.
Horizontal Blinds
While these blinds may be a chore to keep clean, their adjustable louvers offer great light control. The more slats per foot, the less light will leak through the blind. And blinds with cord holes at the back of the slats close more tightly—a feature to look for if you want them to be light-tight. As for cleaning, some newer products have a factory-applied antistatic-electricity treatment to keep dust from building up.
The vanes on blinds come in metal, wood and vinyl, in numerous colors and finishes. Ladders— the nylon lift cords that run along both edges of the blind— can be left as is or dressed up with decorative tapes that coordinate with or contrast to the blind or the color scheme of the room.
Wood and faux-wood horizontal blinds, which cost more than their metal and vinyl counterparts, are especially popular today. They are equally at home in traditional paneled or rustic-style homes and more modern spaces. Wood blinds destined for use in high-humidity rooms should be warp- and mildew-resistant.
Choose the slat width proportionate to the size of the window. A 1/2- or 1-in. slat works well for small or average openings, while a 2-in. vane is right for larger windows or a bolder look. Better blinds have a slim stack when opened; several manufacturers have models where the headrail completely conceals the louvers, ideal for contemporary interiors. Wood shades with 2-in. slats, measuring 36 in. wide by 42 in. tall, start at around $125; metal and vinyl models cost less.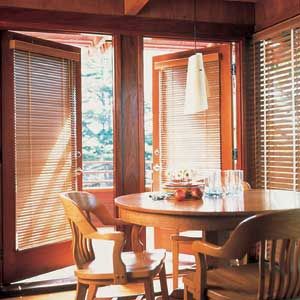 Window Shadings
A relatively new hybrid of honeycomb and horizontal blinds, shadings feature opaque louvers sandwiched between sheer fabric panels. This lets light in while keeping glare to a minimum. Shadings are particularly useful for windows that face south or east. Once the shade is fully lowered, the ladder-free slats can be opened, tilted for filtered light and partial view or shut for complete privacy with the cord. Using an inside mount, they will fit into angled- or arch-top windows.
Although they're elegant, shadings adapt to styles from casual to formal. Hang them on their own for a pared-down, sophisticated effect. For more drama, they can be layered under curtains, as you would normal sheers.
Clean these polyester shades with a feather duster or a handheld vacuum on low setting. Windows shadings are expensive; prices start at $250 for a 36 by 42-in. model.
Roller Shades
Before the advent of the mini-blind, roller shades were the standard for fast, no-frills window coverings. Although they're available in translucent films and fabrics as well as traditional opaque materials, they aren't the best choice when it comes to light control: The shade is either up or down, offering no diffusion or direction.
But there have been improvements. The spring-loaded roller of the past has been updated with a clutch mechanism and continuous cord and pulley that allow more precise positioning of the shade without clumsy snapback. Installation options now include a reverse roll, where the shade material falls over the top of the roller, concealing it and resulting in a cleaner look. Roller shades give rooms a homey, retro feeling, reminiscent of a weekend cottage. Prices vary depending on the material used for the shade, but rollers are budget-friendly, beginning at about $50 for a high-quality fabric model that measures 36in. by 42 in.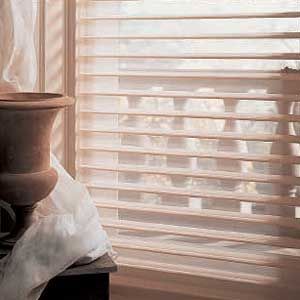 Vertical Blinds
Most commonly used over sliding glass doors, vertical blinds are also at home with tall casement windows, fixed-glass windows or bow windows, as well as with arch-top and angular windows. Long typecast as a commercial window covering, vertical blinds can bring a sense of drama to a room with their strong lines. More than any other window covering, they enhance the height of a room—something to keep in mind if ceilings are low in your home. In vinyl, fabric, metal or even matched to wallpaper (by slipping strips of the material into its front face), vertical blinds allow good air circulation and are an outstanding choice when it comes to protection from UV rays, which can be a problem in west- and south-facing windows. The decorative vanes can be inserted into plastic backs that protect them against sun damage and present a uniform look to the street.
Free-hanging slats, which are weighted at the bottom to keep them orderly, are another option. To hide their hardware, you can top vertical blinds off with a headrail that matches the vanes. A no-frills, free-hanging vinyl blind measuring 60 to 68 in. costs about $100.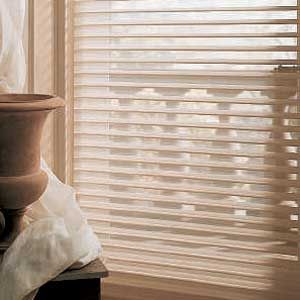 Shutters
Shutters, with their distinctive appearance, inject a lot of character into a room. The width of the slats has a lot to do with that. Vanes can measure up to 5 1/2 in. (these are called "plantation shutters") and down to 3/4 in. Stained or painted solid-wood versions are traditional choices. Smooth white louvers, often made of vinyl, are more contemporary, especially when they're hung in an angled- or arch-top window. Most shutters have flat slats with ends cut at 90°. For something a little more distinctive, look for slats with rounded ends and beaded and S-shaped blades. With adjustable louvers, control rods can be centered, offset or hidden from view.
Hinged shutters are usually found on windows, but for door treatments, they are often hung from a track to roll or fold out of the way. Framed shutters give a more polished look to an installation. If you want shutters in a nonstandard paint or finish, be aware that they're a tricky painting project; Pinecrest offers this service to customers for an additional fee. With the low sun levels of winter months, shutters may block out more light than you would like; try installing them only on the lower part of a window instead of its entire height. Maintenance is minimal—just a good dusting is all they need. Shutters are priced in several ways: by the square inch or square foot, or by the panel. You'll pay $20 and up per square foot for a painted-wood shutter with 11/2-in. louvers.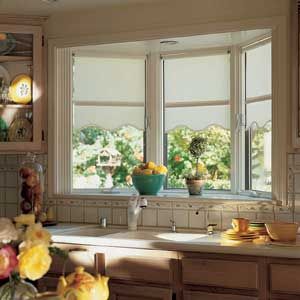 Measuring and Mounting
If you decide to measure the openings for the blinds yourself, you'll first have to decide to install them either inside mount or outside mount. An inside mount shows off a window's casing and its shape—like the distinctive look of a bay window. An outside mount can disguise windows of unequal size, unifying and balancing their appearance. To ensure accurate results, use a tape measure with a stiff metal rule.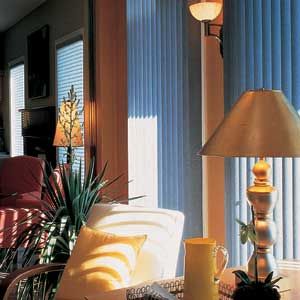 Cord Safety
Alerted to the hazards of accidental strangulation posed by dangling control cords, blinds manufacturers have addressed safety issues in several ways. Break-apart tassels like Hunter Douglas' Break-Thru (shown) split open under stress. Another advance is the single-cord control, in which the loop design is eliminated. Wand controls also take the place of cord loops. The ultimate precaution is a remote-controlled blind that has an automatic-stop feature, similar to that of garage doors. If your blinds don't have any of these features, make sure to install a high cleat to neatly stow loose cords out of the reach of young children.