All in a Day's Work—and Play!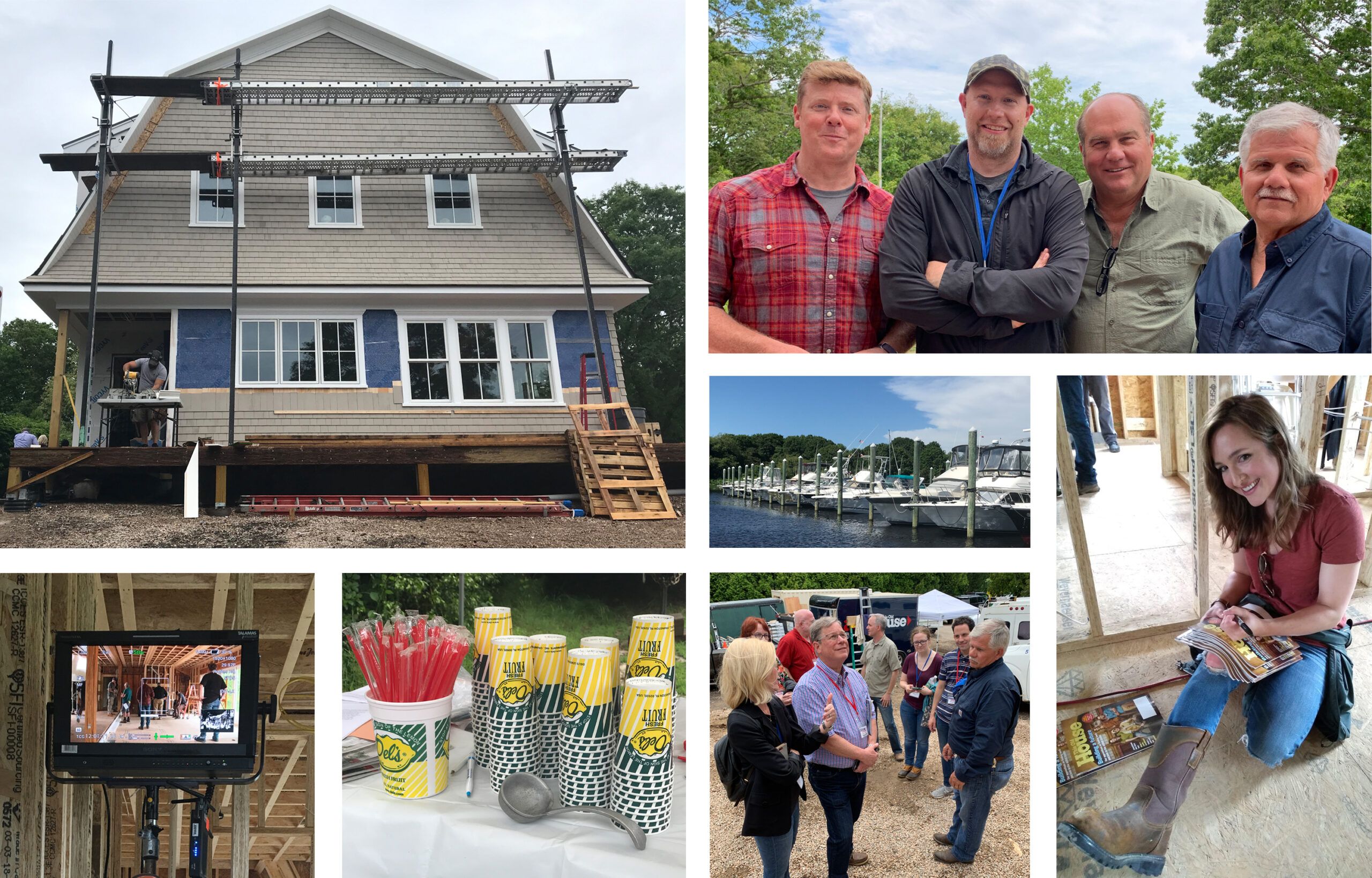 When you're renovating a house—not to mention filming a TV show while you do it—things don't always go according to plan. But that doesn't mean the end result isn't amazing! And the group of Insiders and guests who visited the Westerly Ranch House in Westerly, Rhode Island this June did a great job of going with the flow. (It certainly didn't hurt that Tommy, Richard, Kevin, Mark, and Jeff were on hand to help, not to mention our Generation Next apprentices and the TOH TV crew!) Keep reading to catch up on everything they got to see and do in Westerly.
Want to be the first to know about chances to get in on events like this? Start your free 30-day trial of This Old House Insider today.
Welcome to Not-So-Sunny Rhode Island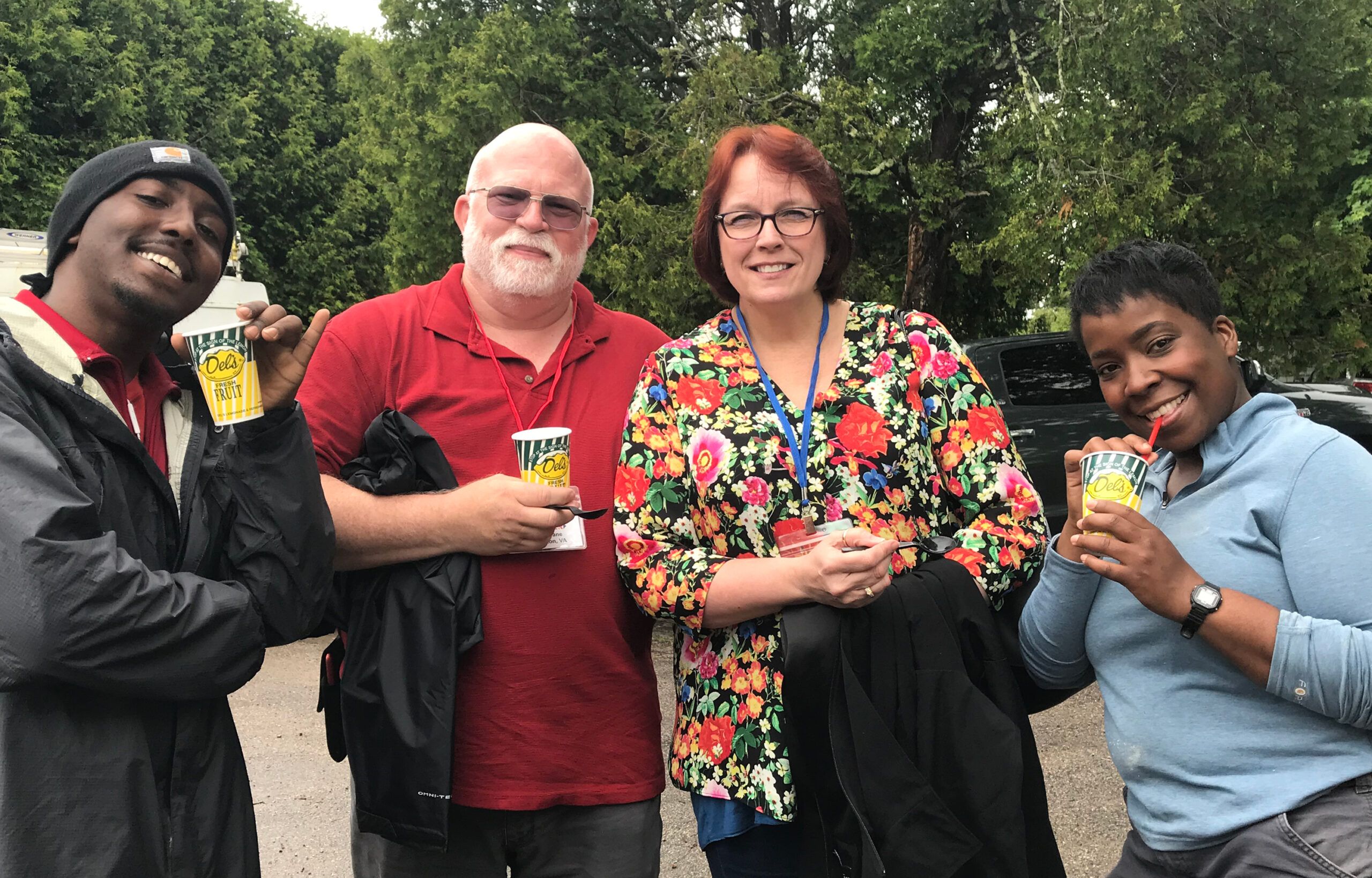 Insider Tom Crane and his wife Debbie were worried they wouldn't make it from Arlington, VA when their flight was delayed. But since the weather wasn't cooperating in Westerly either, they wound up being right on time.
Tom's a former journeyman carpenter, and both he and Debbie are long-time TOH viewers, so rain or shine they wanted to get to the event! And when they did, the newest Generation NEXT apprentices, De'Shaun Burnett (left) and Kathryn Fulton (right), greeted them with a classic Rhode Island treat—Del's Frozen Lemonade.
Even More Apprentices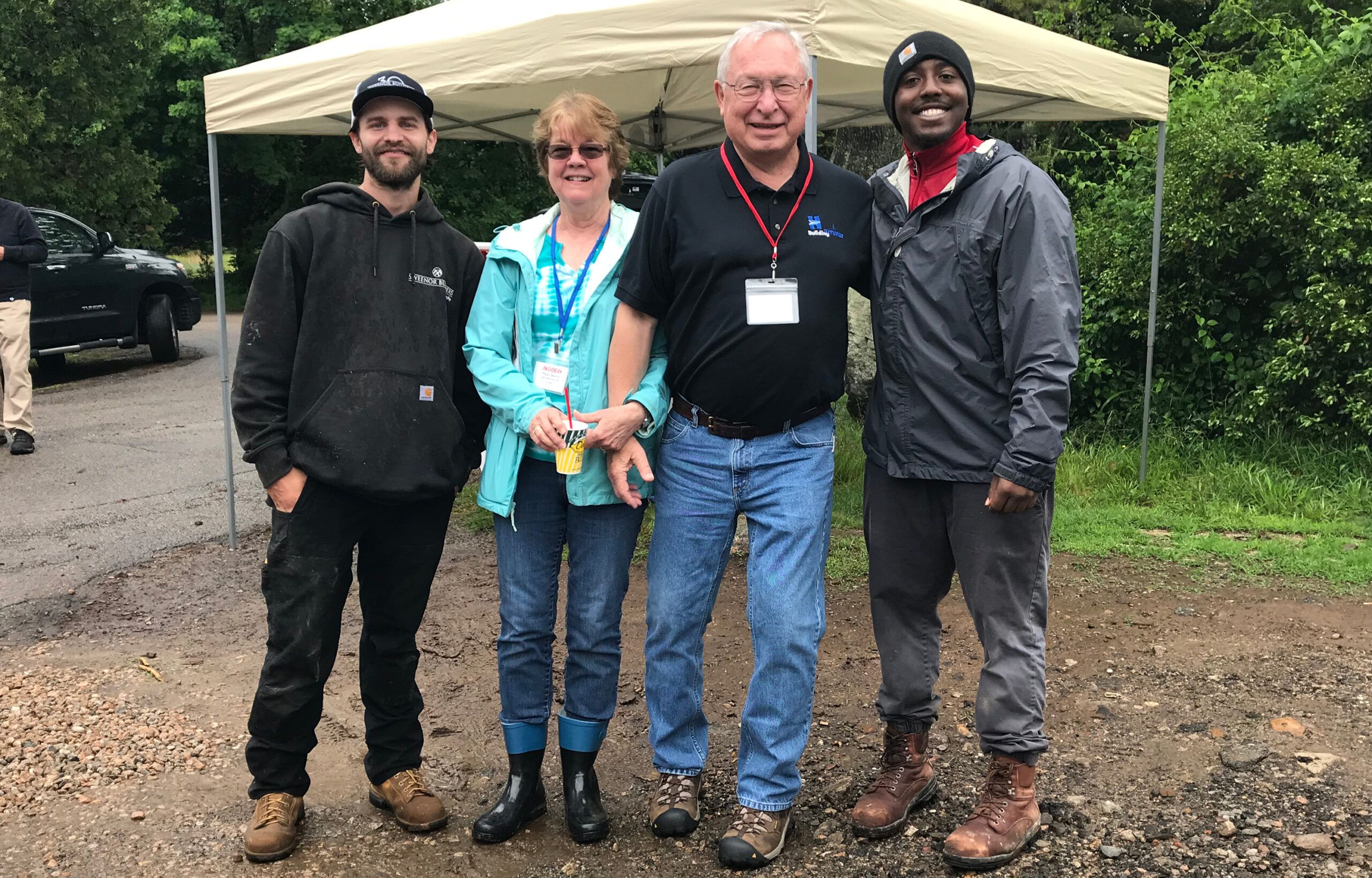 Kathryn and De'Shaun aren't the only apprentices in Westerly. Ryan Dolan (left) is on the job site too, working as an apprentice for home builder Jeff Sweenor. Ryan has a degree in biomedical engineering but eschewed the office life for carpentry.
He and De'Shaun snapped a pic with Jim and Peggy Boerke of Hazelhurst, WI. Both Jim and Peggy are avid about home improvement, and Jim has a particular interest in carpentry, so the group had plenty to chat about.
Lights, Camera…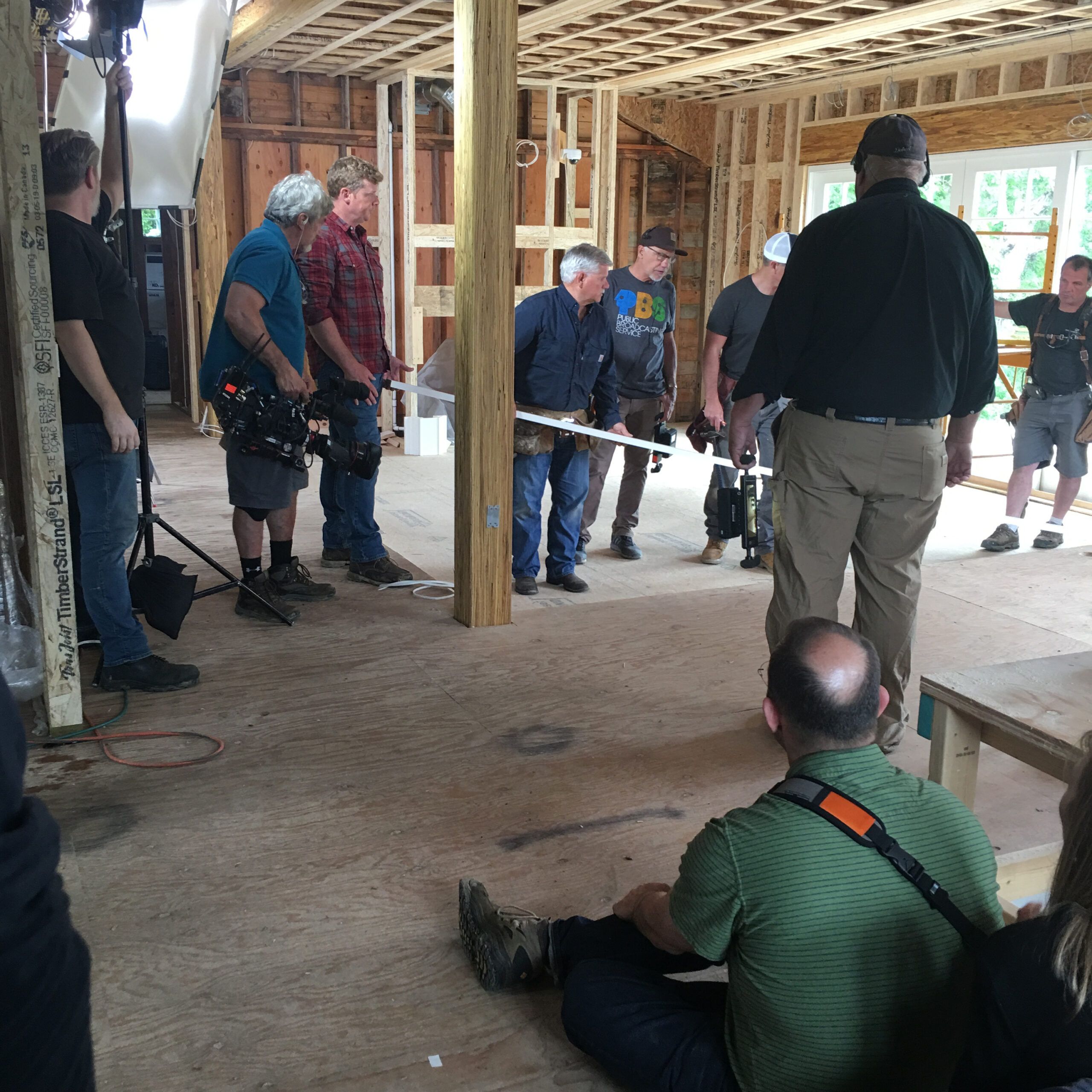 The event took place on a day when This Old House was filming, though the rain changed the shooting schedule, too. The crew had planned to film general contractor Tom Silva teaching the apprentices how to install a sliding glass door, but that had to be scrapped for a scene that could be shot indoors. Instead, Insiders and guests looked on as Tommy, host Kevin O'Connor, and Jeff laid out and measured some of the living room's new ceiling beams.
Up and Down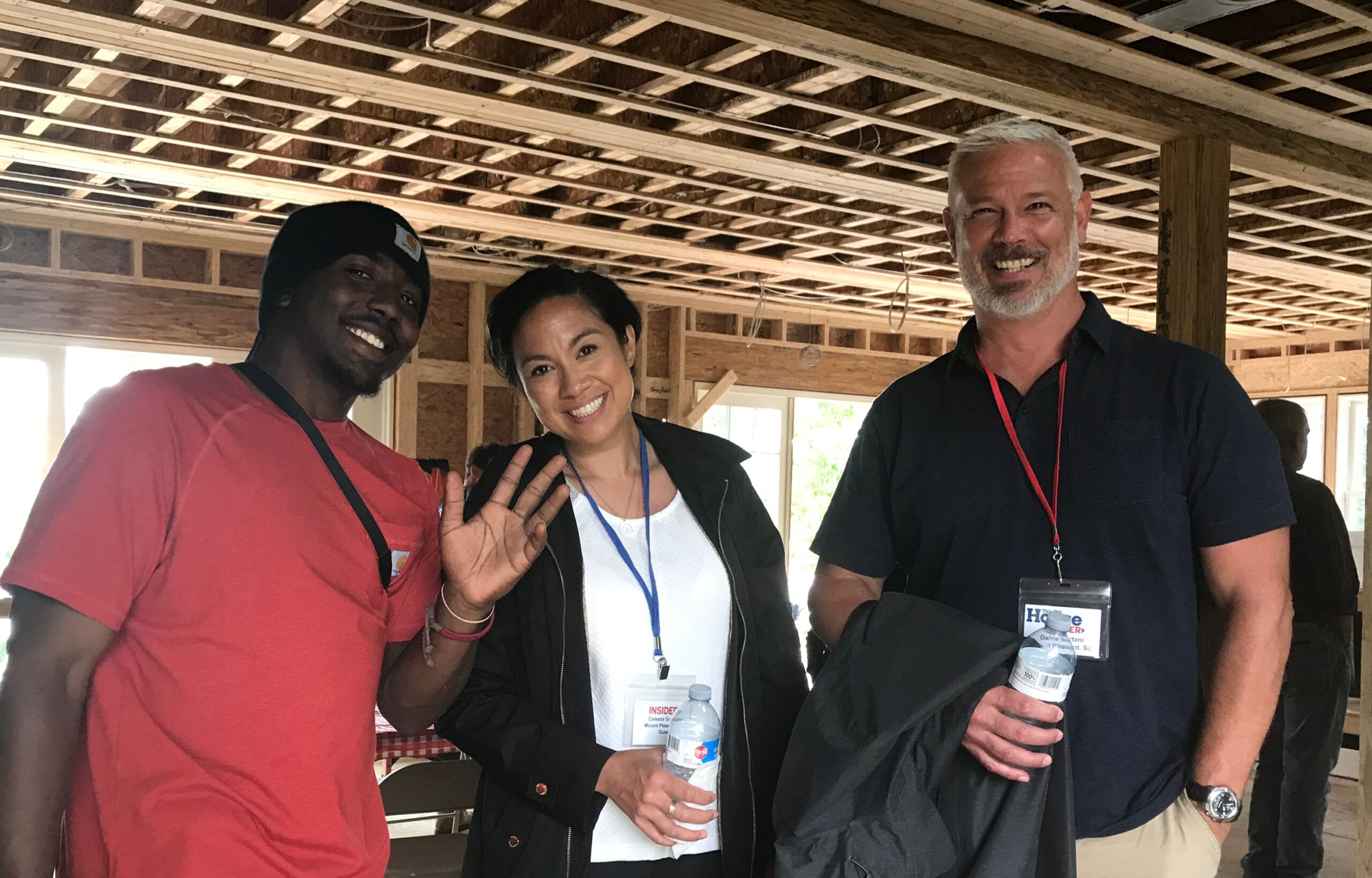 Since not everyone could squeeze in to watch the filming at the same time, De'Shaun helped escort guests up and down the stairs in small groups. Here, he's with Insider Darris Bertrani and his partner Celeste Granger, who made the trip north from Mount Pleasant, SC. De'Shaun's also from the south—he came to This Old House from New Orleans, where he's pursuing a career in construction.
Darris is a serious TOH fan, and he's gotten Celeste to watch quite a bit of the show as they've worked on projects around their home. Most recently, they redid their fireplace, but the two have also built a sideboard to augment their kitchen's storage and made a few of Norm's New Yankee Workshop projects, too.
How It's Made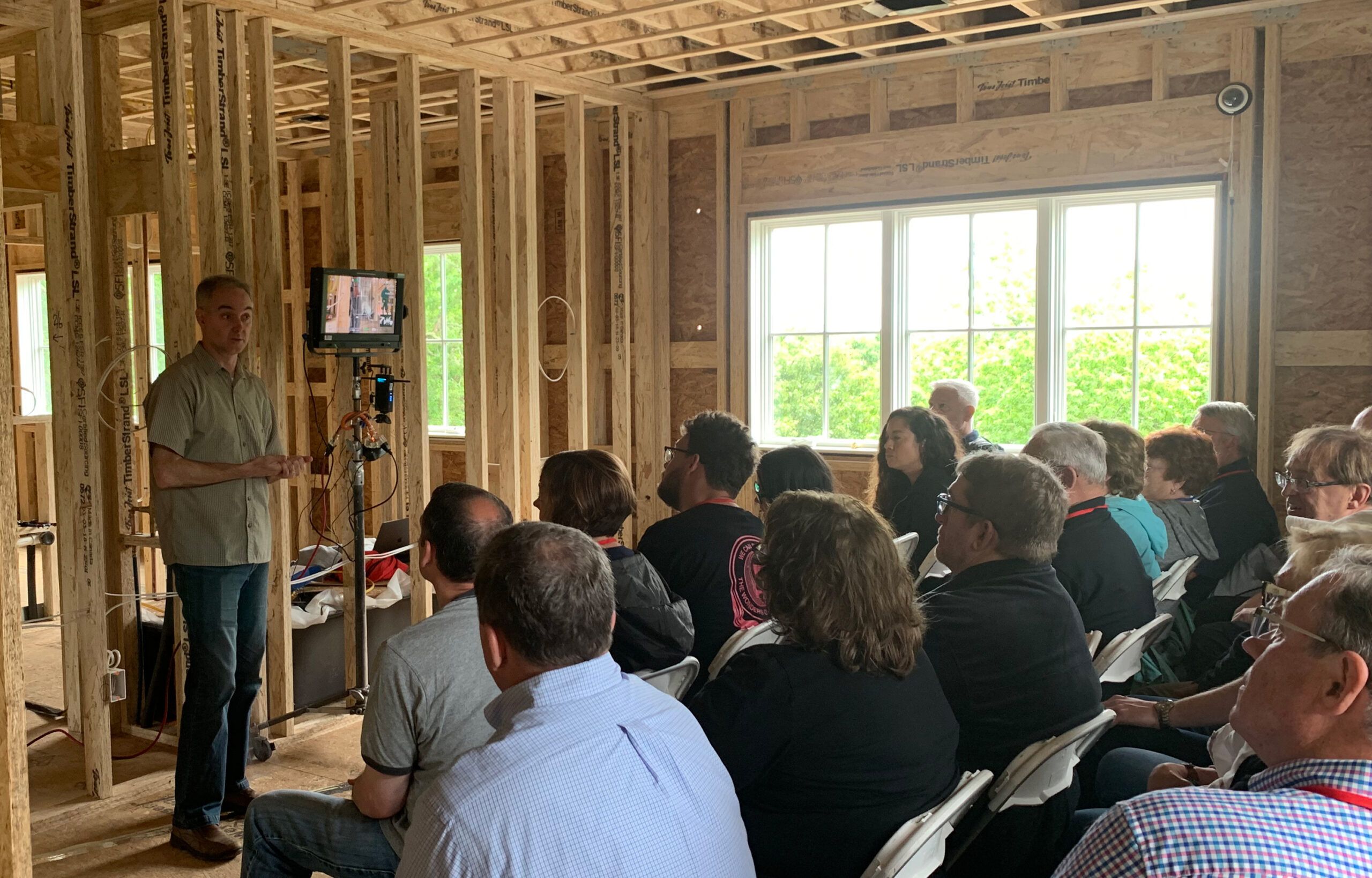 When not taking a turn on the "set", Insiders and guests could watch the shooting live via a monitor upstairs. Between takes, This Old House executive producer Chris Wolfe did an informal Q&A, answering questions about everything from how the episodes are put together to the history of the show.
She's Back!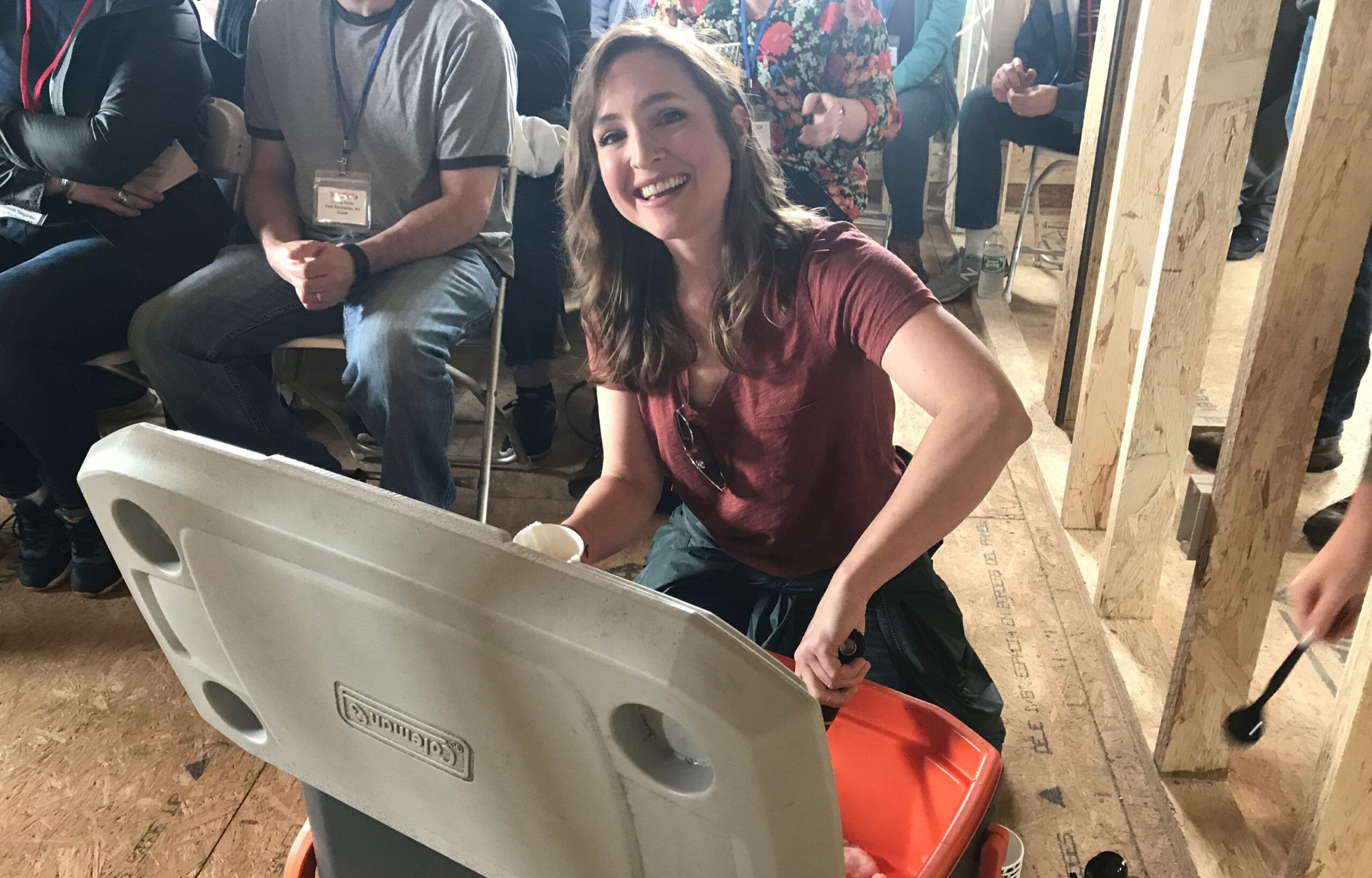 Surprise! Jamestown Net-Zero House apprentice Mary McGuire Smith popped by for a visit, and did everything from scooping frozen lemonade to autographing copies of This Old House magazine. After all, she and fellow Jamestown apprentice Kevin Barker, as well as the apprentices from the Brookline Mid-Century Modern House, were on the cover of the March/April 2019 issue!
Photo Op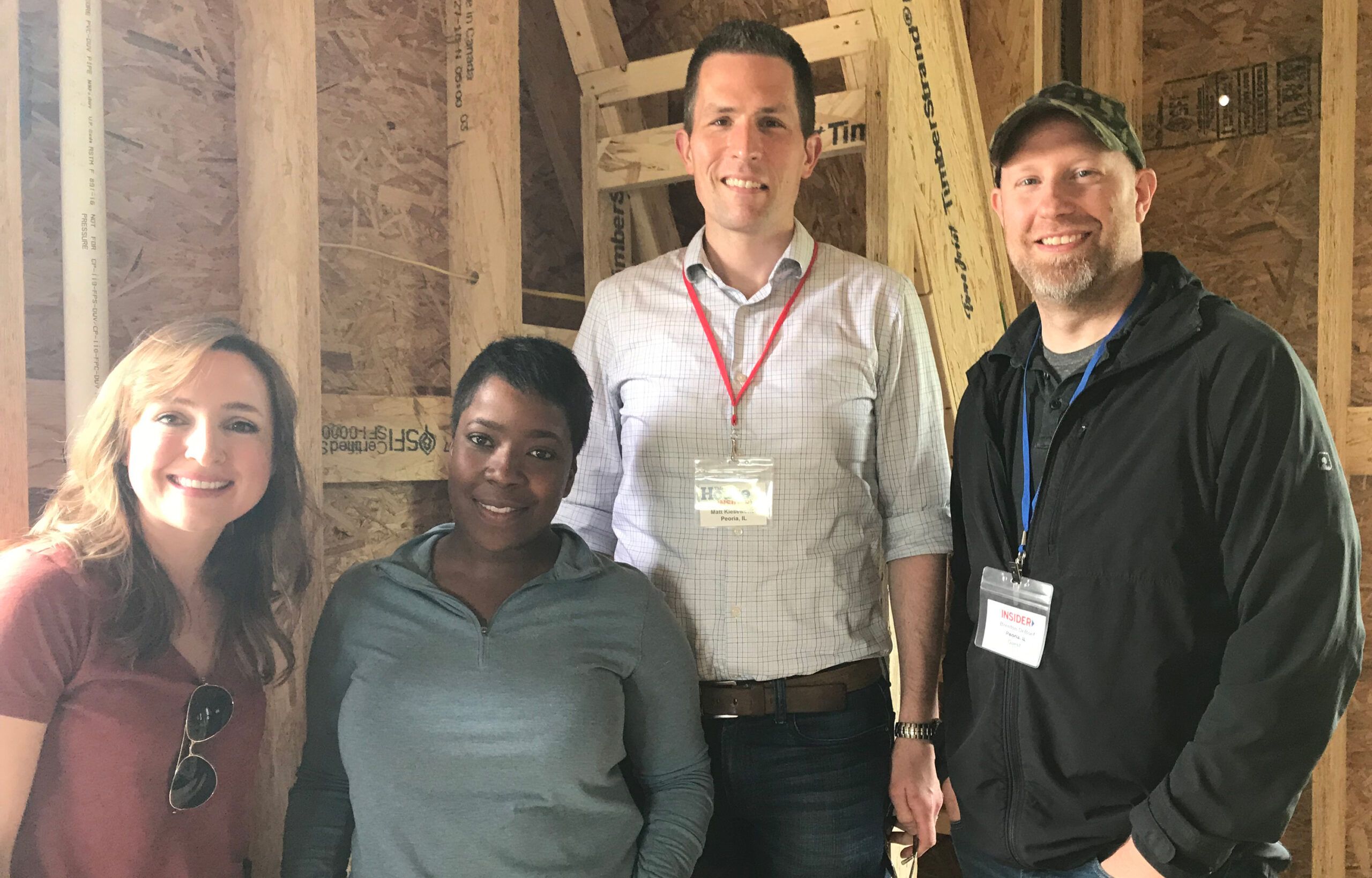 "TOH has been my go-to source for the many, many home improvement projects my wife and I have taken on since buying our first home five years ago," says Insider Matt Kiesewetter (second from right) of North Kingston, RI. A professor of organic chemistry, he brought his colleague—and fellow This Old House fan—Brenton DeBoef (right) with him to Westerly. The two grabbed a photo with Mary and Kathryn inside the house.
It's Richard!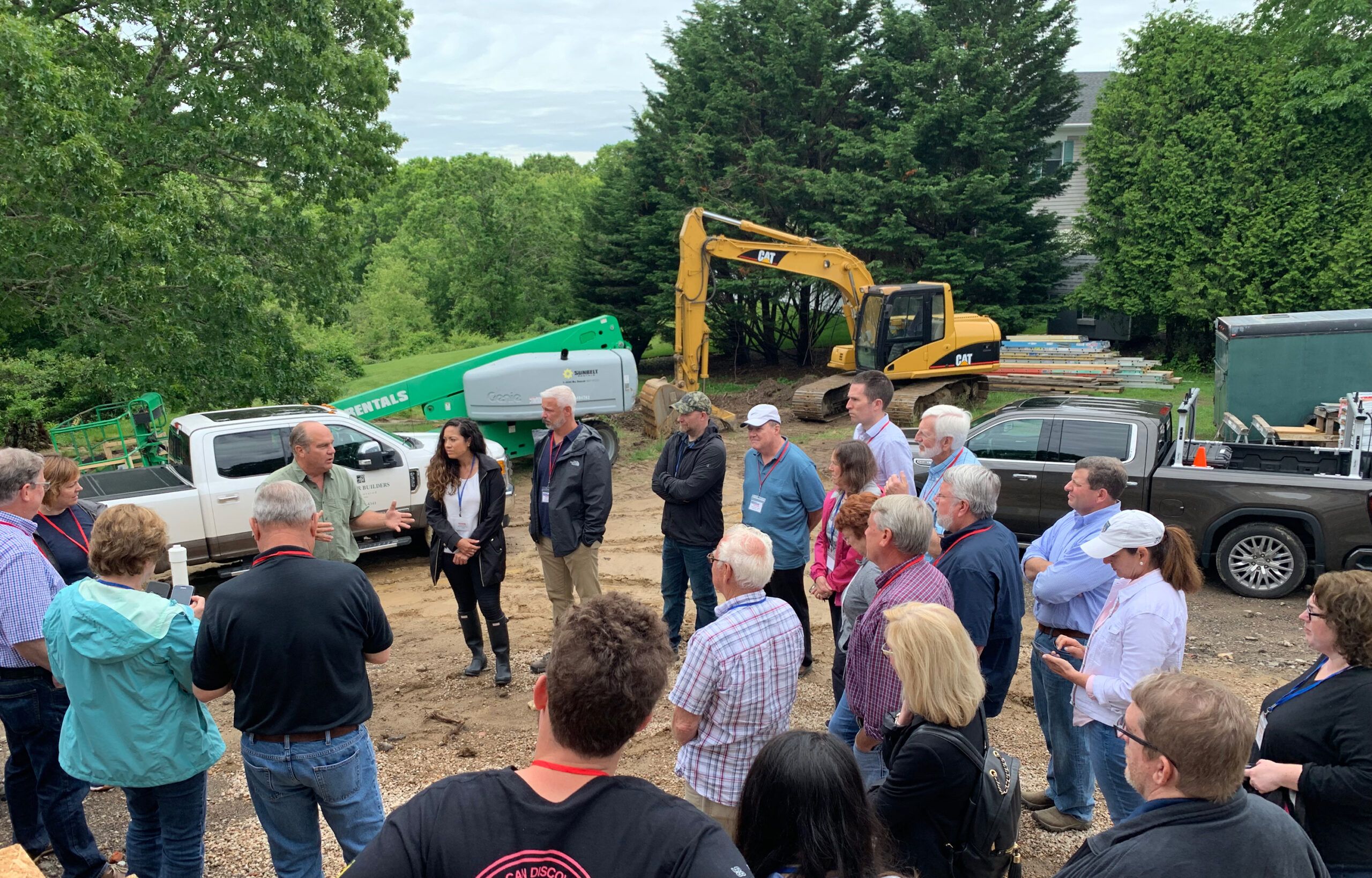 Though he wasn't working on the job site that day, Insiders and guests were thrilled when TOH plumbing expert Richard Trethewey made a surprise appearance. Once the weather had cleared a bit, he took everyone outside and gave an overview of the septic work that's been done in Westerly.
And no, it wasn't all plumbing! Richard also reminisced quite a bit about his first season on the show back in 1979, when he appeared alongside his father, and how his sons Ross and Evan have now become involved with This Old House.
Lunch Break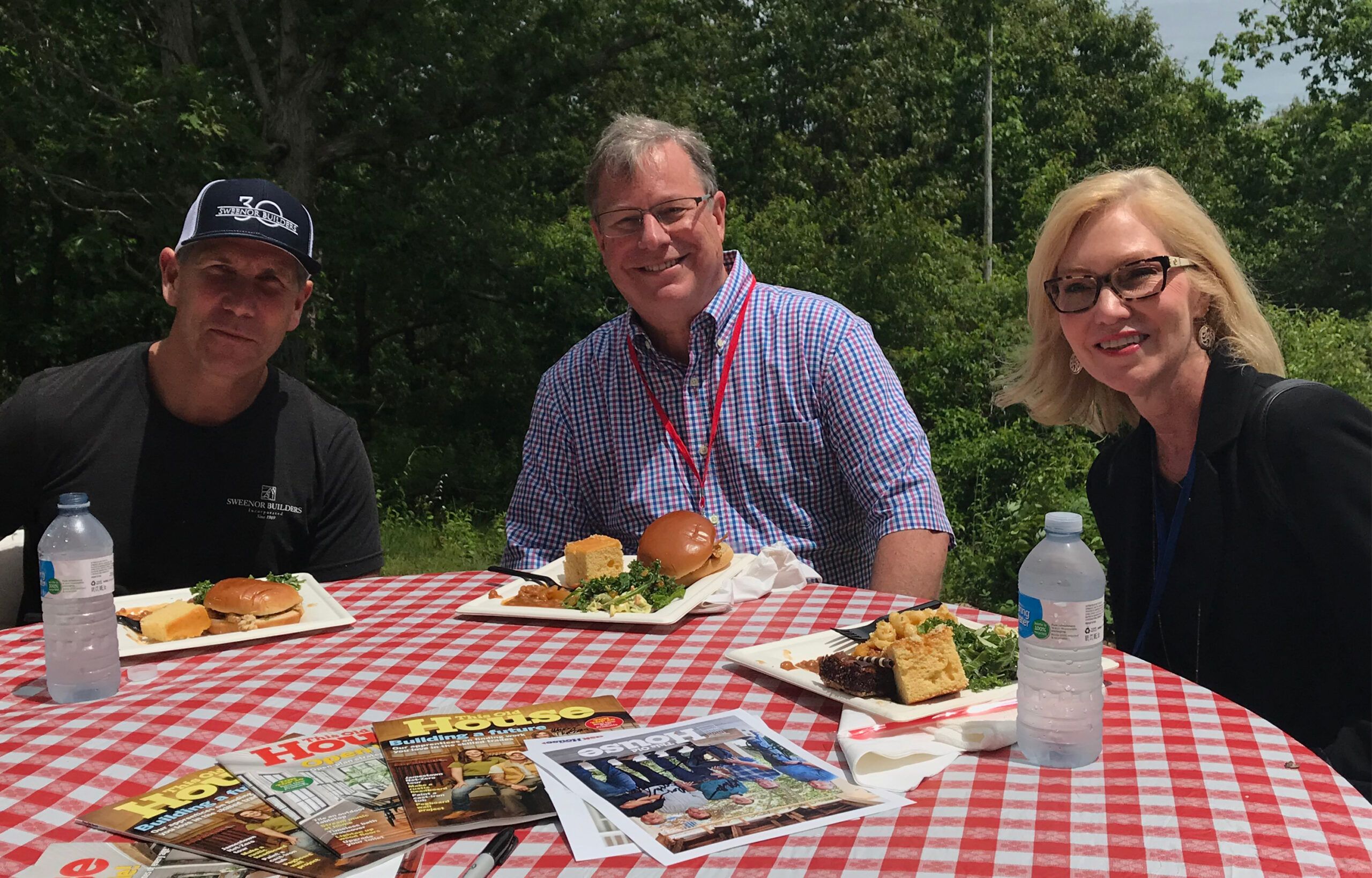 We didn't call this event the Westerly Ranch BBQ for nothing! Insiders and guests got to enjoy a full spread of barbecued goodies and all the fixings, plus mix and mingle with the cast and crew. Insider Steve Hunter and his wife Susan, who actually recently relocated to Rhode Island from Connecticut, got to chat with fellow Rhode Islander (and builder on the Westerly project) Jeff Sweenor. Steve's looking forward to retiring soon, and says he hopes to take on projects around the couple's new home, referring to "the great expert advice and tutorials on the TOH website." Aww, thanks Steve!
Catching Up with Kevin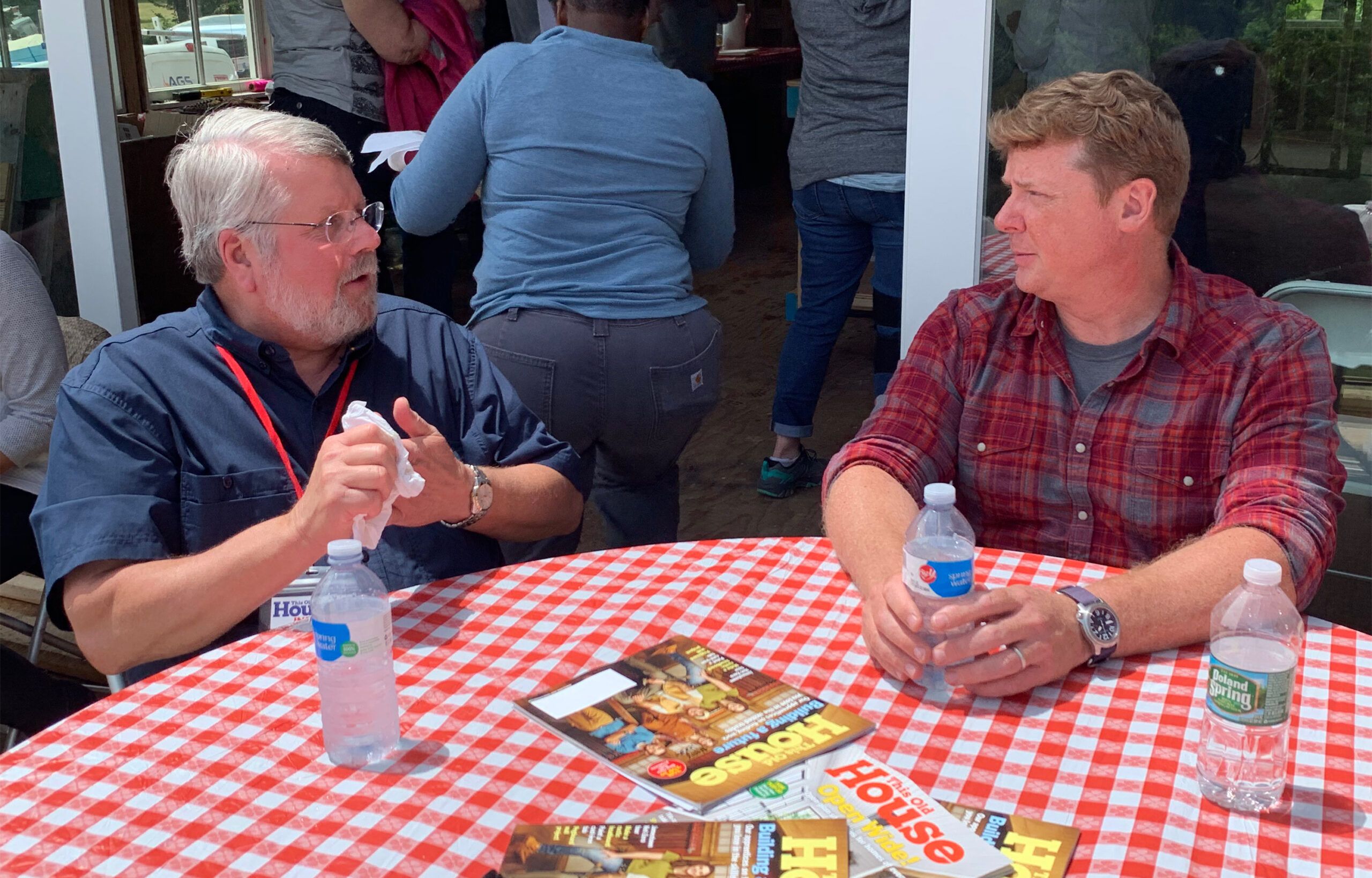 Insider Michael Hall, who came from Nashville, TN with his wife Wanda, got to talk with Kevin during lunch. He and Wanda also enjoyed chatting with fellow southerner (and former TOH apprentice) Mary, who hails from Mississippi.
Both Michael and Wanda are serious TOH fans, and have watched the show "since the beginning." An avid woodworker, Michael says he enjoys "doing projects around our house and for friends and relatives."
Finding Inspiration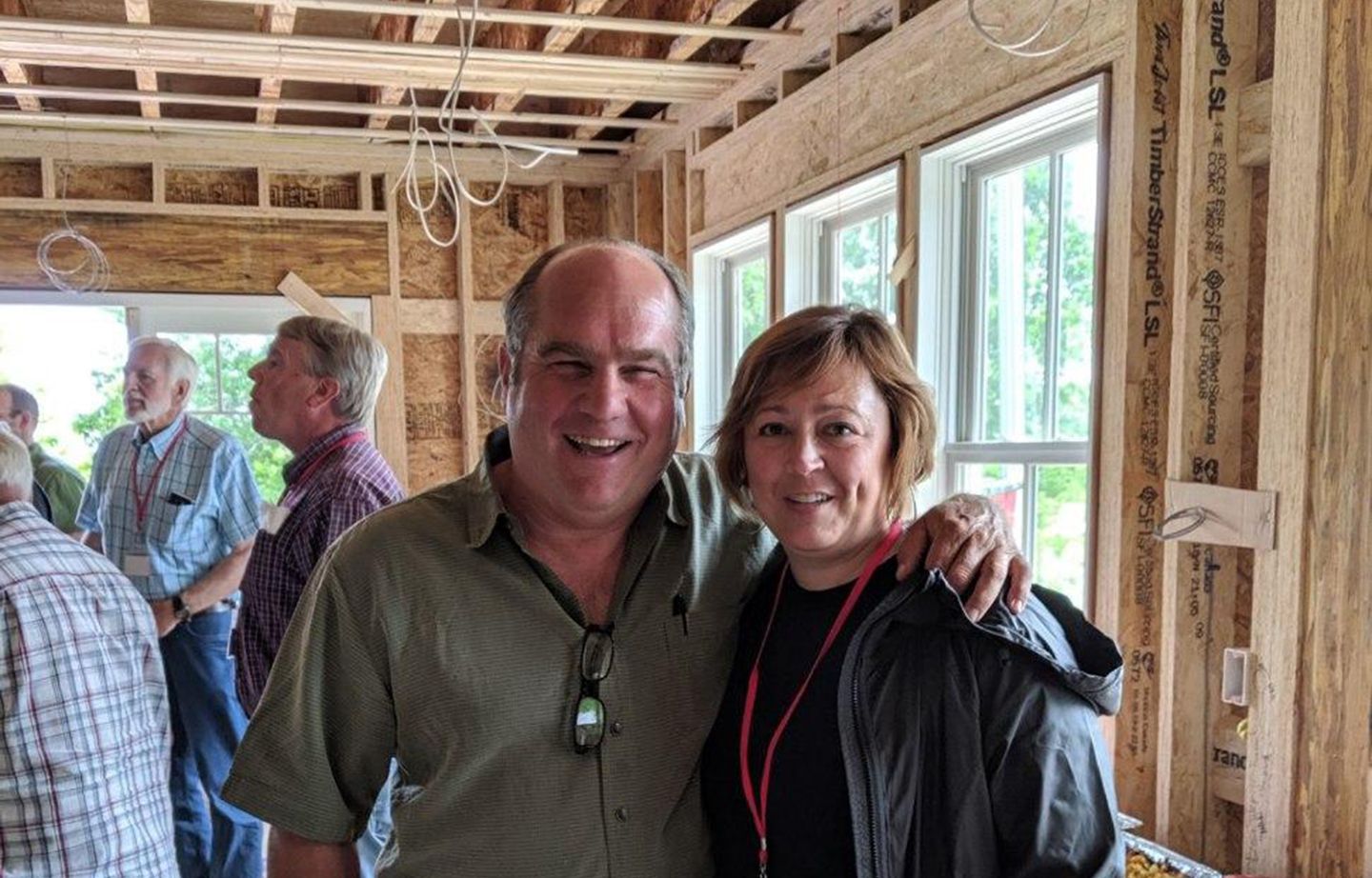 Insider Elizabeth Teegarden, seen here with Richard, traveled to Westerly from East Rochester, NY with her husband Duane Peifer. Elizabeth says she started watching This Old House back in the early 80s, and when she and Duane first met twenty years later, she soon got him hooked on the show.
"We both work in IT but spend most of our weekends very slowly rehabbing our 1937 French Norman Revival-style home," Elizabeth says. "From both TOH and AskTOH, we've enjoyed learning everything from simple tips and tricks to how to do larger projects the right way, plus what to look for in the tradespeople we hire. I've also found inspiration for our house and yard through the magazine and Insider."
Taking Five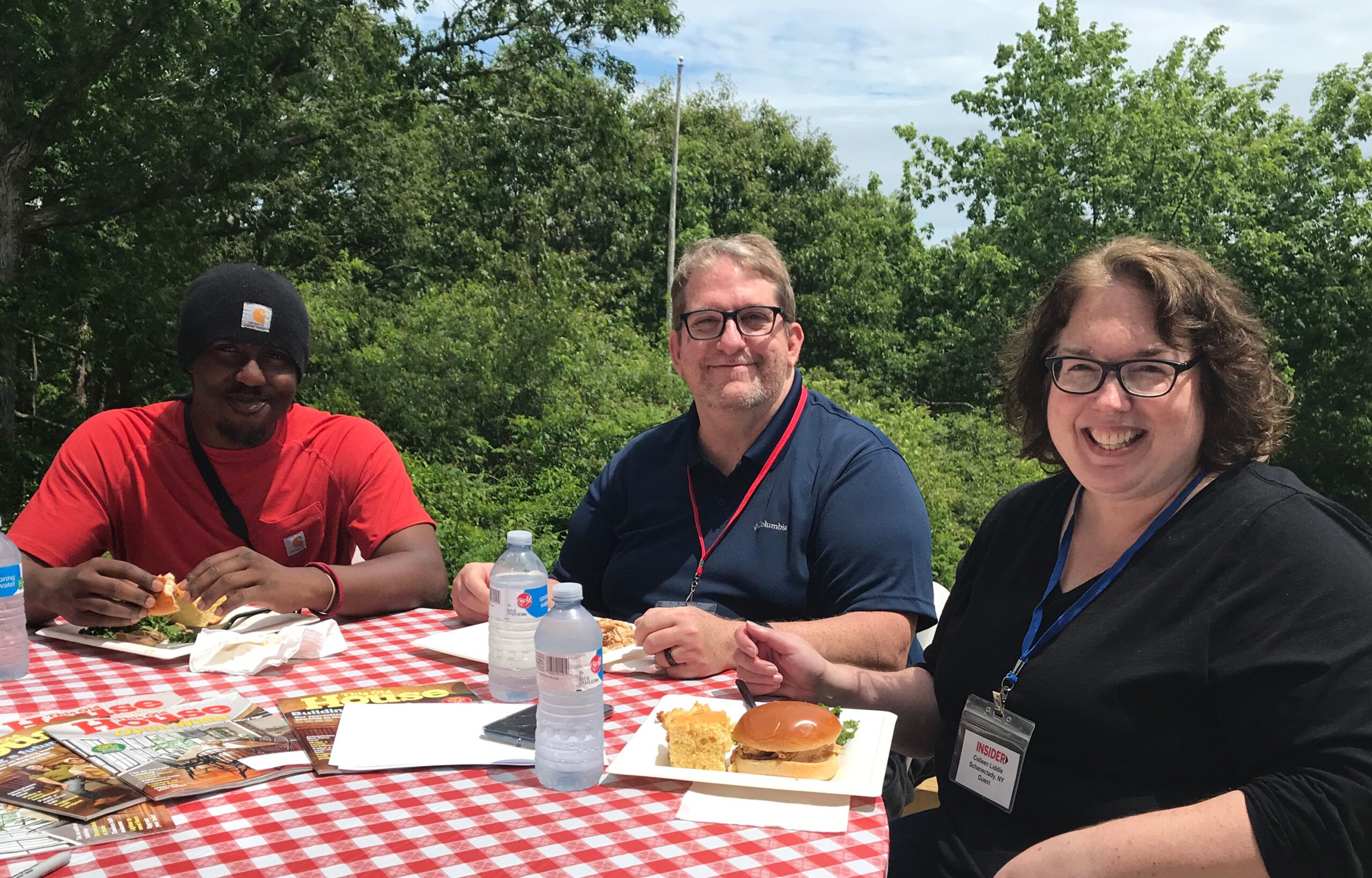 Don't worry—in addition to helping out with just about everything, the apprentices found time to eat, too! Here De'Shaun's sitting down with Insider Jim Liddle and his wife Colleen, who came out from Schenectady, NY. "We own a small ranch that's approximately 55 years old and needs lots of work," says Jim. "So we've been binge-watching TOH episodes to try and get some pointers."
TOH for Life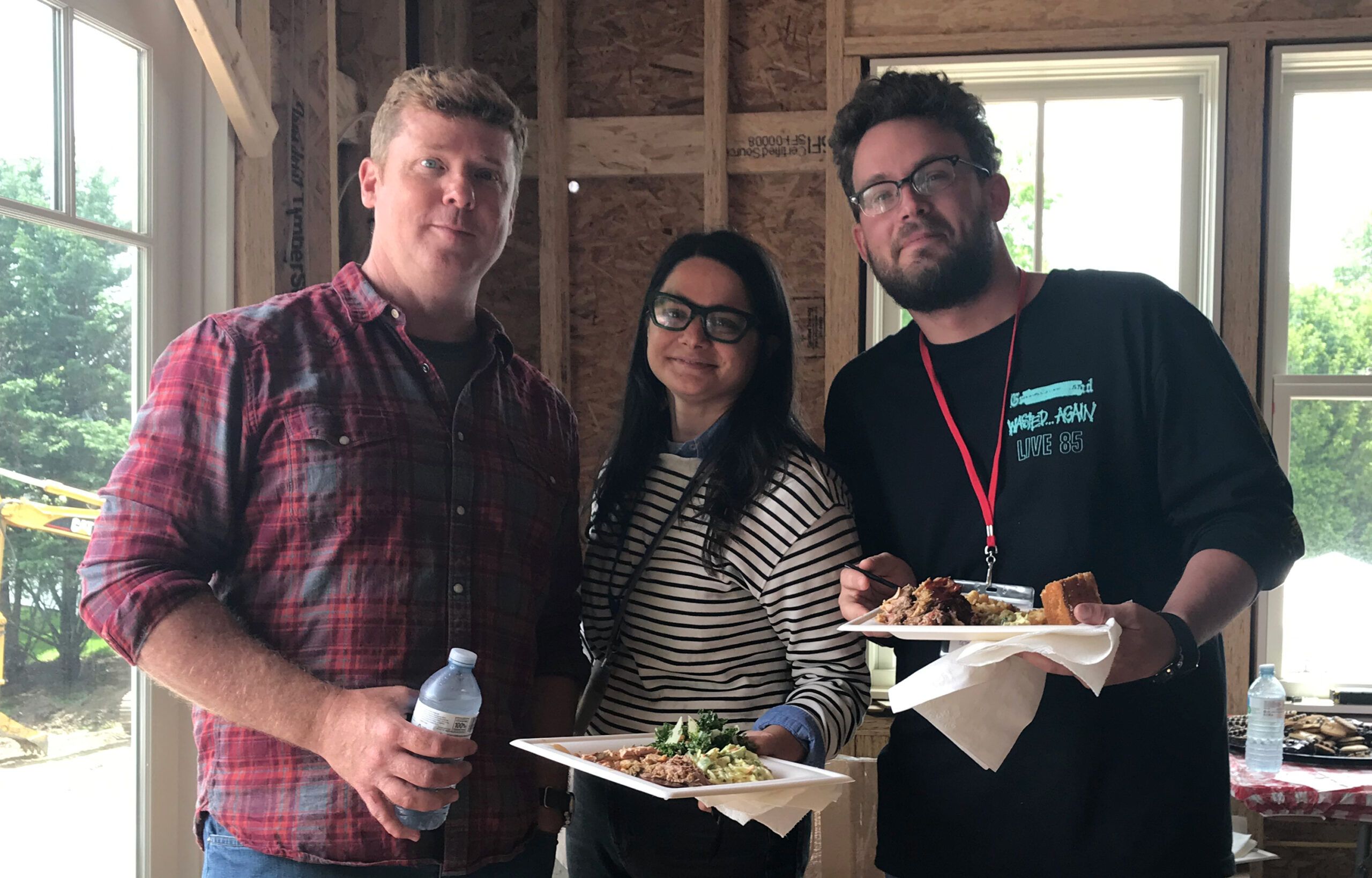 Insider Peter Pavicevic and his girlfriend Katie Raffa are both "lifetime This Old House fans," and since joining Insider Peter says they've "been excited—almost overwhelmed—by all of the additional content and opportunities you get being an Insider." (The two, pictured here with Kevin, had just been happy about the prospect of being able to binge-watch all the old seasons.)
Though they're from Brooklyn, NY, the two certainly have an appreciation for, well, old houses! "Katie is passionate about historic preservation and domestic dwellings, and I completed a Master's in landscape architecture after becoming interested in urban landscaping while watching the New York City season of This Old House," Peter says. (P.S., TOH TV renovated that Brooklyn brownstone back in Season 30.)
What's New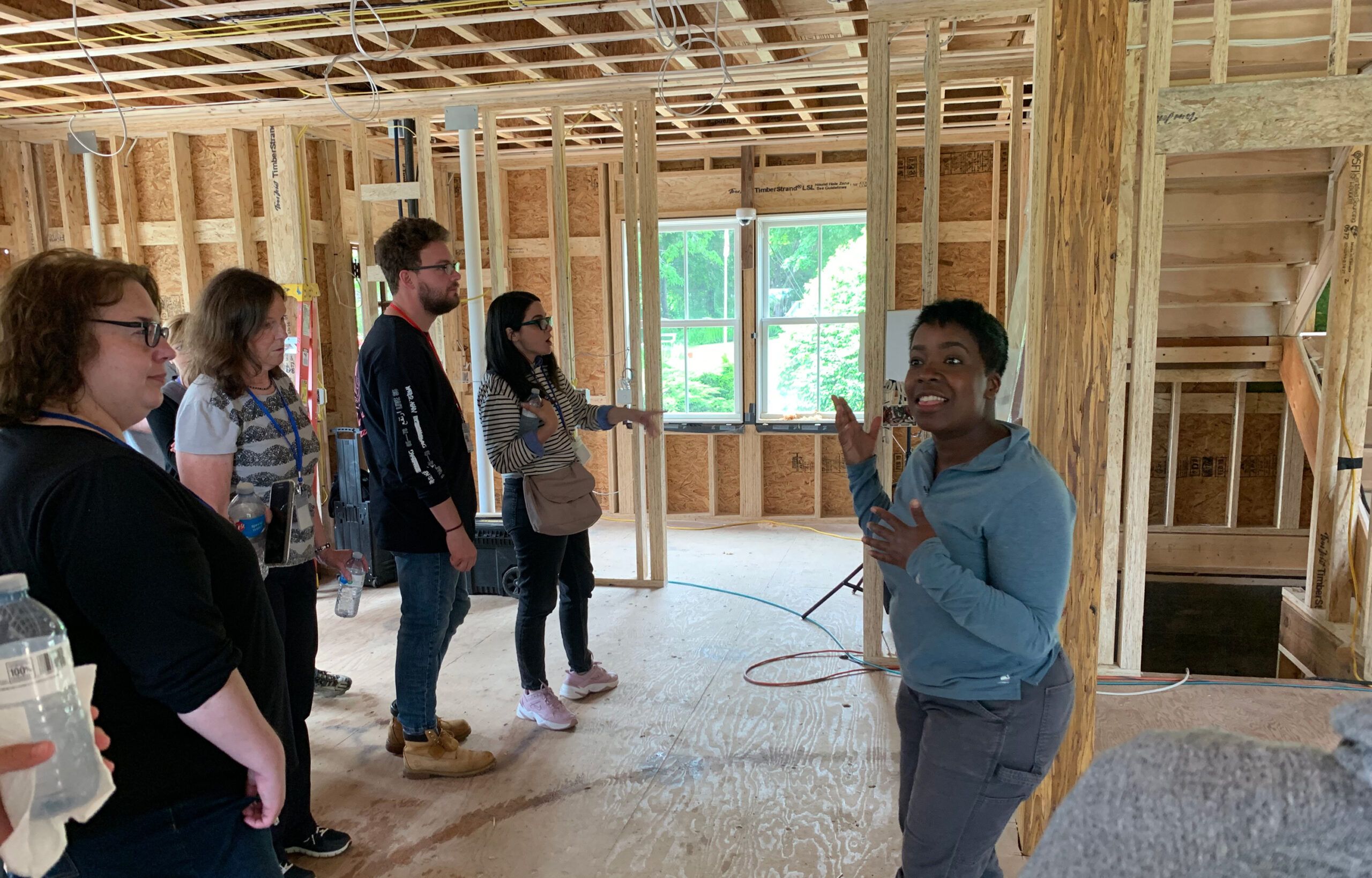 After lunch, Generation NEXT apprentice Kathryn Fulton gave Insiders and guests a tour of the Westerly Ranch House, explaining the work that's already been done and what's coming up next. Kathryn hails from Pembroke Pines, FL, and though she's learning plenty with This Old House, she's hardly a newbie. Kathryn's tried her hand at everything from electrical to plumbing to landscaping, and even completed a couple of gut remodels.
Sun's Out!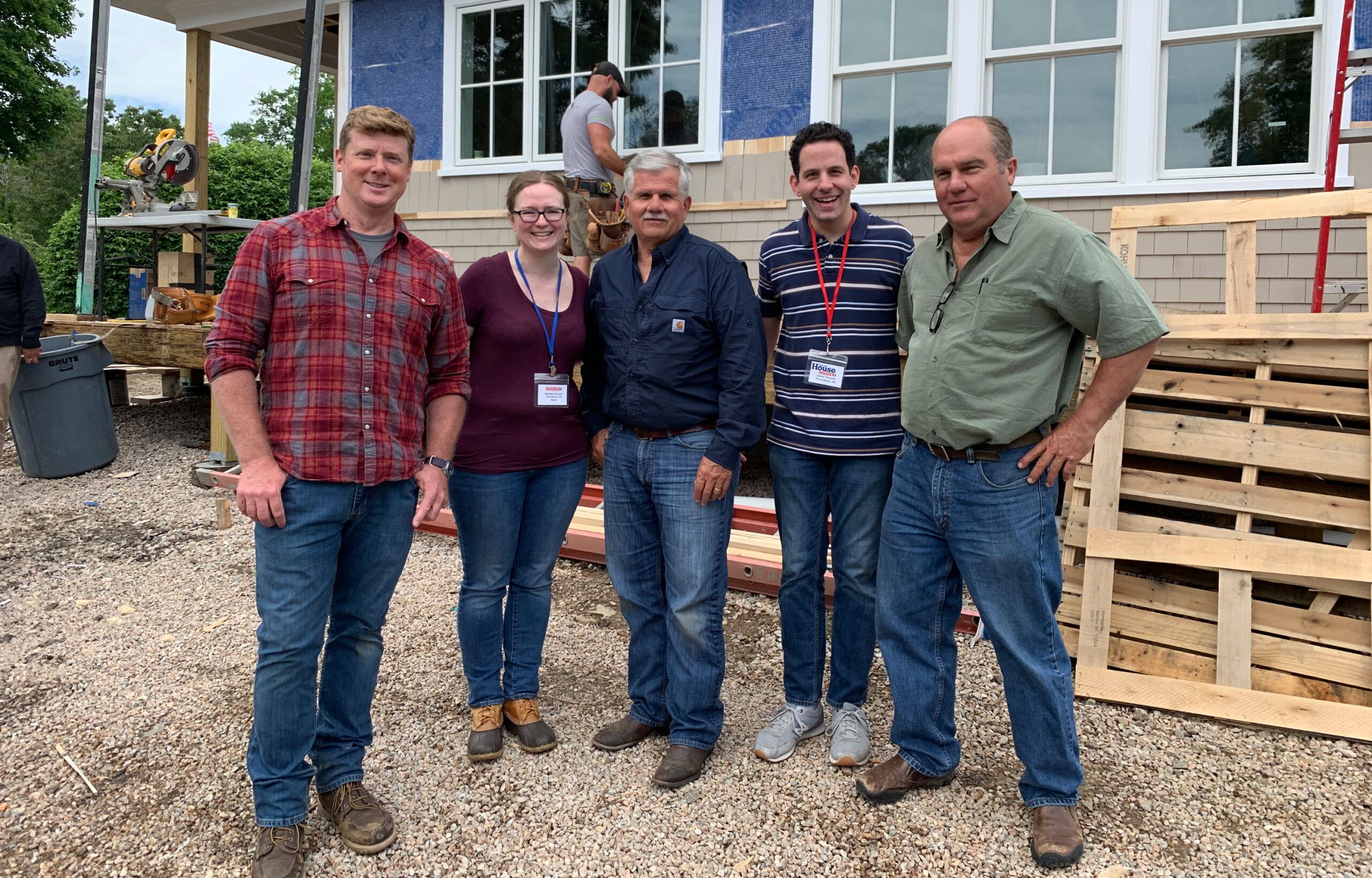 It actually turned into a sunny day, perfect for hanging out (and taking photos) outside! Insider Jay Tavares and his wife Katelain grabbed a pic with Kevin, Tommy, and Richard while Jeff's crew got to work in the background.
The two had a quick trip south from Providence, RI, where Jay says, "we live in a circa 1891 Victorian that keeps us busy with its never-ending repairs!" Luckily though, "the knowledge we've gained from watching This Old House has made it possible for us to tackle lots of projects ourselves."
A Match Made with TOH
Insider Jim Mehaffey and his wife Nicolette had quite a trek to get to Westerly—their drive from Lancaster, PA, which Jim notes is the "oldest inland town in the U.S."—took five long, rain-soaked hours.
The two met while studying architecture in college, and have been watching This Old House together for just about that long. "She'll be the first to tell you that the fact that we watched This Old House and Penn State football together convinced me to ask her to marry me," Jim says.
The couple snagged a photo with builder Jeff Sweenor and mason Mark McCullough, who was at the job site that day to work on the relocated fireplace's stone veneer.
In Front of the Camera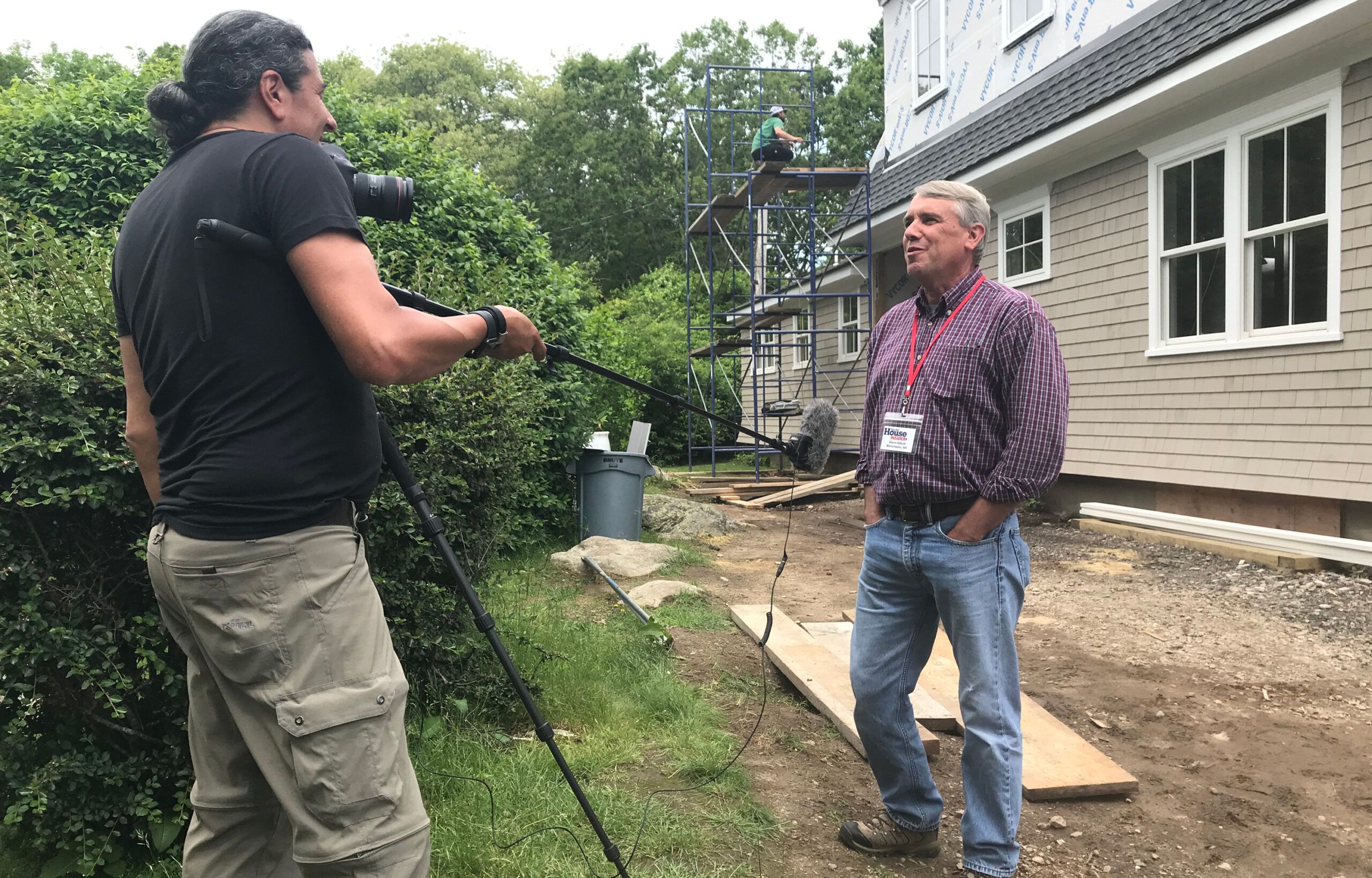 Some of the Insiders also got to be in front of the camera, talking about their memories of and relationship with This Old House. (Yes, we're really getting into this 40th anniverary stuff!) Here, Insider Steve Abbott of Manchester, NH, who came down with his father-in-law Arnie Douchette, gets some screen time.
Steve, who started his own handyman business a couple of years ago, has watched the show since the beginning. "Back in the early '90s I did a complete remodel on my house, and I used many of the things I learned from the show," Steve says. "I like learning new ways to do things, and having a resource like TOH Insider is awesome. It also helps me share ideas with my customers."
Quality Time
Insider Dennis Hulbert came down from Plattsburgh, NY, with his wife Karen. Both are longtime fans of the show, and Dennis has also been a This Old House magazine subscriber from the beginning! The couple got lots of photos, including this one of Dennis with Kevin, Richard, and Tommy.
"Over the years we've lived in three different old houses, and we did a tremendous amount of DIY projects on all three, learning a lot from the show," says Dennis. Though the two currently reside in a home that was built new just for them, they found themselves with lots of finishing projects—and now that Dennis is retired, he's finding more time for DIY.
It's Really There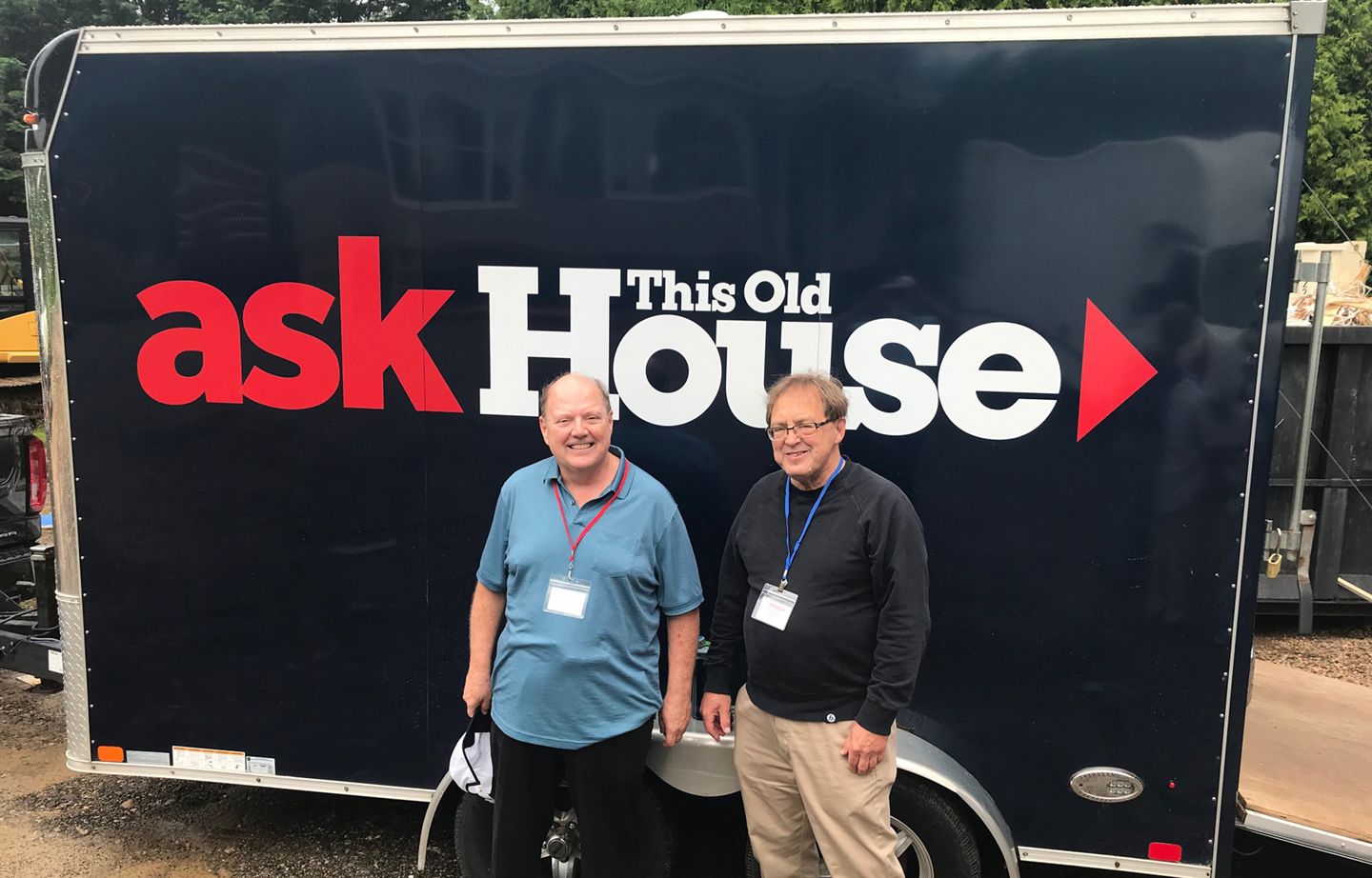 Folks often ask, and yes, it's true—not only does the Ask This Old House truck and trailer travel for that show's house calls, it also frequently shows up at This Old House job sites! Insider Donald McCauley of Lakeway, TX (left) and his brother Jim McCauley of Orleans, MA (right) were among those who took the opportunity to get a pic with the iconic trailer.
A Big Thanks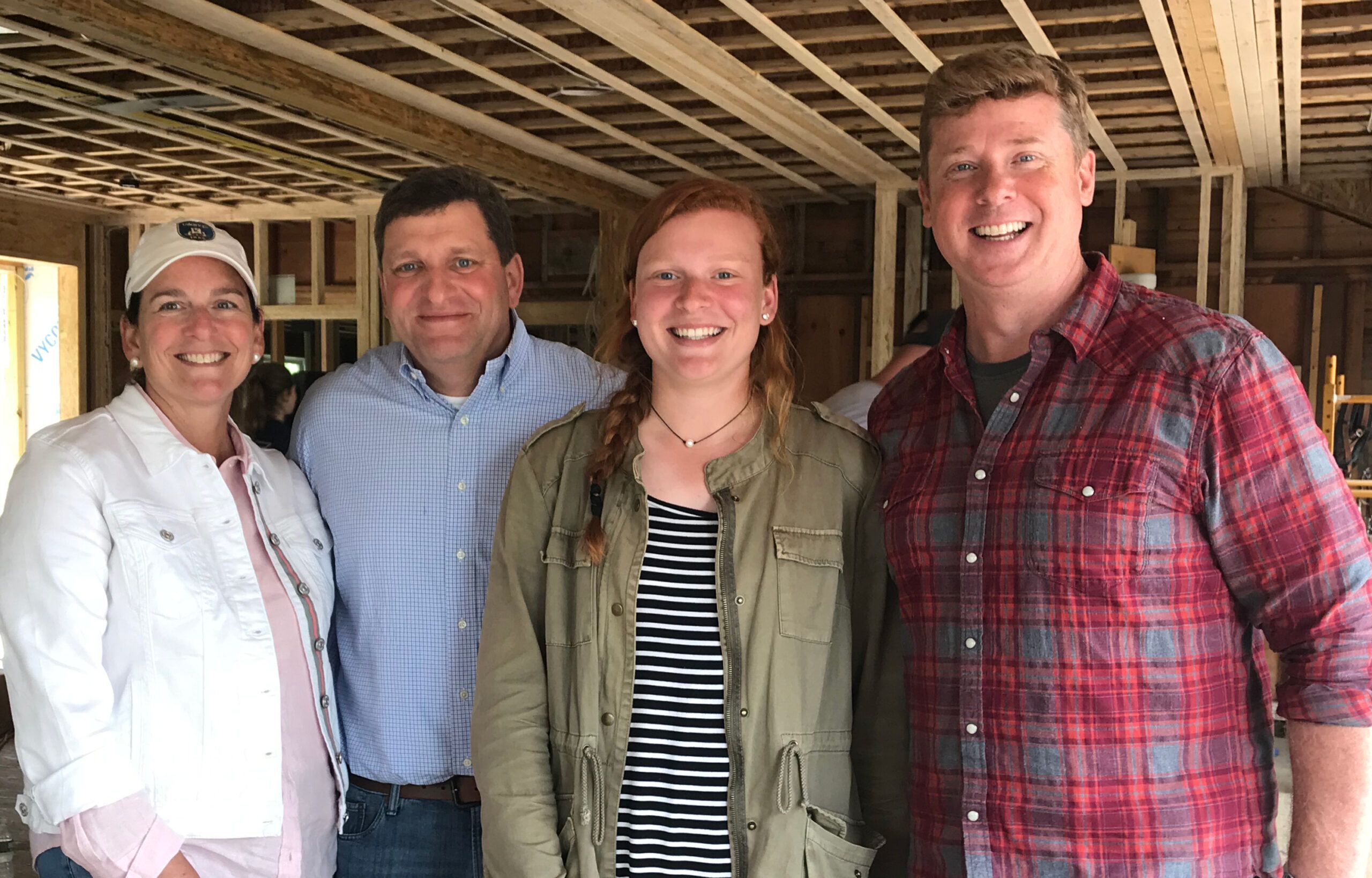 Last but certainly not least, a huge thank-you to This Old House intern Meghan Mitchell (second from right), who provided lots of help at the event—among other things, she took many of the photos you see here.
A senior at New Canaan High School, Meghan brought her parents Steve and Roxanne with her so they could meet everybody; after all, she grew up watching the show with them. Many thanks to Meghan for all her hard work throughout her internship, and we wish her the best of luck next fall when she starts college at Appalachian State University!
Want to be the first to know about exclusive events like this, plus be able to stream every episode from every season of This Old House and Ask This Old House? Become a member of This Old House Insider!