Stepping Up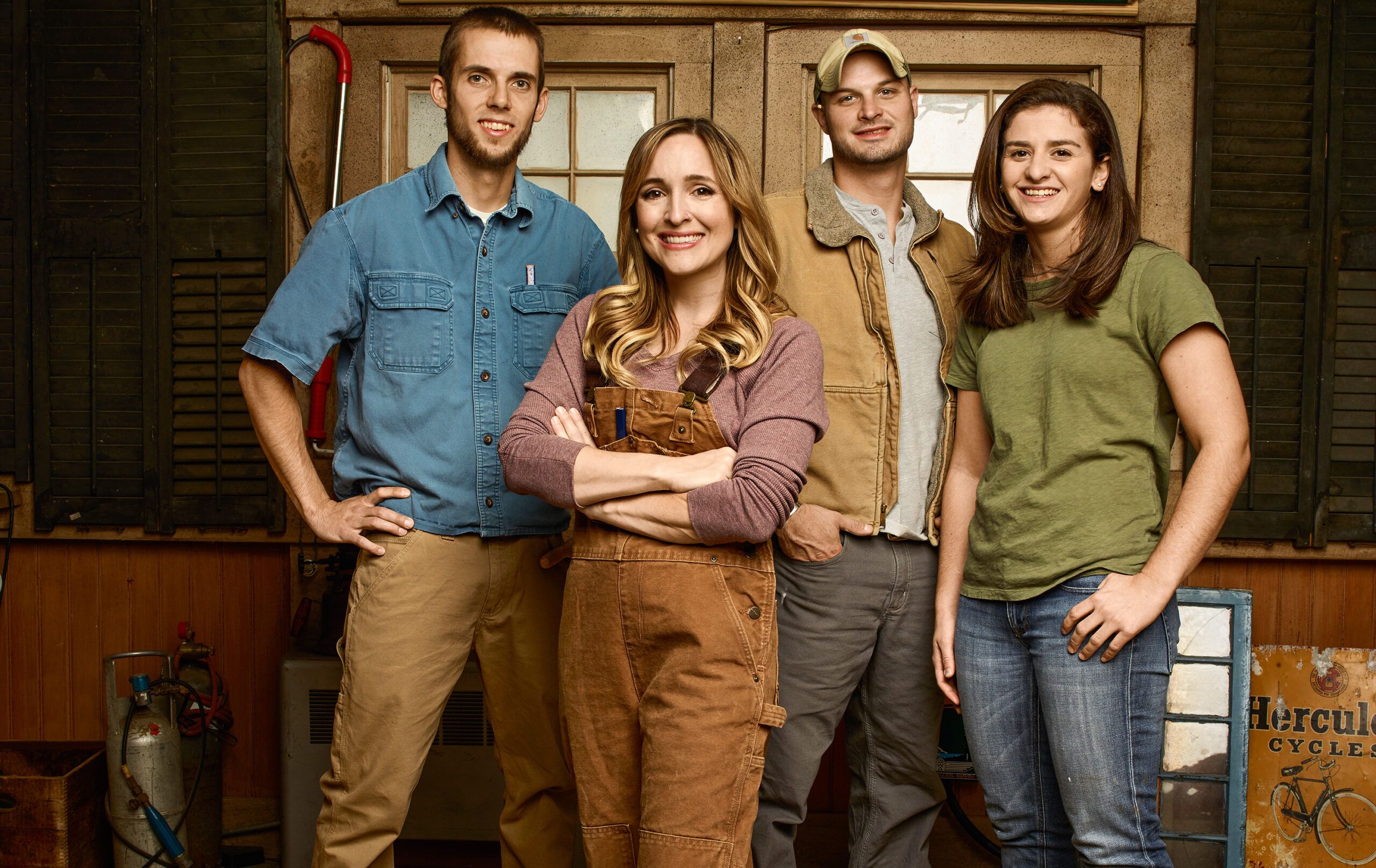 Norm Abram is not exaggerating when he says that there could come a time when a homeowner will need to call a carpenter, plumber, or electrician for a repair, and there won't be anyone with the skills to do the job. "There's a critical need for people in home construction," says the This Old House master carpenter. "The deficit of skilled workers is unlike anything I've seen in all my years in the business."
Shown: These four answered the call: TOH apprentices (left to right) Erick Ellison, Mary McGuire Henson, Kevin Barker, and Carly Comitino.
Building the Framework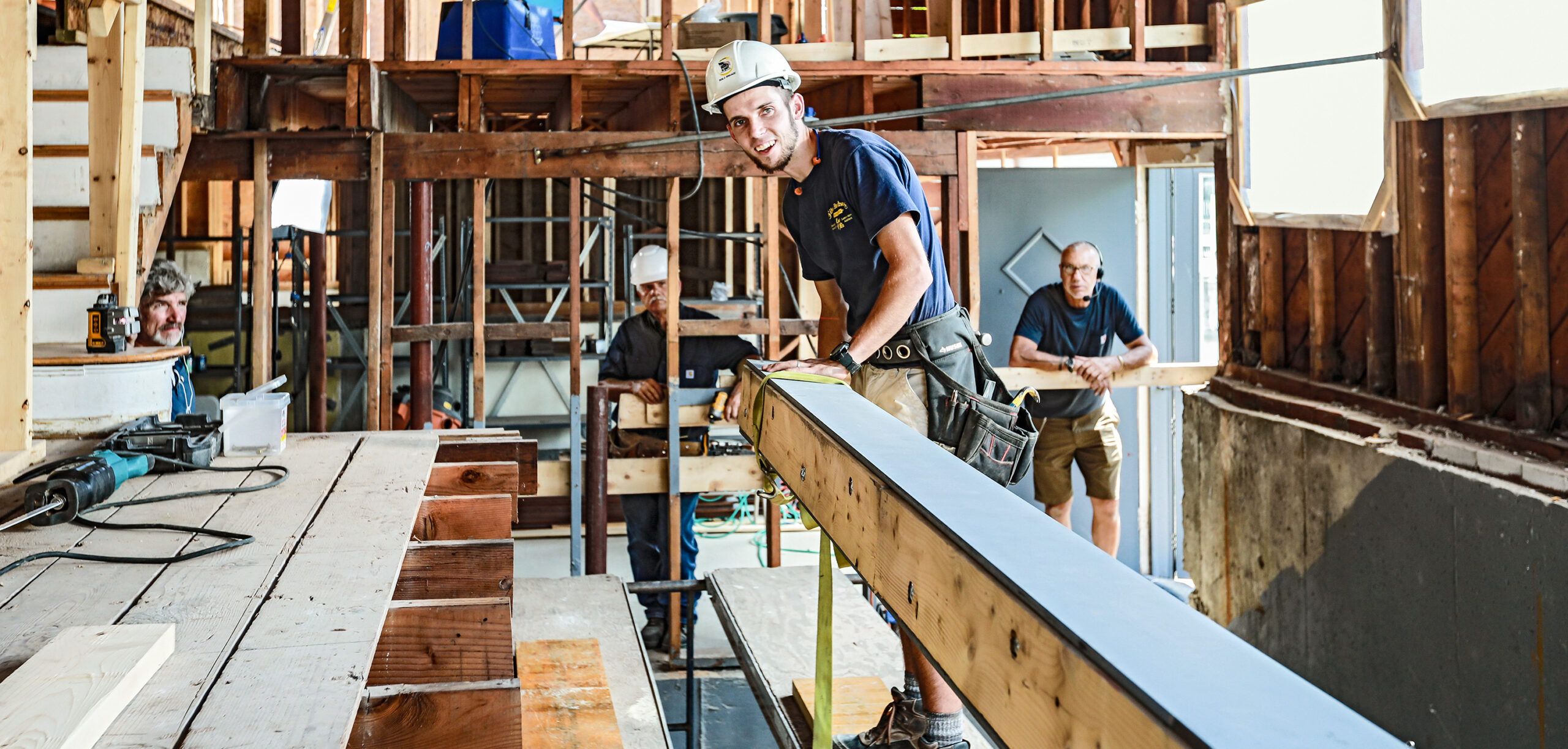 Statistics bear out the prediction: The U.S. Department of Labor estimates that more than seven million jobs in the construction industry will need filling by 2024 to replace the number of skilled workers who are at retirement age.
The lack of young talent doesn't bode well for anyone running a business in the building trades, either. TOH landscape contractor Roger Cook sees it as a limiting factor. "You can't expand your business without good people," says Roger.
Shown: At the Brookline Mid-century Modern project, apprentice Erick Ellison helps raise a beam as part of building an open-plan kitchen/living area in the house.
Shouldering the Work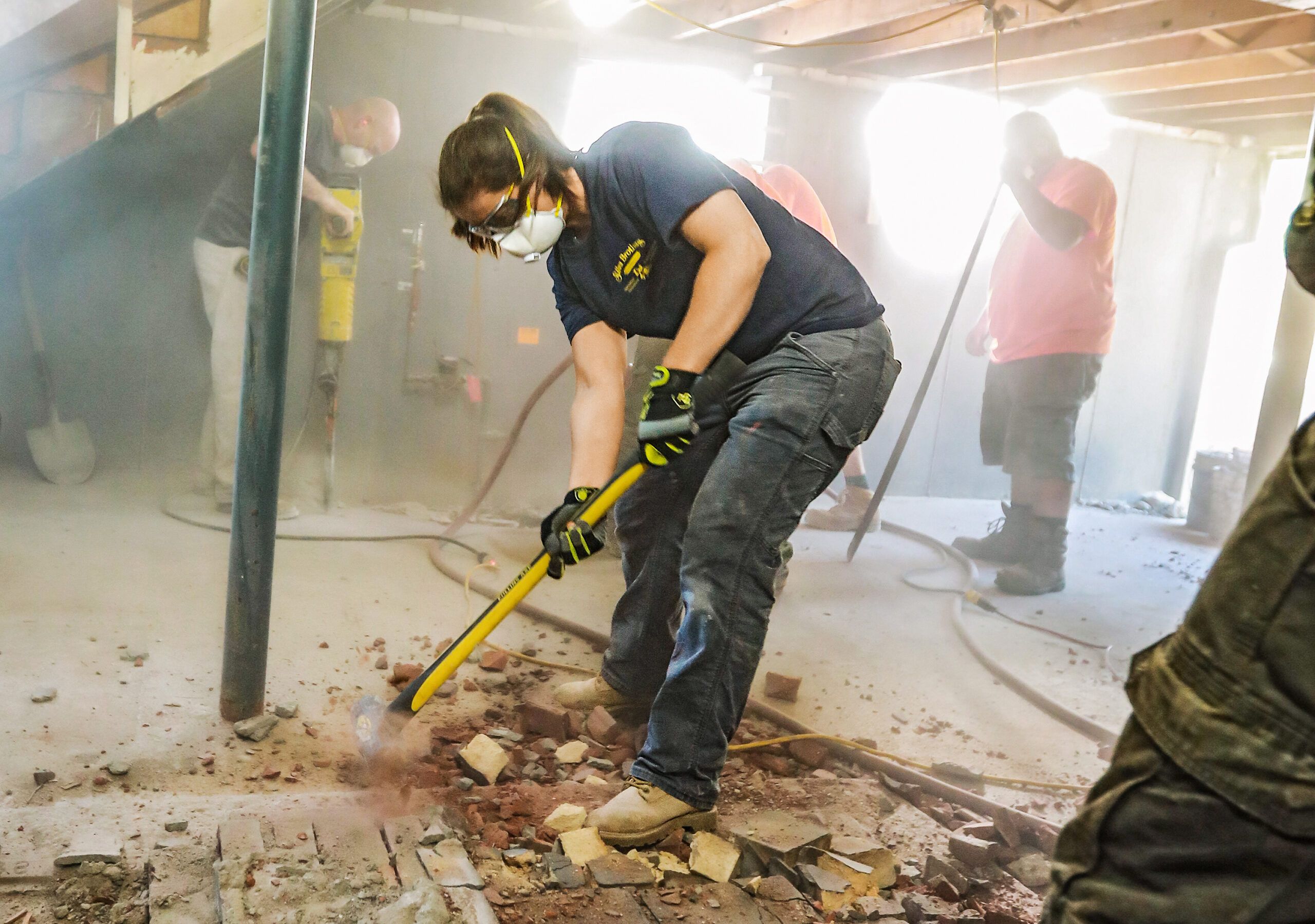 This awareness led This Old House to launch Generation NEXT back in January 2017. Part of the initiative has involved recruiting apprentices—some with no skills, some with a few years under their tool belts—to work alongside the TOH TV pros. Through national casting calls, we've selected groups of apprentices for the past two seasons, giving them multiweek stints on the project house job sites.
Shown: Wielding a sledge, apprentice Carly Comitino puts her shoulder into busting up the basement floor in Brookline to create more head clearance on the lower level.
Rafter Prep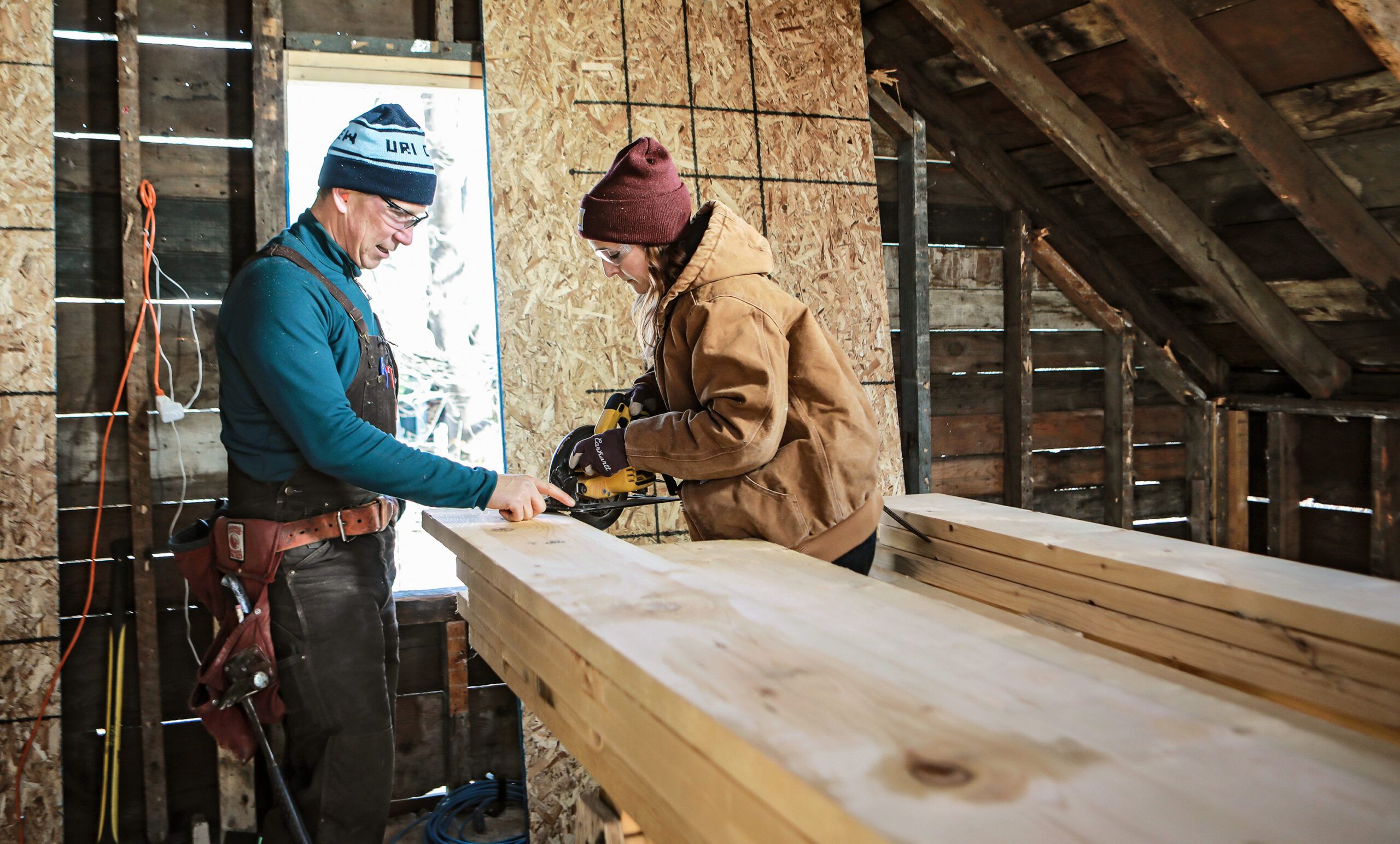 For TOH general contractor Tom Silva, the apprentices are a much-appreciated addition. "It's great to have apprentices on a site, not only because it's another pair of hands but also because it's a way to help them increase their skill and move on," says Tom. "There's every reason to go into the building trades today. If you are good, you will absolutely have work."
Shown: TOH home builder Jeff Sweenor at work with apprentice Mary McGuire Henson last winter, prepping rafters for installation at the Jamestown Net-Zero House.
Router Work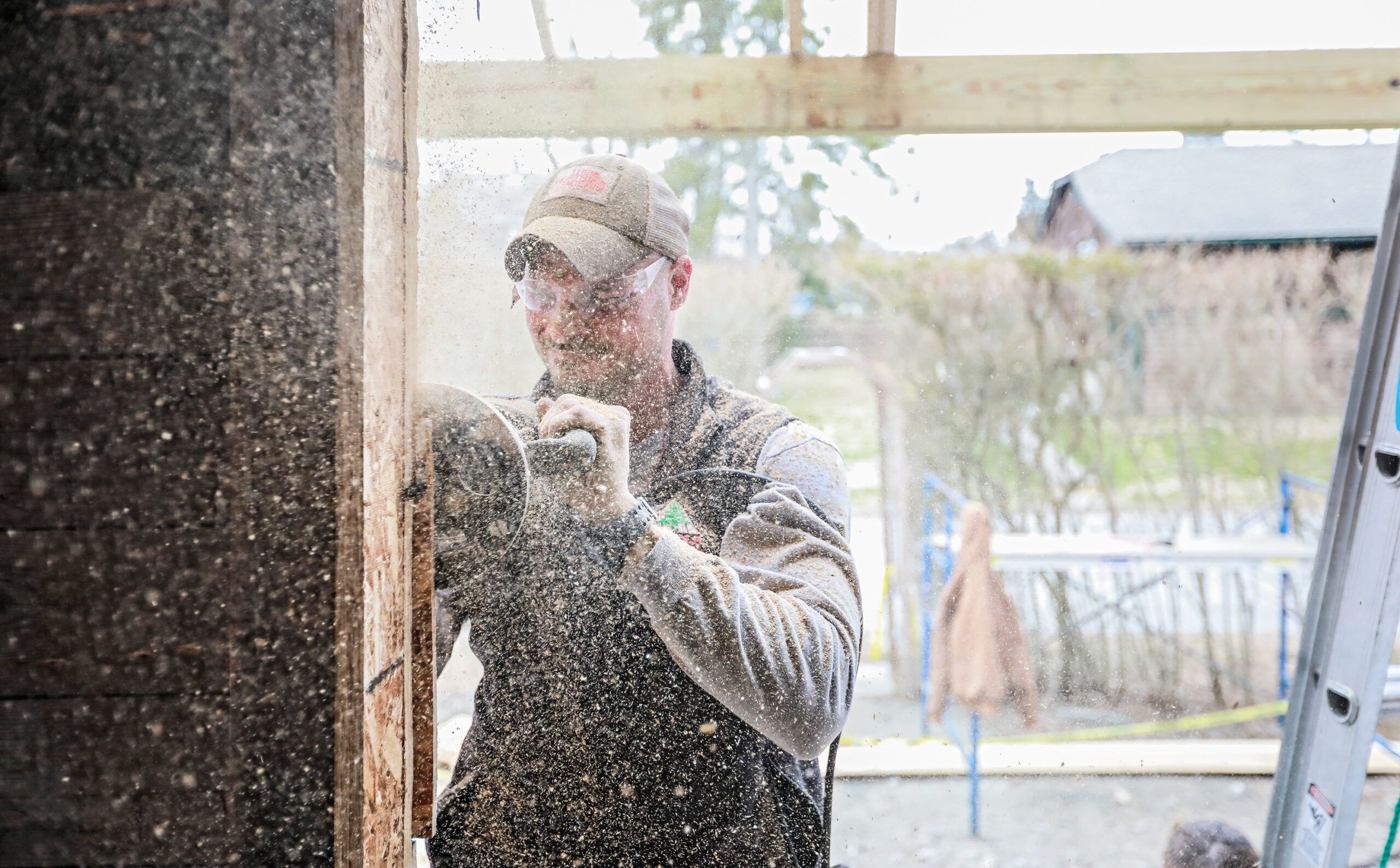 The apprenticeship program has proved to be a launching pad for at least one local talent: Nathan Gilbert, 29, who worked on the Newton project during the summer of 2017. The son of a general contractor, Gilbert had been a carpenter in the Navy Seabees' construction battalion for five years and came to the project with proven skills; he saw the apprenticeship as a way to advance to the next level. Now he has his own carpentry business focusing on renovations along the south shore of Massachusetts. "One of the best things about apprenticing on the Newton project was all the advice I got from Charlie Silva, not only about how to be a good builder but also how to run a business," he says. "It's really helped me as my own business has begun to take off." His talent and work ethic made such an impression that Gilbert recently joined the crew of Ask This Old House.
Shown: Apprentice Kevin Barker uses a router to trim sheathing around a window opening at the Jamestown house.
Making the Cuts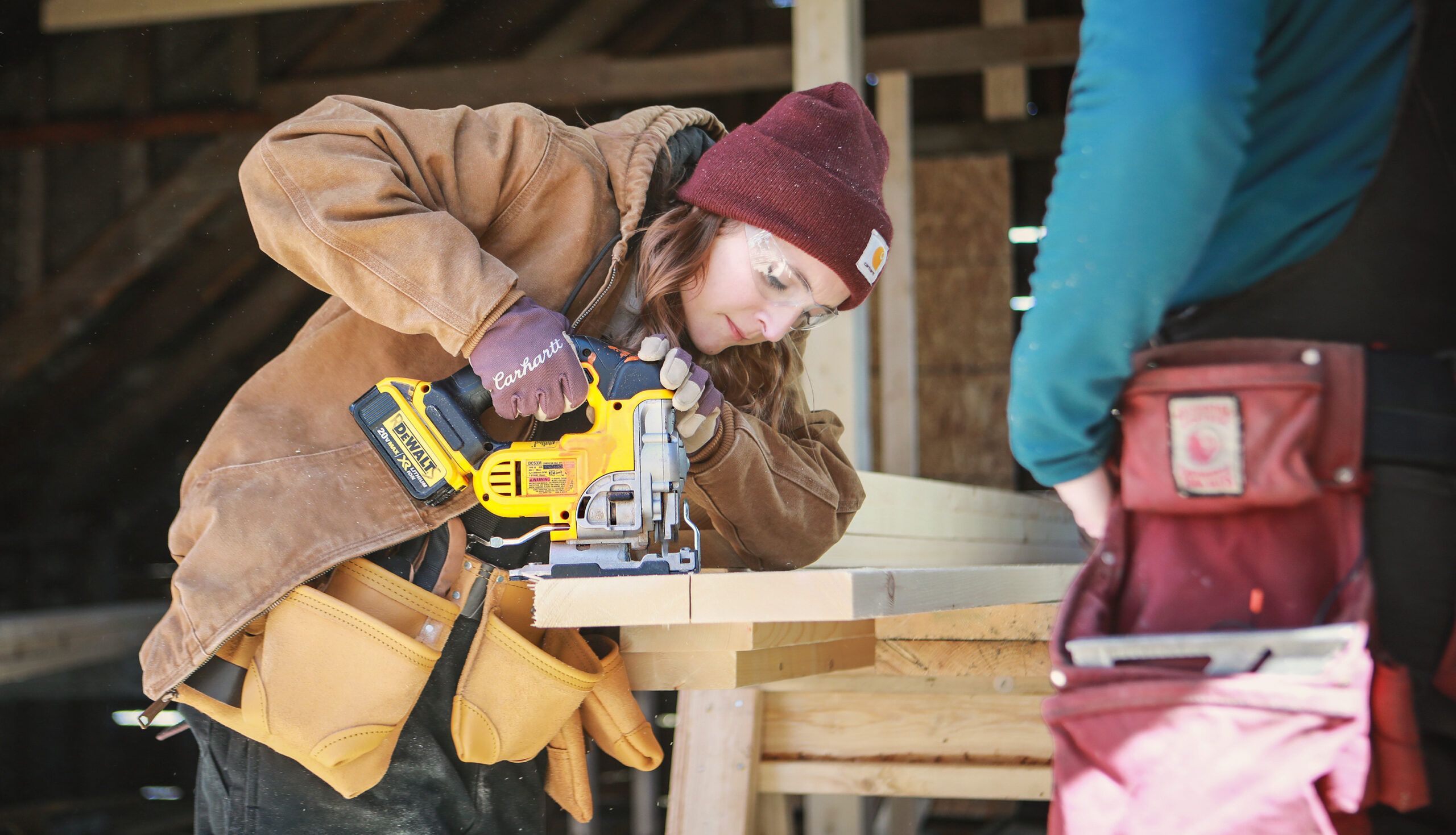 Featuring the apprentices on episodes of last season's Newton project and the current Jamestown and Brookline projects has helped raise viewers' awareness. "The apprentices are a very effective and visible way to encourage young people to pursue the building trades," says Eric Thorkilsen, executive chairman of This Old House Ventures, LLC, and the driving force behind Generation NEXT. "We're getting lots of positive feedback on social media, at trade shows, and at other events."
Shown: Jamestown apprentice Henson cuts the rafter tails using a jigsaw.
The Graduate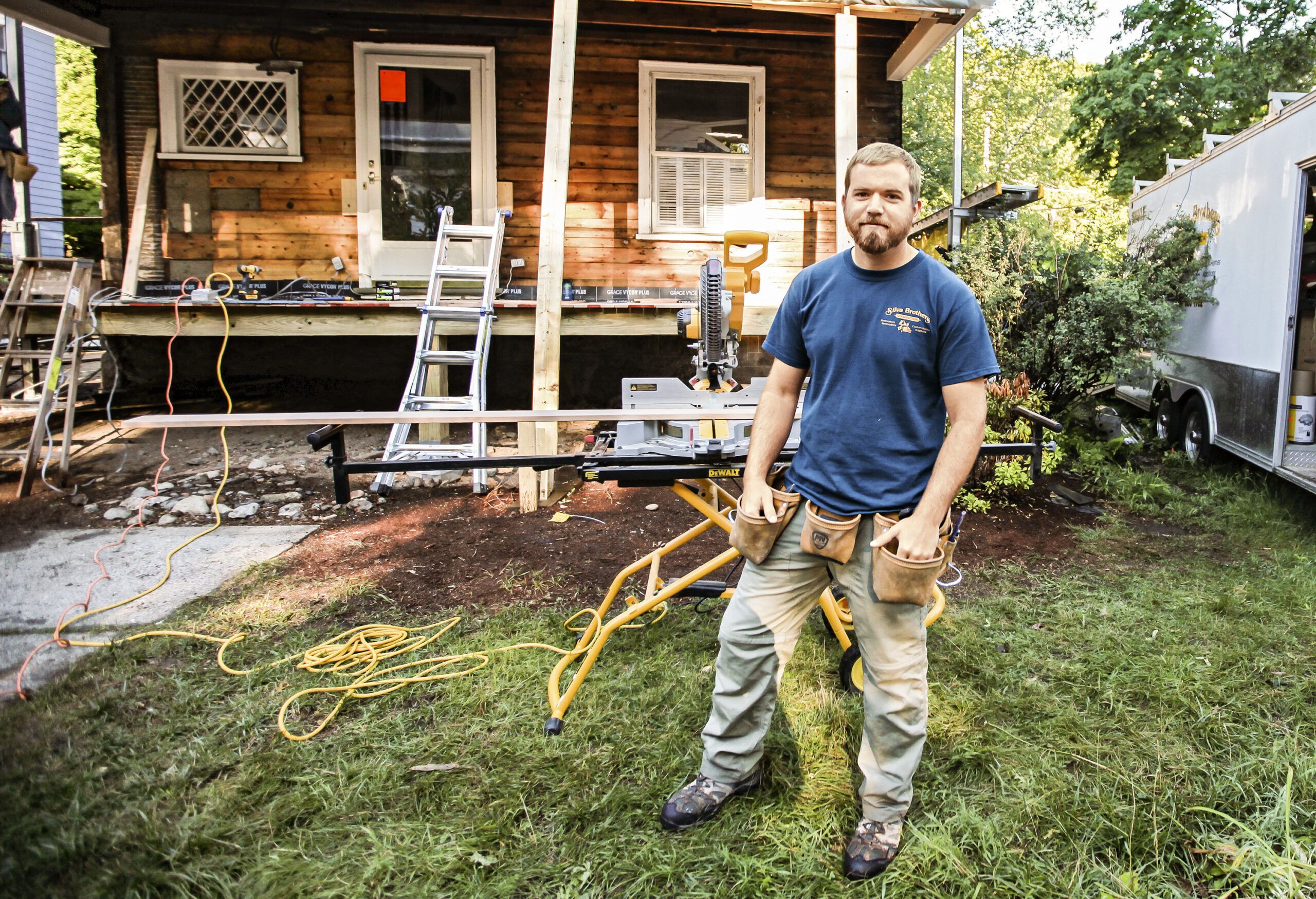 Just as important is our work with building-industry partners to raise more than half a million dollars in scholarship money for the mikeroweWORKS Foundation and the Skilled Labor Fund. These charitable organizations are committed to funding school programs and students who want to learn the building trades. "The skills gap is the number-one issue facing the building trades, and we are in a unique position to put a spotlight on the issue, erase misconceptions, and emphasize the value of these jobs," says Thorkilsen. "We're committed to continuing all these efforts."
Encouraging signs are emerging. In Massachusetts, there is a wait list for students wanting to enter the state's vocational technical high schools, an indication that young people are seeking hands-on experience. TOH home builder Jeff Sweenor currently has 10 people under the age of 25 working for him, out of a team of 50. "Our younger crew members share their passion for the work on social media—it's a great way to spread the word that they love what they do." TOH plumbing and heating expert Richard Trethewey sees smart home technology as another lure for younger people: "It's starting to give the trades a different image."
From TOH host Kevin O'Connor's perspective, the spotlight is definitely shining more brightly on the trades. "The number-one comment I get now at events is, 'I love what you're doing with the Generation NEXT idea. It's been a long time coming,' " Kevin says. "Without a doubt, people's awareness has increased."
Shown: Nathan Gilbert takes a break at the Newton project during the summer of 2017, when he was part of the first wave of Generation NEXT apprentices.
Mary McGuire Henson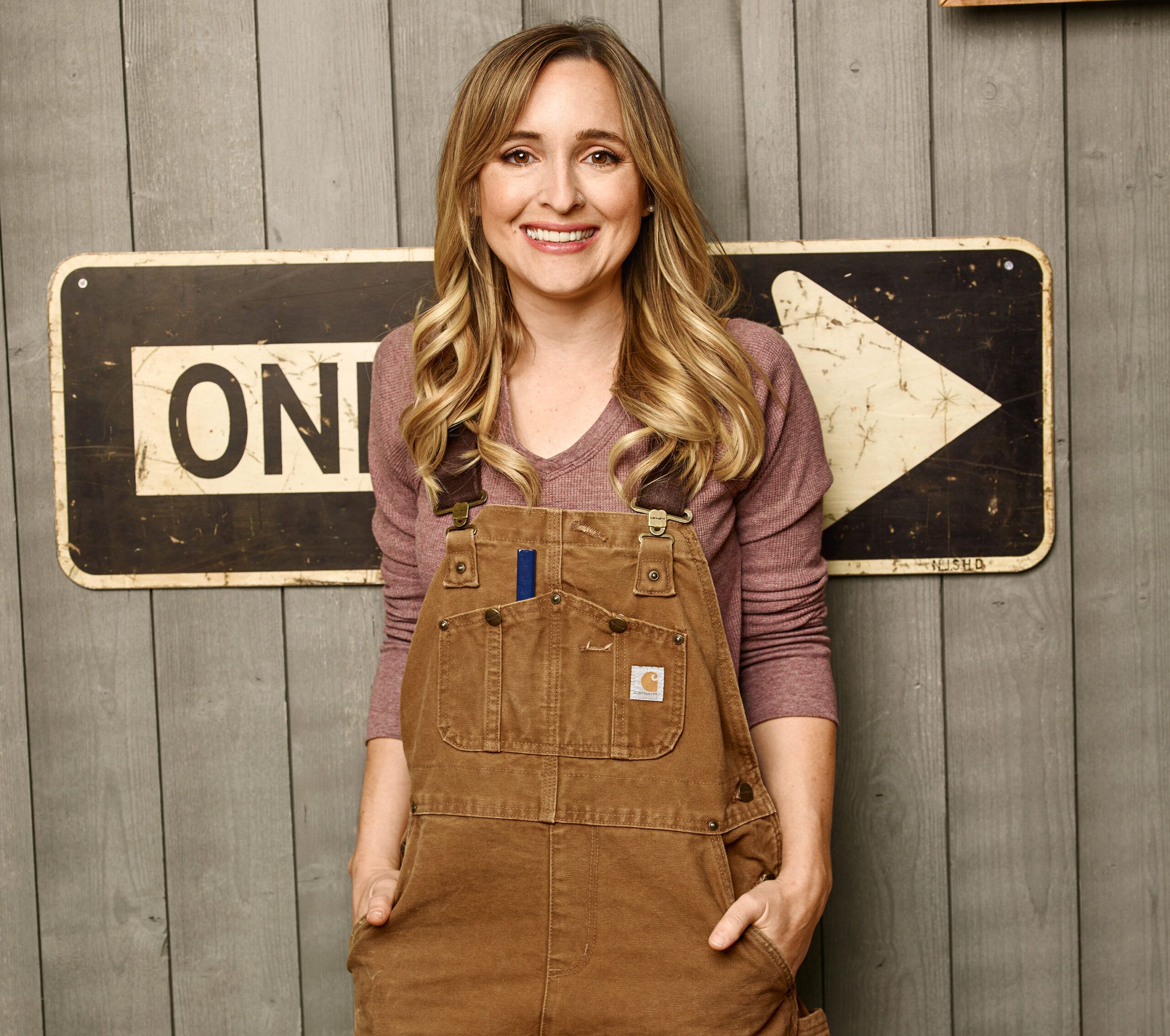 Age 32, Tupelo, MS
She was a newcomer to New England and its freezing temperatures when she arrived at the Jamestown Net-Zero House in January 2018, but within days Mary McGuire Henson was up on the rooftop swinging a hammer. "At least I had an ocean view, but it was definitely a challenge, working that high up," says Henson, for whom installing the cedar roof shingles was a first.
The TOH apprenticeship was a turning point for Henson, who had owned a bakery in her native Mississippi for seven years, but found herself spending all her spare time and money on tools and DIY projects. "I've always been hyper-organized, and when I moved into my first apartment, I built my own bookshelves, and then just kept on doing more projects," recalls the University of Mississippi graduate. Chalk it up to family history: Henson grew up surrounded by "tons of lumber," as her grandfather and father owned a sawmill and brokered lumber for the furniture industry.
With the apprenticeship Henson finally had a chance to pursue her passion. "The Jamestown work was wonderful, and I gained so much confidence and experience," she says. Working with TOH home builder Jeff Sweenor, TOH general contractor Tom Silva, and fellow apprentice Kevin Barker, she tackled a range of jobs, from sheathing the exterior of the 1920s bungalow to installing rafters to fortifying the framing behind the kitchen cabinets.
Back in Mississippi, she took on as many carpentry jobs as she could, but found herself missing New England. So she reached out to the Shelter Institute in Woolwich, Maine, and is thrilled to have started a yearlong timber-framing internship. "It's a great opportunity to be immersed in all things building," says Henson, who was also introduced to studded snow tires and negative-temp-rated boots. Looks like another (Yankee) builder is born.
Kevin Barker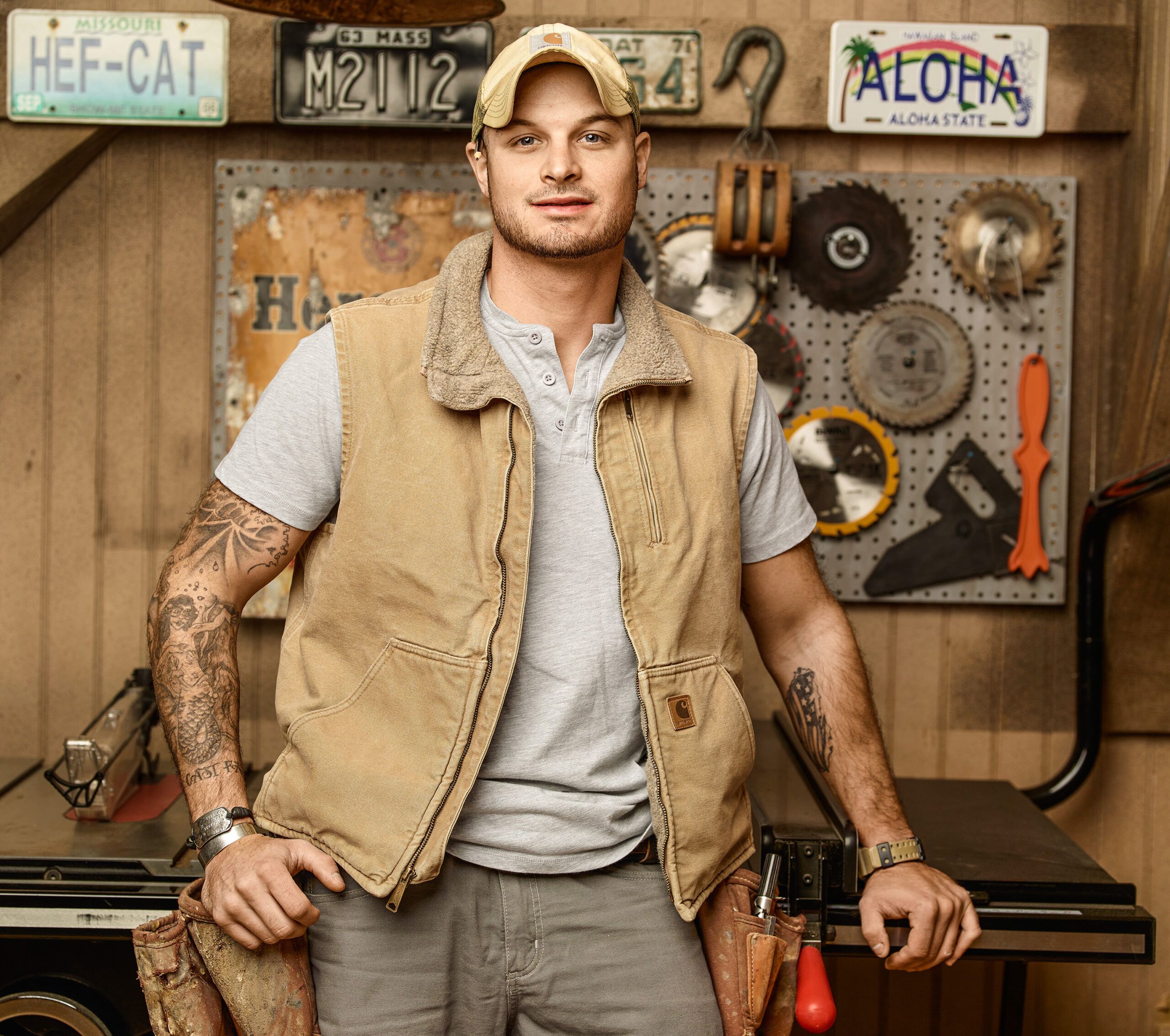 Age 30, Jamestown, RI
With six years' experience under his tool belt, Kevin Barker saw the Jamestown apprenticeship as an opportunity to increase his skill level by working alongside the This Old House TV pros and getting an education in net-zero building. "It was so interesting to learn how to wrap a house and make it tight and energy efficient—and I got to work with lots of new materials," says Barker, who, as it happens, hails from Jamestown himself.
Barker's path to the building trades began after a short spell at the University of Rhode Island followed by six years in the Marine Corps. "College wasn't the right fit for me," says Barker, who served as a machine gunner and was deployed in Jordan in 2010 and 2011. When he returned home, he teamed up with the owner of Beasley Woodworks, a custom home builder in Charlestown, Rhode Island. "Beasley was where I learned everything, from frame to finish—it gave me a solid foundation, preparing me to take another step in my career," says Barker, who took a chance in leaving that job for the This Old House apprenticeship. He credits the apprenticeship with reinforcing his commitment to working in the trades. "I love how rewarding it is. You see a set of plans and then you build a house from nothing. There's a vast amount of pride in seeing the end result."
As his apprenticeship came to a close, Barker reached out to TOH home builder Jeff Sweenor for a job. "We ended up hiring Kevin full time, and he actually has his own apprentice now on a house we're building in Narragansett," says Sweenor.
"I feel like I've come full circle, from when I got out of the Marine Corps and started learning under a craftsman at Beasley," says Barker. "Now at Sweenor Builders, I'm sharing what I know. It feels great."
Carly Comitino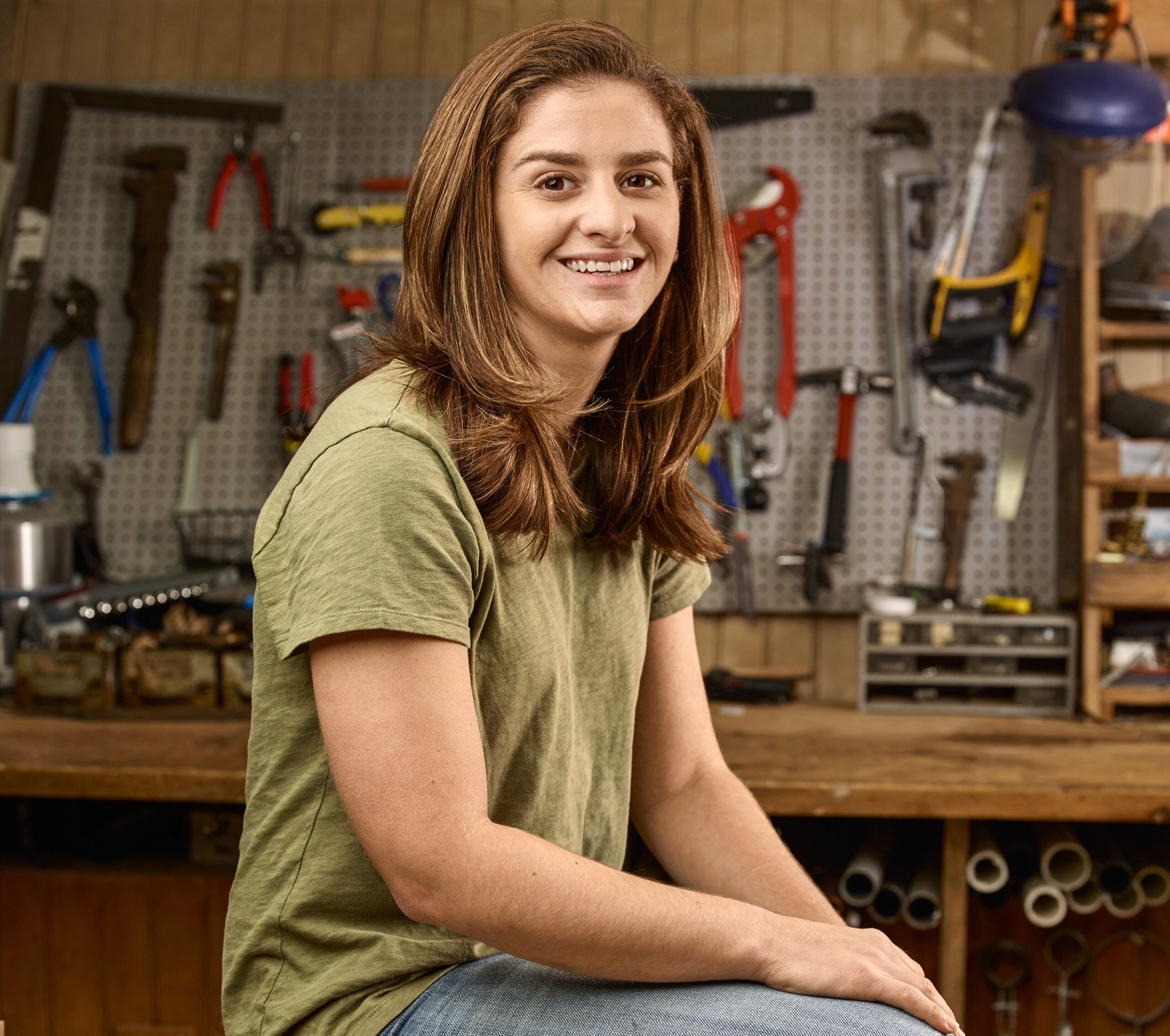 Age 23, Glen Head, NY
When her family renovated their 1950s architect-designed house on Long Island not long after she started college, Carly Comitino got involved in the process and discovered how much she enjoyed it. So when a family friend told her about the This Old House casting call, she jumped at the chance. "I thought it would be a great learning opportunity," says Comitino, who was an undergrad in political science at Long Island University when she applied. Luckily, she qualified, and found herself on the Brookline Mid-century Modern job site during the summer of 2018, working with TOH home builder Charlie Silva, TOH mason Mark McCullough, and the rest of the TOH team. "We did tons of demolition, which is great because once you know how to take something apart, you know how to put it together," says Comitino. She also helped frame the roof, install windows, and tile a bath.
A college lacrosse player, Comitino grew up playing sports and lifting weights, and found that her physical strength came in handy on the job—when busting up the concrete basement floor, for instance. "I wasn't afraid of the challenge," she says. She had also had a high-school internship helping to build a replica of a Victorian-era house. "That was my very first impression of the building trades," says Comitino.
Now back in college, Comitino is on track to finish her B.A. and is considering a career that incorporates construction. "Maybe a combination of real estate investing or law and renovating buildings," she says. "The TOH apprenticeship was a great opportunity. So many things we learned were much more complicated than they looked at first. It's like learning a language, and for many people my age, it's hard to even know how to get started. I'm glad Generation NEXT is working on that."
Erick Ellison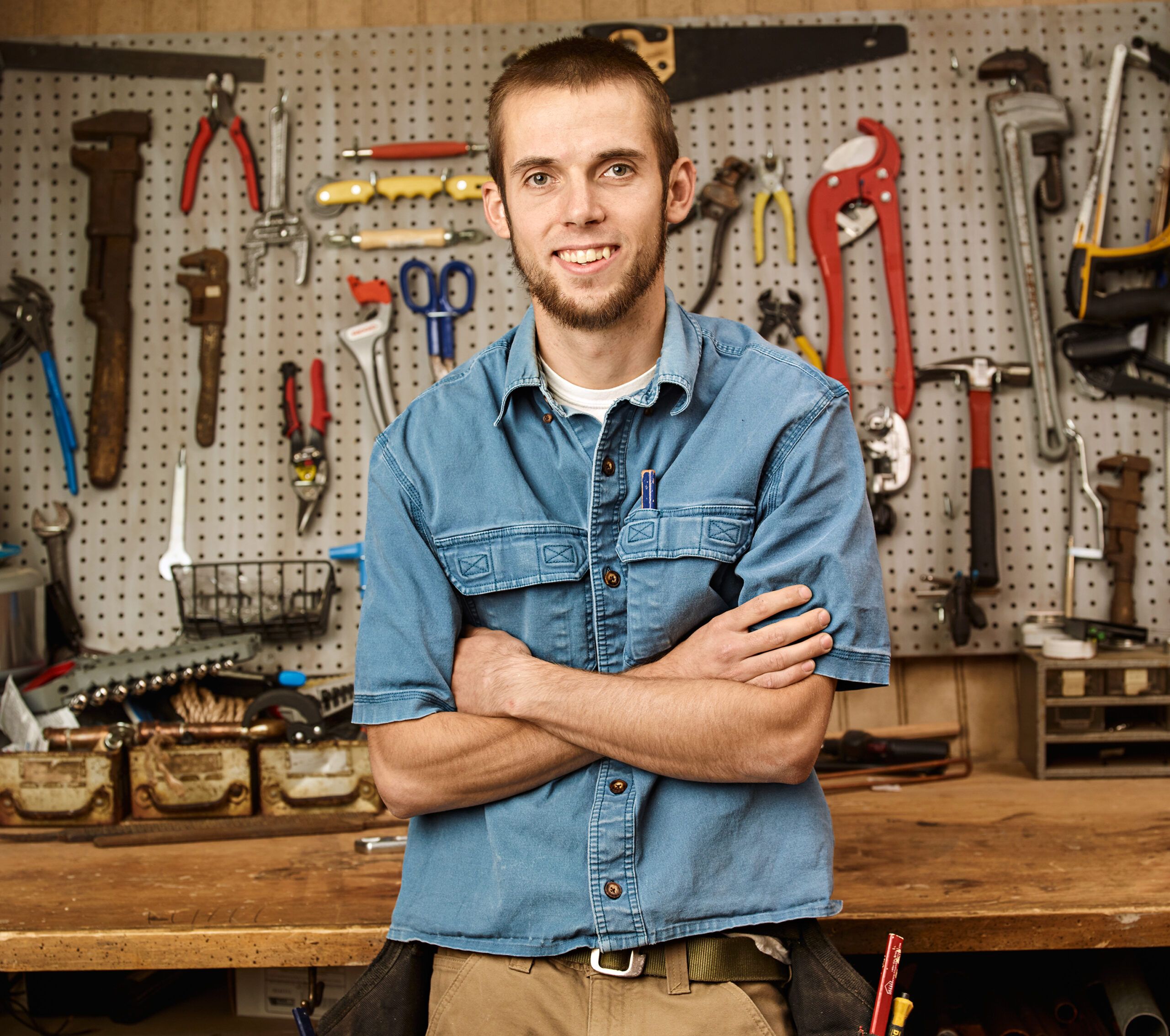 Age 28, Salem, OR
The son of missionaries, Erick Ellison was born and raised in Japan, and his initial interest in construction is tied to memories of Tokyo: "I would be biking down the road, and I'd stop to watch a building project," recalls Ellison, who moved back to the United States as a teenager. Settling near extended family, his parents built a house in Minnesota, and Ellison worked on the project every chance he got, enjoying the tie with his heritage—his great-grandfather was a carpenter in Minnesota in the early 1900s. When he heard about the TOH casting call, he already had an associate's degree in wilderness management and a B.A. from the University of Idaho in resource recreation, but he was looking for something more. "I was thinking I needed a skill I could use for a long time," he says. "It was a long shot, but I was thrilled to make the cut."
On the Brookline project, Ellison jumped into the demolition work, and found the process intriguing: "When we started doing demo, it was hard to even see where the project might go. The vision it takes to build something like that is incredible." He removed a fireplace, put in a sill, learned foundation basics from TOH's Tom Silva, and helped put in new floors, rafters, walls, and ceilings. "There are so many layers and so many skilled people involved—masons, electricians, carpenters, all the subs—and everyone has to work together," says Ellison.
After the apprenticeship, Ellison—whose wife is from Oregon—headed back West, and now works in Salem, Oregon, for Kaufman Homes building custom homes and doing renovations. "I love remodeling, in particular, because you are never doing just one thing. There's always something different, from framing to carpentry to restoration," he says. "No matter how long I work in construction, these are skills I will have for the rest of my life."