It all started with a call to the painter, says Derek Rubinoff, of his initial plan to simply scrape and repaint the worn, peeling siding on his family's 1894 house in the West Roxbury neighborhood of Boston. But the contractor took one look and saw that it wasn't just the paint that was failing: The decades-old cedar clapboards had started to rot, allowing water to deteriorate the rosin paper underneath. It would all have to go. Since the house would be stripped to the sheathing, it made sense to replace the drafty single-pane windows, too.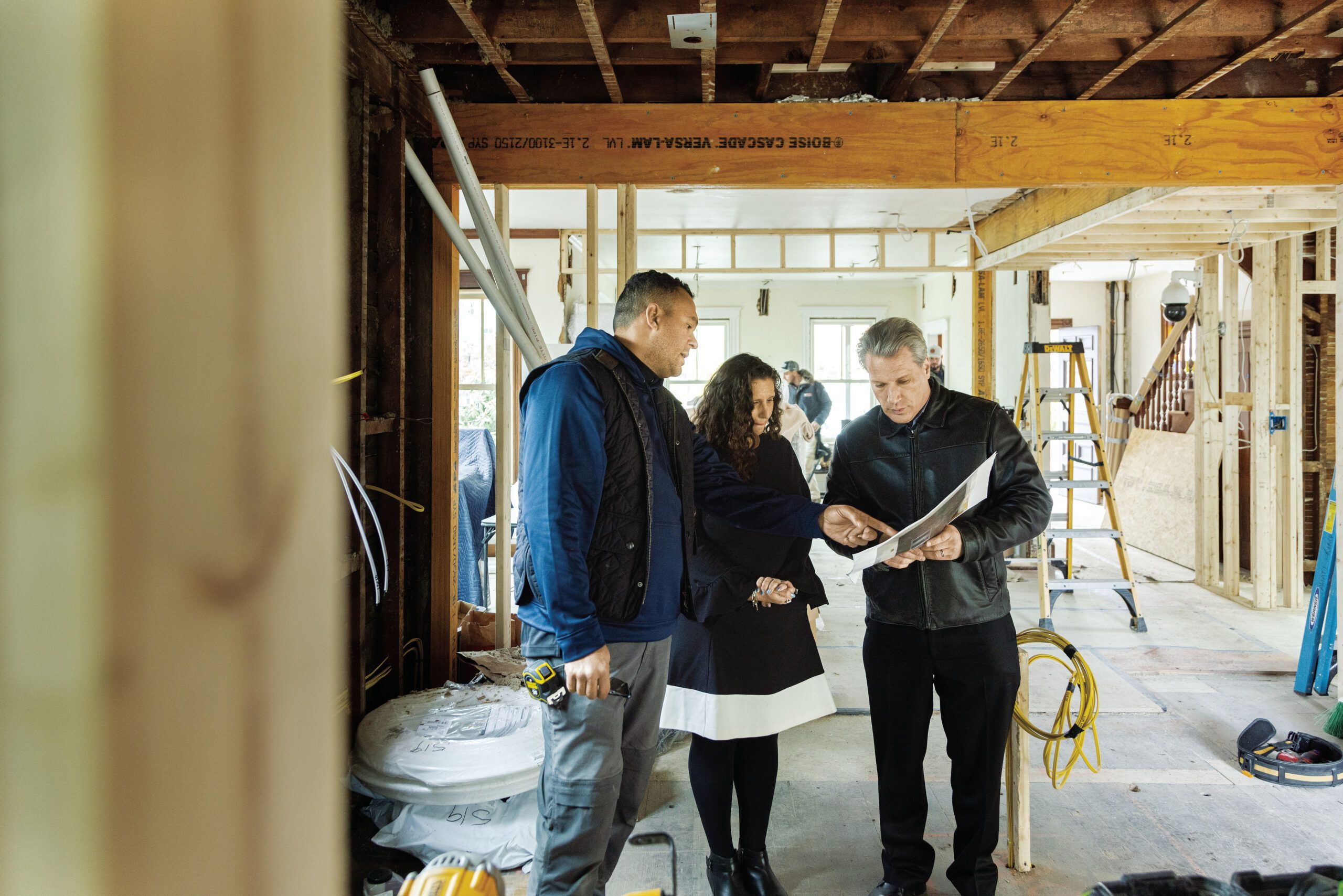 Soon Derek, an architect who has worked on dozens of single-family homes, was drawing up plans for a whole-house renovation of his own. While the house's footprint and room layout wouldn't change significantly, Derek's plans would improve traffic flow and relieve frustrations that his family—which includes his wife, Robyn Marder, and their two teenagers, Zach and Aria—has been living with for the last nine years.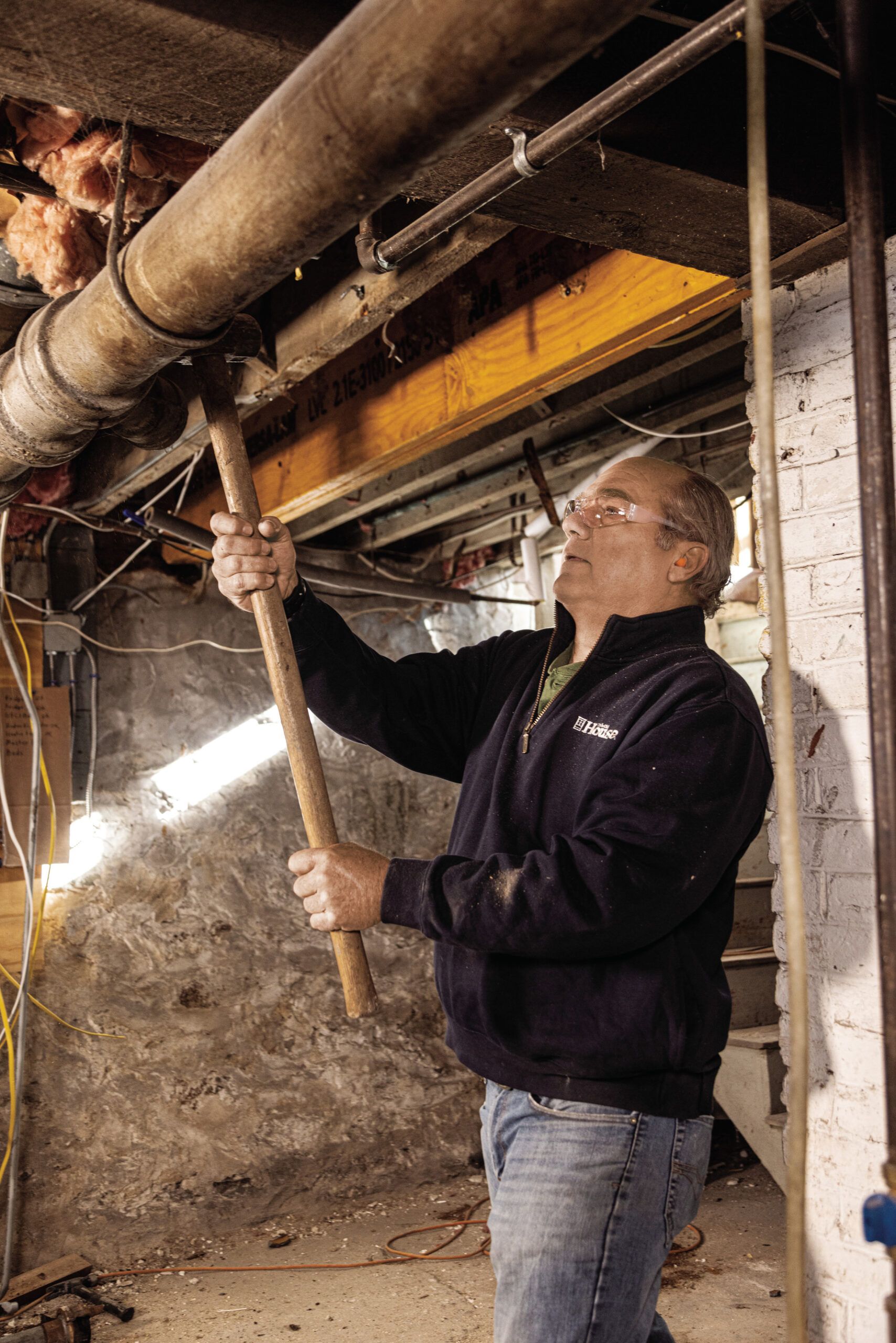 To bring his vision to life, he called on local builder Deliandro Dias of Alpha Smart Builders, with whom he had worked on a previous residential project. When Dias's crew began work last September, This Old House was there, following the project as part of its 43rd television season.
On the first floor, there will still be a foyer and living room at the front of the house, a kitchen and dining area in the center, and a guest bedroom in the back, but already walls have come down to eliminate awkward bottlenecks and blocked sightlines.
A load-bearing wall that ran down the middle of the house, separating the hallway and dining room, is gone, replaced with a beefy laminated veneer lumber (LVL) beam for support. A second support beam, perpendicular to the first, took the place of a load-bearing wall and an old masonry chimney between the kitchen and dining room.
Project Overview
"Opening up an old house like this can be tricky from a visual standpoint, because large beams create division points," says TOH general contractor Tom Silva.
The Plan:
Roof: Install a new aluminum gutter system (the 3-year-old asphalt roof is in good condition)
Siding: Replace rotting cedar clapboards and underlying rosin paper with fiber-cement siding and house wrap
Windows: Install new fiberglass double-hungs; add rot-proof PVC trim, matching the look of the existing stock
First floor: Open up inside from front to back; redesign and upgrade the kitchen
Front walk and steps: Rebuild the brick walkway and widen the steps with granite treads
Porch: Replace the floor and ceiling with ipe decking; swap in steel cable rails
Rear entry: Expand and enclose what is now a rear vestibule
Primary suite: Add a bath and walk-in closet to the main bedroom; remove a rear staircase
Backyard: Build a large brick patio; plant rhododendrons moved from the front of the house
So Derek and Dias created visual symmetry with a third, nonstructural header, installed where a wall between the living room and dining room had been. The bare-bones kitchen had consisted of just a few cabinets, with the sink tucked into an adjacent butler's pantry. "We shoved everything onto shelves in a closet, and when it came time to cook dinner, I was left carrying dripping chicken from the sink to the stove," Robyn says of the dysfunctional arrangement.
To enable a workable L-shaped cabinet layout in the back of the kitchen, Dias's crew built what he calls "the world's smallest addition," expanding a rear vestibule by about 26 square feet and moving an interior door to create the extra wall space needed for more cabinets.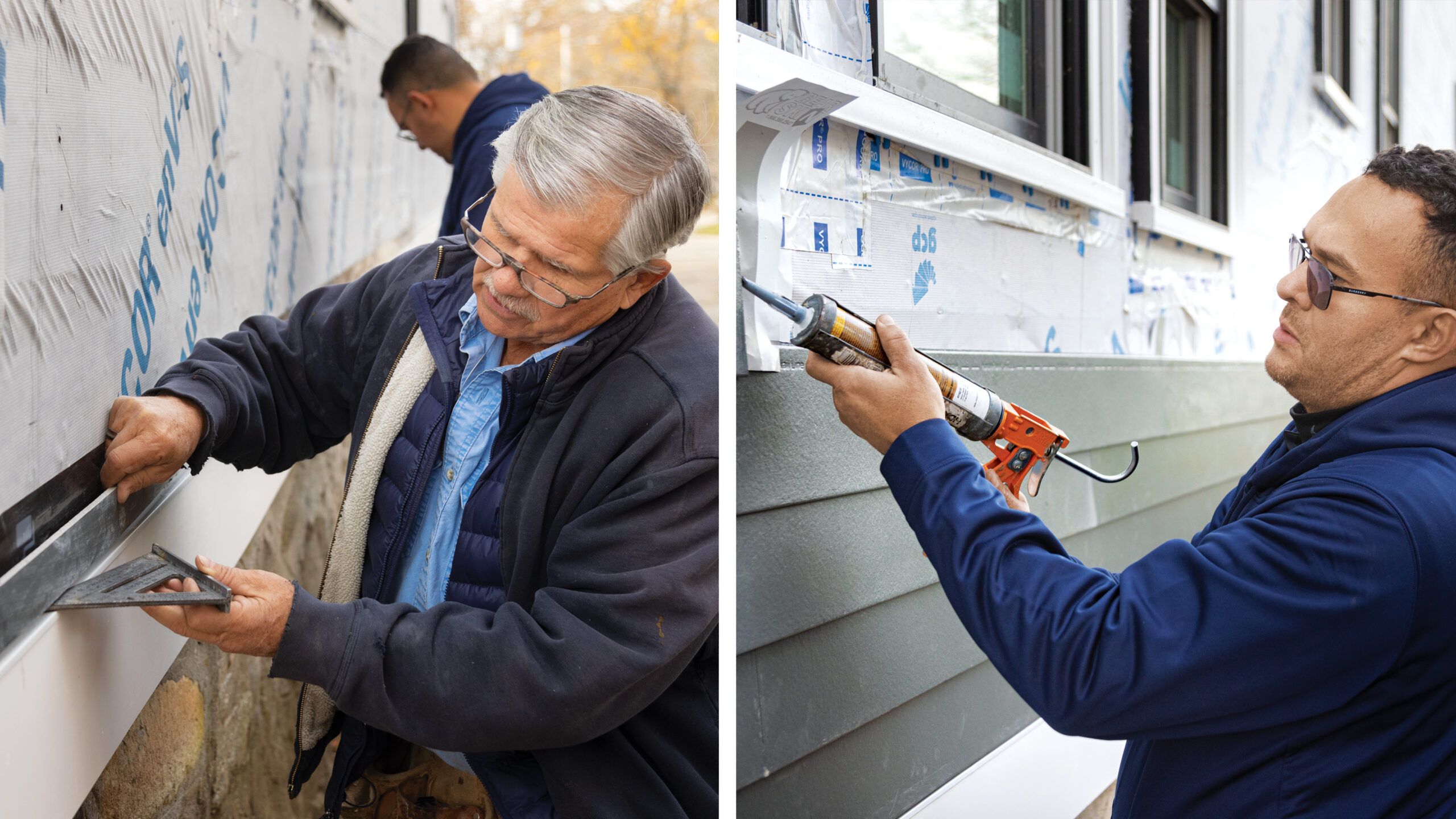 As work progresses, the old butler's pantry will become a bathroom with a shower to serve the first-floor guest bedroom; the existing bath near the foyer will be removed. Meal prep will happen at a large island with seating, surrounded by sleek matte-black cabinets, black quartz countertops, and stainless steel appliances, including a double wall oven. The contemporary kitchen will flow naturally to the dining room, where an original diamond-paned window will be on display, fully restored.
"I love blending modern elements into an old house," says Derek, who plans to preserve many of the house's original features, including gumwood moldings and casings, a stained-glass window in the foyer, and a central staircase with wood newels and balusters in near-perfect condition. "Most of the woodwork only needs a light sanding and refinishing," says Dias.
On the second floor, Derek and Robyn will finally have a proper primary suite, with a private bath and walk-in closet; the extra square footage will come from a small adjacent bedroom used as a sitting room and a rear staircase, which is being removed.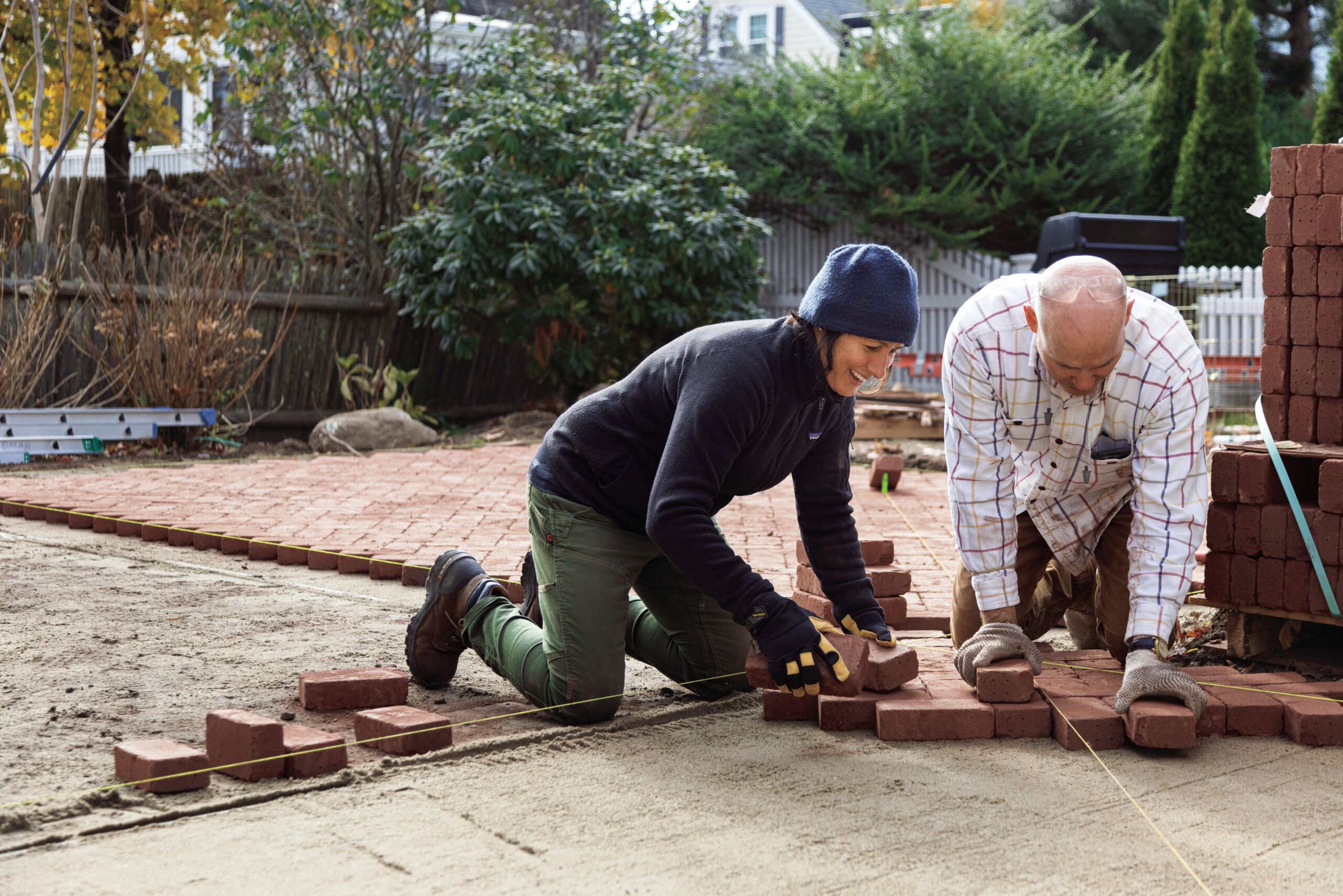 The existing full bath upstairs and Zach's and Aria's bedrooms will get a refresh, and a doorway in Aria's room that leads into Derek and Robyn's space will be eliminated. "It was helpful when she was little, but now it's awkward," Robyn says. On the top floor, a teen hangout in the finished attic will also get a cosmetic update.
Derek and Robyn have no immediate plans for the unfinished basement, where the laundry is located, though TOH plumbing and heating expert Richard Trethewey was able to create some extra headroom.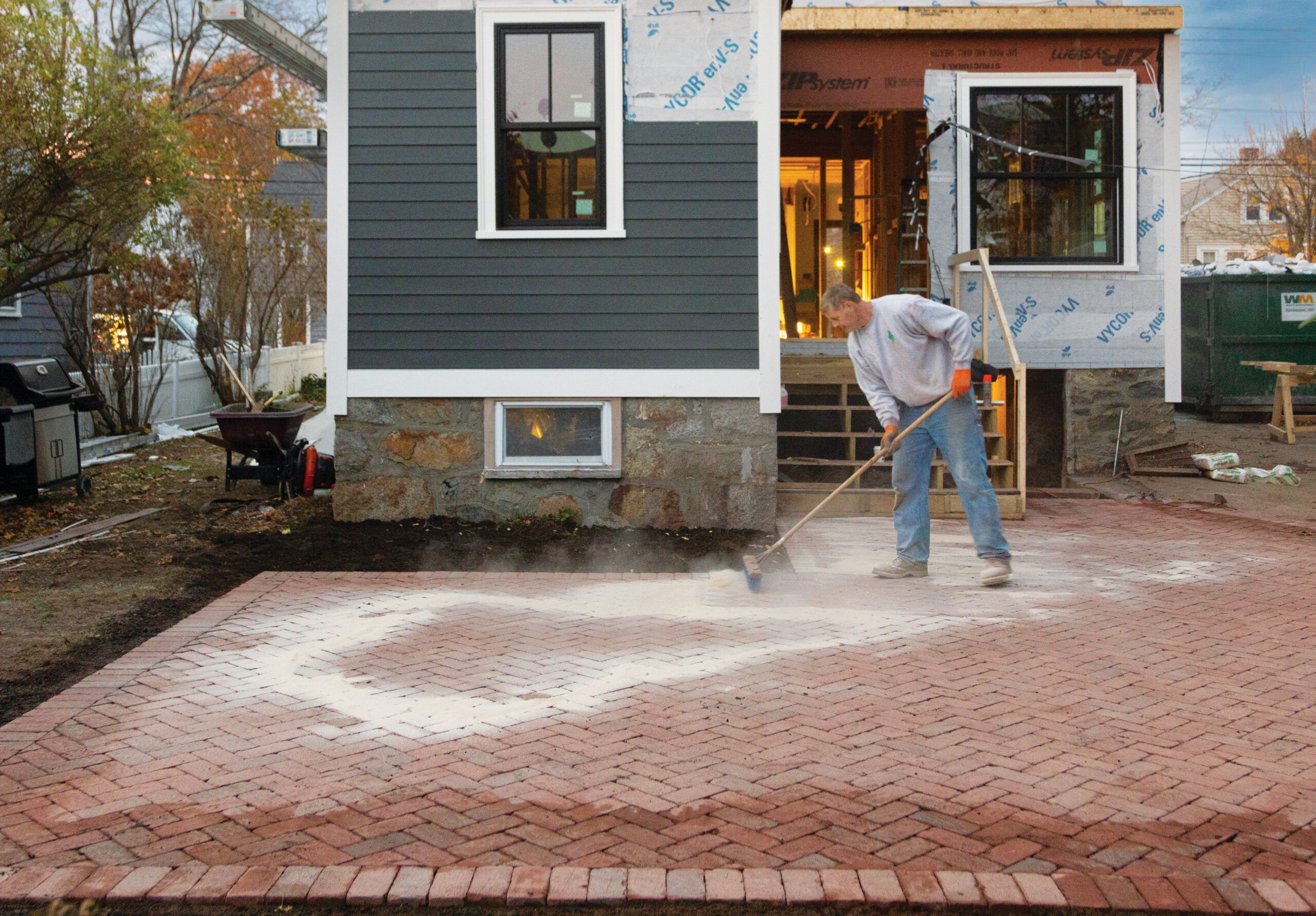 "Because of a large cast-iron drainpipe that hung down below the joists, there was no way to walk through the basement without ducking," says Richard, who replaced it with a recessed pipe made of PVC.
The house is also getting central air-conditioning: A cooling coil will be added to the gas-fired forced-air furnace, and a condenser will be installed along one side of the house.
On the exterior, the house's cedar clapboards are being replaced with long-lasting, low-maintenance fiber-cement siding installed over a moisture-resistant, vapor-permeable house wrap that will protect against wind-driven rain.
All the trim is weather-resistant PVC, and the windows have been upgraded to energy-efficient fiberglass units. In the back of the house, TOH mason Mark McCullough and landscape contractor Jenn Nawada have installed a 400-square-foot brick patio using pavers laid in a herringbone pattern.
In the front, Jenn dug up some large rhododendrons that had outgrown their space and transplanted them in the backyard, where they will be seen from the new kitchen. "Now I'll be able to reduce the grade in the front yard so it meets the sidewalk, giving that area a much cleaner, more polished look," says Jenn. The front porch will be rebuilt using ipe boards on the floor and ceiling, and the railing's wood balusters will be swapped out for sleek stainless steel cables that run horizontally—a small detail that will hint at the blend of old and new to be found inside. As Derek sums up, "When the renovation is done, we'll have a 21st-century home with 19th-century charm."