Fabulous Faux Paper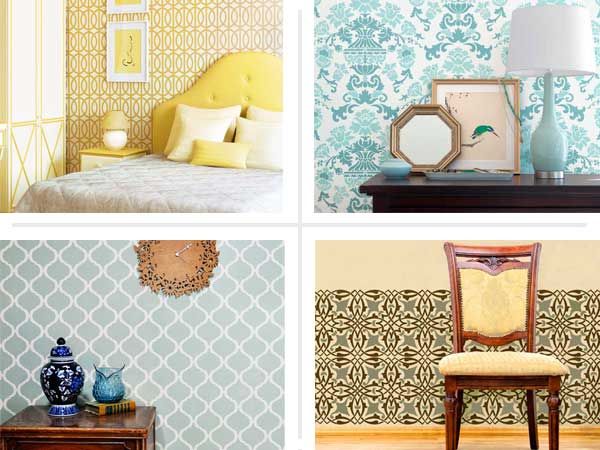 Got a yen to add color and pattern to your walls? You've probably considered wallpaper—but maybe thought twice given the hassle and high cost that go hand in hand with fancy coverings.
Happily, stenciling is a simple way to approximate the look. It's low-commitment, since you can paint over the pattern if you get tired of it, and not nearly as pricey, with many large-format stencils going for $50 or less. From traditional florals to modern geometrics, the options are as varied as wallpaper patterns but totally customizable because you pick the paint colors.
For best results, use painter's tape to hold the stencil in place, and start by completing one row from ceiling to floor. Paint with a small, dense foam roller, first rolling off excess on paper towels to prevent bleeding. Bend the stencil and use a small stencil brush to get into tight spaces. Partly overlap the already-painted pattern for the next row to ensure that it's perfectly aligned.
But don't stress over minor imperfections: That handcrafted effect is part of the look's charm.
Elegant Damask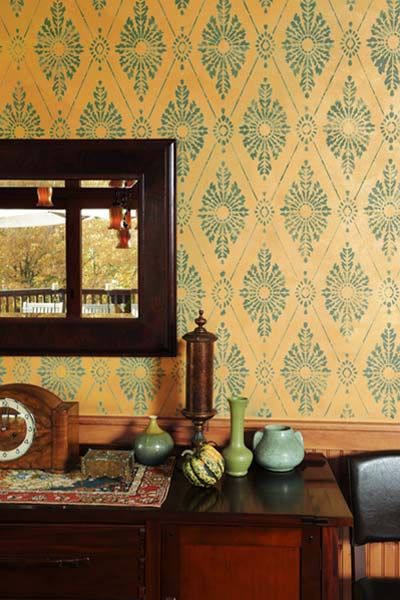 To give his dining room dimension, decorative painter and Cutting Edge Stencils cofounder Greg Swisher troweled on slightly iridescent LusterStone, a Venetian-plaster–like coating, above the wainscoting, then stenciled on a stylized design in Benjamin Moore's Cedar Path. Want more drama? Reverse the scheme with a darker wall color and a shimmery hue for the design.
Diamond Damask stencil, about $50; cuttingedgestencils.com. TOH readers get 15 percent off! Use the code TOH15 at checkout.
Modern Links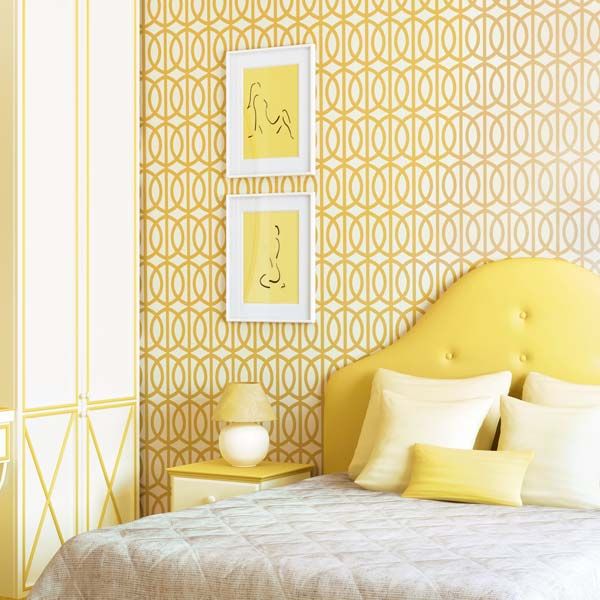 A classic geometric design in bold yellow picked up from the headboard gives this bedroom a serene, restful feel. Get the look by applying crisp white over Farrow & Ball's Dayroom Yellow.
Trousdale stencil, about $25; stencilease.com
Dramatic Diamonds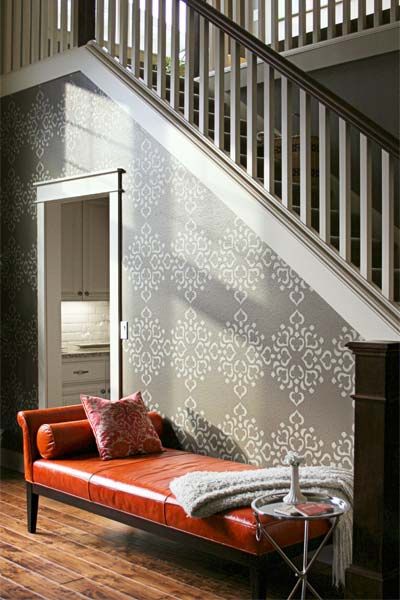 To create this eye-catching design in her foyer, blogger Janell Beals used a large-scale stencil pattern and a sophisticated tone-on-tone color scheme. Similar to shown: Anonymous and Worldly Gray, both from Sherwin-Williams.
Mirium stencil, about $40; whitewallco.com
Traditional Tilework
In a subtle green-gray (Valspar's Jeckyll Grand Dining Sea Mist), this pattern, based on Moroccan tiles, makes a not-too-busy background that's a good fit in a variety of settings.
Moroccan stencil, about $30; etsy.com/shop/cutestencils
Vintage Medallions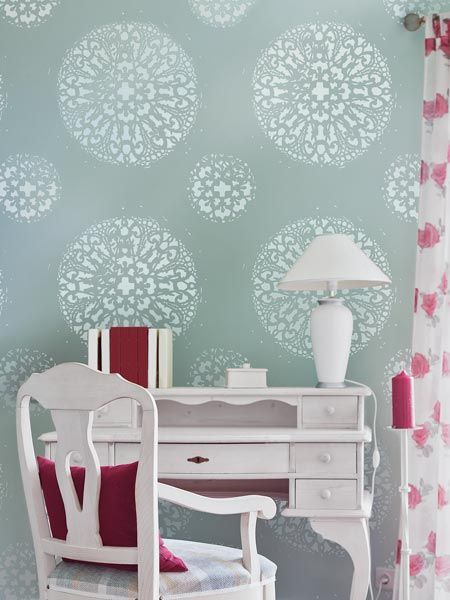 The intricate design and irregular edges actually make this pattern more forgiving to apply—any fading or bleeding only emphasizes the antique feel. A blue-and-white scheme (Benjamin Moore's Wythe Blue and Dove White) makes it timeless.
Antico stencil, about $55; cuttingedgestencils.com
Moroccan Border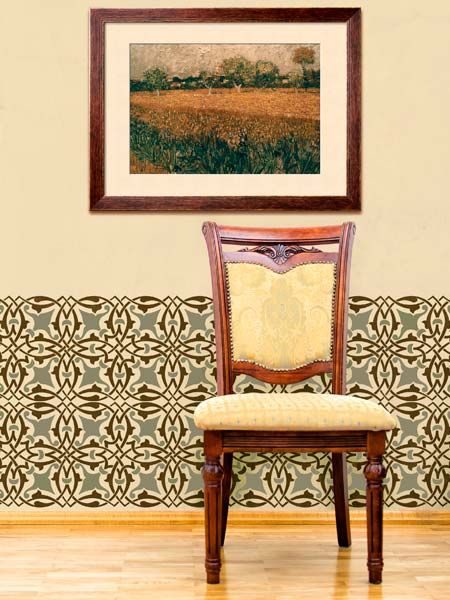 Painting just the lower third of a wall can mimic wainscoting. Think the dual-color pattern looks tricky? It's not. Trade the roller for small stencil brushes to apply Benjamin Moore's Wethersfield Moss, then Grizzly Bear Brown.
Moroccan Roundabout Border stencil, about $40; royaldesignstudio.com
Stylized Floral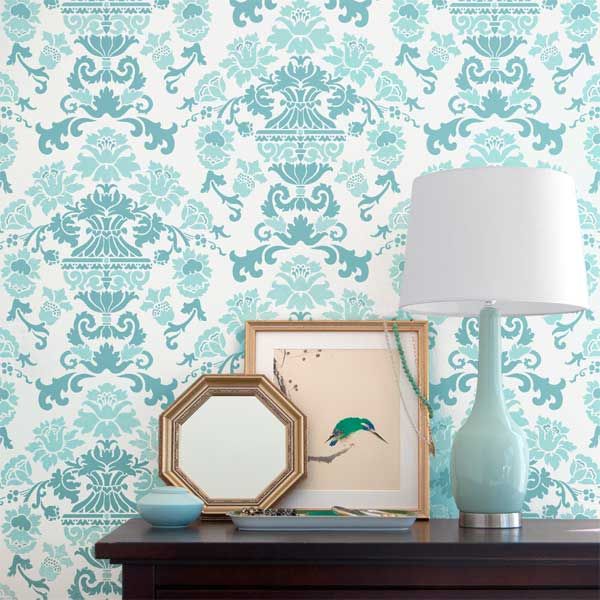 Applying this floral damask look in a calm blue palette (Benjamin Moore's Bird's Egg and Tranquil Blue) keeps it from skewing too feminine. The stencil is designed with dashed lines to make aligning the pattern less of a headache.
Encantada Damask stencil, about $50; royaldesignstudio.com
Deco Motif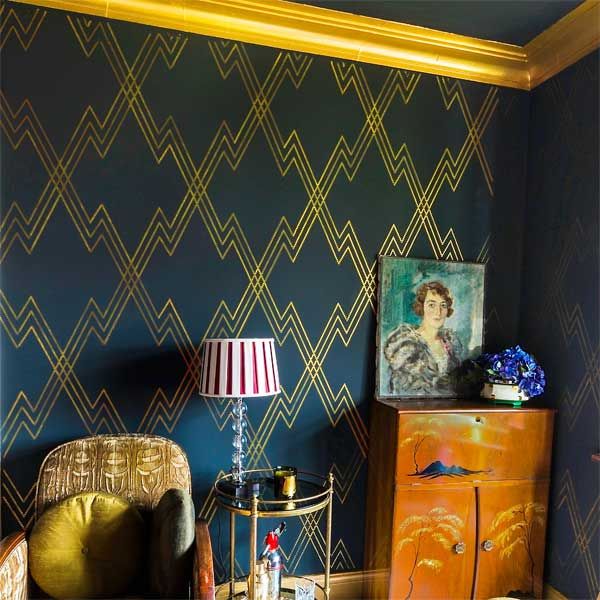 Navy and gold are a foolproof combo, and here they come together for a dramatic look that's ideal for a study or a dining room. To re-create this wall, use Farrow & Ball's Hague Blue and The Stencil Library's Bright Gold paint.
Chain Lightning VN7 stencil, about $80; stencil-library.com
Graphic Houndstooth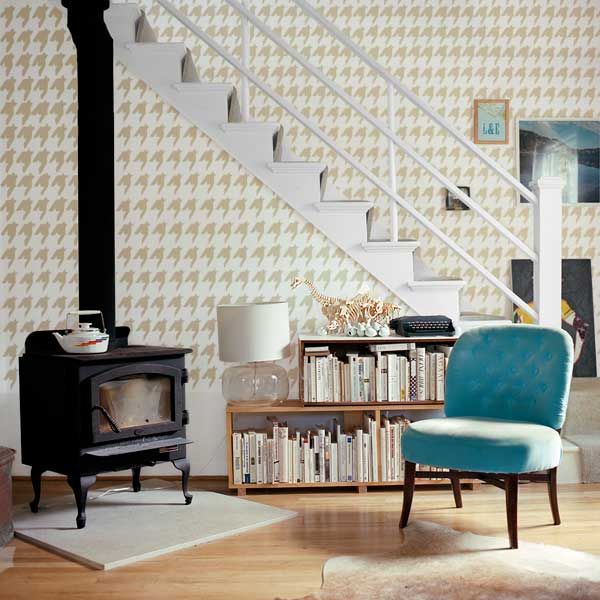 Letterpress artist Leslie Hickey stenciled her living room with the classic menswear pattern; the warm cream shade doesn't distract from the artwork on her walls. For a similar look, try Behr's Navajo White.
Houndstooth repeat pattern, about $15; stencil1.com
Pastoral Print
Want to add a worldly touch to a room? This highly detailed, large-scale stencil gives classic black-and-white toile a chinoiserie twist. Use the scenic print on an accent wall to avoid overdosing on the theme.
Willow Pattern CH32, about $130; stencil-library.com