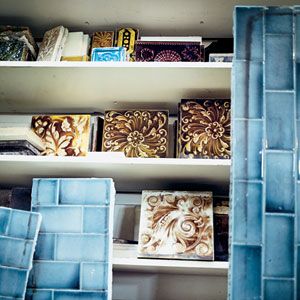 Today, ceramic tiles are mostly unremarkable squares used to create tidy, washable surfaces in kitchens and baths. But a hundred years ago, tiles were covered with vibrant colors, intricate patterns, and bold figures to enliven the look of foyer floors, wainscoted dining room walls, and living room fireplace surrounds.
American tiles produced from the late 1870s through the mid-1930s were a practical and eye-catching feature in middle-class houses and grand public buildings. "They were the art of the everyday," says Bill Stern, executive director of the Museum of California Design and a Los Angeles tile collector.
And thanks to a growing appreciation for the styles and fine workmanship of the past, antique tiles are once again adding life to both new and old houses in backsplashes, borders, stair risers, and door surrounds.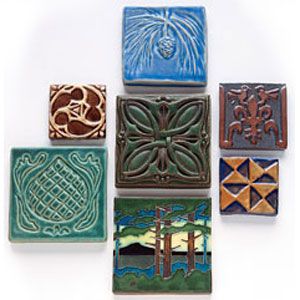 Casting Back
Inspired by European potteries that displayed their wares at the 1876 Centennial exhibition in Philadelphia, newly industrialized American companies soon began turning out their own tile designs. These Victorian-era examples, from the likes of American Encaustic Tiling of Zanesville, Ohio, and Trent Tile Company in Trenton, New Jersey, feature embossed designs of flowers, shells, and human figures in period dress. Each machine-pressed tile was a vision of uniformity thanks to smooth, purified clays, crisp details, and a high-gloss glaze in colors ranging from dark amber to mint green with amethyst marbling.
By the turn of the century, though, the Arts and Crafts movement was taking hold in the United States. Ceramists such as Henry Chapman Mercer and his Moravian Pottery and Tile Works in Doylestown, Pennsylvania, were emphasizing handwork over mechanized production and simplicity over Victorian excess. Mercer pressed local unpurified clay into hand-carved molds depicting animals, geometric medieval motifs, and narrative pictorials of American country life. And in stark contrast to the perfection that characterized Victorian-era tiles, Mercer strove for variation in surface texture, glaze color, and tone. "He wanted the tile to have personality, to convey a sense of the human hand that fashioned it," says Adam Zayas, chief ceramist at Moravian, now a working history museum.
Other shops making Arts and Crafts tiles distinguished themselves with suedelike matte finishes in colors derived from nature, says Suzanne Perrault, an American art tile expert and dealer in Lambertville, New Jersey. Among the most notable shops was Grueby Faience of Boston, which bathed its tall ships and landscapes in brown, green, indigo, and ochre glazes. "Grueby green is the color of a vegetable you pick in the garden, like a squash or a cucumber," says Perrault. And Batchelder Tile Company of Pasadena, California, cultivated a following for its hand-pressed tiles decorated with peacocks and medieval castles, many with worn-looking surface textures like those of old marble and bronze.
What to Look for
In the early 20th century, homeowners ordered tiles from manufacturers' catalogs. But by the mid-1930s, the Great Depression had squeezed most companies into bankruptcy.
Now, vintage tiles are found at antiques shops, architectural salvage yards, and auction houses. Prices vary widely depending on style, condition, rarity, and size. At the high end is a 4-foot-long frieze depicting one of Grueby's iconic landscapes, "The Pines," that sold at an Arts and Crafts auction in January for $55,000.
Far more affordable are Victorian-era tiles. These glassy-surfaced models are not in high demand but can be just the thing to restore a fireplace surround in a Queen Anne. A matched set of 16 floral-patterned, 6-inch-square Trent tiles was selling recently for $500 at Olde Good Things, a salvage shop in Scranton, Pennsylvania. And single-accent tiles from other American potteries were just $35, many with the maker's mark stamped on the back. Other field tiles, including vintage subway tiles, sell on eBay for as little as $3.
Except for the largely pristine collections offered by auction houses and specialty dealers, most salvaged tiles are sold "as is," often with dusty surfaces or chunks of mortar stuck to the backs. Occasionally, a shop gets hold of a few boxes of old tiles that were never installed—most likely unsold stock from potteries that went out of business.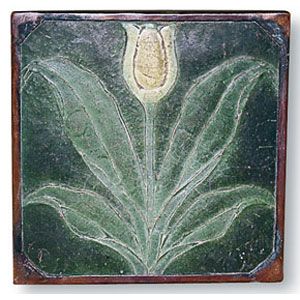 Old Styles, New Tiles
For the look of antique tiles without the hassle of finding a full set of affordable pieces in good shape, numerous companies turn out new tiles based on historic patterns. Motawi Tileworks in Ann Arbor, Michigan, produces pieces inspired by Art Deco textiles, Dard Hunter's Arts and Crafts graphic designs from the early 1900s, and old children's book illustrations. Decorative 6-inch-squares start at $33. Other companies, such as Mercer's Moravian and Pewabic Pottery, which opened its Detroit studio in 1903, still produce original designs, at prices ranging from $12.50 (for Moravian's
4-inch squares) to $36 (for Pewabic's 6-inch squares).
Whether you choose new tiles with period patterns or century-old originals, there's no limit to the ways you can show them off. In the garden, decorative tiles can be set in a stucco wall, line the ledge of a fish pond, or break up the monotony of plain patio pavers. Interspersed with inexpensive field tiles, colorful squares can create a one-of-a-kind kitchen backsplash, breakfast nook chair rail, or bathtub surround. And matte-finish tiles can be laid in a geometric pattern on a mudroom or vestibule floor for a new twist on the welcome mat.
You Can Take It With You
Torn about mortaring treasured accent tiles into place, in case you decide to move? Surrounding them with a box of 1/4-inch wood stock or even thinner metal (this rare Grueby tulip tile, above, is outlined with copper) makes it possible to pop such tiles out
of a grouted area without damaging their edges. Just be sure to mortar only the sides (and not the back) of the box during installation to make removal easier.
Where to Find It
Expert/dealer:
Suzanne Perrault
Perrault Rago Gallery
Lambertville, NJ
609-397-9374
New Tiles:
Moravian Pottery and Tile Works Museum
Doylestown, PA
215-345-6722
Pewabic Pottery
Detroit, MI
313-822-0954;
Motawi Tileworks
Ann Arbor, MI
734-213-0017