This article appeared in the Summer 2023 issue of This Old House Magazine. Click here to learn how to subscribe.
Pound for pound, a table saw might be the most versatile tool in a DIYer's arsenal. Up until now, these saws came in two sizes: massive cabinet saws and slightly smaller contractor saws. Today, there's another option for those who lack a large workshop. Designed to bring the tool to where it's needed, this newest generation of saws is smaller, lighter, and easy to set up or stow.
While these smaller saws may lack power—they won't slice through 3 inches of maple in one pass—they have enough muscle, capacity, and adjustability to help tackle all sorts of projects around the house. Here's the lowdown on these indispensable tools.
What to Look For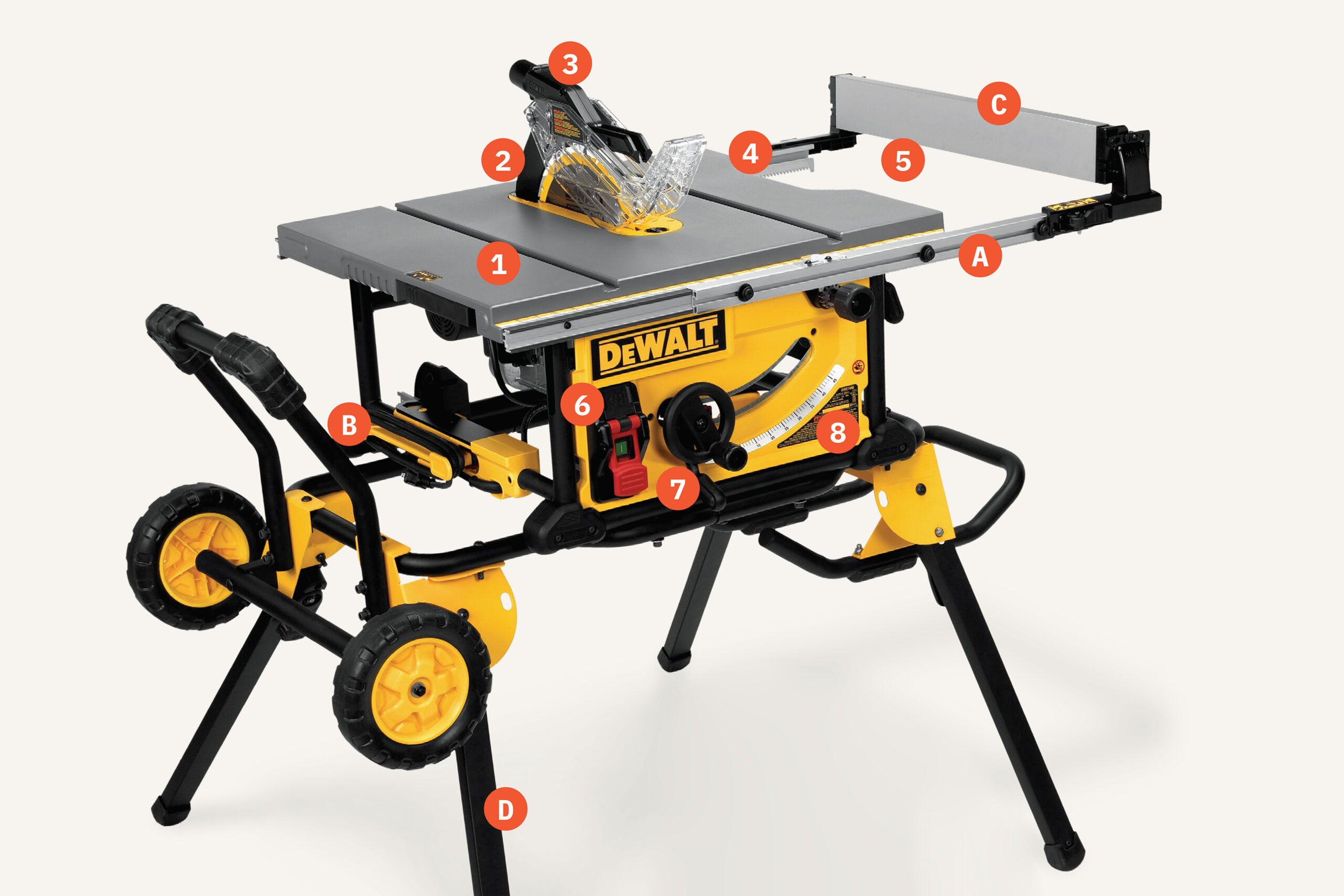 10″ Jobsite Table Saw (DWE7491RS)
SAW-BLADE DIAMETER: 10"
MAXIMUM RIP CAPACITY: 32½"
NO-LOAD RPM: 4,800
CUTTING CAPACITY AT 90º: 31⁄8"
CUTTING CAPACITY AT 45º: 2¼"
BEVEL CAPACITY: 0º to 57º
DADO CAPACITY: 8″ at 13⁄16″
TABLETOP SIZE: 217⁄8"×263⁄8"
WEIGHT: 90 pounds with stand
PRICE: $649; dewalt.com
Common features
Table: Has tracks to fit a miter gauge and other accessories
Riving knife: Keeps materials from pinching the blade
Dust-collection ports: Connect to a vacuum
Blade-guard assembly" Protects fingers from getting too close to the blade
Fence Slides along the table to set the cut width
Power switch
Blade height and bevel lock: Rotates to set the blade height and blade angle
Bevel gauge: Shows the blade angle in degrees
Worthwhile upgrades
A) Expandable table: Extends up to 32½" for cutting wide sheet goods
B) Onboard storage: Keeps wrenches and gauges close
C) Flip-over fence: Lip supports stock when the fence is extended beyond the table
D) Wheeled stand: Makes moving easier
Compact Table Saw Options
Safety star: SawStop Compact Table Saw (CTS-120A60)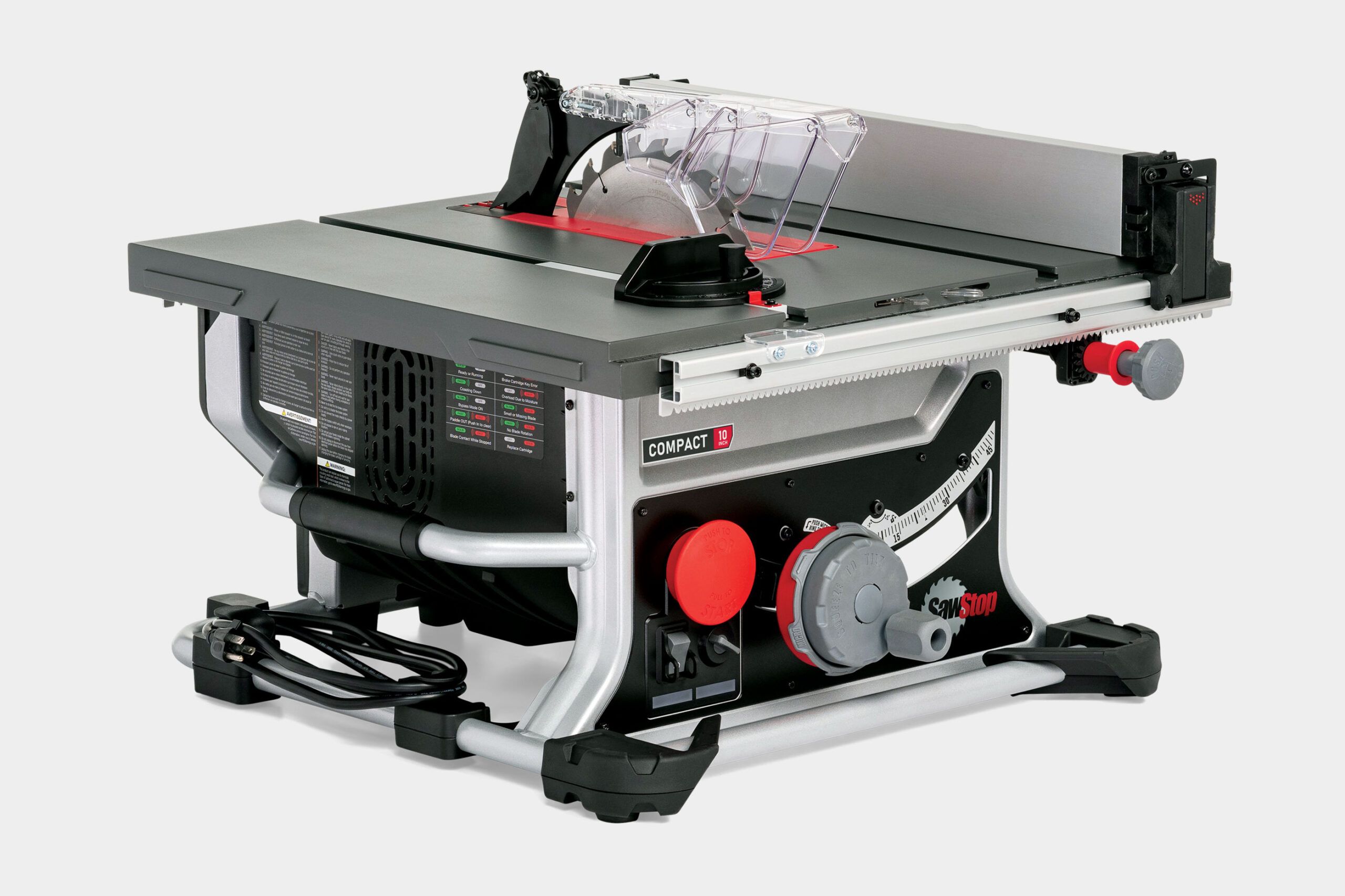 The most expensive saw in this category is aimed at users who are willing to pay more for less risk of injury. Within 5 milliseconds, the SawStop's built-in microprocessor will stop and drop the blade below the tabletop if it touches skin, resulting in a scrape instead of a severed finger. This ultracompact saw (it's the smallest of the bunch) holds its own with a rack-and-pinion fence and a high-quality stock blade. Unlike the other saws, this model will not accommodate a dado blade.
Product specs:
SAW-BLADE DIAMETER: 10"
MAXIMUM RIP CAPACITY: 24½"
NO-LOAD RPM: 4,000
CUTTING CAPACITY AT 90º: 31⁄8"
CUTTING CAPACITY AT 45º: 21⁄8"
BEVEL CAPACITY: 0º to 45º
DADO CAPACITY: N/A
TABLETOP SIZE: 23"×225⁄8"
WEIGHT: 68 pounds
PRICE: $899; sawstop.com
Super value: SKIL 10″ Jobsite Table Saw (TS6307-00)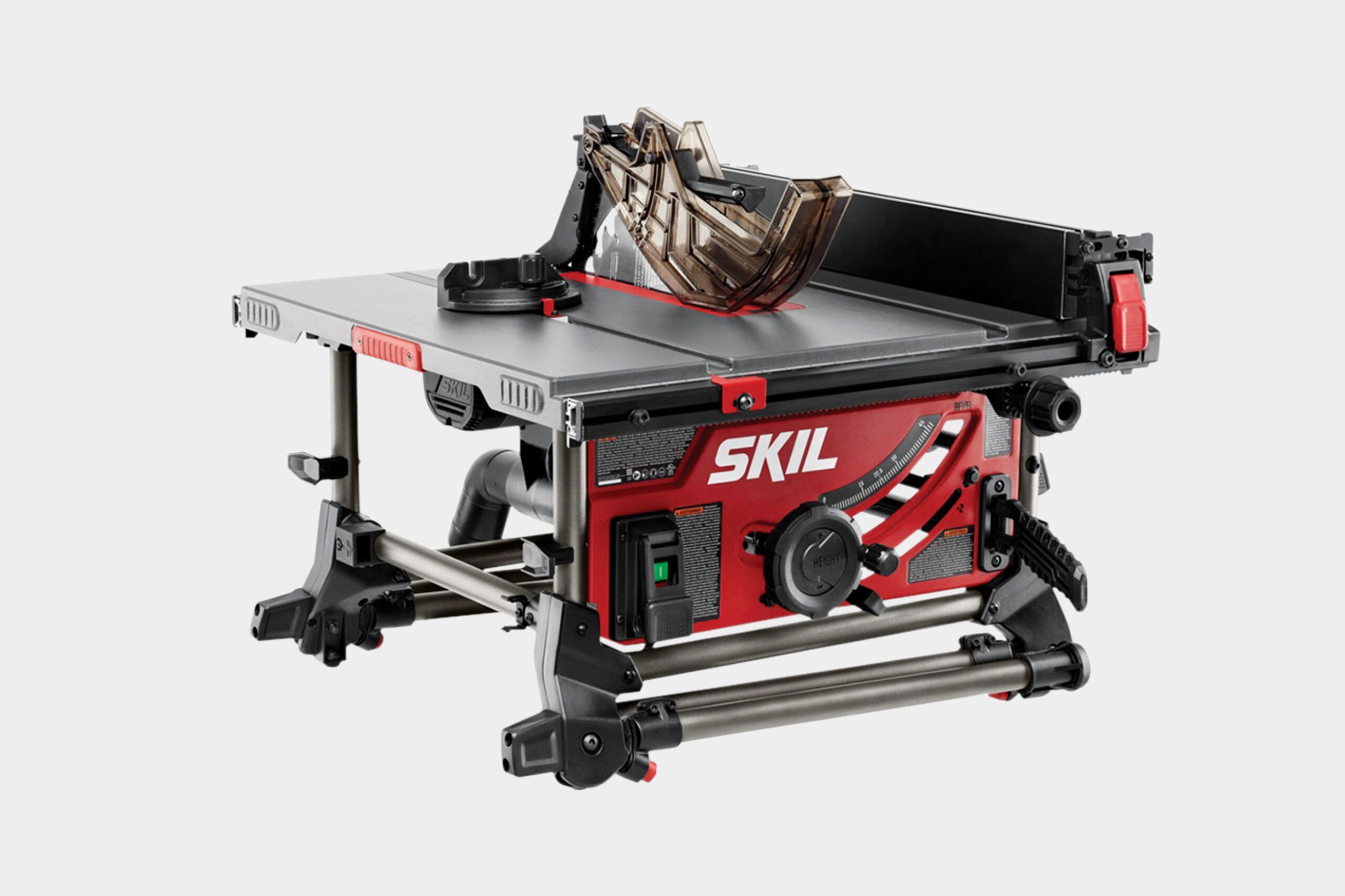 SKIL's budget-friendly saw doesn't skimp on power or features. Like pricier models, it has a rack-and-pinion fence that consistently remains perpendicular to the blade, a generous rip capacity, and a powerful 15-amp motor. The bump switch covering the power button lets you shut off the saw with your knee while keeping both eyes on the work. The saw doesn't have wheels for easy transport, but it has integrated legs that fold into the frame for freestanding use or on a benchtop.
Product specs:
SAW-BLADE DIAMETER: 10"
MAXIMUM RIP CAPACITY: 25½"
NO-LOAD RPM: 4,600
CUTTING CAPACITY AT 90º: 3½"
CUTTING CAPACITY AT 45º: 2½"
BEVEL CAPACITY: −2º to 47º
DADO CAPACITY: 8″ at 5⁄8″
TABLETOP SIZE: 24"×25"
WEIGHT: 51 pounds with stand
PRICE: $299; skil.com
Best-in-class cordless: M18 Fuel 8¼" Table Saw with One-Key (2736-21HD)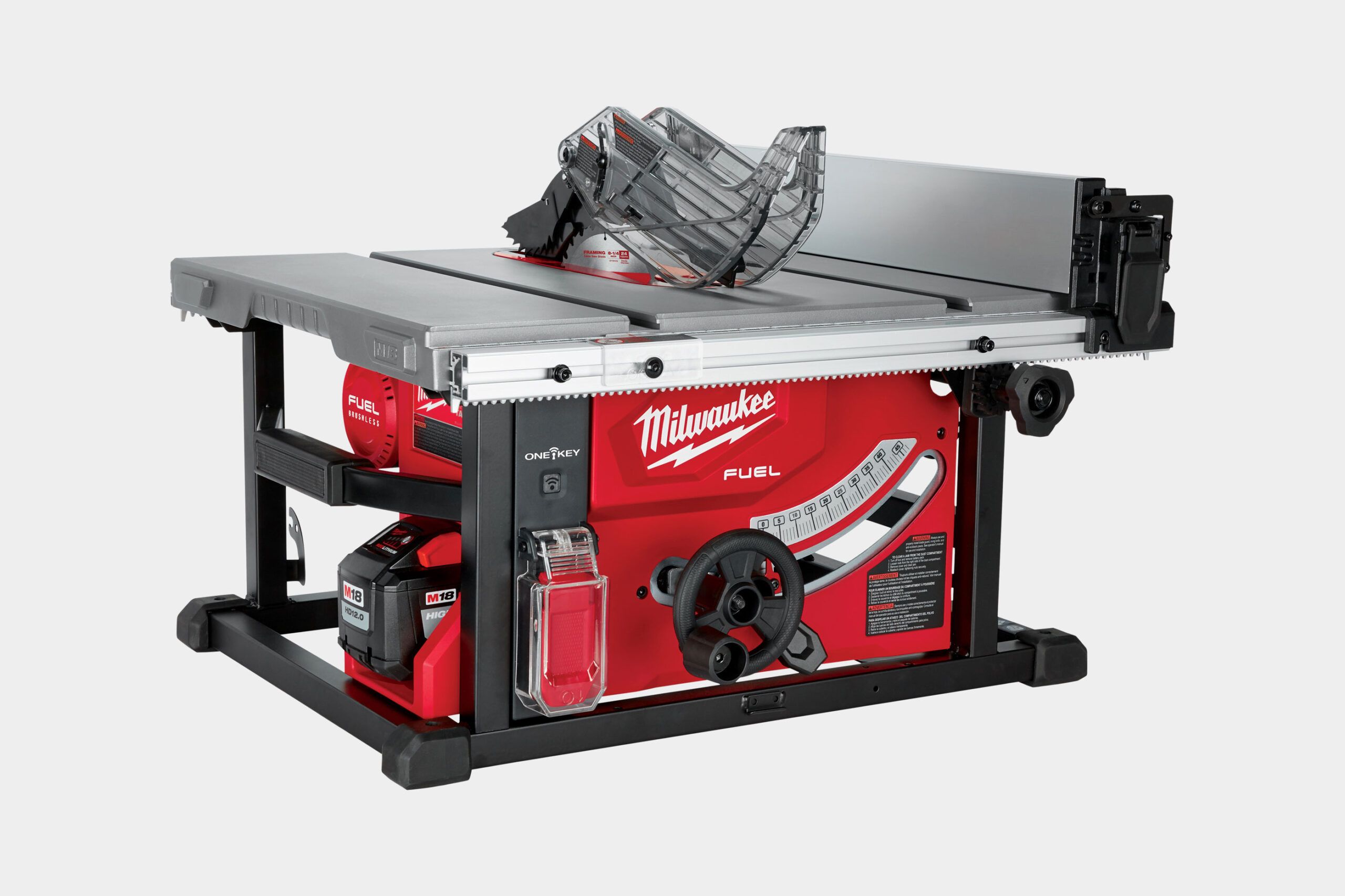 It comes up a little short in cutting capacity, but Milwaukee's battery-powered saw fares well against its corded competition. Fully charged, the 12-amp-hour 18-volt lithium-ion battery can rip 600 linear feet of ¾-inch oriented strand board. The saw can connect to your smartphone to track its performance and location, and can be locked to prevent unauthorized use. This saw isn't sold with a stand, but its compact size and light weight make it ideal for setting up a temporary shop anywhere.
Product specs:
SAW-BLADE DIAMETER: 8¼"
MAXIMUM RIP CAPACITY: 24½"
NO-LOAD RPM: 6,300
CUTTING CAPACITY AT 90º: 2½"
CUTTING CAPACITY AT 45º: 1¾"
BEVEL CAPACITY: 0º to 47º
DADO CAPACITY: 6" at ¾"
TABLETOP SIZE: 17½"×22½"
WEIGHT: 41.6 pounds
PRICE: $599 with battery and charger; milwaukeetool.com
How to Set Up a Table Saw
Calibrating is the first step to ensuring cuts are square and true. Here's how to do a basic tune-up for a new (or well-used) saw.
1. Adjust the throat plate.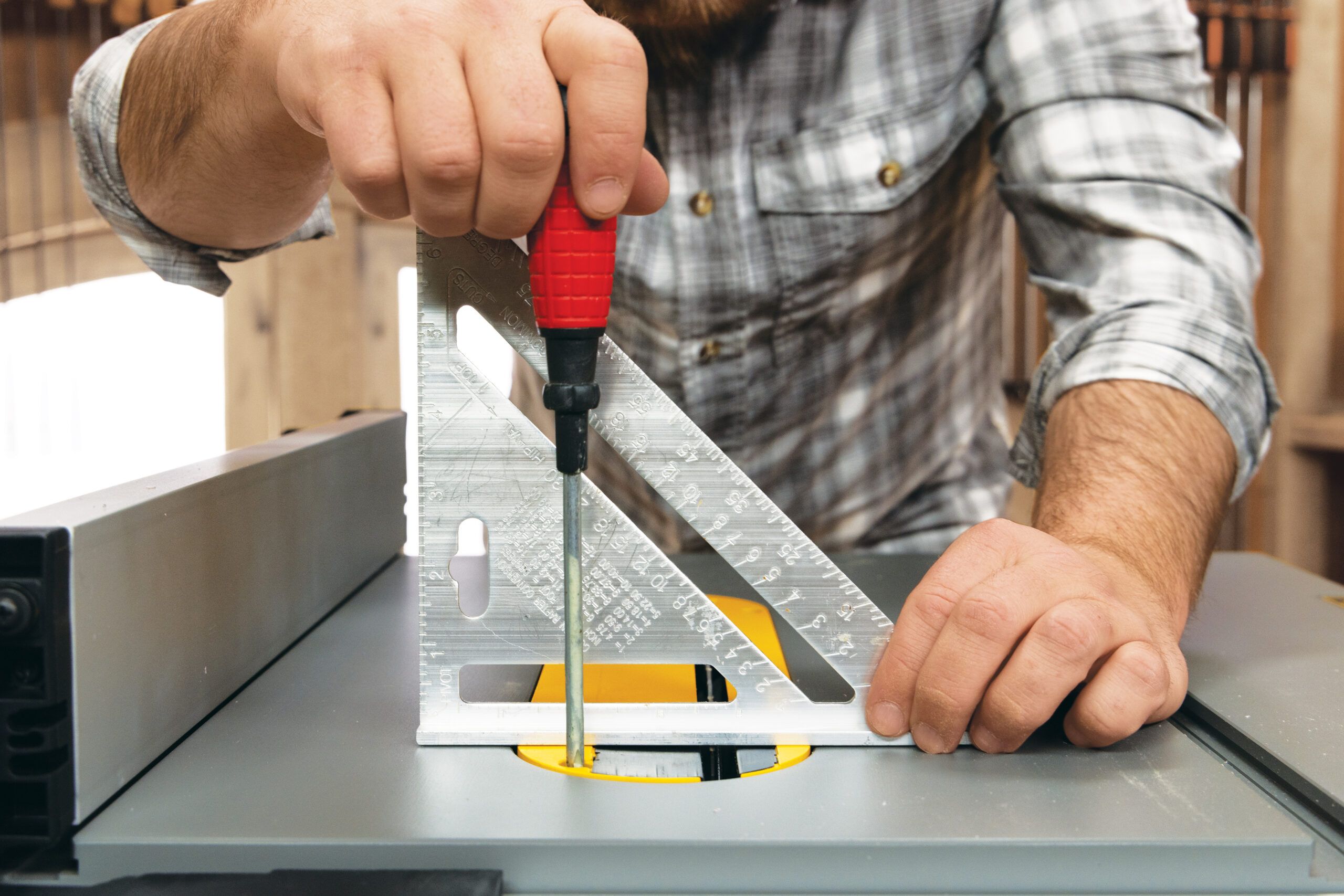 To avoid encountering bumps or dips mid-cut, the throat plate needs to be flush with the table. Unplug the saw, then set a straightedge across the plate. Use a screwdriver or a hex key to raise the plate flush with the table. On some saws, the levelers may be located on the bottom face.
2. Square the blade.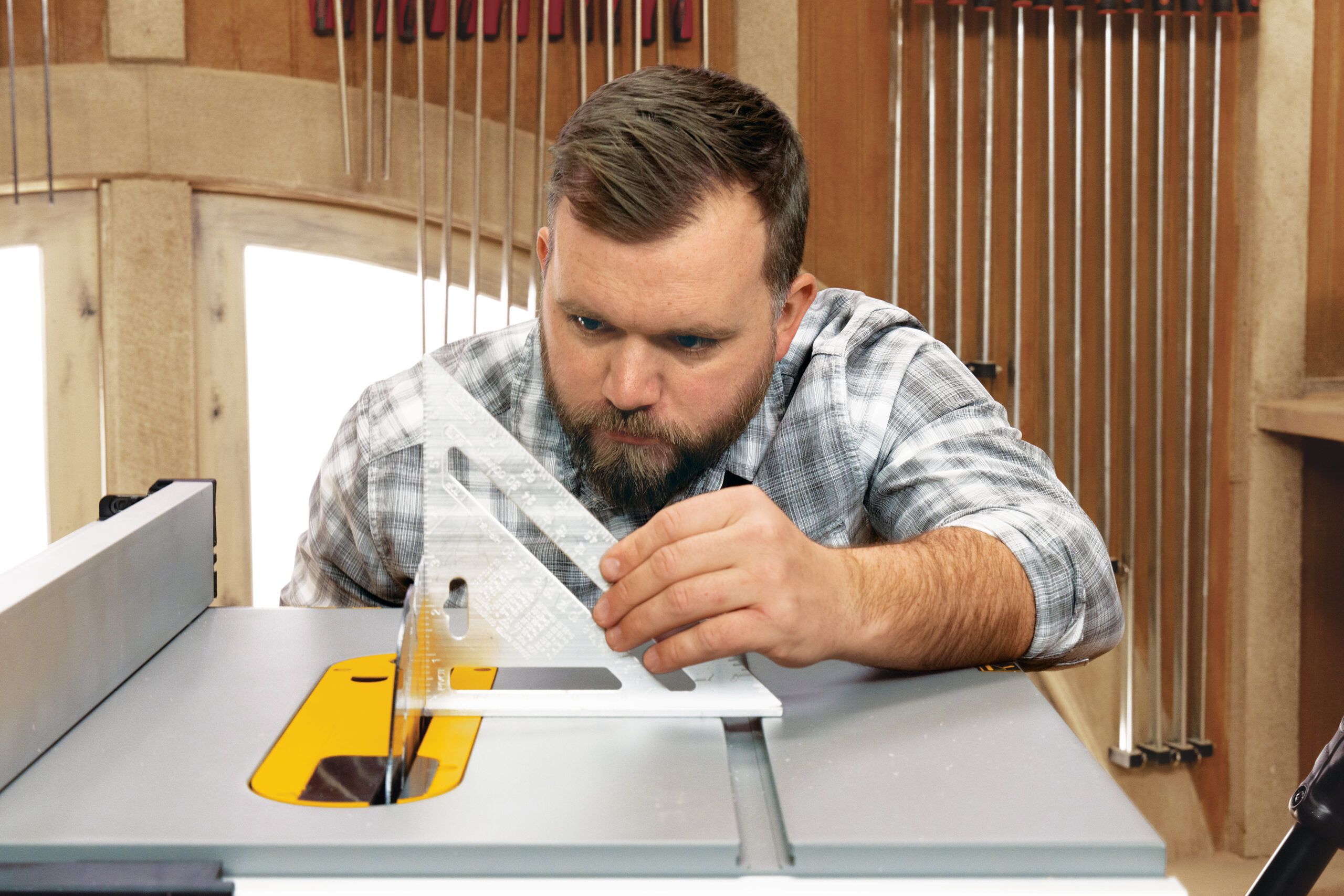 Set the base of a square or drafting triangle on the table and against the saw blade, between the carbide teeth. Adjust the bevel until there's no light between the blade and the square. To adjust the internal bevel stop, refer to the manual.
3. Check the bevel.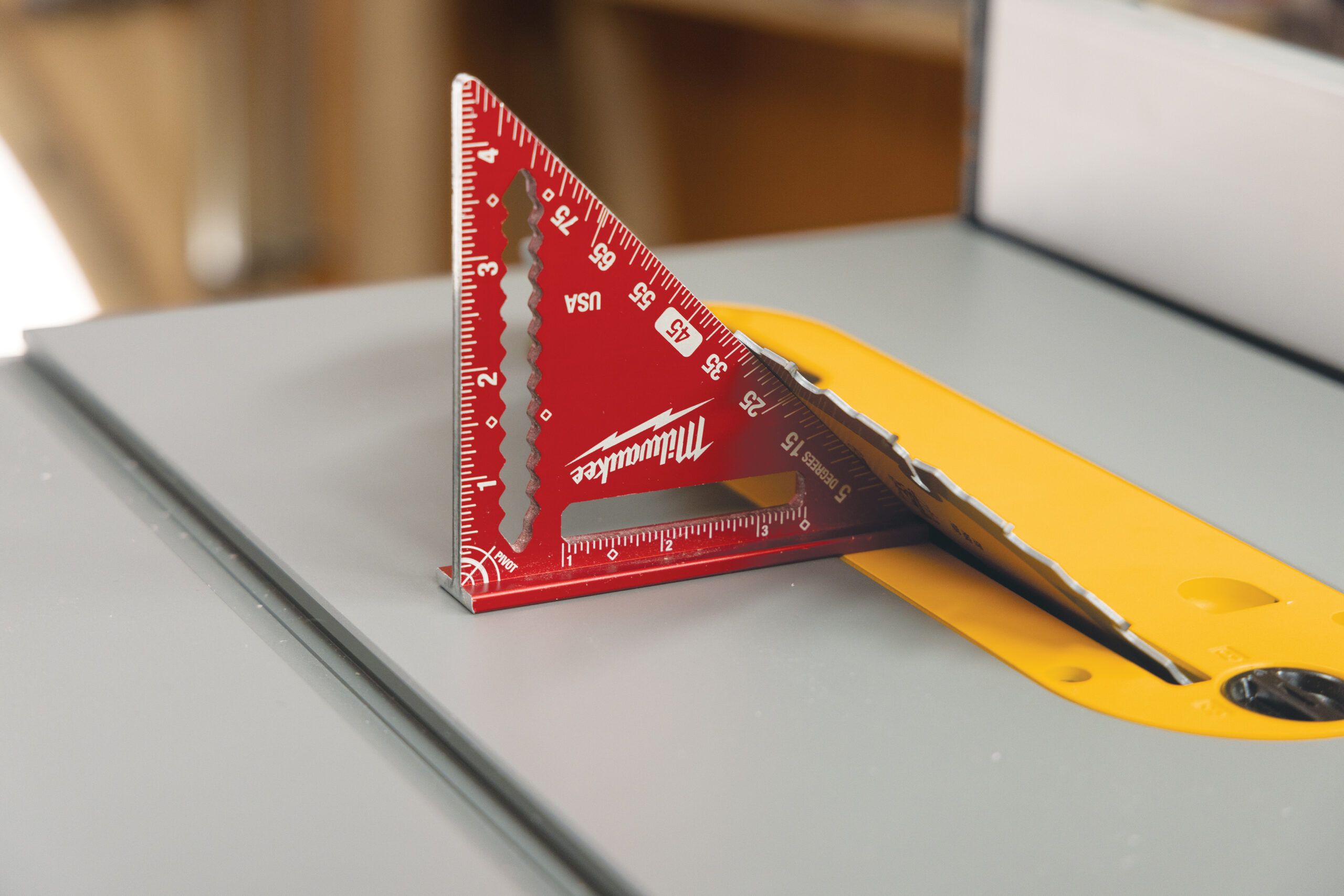 Similar to the previous step, position a square between the teeth, unlock the bevel gauge, and tilt the blade until there's no gap between the two. Adjust the internal bevel stop and arrow on the bevel gauge as needed.
4. Back up the miter gauge.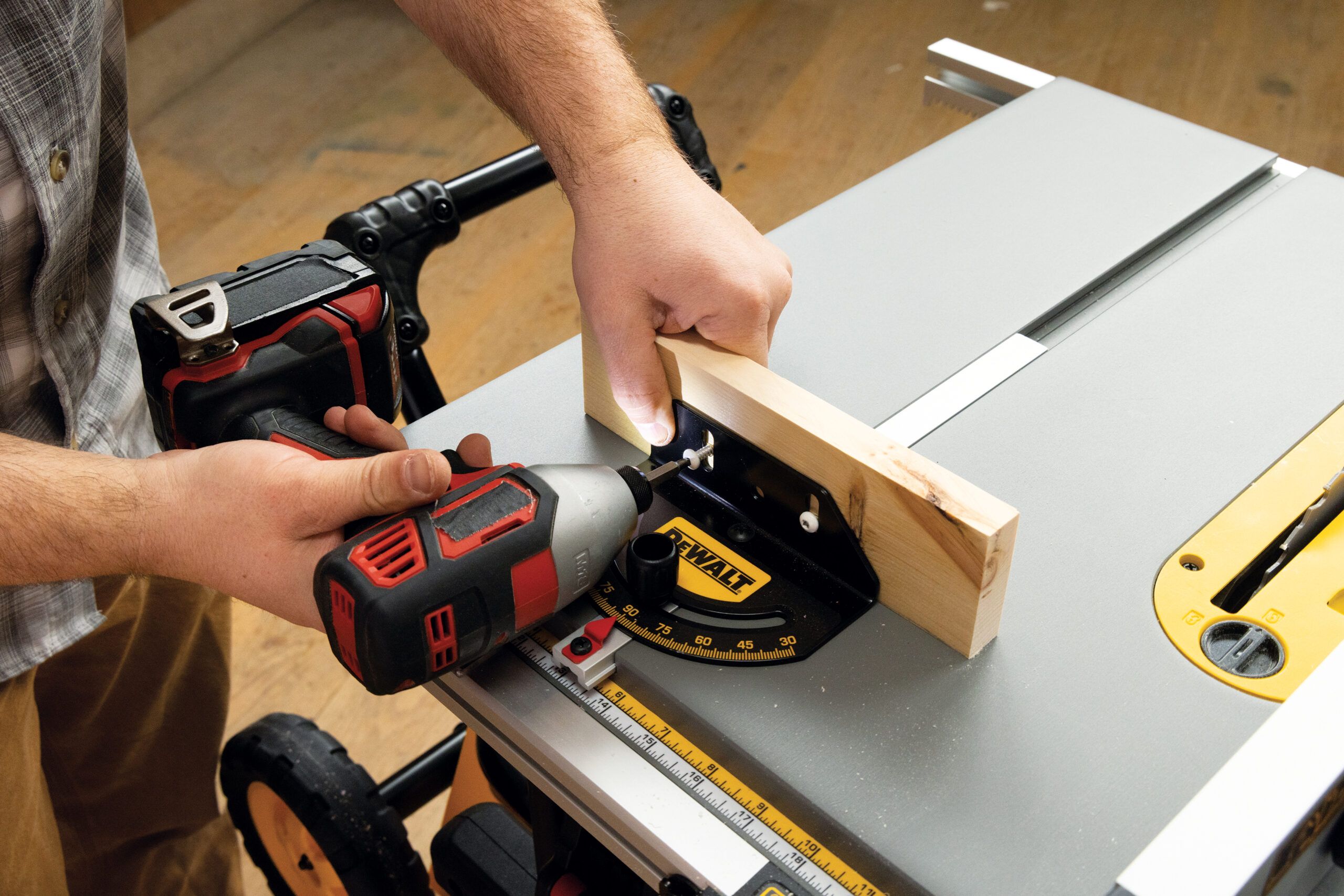 Adding a sacrificial fence to your miter gauge provides better support for workpieces and a mounting surface for stop blocks, and prevents chip-out on the back edge. Mount the fence so that one side can act as a sweep for moving offcuts past the blade. Add sandpaper to make it nonslip.
Compact Table Saw Cutting Tips
Ripping a crooked board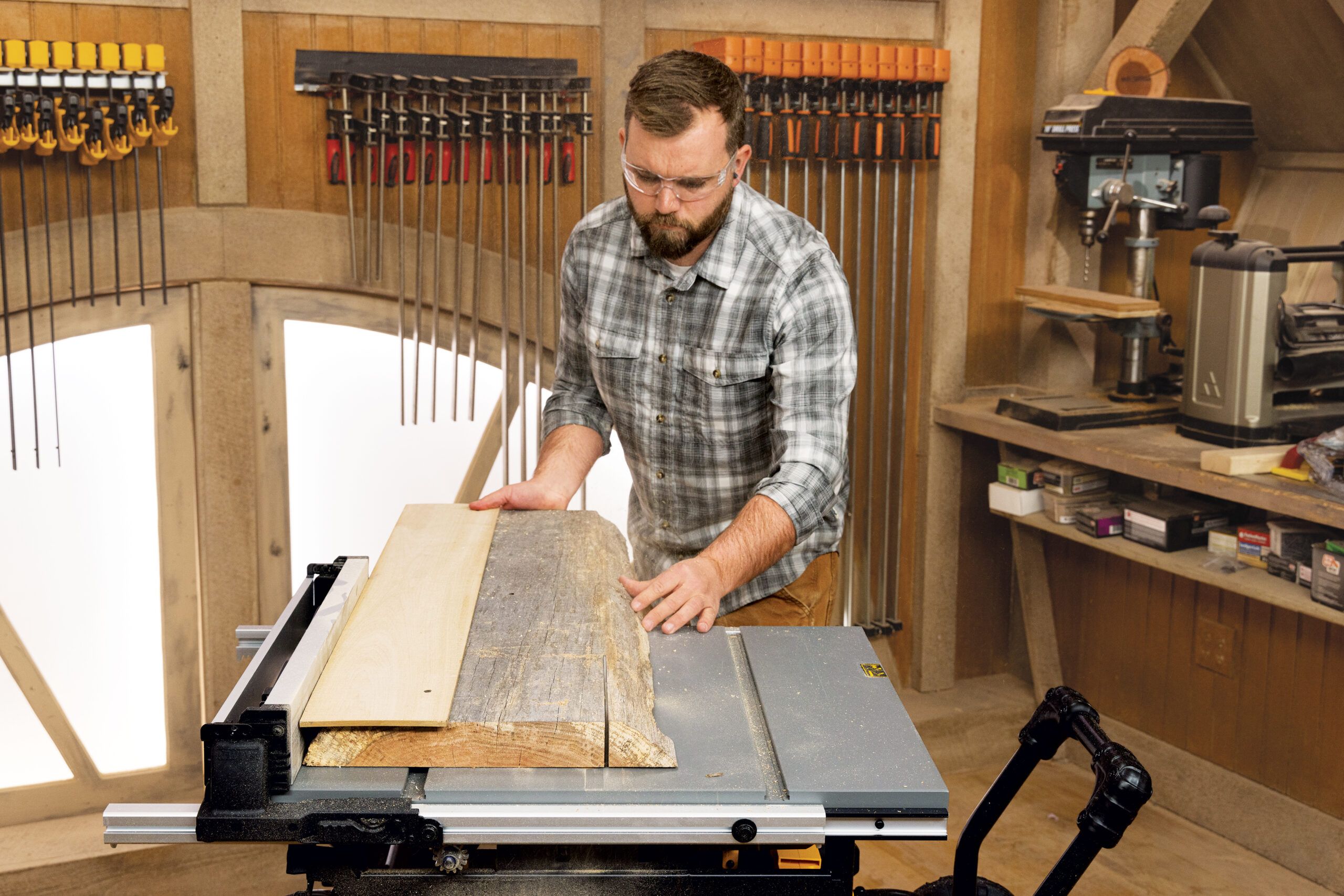 Sawing a live-edge slab requires first creating one straight edge that can then be safely fed against the rip fence for subsequent cuts. To establish a straight edge, tack a guide board to the piece, then push the stock through the blade.
Crosscutting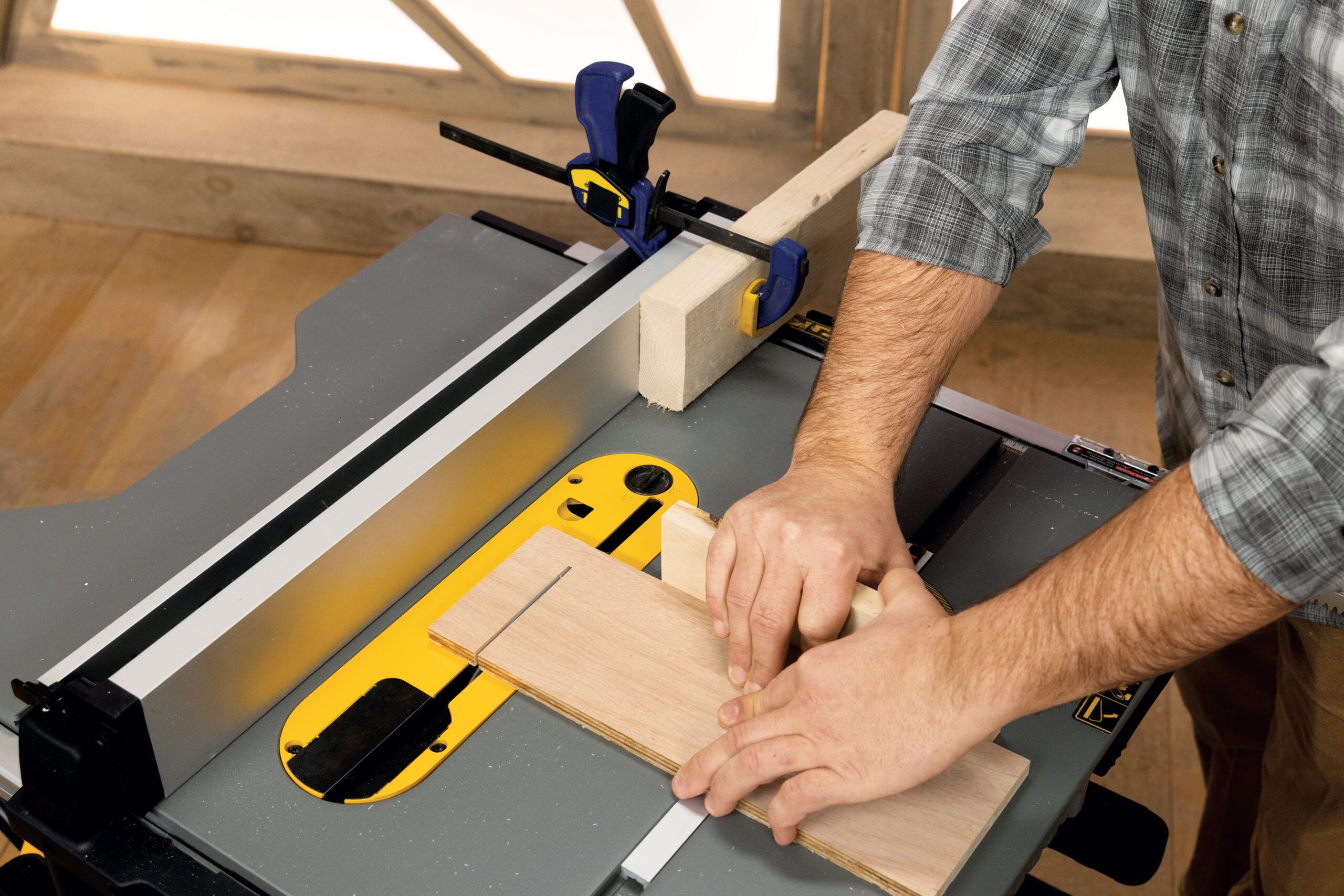 When using a miter gauge, the rip fence should never be used as a stop; if the wood becomes trapped between the fence and blade, it can get kicked back at you. To give the offcuts safe space, attach a stop block to the fence, behind the blade.
Resawing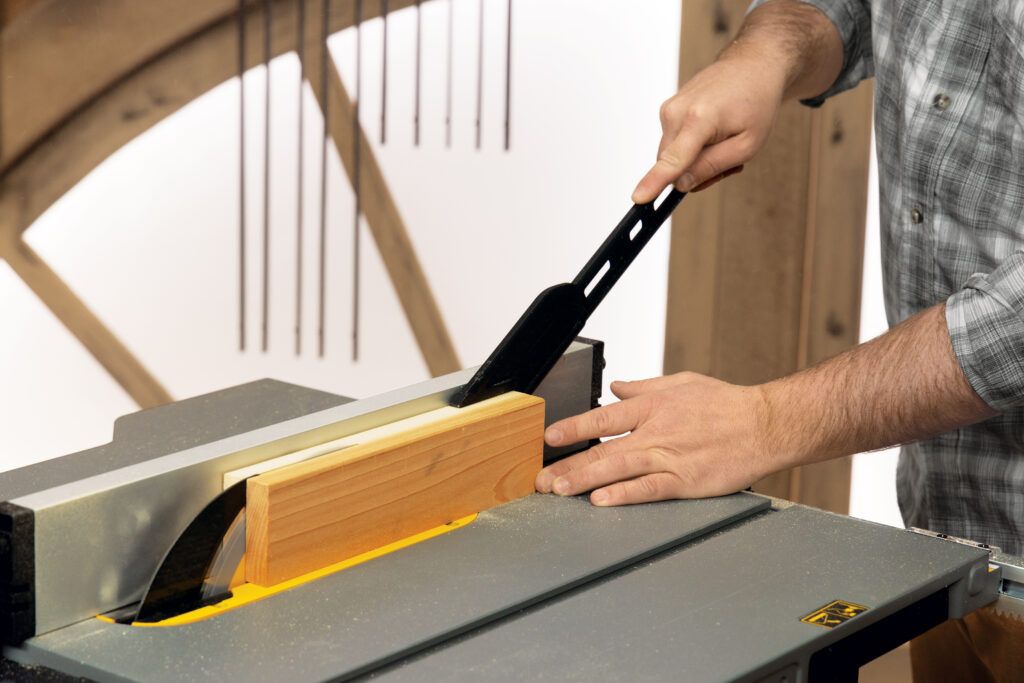 To slice a board across its widest dimension: Raise the blade height to just over the halfway point of the stock. After the first pass, flip the board end over end so the same face is against the fence, and make a second cut.
Table Saw Accessories
Out of the box, table saws come with everything you need to start making sawdust, but these accessories can help you get better results and keep you safe.