This article appeared in the Summer 2022 issue of This Old House Magazine. Click here to learn how to subscribe. Check back soon to see the video for this story.
Finish Nailers Have Specific Purposes
Finish nailers are ideal for trimming windows and doors, hanging crown molding, or fastening delicate woodworking pieces. But the reality is that one nailer can't handle it all. Large nailers will split small pieces of trim, while small pin nailers won't have the holding power to keep a molding in place. For this reason, many DIYers and pros keep several types (and sizes) of finish nailers on hand.
Whether you're installing crown molding, baseboards, stair treads, or window trim, a finish nailer will improve the quality and speed of your work.
Not only do these tools shoot nails faster than anyone can hammer, but they also propel the nails at such a high velocity that they sink in before the wood has a chance to move. Once you start using a finish nailer, there's no going back to a hammer.
Until recently, nailers had to be tethered to a compressor hose (or fitted with a gas canister), which powered the piston that drove in the nails. Now, thanks to better batteries, the latest cordless nailers have the power and firing rate to match their compressor-dependent predecessors.
And while they're not as light or nimble as pneumatic nailers, the grab-and-go portability of cordless models more than makes up for it. For more details, read on
Types of Cordless Finish Nailers
15-Gauge Finish Nailer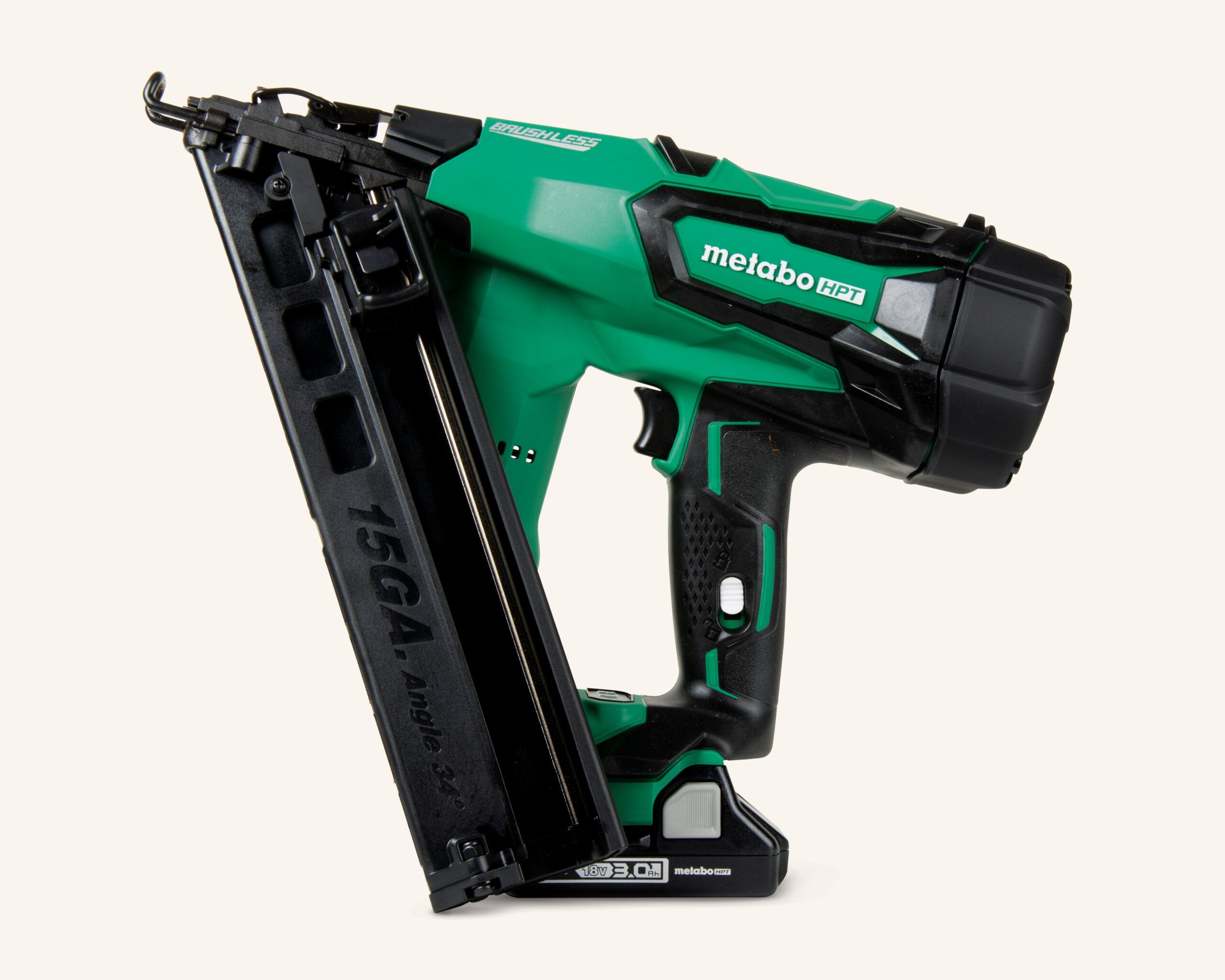 BEST FOR: Heavy trim up to 5/4 inch thick
Nathan says: "The powerful pistons in these nailers can sink 2½-inch nails into hardwood; use them to securely install baseboards, large crown molding, and door and window casings.
Their nails' relatively large heads and shank size ensure that joints will stay tight. Its near-twin, in both size and price, is the 16-gauge finish nailer, which comes with either a straight or angled magazine (the latter comes in handy when working in tight spaces); 15-gauge nailers have angled magazines only."
Metabo HPT Angled Finish Nailer Kit (NT1865DMAS)
Weight: 7.5 pounds
Nail lengths: 1 1/4 to 2½ inches
Battery: 18 volt, 3 amp-hour, lithium-ion
Magazine capacity: 100 nails
Nails per charge: 1,100
Price: $237
18-Gauge Brad Nailer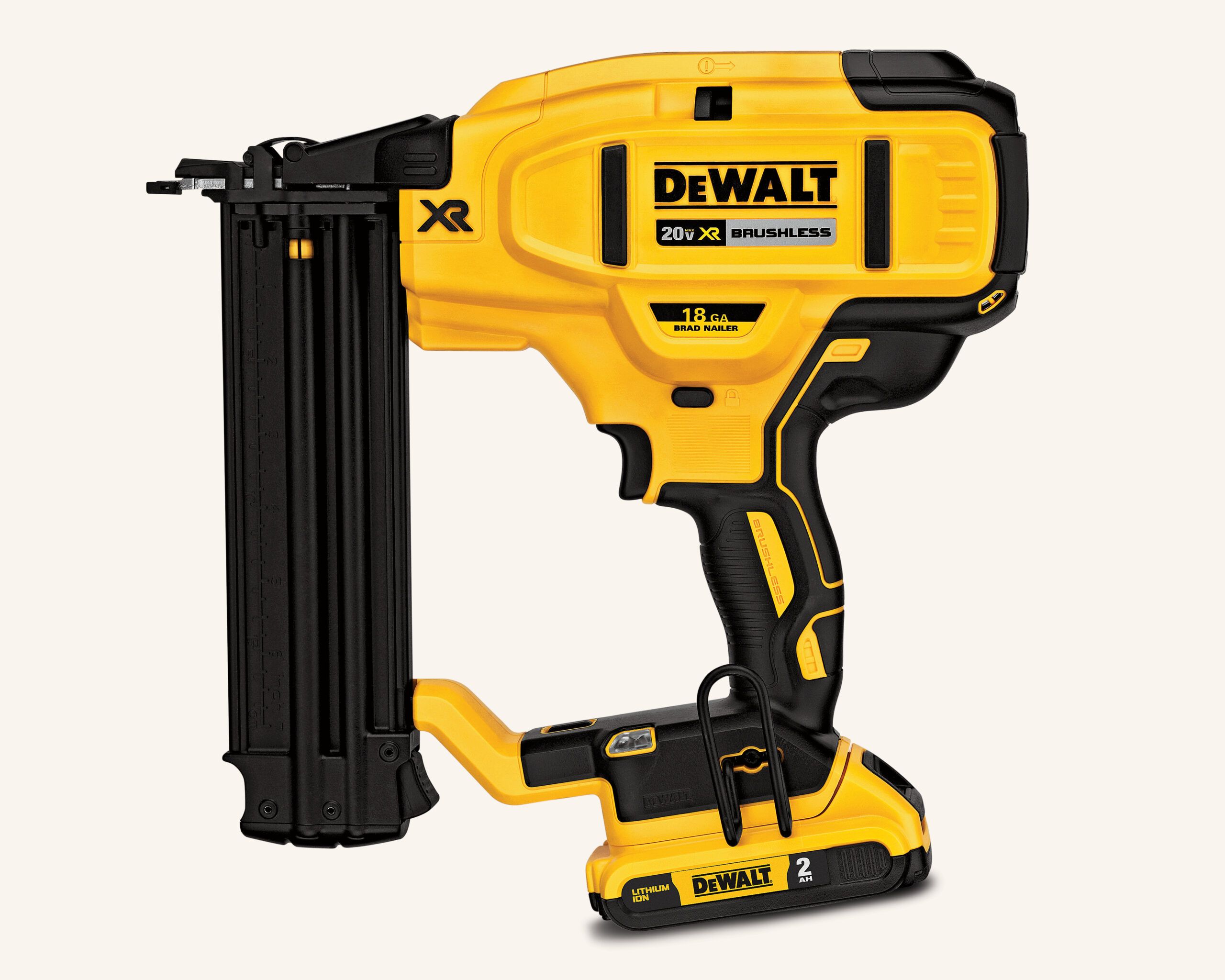 BEST FOR: Wide range of trim thicknesses, 1/4 inch to 1 inch
Nathan says: "These nailers hit the sweet spot between the big 15- and 16-gauge nailers and featherweight pin nailers. This is the size to use for fastening quarter round, baseboard cap, wainscot, small crown, chair rails, and most other trim. Their nails don't leave a large hole; one swipe of filler hides them for good. They're only available with straight magazines, however."
DeWalt 20V Max XR Brad Nailer Kit (DCN680D1)
Weight: 6.3 pounds
Nail lengths: 5/8 to 2 1/8 inches
Battery: 120 volt, 2 amp-hour lithium-ion
Magazine capacity: 110 nails
Nails per charge: 850
Price: $299; homedepot.com
23-Gauge Pin Nailer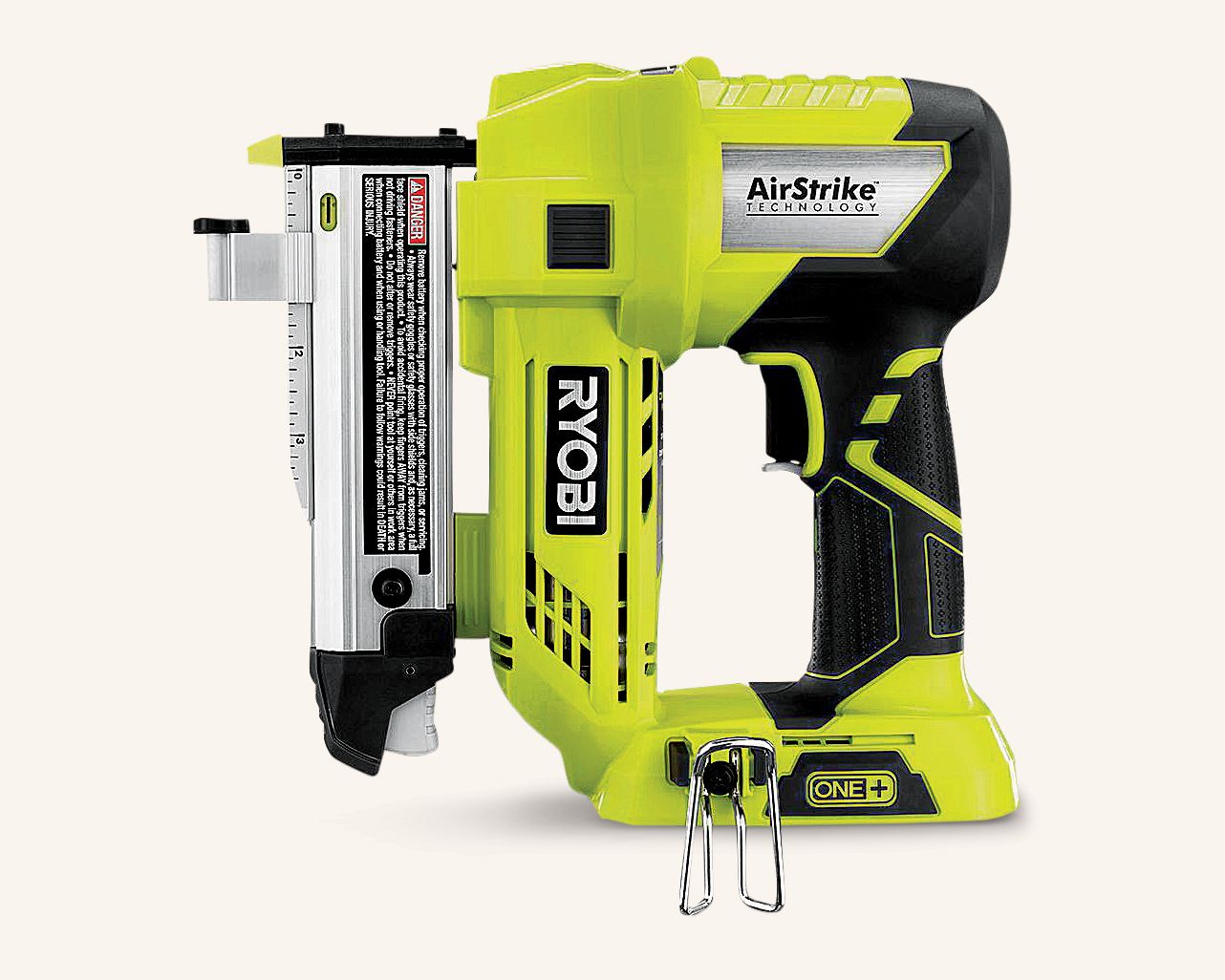 BEST FOR: 1/2-inch trim or thinner that will be glued
Nathan says: "This type of nailer can shoot a wire nail just 0.023 inch wide into solid wood; these nails leave behind holes so tiny that you can hide them under a coat of paint. They're good for attaching molding returns, or thin trim on cabinets, bookcases, or small projects. Because pin nails don't have heads, their holding power is limited; use them to keep freshly glued pieces in place while the adhesive sets. They're no match for some dense hardwoods."
Ryobi ONE+ AirStrike Pin Nailer Kit (P318)
Weight: 5.5 pounds
Nail lengths: ½ to 13/8 inches
Battery: 18 volt, 2 amp-hour, lithium-ion
Magazine capacity: 120 nails
Nails per charge: 3,500
Price: $159; homedepot.com
Tips for Safely Using a Finish Nailer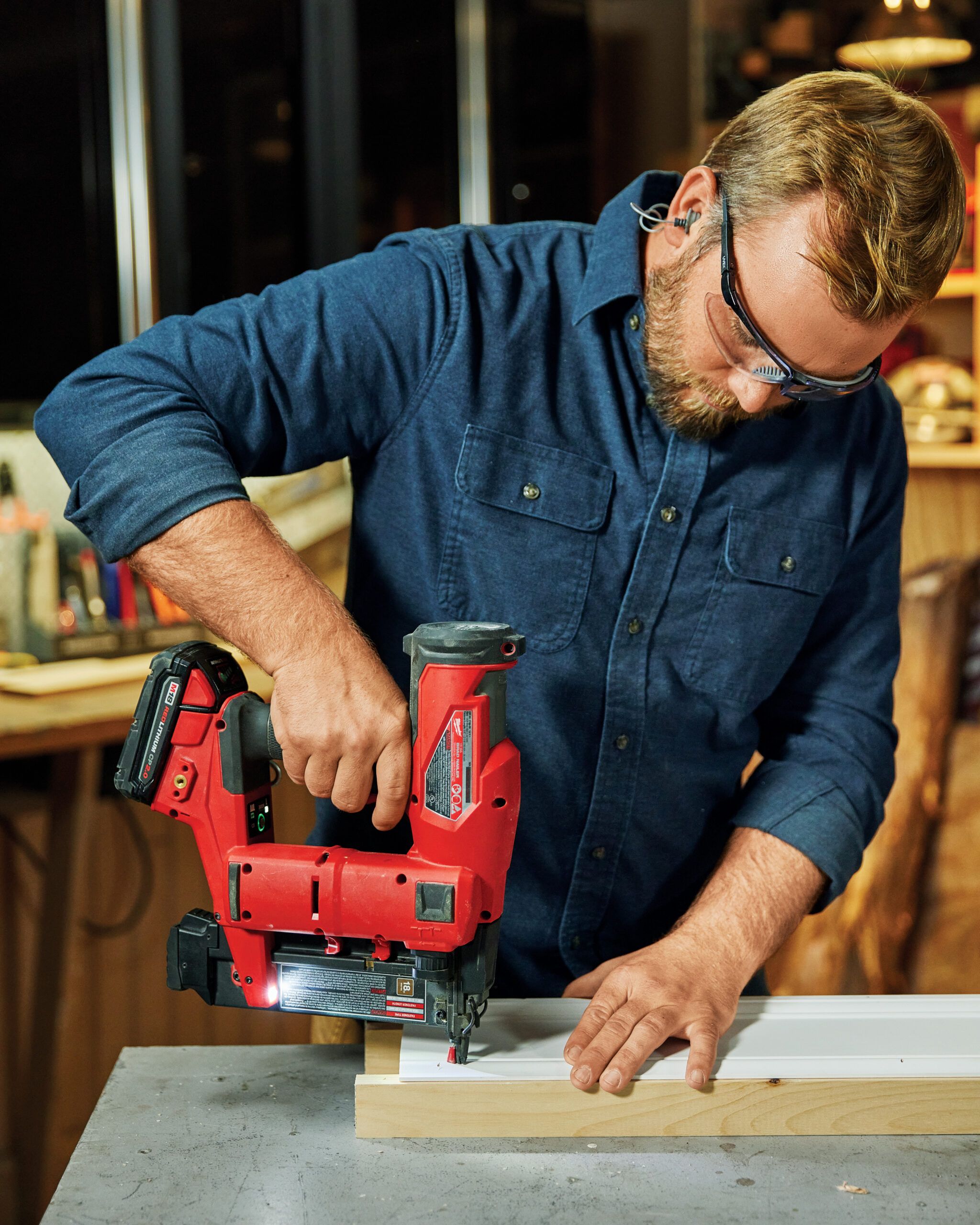 Nailers fire with such speed and power, they need to be treated with respect. Make sure to follow these basic safety precautions every time you pick one up:
Remove the battery when you adjust the tool or fix a jam. This prevents accidental firings.
Keep hands away from the area being nailed, or anywhere a nail could exit unexpectedly.
Hold the nailer perpendicular to the work. Nails can ricochet off the wood if you angle the nailer or attempt to toenail with it.
Before pulling the trigger, place the nailer's nose firmly against the surface. That way, the nail is more likely to sink to the proper depth, with the nailhead just below the wood surface.
Before you begin, make sure…
The battery is fully charged.
The magazine is filled with nails of the correct length.
You're wearing safety glasses and hearing protection (as shown above).
How to Keep Nails from Blowing Out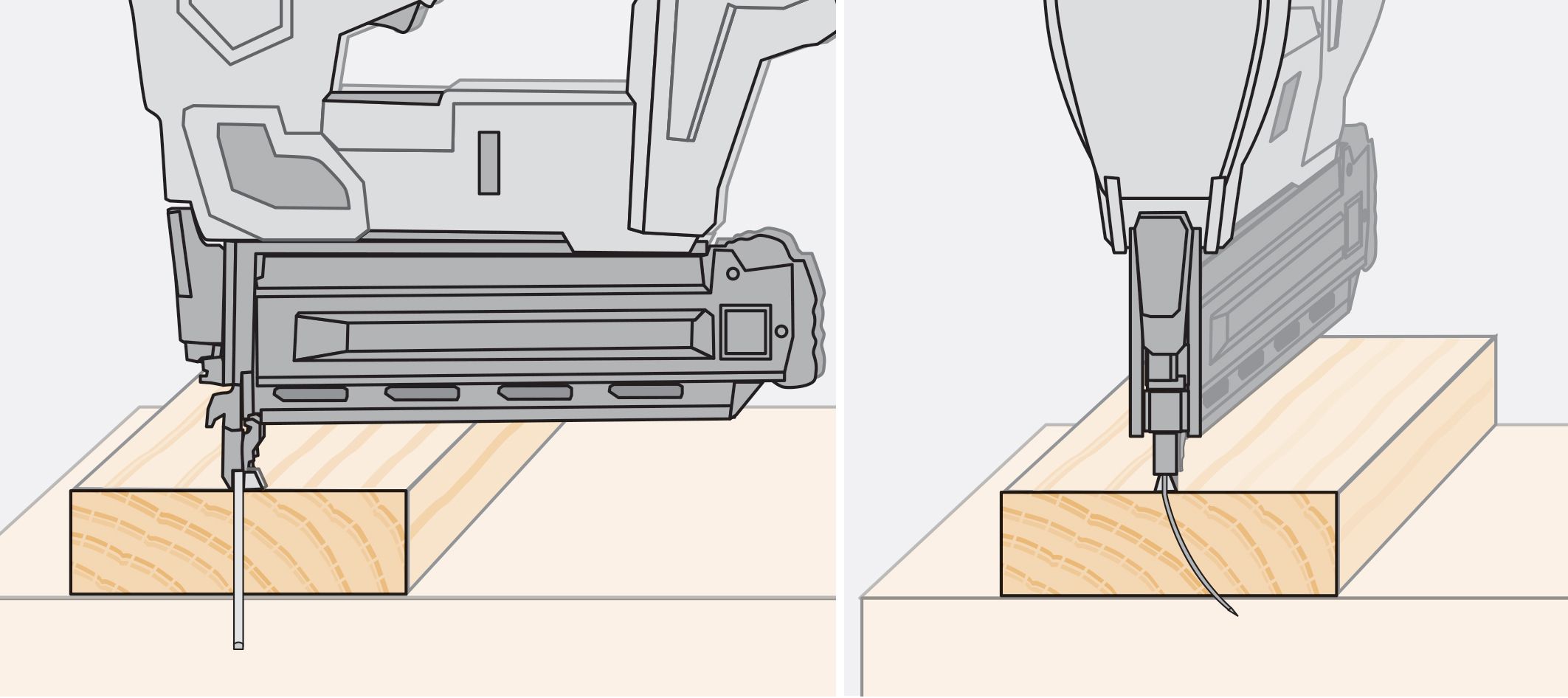 To ensure that a finish nail goes straight through the wood and doesn't exit out one side, align the nailer's magazine perpendicular to the direction of the wood grain (left).
Why this technique works: Finish nails come glued together in long strips, much like staples, with their sharp chisel tips all in a line. If the edge of that tip is parallel with the direction of the wood grain, the nail can be deflected (right).
But if the tip's edge runs across the grain, the nail is more likely to take a straight path as it cuts through the wood fibers.
The Difference is the Size of the Nails
There are several different types of finish nailers, each categorized by the size of the fastener they fire. The fastener sizes come in gauges, and the lower the gauge number, the larger or thicker the fastener.
15-Gauge nails are large and offer a lot of holding power. They're extremely effective for running base molding or hanging crown molding, but they do leave larger holes in the moldings.
16-Gauge nails are still large and offer a lot of holding power, but they're a bit more versatile than 15-gauge. These nails are great for trimming doors and other general carpentry tasks.
18-Gauge nails are smaller and thinner, and they have smaller heads than 15- or 16-gauge nails. This makes them useful for fastening small moldings or nailing the side of a molding to a window or door jamb.
23-Gauge nailers, or pin nailers, fire small headless pins. While they don't offer much holding power, they're helpful for delicate moldings, woodworking pieces, or mitered returns on window aprons and moldings. They're often used with glue.
What Size Nail?
Finish nails should be long enough to penetrate the framing by at least 3/4 inch; 1 inch is preferable.
For example, if you're fastening 3/4-inch-thick baseboard over 1/2-inch drywall, select nails that are 2 or 21/2 inches long. Longer nails do have more holding power, but they are more likely to nick wires or pipes inside a wall, or to run off course.
A nail's gauge has similar trade-offs. The larger the gauge, the bigger the head and the thicker the shaft. Nails with a larger gauge have greater holding strength and are less likely to bend than ones with a smaller gauge.
However, larger heads and thicker shafts increase the chance of splitting wood, and they leave behind bigger holes, which take more filler to hide.
Power Source
There are two nailer types: pneumatic and battery-powered. While both types will handle the same tasks, some distinct advantages and disadvantages exist.
Pneumatic nailers are typically lighter and less expensive to purchase. However, they require an additional compressor and an air hose to fire nails. They also require a bit more maintenance than a battery-powered model.
Battery-powered finish nailers are more expensive and heavier than pneumatic nailers. However, they don't require the user to lug an air compressor around, and there isn't a hose to trip over or keep the user tethered in place.
---
Resources
When it comes to installing trim around windows, doors, baseboards, crown molding, assembling cabinet parts, or installing stair treads and risers, as you can see, one nail gun does not fit all. The most common and readily available types are 15 gauge, 16 gauge, 18 gauge, and 23 gauge. The difference between them is the gauge nail that they shoot. Nathan explains how to select a finish nailer and its standard features.
Find most of these finish nailers at The Home Depot.