Milwaukee Tool's first cordless finish nailers hit the market in 2016 along with much fanfare given the manufacturer's successful moves in cordless technology. At the time, Milwaukee had many "wins" under its belt in the cordless tool arena. Unfortunately, their line of cordless finish nailers turned out to not be among them.
Excessively heavy and poorly balanced, with a horrible line of sight, the first generation brad nailer also regularly misfired in a way that left two holes per nail instead of one. Can you tell I wasn't a fan?
To their credit, Milwaukee went back and took a hard look at the feedback they were getting. They answered with a second-generation brad nailer and some new nailers (including a cordless framer and headless pinner). Curious to see how the second generation brad nailer performed, about a year ago I asked Milwaukee if I could test out the new version with the understanding that I could speak freely about it; they agreed.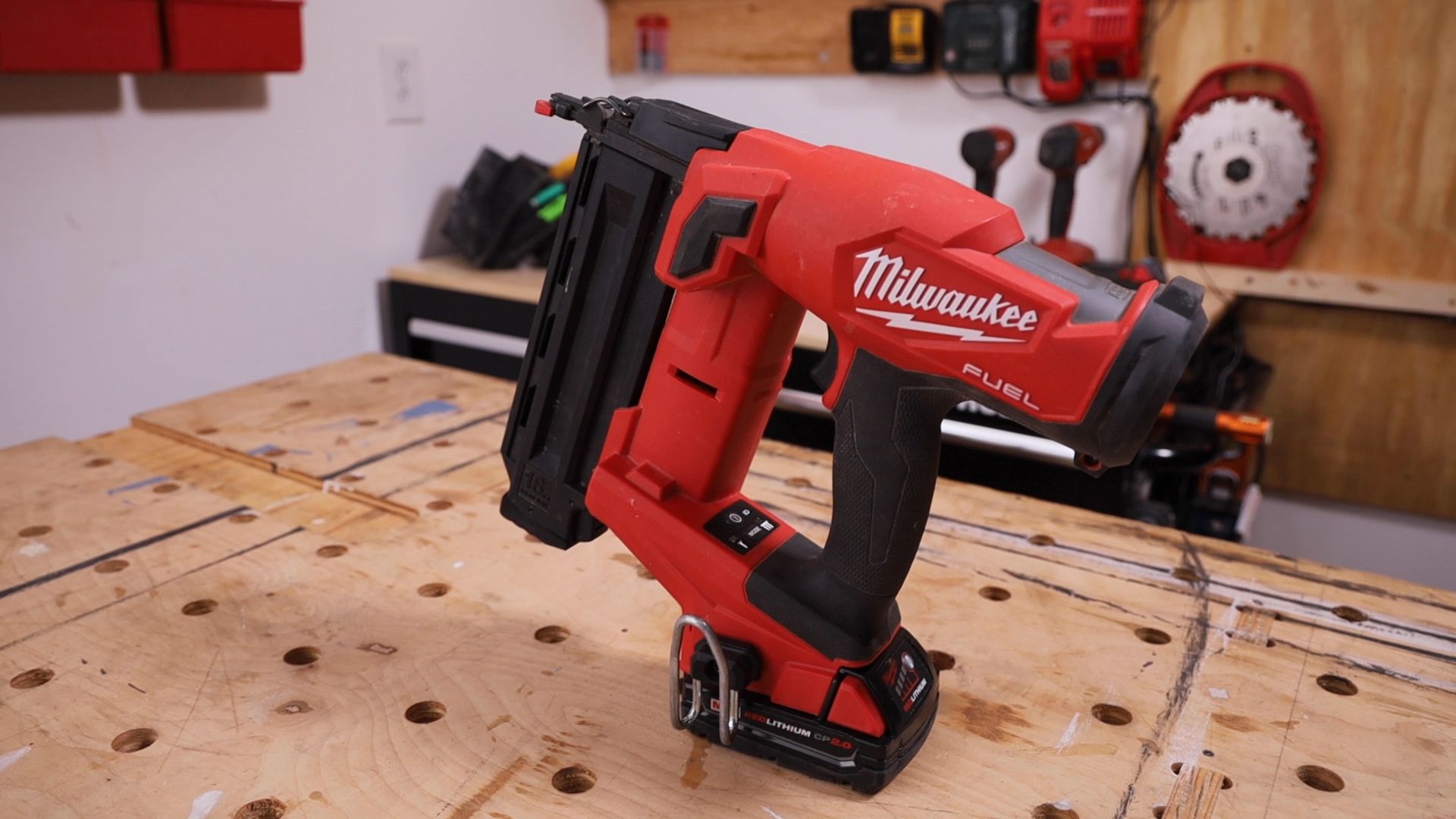 I used the cordless brad nailer often over the course of many months on a variety of jobs, including, most recently, some trim work at our Dorchester project. While I disliked its predecessor with fervor, I have to say I'm impressed with what they've developed in this gun.
Pneumatics Still Win (Kind of)
Before I give you my account of this brad nailer, I want to address the often touted argument that cordless nailers will never replace pneumatics. My response to that is: it really depends.
Pneumatics are reliable and steady performers on the jobsite, which is why they are so popular among professional carpenters. They're also extremely lightweight, have serviceable parts, and are relatively inexpensive (you can pick up a good-quality pneumatic brad nailer for $100-$150). But they require upkeep, a hose, and a noisy compressor.
Skeptics of cordless nailers argue that they are heavy (true), expensive (also true: $400 for this nailer as a kit; $280 for the tool only), and unreliable (not true). They also argue that they need too much service—which is not true, at least when you're talking about ones that run only on a battery and don't require replaceable fuel cells. They can keep up with pneumatics with respect to fire time, and are fairly close even in bump-fire mode.
In the end, given the improvements in cordless technology—in motors and batteries— cordless nailers are now reliable, lighter (though still heavier than pneumatics), and don't require regular maintenance. They are indeed much more expensive than pneumatics, so the reason to purchase them boils down to convenience. With the exception of doing a large finish job that requires nonstop use of a brad nailer for days, the convenience of not having to lug around a compressor, listen to it kick on, and deal with a hose that gets snagged makes me a fan of cordless. In a small shop or for doing projects around the house, not having to deal with a compressor and hose is definitely a bonus in my opinion.
Overview: Powerful and Well-Balanced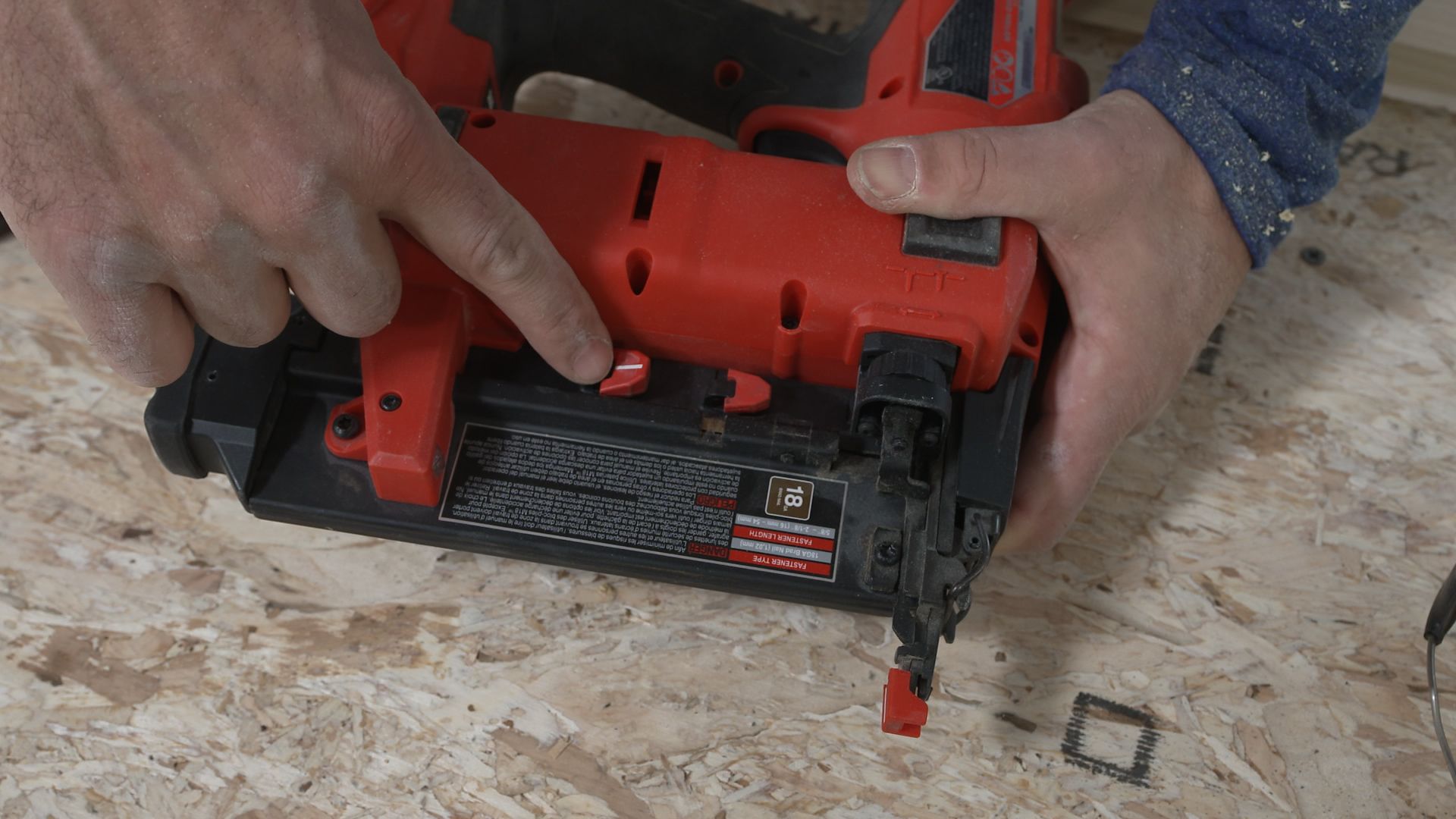 Weighing in at 6 pounds, 6 ounces (twice as heavy as my Bostitch brad nailer), I can't call this nailer lightweight. But it is well balanced, making its weight less noticeable when working at any height except overhead. Your shoulder will definitely feel the swing of raising it overhead if using this gun for long runs of crown or cornice work. But you won't notice it much at the workbench, or when running casing and baseboard.
It's powerful enough to set nails in everything from pine and poplar to oak and mahogany. The only time I had an issue with nails not setting perfectly was when I shot from below horns of a window stool up into the endgrain of poplar casing. Endgrain is notoriously hard and not where you're shooting nails into most of the time. So to me, it was a nonissue.
No Ramp-Up Time
This gun drives nails from a spring mechanism that consists of an inner and outer cylinder separated by nitrogen gas. Pressure within the inner cylinder is used to drive the striker and piston. It doesn't pull air in from anywhere; the system is always under pressure and that pressure is used to drive the piston. And it doesn't use a flywheel to raise the piston and striker, but rather a lifter similar to a rack-and-pinion system. All of this means no ramp-up time.
According to Milwaukee, the cylinder is designed to remain charged and functioning for the life of the toowhich is warrantied for 5 years. The warranty doesn't cover wear of parts from excessive use, like replacement of striker/piston assembly, bumper, or lifter. But if the cylinder loses pressure for some reason other than abuse of the tool, it will be covered.
The nailer fired consistently and accurately, even in bump-fire mode. I don't find bump-fire mode particularly useful with a brad nailer because you're typically using it to do finish work—and nail placement is typically carefully considered in finish work. So the bump-fire mode is a nonstarter for me, but good to know it's there and it works.
The Bottomline
At $280 for the tool only and $400 for the kit, this nailer sets some high expectations for performance and features. And I can say without hesitation that it does deliver. If you're in the market for a cordless brad nailer, particularly if you're already in the Milwaukee battery system, look no further than this gun.
What I Liked: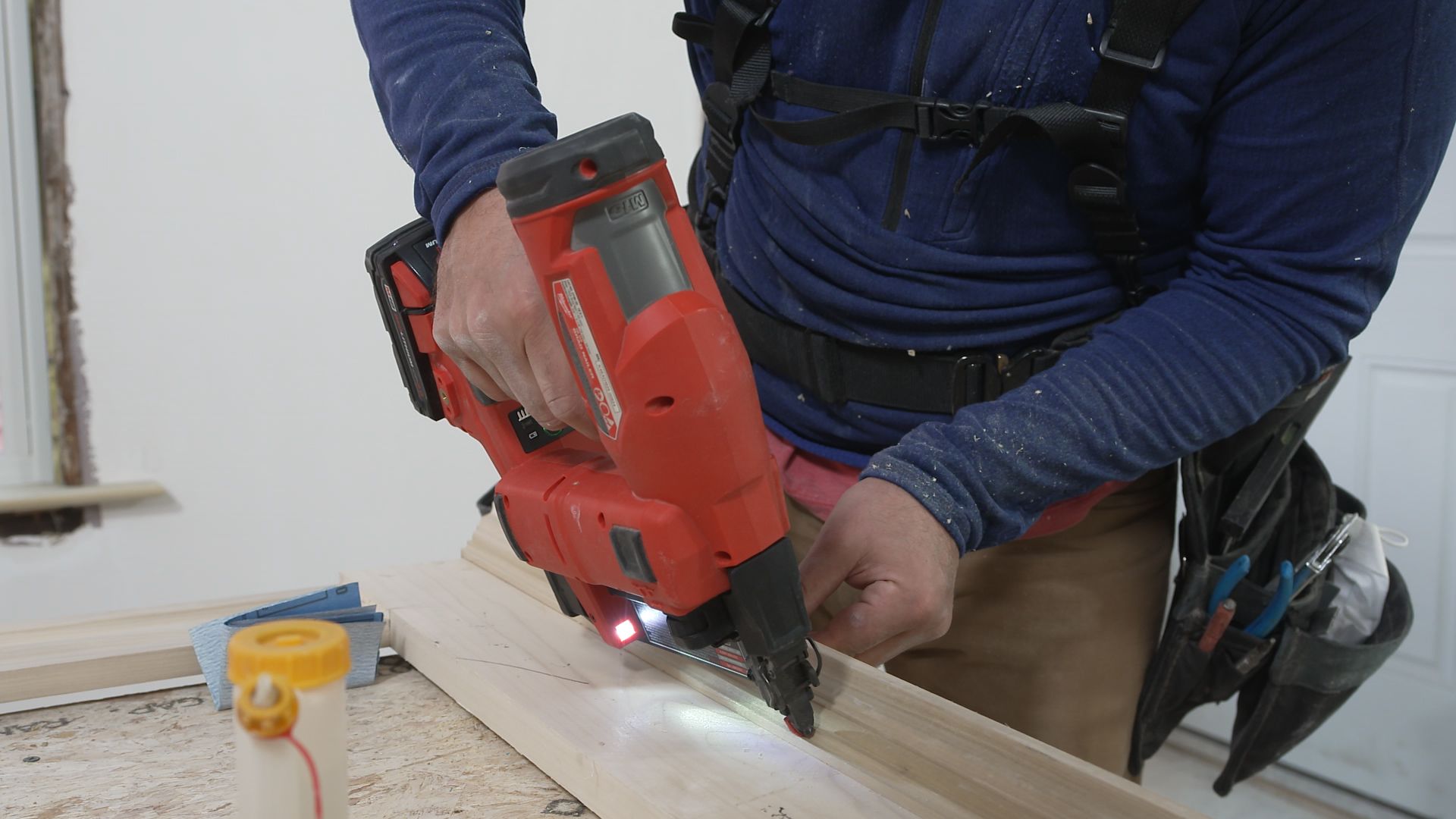 I liked the reliability of the nailer, the balance, the line of sight, and the range of nails it can shoot. It has an impressive runtime on a 2 Ahr battery; I never outran the battery while another was charging. It comes with three tips, has a useful LED light, and has rubber bumpers in key locations so you don't mar finished surfaces. Finally, it has dry-fire lockout and though it never jammed on me after firing several thousand nails, it has toolless jam clearing as well.
What I Didn't Like:
I wish it was lighter, and I don't like how sloppy the battery connection is. Milwaukee batteries can be tough to remove sometimes because they fit so tightly in the tools. But in the model I have, the opposite is true: the battery rattles around a bit which makes me think it will wear on the pins—an issue that would no doubt be covered under warranty, and not one I know of, but it seems like a possibility.
Milwaukee M18 Brad Nailer Price and Specs
Price: $280 (tool only); $400 (kitted with one battery, charger, and case)
Buy from an authorized Milwaukee distributor.
Milwaukee Cordless Brad Nailer Specs & Features
| SPECS: | FEATURES: |
| --- | --- |
| Voltage | 18V |
| Battery Type | M18 Fuel |
| Weight | 6 lbs 6 oz. (w/ 2.0 Ah battery) |
| Warranty: Tool Body Fuel Cell Needed Dry Fire Lockout Fastener Size | 5-Year No Yes 18 Gauge @ ⅝" – 2-⅛" |
| SPECS: | FEATURES: |