I wear a Diambondback belt system, which I purchased about two years ago. One of the many things I like about it is the fact that it has a place for just about every tool I want to carry with me.
And while there are a few things that stay in it no matter what type of work I'm doing, I do swap some tools out depending on the task. The list below includes two tools I always have on hand, plus a few others that show up as needed.
A Better Pencil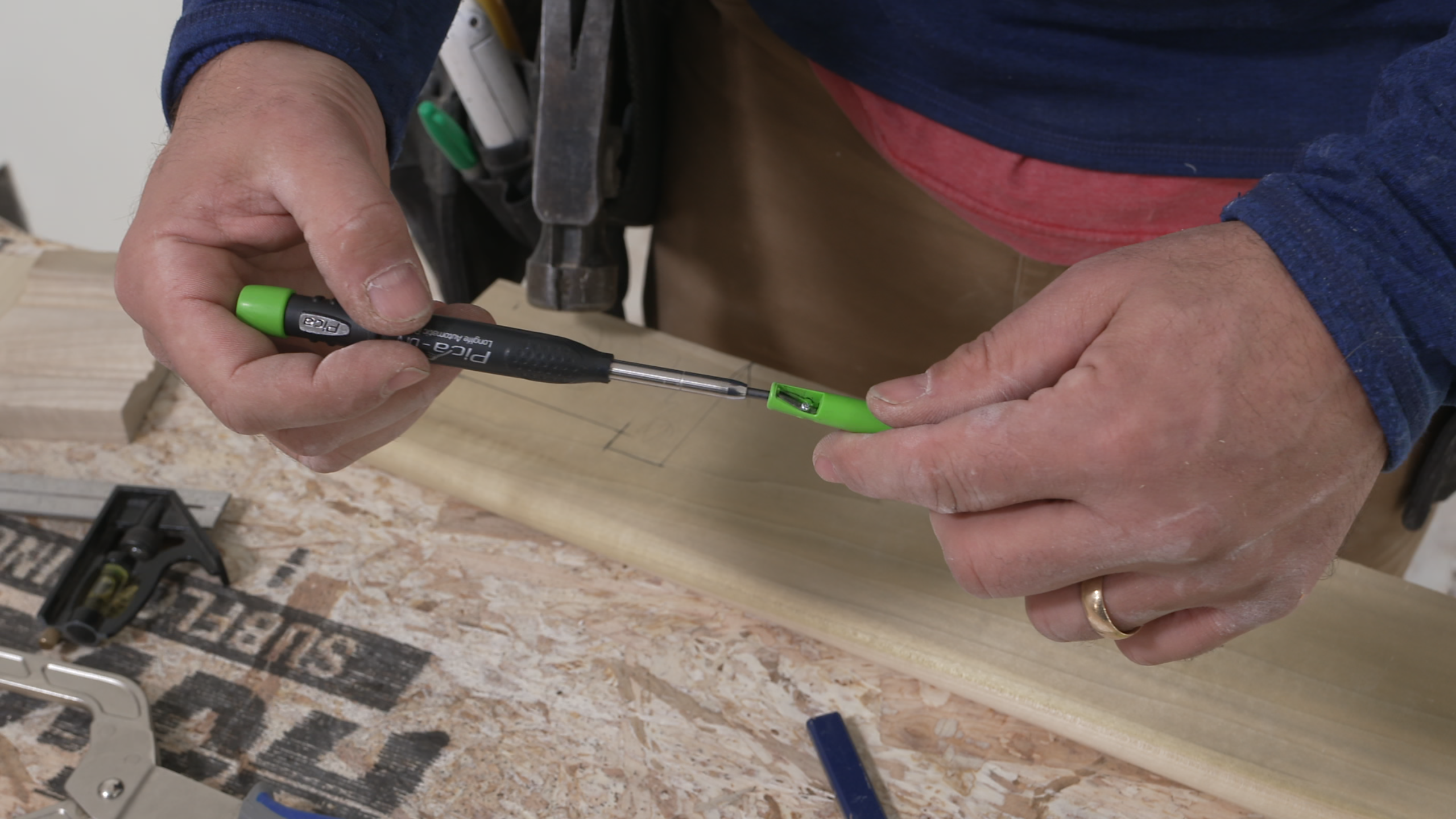 The carpenter's pencil is by far the most common and inexpensive marking tool available. They're easy to come by and also easy to lose. I purchased a Pica Dry Longlife Automatic Pencil a couple of years ago, after reading a review. I haven't lost it (yet) and it's become my go-to pencil and an essential in my pouch.
It comes with a sheath equipped with an integrated pencil sharpener and a variety of lead replacement options.
Pencil Cost: $20 (single), $26 (with lead refill pack), $50 (2 pencil/2 refill set)
Note: Pica has a "BIG" Dry Longlife Construction Marker available that resembles a traditional carpenter's pencil. I had one, but it stopped advancing lead after a short time so I cannot recommend it.
The leads are available in a variety of refill packs:
Water Soluble "MULTI-USE" Leads
Good for all surfaces, whether wet or dry, rough or glossy, oily or dusty, bright or dark
Ideal for use on porcelain, cast iron, steel, or wood
Water Jet Resistant, Permanent
Good for all surfaces
Ideal for use when wet cutting tile and stone
Cost: $12
Hardness "H"; good for use on dry surfaces
Ideal for wood
Cost: $30 (set of 2;10 pc. each)
Basic Side Cutters
I keep a pair of 7-Inch Channellock Diagonal Cutting pliers in my pouch at all times. It comes in handy often, particularly when removing finish nails. A carpenter I used to work with many years ago taught me how to break errant finish nails just below the surface-a useful technique when a nail catches the grain wrong and pops out of a window or door jamb.
I've since learned how to minimize nail blowouts by turning the nail gun 90° to the work. While I don't incur as many nail blowouts as I used to, I'm enough of a creature of habit that I want these pliers available when needed.
Cost: $19
Smart Locking T-Bevel Square
Bevel squares are an invaluable resource for copying angles or bisecting them. Typical inexpensive models have a wing nut at the pivot point for locking the angle in. But that wing nut gets in the way often and isn't always easy to tighten.
A couple of years ago I discovered the Shinwa Sliding T-Bevel, which is made in Japan. It features an aluminum stock, stainless-steel blade, and, best of all, a thumbscrew located at the end of the stock—so no more interfering wing nut.
Cost: $28
A Comfortable Respirator
While not technically a hand tool, I included the GVS Elipse NIOSH P100 respirator here because I do keep it in or on my tool belt often. I discovered this respirator at a local safety supply warehouse about five years ago.
I don't wear any other respirators anymore. This unit has a low profile so it's lightweight and comfortable (as comfortable as a respirator can be), plus it's affordable and has readily available replacement filters. It meets NIOSH P100 TC-84A-6949 and protects against dust, metal fumes, oil and water mists, and microorganisms, i.e., bacteria and viruses. The mask is available in two sizes: S/M and M/L. I recommend buying the carrying case as well.
Cost: $28 (respirator), $13 (replacement filters), $20 (carrying case)
A Handy Folding Saw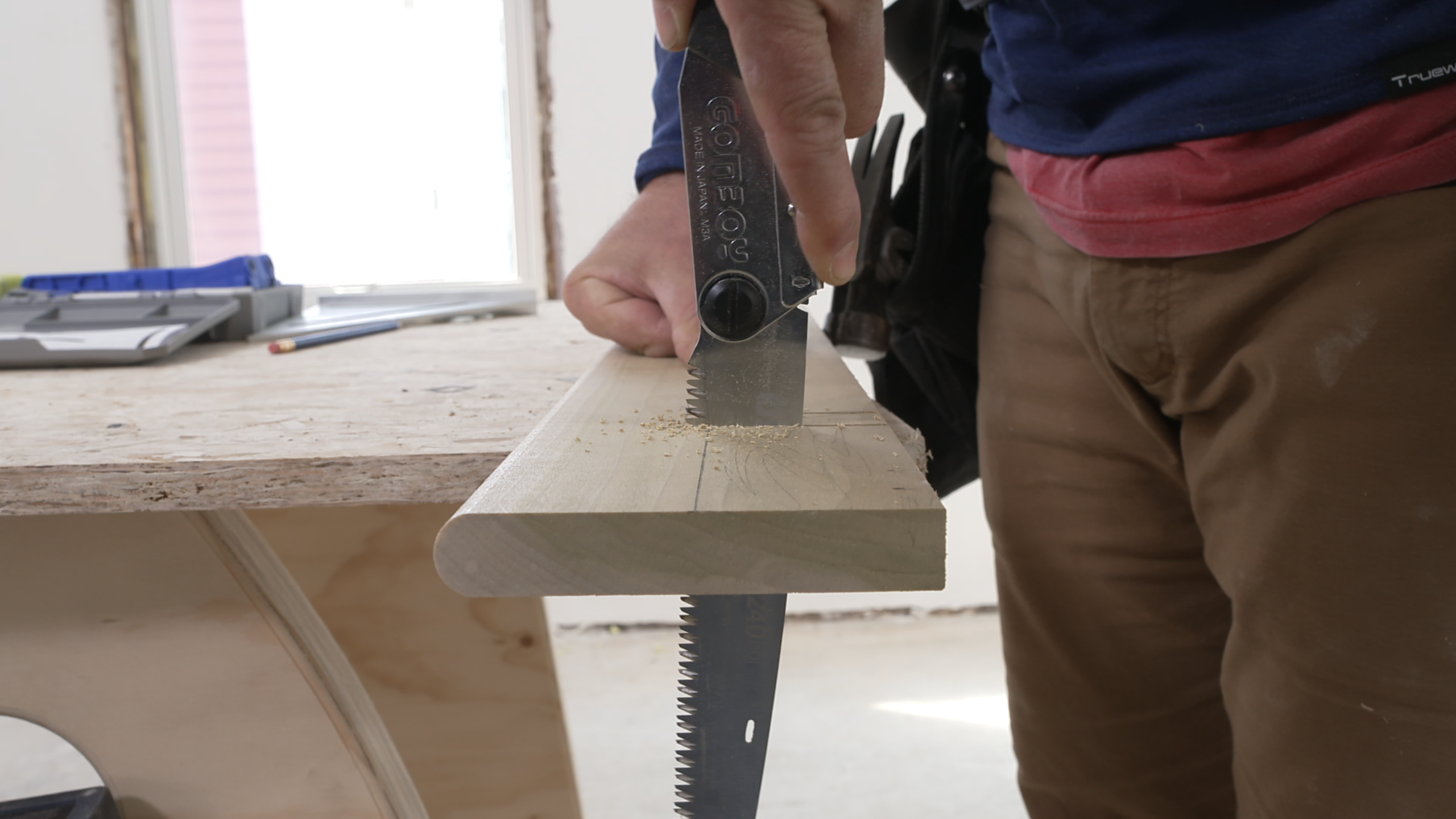 The Silky GomBoy is one of those tools that I didn't really realize I needed until I had it in my pouch. I have it with me when I'm doing any kind of carpentry work. It's proven useful on undercutting door jambs and trim, cutting away lathe, finishing the cut in stair stringers, and on window stools.
It's available in a variety of blade sizes and tooth configurations. I've found the 240mm, 10 TPI to be versatile enough for me to use no matter what level of work I'm doing—whether rough framing or finish trim. They come with a plastic sheath, though I keep it directly in my pouch. This saw is also useful for yard work and camping.
Cost: $40