The Bosch GKF12V-25N compact cordless router looks unique, if not "odd," but performs surprisingly well despite a few quirks.
It has a ¼-inch collet, features a brushless motor that runs on Bosch's 12V battery platform and spins at 13,000 RPMs, has a unique compact design, an inset on/off switch on the left side, battery indicator, multi-functional lockable height adjustment, a spindle lock, finger guards, and a large base plate.
Bosch Compact Cordless Router Features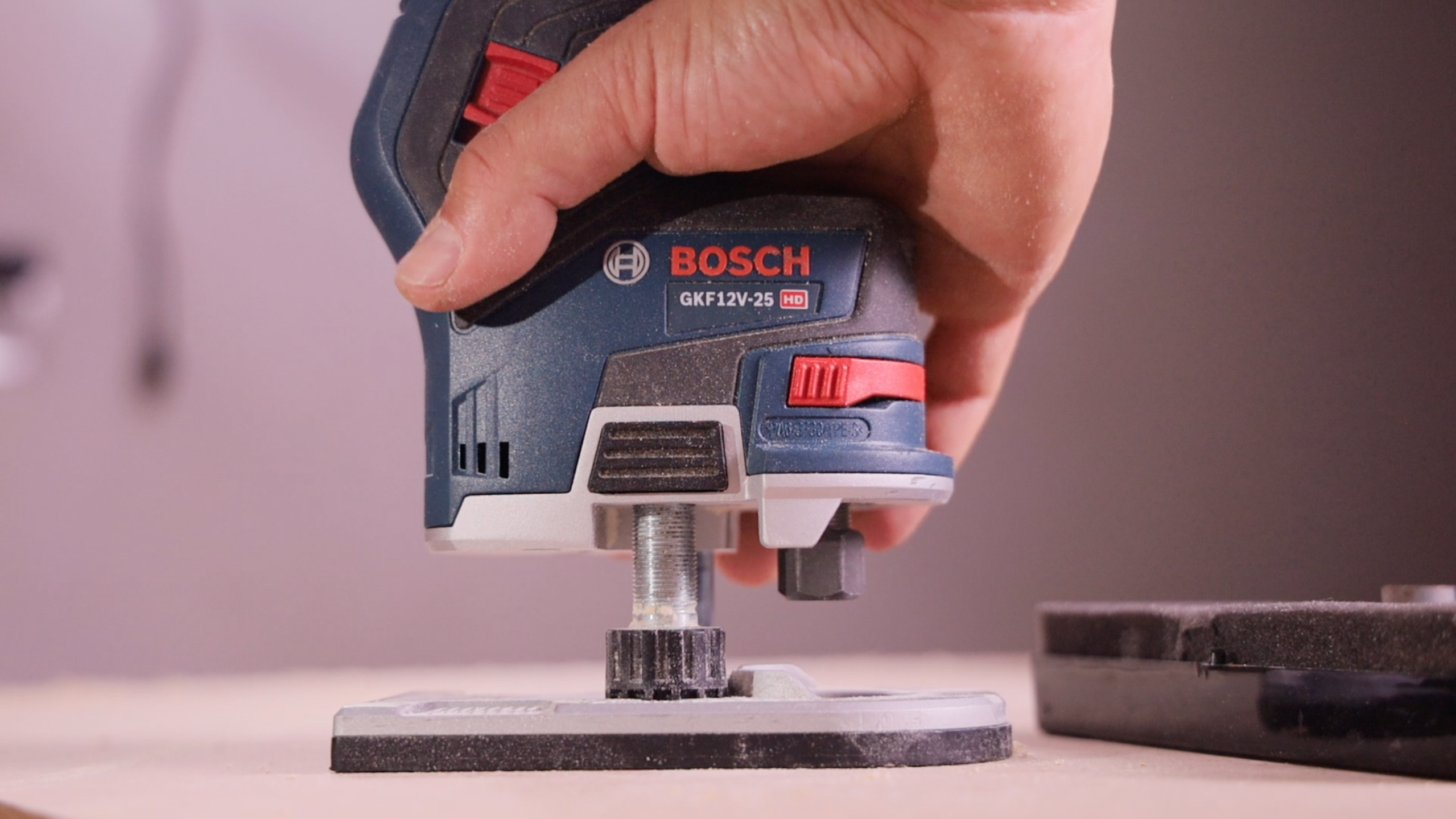 First up, the motor: at 13,000 RPMs and no variable speed dial, this may seem less versatile than other cordless routers on the market that run in the 25,000 RPM range and it is. This router is designed specifically for round-over or similar basic profiling and flush-trim applications.
It excels at these things thanks to its ergonomic design. Your hand sits over the motor and spindle, giving you fantastic one-handed control. The large offset base plate provides a nice balance on the material and minimizes tipping. Operation is smooth and stable; there are detents on the base to help further steady if necessary.
The inset on/off switch is meant to make control easy during one-handed operation using your thumb-if you're right-handed. If you're left-handed, well, it's a little awkward. Functionally, the switch is fine. The thing I like most about it is its safety feature:
If the battery dies and you install a new one without switching the tool off first, it won't start back up without you first switching it off and back on again.
It also provides an error code in the battery indicator if the spindle is locked or if it needs to be reset for some reason.
Bosch Compact Cordless Router Specs
| Features | Specs |
| --- | --- |
| Battery | 12V Lithium Ion |
| Motor | EC Brushless |
| Case | Not Included |
| Dust Collection | No |
| Height | 8.5″ |
| Length | 5.7″ |
| Width | 3.1″ |
| Max RPM | 13,000 |
| Variable Speed | No |
| Weight | 2.2 lbs (tool only) |
| Includes | (1) GKF12V-25 EC Brushless Palm Edge Router, (1) 1/4 In. Self-Releasing Collet Chuck (PR114), (1) Forged Collet Chuck Wrench (2609110438) |
| Features | Specs |
Quick Bit Changes
The bit height adjustment can be set to a rough height quickly by using a button, and then fine-tuned using the dial closer to the base. There are two ways to lock it in place: one, using a knob, and two, using a set screw housed in the base. I've honestly never used the set screw lock; the knob has worked fine. The two combined presumably provide extra locking protection since one covers the shaft and the other covers the threaded height adjustment. But the router shows so little vibration that I find the set screw a tad overkill-though kudos to Bosch for being thorough.
The height adjustment dial has arrows to show which direction is up or down (note: they relate to the base, not the bit), which is helpful; but the dial on mine has gotten more difficult to move over time. It takes some effort to move it, likely due to dust and dirt build-up.
Changing the bit couldn't be easier. The spindle lock is conveniently located and locks in place. Once the bit is installed and the collet locked, pushing the spindle lock back in re-engages the motor.
Performance is Impressive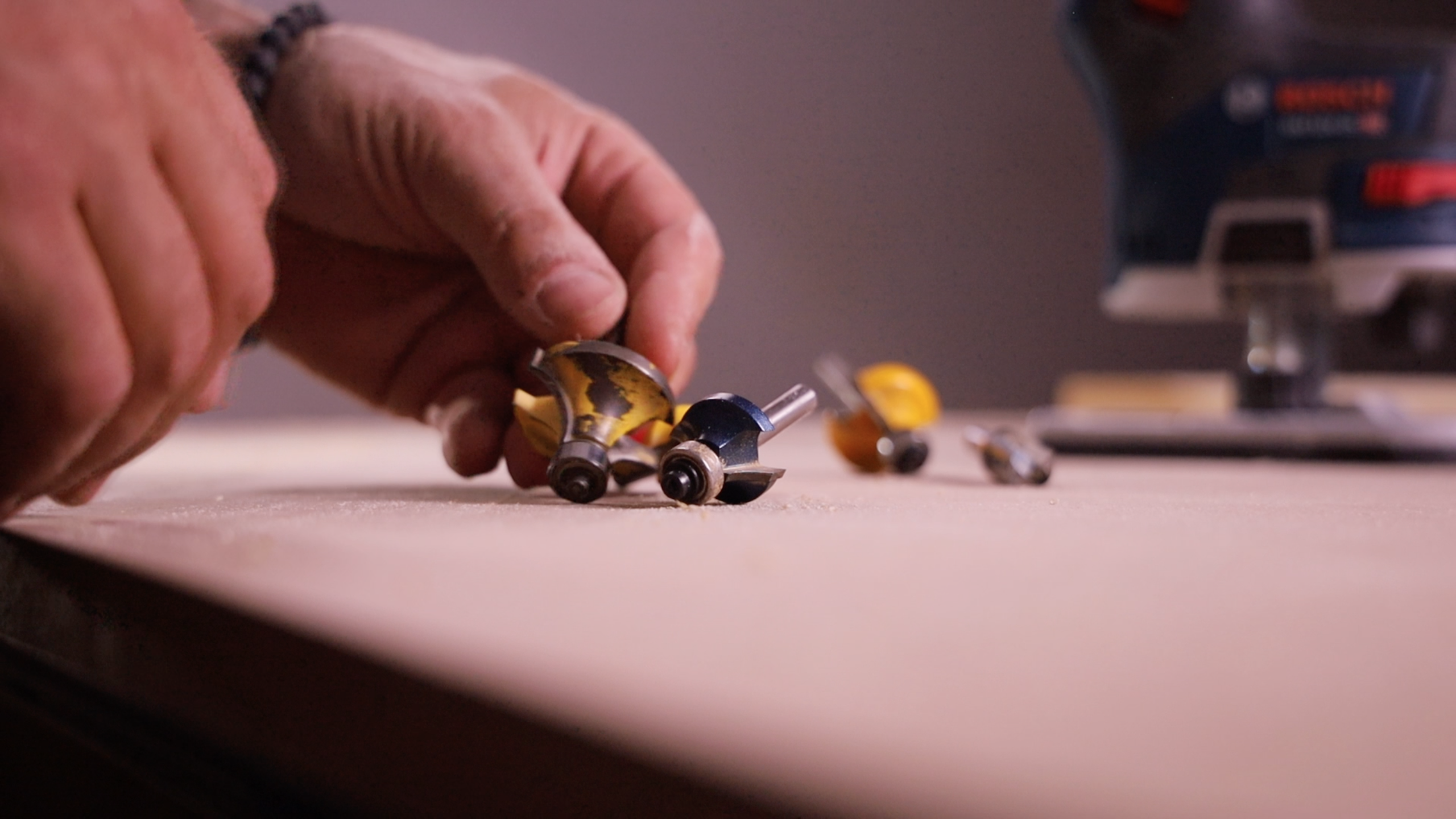 I've used this router to do round-overs in mahogany and oak, as well as softwoods, which it handled well. It also performs well at flushing/trimming poplar, pine, or other similar woods as long as you're doing very shallow passes. In a pinch, it will cut shallow rabbets in softwoods and works well for mortising hinges or striker plates.
It's the only router in its class; there are several other cordless routers on the market, but they run on a larger battery platform and most have variable speed motors that max out in the 25-30,000 RPM range. So there's nothing to compare this to, really.
It doesn't accept any accessories like a straight edge guide or bushings, so you're limited to bearing-style bits or using a straight edge (which would prove difficult given the design of the base).
Run-time depends completely on the bit and material you're routing. When running it single handed, the 2Ah battery is ideal because it keeps the weight low and maintains the tool's balance. Bosch offers a 6.0Ah battery, which will provide more runtime but you'll sacrifice the tool's agility and balance. Bosch offers a spec of "23-ft. of round-over capacity per Amp hour," which is to say 46-ft. for the 2Ah battery I used. They don't specify wood species or round-over size.
When I see stats like this I always assume a softwood and small-to-medium-size bit. These specs are meant to be a general guide and are never going to show the tool under its most challenging circumstances (like a ½-in. round-over on ipe, for example).
How Much Does the Bosch Compact Cordless Router Cost?
It costs $130 for the tool only and doesn't come in kit form, so the battery and charger combined will run you another $70 easily.
If you're already on the Bosch battery platform, and you do a fair amount of profiling with a trim router—either in the shop or on the job site—then adding this to your cordless tool setup is a no-brainer.
If you're already vested in another battery platform, the $200 investment is harder to justify. You could pay that much for a router in one of those platforms—but one that can do everything this can do, and much more.
Bottom line
As a good friend of mine always says, "You can never have too many routers." This is one worth adding to your router lineup if you do a lot of simple profiling work. All-in-all, I do recommend this router as long as you don't push it beyond its predetermined limitations.