Sliding compound miter saws are among the most versatile saws on the market. They've come a long way since Hitachi (now Metabo HPT) created the category in 1988. The best ones are accurate, powerful, portable, and reliable.
A few years ago, I tested eight 10-in. dual-bevel sliding compound miter saws and found one of Metabo HPTs to be among the most accurate of them. So, I had high hopes for this new cordless 36V model (C3607DRAQ4), which is made in Japan. I put the saw through a series of objective tests, and to use on my remodeling projects. We also put it to use on Sweenor Builders job sites for several months.
Overview: Feature-Packed and Versatile
Among the saw's standout features is the fact that it can be run cordless or corded when equipped with Metabo HPTs optional Multivolt AC adapter ($170).
The saw takes a 7-1/4″ blade which is run by a belt-driven brushless motor that produces a no-load speed of 4,000 RPMs. The motor also monitors and then maintains cutting speed and torque based on the resistance in the material. Belt-driven motors tend to outlast direct-drive motors, and also tend to be more powerful. This saw does not lack power. It cuts effortlessly through hardwoods like mahogany and heavy framing lumber like a 2×12 LVLs – whether cordless or plugged in.
Additional features include a dual-bevel rack-and-pinion micro-dial bevel adjustment, which means you can sneak up on your cut angle. It has a soft-start motor and an electric brake – both expected features on a premium saw like this.
It has a cross-cut capacity of 2-9/32″ x 12-13/64th – an impressive reach for a saw this size. It weighs a mere 34-lbs, has an integrated carrying handle, an accurate laser that can be adjusted to either side of the blade, and can be pushed up close to a wall thanks to its forward-facing rail design. This last feature is ideal if you're doing trim or floor install in a hallway or have minimal space in the shop.
Testing Accuracy
Out of the box, I looked closely at the saw's accuracy at the fence and table. The table was flat and the main fences were perfectly square to the table. The sub fences, however, were bent slightly and didn't register perfectly on the main fence.
Neither I nor Sweenor's carpenters noticed this issue play out in our actual work – but for a saw of this caliber, these details should be precise.
Miter and Bevel Settings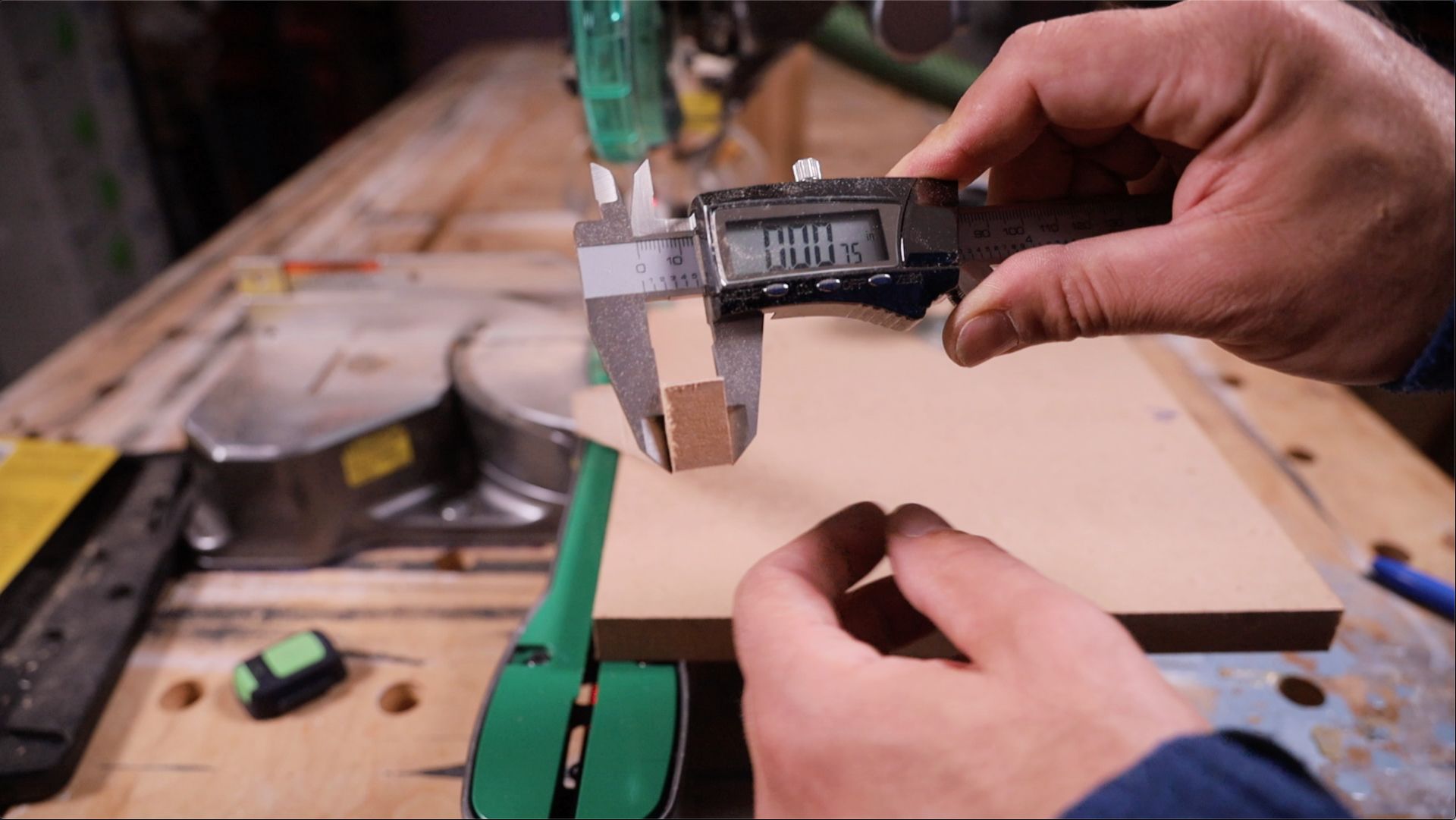 I went through my process of adjusting the saw's miter and bevel settings – to see how easily they were to navigate, then I performed a series of cuts to gauge the saw's accuracy. It performed impressively in some of these tests, and less-so in others.
I measured slide cutting accuracy on long straight cuts by doing a 4-cut method and using a caliper. The result of .0019 (.0075 / 4 cuts) is well within the expected tolerance of a saw at this level. It's quite impressive considering other high-end saws I've tested are at best .0039 using this testing method. It cut perfect 9″ long bevel cuts at 45° as well.
The saw did not perform as well when cutting opposing 45° miters, however. Opposing miters – where you cut a right miter, and then a left miter and match them up – is an important though challenging test for miter saws. While some carpenters keep the miter set and simply adjust the orientation of the stock, a saw at this level should perform accurate, repeatable cuts on opposing miters.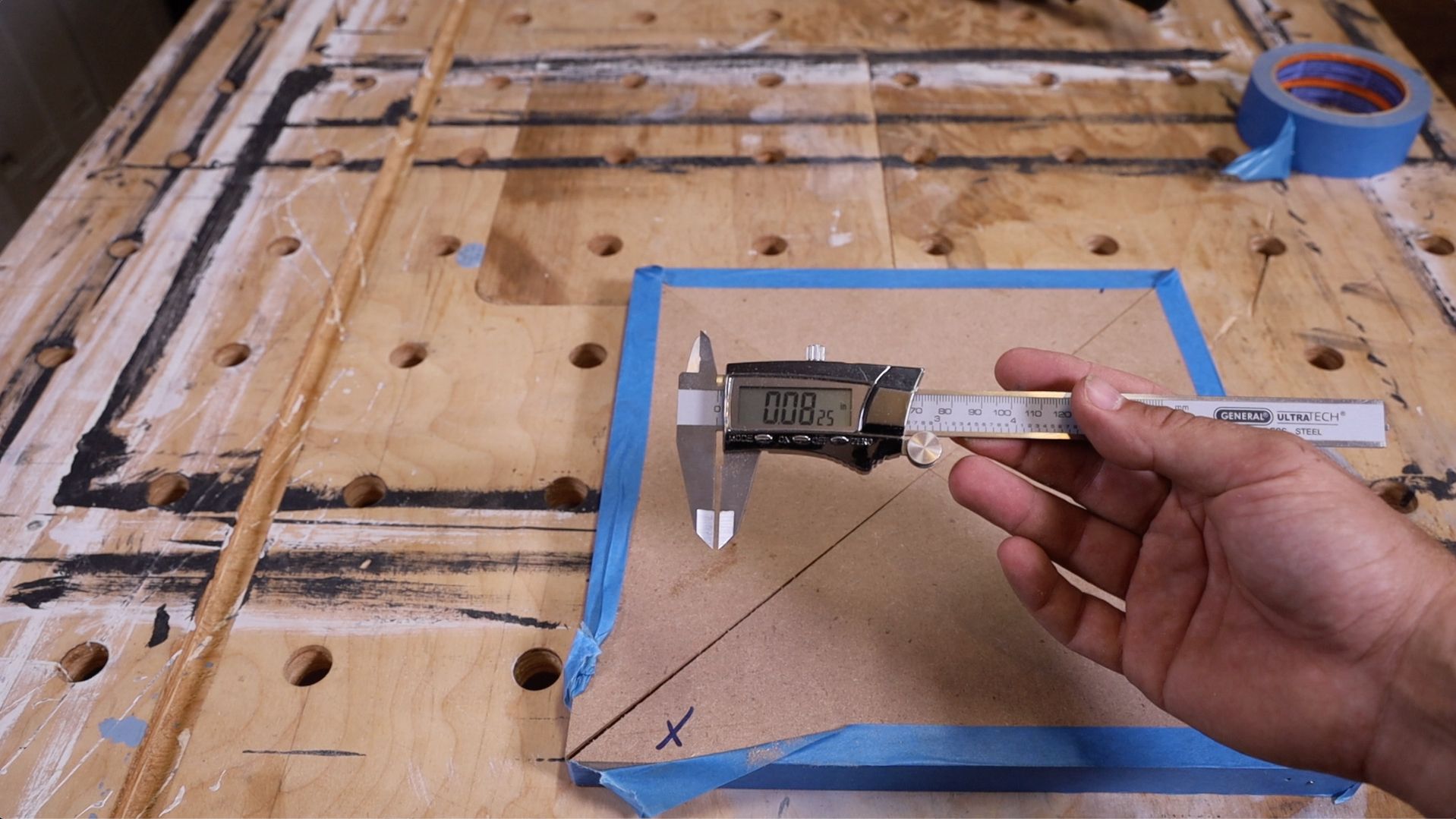 Unfortunately, this saw did not. I performed this test by cutting four triangles out of 9-in. wide ¾-in. MDF – a material that is stable and consistent, making it a good choice for checking accuracy. I found the miters to be off by .01 (.08 / 8 cuts) which is a significant gap easily seen by the eye.
Sweenor Builders confirmed this inaccuracy in the field as well. Metabo HPTs 10″ miter saw (the C10FSH(S), which is nearly 1/3 the cost, performed this test flawlessly, so I was surprised this model was so off. As disappointed as I was with this result, I was also determined to figure out its cause.
Troubleshooting Inaccuracies
I knew there were a few possibilities that could account for this level of inaccuracy because I've seen them show up on other saws. The rails could be slightly out of alignment, the bearings may not ride properly on them, head deflection, a poorly stamped detent plate, etc. But none of those made sense given the results the 90° test yielded. So, the only other option I could think of was the detents in the base were off somehow.
The saw does not have a separate detent plate; the detent angles are cast into the base so there's no way to see them or fine-tune them. Because the saw cut so well at 90°, I knew that the fence was adjusted properly, that the rails were aligned, and the head was riding the rails without issue.
I then went through a series of tests to fine-tune the 45° miter angle by taking the detents out of the equation. What I discovered was that the right detent on the saw was out slightly. I was able to perform the test and achieve the level of results I expected from the saw: near-perfect miters; a level of accuracy that matched the saw's cut at 90° and how I expected the saw to perform.
Unfortunately, the time it took to achieve this accuracy in opposing miters is not a realistic option for professional tradesmen/women. It would be less frustrating if the saw had a way to turn the detent off completely – which it does not. It's possible to fine-tune the miter cut as needed – but I'm disappointed this isn't repeatable via precise detents.
The Bottomline
As a recap – at $1,250 for the tool-only, the saw sets a high expectation for features and performance — and with a few exceptions, it delivers.
What We Liked:
We liked the compactness of the saw, the fact that it can run corded or cordless, and the quality of the cuts – which were excellent in softwoods and hardwoods alike.
It has impressive runtime and is incredibly accurate in all ways but the one 45° detent. I found some tested head deflection, but I struggled to replicate it in a cut, and Sweenor's carpenters didn't find evidence of it in the field.
What We Didn't Like:
We all find the lack of onboard tool storage annoying. I wish the side arms retracted to remain on the saw. And finally, I'd like to see more precision with the castings of the auxiliary fences that come with the saw.
If you're in the market for a premium cordless slide-style miter saw and would benefit from its portability, this saw is worth considering. If you're not already on the multi-volt platform, a battery and charger starter kit will cost you $170; the power cord adapter is an additional $170.
Metabo HPT Price and Specs
Price: $1,250 (tool only)
Metabo HPT Miter Saw Specs
| Features | Specs |
| --- | --- |
| Voltage | 36V |
| Battery Type | 36V Lithium-Ion |
| Battery Amp Hour | 4.0 Ah |
| Battery Included | No |
| 36B MultiVolt AC Adapter | Campatible (Not Included) |
| Arbor | 5/8″ |
| Blade Diameter | 7-1/4″ |
| Bevel Angle | L 45º R 45º |
| Miter Angle | L 45º R 57º |
| Cut Capacity at 90° | 2-9/32″ x 12-13/64″ |
| Cut at 45° Miter (L/R) | 2-9/32″ x 8-37/64″ |
| Cut at 45º Bevel (Left) | 1-17/32″ x 12-13/64″ |
| Cut at 45º Bevel (Right) | 5/8″ x 12-13/64″ |
| Cut at 45º Miter/Bevel (Left) | 1-17/32″ x 8-37/64″ |
| Cut at 45º Miter/Bevel (Right) | 5/8″ x 8-37/64″ |
| No Load Speed | 4,000 RPM |
| Weight | 34 lbs |
| Warranty: Tool Body | 5-Year |
| Features | Specs |