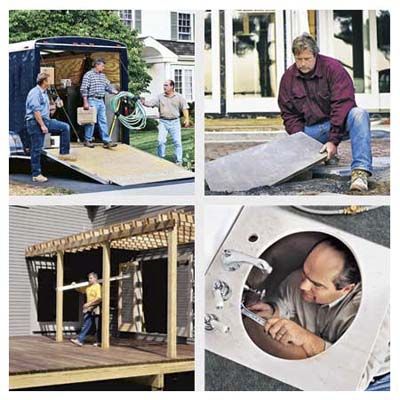 Thirty years is a long time. More than a generation in human terms and several eons when it comes to television. Since This Old House's 1979 renovation of a worn Victorian-era house established home-improvement TV as a genre, we've traveled a long way, literally and figuratively.
We've ventured to far-flung locales that include Hawaii, London, and Bermuda, and we've investigated and used a variety of new technologies, materials, and construction techniques. We've participated in a traditional barn raising and put together a factory-built modular house. We've emphasized the importance of good design and gotten better at conserving natural resources.
And while we always honor the past, we've never been slaves to it—the show guys have even been known to say, upon pulling apart an old wall, "They don't build 'em like they used to. Thank goodness!" As times have changed, we hope we've helped you change along with them. So here's to 40 years' worth of good ideas, all TOH tested. Cheers!
1. Restoring an old house is a good investment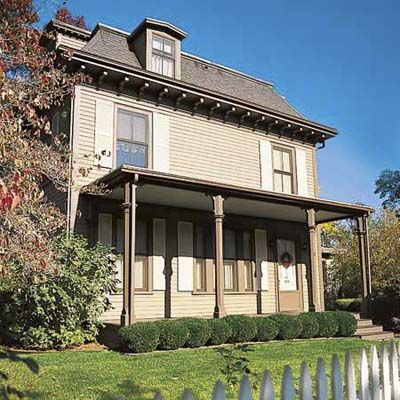 When TOH premiered, razing entire blocks to make way for new construction was common practice. Our first project, in Boston's Dorchester neighborhood, demonstrated that an older house can be reworked into a livable, unique space that maintains its value over time—and adds character and a sense of history to its neighborhood.
2. Color is a low-cost way to add pizzazz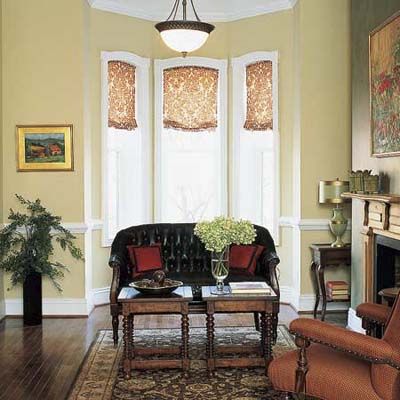 When money's tight, as it was in the 2006 remodel of an 1879 brick rowhouse in Washington, D.C.—or even when it isn't—the right color choices can bring immense style to any room at almost no additional cost. Here, the combination of bold walls and crisp white trim gives a sophisticated punch to this living room.
3. Creating outdoor rooms expands your living area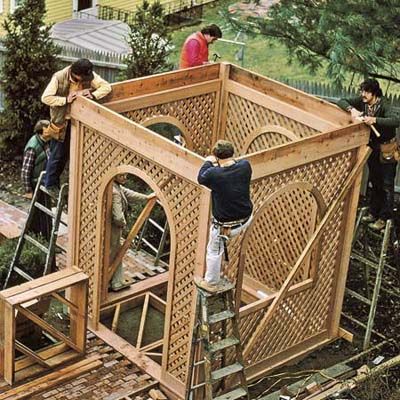 At the 1982 Arlington house, the crew built an architectural enclosure for a hot tub that gives the homeowners some privacy as well as viewing pleasure when they're not soaking. Outdoor living areas and focal points like this one break up a ho-hum lawn into useful and enjoyable spaces.
4. An outbuilding can be a bonus living space
Finding a new way to use an existing structure—like the 2003 conversion of a backyard garden shed into this charming in-law cottage in Concord—can be an effective way around modern zoning prohibitions. By recycling an outbuilding, the owners were able to squeeze an important function and value out of an underused structure.
5. Save and celebrate at least one old thing
Most renovations call for removing parts of a house's history, say, crumbling horsehair plaster or an antiquated layout. But virtually every home benefits from hanging onto at least one important feature from its past. In our 2008 New Orleans Rebuilds project, a floodwater-soaked survivor of Hurricane Katrina retained its original double-sided fireplace, hardwood floors, and beadboard ceilings, all of which hold memories of the house's rich history.
6. Stick around when you call in a pro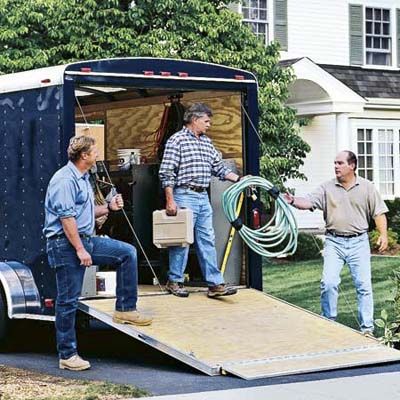 Part of being a good DIYer is knowing your limits. When you're struggling to figure out a tricky fix for a nagging problem, hiring a pro with years of experience will almost certainly save you time and money in the long run. Watch a pro tackle the trouble spot, and you'll learn a thing or two, as do the homeowners who receive a visit from the Ask This Old House team.
During the debut season in 2002, the Ask crew (opposite, bottom right) helped homeowners with a variety of tasks that included fixing window screens, shoring up a sagging floor, and repairing a leaky shower-tub faucet.
7. Be prepared for your project to evolve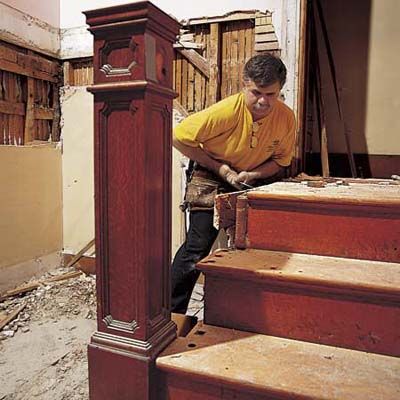 Often the best solutions to tricky renovation challenges don't present themselves till work is underway. One of the most important and beneficial changes made during our 1998 Watertown project was dismantling the home's three staircases and rebuilding just one in the center of the house, vastly improving the floor plan of the 1886 Queen Anne. The modification was made possible by good communication, careful planning, and close collaboration among our pros and the architects and craftsmen involved.
8. Never start a major reno without an energy audit
Since 1982, TOH has called for these tests to find out where a home's energy is being wasted. Today, techniques like blower-door testing are combined with infrared-camera readings, like the one used at the 2007 Newton project, to help homeowners pinpoint where to plug money-wasting holes and to learn of other ways to cut down on energy consumption.
9. Restore original materials when it makes sense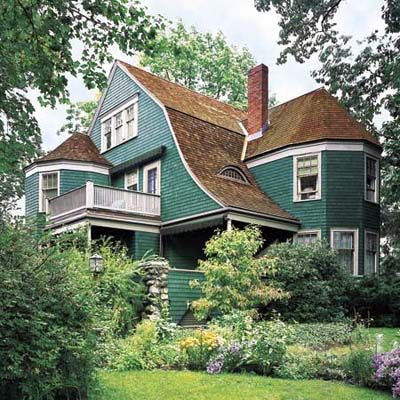 The "before" photo of the Belmont house, taken before its renovation in 1993, is a forlorn, asbestos-siding-covered shadow of this handsome "after" shot of the Shingle-style beauty. The original wood siding was mostly intact when it was uncovered during the renovation, so it was worth the investment to bring it back to life. For extra credit, the homeowners decided to put real cedar shakes back onto their "roofy" 1907 home, though only on the street side, where the look matters most.
10. Prefab foundations are a great base to build on
The show first used a factory-made preformed concrete foundation system in 1994 when adding onto a 1710 Colonial in Acton. Tom Silva noted the numerous advantages of having this labor-intensive component built off-site: "No mud, no mess, no concrete truck. Send your plans out to the manufacturer and the factory precasts all the pieces ships them to the job site and swings them into place. In one day you're ready to start building an addition or a whole new house."
11. Curb-appeal changes can pack a big impact
By repairing a key feature on your house's front facade, you're doing your neighbors a favor and increasing curb appeal—and home value. Such a move can be simple, such as repainting your entry door, or complex, like restoring a lost architectural feature, as Norm Abram and Tom Silva did in 1991 when they rebuilt a missing front porch on the Wayland house, which dates back to 1815 and is listed on the National Register of Historic Places.
12. Radiant Heat Rocks
Richard Trethewey is especially proud that TOH was the first home-improvement show to demonstrate the right uses and materials for this heating method, which typically relies on hot-water pipes or electrical cables under floors to heat up chilly rooms, as shown here in the 1998 Milton project. "When done correctly, radiant heating is a lot more efficient and effective than heating up air and delivering it throughout a house, which is what many HVAC systems do. It has made lots of people more comfortable in cold-climate homes," he says.
13. Choose synthetics for their staying power
Though many TOH projects feature natural materials like wood and plaster, building with them today isn't always the best option for your home. On the exterior, synthetics such as cement siding (used in the 1999 Billerica house), polyurethane architectural moldings and brackets, fiberglass columns, and PVC trim boards hold paint well and don't rot, extending their life and costing you less to maintain. Inside, polyurethane crown moldings and ceiling medallions are virtually indistinguishable from their wood and plaster counterparts—and they're lighter and cost less.
"We've used cement siding on several jobs—it looks good, holds paint well, and is cheaper than wood. My house will be next."
—Tom Silva, TOH General Contractor
14. Expose the structure where you can
One of the great signature spaces in TOH's history, the 2004 Carlisle house's two-story "living hall," was once a barn on the grounds of the main home, an 1849 Greek Revival. Thankfully, its hefty timber frame was in good enough shape to preserve as the barn was converted. When it's architecturally appropriate, showcasing a room's bones makes for a great conversation piece.
15. Insulate right to boost comfort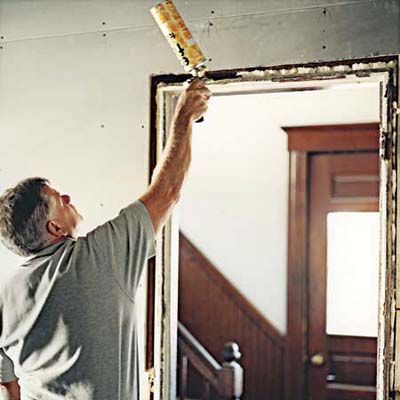 Maintaining proper indoor temperatures means trapping the heat in the winter and keeping it out in the summer. Depending on the specifics of each house we've renovated, TOH has used fiberglass batts, blown-in cellulose, mineral wool, rigid foam, shredded blue jeans, and open- and closed-cell spray-foam insulation (like that used on the 2006 East Boston project) to save homeowners cash and make their houses more enjoyable year-round.
16. Time-saving methods and materials save you money, too
In the huge, complex undertaking that was the 2001 Manchester renovation, every minute counted to finish the project on time and thus within budget. The crew worked hard to track down products that shaved days, if not weeks, off the schedule: a modular chimney and flue system; plastic PEX tubing; factory-stained cedar shingles; sheets of MDF made to look like beadboard wainscoting; and a prefinished engineered wood floor.
"We use self-adhering roof membrane on every project to guard against leaks in the building envelope. It's cheap insurance against a house's worst nightmare."
—Kevin O'Connor, TOH Host
17. Good design pros are worth every penny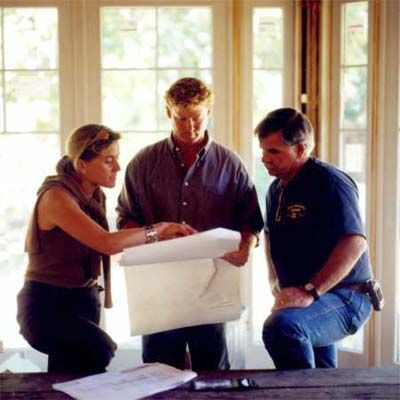 An architect or designer has been involved in every TOH project. And over the years we've brought in landscape architects, kitchen designers (including Kathy Marshall, who worked on the 2004 Carlisle project, among others), historic consultants, interior designers, and even paint-color experts as the situation required. Why? Because these people bring specialized knowledge to the task. You'll get your money's worth from a renovation if it looks good, performs well, and lasts a long time. Seasoned design pros will help you get there.
18. Commercial products can add flair to your home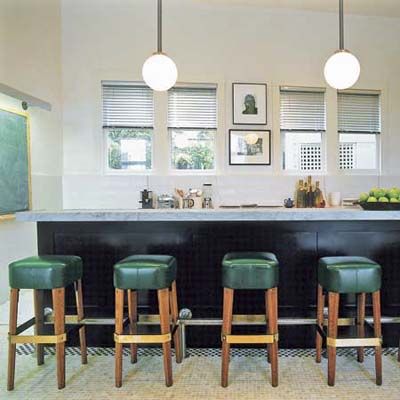 In 1998, our San Francisco homeowners opted to incorporate striking (and hardworking) products typically found only in commercial spaces into their home, a 1906 church they were converting. Their unexpected choices included bathroom faucets operated by foot pedals, hefty marble wainscoting salvaged from a bank, industrial light fixtures, and in the kitchen, an institutional-grade chalkboard for jotting down notes, grocery lists, and recipes. The kitchen's design was even modeled on one of the couple's favorite restaurants.
19. Take advantage of the sun, but guard against it, too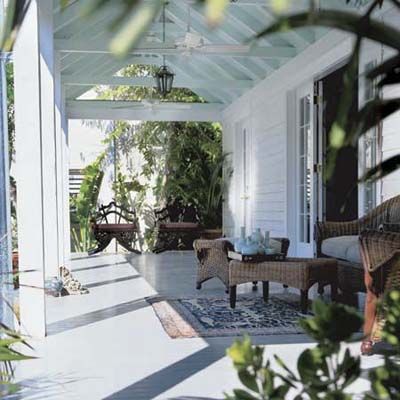 Siting an addition for maximum passive solar heating is a nearly cost-free way to warm it up. And when the summer's dog days roll around, don't underestimate the cooling effect of overhangs, awnings, and well-placed trees. As we've demonstrated many times at project houses—such as the 1999 Key West house—when you're installing new windows, opt for high-efficiency models that let in plenty of light without allowing heat to build up inside.
"We've seen paint come a long way over the years. Today's low-VOC versions can cover in one coat—even dark colors."
—Norm Abram, TOH Master Carpenter
20. Buy the right insurance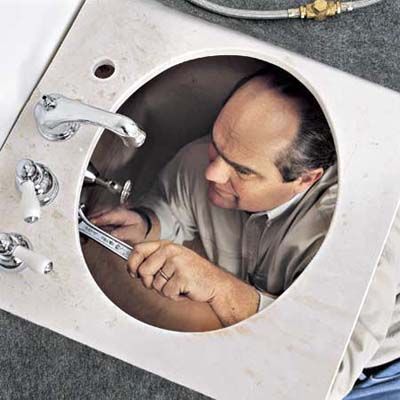 The owner of the 1999 Billerica house, Dick Silva (Tom's brother), had suffered a disaster when his house burned down. But thanks to advice he'd received from a good agent, he was covered by a "full replacement value" policy on the house and its contents, as opposed to "cash value," which is calculated based on the depreciated value of items lost. A replacement policy provides adequate funds for a proper rebuild, and it's only a bit more expensive to carry.
21. Some old structures just can't be saved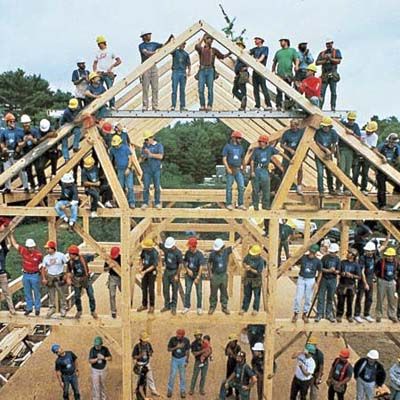 In 1989, the owners of an 1835 barn in Concord hoped to dismantle it and rebuild it as their home. But upon further inspection, our crew determined that the frame and materials just wouldn't hold up. So the old barn became the inspiration for an entirely new timber-frame house that was finished with factory-built parts like structural insulated panel walls and a central staircase made at a custom shop in Wisconsin. And we had an old-fashioned barn raising to put up the frame by hand.
22. Tap underused square footage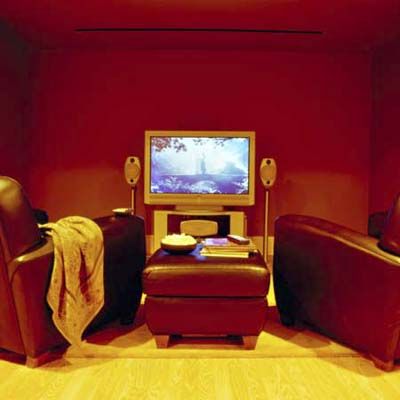 More than once, the TOH crew has converted "found" space in attics, basements, and garages into comfortable living areas. You need to plan carefully, and you may have to obtain approvals from the local building department to transform spaces like these. But when done right, as was the case with the basement media room at the 2002 Winchester house, such renovations can spare you the cost and hassle of a full-blown addition or a move to a bigger house.
23. Bring your personal stamp to a project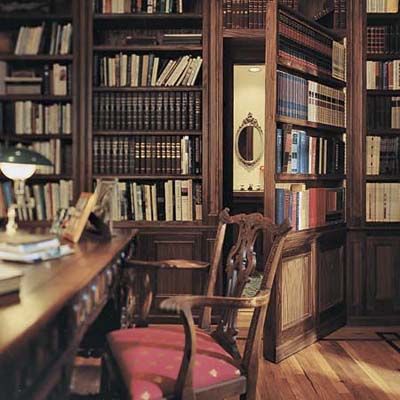 The owners of the Tucson home—one of them a designer—brought many strong ideas to the table during the 1997 remodel of their 1930 Pueblo Revival home. They worked closely with the architect on some unique and noteworthy details: black poured-concrete kitchen countertops (the first time concrete counters appeared on TOH), kitchen cabinets made from distinctive, locally sourced mesquite wood, and in the library, a powder room door cleverly disguised in a wall of bookshelves.
24. Water heaters are a good place to look for energy savings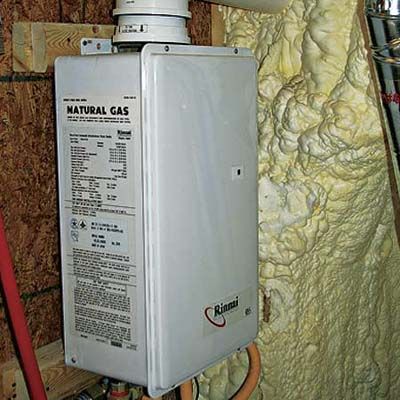 TOH projects, such as the one in 2007 in Austin, have incorporated tankless (or instantaneous), indirect, and solar hot-water systems—all proven technologies that can save money over their lifetimes when matched to a household's needs. But even basic water heaters sold today are much more efficient than older ones. Homeowners with one that's more than 10 years old should consider replacing it; a new one could even pay back with a rebate from the power company or the government.
"We've showcased a lot of energy-saving technologies over the years, and we'll keep on doing so, because we need them more than ever."
—Richard Trethewey, TOH Plumbing and Heating Expert
25. Salvage old wood when possible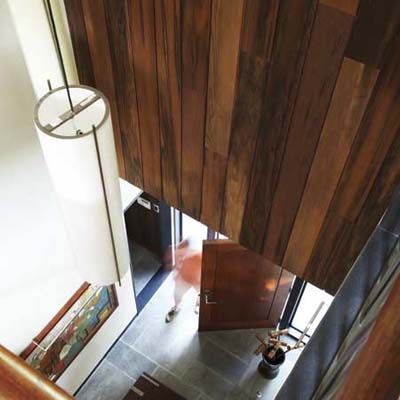 We've consistently seen in TOH projects that old-growth woods perform better than new. Their growth rings are much tighter than today's plantation-raised species, making them more stable, rot-resistant, and hard-wearing. That's why we always try to recondition original wood windows, lay down recycled-wood floors, and celebrate the beauty of old wood beams whenever we encounter them. The entryway at the 2006 Cambridge house lined in recycled wine barrels showed how beautiful old wood can be.
26. Sourcing local products can help you go green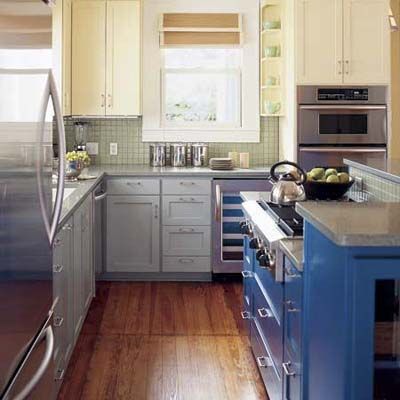 Our 2007 Austin project proved that using nearby materials and manufacturers is a great way to conserve resources for a remodel. In the kitchen, cabinets without added formaldehyde were made in a shop just a few miles from the house. Elsewhere, custom light fixtures were fashioned at a local studio, and Texas limestone was turned into vanity tops.
27. It's easier than ever to build a long-wearing deck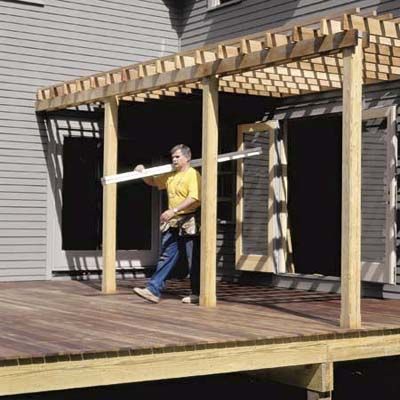 Rain, wind, and sun can turn a handsome deck into a splintered, rotted-out danger zone. But improved materials we've showcased at many TOH houses, including long-lasting synthetic boards, arsenic-free pressure-treated lumber, and rustproof stainless-steel fasteners, have made it possible to build decks that hold up well to the ravages of time.
28. Save up and go for quality over quantity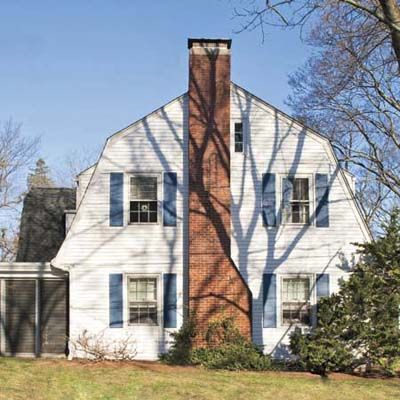 In Newton Centre, the show's 30th season project house, the homeowners lived in this 1915 Dutch Colonial for nearly five years before tackling a renovation—long enough to know what it (and they) really needed. They've built up a small war chest and are adding on just enough space, 330 square feet, to give themselves more breathing room without going into crazy debt to do it.
29. It's worth extra effort to protect your trees
The 2004 Carlisle project involved lots of construction, so the crew worked diligently to safeguard a mature catalpa tree, a deciduous variety known for its striking flowers, during the building process. Precautions like proper feeding and watering, protecting the trunk, and marking a no-go area for heavy construction equipment make all the difference for preserving a tree, which often doesn't show signs of damage until after the job is done.
30. Good landscaping makes your home look complete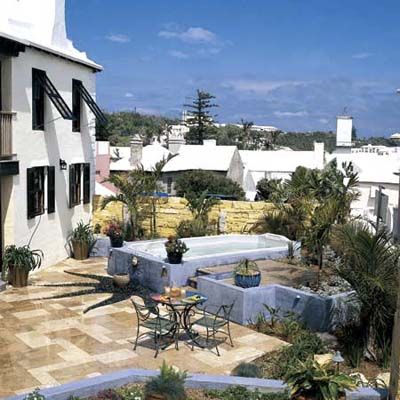 It isn't just for TV's "after" shot that TOH projects always include an adequate budget for landscaping. Proper plantings are crucial finishing touches for any project and only improve with time, while a master plan provides a great road map for your home as money becomes available to tackle new outdoor enhancements. And eye-catching landscaping adds to a house's value, too—a point well demonstrated by the sunny tiled oasis at the 2004 Bermuda project.
"We pick the right plant for the right spot and do the proper soil prep—it pays off in the long run. For advice, talk to a pro at your local garden center."
—Roger Cook, TOH Landscape Contractor