The exterior of your home has a big job. Not only does it have to protect you and your family from the onslaughts of nature, it must continue to look inviting no matter what Mother Nature throws your way. If you're in the market for improving the facade of your home, and you're unsure which type of siding to choose, this comparison will help.
Before we jump into the different types of siding, it's important to note that any exterior siding project should also include some consideration of exterior trim-the casing treatment used around window and door openings. If the existing siding on your house has deteriorated, it's likely that the exterior trim could also use replacement. You'll want any new trim treatment to be compatible in appearance and function with the exterior siding you install.
Wood Siding: A Traditional Choice with some Maintenance Requirements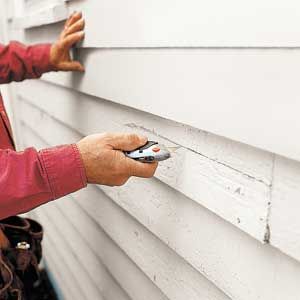 Wood siding comes in a variety of styles. The most common styles include board and batten, shakes, shingles, and clapboards. Giving a natural, warm appearance and timeless beauty, builders often choose wood for premium projects.
Pine and Cedar Siding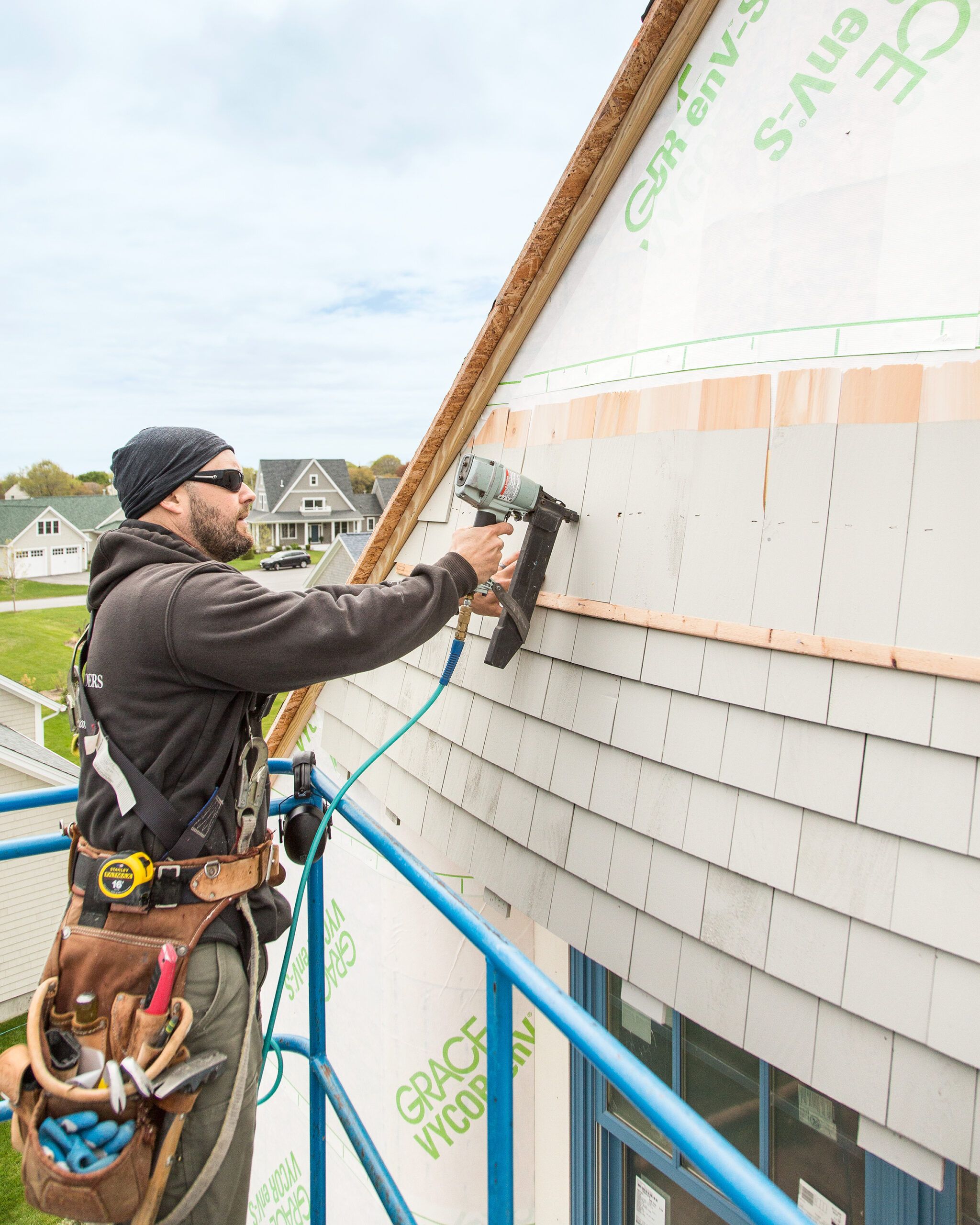 Pine and cedar are the two main wood species used for exterior siding. Cedar types include eastern white cedar, red cedar, and Alaskan yellow cedar; each type has a color true to its name. While pine siding can be very affordable, it can't resist rot and insects like cedar can. Cedar is also more dimensionally stable; it won't expand, contract, crack and warp like pine.
No matter what type and species of wood siding you choose, it will last longer and look better with a protective finish. Paint or solid color stain provides the best protection from weather and UV damage. But if you want the look of natural wood grain, ask for a clear exterior finish that provides UV protection and is formulated for wood siding. If you're planning to reside your house with wood siding, make sure to check your local building codes. Some locales require wood siding be treated with fire-retardant chemicals.
Wood Shingle Siding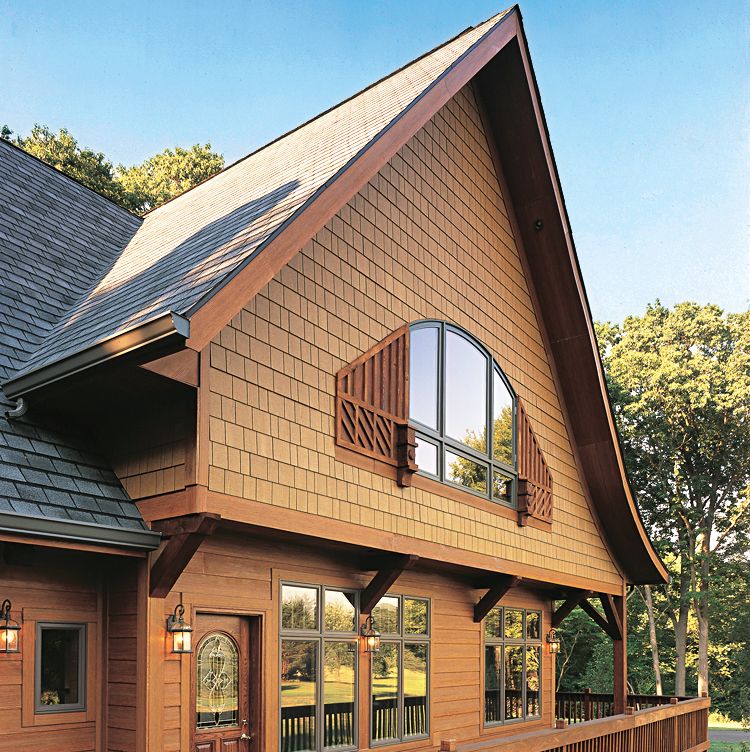 Some types of wood siding can be installed over existing siding. For example, it's possible to install wood shingle siding over older clapboard siding. But in most cases, you're better off removing old siding prior to installing new wood siding. Before installing new siding, you'll want to replace any damaged trim or flashing around window and door openings, and also repair or add house wrap to improve your home's resistance to air infiltration and moisture damage. The good news is that these are all DIY-friendly tasks.
As far as maintenance, inspect your siding annually for cracks or damage that needs to be repaired. Wood requires refinishing every four to six years, depending on the type of finish you use.
Engineered Wood: A Good Compromise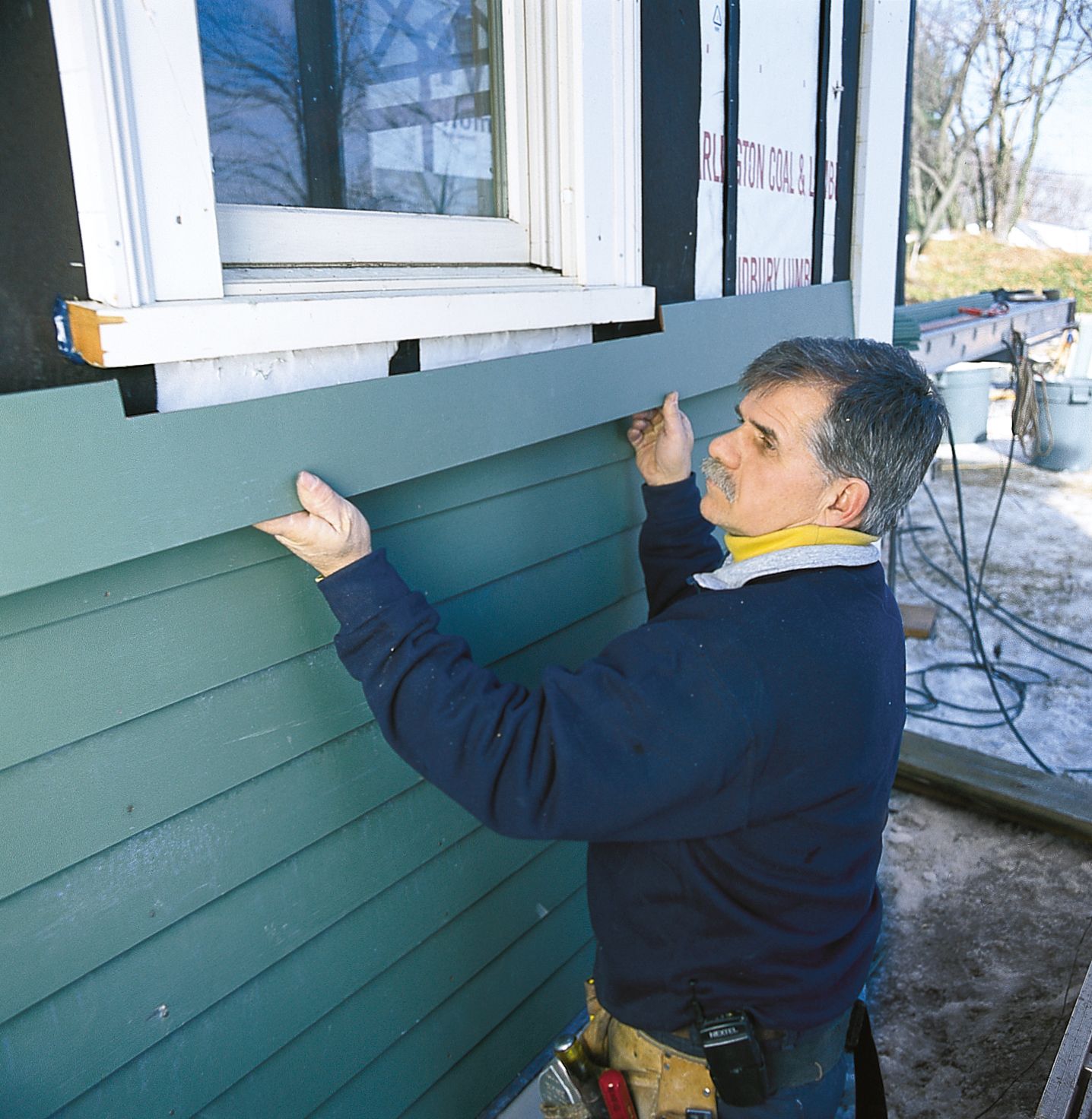 If you like the look, feel, and workability of solid wood but not the high price of cedar siding or the low durability of pine, engineered wood siding may be the answer. There are different types of engineered siding to choose from. Clapboards made from wood flakes and resin (similar to the composition of oriented strand board) come with a factory-applied primer in 16ft. lengths to minimize butt joints. Plywood "T1-11" panels come in 4×8 size, and can be installed directly over wood framing, eliminating the need for exterior sheathing. These plywood panels typically have a roughsawn channel-rustic exterior surface, and lapped edges that hide seams between panels.
Stone Veneer Siding: A Thin Layer that Looks Like Solid Masonry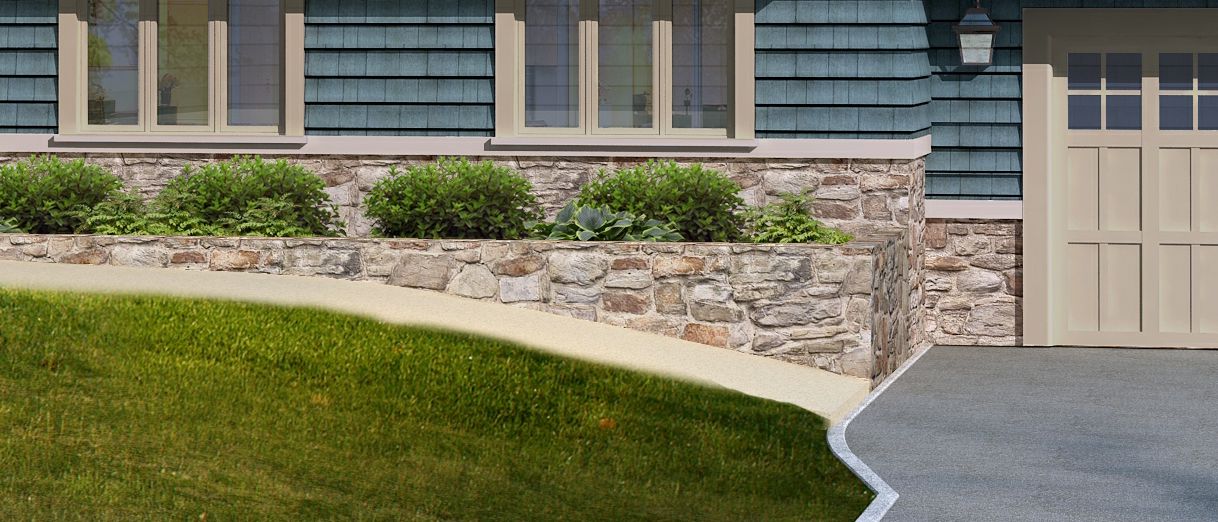 If you want the look of stone, adding a stone veneer to your home is easier than you think. This siding treatment can be a nice upgrade for drab concrete foundation walls. It's also frequently installed on the lower half of main level walls, or on other structures like driveway pillars, fireplace surrounds, and interior walls. There are many styles of stone to choose from.
Although it looks authentic, stone veneer is made from Portland cement, other natural materials called aggregates, and pigment. The mixture is baked in textured molds that simulate the appearance of natural stone. Stone veneer can be adhered directly to concrete. It can also be applied to wood-frame walls, but the frame wall's exterior sheathing must first be covered with a moisture barrier, followed by metal lath. Once the installation is complete, very little maintenance is required, beyond filling any cracks that appear in the mortar between stones.
Vinyl Siding: Great Value for Your Money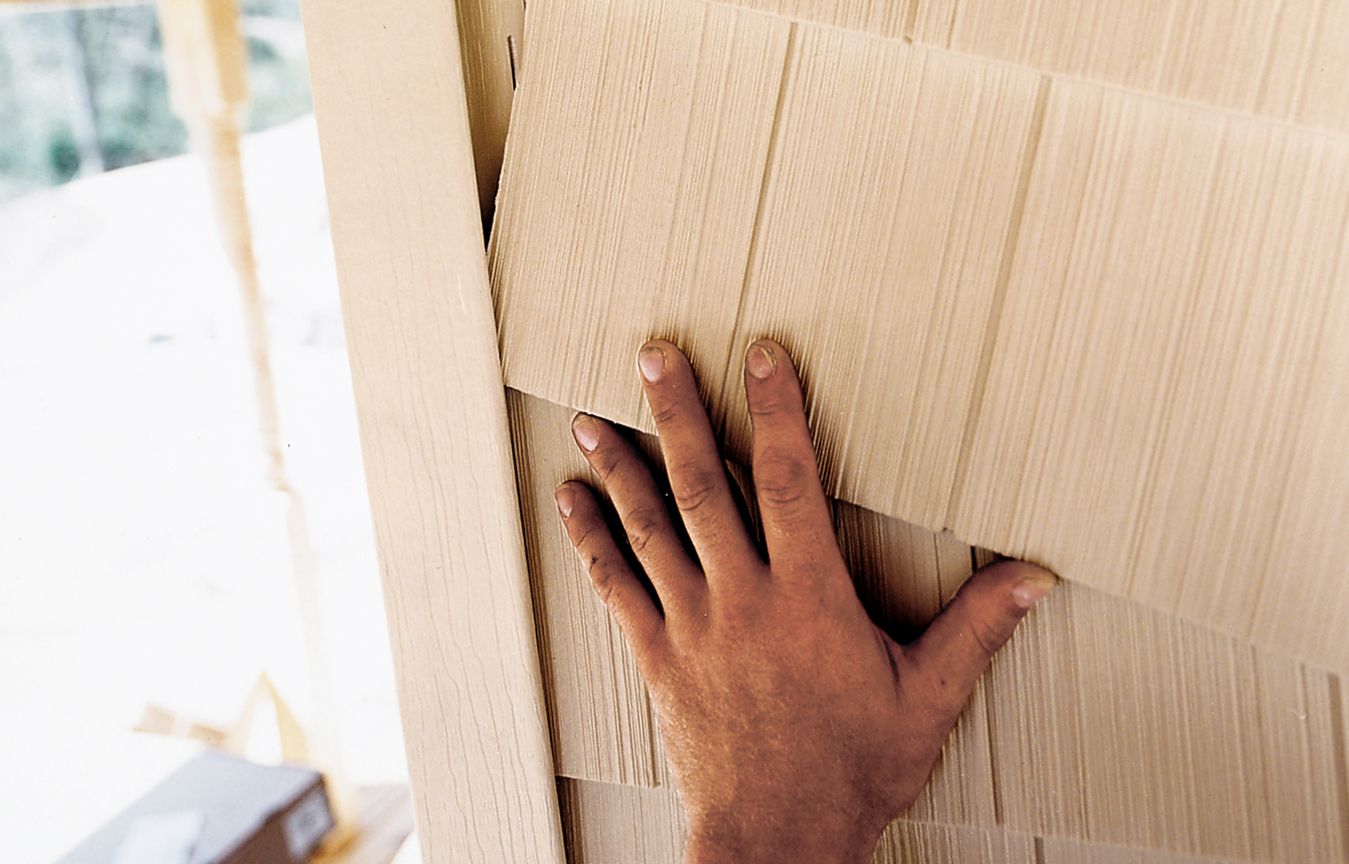 Tough, long-lasting, affordable, and easy to install, vinyl siding has a popularity that's easy to appreciate. These days, you can choose from a wide variety of siding styles and colors, including products that resemble wood-grain lap siding, wood shingles, and even stone. And, because the color is part of the material, dings and scratches don't show. Routine cleaning with a brush and hose is all the maintenance this siding needs.
Vinyl siding can be installed on newly built walls, and also over most types of existing siding. If you need added insulation, insulated vinyl siding has a backing of solid rigid foam insulation that fills the voids behind the siding's stepped profile. It adds an insulation value of R-2 to R-6, while also making the siding more resistant to impact damage. Vinyl siding is easy to handle and has a low learning curve for DIYers who want to install the material. But for DIYers who take on this installation, it's important to learn about the transitional elements that are part of the siding system -like J-channel installed around exterior trim. Aluminum siding
Available primarily in clapboard style, aluminum siding offers the same benefits as vinyl siding, plus one additional advantage: It can be painted. Aluminum siding has some notable disadvantages. For starters, your style choices are limited, especially compared to the variety found in vinyl siding. And aluminum doesn't have the same resilience as vinyl; it can dent from hard impacts. But if you want a low-maintenance siding that can take a color change sometime in the future, this option is worth a look.
Fiber Cement: Durability and Versatility
For many folks, fiber cement siding is the next best thing to peanut butter. This composite material is made from cement and cellulose fibers that are compressed and formed into different siding products, including clapboards, panels, battens, boards, and exterior trim. Solid and dimensionally stable, fiber cement takes paint exceptionally well, which means longer life for any paint job. Here are some other noteworthy qualities of this siding:
Moisture and rot resistant: Perfect for coastal areas prone to hurricane, storms, and flooding, fiber cement siding holds up where saltwater ruins wood siding and high winds blow vinyl and aluminum away.
Non-combustible: Fire feeds on wood and combusts vinyl almost instantly but fiber cement siding is so impervious that some insurance companies offer a discount for using it. It's now the siding of choice in areas prone to wildfire.
Pest resistant: You may live in the woods so you can enjoy the wildlife, but you don't want it feasting on your home. Woodpeckers, squirrels, and termites won't destroy your fiber cement siding.
Weather resistant: Fiber cement board stands up against hail and flying debris during storms. It also withstands the effects of temperature extremes where wood siding will shrink and swell, causing cracking.
Fiber cement is sometimes referred to as Hardie board, a major manufacturer of fiber cement products. Some fiber cement siding can be ordered with a factory-applied primer or primer and finish coat, along with a 15-year warranty against fading, chipping, peeling, or cracking. The major disadvantage with this material involves installation. Special tools, safety precautions, and installation details are required to get a fiber cement siding job done correctly; it's not a DIY-friendly material.