Picking the right siding for your house is a delicate balancing act between good looks, durability, maintenance, and affordability. With wood, vinyl, stone, brick, or stucco, you might get only two or three of these. But with fiber cement siding, a resilient mix of wood pulp and portland cement, you get all four.
Why Use Fiber Cement Siding?
It's the only type of siding that combines the performance of masonry—minimal upkeep; rot-, fire-, and termite-proof; unaffected by wind or cold—with the look of painted wood clapboards, shingles, even stone or brick. Yet fiber cement goes for just a fraction of the cost of these other materials. No wonder nearly 15 percent of new homes—and many TOH TV projects—are clad with the stuff.
All this has happened in just 25 years since fiber cement, which is a kind of concrete siding, was first introduced. Now architects regularly specify the siding because it holds down costs without compromising aesthetics. It's even accepted for use in some historic districts.
What Is Fiber Cement Made of?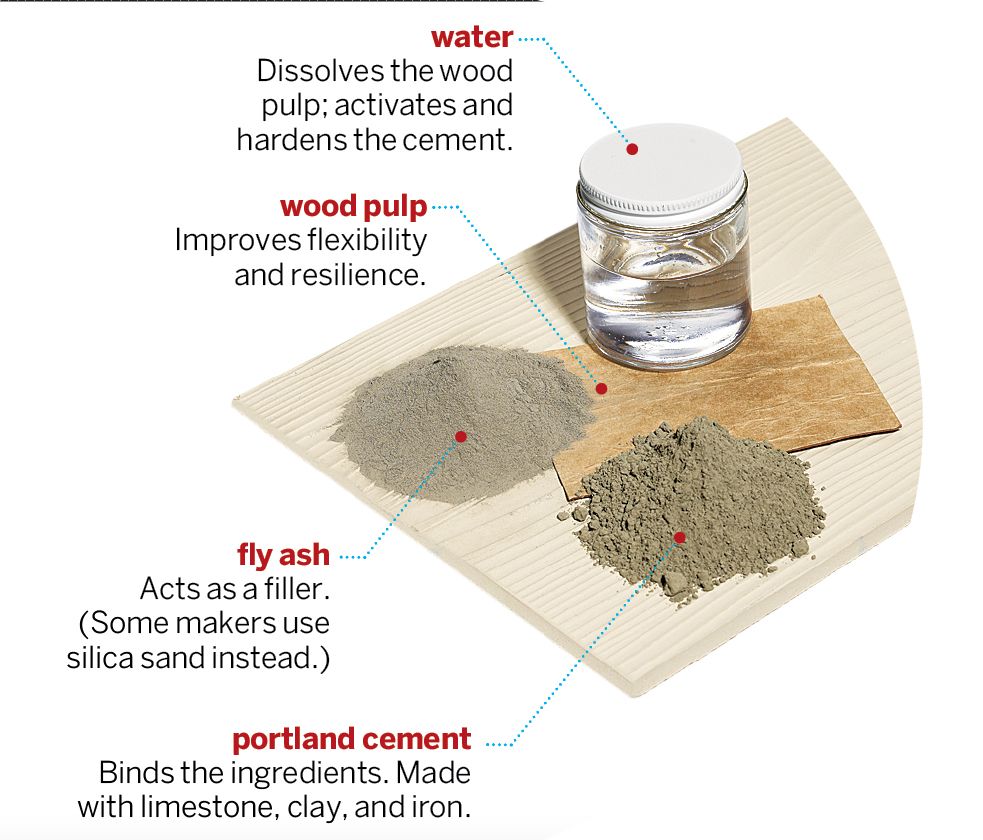 The basic recipe has just four ingredients.
Water: Dissolves the wood pulp; activates and hardens the cement.
Wood pulp: Improves flexibility and resilience.
Fly ash: Acts as a filler. (Some makers use silica sand instead.)
Portland cement: Binds the ingredients. Made with limestone, clay, and iron.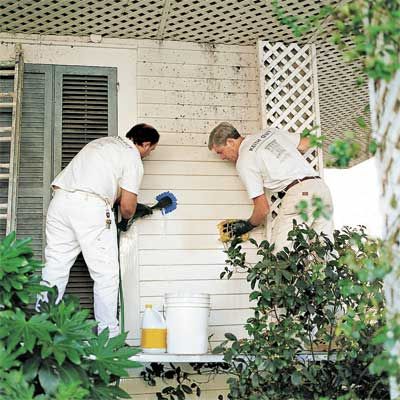 What does fiber-cement siding cost?
Clapboards, the most common type of fiber-cement siding, range from 70 cents to about $5.25 per square foot uninstalled. Shingles sell for about $2 to $8. Pricing depends on finish, size, and where it's sold.
How long does it last?
Warranties against defects range from 25 years to limited lifetime. Factory finishes carry a 15-year warranty against flaking and fading.
DIY or hire a pro?
Because of its weight—about 2½ pounds per square foot—its tendency to crack if mishandled, and the specialized tools needed to cut and nail it, fiber-cement installation is best left to pros.
How much maintenance?
As with wood siding, spray it with a garden hose every 6 to 12 months; inspect caulked joints every few years, and be sure to keep foundation plants pruned back so that siding can dry out.
Things You Need to Know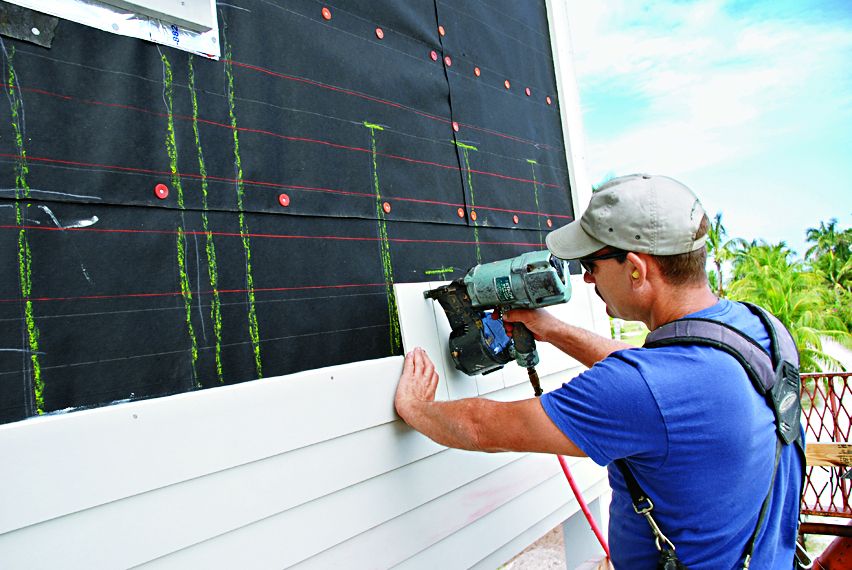 Finish
Fiber cement siding has to be painted or stained. This can be done before it's installed—either by the manufacturer or by a paint shop hired by the lumberyard where you order the siding—or after it's up. Manufacturers charge about $1 per square foot and offer a 15-year warranty, but color choice is limited and you get only one coat.
Paint shops provide two coats, 25-year warranties, and hundreds of hues for about $2 per square foot, not including the cost to ship your order to and from the lumberyard. On-site painters generally offer one- or two-year warranties on their work.
Trim
For minimal maintenance, use trim made of fiber cement or cellular PVC. Both are rot-proof and come in standard ¾- and 1-inch thicknesses for use as corner, frieze, and fascia boards. Crown moldings are also available. You can also use wood trim with fiber-cement siding. Wherever trim and siding meet, there should be a 1/8-inch gap, concealed with caulk.
Layout and Installation
Layout
Fiber-cement panels butt together at the edges, making layout a no-brainer. With clapboards and shingles, each course overlaps the next by at least 1¼ inches.
The portion that's visible—not overlapped—is called the exposure. (A 6¼-inch-wide clapboard with a 1¼-inch overlap has a 5-inch exposure.) Exposure has to be decided before you order because it determines how wide your siding will be, how much you will need, and how it will look once it's installed.
Installation
Make sure your contractor uses rustproof stainless-steel nails, primes all cuts, and caulks joints with a paintable exterior-grade sealant that will remain flexible.
To reduce water absorption, fiber cement has to be installed at least 2 inches above steps, decks, and roofs, and at least 6 inches above grade. Check joints every few years and recaulk as needed.
How Much to Buy
The calculation varies based on the type of siding. For panels, simply divide the total square footage of your exterior walls—including windows and doors, which account for waste—by the number of square feet in one piece.
There isn't an easy equation for shingles, so it's best to have your supplier do the math. For clapboards, use this formula, which factors in how much of each board is exposed.
Fiber Cement in Different Climates
This durable material outperforms many of its siding competitors in a range of climates.
Out West
In arid locales that are prone to wildfires, particularly in the western U.S., some insurance companies offer a discount for homes sided in fiber cement because it's noncombustible. It's also unaffected by the strong UV radiation typical at high altitudes.
On the Coast
Salt air, high humidity, and bright sun are constant challenges in seaside environments but have no effect on this siding. With a proper nailing pattern, it will also withstand winds up to 130 mph.
Down South
Termites and fungi thrive in the warmth and moisture of the southeastern U.S., such as in New Orleans, but they get no nourishment from fiber cement.
Up North
Unlike vinyl, fiber cement doesn't become brittle in cold weather. It easily withstands below-zero temperatures and won't crack because of freeze-thaw cycles.
Comparing Fiber-Cement to Other Siding
Fiber cement averages about $1.70 per square foot and is practically indestructible. Sources: SPG Marketing, R. S. Means, National Home Improvement Estimator
Wood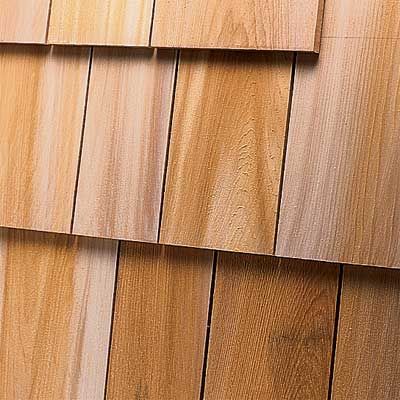 Prized by traditionalists, it's lightweight and easy to cut and work but vulnerable to rot, insects, fire, and splitting. Individual shingles are time-consuming to install and maintain. Expensive.
Clapboards average $4.70 per square foot; shingles, about $7.50
Brick and Stone
Just as resistant to rot, insects, and fire as fiber cement but much heavier and more costly. Requires a skilled mason to install.
Brick averages $5.25 per square foot; stone, about $9.50
Vinyl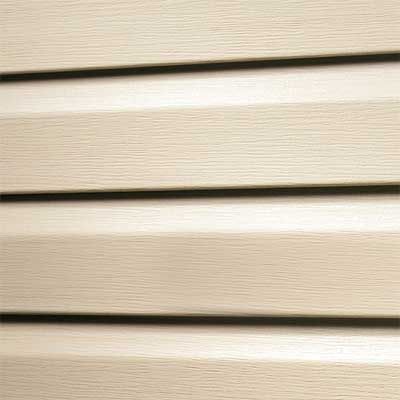 Low-maintenance and lightweight, it melts in fires and can easily blow off in high winds. Comes in textures but doesn't replicate wood siding as well as fiber cement.
Available in both clapboards and shingle strips, it averages about 75 cents per square foot.
Aluminum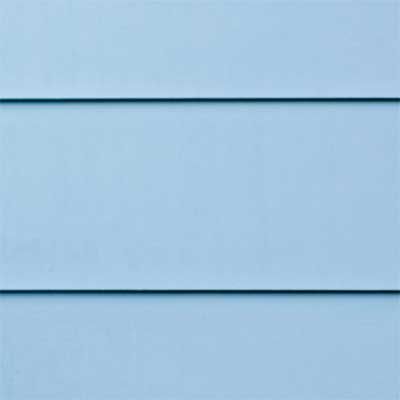 It holds paint well, won't rot or burn, and is easy to maintain. Dents easily and is difficult to repair.
Clapboards average about $3 per square foot.
Stucco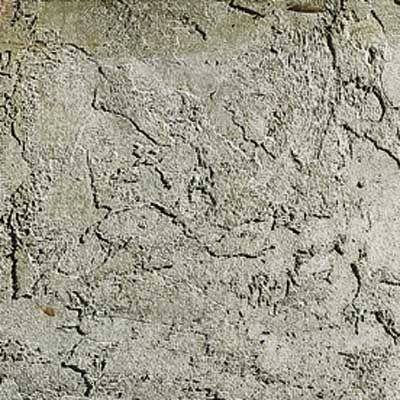 This thick, cement-based material is durable and fire resistant but requires skilled installers to trowel it on.
Common in warm climates. Averages about $2.65 per square foot.
Fiber Cement Board Types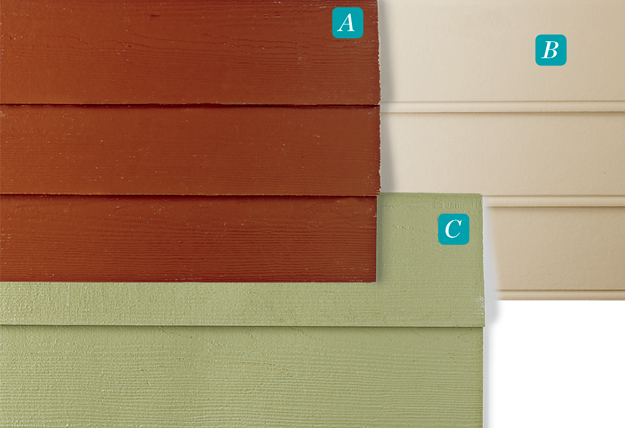 Clapboards
Sold in: boards
Also known as lap siding, it's fast to install and looks great painted or stained.
Shown:
A. HardiePlank Select Cedarmill, 6¼ inches wide in Countrylane Red, about $1.65 per square foot; James Hardie.
B. WeatherBoards smooth beaded lap, 7½ inches wide in Wicker, about $1.60 per square foot; CertainTeed.
C. HardiePlank Select Cedarmill, 8¼ inches wide in Heathered Moss, $1.55 about $ per square foot; James Hardie
Finish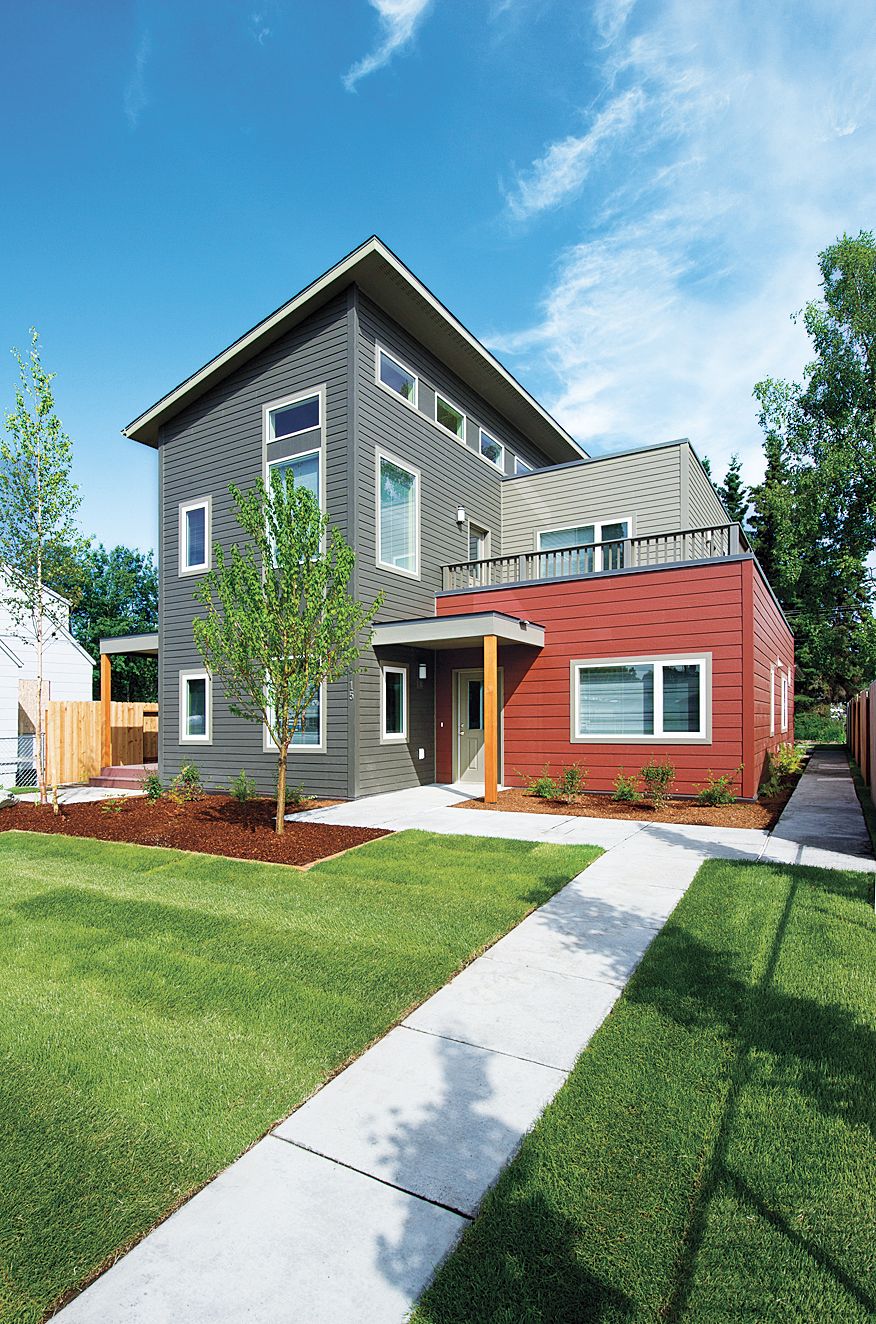 Available in smooth, wood-grain, or rough-sawn surface treatments; in widths from 5¼ to 12 inches; and with a primed or factory-applied finish.
Shown: Clapboards work for a range of styles, from contemporary to classic, as this Alaskan house shows.
Sizes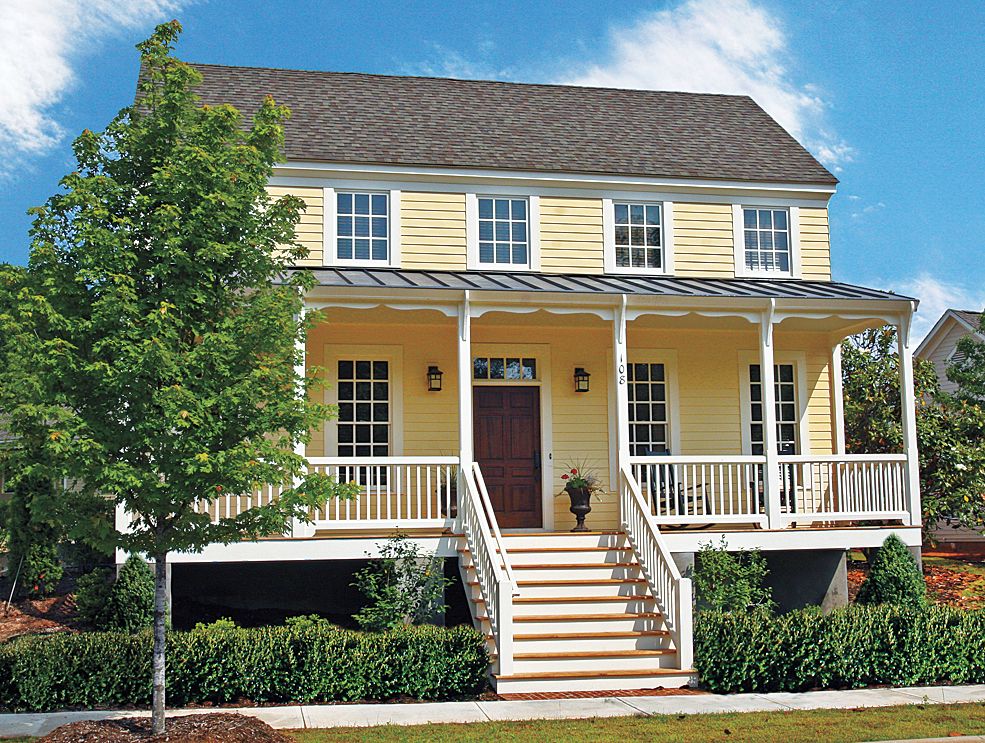 Most clapboards are 5/6 inch thick, though a more wood-like 5/8-inch thickness is available. Lengths are standard: 12 feet.
Shown: Clapboards also work in a range of climates, from the frigid environs of the North, to the sticky heat of South Carolina.
Shingles
Sold in: Strips and individual shingles
They come as individual shakes and as 4-, 8-, and 12-foot strips, with either wood-grain or hand-split textures and in straight and staggered courses.
Shown:
A. NichiFrontier,9 ¼ inches by 8 feet in Hazelnut, about $4.50 per square foot; Nichiha.
B. WeatherBoards half rounds, 16 inches by 4 feet in Coastal Blue, $ about $3.75 per square foot; CertainTeed.
C. WeatherBoards stain-finish, random-square straight edge, 16 inches by 4 feet in Emerald, about $7 per square foot; CertainTeed
Finish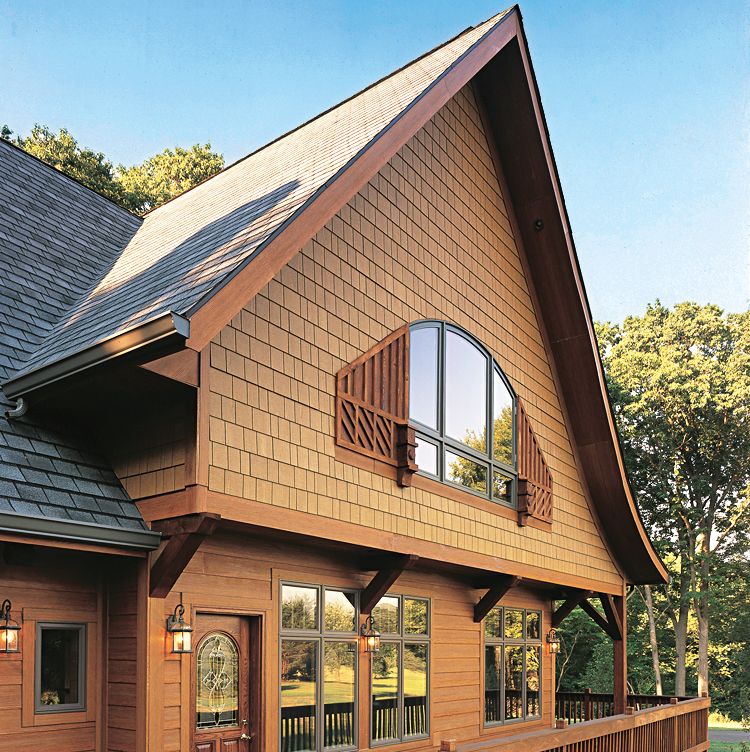 Choose a primed, factory-painted, or stained finish.
Shown: A warm brown finish gives fiber-cement shingles the look of wood, but without the maintenance. are foot; CertainTeed
Shapes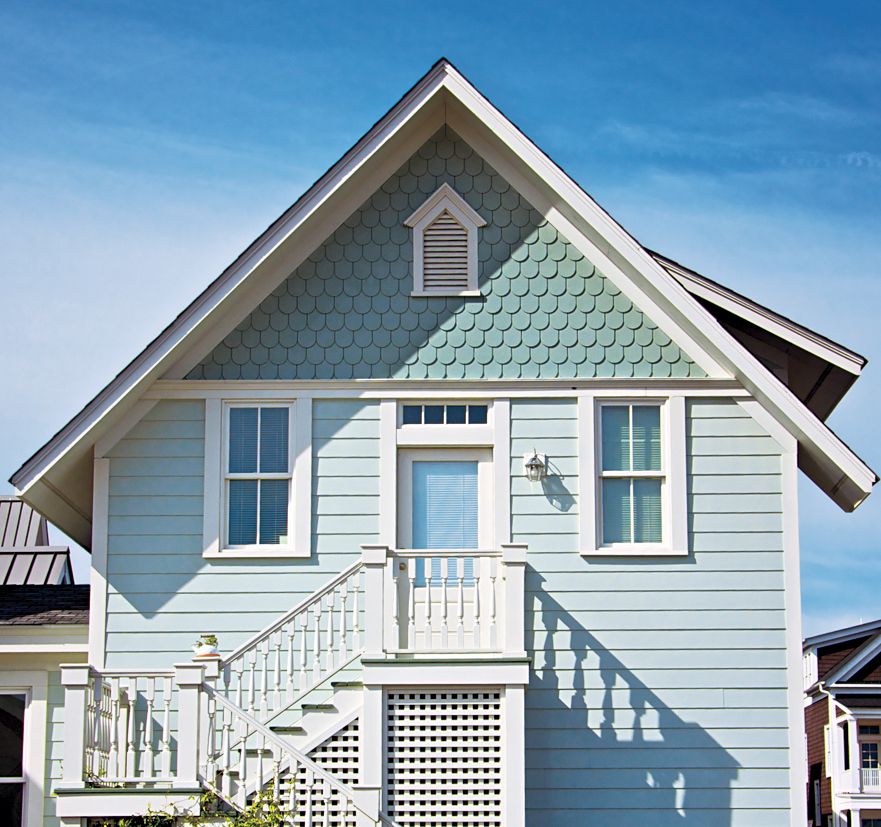 Strips speed installation time.
Shown: Decorative fish-scale shingles beautifully highlight a gable end.
Stone, Brick, or Stucco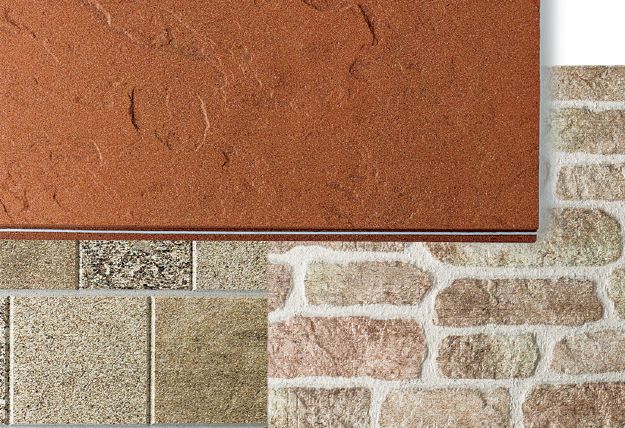 Sold in: Panels
Get the color and texture of masonry without the need for a mason or worries about cracking and delamination in the future.
Shown:
A. SandStone II in Sedona.
B. QuarryStone in Speckled Brown.
C. FieldStone in Bronze Mist. All 18 inches by 6 feet, about $4 per square foot; Nichiha end.
Joints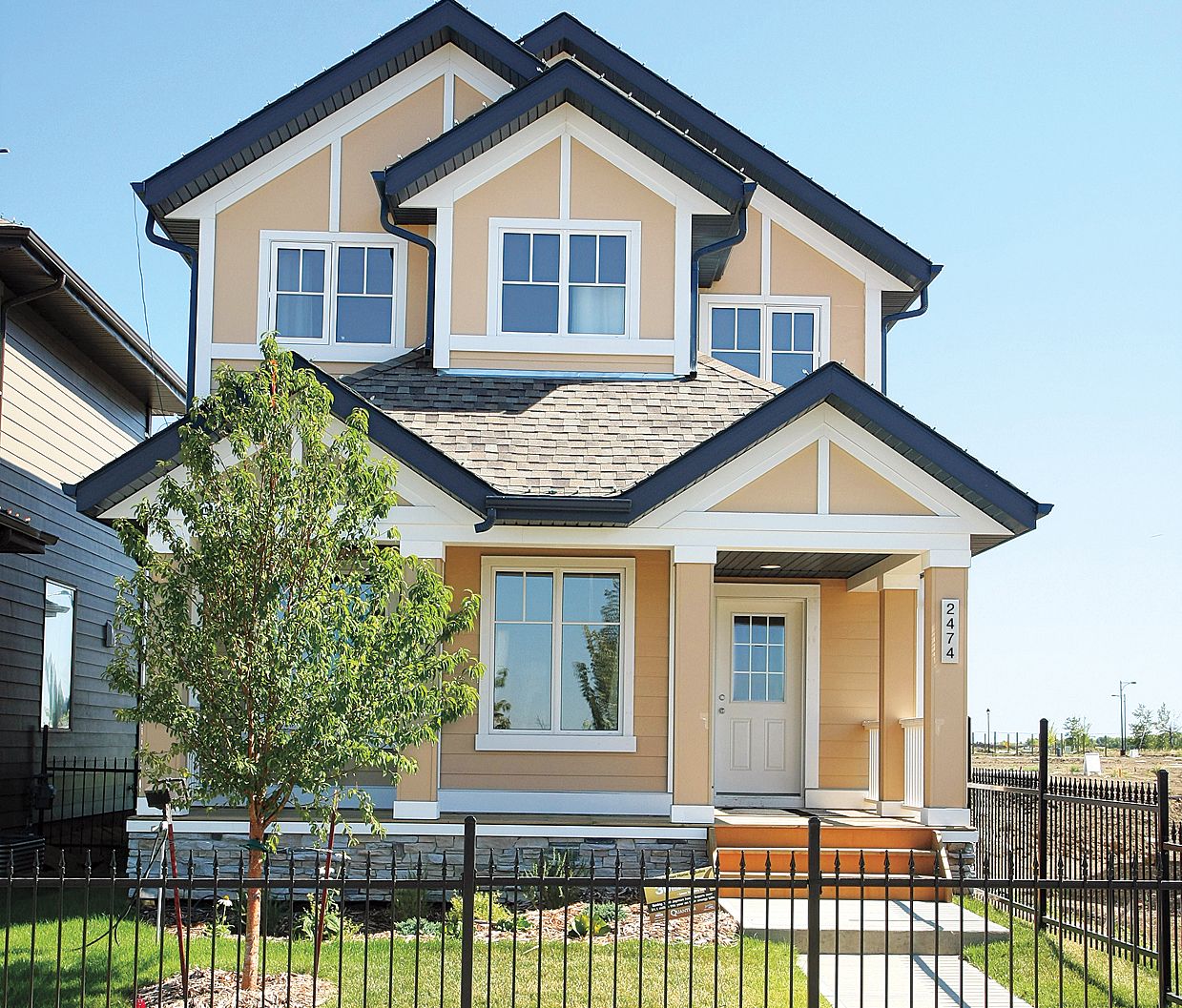 Joints can be covered with trim or left exposed.
Shown: Smooth fiber-cement panels edged with trim are a low-cost alternative to stucco.
Sizes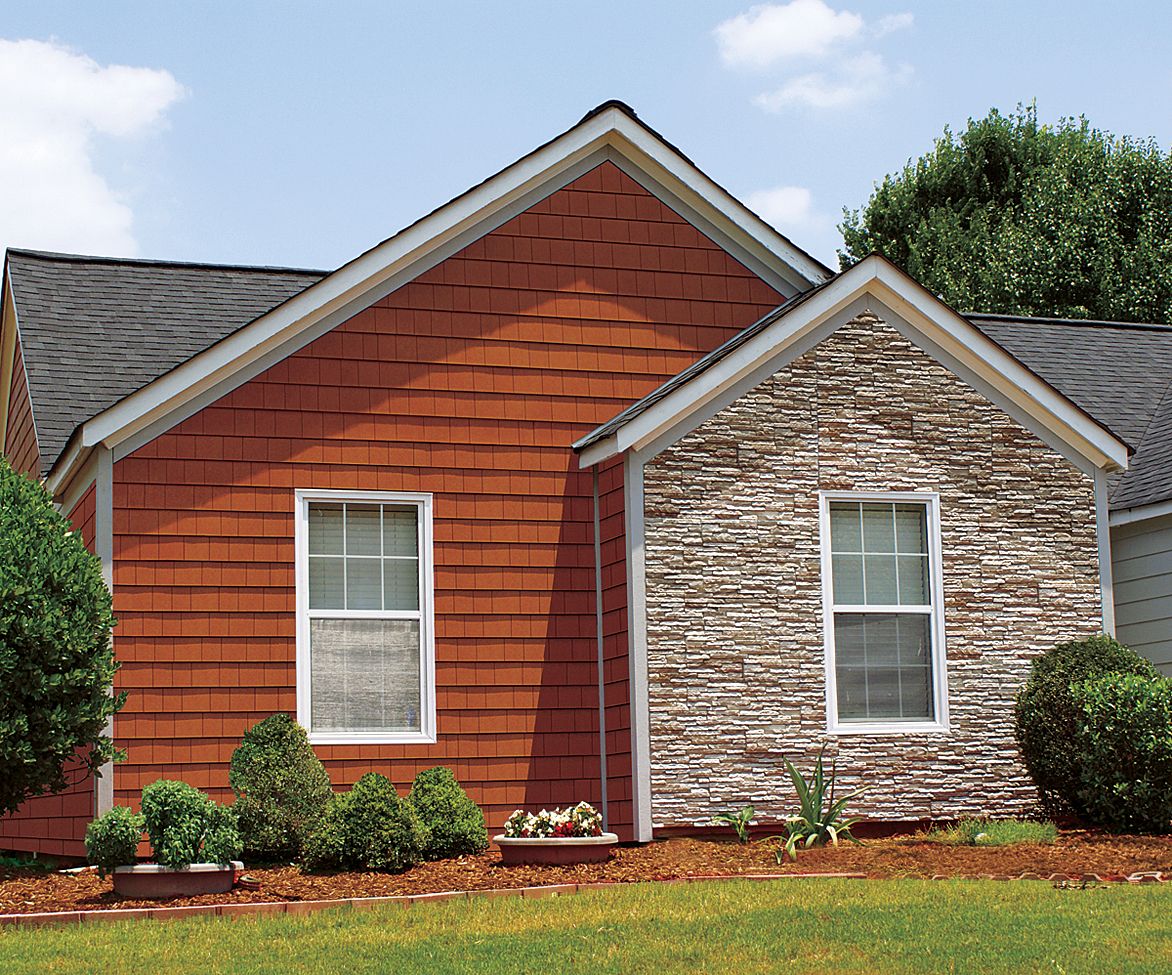 Masonry-finish fiber cement comes in panels that are 5/6 or 5/8 inch thick and in varying sizes from 18 inches by 6 feet to 4 by 12 feet.
Shown: Panels molded to look like stacked stone interlock to keep out water and hide the seams.
Ways to Customize Your House Siding Options
Shingles and Clapboards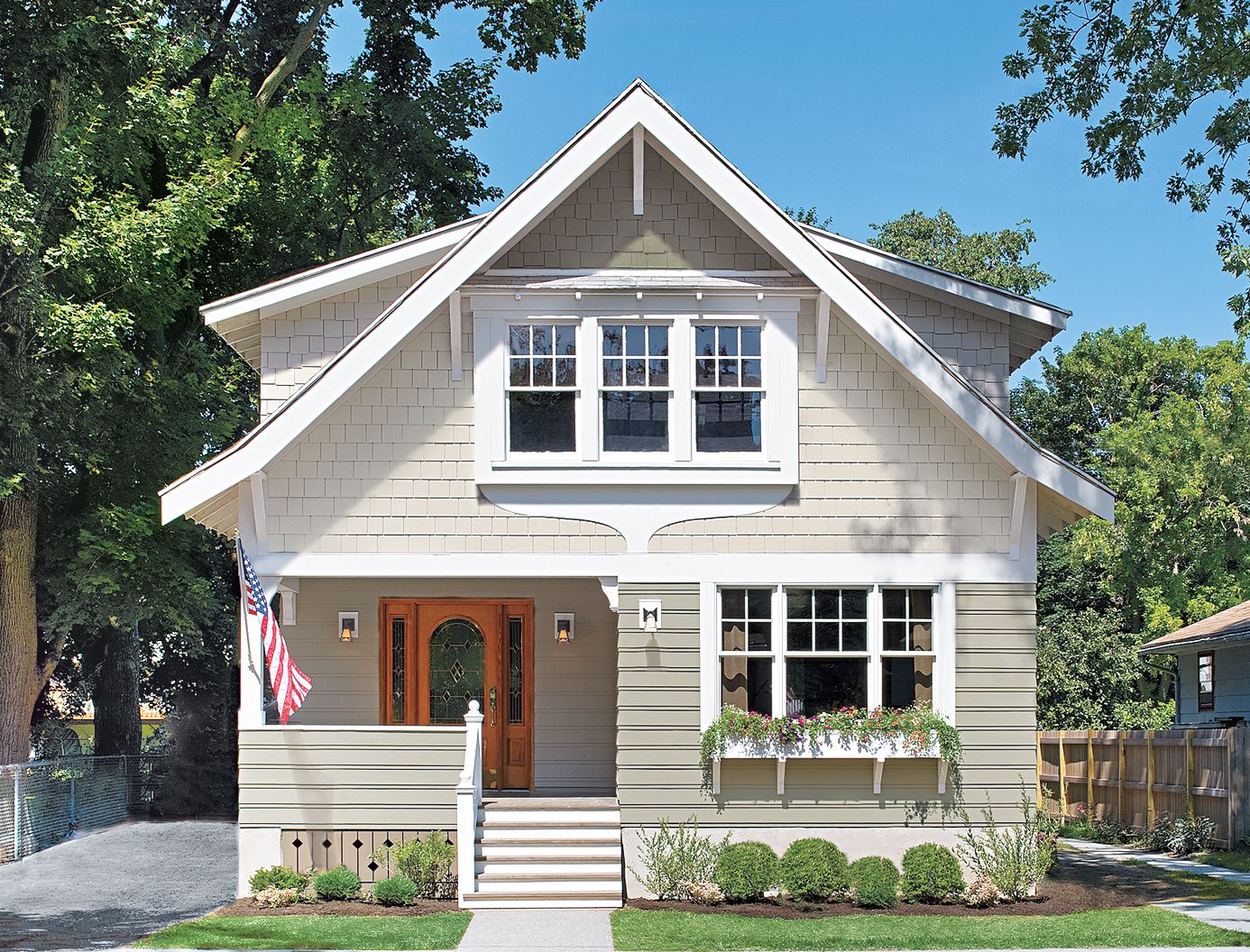 Craftsman-style houses like this one often have clapboard on the first story and shingles on the second.
Shown: HardiShingle straight edge in Cobblestone and staggered edge in Monterey Taupe, about $4 per square foot; HardiPlank Select Cedarmill in Monterey Taupe, about $2.10 per square foot; James Hardie
Decorative Shingles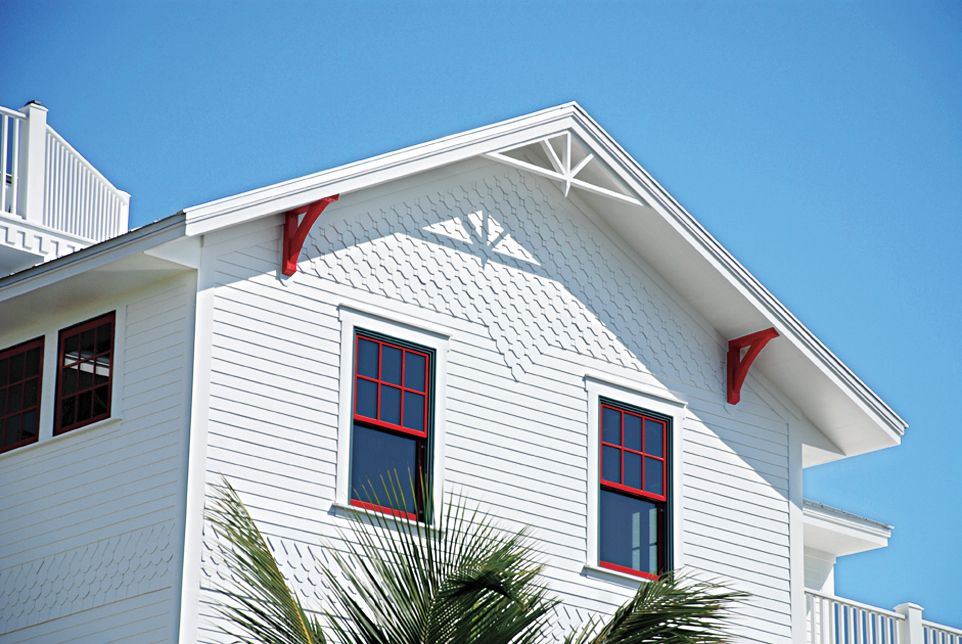 The octagonal pattern highlighting this gable was made by clipping the corners of individual shingles with a diamond-blade chop saw.
Similar to shown, before customizing: NichiShake, primed, about $2.50 per square foot; Nichiha
Board-and-Batten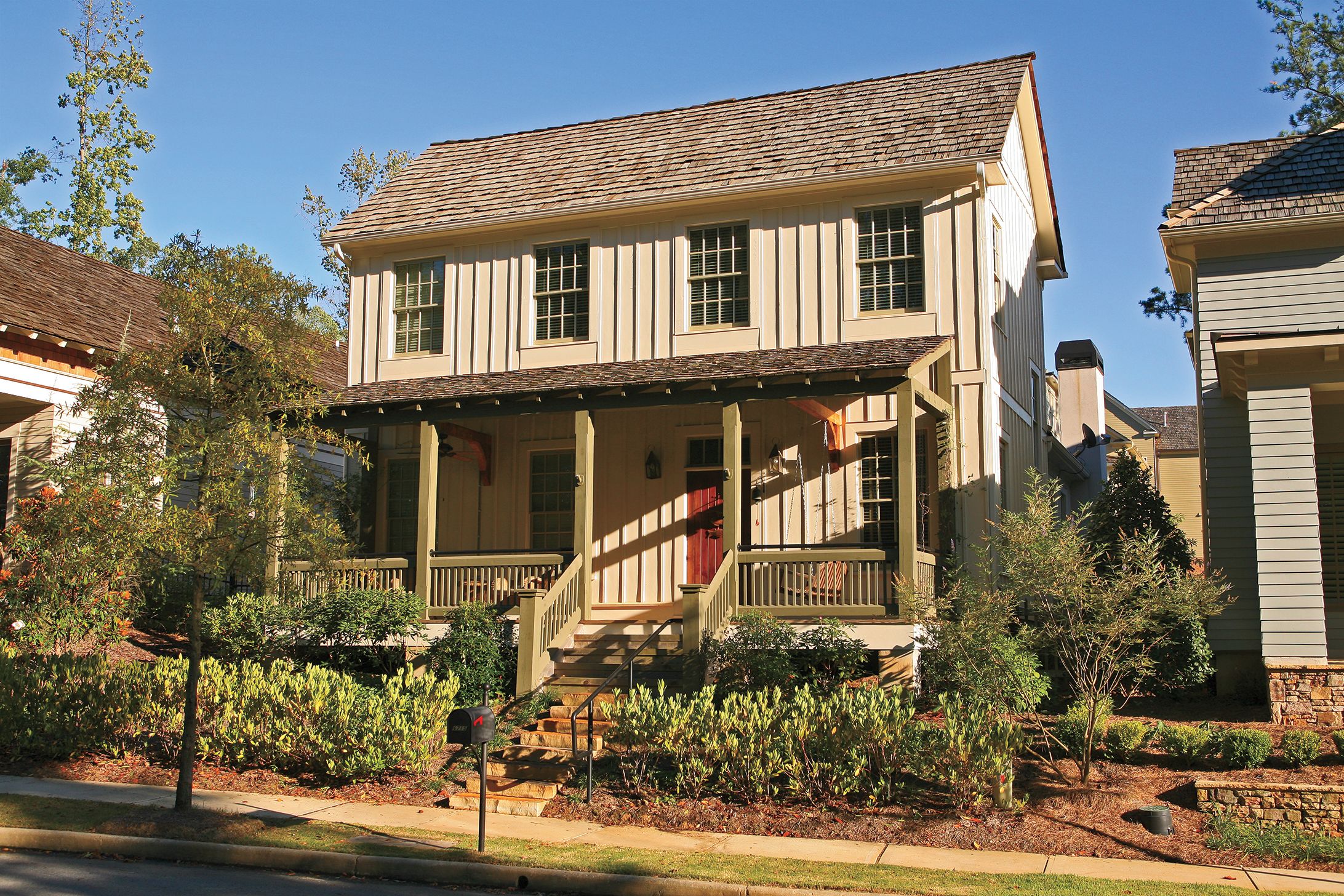 To create this rustic-looking siding style, which dates back to the early 19th century, builders stand long fiber-cement panels on end and place narrow battens over the vertical seams and across the panels' field.
Similar to Shown: Smooth vertical panels and 5/4 trim, both in Woodland Cream, about $4.50 per square foot; James Hardie
Sunburst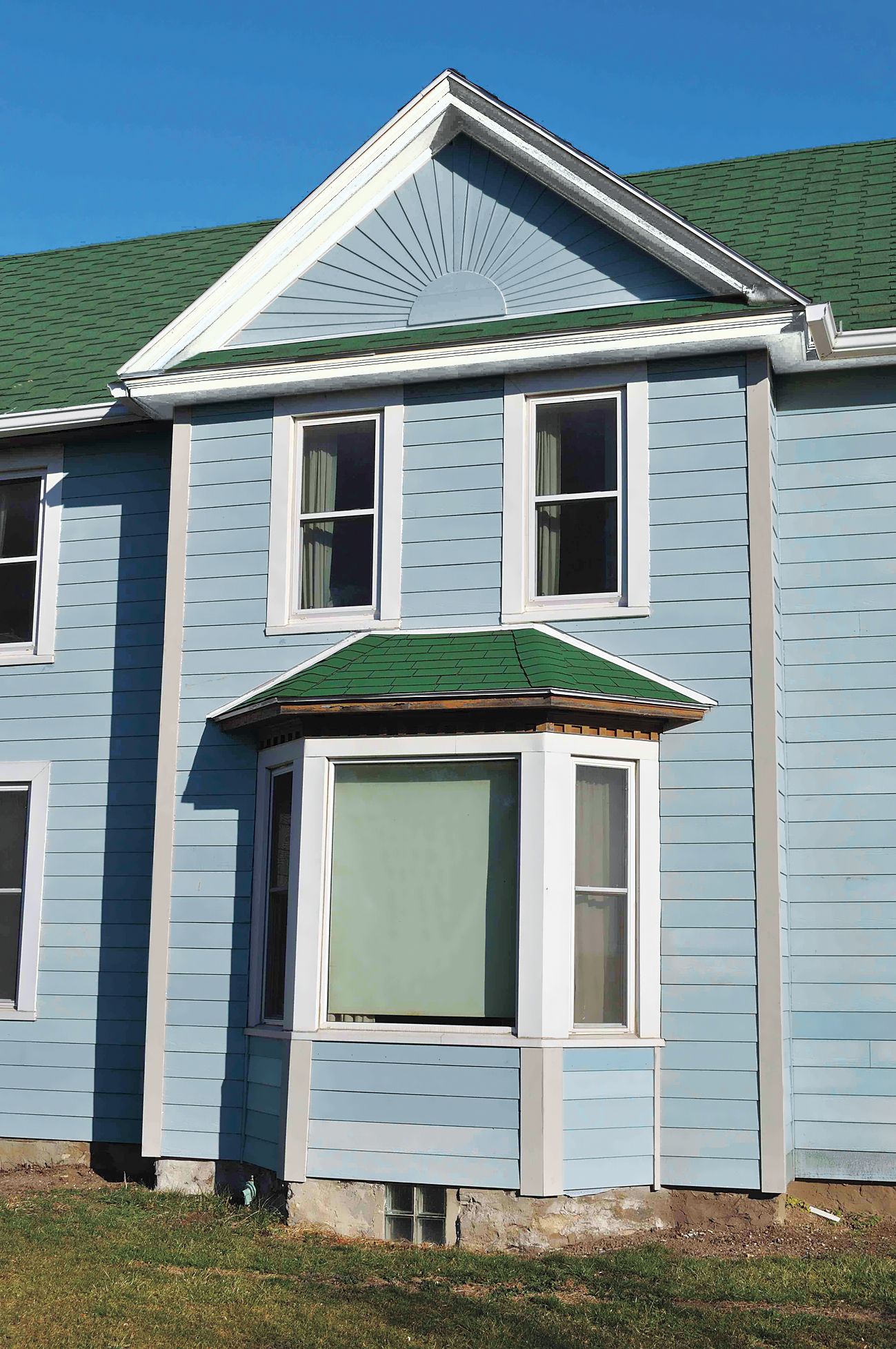 A builder fashioned the rays of this sun by tapering 8¼-inch clapboards with a circular saw. He cut the semicircular centerpiece out of scrap boards using a jigsaw.
Similar to Shown: MaxiPlank with wood-grain texture, primed, 70 cents per square foot; MAXITILE
Stepped Shingles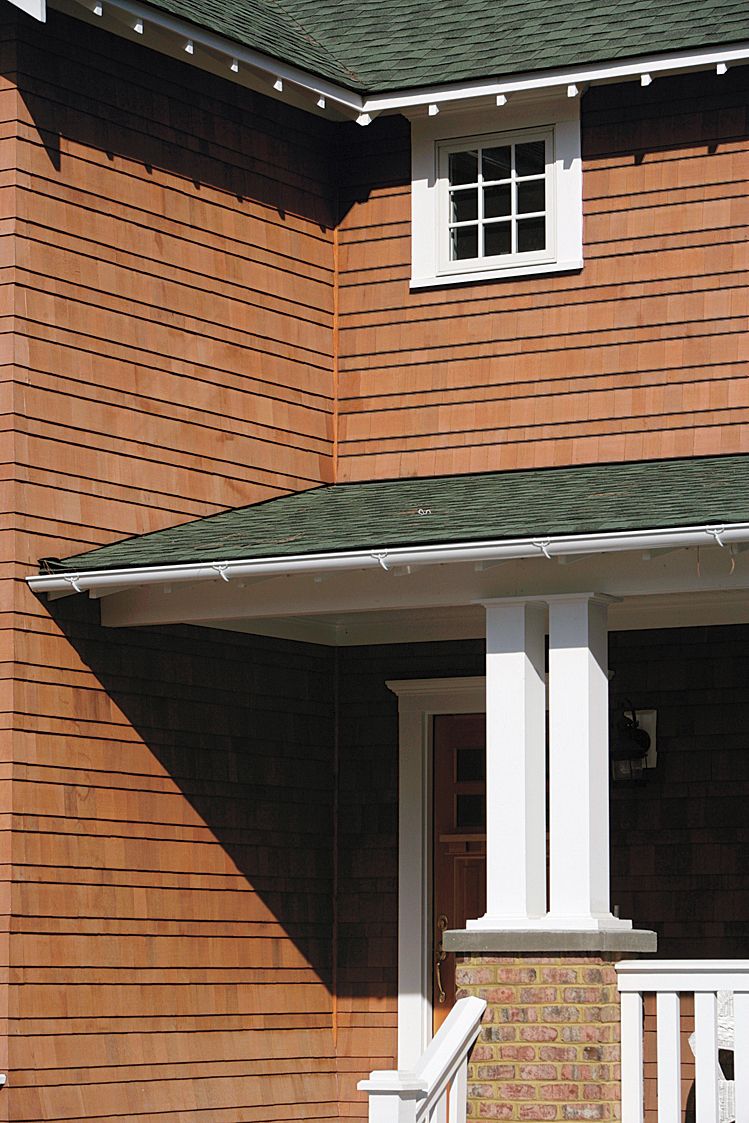 A wide, 5-inch exposure above a narrow, 2-inch one creates a striking banded effect.
Similar to Shown: WeatherBoards stained-finish Perfection shingles in Maple, about about $6 per square foot; CertainTeed