Whether it's cracked, rotted, or the victim of a woodpecker's bill, a damaged strip of wood siding is an open invitation for water to leak in and wreak havoc on a house. So when a piece needs fixing, it's a task that merits a big red flag on the "To do" list.
Replacing a broken clapboard isn't that difficult, but as This Old House general contractor Tom Silva shows, it's a delicate process that takes patience and precision. "If you're not careful, it's easy to break the surrounding clapboards," he says, "and then you'll end up ­installing much more new siding than you intended."
Power tools are out for this job: too much vibration. ­Siding repair is best done with hand tools—with one exception. "Forget the tape measure," Tom says. Instead, you can size the ­replacement using the old clapboard as a template, a simple technique that virtually guarantees a tight fit on the first try.
Steps for Repairing Wood Siding
Step 1: Cut
Using a utility knife, score the entire length of the damaged clapboard from end to end, about halfway up from its bottom, or butt, edge.
Don't slice all the way through the board, or you may cut the builder's felt underneath.
Step 2: Pry
To break loose the lower half of the damaged piece, start at one end and gently tap a small pry bar underneath the butt edge, next to a nail.
Pull the bar toward you, don't push it, so you don't mar or crack the neighboring clapboards.
Step 3: Snap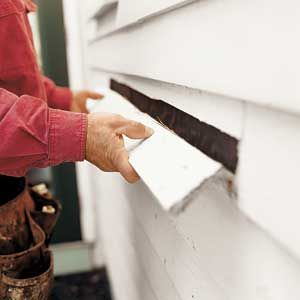 Work the pry bar along the butt edge until the lower half breaks off, preferably in one length. (It may take more than one pass.) If this piece remains intact, save it as a template for sizing the replacement.
Leave the upper piece in place for now.
Thump the exposed sheathing to see if it's sound. If not, cut out and patch any soft spots before continuing.
Choosing Nails and Siding
Matching Up
The clapboard you use for a patch should blend in seamlessly with your existing siding. Here's how to make sure you have a patch that's a perfect match before you begin.
Sizing: Measure the butt-edge thickness and the widths of the exposed faces of a few courses on the wall. Add an inch to the face width to account for the overlap of the piece above. (These measurements will be slightly smaller than the "nominal" dimensions that lumberyards and home centers use. A nominal 1?2×6 is actually 7?16 by 51?2 inches.) If you're not sure what size you need, ask the store to translate your measurements.
Texture: A rustic, rough-faced clapboard will look out of place in a field of smooth siding, or vice versa. Fortunately, most boards are smooth on one side and rough on the other.
Grade: Tom pays extra for clear (knot-free), vertical-grain (quartersawn) siding because it's easier to paint and is more stable than cheaper, flat-sawn boards. It's also easier to maintain because paint sticks to it longer, and the end joints remain sealed. But if C-VG doesn't match the rest of the siding, then go with a grade that does.
The Nail You Need
While there are many varieties of clapboard to choose from, ­only one kind of nail will do: a stainless steel ring-shank nail for siding. Stainless steel doesn't rust or stain the paint or leave black streaks on the wood, and the rings on the shank act like barbs, gripping the sides of the hole to prevent the nail from popping out.
For the best guarantee against pop-out, use 7d or 8d (21?4 or 21?2 inches long) nails and drive them ­into the studs. You can get away with hammering 5d (13?4-inch) nails just into the sheathing as long as it's 5?8-inch (or thicker) and made of plywood, OSB, or solid wood.
To find out how thick your sheathing is, remove a piece of siding and poke a drill bit into a vertical seam between two sheathing pieces. Because these seams always land at a stud, measuring how far the bit goes in will tell you the sheathing's thickness.
---
Where to Find It
Caulk:
Dap Products Inc.,
Baltimore, MD
800-543-3840
dap.com