The Gift of Gardening
Who: David Campbell
Where: Tolland, Conn.
What: Built a walk-through shed to store gardening tools.
David Campbell's honey-do list grew after his then-fiancée Janice saw a garden shed she liked in a magazine. She wanted one to keep gardening tools close by. No problem for David, who's been doing remodeling projects since his shop-class days. He knew that with a few custom touches he could build a shed that would be really special. And it would be a great gift for her birthday, a few months away.
Door-to-Door Decor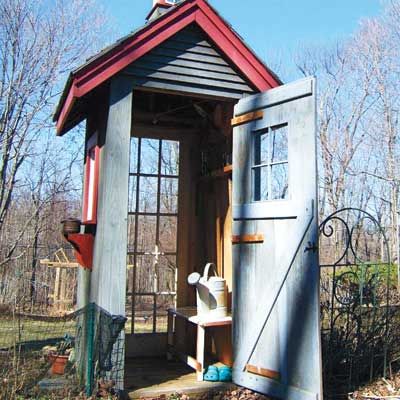 "The shed she pointed to was very basic," he says. "But I decided to add a second door so that you could pass through it, like a gate, going from our flower garden into our vegetable garden. All I'd have to do was move a few plants to clear some space." After buying a salvaged divided-light door ($80) and a stained-glass window ($45) at an antiques store, he started designing the 42-by-44-inch shed.
Shown: David's design includes a shoe-changing bench, which folds
up and out of the way, and a door he built from pine boards.
Hidden Spaces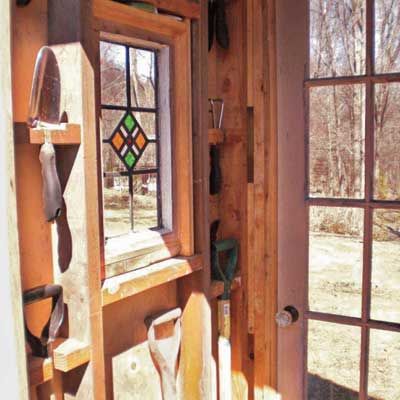 David chose vertical plywood siding—stained gray, with red trim—a cedar-shake roof, and a windowed cupola to suit the cottage-style garden. The floor is made from square spindles spaced so that dirt falls through. A fold-down bench provides a perch for Janice to change shoes. Gardening tools fit into notched blocks on the walls.
Shown: The stained-glass window is surrounded by tool-storage niches.
The Old and the Beautiful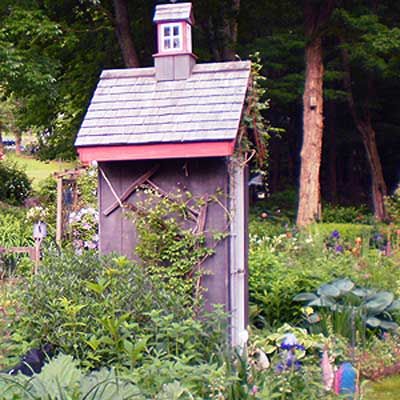 David Campbell's shed gets its weathered look from gray stain and its charm from a divided-light door found at an antiques shop.
A Shed to Remember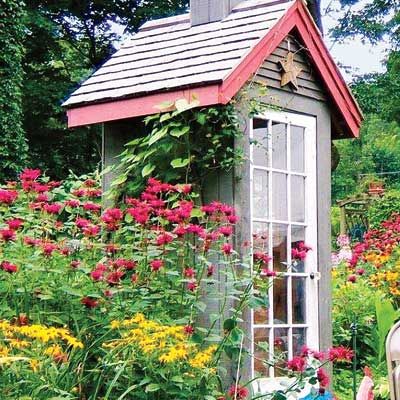 The finished result is better than Janice ever could have expected. "Friends have asked me to build another one, but this one is too special to replicate," says David.