This article appeared in the Spring 2022 issue of This Old House Magazine. Click here to learn how to subscribe.
About This House
This 3,000-square-foot house was built in 1894 by William Whaples, a prominent banker, and his wife, Ida, whose father, a local cabinetmaker, crafted the interior finish work. The couple raised four children there, while William ran the Whaples and Farmers State Bank, which bore the family name until 2004. The house, which has been continuously occupied, has changed hands just three times.
Why Save It?
Built on a half-acre lot, the house retains most of its original elements, many borrowed from the Queen Anne style. These include its patterned wood siding, first-floor bay window, and off-center front gable and porch. Inside, stained-glass windows remain, as well as 25-over-1 double-hungs throughout; pine and hardwood floors; two fireplaces with wood mantels, one with paired columns and floral appliqués; and paneled doors with operable transoms—all in graciously sized rooms, many with 9-foot ceilings.
The house is located half a block from a public elementary school in a quiet rural village, where most of the homes were built before 1920. Chicago is about 21/2 hours away by car.
What it Needs
The house is structurally sound, though it has suffered from deferred maintenance. A new boiler was installed in 2021. A new kitchen and baths are needed, and some of the walls, ceilings, and windows require repair. Original metal roof shingles and siding elements need replacement, and the house will need new paint after it's freed from overgrown shrubs.
Once a lovely family home, this inherently charming house is just calling out for some love and care to make its rooms sing again.
Inside the Home
The house features many decorative, multipaned windows. This bank of 25-over-1 double-hungs invites ample sun into one of the house's two living rooms, as does a pair of windows with handsome stained-glass rondels along the top (not shown).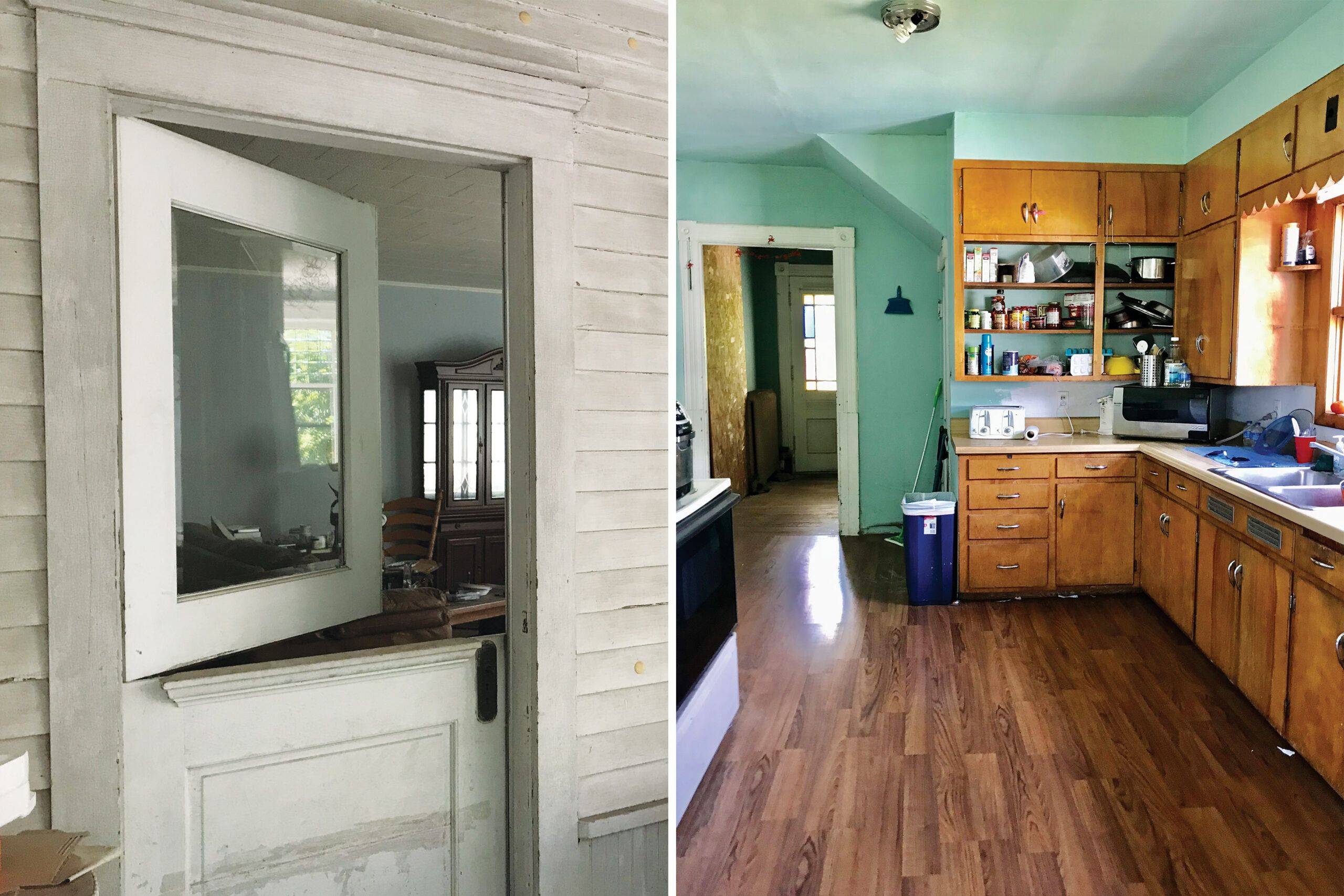 Left: A Dutch door with beveled glass leads from the front porch into the house's other living room.
Right: The kitchen was remodeled in the 1960s, and new flooring was recently added over the original wood, which may be salvageable.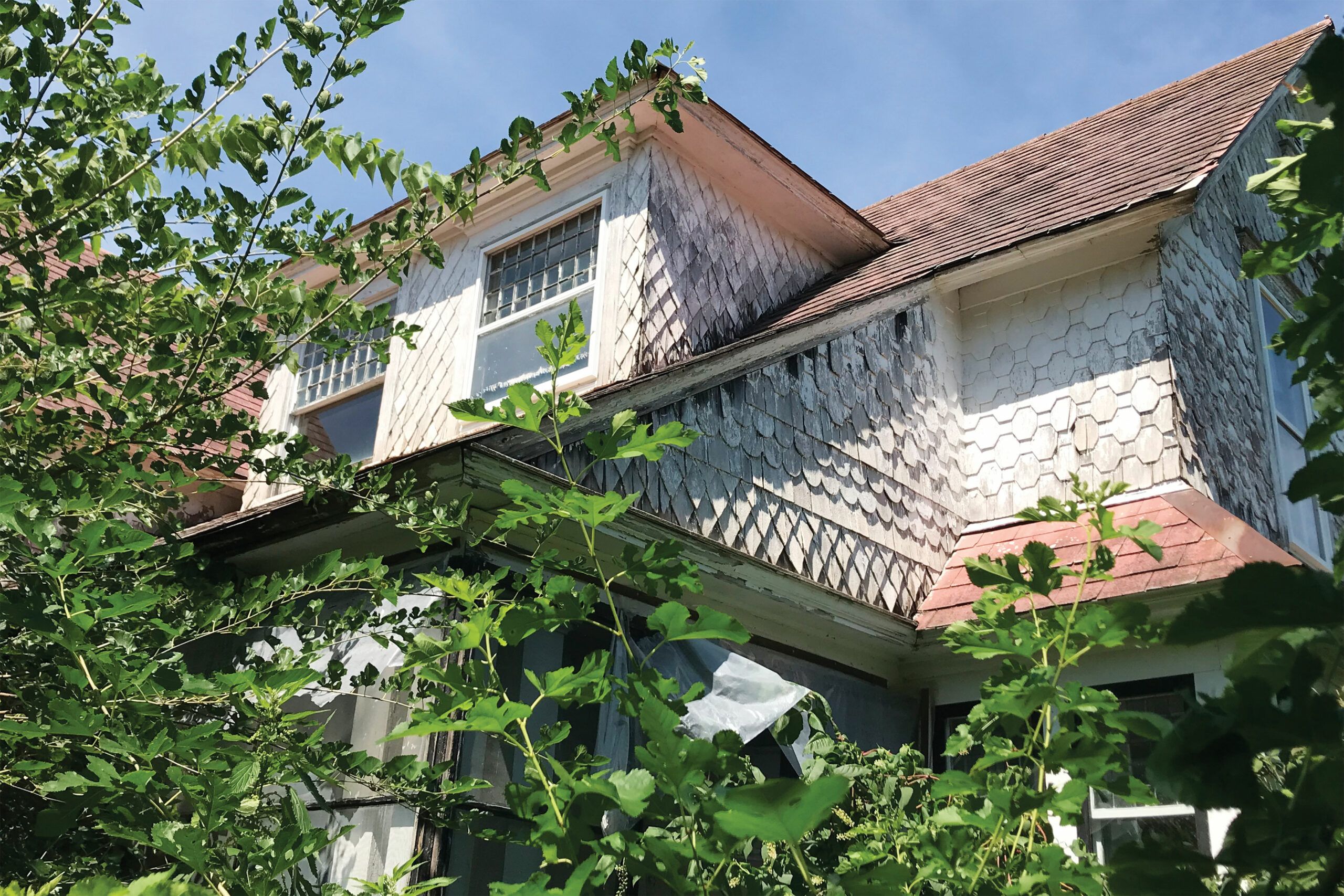 The upper floor's intricately patterned shingles and multipaned windows are original and reflect the Queen Anne influence on the Victorian-era home. The first floor is wrapped in aluminum siding, a late-1970s addition that likely conceals the original wood clapboards underneath. The front-facing dormer windows are in bedrooms possibly converted from attic space in the early 1900s, as the original owners' family grew.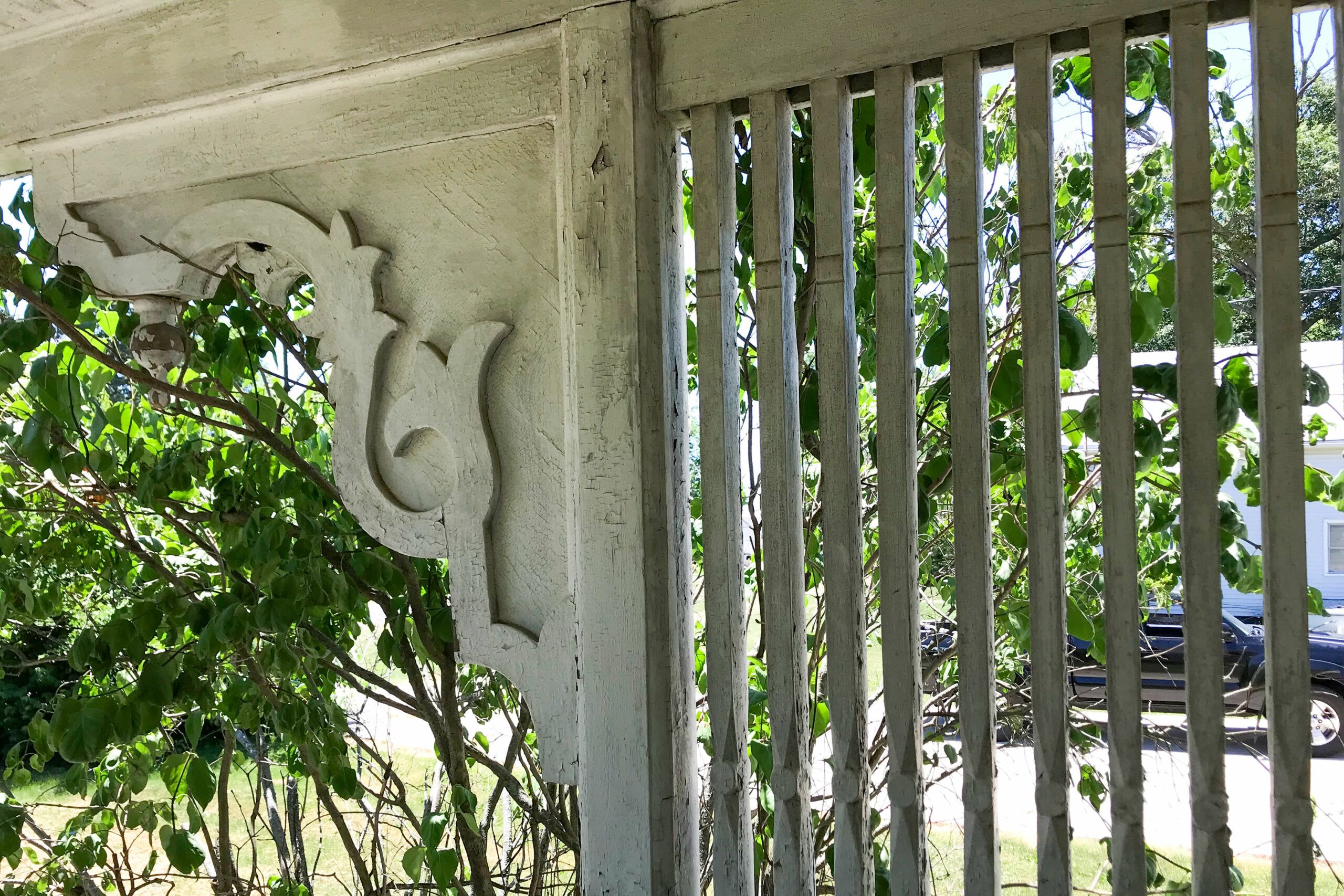 Original ornate brackets on the front portico eaves remain, a feature emblematic of the house's Folk Victorian architecture.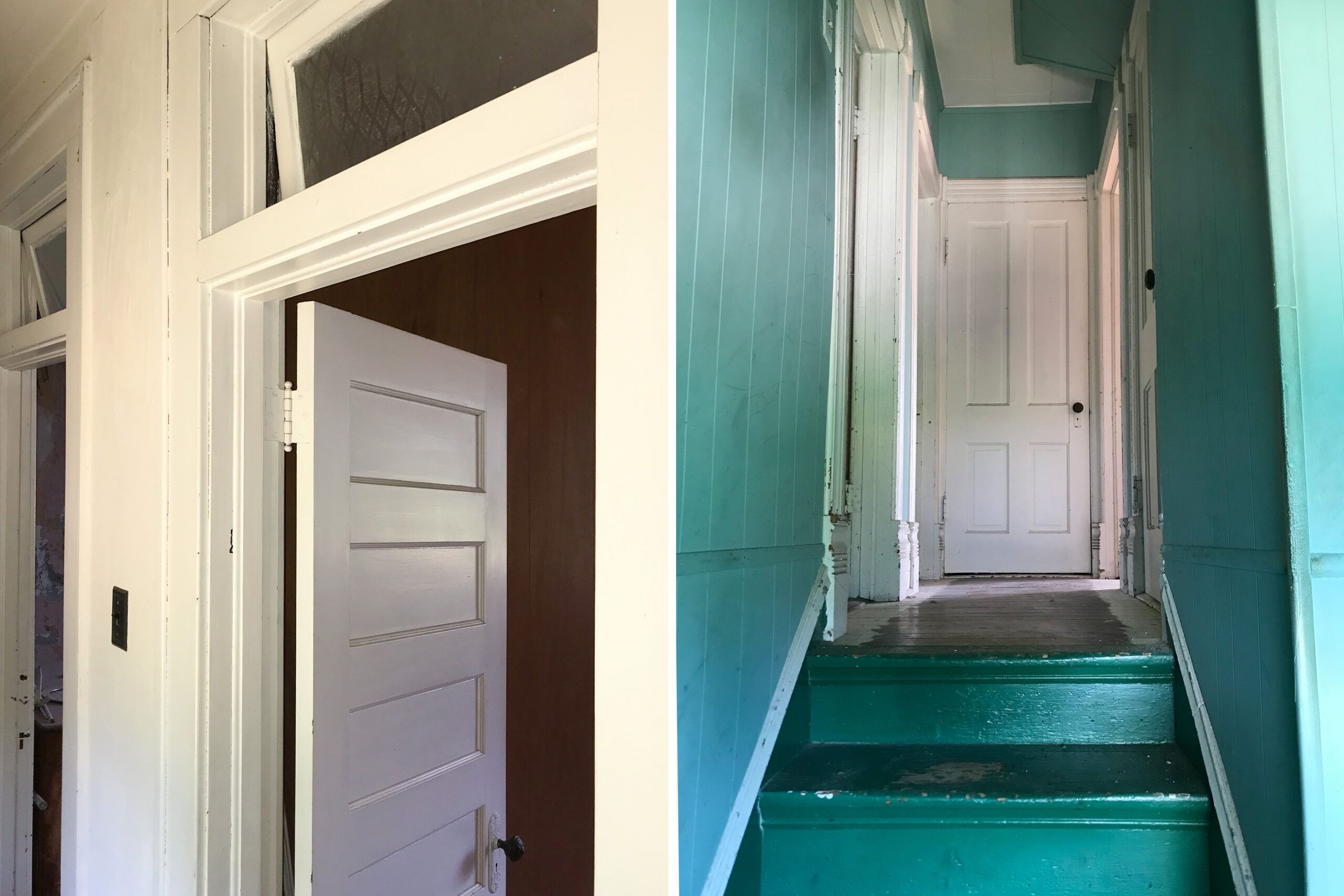 Left: The paneled doors and doorknobs are original; many have operable etched-glass transoms above.
Right: The partially open, turned main staircase leads to an upstairs hallway, off of which are a closet, two bedrooms, and a sitting room with a bath. Another hallway connects the sitting room to two additional bedrooms. The painted wood paneling, likely installed in the 1960s, covers original plaster walls.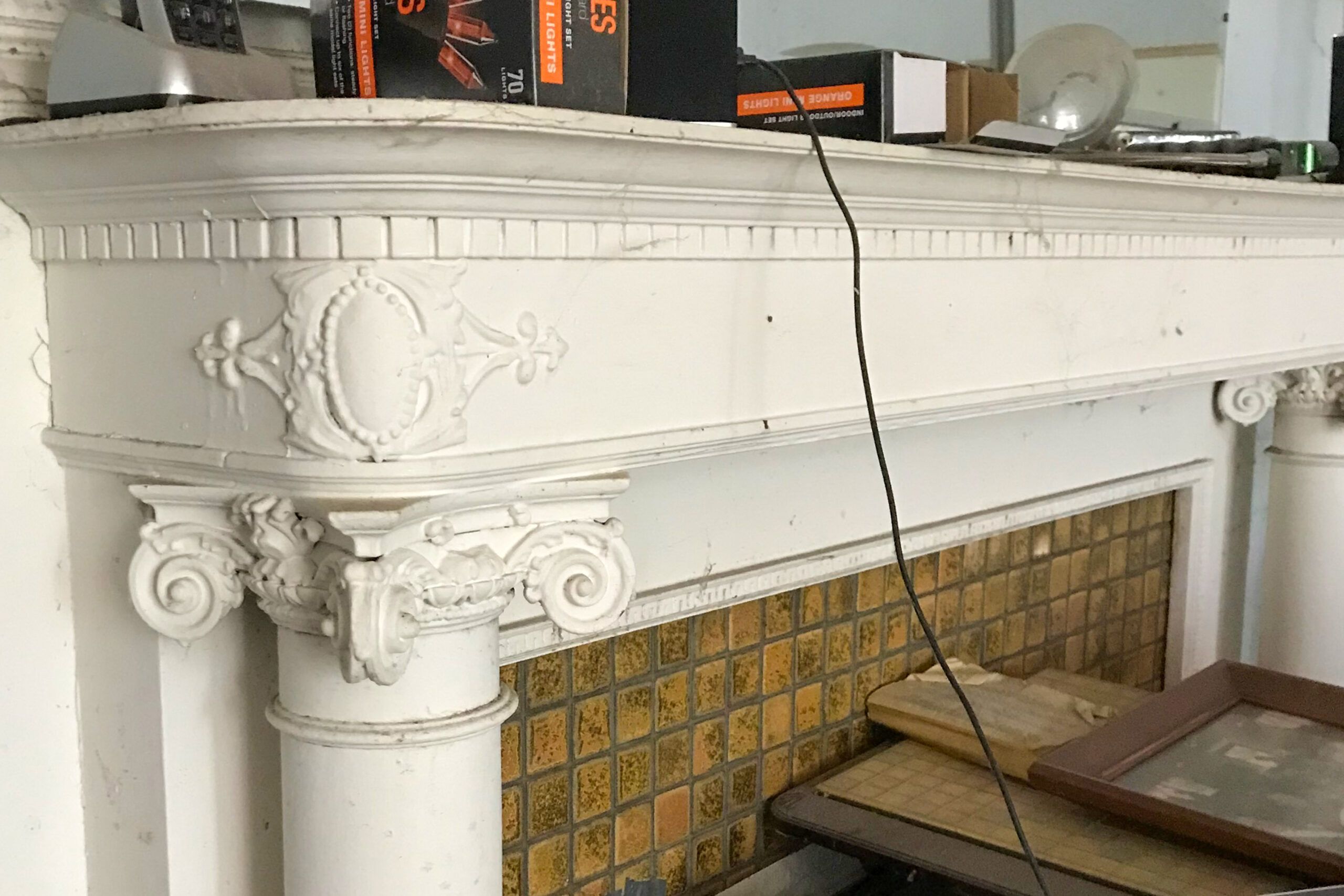 The house's two original fireplaces remain, one in each living room. The mantel of the wood-burning one retains its ornately carved woodwork.
House Stats
Price: $39,000
Location: Neponset, IL
Contact: Martin Golby; mgolby18@gmail.com