About This House
Mae Talley, a music teacher, built this classic late-Victorian-era house in 1890 for herself and her teenage son. Madame Talley, as she was known, ran Danville's Conservatory of Music opera house and offered music lessons at her home until she sold it in 1899.
The house subsequently changed hands eight times before falling into disrepair. The City of Danville bought it in 2017 as part of a robust revitalization program.
The 2,310-square-foot house has three rooms and a bath downstairs, and four rooms and a bath upstairs. The third-floor attic offers the potential for at least 600 additional square feet of finished space. The hand-carved front doors are original, as are the windows, clapboards, and fishscale shingles.
Why Save It?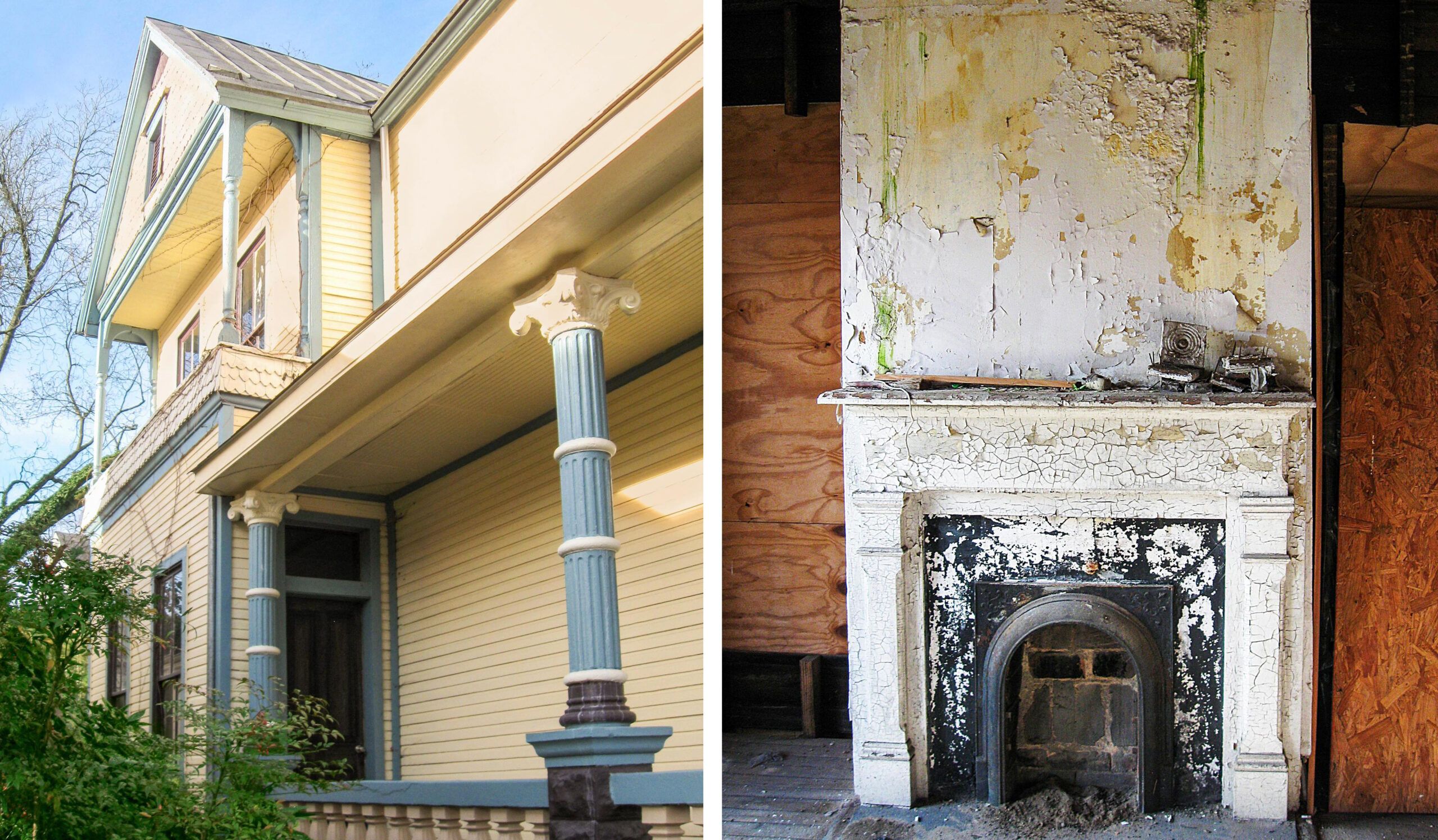 The house's distinctive Queen Anne embellishments make it one of the most architecturally notable in the city's Old West End National Historical District, a neighborhood of late-19th- and early-20th-century homes built during Danville's tobacco and textile boom. All six fireplaces remain, plus ornate woodwork, heart-pine floors, pocket doors, and mahogany windows.
After an economic downturn, Danville has been on the upswing, and is redeveloping with gusto. Greensboro, NC, is about an hour's drive south, and Raleigh about one and a half hours.
Shown above, left: The second-story main bedroom leads to a gabled balcony. Concrete columns and balusters are evidence that the wraparound porch was rebuilt at some point in its early history.
Shown above, right: All six fireplaces remain, three on the first floor and three on the second. This one, in a bedroom, was originally coal burning, as were three others.
What It Needs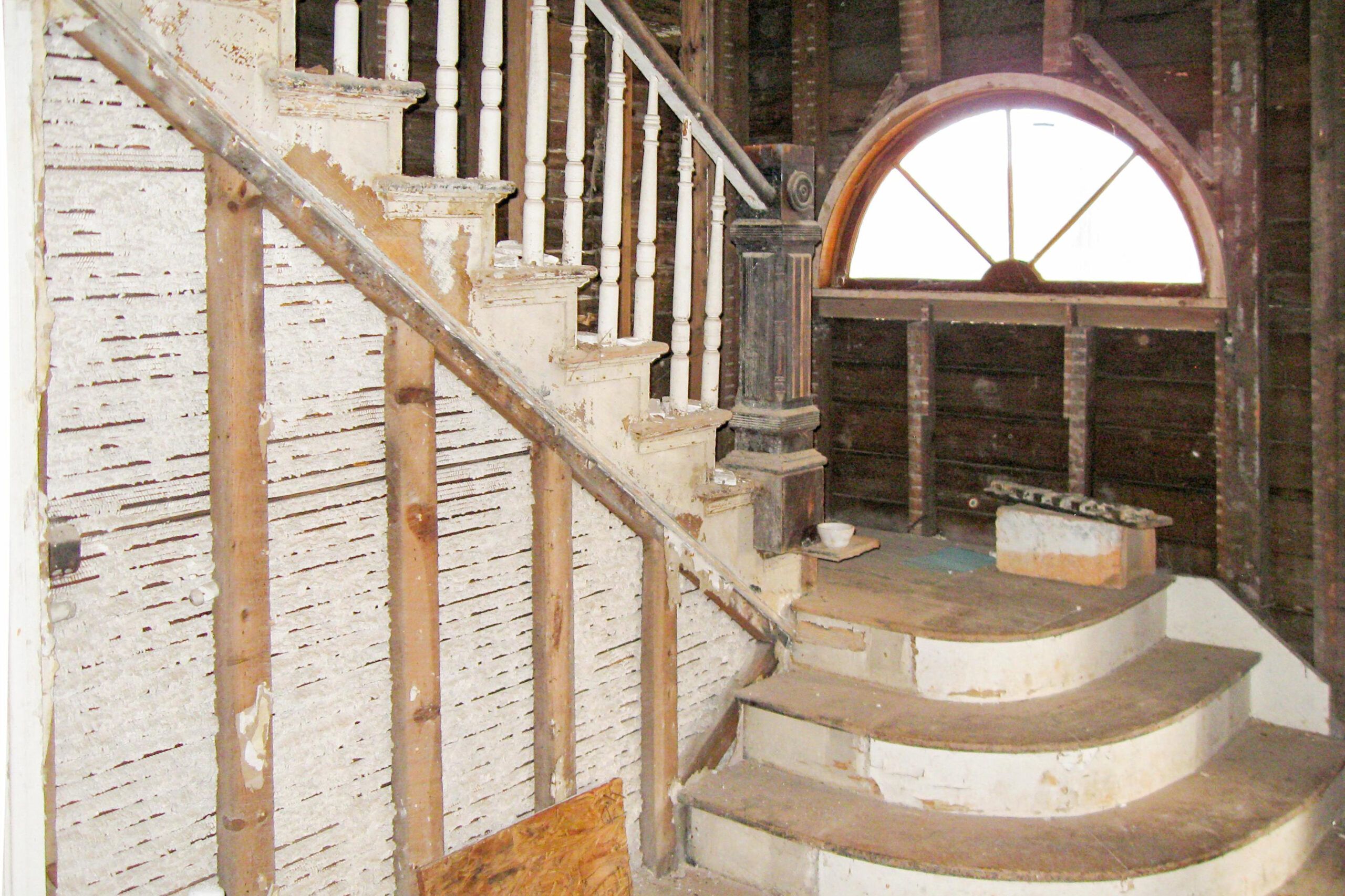 The house awaits new systems, a new kitchen and bathrooms, plus fireplace and carpentry repairs. The porch and balcony were stabilized in 2019, when the metal roof and exterior were repaired and painted.
A previous owner stripped the interior walls­—likely planning to add insulation and new wiring­—so plaster or drywall is needed. A rear addition was removed, and the exterior boarded up for rebuilding. Restoration tax abatements are available from the city, and covenants apply. It's an ambitious project but an inspiring one for an old-house enthusiast looking for a community of kindred spirits.
Shown Above: The main staircase, with its handsome newel post and turned balusters, is original. Like the turret, decorative shingling, and expansive front porch, the large half-round window is among the house's quintessential Queen Anne-style features.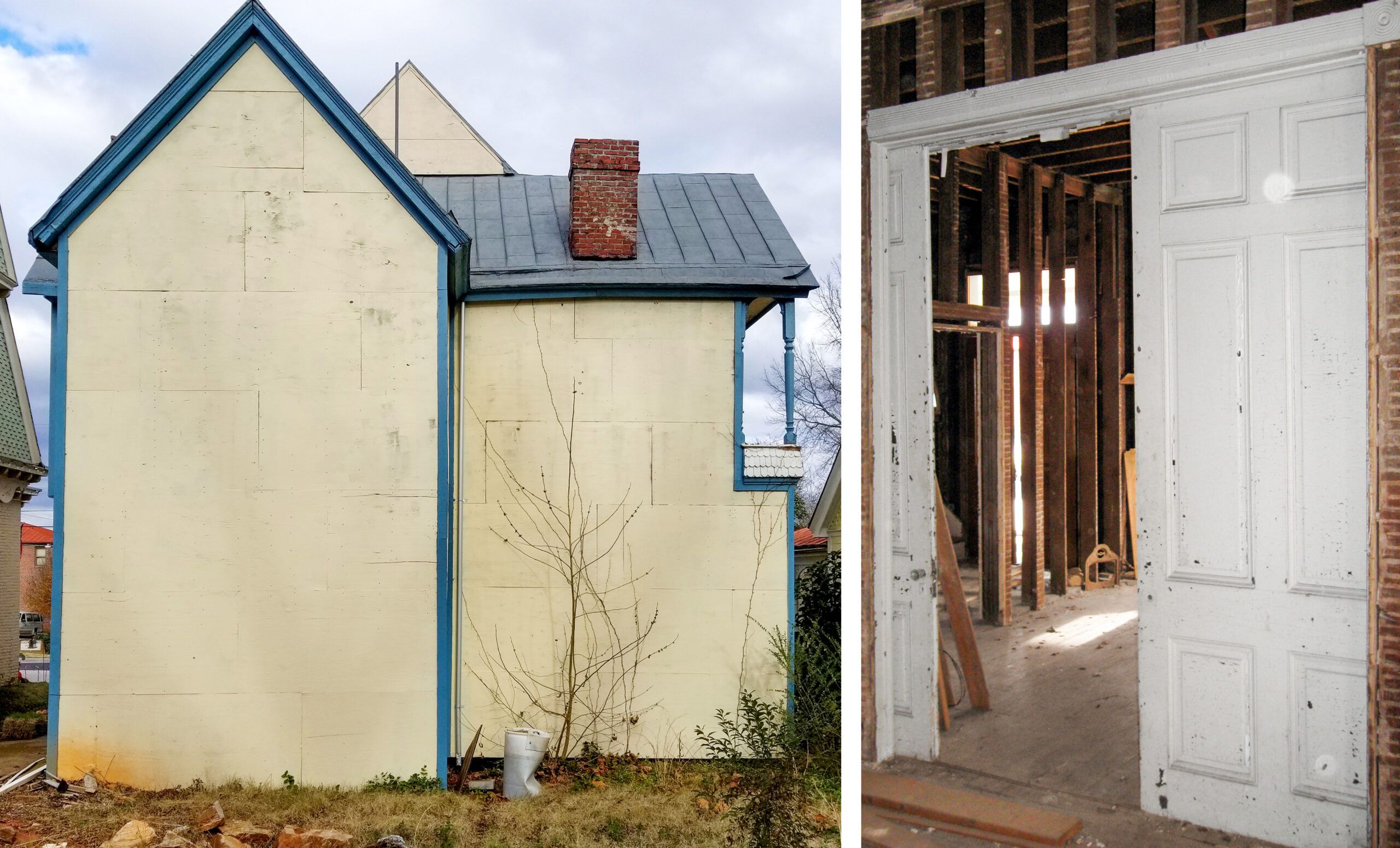 Shown left: A previous owner removed a rear addition and covered the back with plywood. The city left it boarded up, allowing the new owner to build out or retain the original footprint.
Shown right: Two sets of original six-paneled pocket doors are still in place on the first floor.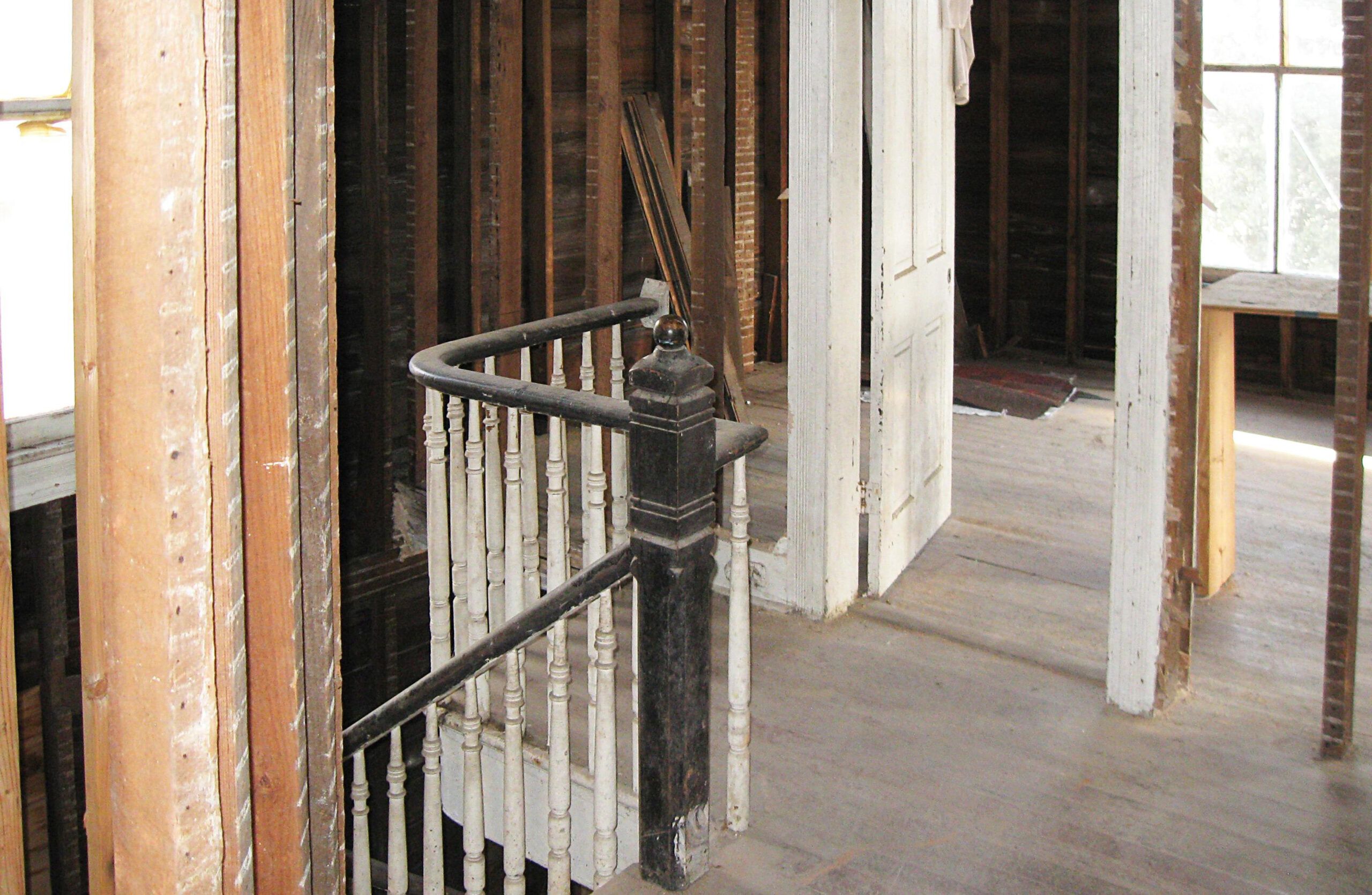 All seven original doors are still in place upstairs, along with a second newel post and a curved balustrade. Most of the trim that has been removed is stored in the house, ready to be reinstalled.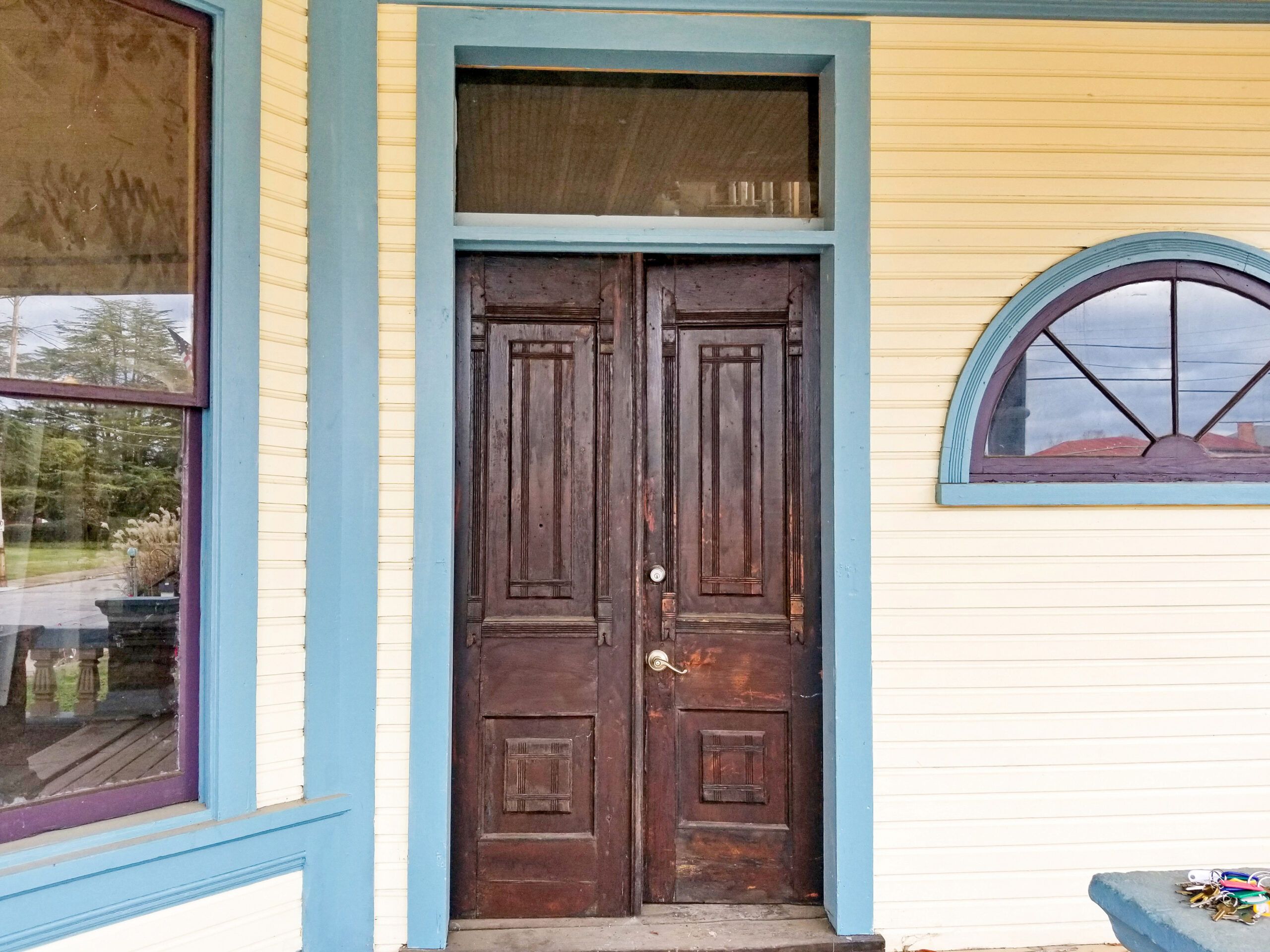 The original double entry doors, hand-carved and made of heart pine, continue to grant entry.
---
House Stats
Interested in saving this old house?
Price: $46,000
Location: Danville, VA
Contact: Paul Liepe, Friends of the Old West End; paul@liepe.com