Though expensive, a metal roof will last half a century or more. Considering investing in a metal roof but don't know where to begin? Read this guide to learn more about the styles and finishes to choose from.
Metal Roof Styles
Standing Seam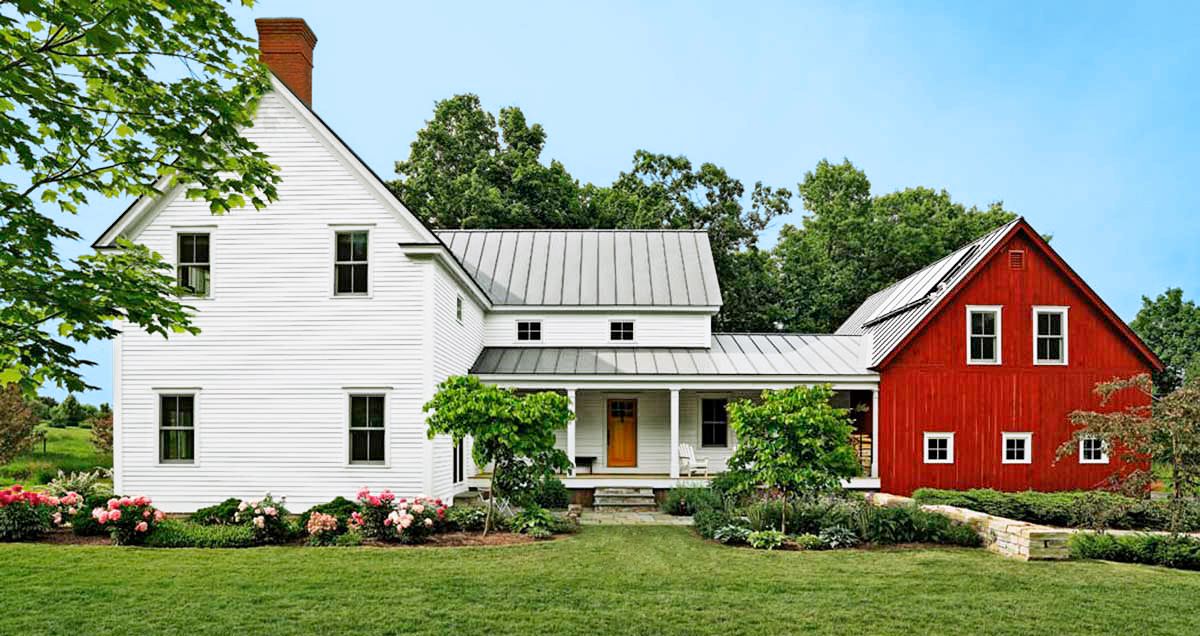 Its crisp lines, formed where panel edges interlock, complement a wide variety of houses, from traditional to modern. Hidden clips hold panels in place and let the metal move.
Similar to shown: Universal Standing Seam in Silverstone, from $2.75 per square foot; Green American Home
Slate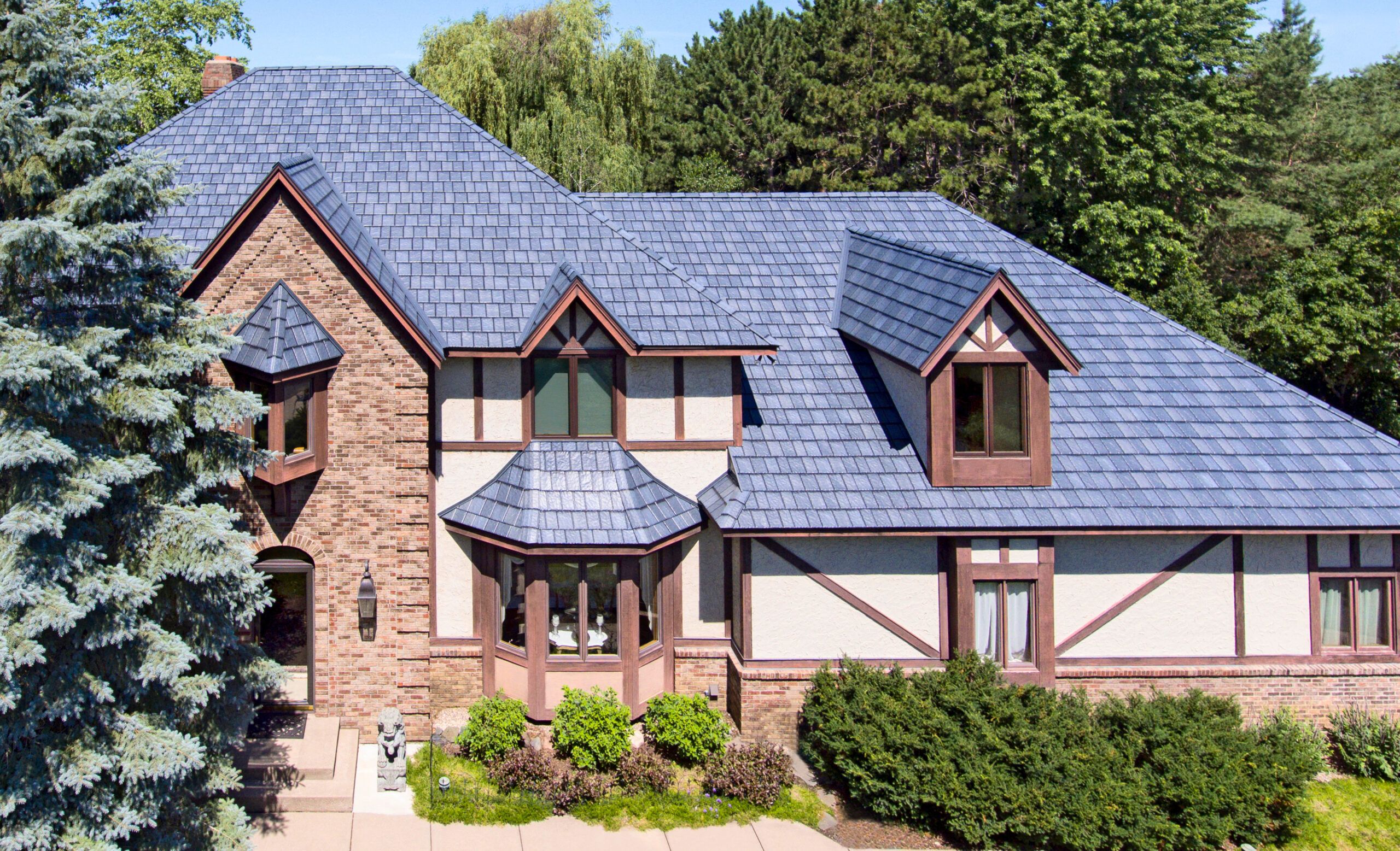 With subtle color variations and "split" edges, these painted steel panels offer the look of slate without the weight. Each 50-by-12-inch panel, embossed to suggest six separate slates, installs much faster than the real stuff.
Shown: Arrowline Enhanced Slate in Stone Blend, from $3 per square foot; Edco Products
Shake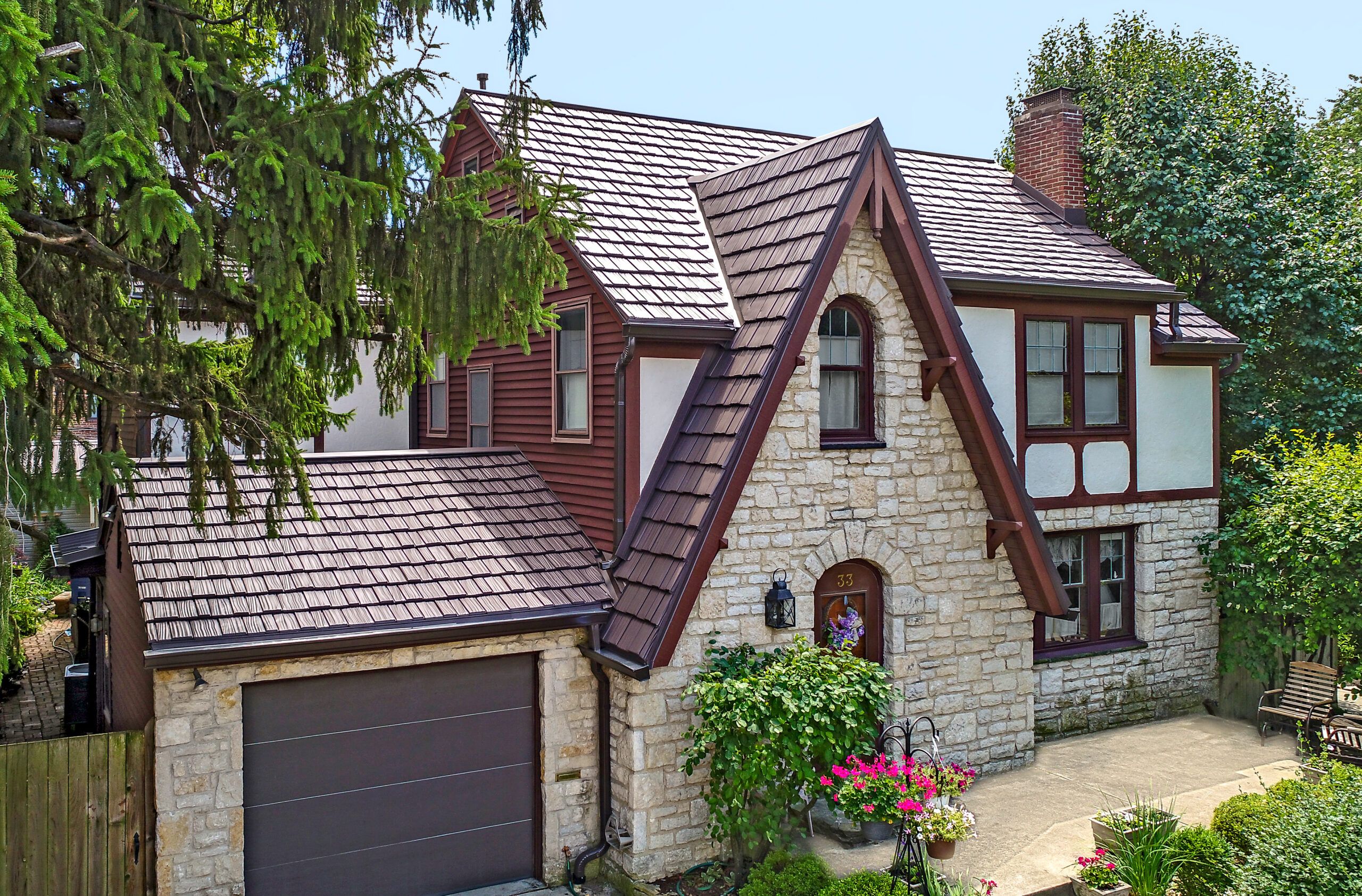 These painted aluminum panels offer a realistic representation of hand-split wood without the high installation costs and upkeep that a real wood roof demands.
Shown: Country Manor Shake in Mustang Brown, from $2.75 per square foot; Classic Metal Roofing Systems
Victorian Shingle
These clear-coated, Galvalume-steel panels replicate the elaborate scalloped roofing of the Victorian era. Each 9-by-12-inch panel is embossed with the profile of five shingles; concealed clips secure them to the roof sheathing.
Shown: Victorian Shingles in Zinc Gray, $4 per square foot; Berridge
Diamond Shingle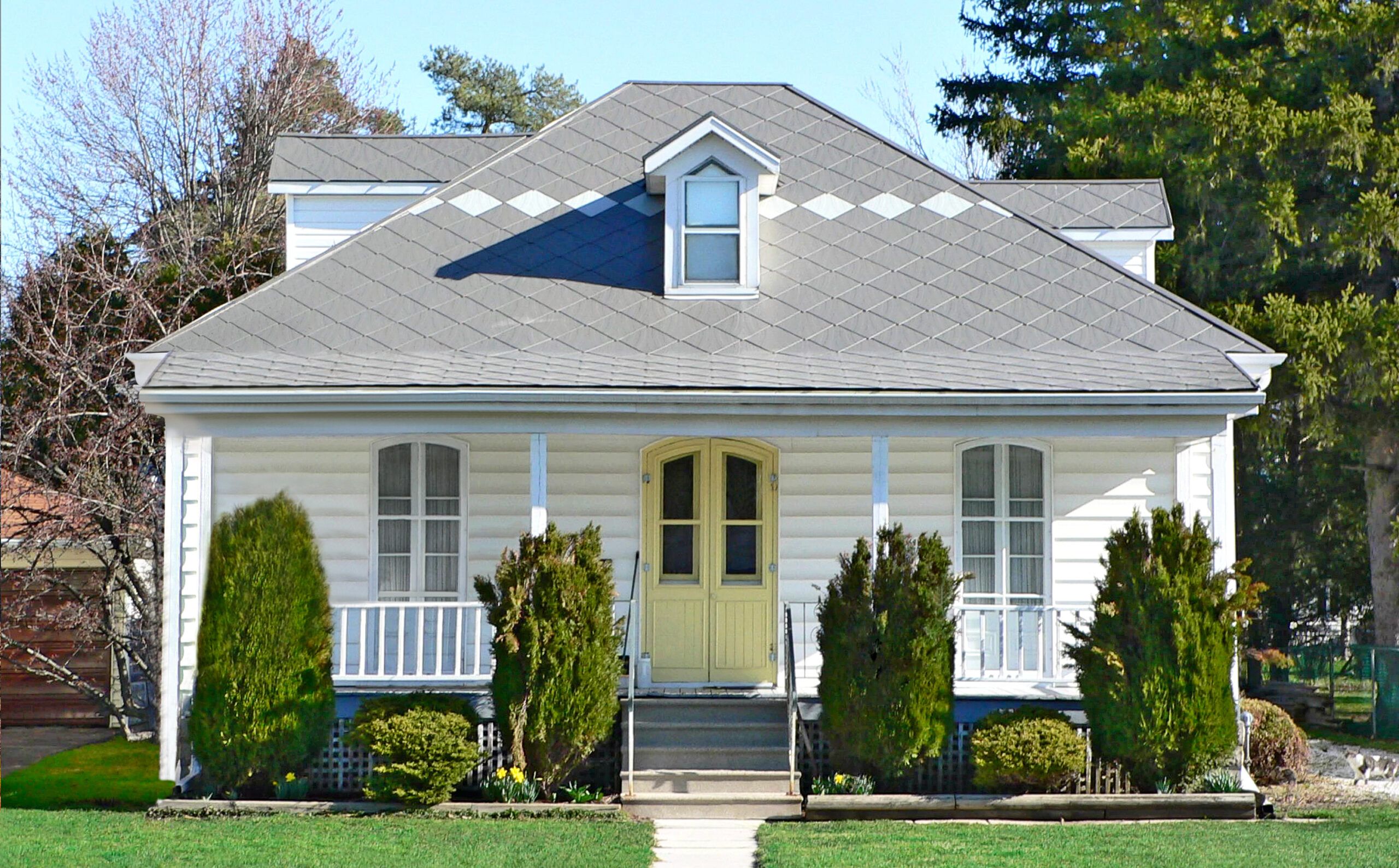 The appealing pattern of these individual 16-by-16-inch, painted steel shingles will dress up any roof. They come in six colors, so a contrasting band, as seen here, is an easy upgrade.
Shown: Diamond Steel Shingle in Graphite Grey and Stone, from $2.60 per square foot; Diamond Steel Roofing
Tile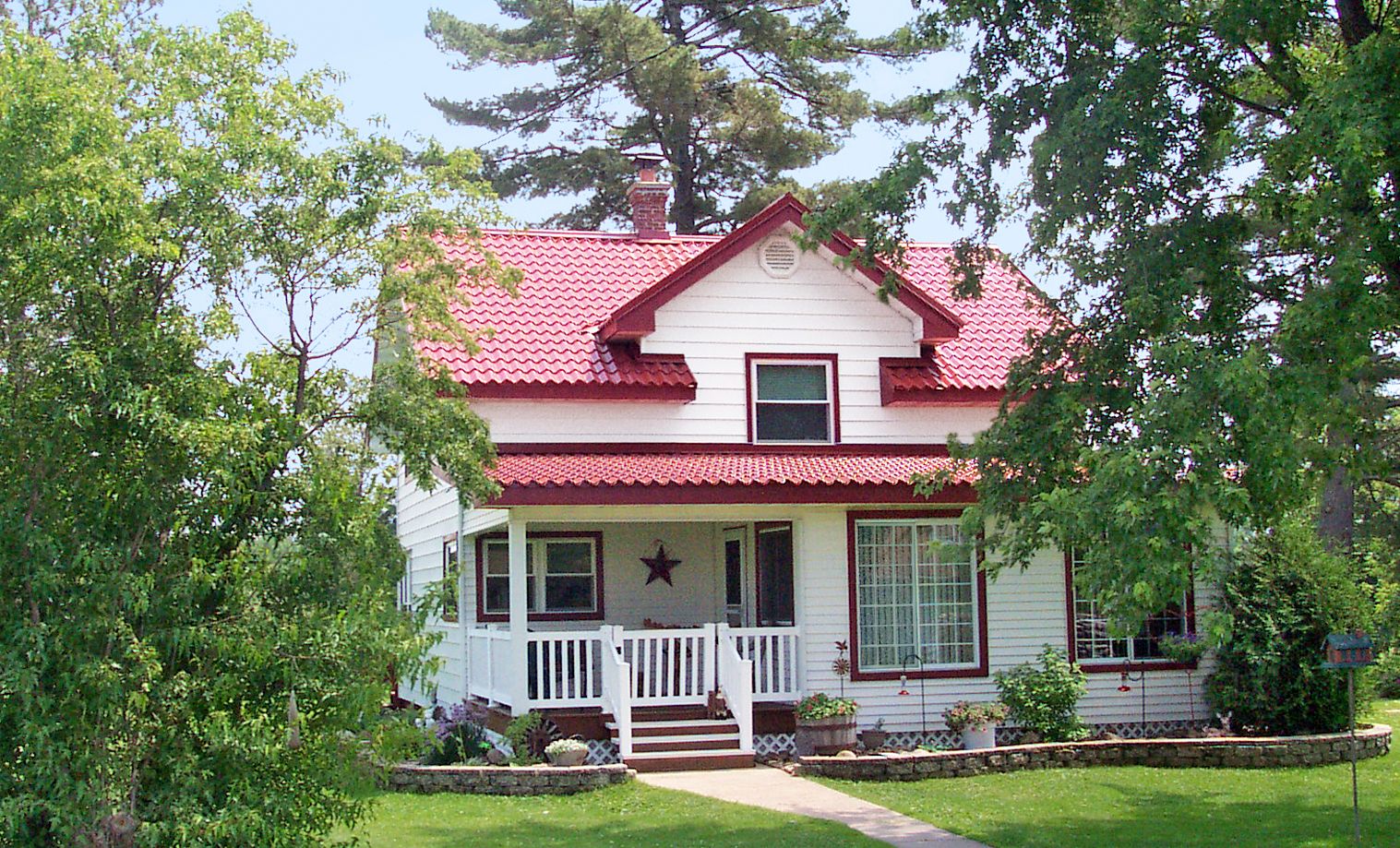 These 38-inch-long panels have the thick profile of six clay tiles, but not the weight, fragility, or fussy installation of fired clay. A low-gloss PVDF finish and a special embossing technique help approximate the real thing.
Shown: Met-Tile Metal in Bravo Red, from $3 per square foot; McElroy Metal
What is Stone-Coated Roofing?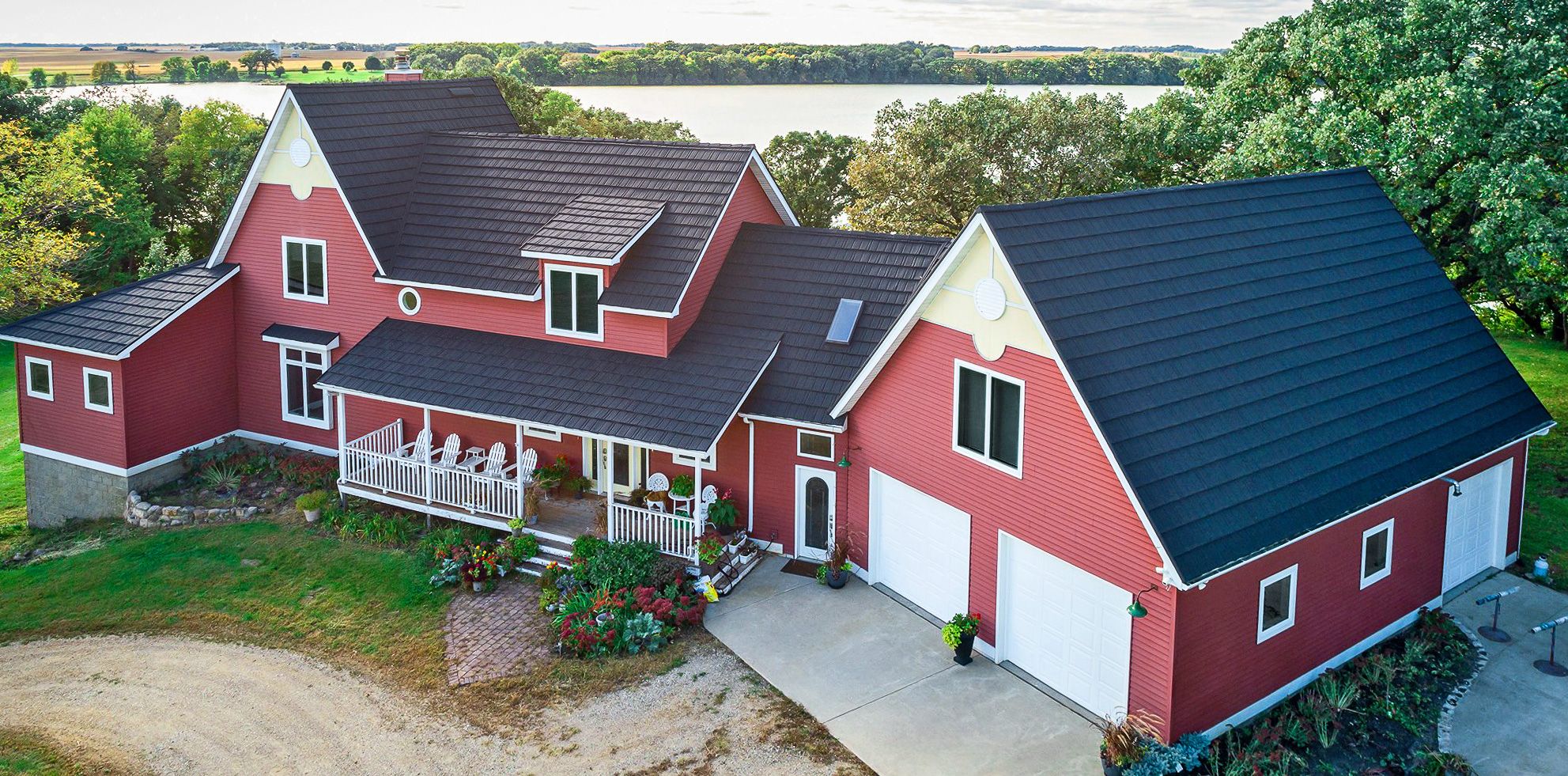 Like other steel roofing, these Galvalume panels are pressed into shapes resembling shakes, tiles, or shingles. Then they're covered with fade-resistant ceramic granules that give this roofing its variegated color and distinctive lack of sheen. It also has a Class A fire rating, a 50-year warranty, and can withstand 120 mph winds.
Shown: Boral Steel Pine-Crest Shake in Charcoal, from $3.50 per square foot; Boral
Paint Finishes for Metal Roofing
These factory-applied coatings enhance the appearance and longevity of steel and aluminum roofing:
Polyvinylidene fluoride (PVDF): Specialty metal paints such as Kynar 500 or Hylar 5000 are widely recognized as being the most durable and UV resistant out there.
You'll find them on premium roofing products with 30-year warranties against fading and chalking, a powdery residue on the paint surface.
Silicone-modified polyester (SMP): These paints are applied to less expensive metal roofing with warranties that cover color defects for about 25 years. Expect noticeable fading in about 10 years.
Understand the Finish Warranty
A coating with a 45-year warranty sounds great, but usually covers only the integrity of the paint film: cracks, chips, or peeling. Guarantees against chalking and fading are usually 5 to 10 years shorter than film-integrity warranties.
When Gauge Matters
Metal roofing's thickness ranges from 22 to 29 gauge; the lower the number, the beefier it is (16- and 20-ounce copper are equivalent to 24 and 22 gauge, respectively).
Thinner metal can still meet UL hail- and fire-resistance standards, but thicker material won't dent or buckle as easily, and should perform better in high winds or under heavy snow.
Use Metal Roofing as an Accent
No budget—or need—for a whole new roof? Enhance small-scale areas with distinctive metal detail
Portico roof (left): Dark bronze standing-seam metal stands out against crisp white trim on a traditional Colonial Revival-style house. Since a portico bears the brunt of rain and snow falling from the main roof, metal roofing is a natural choice for this spot.
Bay roof (right): The graceful, curved seams of this copper-colored bay window topper show off metal's ability to conform to contours and elevate the look of this popular architectural detail. Where metal abuts brick, a groove should be cut into the wall so that flashing and counterflashing can be inserted to ensure a leakproof joint.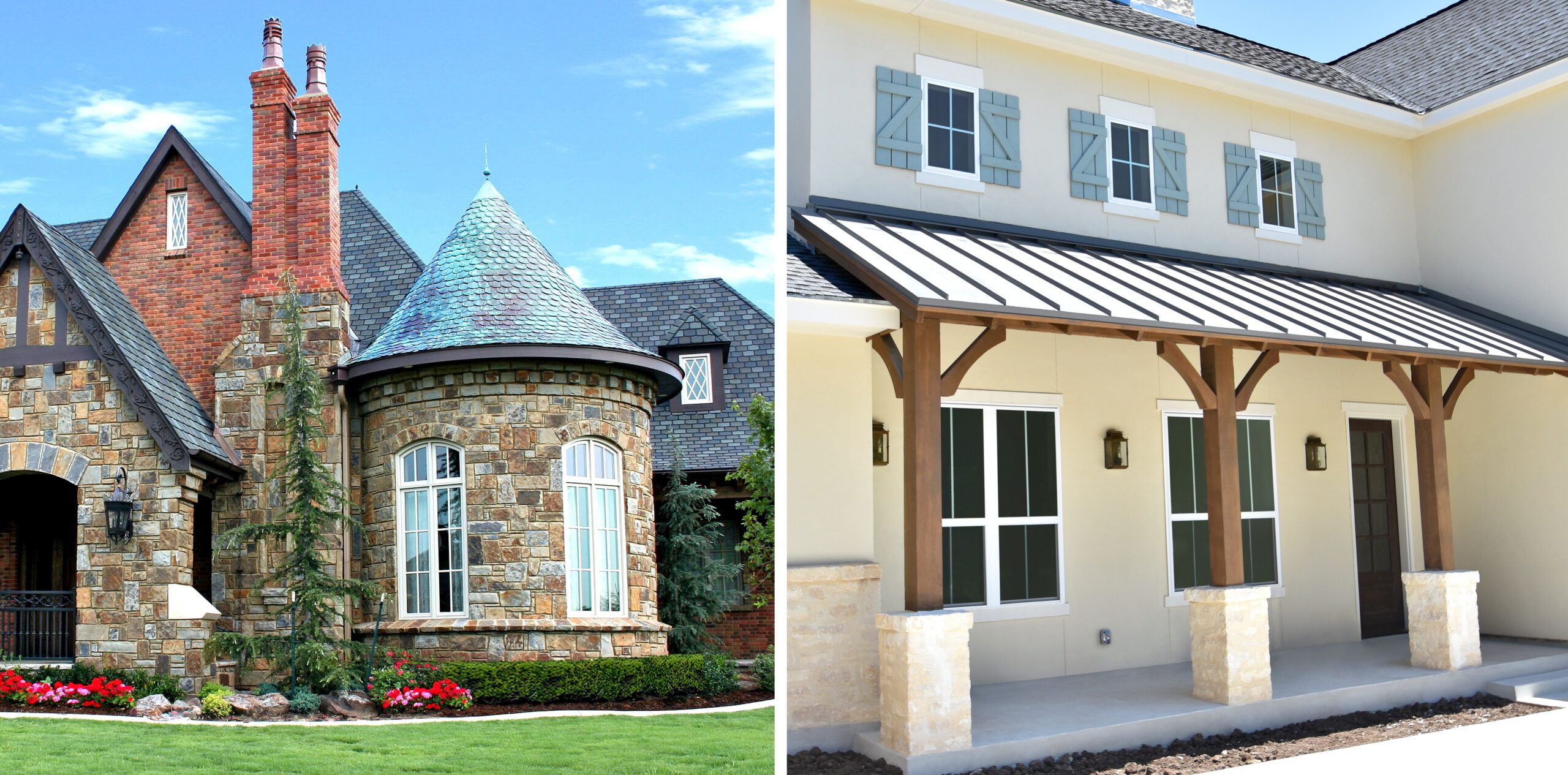 Turret top (left): Scalloped copper shingles follow the tight curves of this conical roof. Its multihued verdigris color, a sign of the natural patina that guards the underlying metal from deterioration, lends a dramatic counterpoint to all the other attention-grabbing features of this French Eclectic-style house.
Porch roof (right): The pale-gray metal finish on this standing-seam roof offers a welcome contrast to the textured stucco siding and raw-wood porch posts of this Spanish Colonial-influenced house. In hot, dry climates, a heat-reflecting roof like this creates a shady oasis from which to enjoy the outdoors.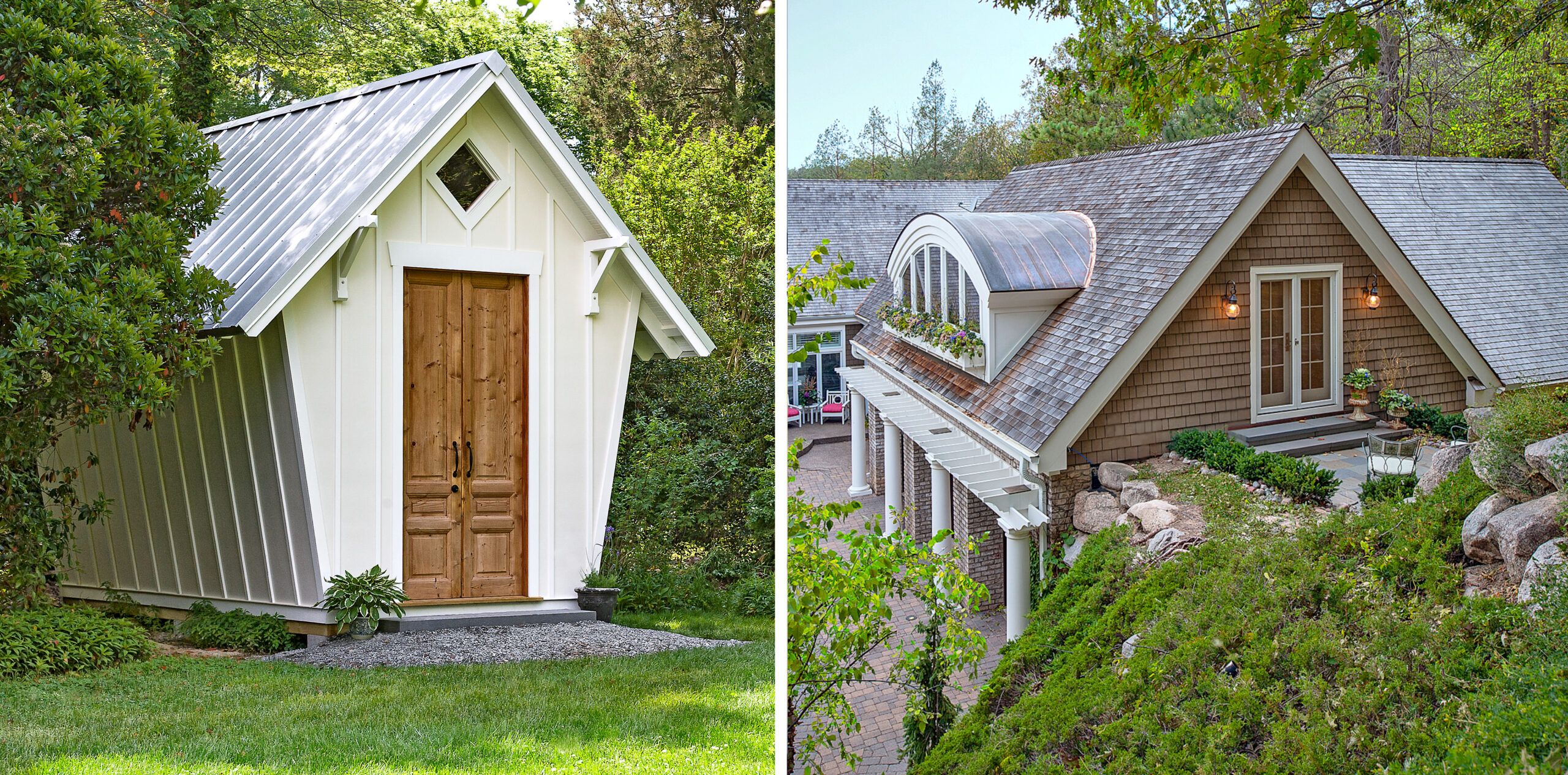 Outbuilding roof (left): This playful shed's steel, screw-down roof panels echo the ribs of its board-and-batten siding. Sold at home centers for about $1 per square foot, these panels could offer a rewarding roofing project for a DIYer, given the shed's simple gable design. While fine for outbuildings, the exposed fasteners on screw-down roofing make it too vulnerable to leaks to be a worthwhile investment on a house.
Eyebrow dormer (right): Windowed dormers add a graceful detail—as well as light, air, and interior headroom—to sloped roofs, but they also increase the potential for leaks. That's one reason metal roofing—in this case long-lasting standing-seam copper—was specified here. Thanks to copper's antimicrobial properties, runoff from this dormer keeps neighboring wood shingles free of roof algae, too.
Metal Roofing Colors
Choosing a new roof is a big decision, and choosing a metal roof involves a tricky one: Which color? But don't sweat it. Portland, Oregon-based architect Karina Adams offers some guidance on how various colored roofs can enhance your home's existing siding and pump up its curb appeal.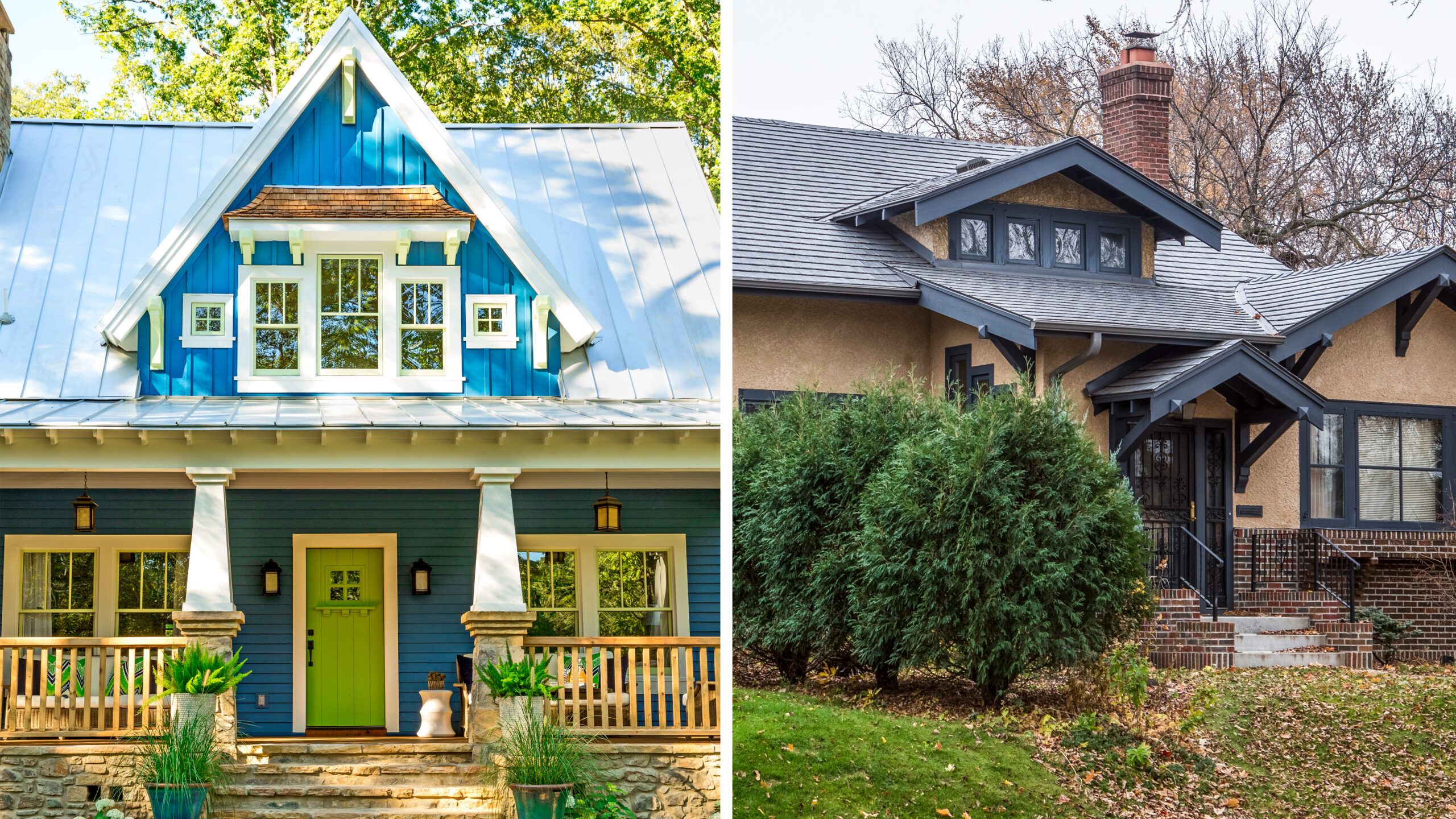 White (left): With a high solar reflectance index, white or light gray roofing is a classic choice in the warmer climates of the South. To keep the bright color in harmony with the house, it should match some existing decorative details, like the white columns and window and door trim shown here on our 2015 Idea House, the Cottage at Cloudland Station, Georgia. It doesn't hurt that blue and white is a classic color combination that always works well together. The bright green door, grounded in the color of the plantings leading up the entryway, is an unexpected pop of color.
Blue (right): This craftsman-style home's triadic color scheme—consisting of three colors on the color wheel that are equally spaced from one another—coordinates with creamy-yellow stucco, red brick, and the blue-gray metal roof to tie everything together. It might seem like a lot of color, but the human eye tends to feel comfortable with this type of color scheme. The darker roof also enhances the deep eves, which are classic craftsman details.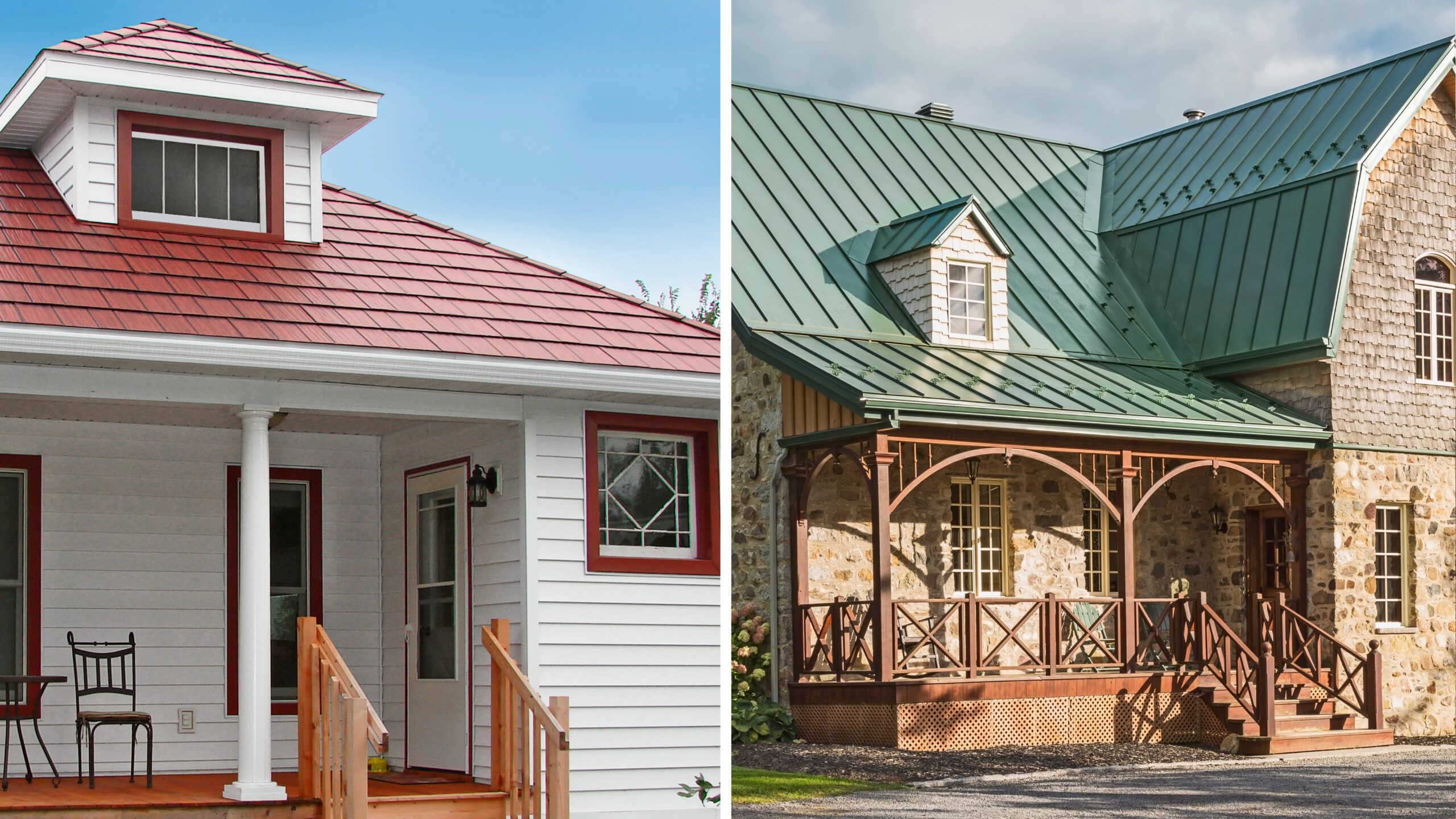 Red (left): A white house is like a blank canvas. Here, adding a red roof takes this home from demure and simple to fun and bright, with loads of curb appeal. If red is too bold, a green or blue roof would work well on this house as well. If a red roof feels dated, opting for a darker gray or black for the roof and trim colors would make this house match the modern farmhouse vibe that is so popular these days.
Green (right): The combination of the wood trim, fieldstone, and green gambrel roof gives this home an earthy, country-retreat look. The color scheme is reminiscent of turn-of-the-20th century National Parks buildings. Swap the green roof for a red one, and it would appear more like a typical farmhouse with a barn-like roofline.
Snow Guards for Metal Roofs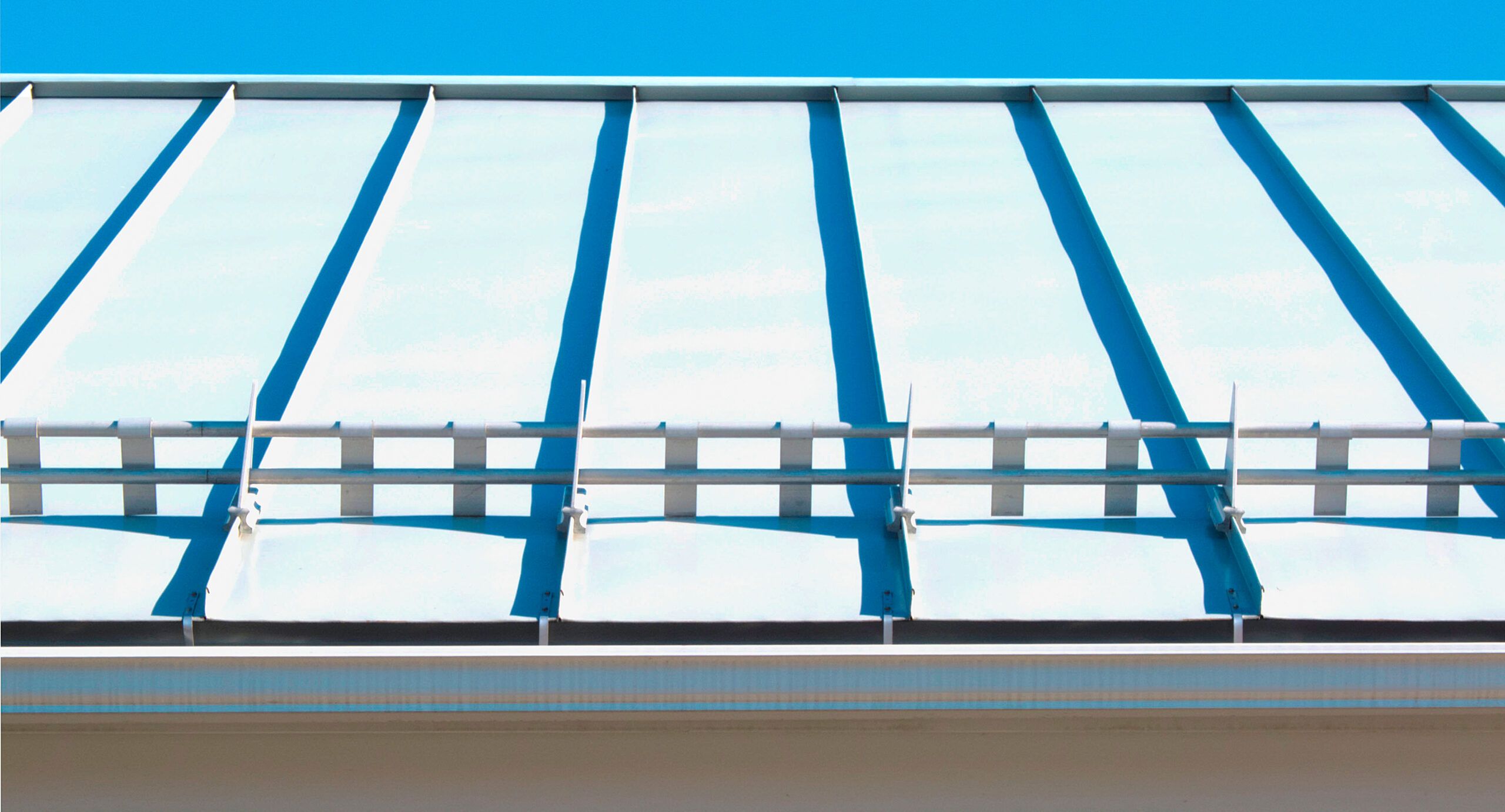 When a thick coating of snow starts sliding down a metal roof, the entire mass is likely to slide off the eaves and flatten whatever shrubbery, people, or pets happen to be in its path. The way to prevent this is to hold the white stuff in place with snow guards or snow rails, until it slowly melts away.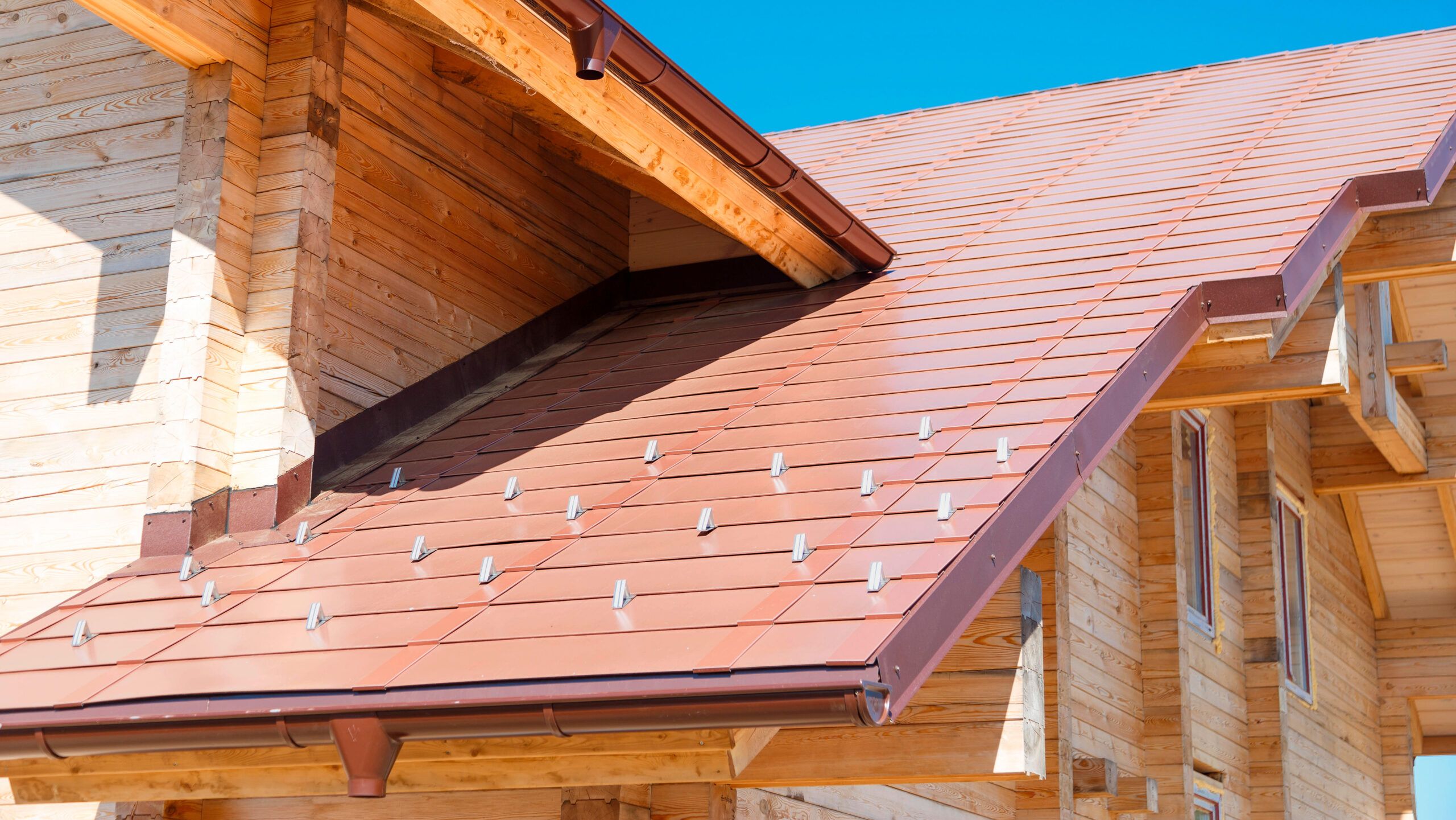 Snow guards are burly little plates that stick up a few inches above the roofing, and are arranged in a staggered pattern several feet up from the eaves.
Snow rails, which run parallel to the eaves, effectively hold back the thick packs that accummulate after heavy snowfalls. (Some rails have baffles to stop the snow from sneaking undeneath.) Both of these elements can be fastened to the roof deck or glued directly to the roofing with high-tech adhesives.