Ceramic Tile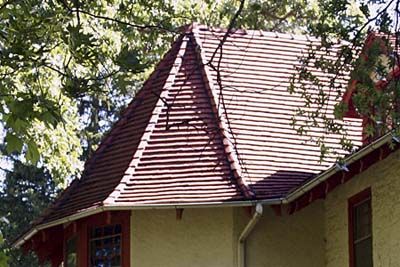 Interlocking ceramic tiles create a stunningly beautiful roof that can last for 100 years or more. But this type of roofing requires a beefy support structure. "Lightweight" tiles can weigh six pounds per square foot, while heftier types weigh in at up to 18 pounds per square foot. For an easier load, try metal roofing that mimics tile, which may weigh as little as one pound per square foot.
Metal Mimics Tile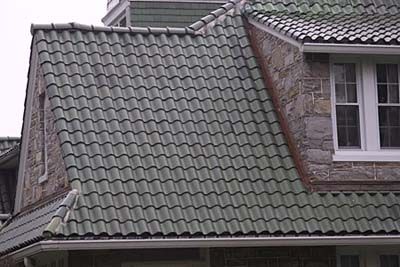 Some metal roofing intended to mimic the look of ceramic tiles comes in individual pieces, so the finished roof retains some of the texture and irregularities characteristic of the real thing. This roof, however, is covered with metal roofing that arrives as a panel product. It's quick and easy to install, and it sheds rain.
Slate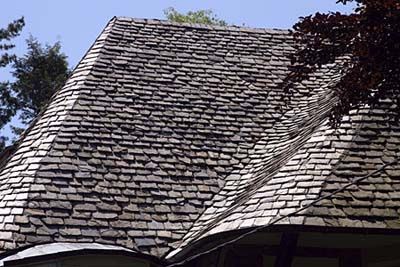 Slate is another heavyweight roofing material, weighing typically seven-to-eight pounds a square foot. For a smooth look, slate tiles can be sawn to shape on all sides. For more texture, as shown in this roof, the manufacturer shapes the front face by splitting a piece from a larger block, revealing what were once layers of silt. The textured edges of these tiles result from scratching a line on the back, then snapping the sides apart.
Wooden Shingles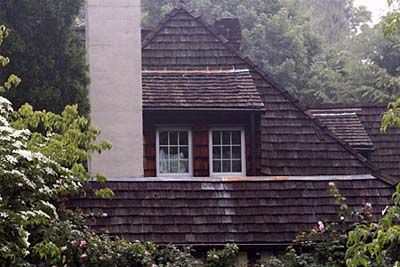 Ruggedly beautiful, wooden shingles are the right aesthetic choice for Shingle-style houses like this. From a practical perspective, however, wooden shingles may not be the best choice when it comes time to re-roof. Much of the wood available to make shingles today is not as durable as the wood that once came from slower-growing old-growth trees. Today's shingles are fine for walls, but they don't last as long on roofs, a more demanding location.
Modern Spanish Tile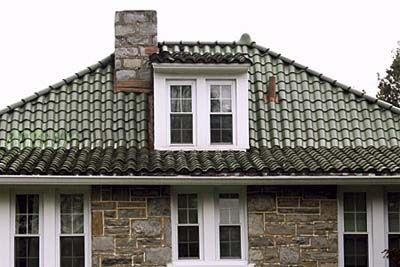 Traditional Spanish roof tiles are half cylinders installed in two layers. The cup points up on the bottom layer and down on the top layer, allowing rainwater to drain. The tiles work well, but installing two layers takes a lot of material and time. Modern Spanish tiles, used on the roof shown here, look similar once installed, but each piece has an integral drainage channel, so one layer suffices.
Composition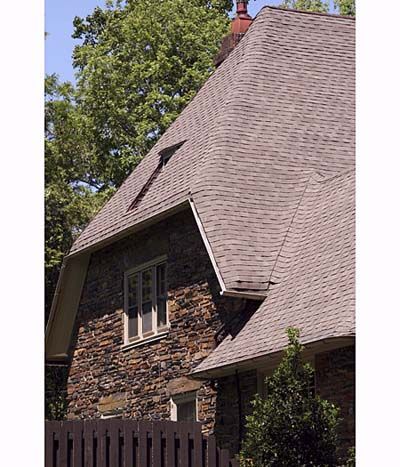 Composition roofing, which is also known as asphalt roofing, now ranks as the most common residential roofing material in the United States. There's no doubt about the reasons: It costs the least and the easiest to install. Products vary in quality and price, but even the most economical ones can produce a handsome result if you choose colors carefully. This red composition roof looks great next to red stone.
Architectural Composition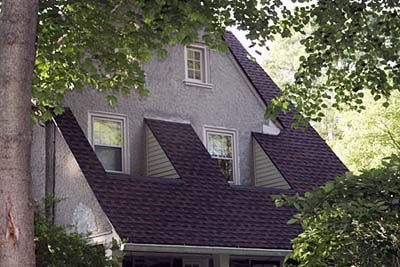 If you're willing to pay extra for a composition roof, you can get shingles with more texture and color variation. These are desirable qualities because they create a look that more closely resembles what people really want—wood shingles or ceramic tile. Because architectural-quality shingles are thicker and therefore shouldn't wear down as rapidly, they tend to come with longer warranties.
Standing-Seam Metal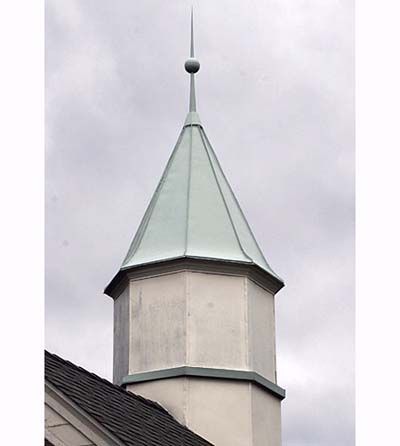 Standing-seam metal roofs once required a lot of custom work, and that's still the case for features such as the tower shown here. But panelized roofing that looks similar is now sold by the sheet in home centers and is available in even bigger pieces from manufacturers. Instead of hand-crimped seams, panels have molded ridges. Some panels snap together, covering all fasteners.