Custom Italianate Porch Railing: After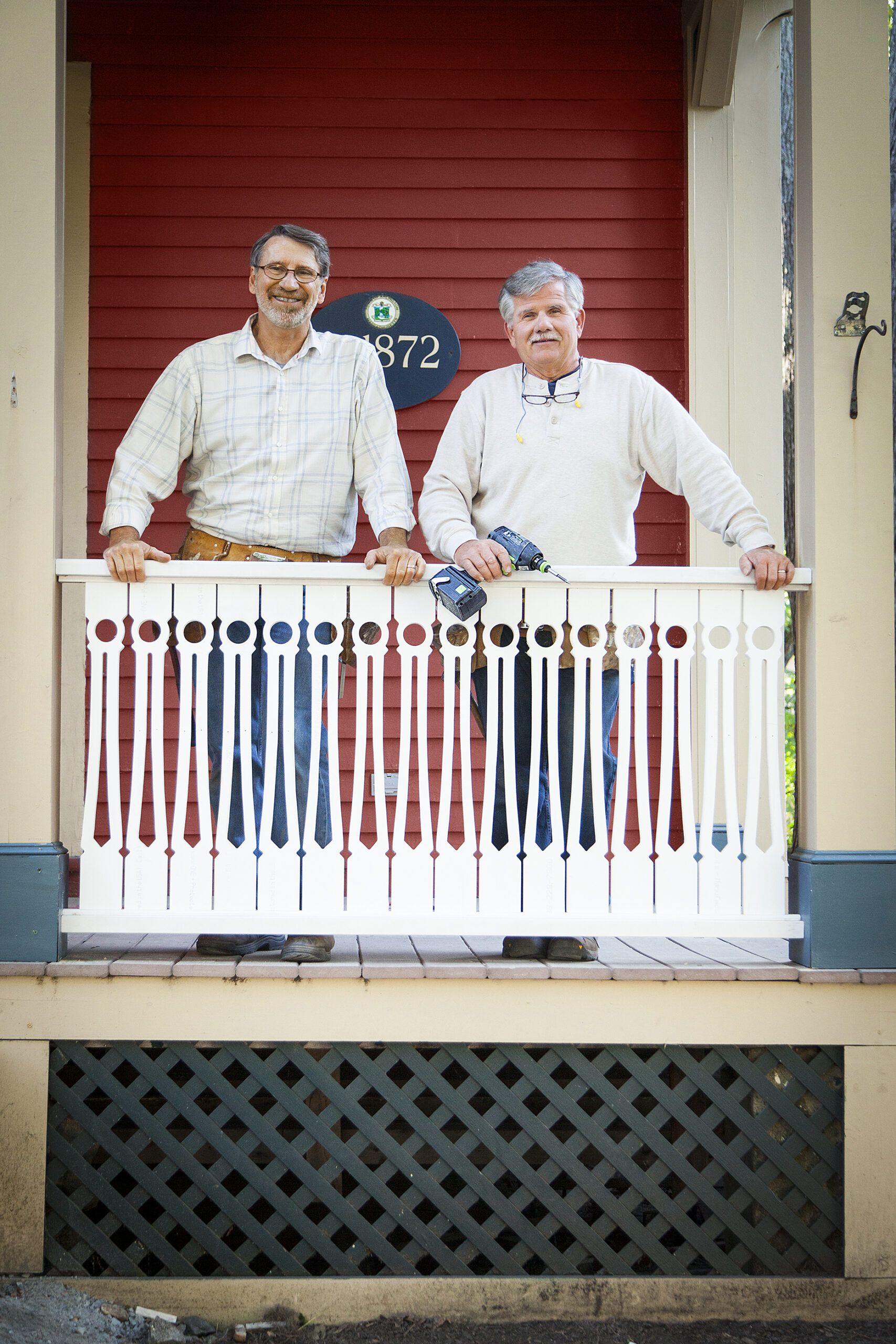 "The porch always looked like it was missing something," Malcolm Faulds says of the 1872 Italianate in Arlington, Massachusetts, where he and his wife, Heather, live. That something was a railing. And the question of whether to install one during the renovation for the current TOH TV season is a story all its own.
Shown: Norm and Tom built the custom-designed railing for the Arlington Italianate TOH TV project house.
Custom Italianate Porch Railing: Before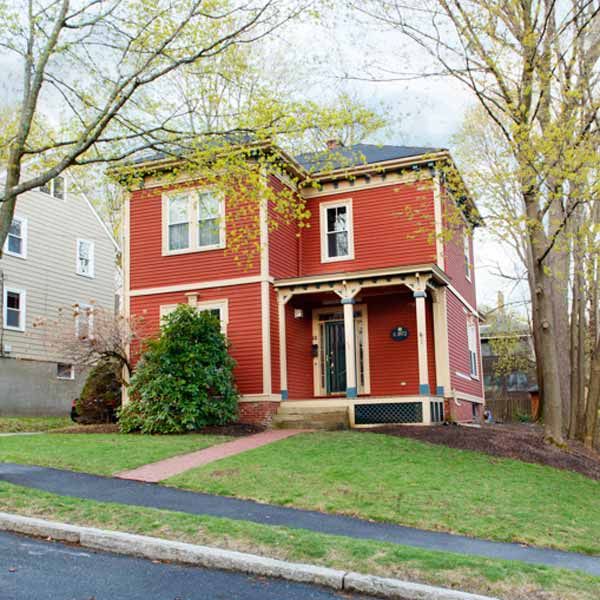 The low-slung porch doesn't require a railing to meet code, and the Fauldses certainly had plenty of other details to tend to, what with the plaster-molding restoration, kitchen expansion, and master-suite bumpout. Their decision came down to aesthetics. "It looked bare and unfinished—not the kind of place where you could kick back and read the paper," says Malcolm. "I always wanted that in a front porch."
So the couple asked project architect David Whitney for railing ideas, and they ended up choosing custom flatsawn balusters, an appropriate finishing detail for the house. TOH TV's master carpenter Norm Abram and general contractor Tom Silva brought the design to life. "The new railing was an opportunity to make the front really pop," says Norm.
Shown: The bare porch looked unfinished.
Italianate-Inspired Design: On The Hunt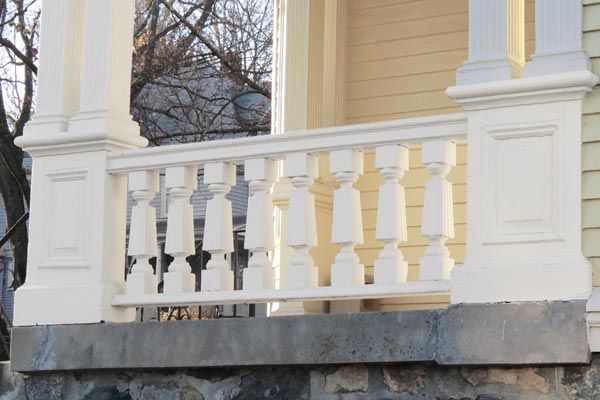 The railing looks like a natural fit now that it's finished, but the designing and building took some doing. With the Fauldses' blessing, Whitney scouted around Arlington for inspiration. It's a town packed with Victorian-era houses, so he had no shortage of architectural precedents to consider. Whitney waded through snowdrifts, camera in hand, snapping photos of historically appropriate railings. "One time the police stopped me because they thought I was casing the neighborhood for a robbery," he says.
Whitney also conducted more conventional research, but that didn't produce any clear winner either. There isn't any one definitive design for Italianate railing balusters, according to Melanie Hall, associate professor of architectural history at Boston University. "Mixing design features from historical styles was common practice in the 19th century," she says. The project house reflects that.
Shown: Traditional turned Italianate balusters
Italianate-Inspired Design: Neighborhood Snapshots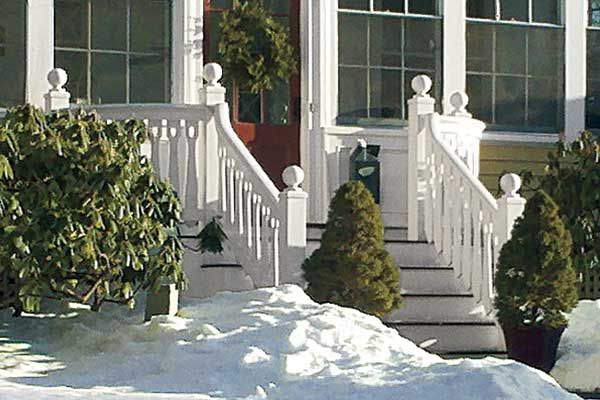 Indeed, the Fauldses' house is a textbook example of Italianate style in terms of proportions, with its tall rectangular facade, low-angled roof, and prominent eaves. But the cornice is quite a bit more modest than one found on a "typical" Italianate, with relatively small corbels devoid of ornate carving or scrollwork. It's a prime example of how people used to pick and choose from architectural stylebooks in designing their homes.
While the Fauldses' house has been designated as a historically significant building by the City of Arlington, Whitney's plans affected no more than 25 percent of the facade and sides, so he didn't have to put them through a formal historic review. And, of course, the porch had no railing to begin with. All of that meant he really did have a blank slate when he sat down to come up with design.
Shown: Simple flatsawn baluster designs
Appropriate Period Design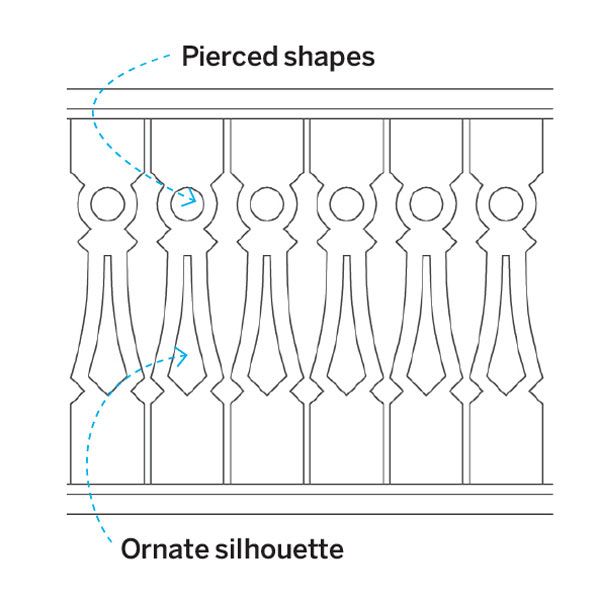 "We wanted something appropriate for the historical period, but not necessarily a slavish approach to Italianate style," Whitney says. He felt that typical heavily turned or square Italianate balusters could overwhelm the small porch.
With his neighborhood snapshots in hand and no imperatives from the city, Whitney developed four designs for the rail: simple, square balusters; narrow, turned balusters; Chinese Chippendale-style balustrades; and flatsawn balusters of his own creation. When he presented the options to the Fauldses, they had quite a decision to make; the railing is a relatively small feature on the house, but its location gives it real prominence.
Shown: The winner of the four designs Whitney presented is like a "slice" out of a typical Italianate baluster, with the key shapes silhouetted.
• Pierced shapes: The circle and teardrop cutouts are period-appropriate shapes that lighten the overall look.
• Ornate silhouette: When the balusters are arranged in a row on the rail, the negative spaces create the kind of complex, repeating patterns favored in Victorian-era styles.
Added Front Porch Elegance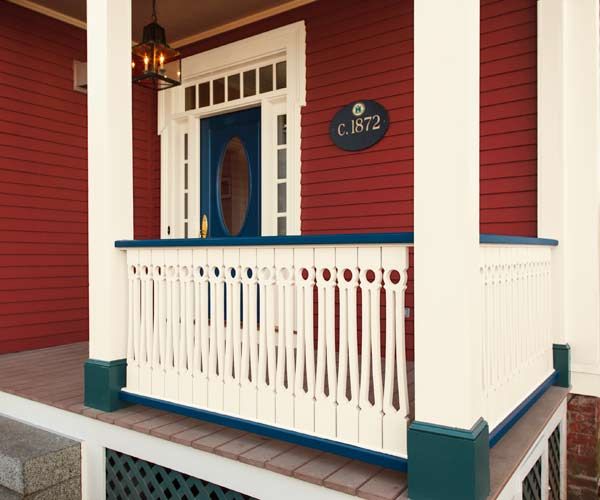 It was the variety of shapes and the lightness of the flatsawn design that won them over in the end. "When we saw them drawn in a row, we felt like it added to the elegance of the front of the house," Malcolm says. "It really connects the porch to the rest of the structure."
Whitney's winner of a design is a mash-up of his two favorite inspiration shots: a typical heavily turned Italianate baluster and a conventional flatsawn one. "Imagine you took a three-dimensional round or square baluster and then cut a slice out of the center of it," he says. "You'd have a flat baluster. I like that the baluster outline evokes a silhouette of the traditional Italianate baluster without being a reproduction."
From a historical perspective, Whitney says, the flatsawn baluster design fits in fine with the Italianate style. "The pierced design would have been attractive to Victorians because it is more ornate," he says.
Shown: The finish paint colors, Benjamin Moore's Down Pour Blue and Lemon Chiffon, link the new railing to the new front door and its surround.
Norm and Tom Get to Work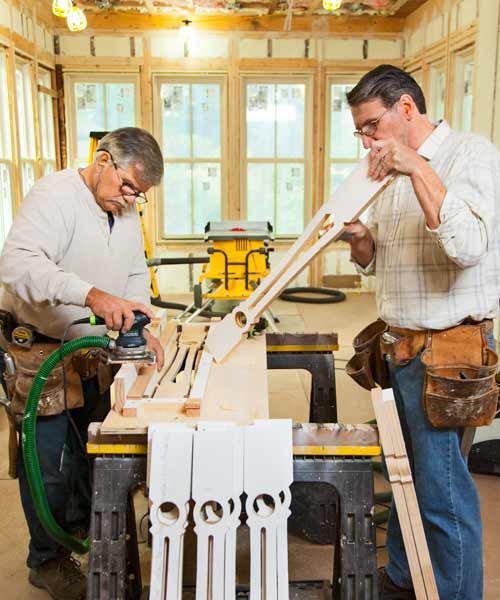 Once the design was settled, Norm and Tom began by transferring Whitney's scale drawing to a full-size drawing on wood. They cut that out to make one model baluster, which they then used to make a template out of plywood with a router. "The hard part is making the template," says Norm. "It has to be just right because you're going to use it to make all the other balusters."
After cutting out each one with a router and a hole saw, they sanded and primed every surface. "One of the most important things in exterior work like this is to prime bare wood, and especially the end grain," says Norm. "If you don't seal the end grain, that's where water gets in and rot starts." They used preprimed exterior-grade pine lumber to make the balusters, rather than naturally rot-resistant cedar, to keep costs in check.
Once they installed the rail, the transformation was dramatic. The formerly dim entry and porch had a more inviting look.
"We're really happy with how it came out," Malcolm says. "The railing catches your eye and makes the porch so much more appealing. Now our house looks more welcoming."
Where to Find Flatsawn Balusters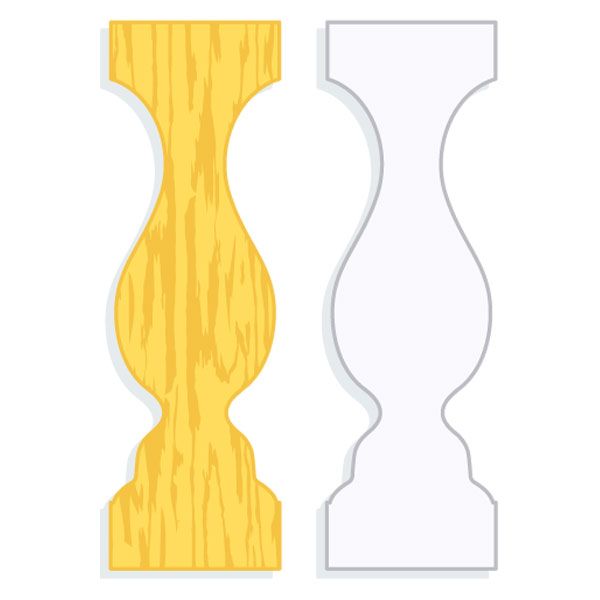 You can create your own balusters from flat stock, like Norm and Tom did, or pick one of these ready-made options.
Material Choice
Vintage Woodworks makes five standard flatsawn baluster profiles in either wood or rot-resistant PVC. Prices start at about $16 per baluster; vintagewoodworks.com
Where to Find Flatsawn Balusters: Custom Shapes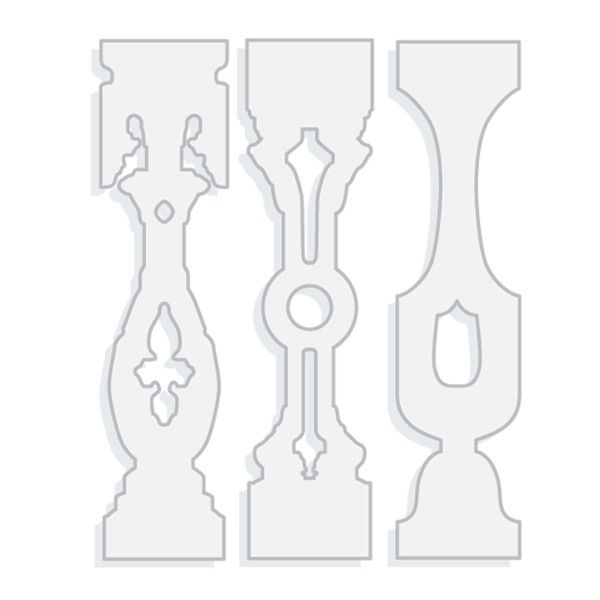 If you want to design your own balusters but don't want to make them, Victorian Woodshop will produce them for you in preprinted pine, starting at about $18 per baluster; victorianwoodshop.com
Where to Find Flatsawn Balusters: Full Rail System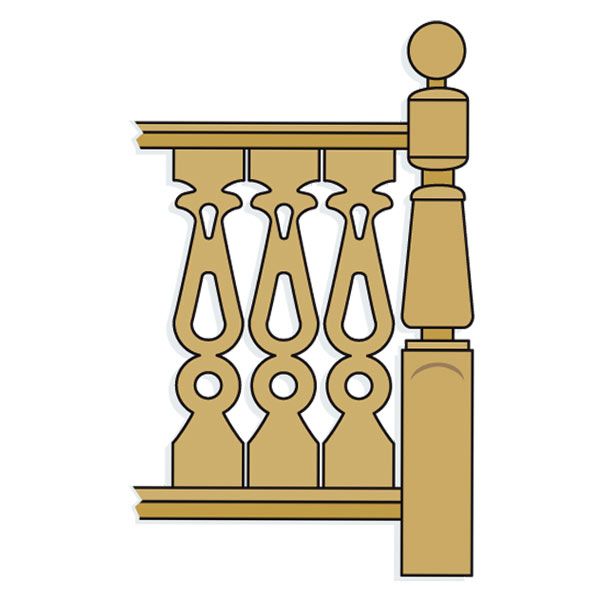 Touchstone Woodworks offers railings that pair with their six standard cedar flatsawn baluster profiles, leaving only the assembly to you. From $67 per foot; touchstonewoodworks.com