Sunrooms are typically glass-enclosed rooms, accessible from inside the home, and built off the side or the back of it. Sometimes called solariums, garden rooms, or sun parlors, they can be all-season or, if not adequately heated in colder climates, three-season rooms.
While sunrooms vary in design, thanks to their abundant use of glass, they are generally awash in light and offer expansive views of the outdoors.
The Pros and Cons of a Sunroom
Pros: An additional light-filled multi-purpose room in your home.
Cons: Potential loss of privacy, installation costs, difficult to climate control with increased heating and cooling costs.
Design Elements of a Sunroom
With their many windows and voluminous natural light, year-round sunrooms involve a unique set of design considerations. We'll help walk you through optimal decorating solutions for a sunroom that's as functional as it is beautiful.
Best Sunroom Flooring
Stone, concrete, and ceramic tile are choice materials for sunroom flooring because they are durable, fade-resistant, moisture-resistant, and easy to clean. They also are fantastic materials if you choose to install radiant heating—a luxurious add-on that's particularly valued in homes in colder climates.
Best Sunroom Furniture
Wicker and iron-based furniture are top sunroom choices because they're weather-resistant. When it comes to upholstery, choose durable fabric that's, fade-resistant—especially important since extensive exposure to sunlight can quickly destroy fabrics.
Best Sunroom Window Coverings
If you need privacy or if the room is getting too much light, choose window treatments that are easy to open and close all while filtering the light. Whether you choose curtains, roller shades or the like, natural materials like linen, grass, or other natural fibers are good choices when it comes to decorating a sunroom.
Insulated cellular-shades not only filter the light but also help save energy either by reducing heat loss through the windows as well as reducing solar heat from entering the room.
If you are installing new windows, choose energy-saving ones that already have heat and UV-blocking technology in the glass but for older and existing windows, you can add heat and UV-blocking window film to windows. The see-through barrier can block as much as 95 percent of UV rays and 85 percent of solar heat and will save you money on energy costs.
Best Sunroom Wall Treatments
Choose paints and wallpapers that are fade-resistant. And when it comes to installation and paint day, avoid days that are especially hot or cold. The temperature can alter the effectiveness of the adhesive on wallpaper and paint won't cure properly when applied in the freezing cold or extreme heat.
Ceiling Treatments
Don't forget to design what's overhead—vaulted, beamed, and coffered ceilings add an interesting design element in an otherwise bare space.
Heating and Cooling
A fireplace is a nice addition to a sunroom if you live in a colder climate, while a ceiling fan will help keep those hot summer days breezy and cool. Both will extend the days and nights that you can use your sunroom.
Plants
Bring the outdoors in by decorating with plants that love light, like lemon trees, Fiddle-Leaf Figs and Jade plants.
Sunroom Decorating Ideas
As with any room in your house, when it comes to sunroom decorating ideas, you'll need to decide what is most important about the space and highlight its strengths. If you want to accentuate the view, choose low-profile furniture to keep the focus on the windows. If the fireplace is the standout, arrange the furniture to maximize its coziness and accessibility to the heat source.
Think about how the room will be used: Is it a reading room? Or will it become your go-to dining area? Your sunroom's intended use should guide your design decisions. For inspiration, check out our favorite sunroom designs below.
8 Inspiring Sunroom Designs
Small Sunroom Ideas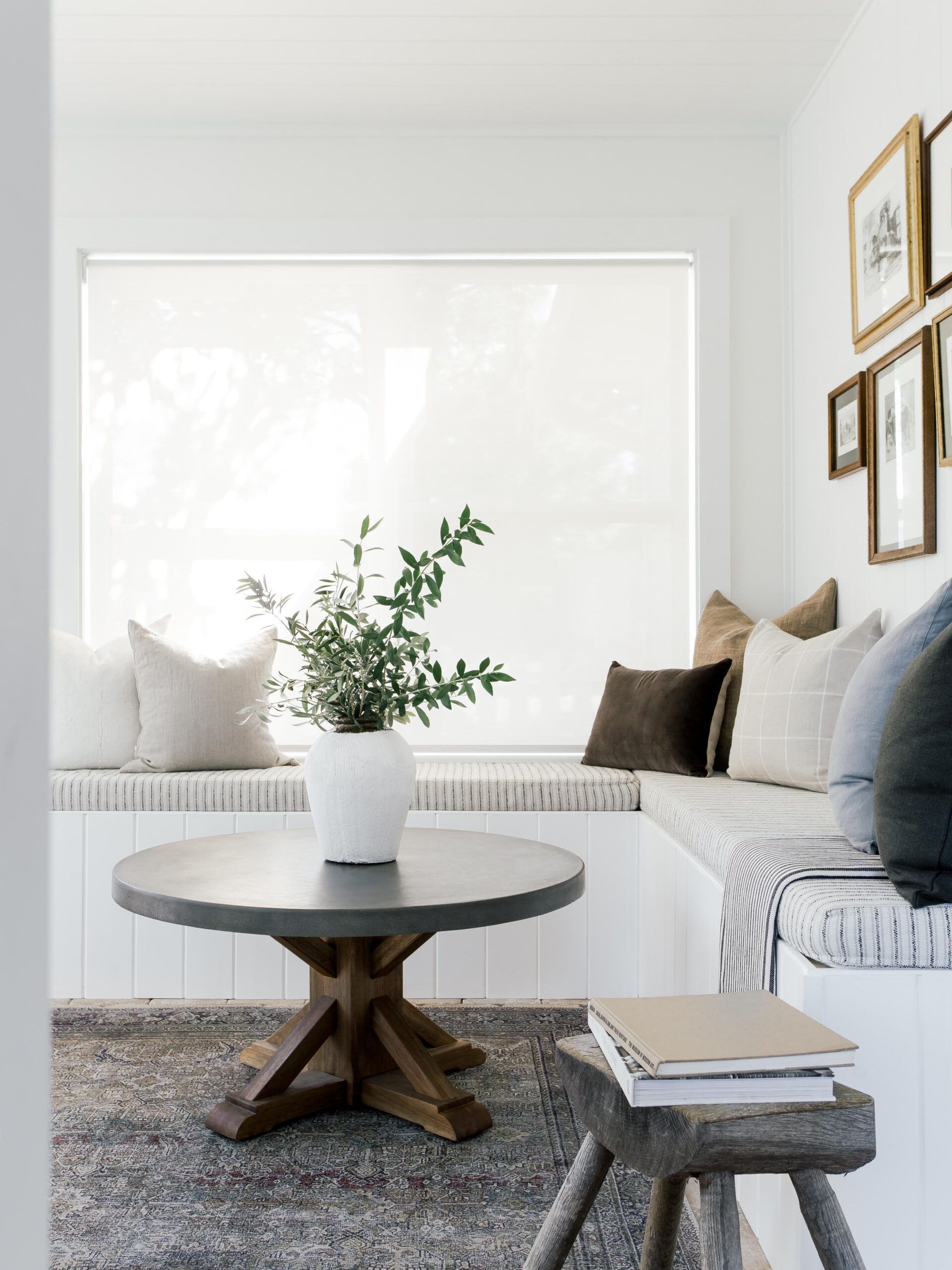 This sunroom was formerly a screened-in porch and converted to add square footage to the house when the homeowners had a second baby. As this remodel demonstrates, a small space can have a big impact, but planning is absolutely necessary to achieve the sunroom of your dreams.
Choose small-scale furniture and pick accent pieces that can easily be moved around and tucked out of the way.
Built-in seating along the walls and under the windows provides ample room for friends and family to hang out without blocking the view (and cleverly hides a dryer vent).
Linen shades filter strong sunlight, keeping the room bright but cool and comfortable, while blocking an unsightly view.
Tongue and groove boards make the space feel intimate, while the white paint keeps it airy without feeling claustrophobic.
Sunroom Reading Nook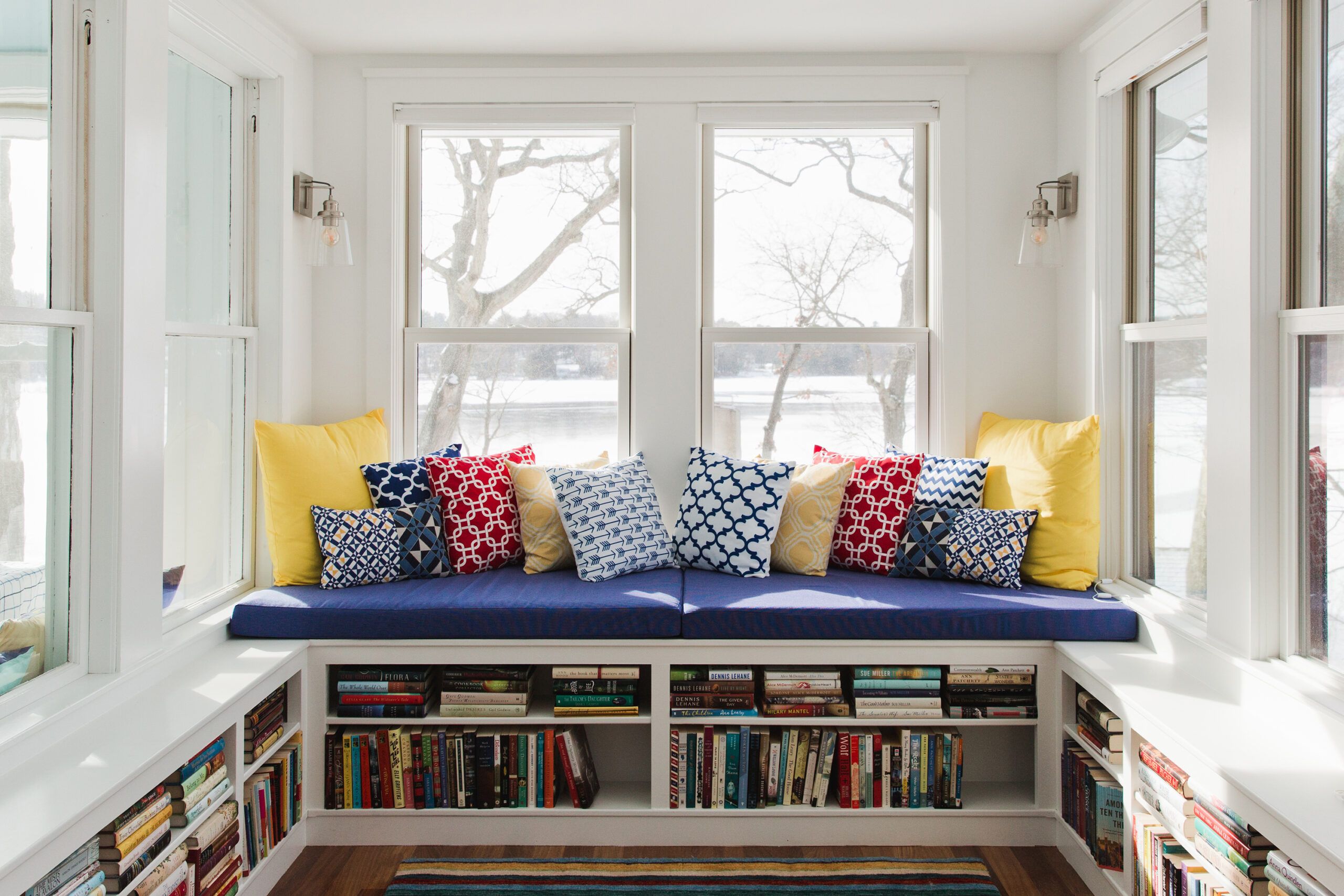 Who doesn't love the idea of cozying up on a sunny afternoon with a favorite book? A sunroom is an ideal reading spot thanks to all that natural light.
Built-ins bookcases not only provide storage for books but double as a bench seat for curling up by the window. If building custom bookcases is not possible, you can buy off-the-shelf bookcases and retrofit them up for a similar look and feel.
Add throw pillows, cushions, and blankets to make the space more comfortable.
Strategically placed sconces, just above the window seat, provide reading light for when the sun goes down.
When planning a sunroom in a mixed climate, choose energy-efficient windows with an energy star rating to mitigate heat loss.
Garden-Inspired Sunroom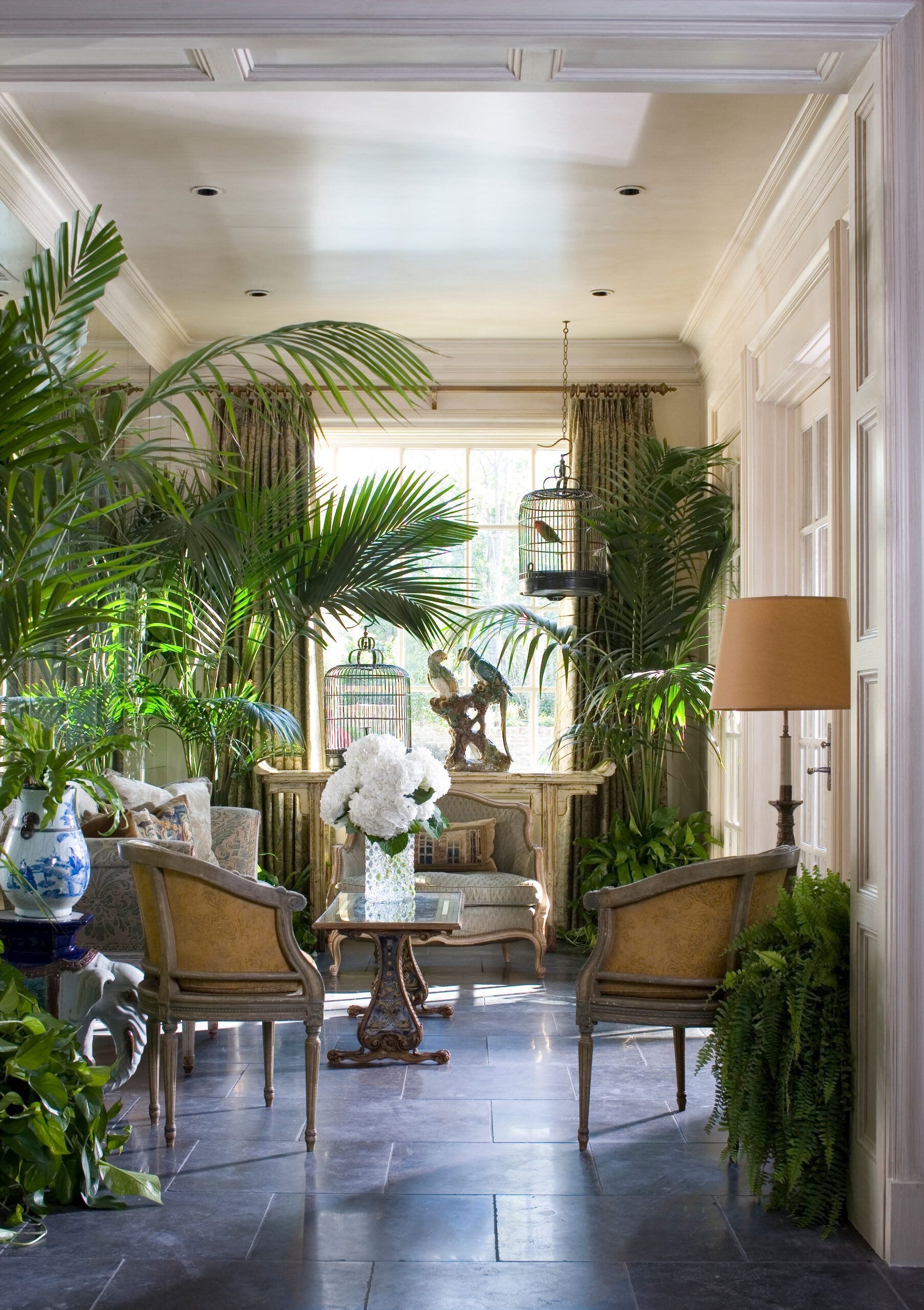 Take inspiration from English conservatories and bring the beauty of the outdoors in by decorating your sunroom with plants. Ferns and palms lend a tropical feel to this Southern-style sunroom, but you could also turn your sunny space into a desert retreat with a collection of succulents. Just remember, given the additional light and heat, you may need to water and repot your growing plants more often.
A favorite among gardeners and interior decorators alike, blue slate tile is durable that works well with radiant heat. It also enhances the indoor-outdoor feel of the space.
Garden furniture and antique iron furniture are durable favorites for sunroom furniture ideas.
Home Office Sunroom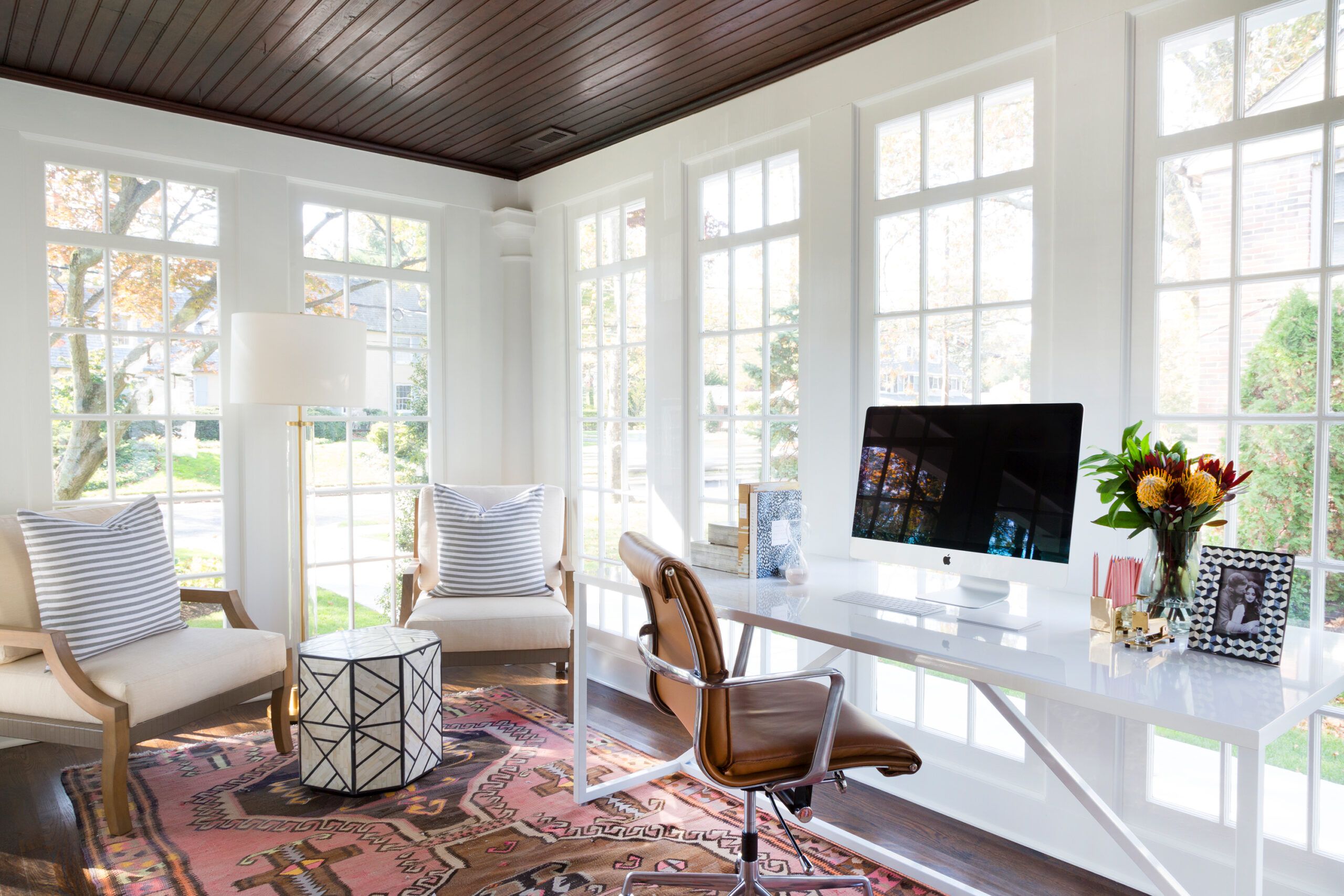 It happens all too often—spare bedrooms get claimed by kids and guests, leaving homeowners zero space for a home office. Take advantage of the sunroom outfitting it to function as a much-needed home office.
Choose furniture that blends into the space like this glossy white desk furniture that blends into the walls and windows, allowing the view to remain center stage.
Adding a rug, like this rose-colored one, is an easy way to warm up the space.
Depending on which direction your sunroom is facing, you may need to install shades to decrease the light and possible glare on computer monitors. Western exposure sunrooms will cause the most trouble for home offices due to the setting sun.
Sunroom-Turned-Dining Room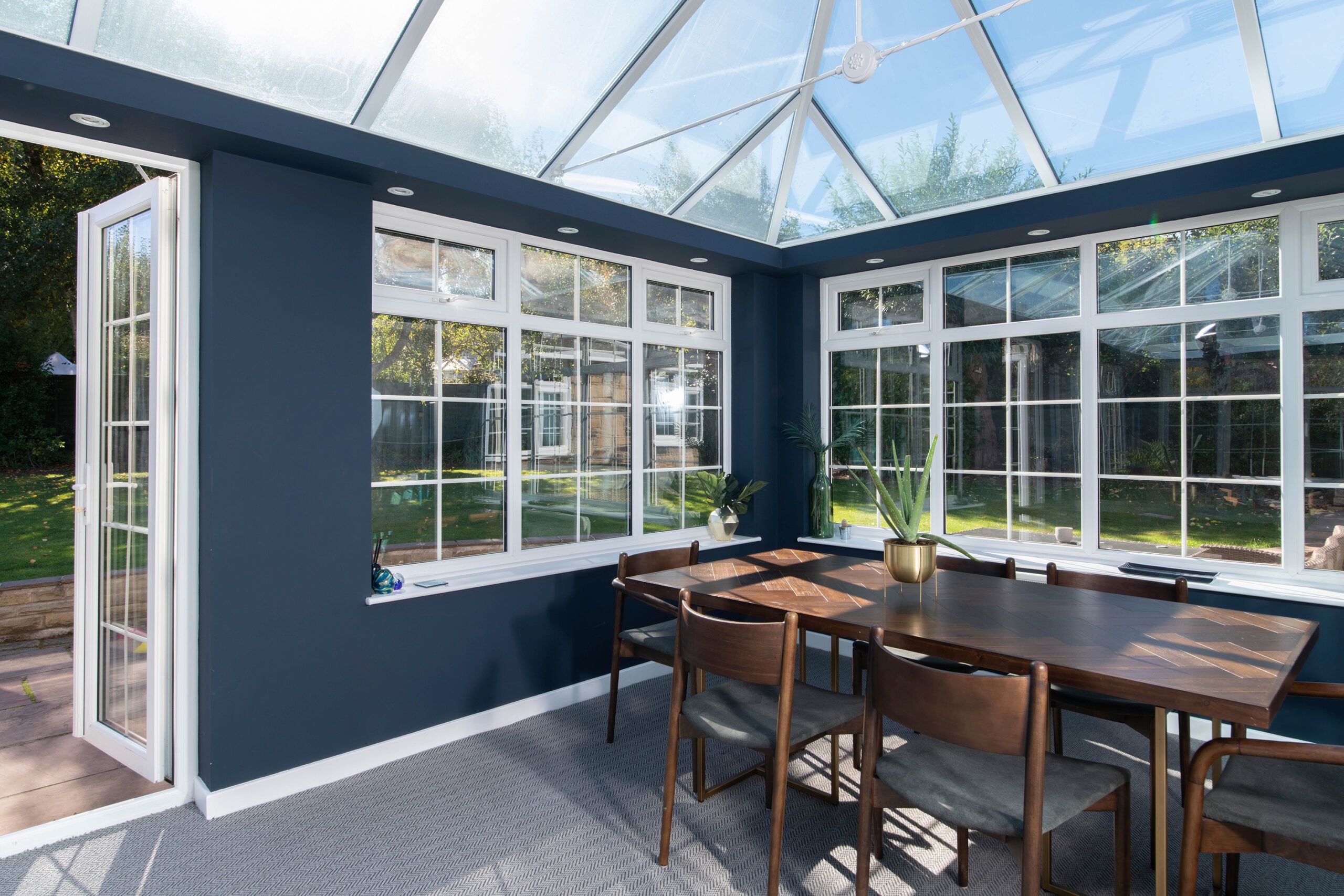 A sunroom is an ideal spot for dining—especially if the room is equipped with a fireplace for winter nights and ceiling fans for summer days.
Choose dining room chairs that are easy to clean—slipcovers can be removed and thrown into the washer should there be a spill. Leather is extremely durable and doesn't fade as easily as other materials.
Dining sunrooms work best when they're located close to the kitchen or an outdoor grill.
When decorating, take your cues from the outdoors—natural elements like stone and wood enhance the view rather than compete with it.
Game Sunroom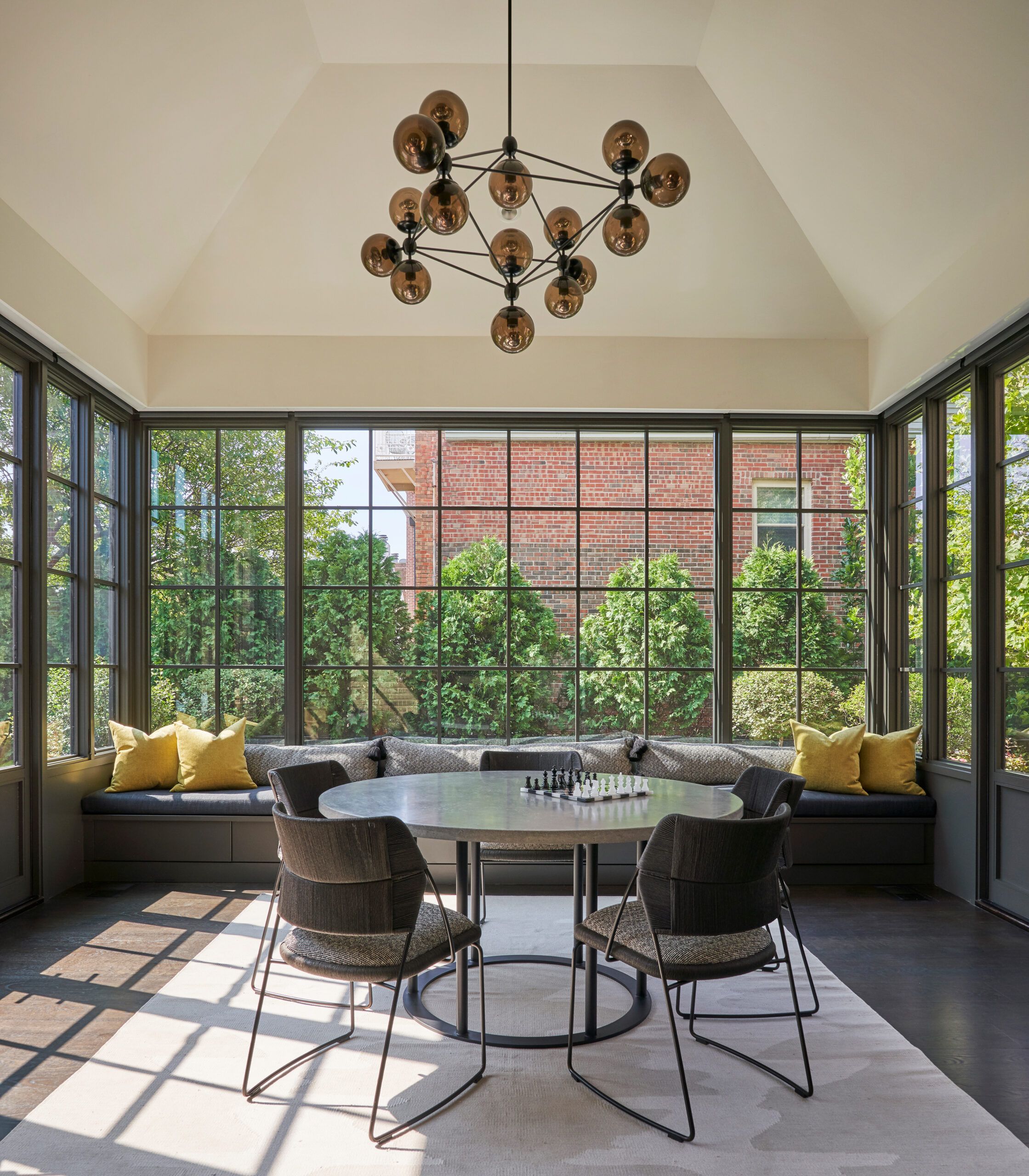 Everyone wins when you play games in a sunroom that's been designed for peak competition.
A round table is more comfortable for game playing than a rectangular one.
Thoughtful built-in bench seating below the windows provides additional seating.
The tray ceiling, accented with a modern chandelier, adds to the light and airiness of the room.
Consider adding a bookcase or bin to the room to store games for easy access.
Sunrooms for Conversations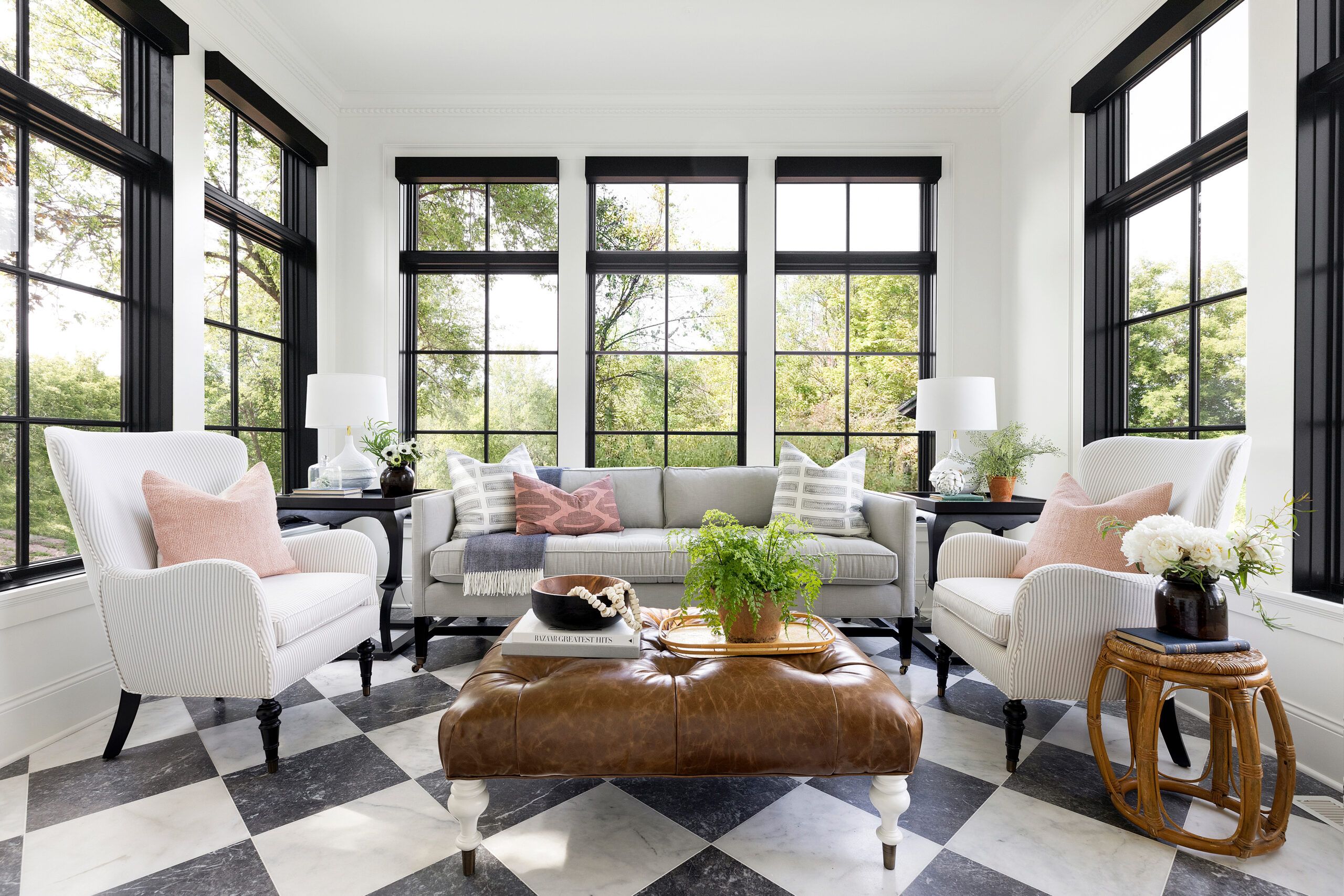 Make your sunroom the top spot for hanging with friends, whether over coffee or wine. Comfortable seating is a must, and by offering options you'll guarantee long, happy hours of conversations. Consider a deep sofa for those who like to sink into their seats, and wingback chairs for those who like to be more upright.
The black and white tile floor makes a powerful and sophisticated design statement, and the low-maintenance, durable material makes cleaning up easy and fast.
The window trim, painted black, adds a strong decor punch in an otherwise neutral room.
The brown leather coffee table rattan side tables add warmth to the cool black and white theme (and also provide more seating when necessary).
Traditional Sunroom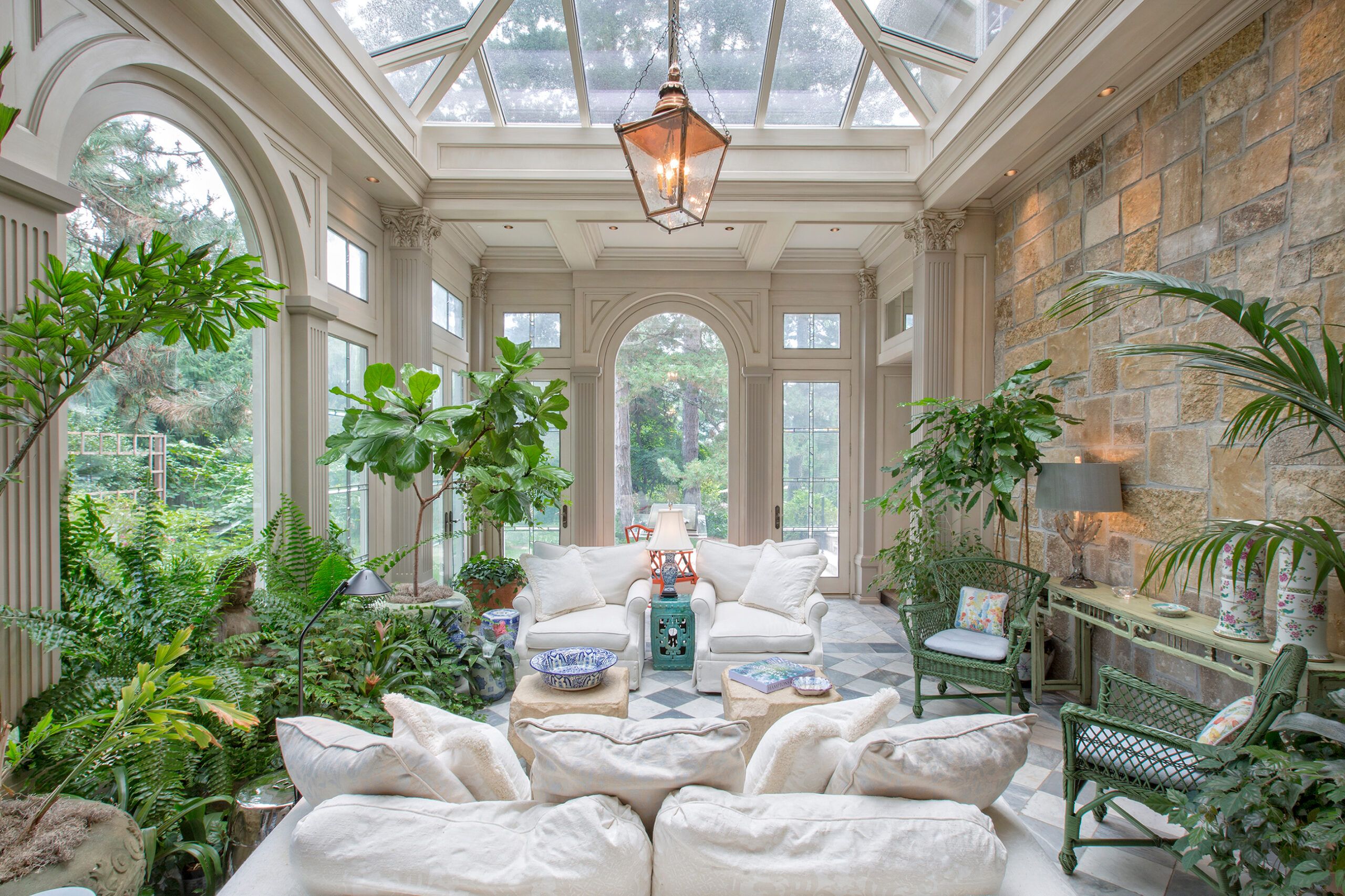 This greenhouse-inspired sunroom makes a grand statement with its soaring glass ceilings and traditional millwork that makes it feel like an escape from the modern world.
Don't be afraid to mix wicker, stone, and ceramic furniture along with comfy upholstered pieces—the layered look contributes to the room's casual and comfortable feel, allowing it to be traditional without being formal.
A traditional lantern-cum-chandelier adds to the old-world feel.
Millwork, moldings, and columns all cleverly add to the room's height, drawing the eye upwards toward the room's spectacular glass ceiling.
If a glass-panel ceiling is out of the question, consider installing skylights to let in additional light.