Craftsmanship on a Dog-Size Scale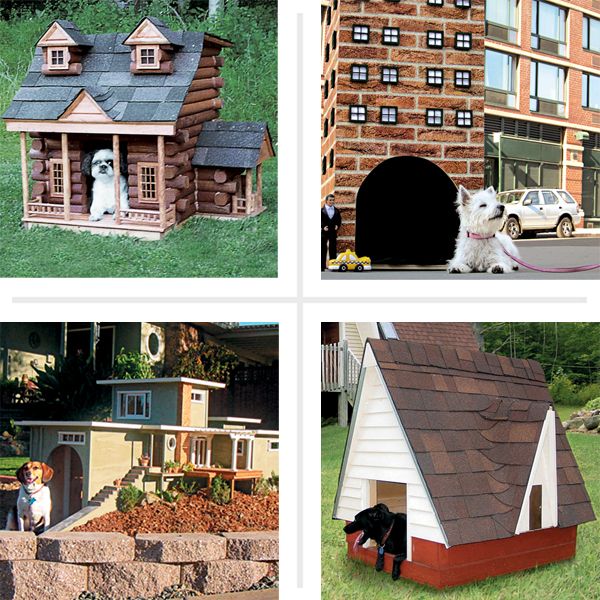 Frankly, we think doghouses are right at home in This Old House. From our point of view, the 16 canine cribs that follow make perfect sense given the love affair that most Americans—and certainly our readers—have with their pets. But we also think these doggie domiciles are a pretty good way of putting the fine-craftsmanship cornerstone of TOH on display.
Canine Craftsman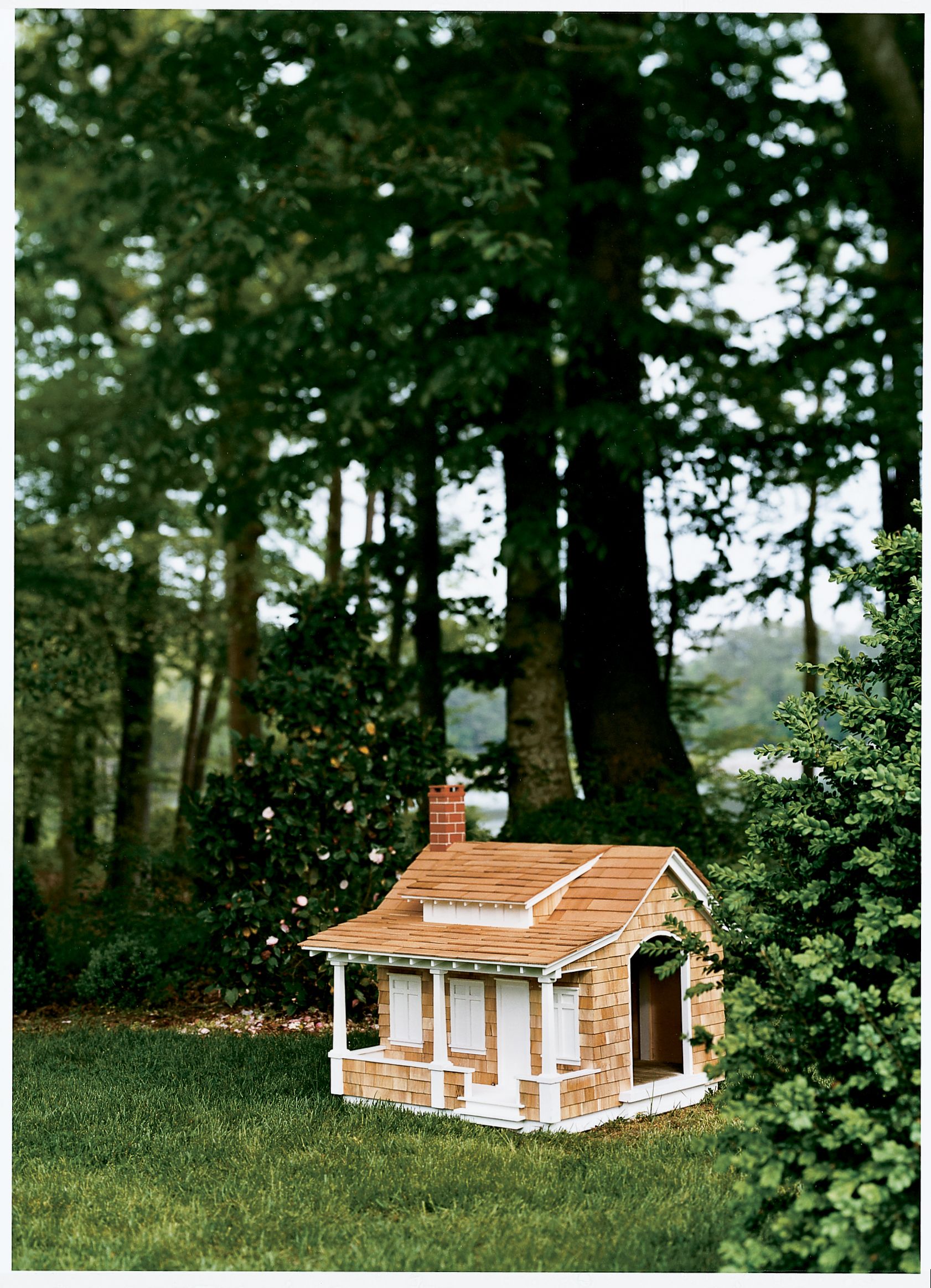 Mission accomplished: a bungalow in miniature, complete with wood-shingle siding and a cedar-shake roof.
House: Craftsman, 1905-1930
Dog: Gumpy
If a cobbler's children have no shoes, then you might expect a doghouse builder's dog to have nothing more than a corner of the workshop floor to call his own. Luckily for Gumpy, that wasn't true. Mark Jolliffe, who with his brother, Dale, designed and built the canine constructions featured in these pages, made his 8-year-old Shetland sheepdog companion a storybook Arts and Crafts bungalow.
Craftsman: Lucky Dog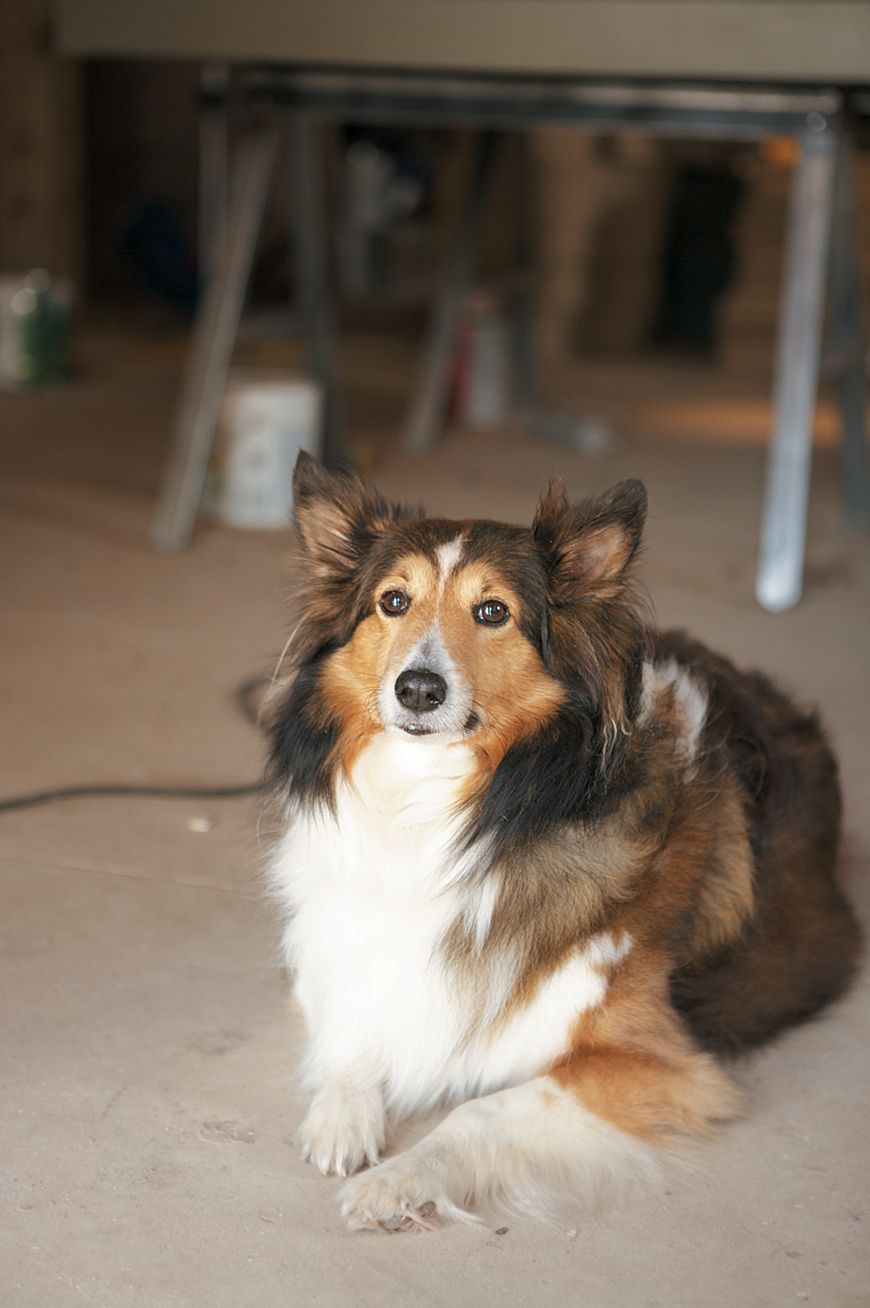 The job-site supervisor oversees construction from his post on the workshop floor.
Craftsman: Sheepdog Siding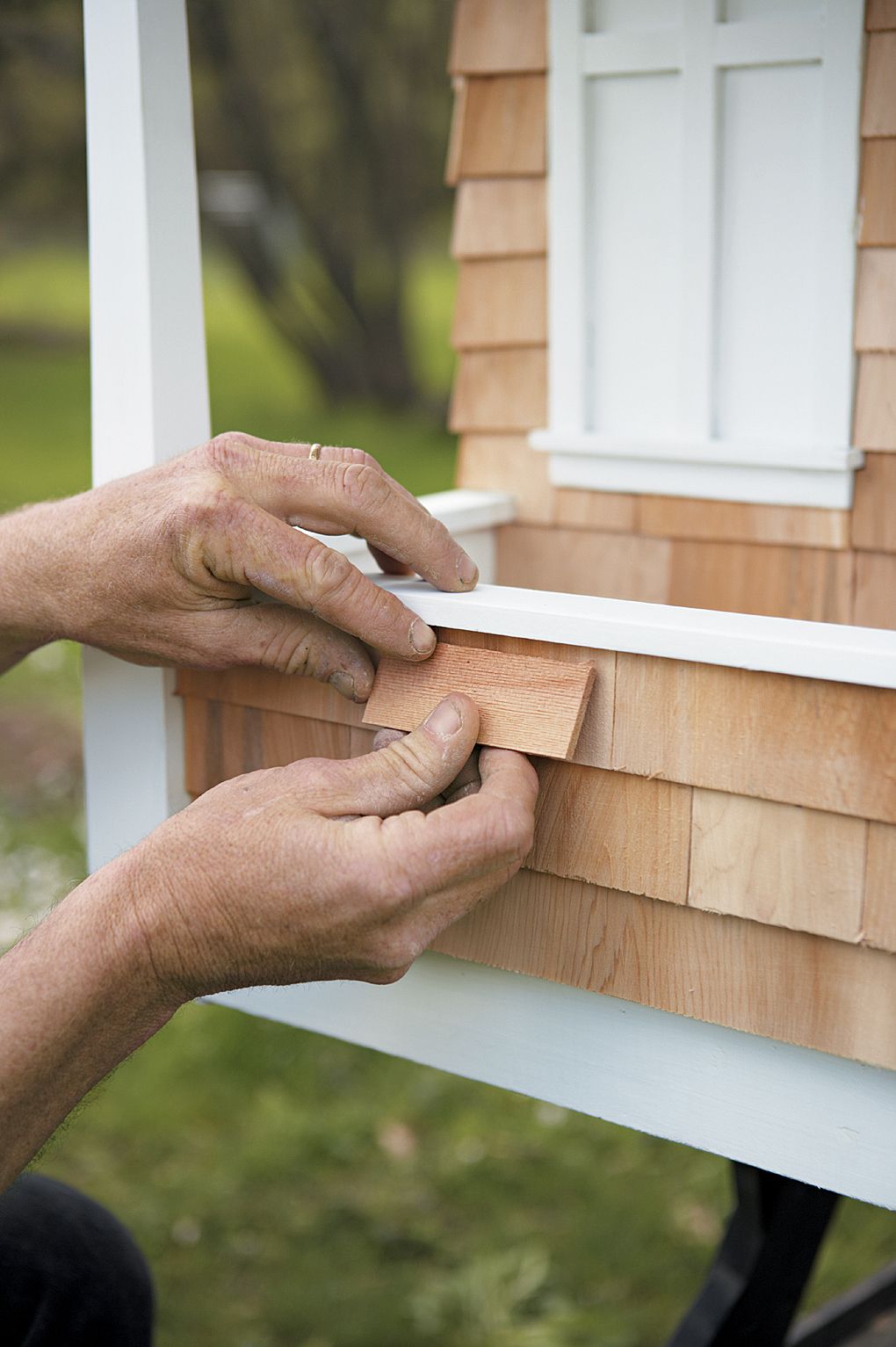 To make the shingles for the siding, the builders ripped cedar shims into random widths, tossed them in a barrel, and mixed them up before attaching each one to the doghouse.
Craftsman: Prepping for Paint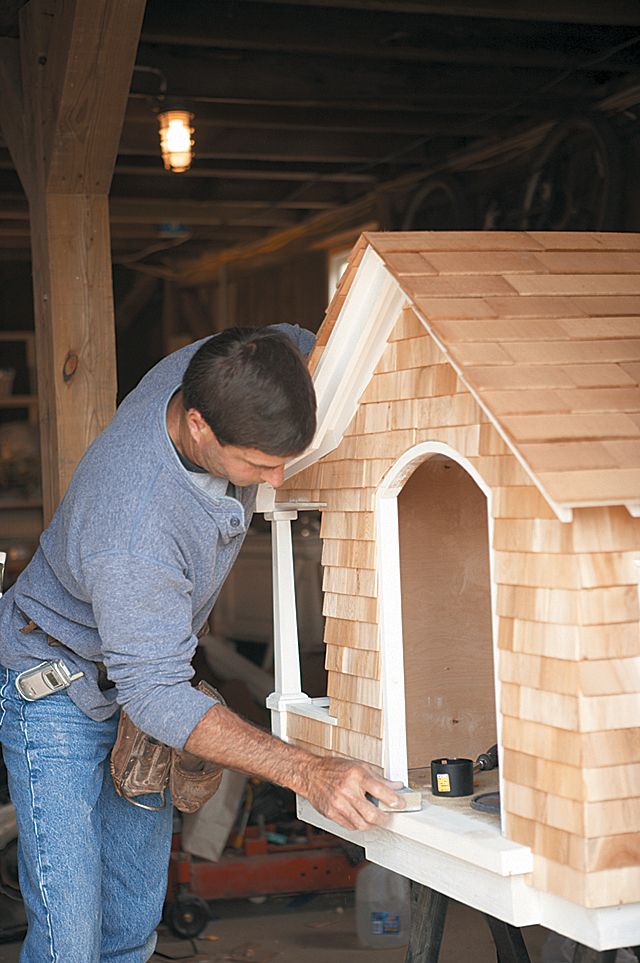 See more on Pets:
• Build a Wall-Mounted Pet Organizer
• Build a Murphy Bed for Your Dog
Craftsman: It's All in The Details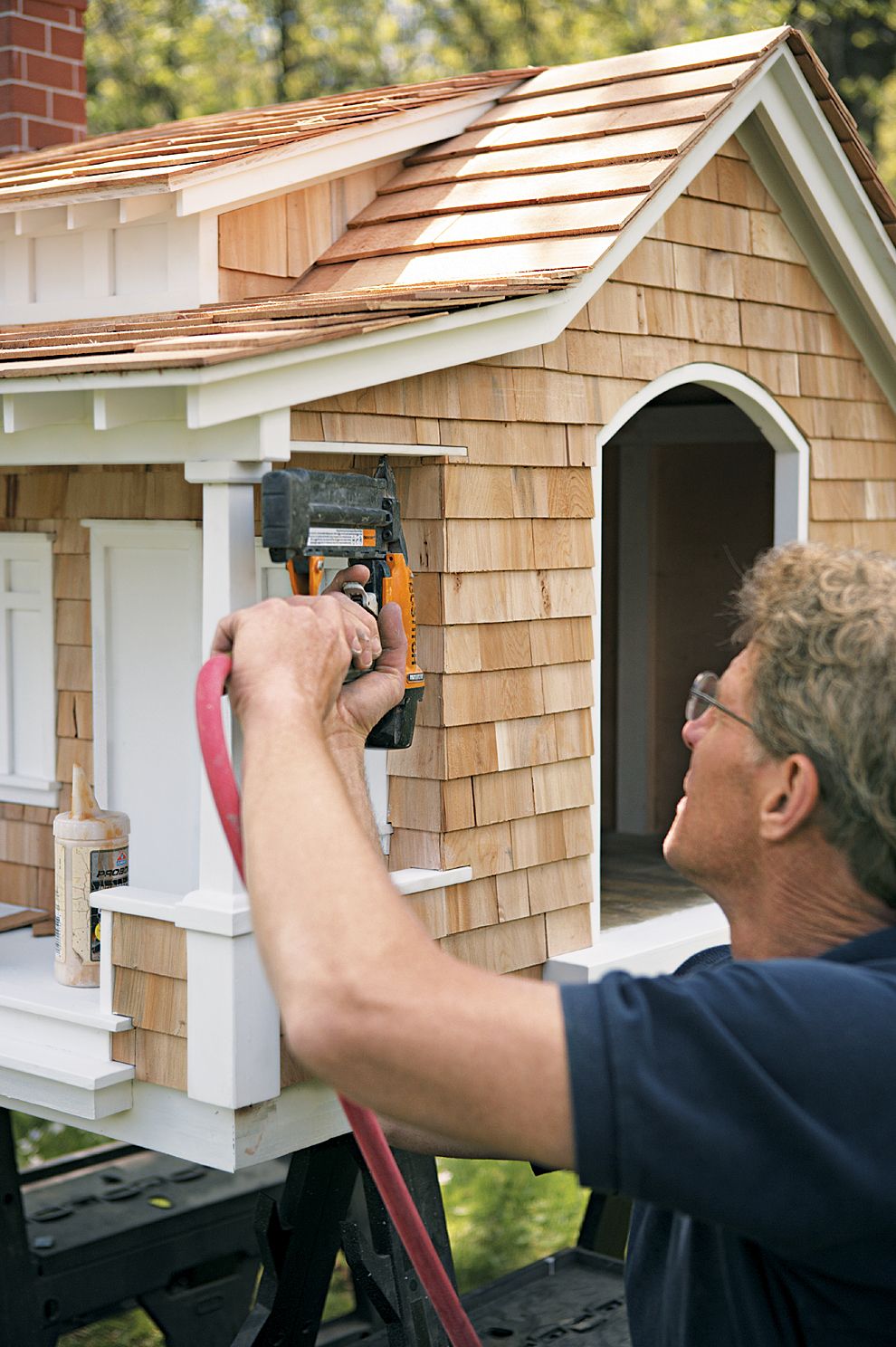 Mark Jolliffe uses a pneumatic brad nailer to attach the underside of the porch roof.
Craftsman: Post Perfection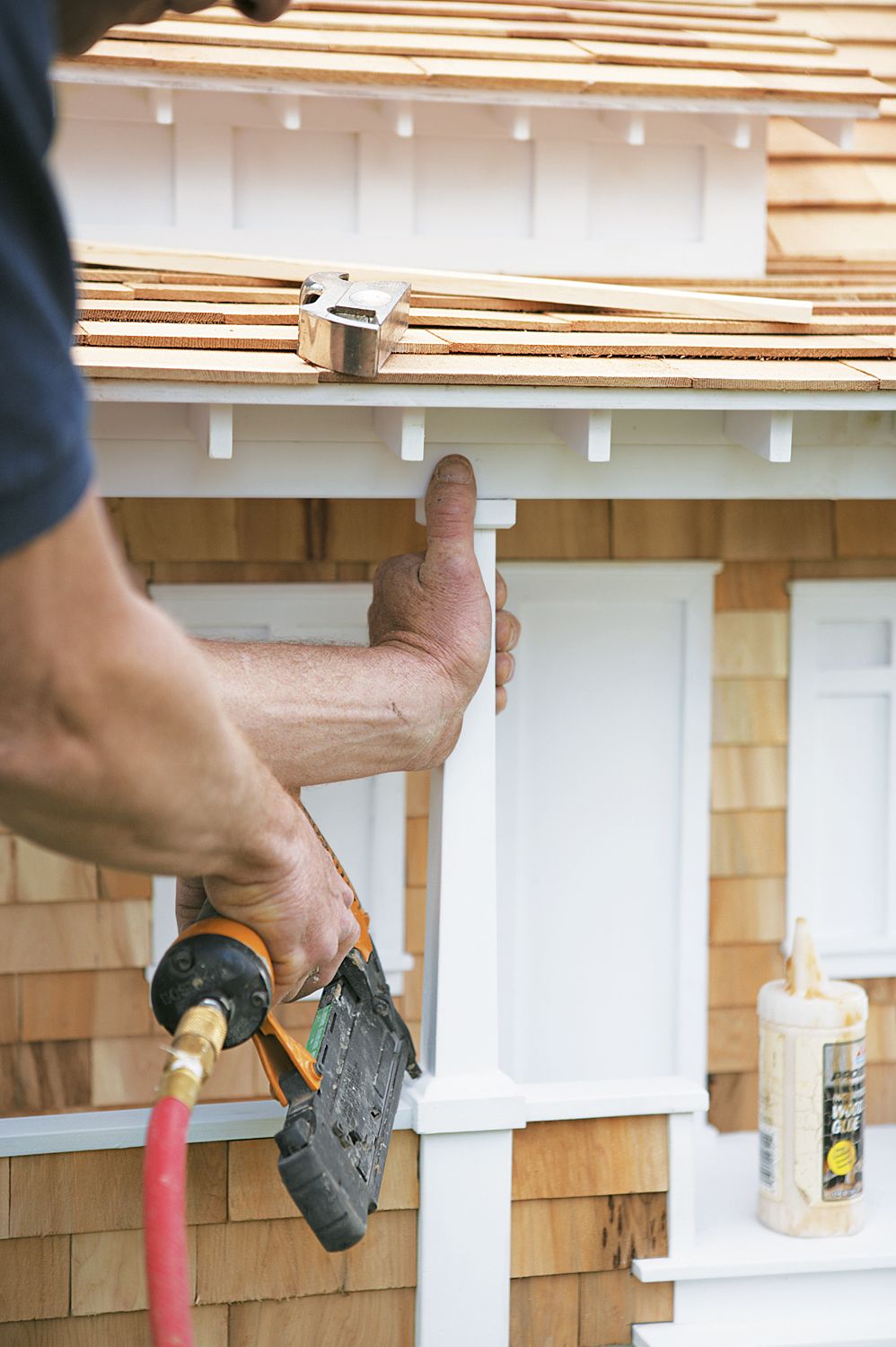 The porch posts are toenailed through the base, then all nail holes are filled in with auto-body putty.
Craftsman: Finishing Touches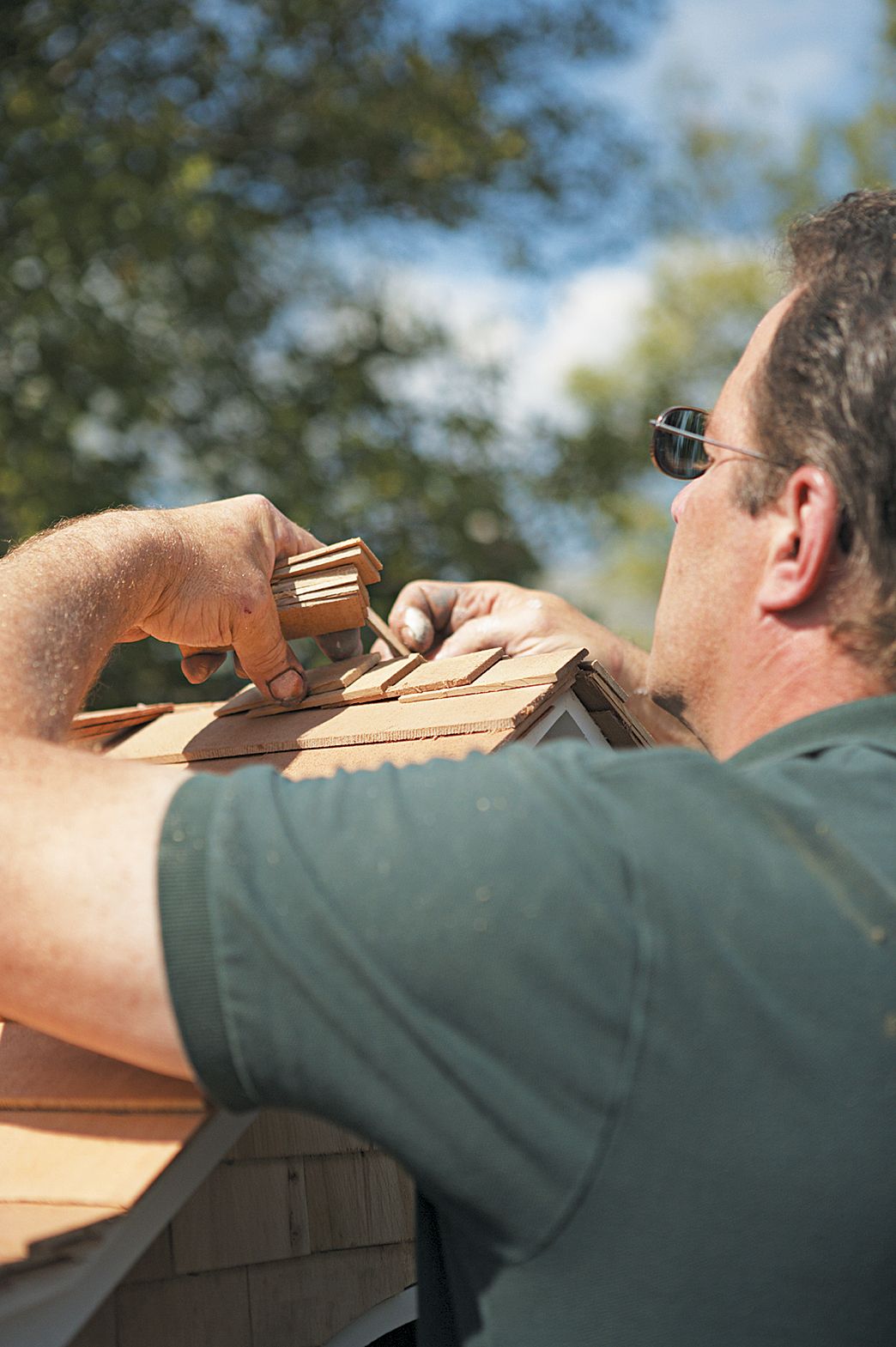 Gumpy's uncle, Dale Jolliffe, glues a cap of overlapping shingles to the roof ridge to keep it watertight.
At Home in Nature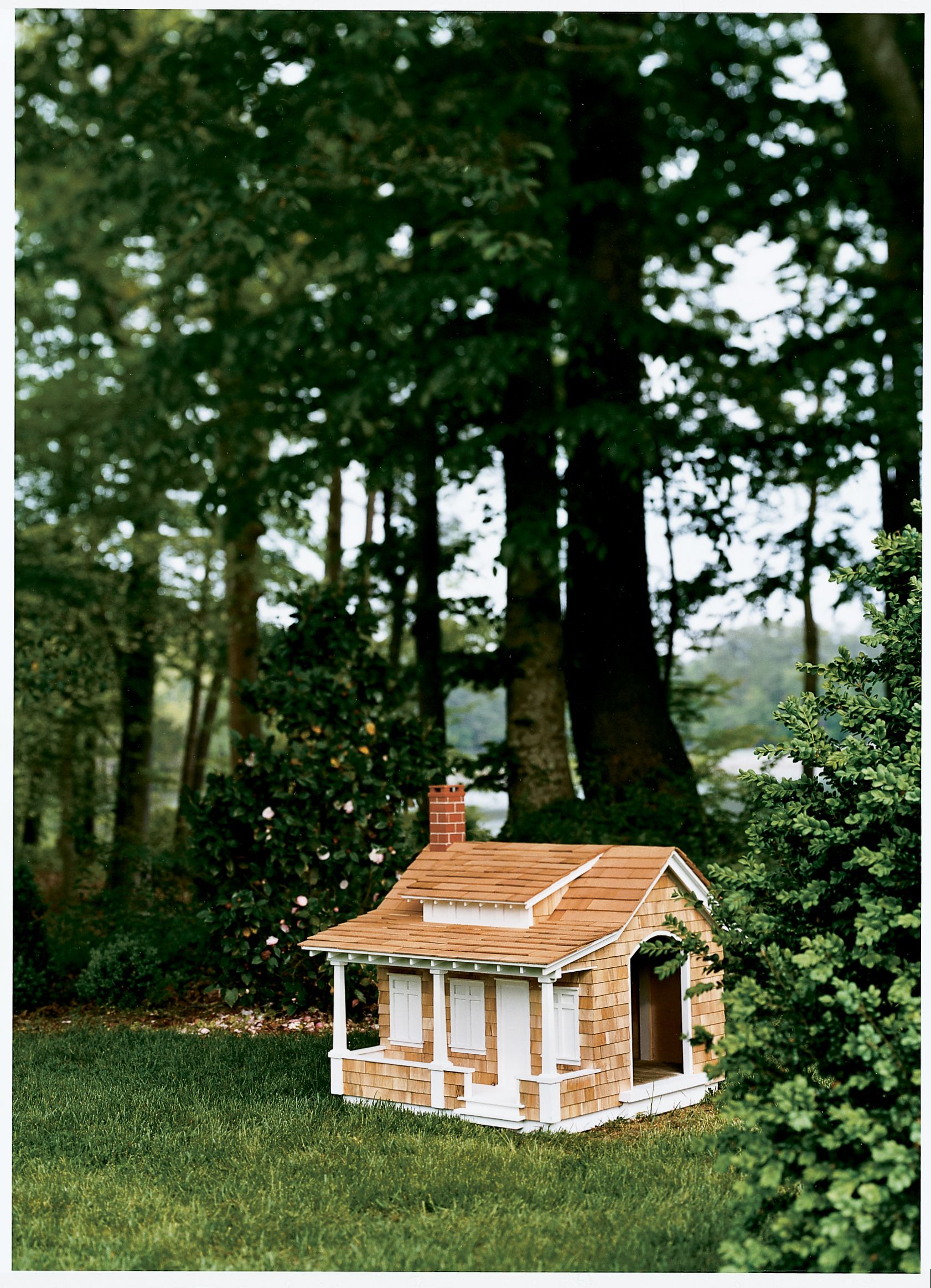 The Craftsman aesthetic—natural materials, handcrafted details, and simple lines—shows in the cedar-shingle siding, the tapered porch posts atop stout piers, and the exposed rafter tails. The roof, with its wide shed dormer and gentle crook where it meets the porch, is another hallmark of the style. Jolliffe spared no effort for his trusty sidekick, painstakingly hand-painting the porch, windows, and trim with an artist's brush, and hand-gluing more than 275 cedar shakes to the roof.
Greek Revival: Pooch With a Porch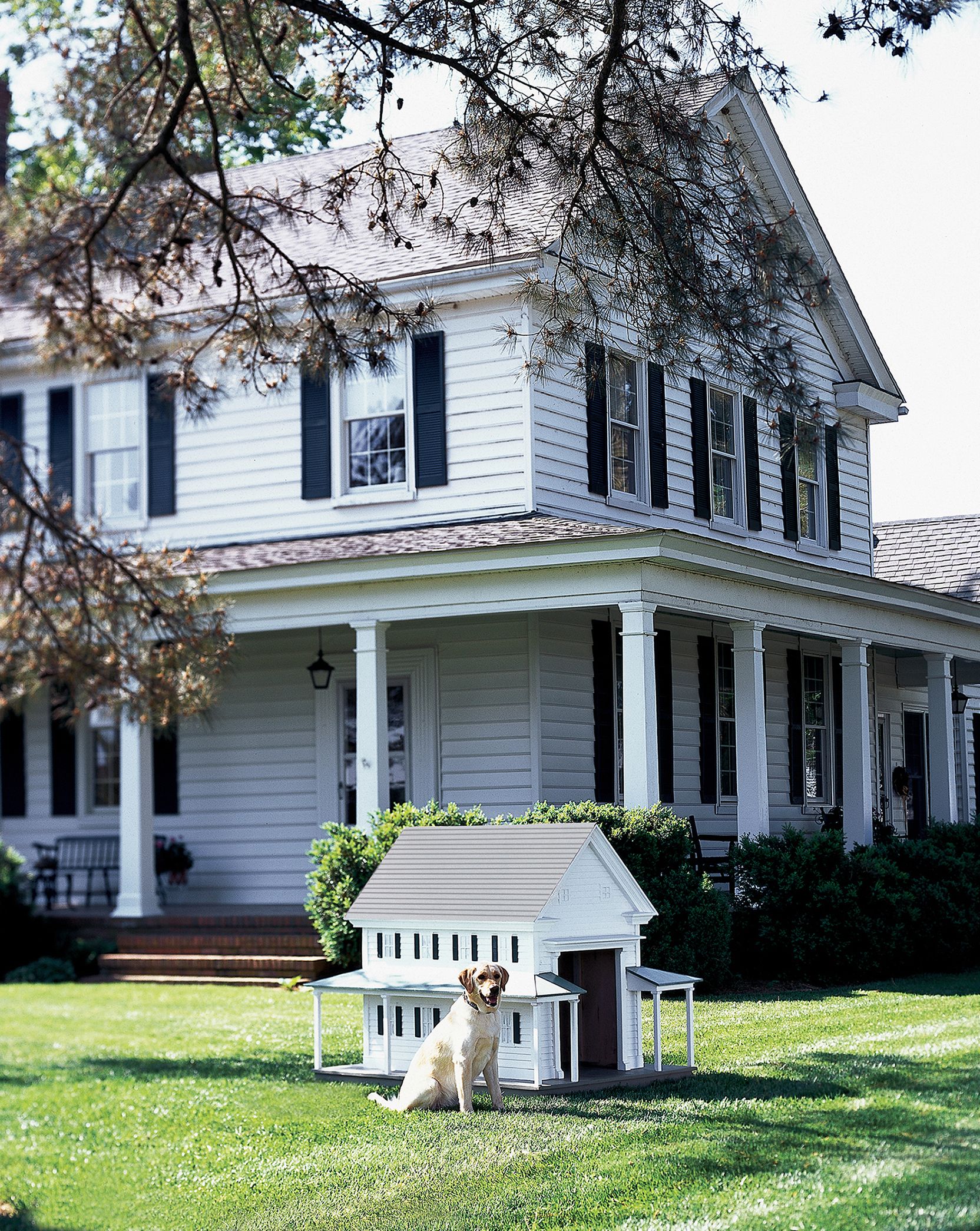 A scaled-down farmhouse stays true to its 19th-century roots with hand-cut clapboards and wraparound veranda.
House: Greek Revival, 1825-1860
Dog: Emma
A farmhouse without a dog is like a … well, we don't even want to contemplate it. And neither does Emma. When the frisky yellow Labrador gets tired of barking at cows, digging holes in the garden, and chasing skunks on the range, she kicks back in a clapboard version of an American icon. Surely, original homesteaders couldn't find a better place to pass a summer afternoon than under the shade of its broad porch, which sweeps around the house like a cool country breeze.
Greek Revival: In Fine Detail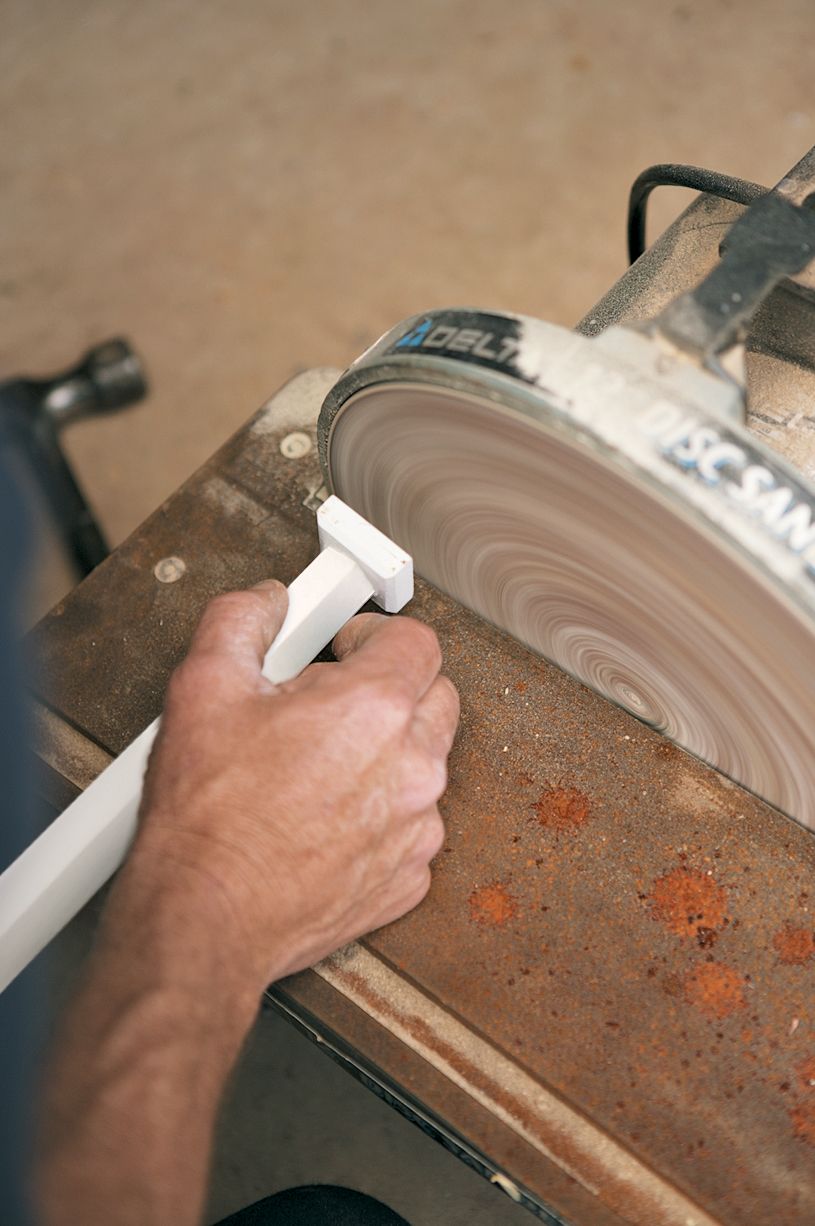 See more on Pets:
• Build a Wall-Mounted Pet Organizer
• Build a Murphy Bed for Your Dog
Greek Revival: Finding The Right Angle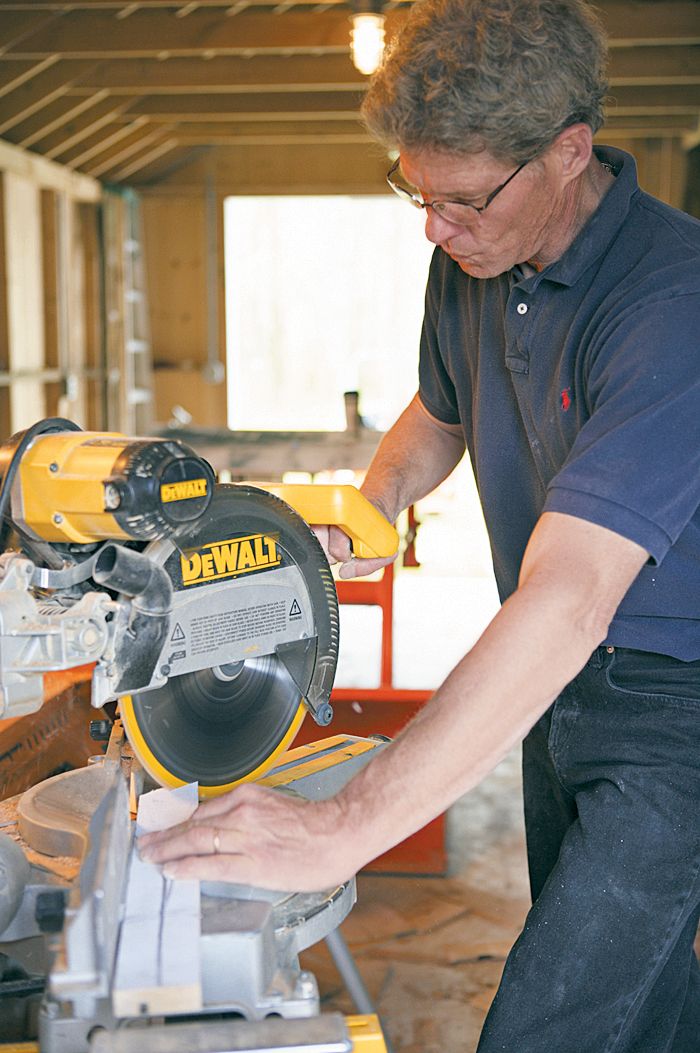 Carpenter Mark Jolliffe cuts angles for the porch roof with a miter saw. Like that on the main house, the broad overhang serves a practical function, channeling rainwater away from the structure.
Greek Revival: Fundamental Features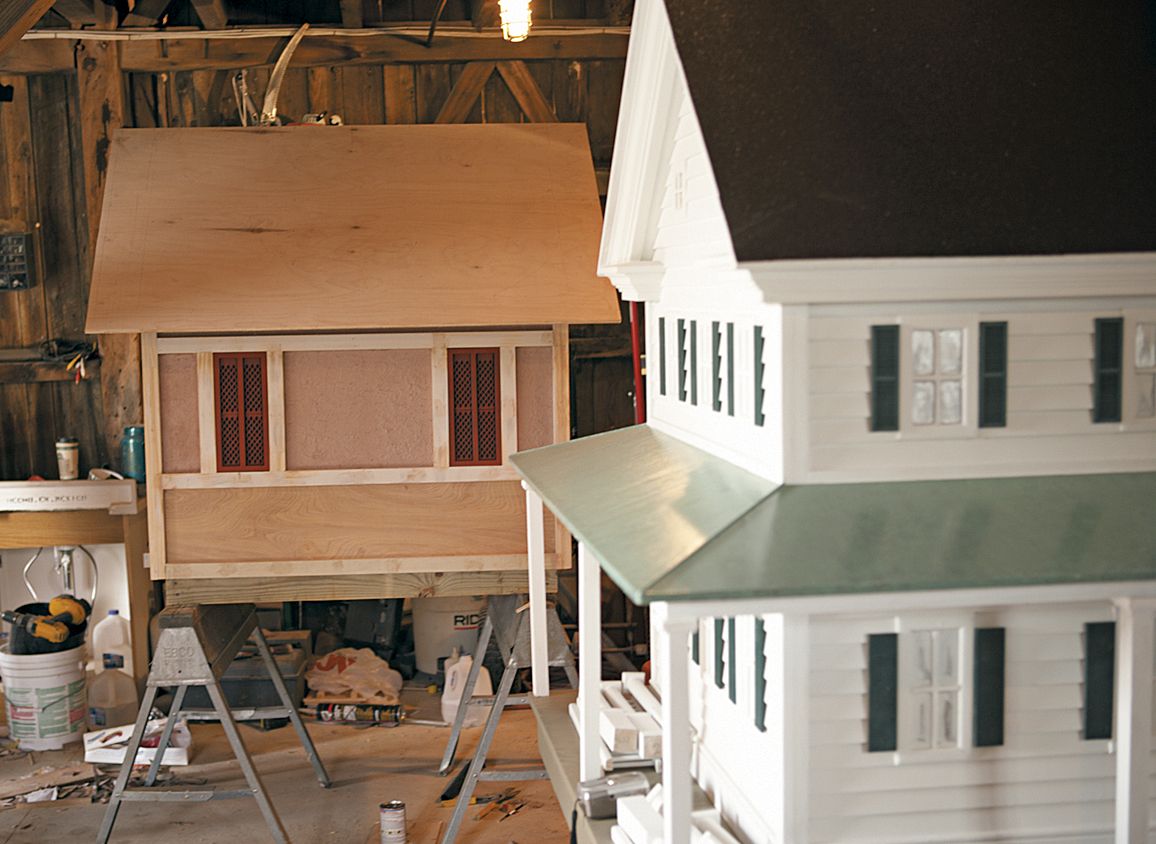 See more on Pets:
• Build a Wall-Mounted Pet Organizer
• Build a Murphy Bed for Your Dog
Emma's Greek Revival Doghouse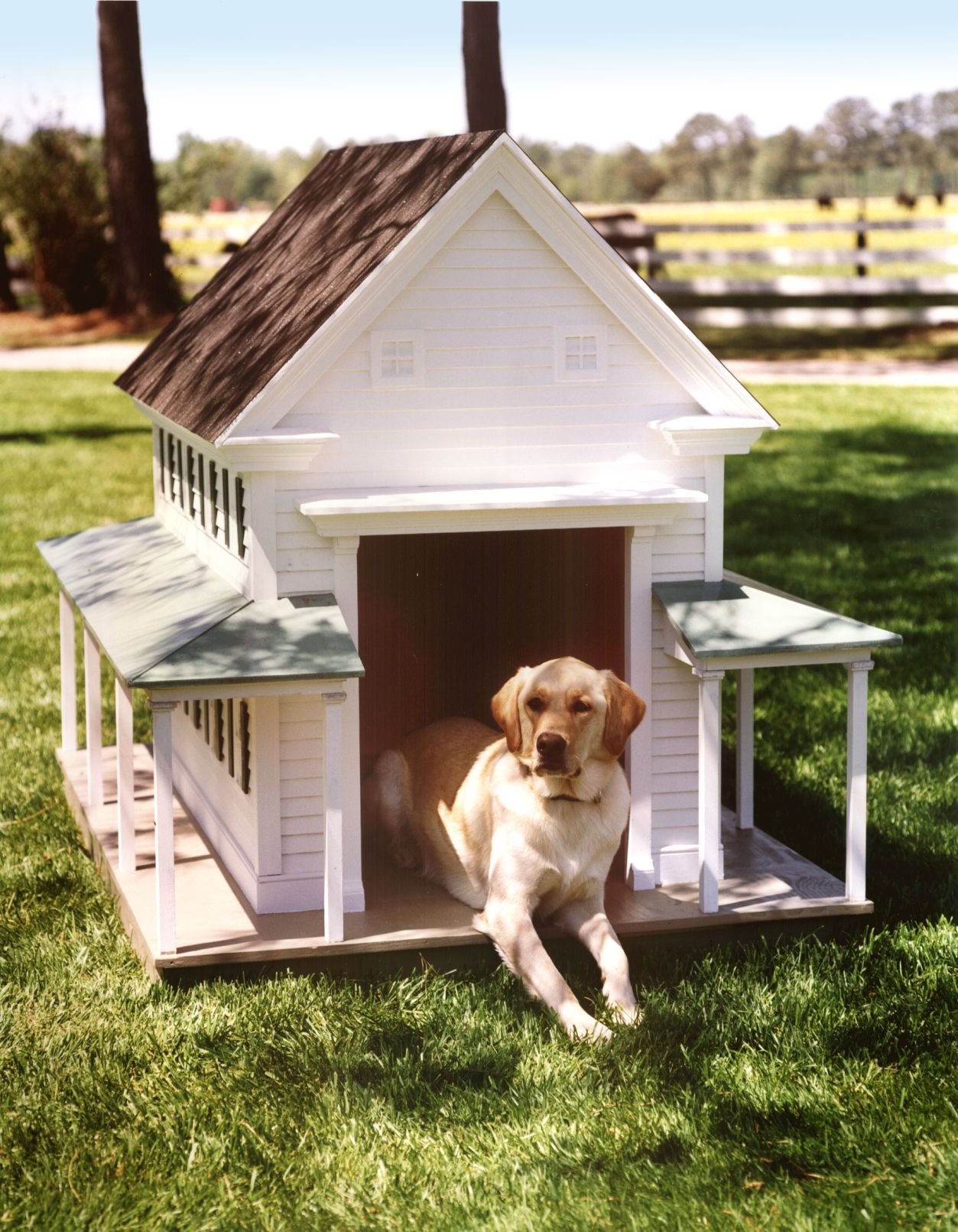 In addition to that classic farmhouse feature, this miniature version shares the main house's Greek Revival details: a pediment on the gable end, graceful porch columns, and (okay, here our crew went a little overboard) a faux-verdigris porch roof, painted to look like standing-seam copper.
So what if the tiny louvered shutters won't really close during a storm? Any animal lover knows that with the first clap of thunder, even the skunk-chasingest canines beat it up to the big-house porch, safe in the company of their two-legged companions.
Queen Anne: A Queen Fit for a Duke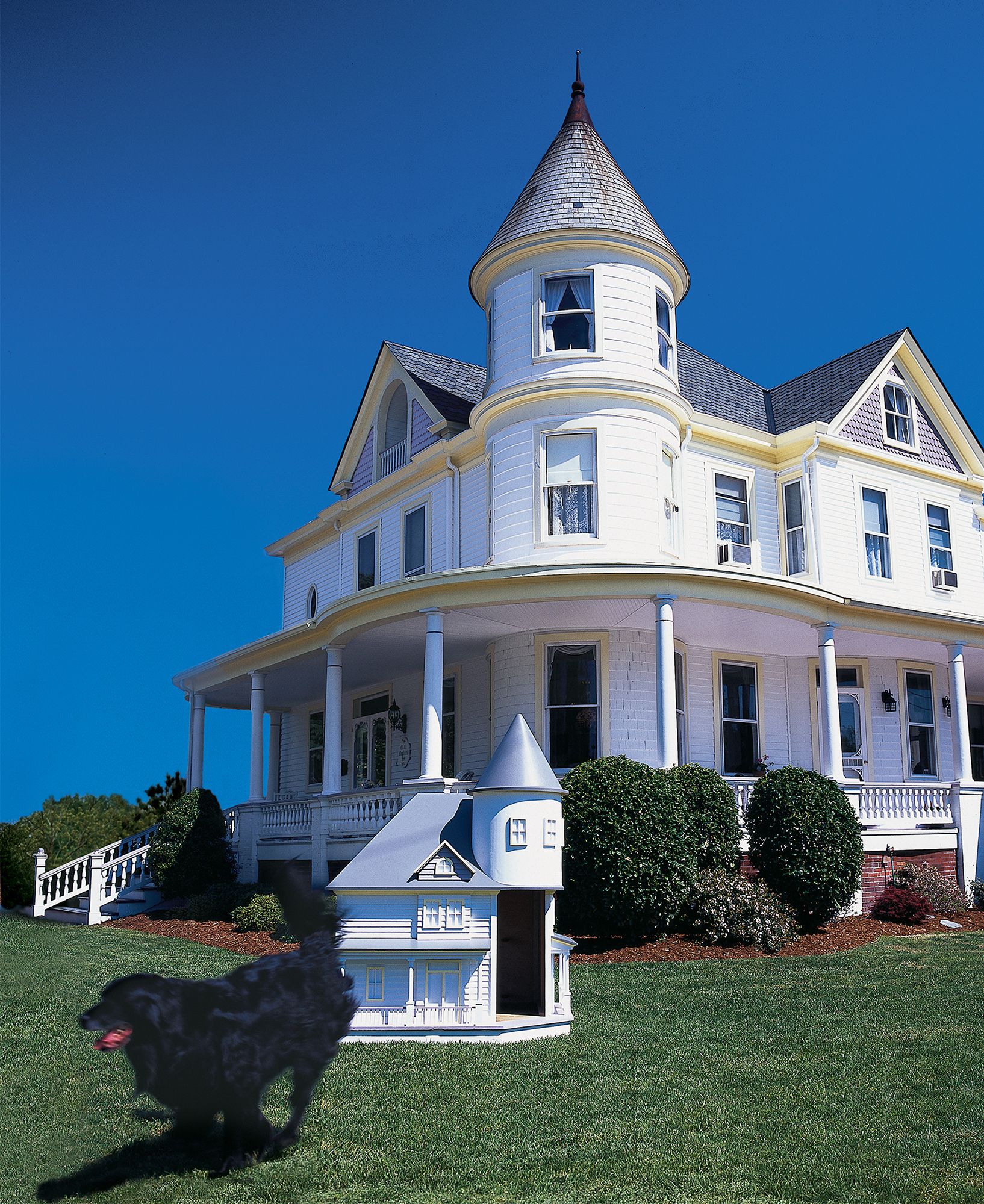 Victorian-era style gets thrown a curve in this doggie den topped by a conical-capped turret.
House: Queen Anne, 1880-1910
Dog: Duke
When you're a 90-pound Newfoundland, a simple studio apartment won't do. You need something suitably majestic. Something big and substantial, something with character. What you need is a front-lawn Queen Anne. With its intersecting rooflines, multiple gabled dormers, wraparound porches, and soaring turrets, a Queen Anne is the most over-the-top of Victorian-era styles. No detail is too ornate, from the exuberantly carved porch balusters to the often eye-poppingly vivid color schemes. So it's only fitting that our canine castle—6 feet square, 5 feet tall, and a hefty 250 pounds—sports the same level of obsessive craftsmanship, right down to the witch's-hat peak, coopered together with 24 individual staves of mahogany. The color palette, borrowed from the circa-1900 main house, is white on the body, yellow on the door and window trim, and pastel purple on the dormer. Even the porch ceiling is painted sky blue, a classic period detail. Breaks our heart that dogs are color-blind.
Queen Anne: Complicated Witch's Cap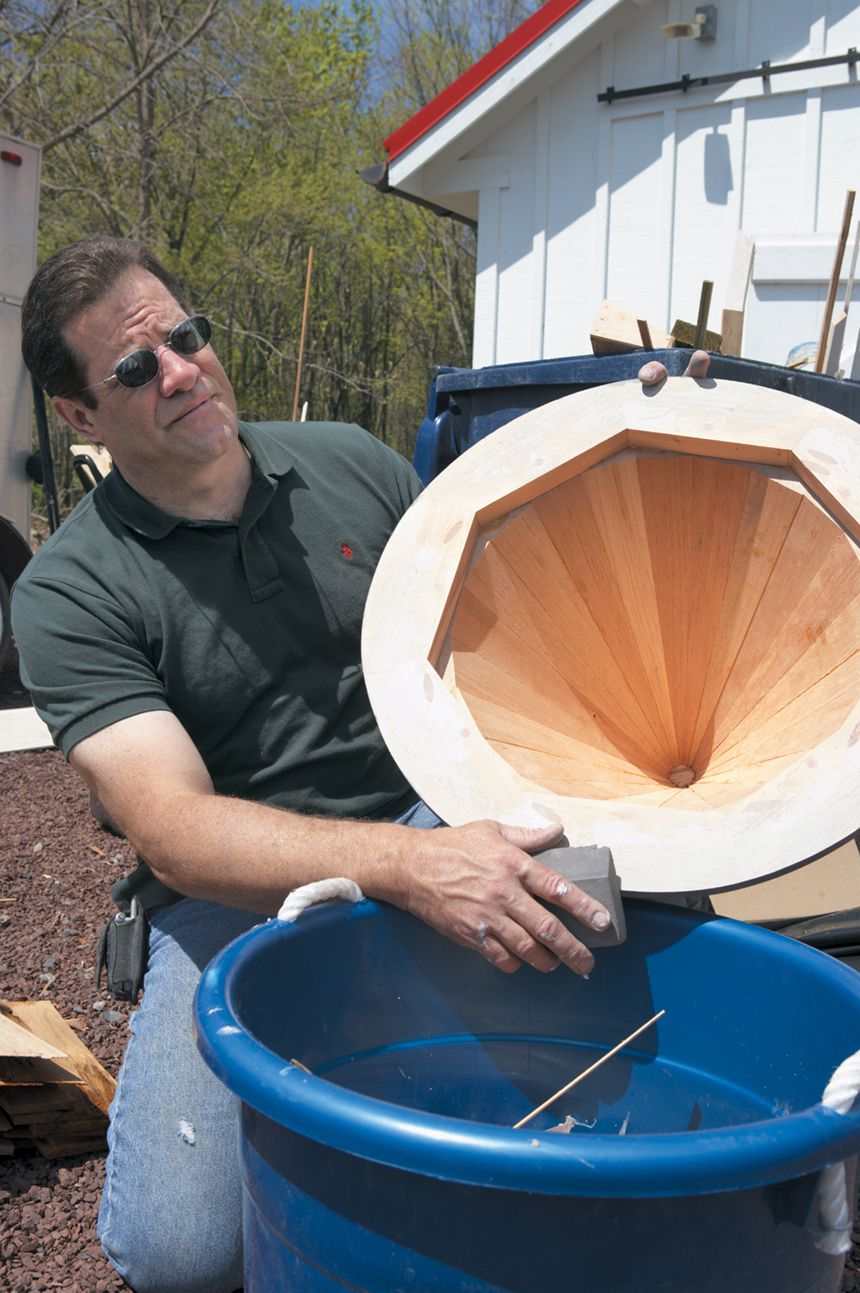 The mahogany witch's cap took a degree in higher mathematics (almost) to execute. Each stave was cut with compound angles tapering from ¾-inch at the point to 2 inches at the base.
Queen Anne: Detailed Windows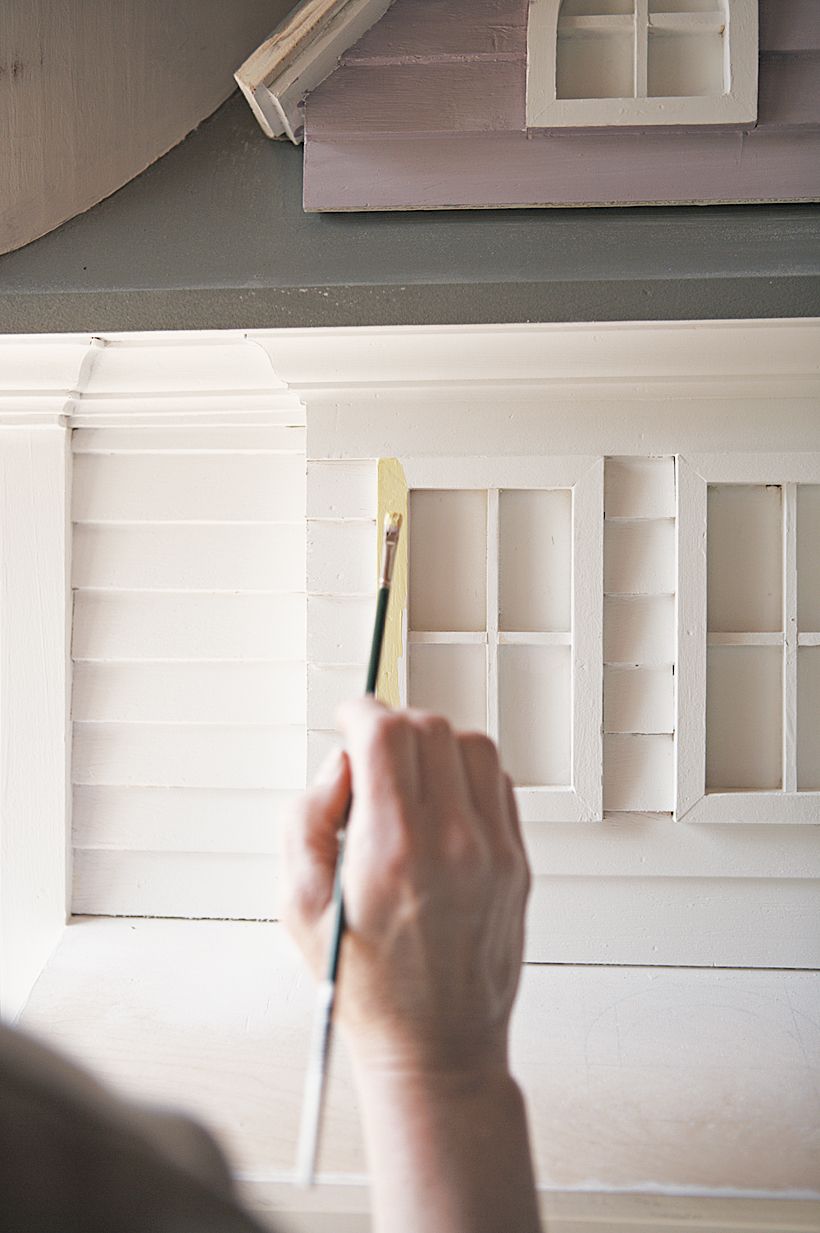 Lacking a small-enough sash brush, the windows were painted pale yellow with a fine-art brush.
Queen Anne: Finishing Period Paint Touches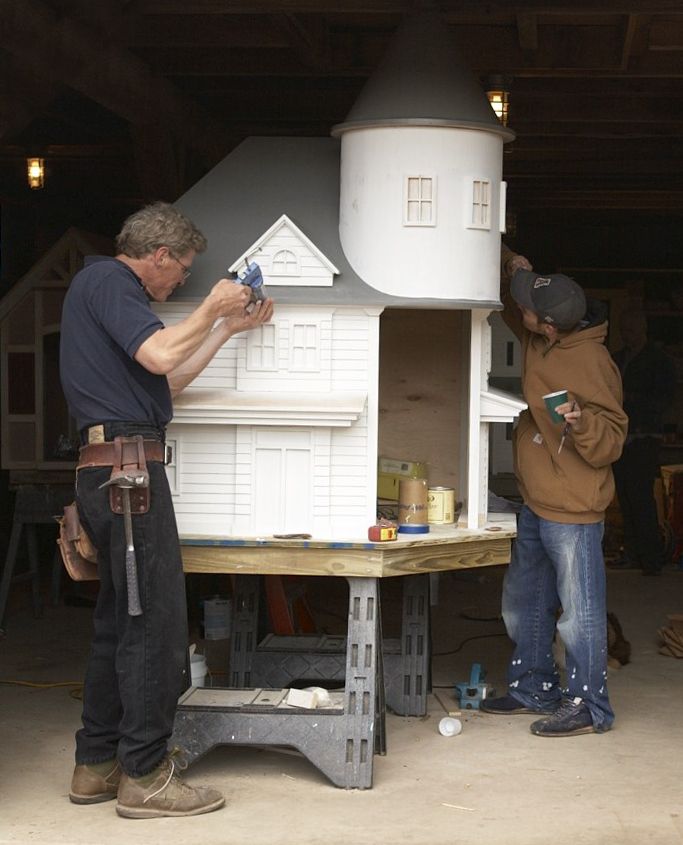 The doghouse, its turret roof practically scraping the workshop ceiling, gets finishing touches of caulk and paint. The color palette, borrowed from the circa-1900 main house, is white on the body, yellow on the door and window trim, and pastel purple on the dormer. Even the porch ceiling is painted sky blue, a classic period detail.
Queen Anne: Complete Canine Castle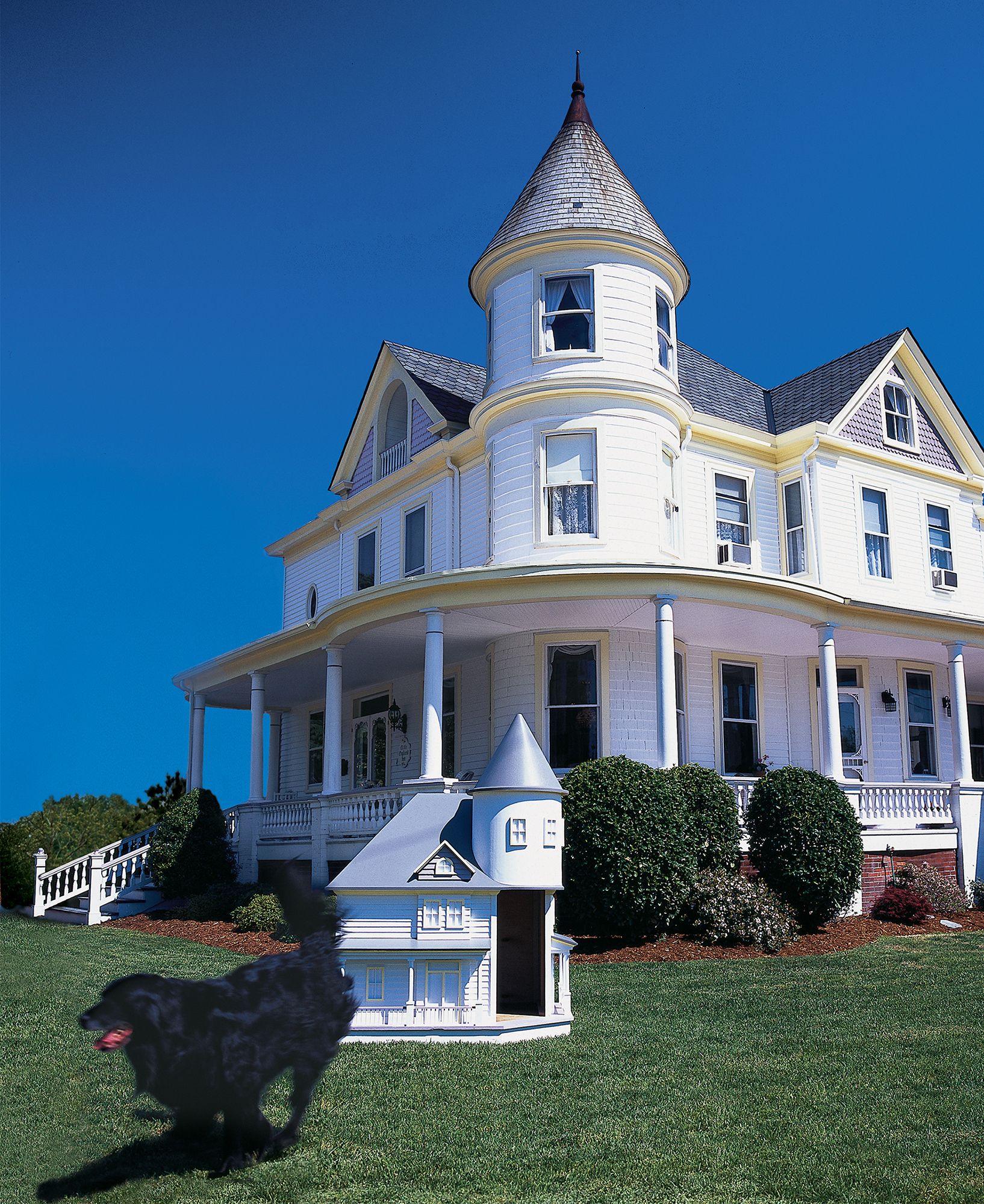 Living up to his name, Duke felt like royalty in this pooch palace. No sooner had it been set on the lawn than he quickly snuggled inside.
Georgian: Unleashing a Classic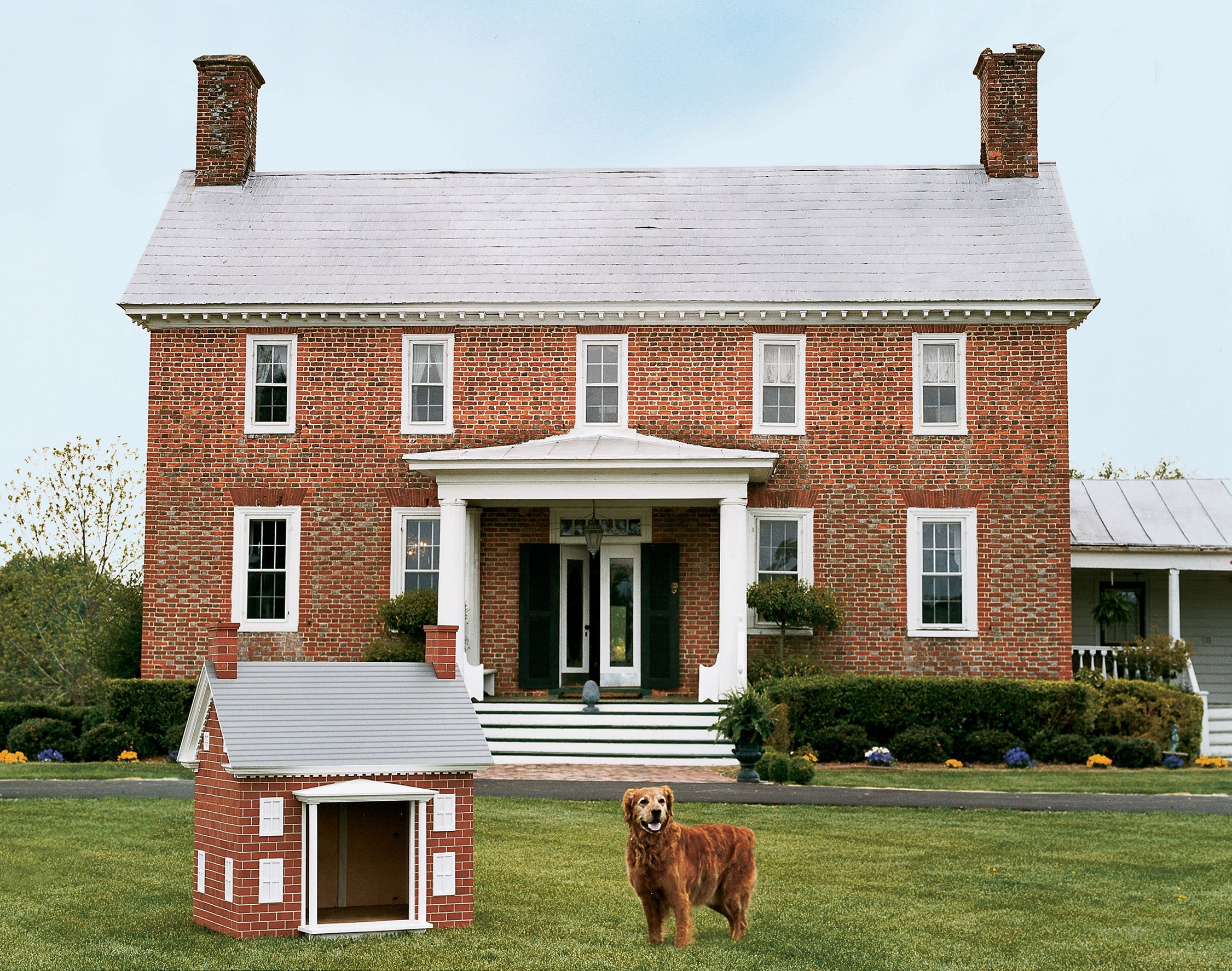 A fetching replica of a Colonial-era brick Georgian is a study in symmetry, right down to the twin chimneys.
House: Georgian, 1700-1780
Dog: Tanner
This scaled-down brick Georgian is a masterpiece of fool-the-eye invention, starting with the bricks. The faux masonry is actually individual pieces of ¼-inch Lauan plywood, covered with a textured terra-cotta paint. To replicate the random pattern of bricks on the main house, the miniature ones were painted three different shades, then mixed up in a bucket before being glued on. The "mortar" is exterior caulk, the kind typically used for repairing cracks in sidewalks, which has a gritty appearance. Then there are the architectural details: creamy white columns (18-inch sections of closet rod), paired chimneys, dentil molding along the eaves, and a hipped-roof portico. What's no illusion is the spot-on reproduction of the classic Georgian symmetry and proportions: the doghouse's gable-end windows, for example, are exactly half the scale of those on the front of the doghouse, just like on the real thing.
Georgian: Faux Brick and Mortar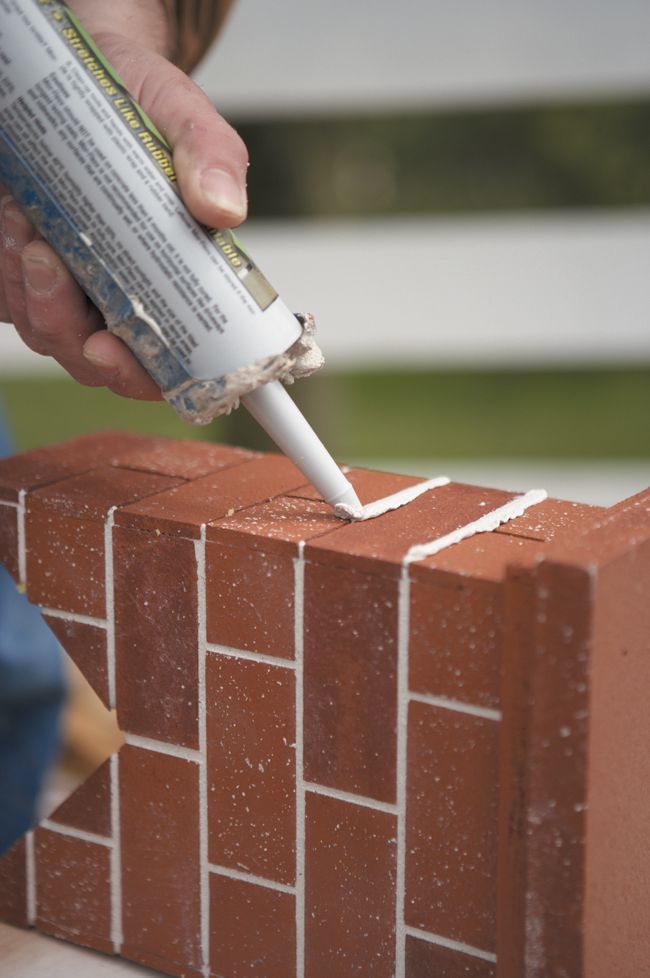 Sanded caulk fills the gaps between bricks for a real-life mortar look and feel. To replicate the random pattern of bricks on the main house, the miniature ones were painted three different shades, then mixed up in a bucket before being glued on.
Georgian: A Fresh Coat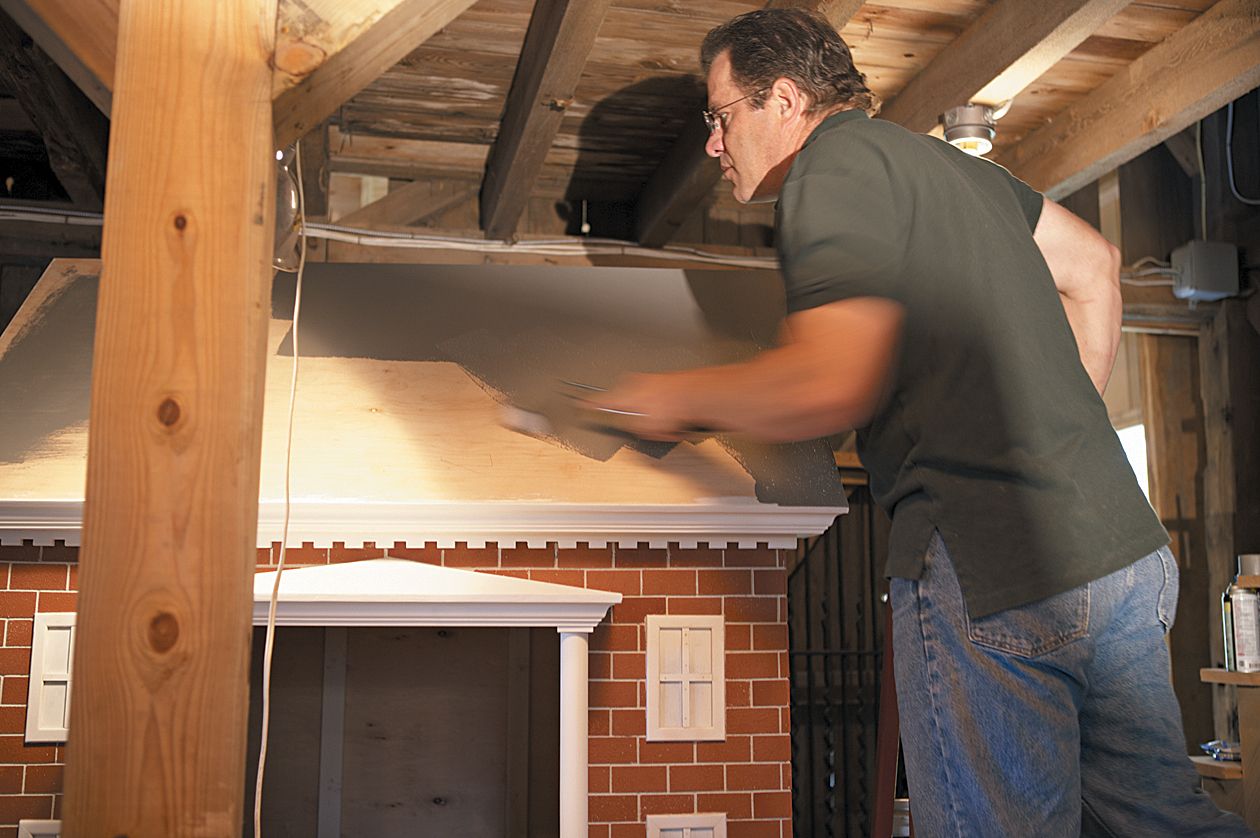 The replica gets a coat of exterior porch paint before a layer of adhesive-asphalt roofing is added.
Georgian: Seeing Double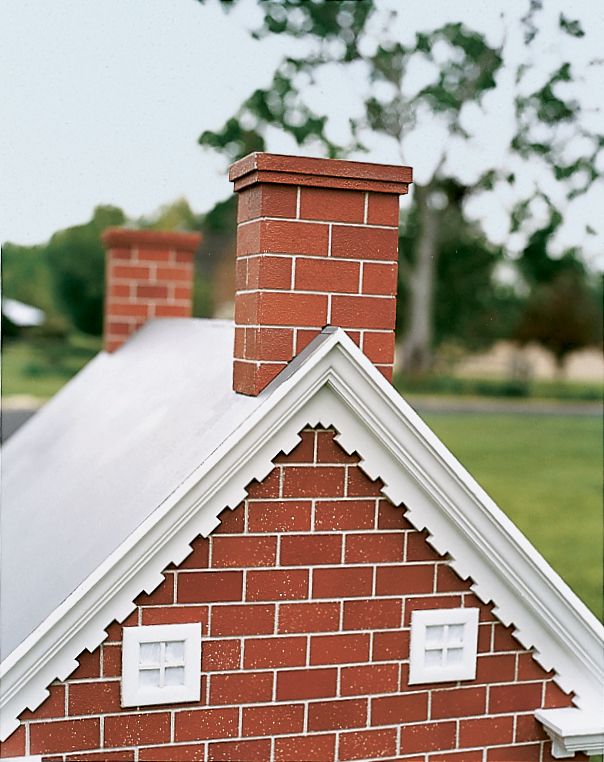 See more on Pets:
• Build a Wall-Mounted Pet Organizer
• Build a Murphy Bed for Your Dog
Tudor: To the Manor Bred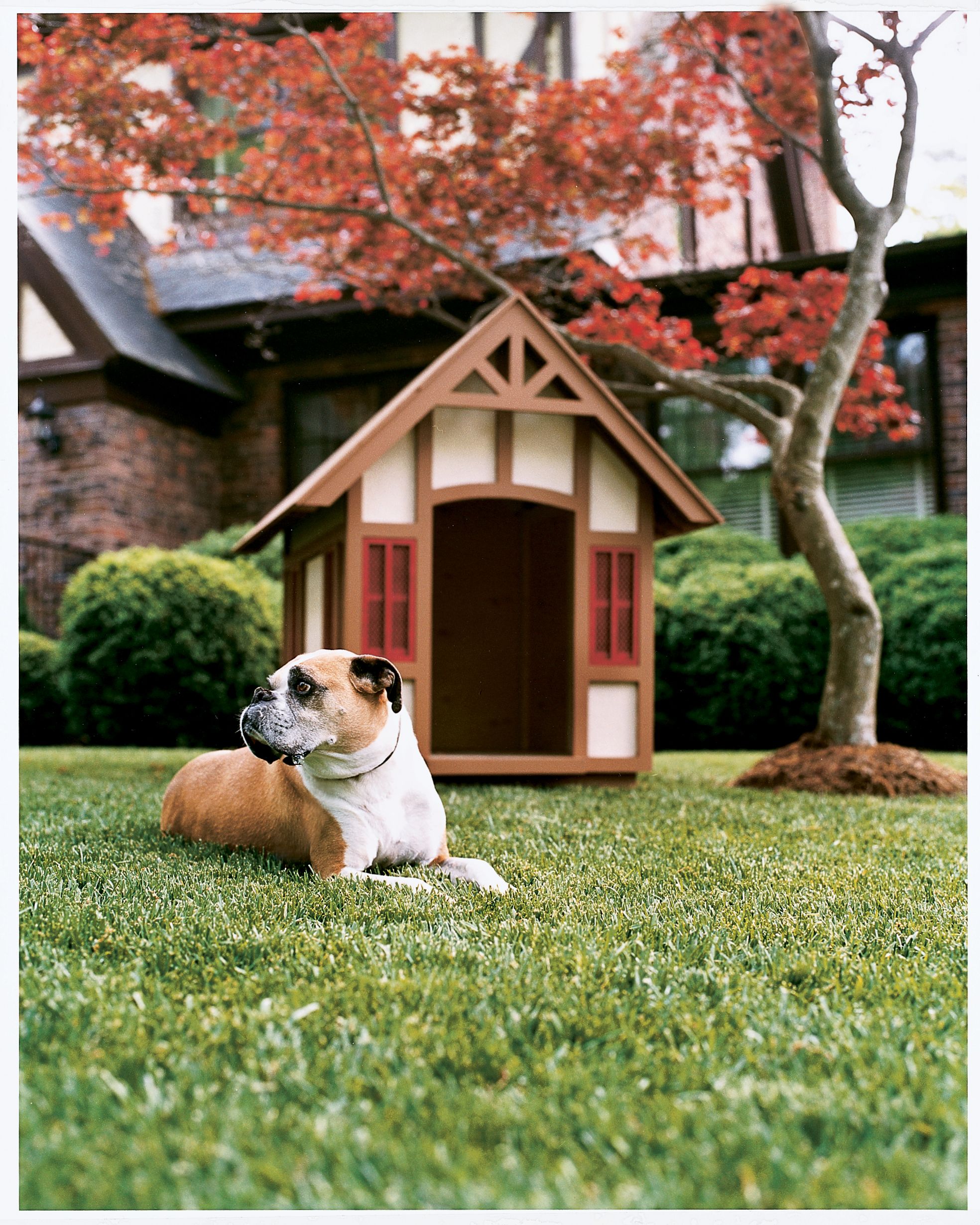 Decorative half-timbering and textured stucco siding hint at this canine crib's early English ancestry.
House: Tudor, 1890-1940
Dog: Alfie
You don't have to be an English bulldog to feel right at home in an English-style Tudor. You don't have to be a bulldog at all, for that matter. Alfie, an 8-year-old boxer, liked this little cottage just fine. With its steeply pitched faux-slate roof and pale stucco exterior, the 4-foot-tall doghouse is Tudor to a tee. It's even got classic diamond-pane leaded-glass windows—except these are made of plastic gutter guard, cut to length and hand-painted an earthy red. The Tudors of 16th-century England were framed with thick timbers, held together by mortise-and-tenon joinery; while our miniature reproduction started out as a simple wooden box, it still features decorative half-timbering on the facade—as do most American Tudor revivals, including the one where Alfie's humans live. For faux stucco that could fool even a dog's discerning eye, builder Dale Jolliffe used quick-dry auto-body putty, which he smeared on, then incised with a putty knife to mimic trowel marks.
Tudor: Prepping for Paint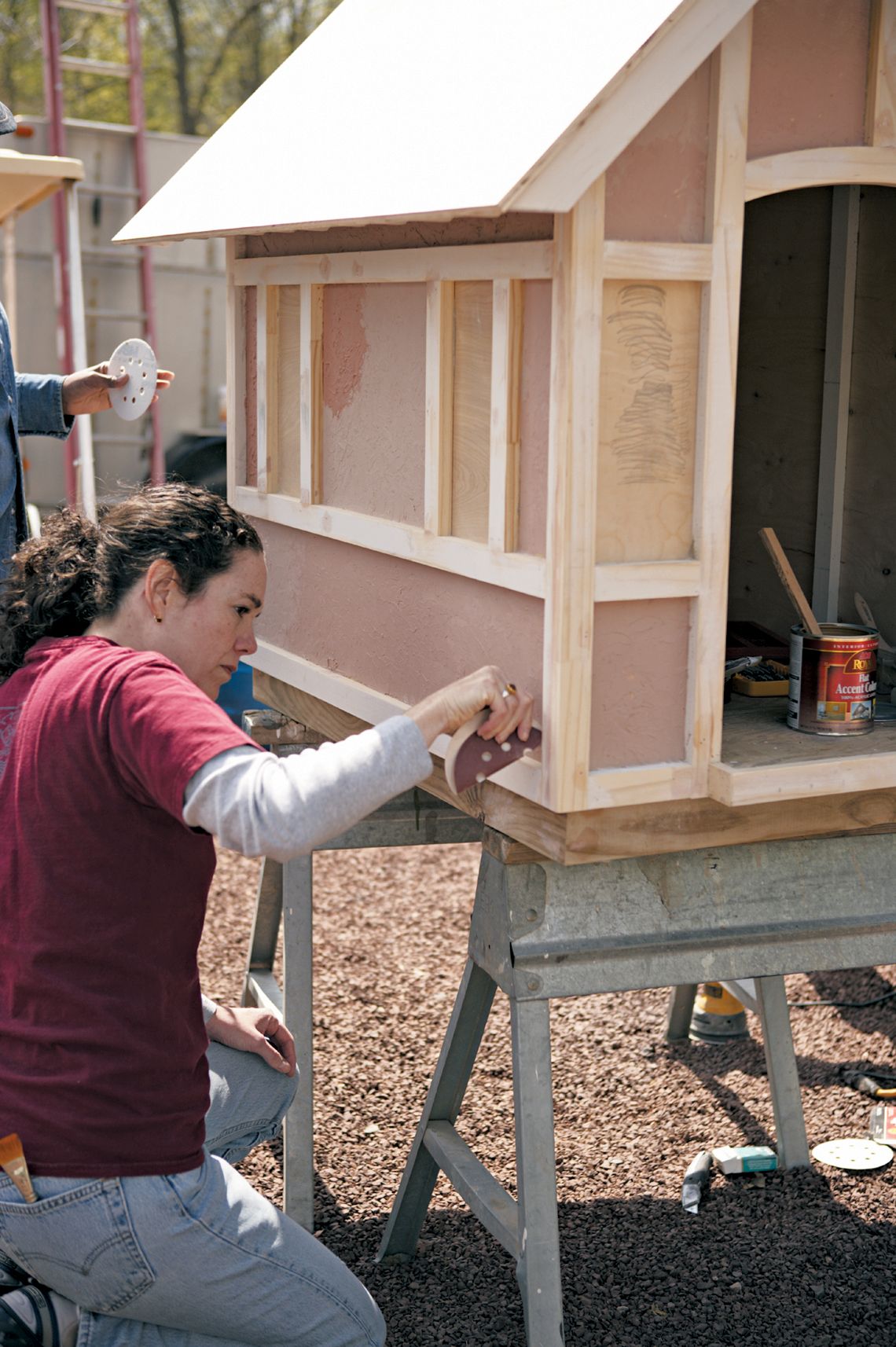 The pine "timbers" get hand-sanded in preparation for the first coat of paint.
Fast Filler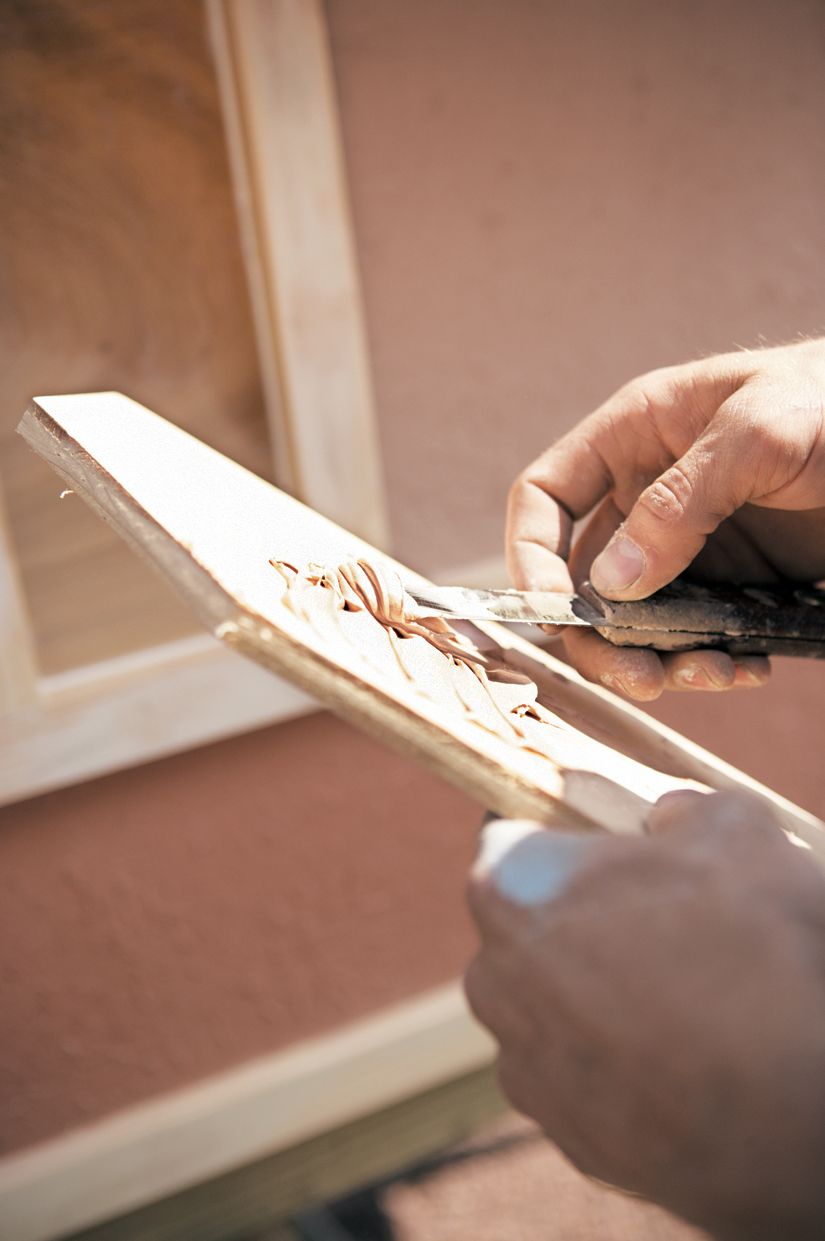 For faux stucco that could fool even a dog's discerning eye, builders used quick-dry auto-body putty, which was smeared on, then incised with a putty knife to mimic trowel marks. Using a piece of scrap wood as a palette, small amounts of auto-body filler were mixed for the stucco. You have to work fast with this stuff, and uses only a little at a time because it hardens in the blink of an eye.
Tudor: Faux Florishes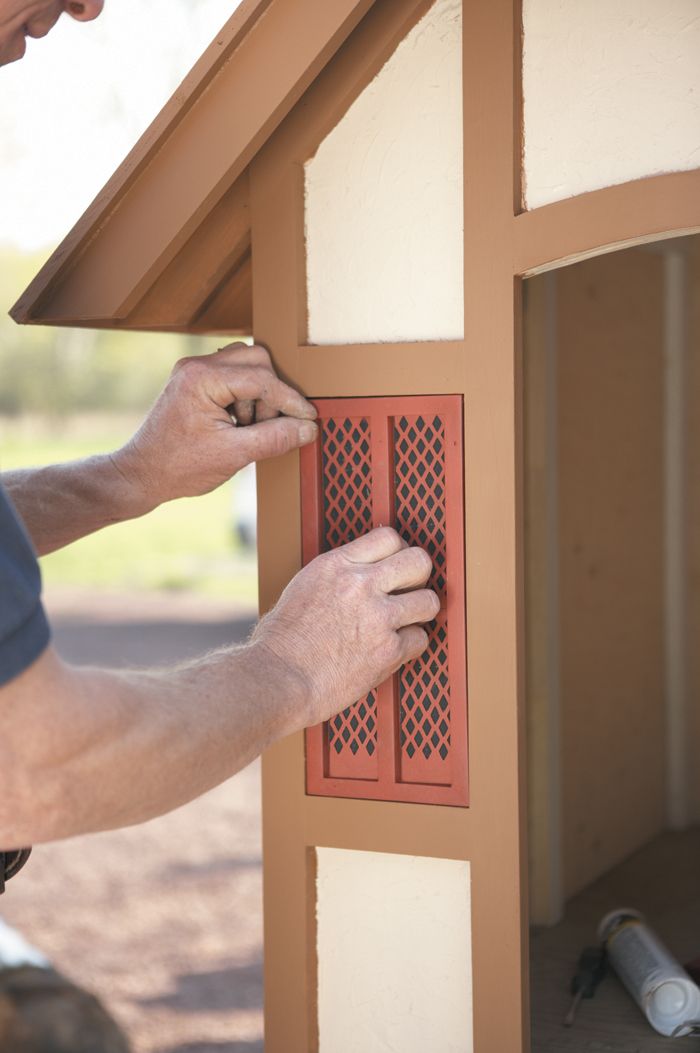 The casement windows aren't operable, but the diamond-shaped panes complete the traditional look.
A Doghouse Like Her House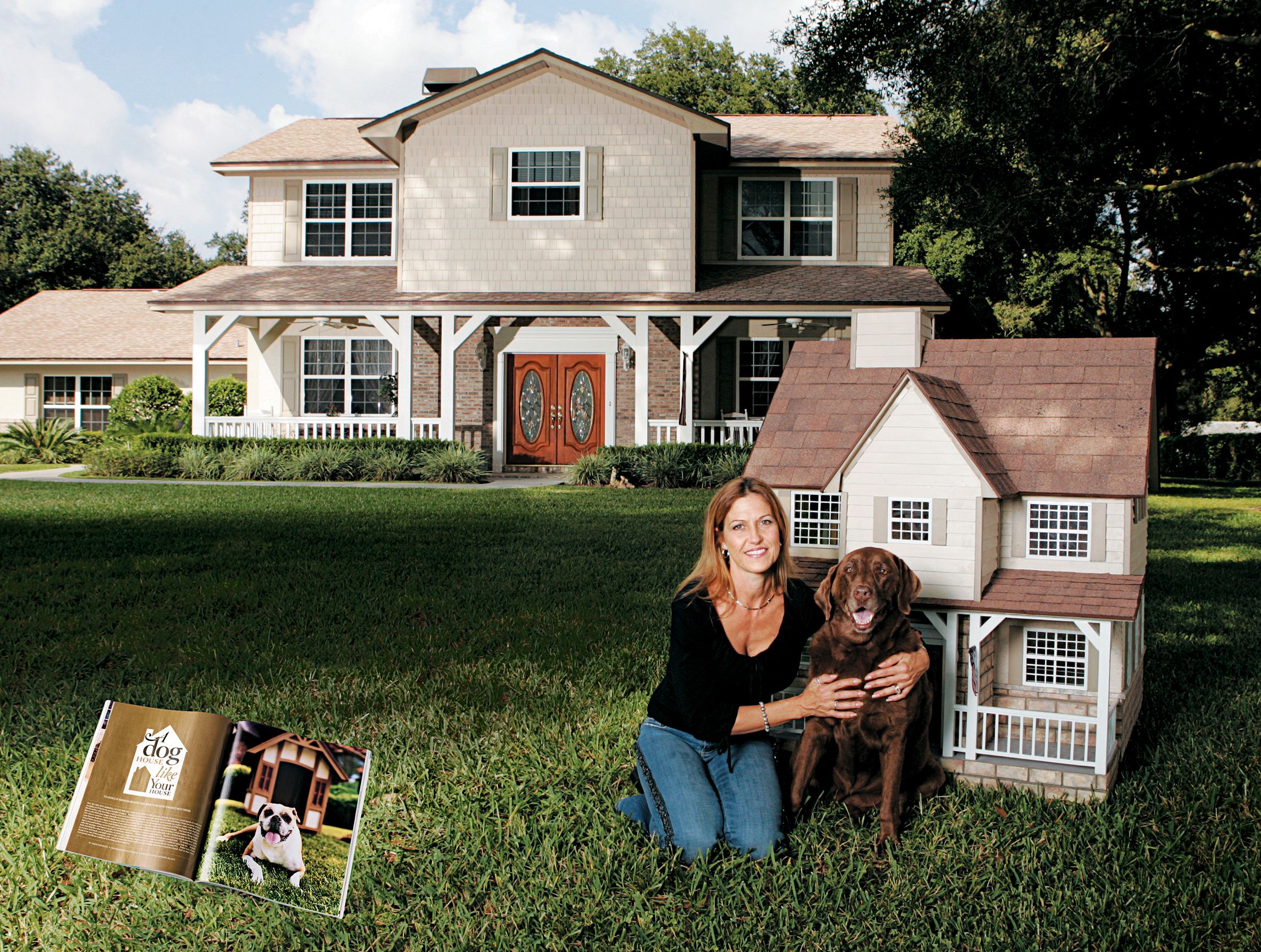 History is filled with misunderstood visionaries, from Noah and his ark to Wilbur and Orville and their airplane to, most recently, Cheryl Morgan and the doghouse she built out of birch plywood, all-purpose putty, and shutter hardware.
Sure, Morgan's family questioned her sanity as she obsessively sawed, glued, nailed, and painted the perfect-canine-sized replica of her brick, stucco, and shingle-sided house. Especially since Morgan, who had hardly any carpentry experience, did it with little more than a hammer, a bent jigsaw blade, and a level. "Most of the time, I used my fingernail to mark on the wood where to cut," she says.
Morgan framed the walls and roof with birch, used lattice strips and mortar–patching mix for the brick, all-purpose -putty for the stucco, and safety skid tape for the shingles. The porch railings are made from poplar, and the windows are fitted with clear acrylic squares for a dog's-eye view. Summoning up the best of her creative skills, she used wall hooks and beads to re-create porch lights and smacked on some automotive pinstriping for the window panes.
Contemporary in Just 32 Hours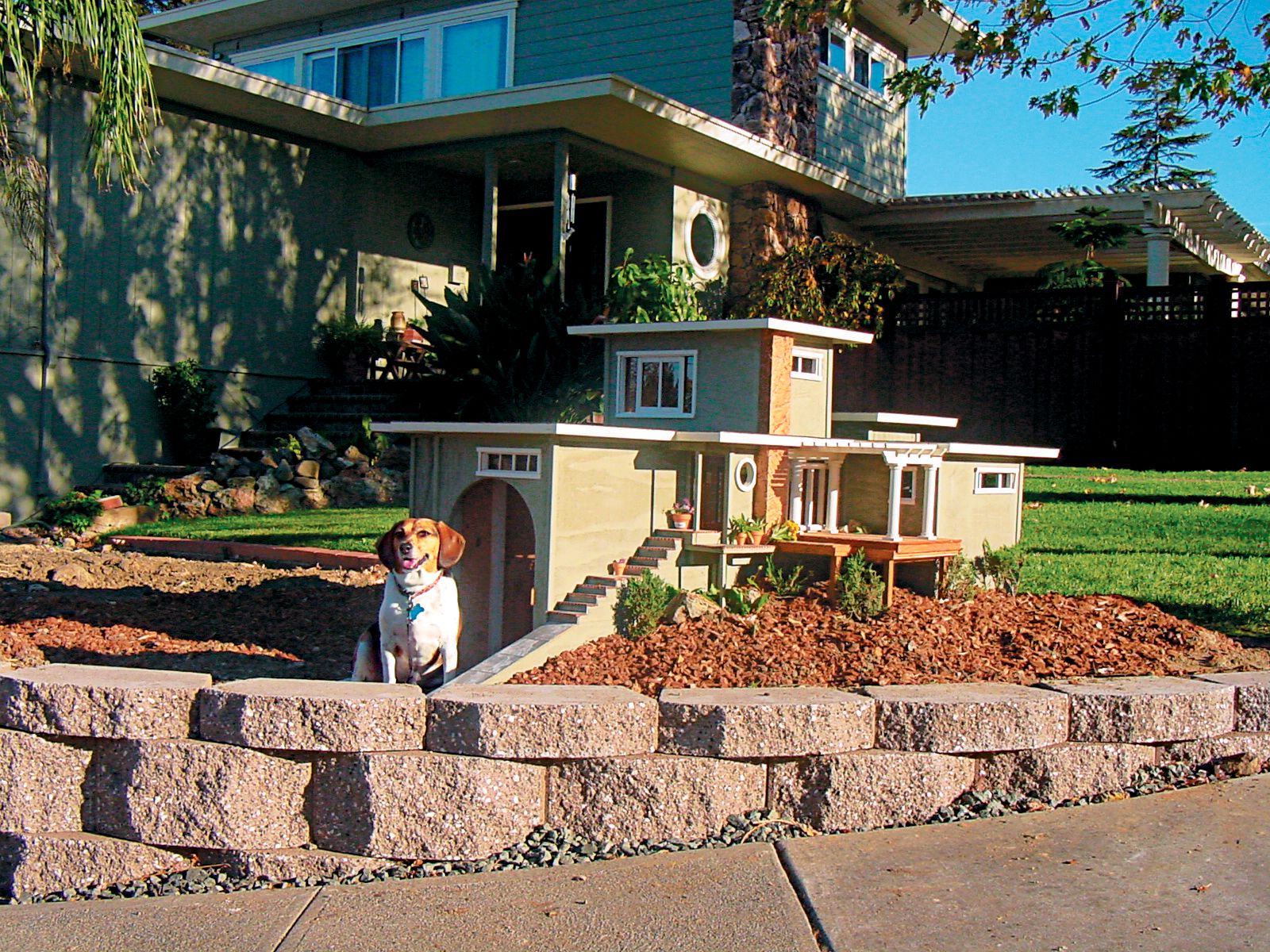 The detail on this flat-roofed contemporary is so accurate that in some views, we couldn't tell it apart from the real house. What's even more impressive is the fact that its builder, Mark Kasche, put this little puppy together in just 32 hours. The box is plywood, the windows are glazed with polycarbonate plastic, and the chimney is covered in textured paper that makes it look astonishingly similar to the main house's volcanic-stone version. Kasche, a contractor, says the materials ran him around $300. But if he were charging his regular hourly wage of $125, he says, "we're looking at a four-thousand-dollar doghouse." At that rate, beagle Pogo should be the envy of every other hound in the neighborhood.
Rugged A-Frame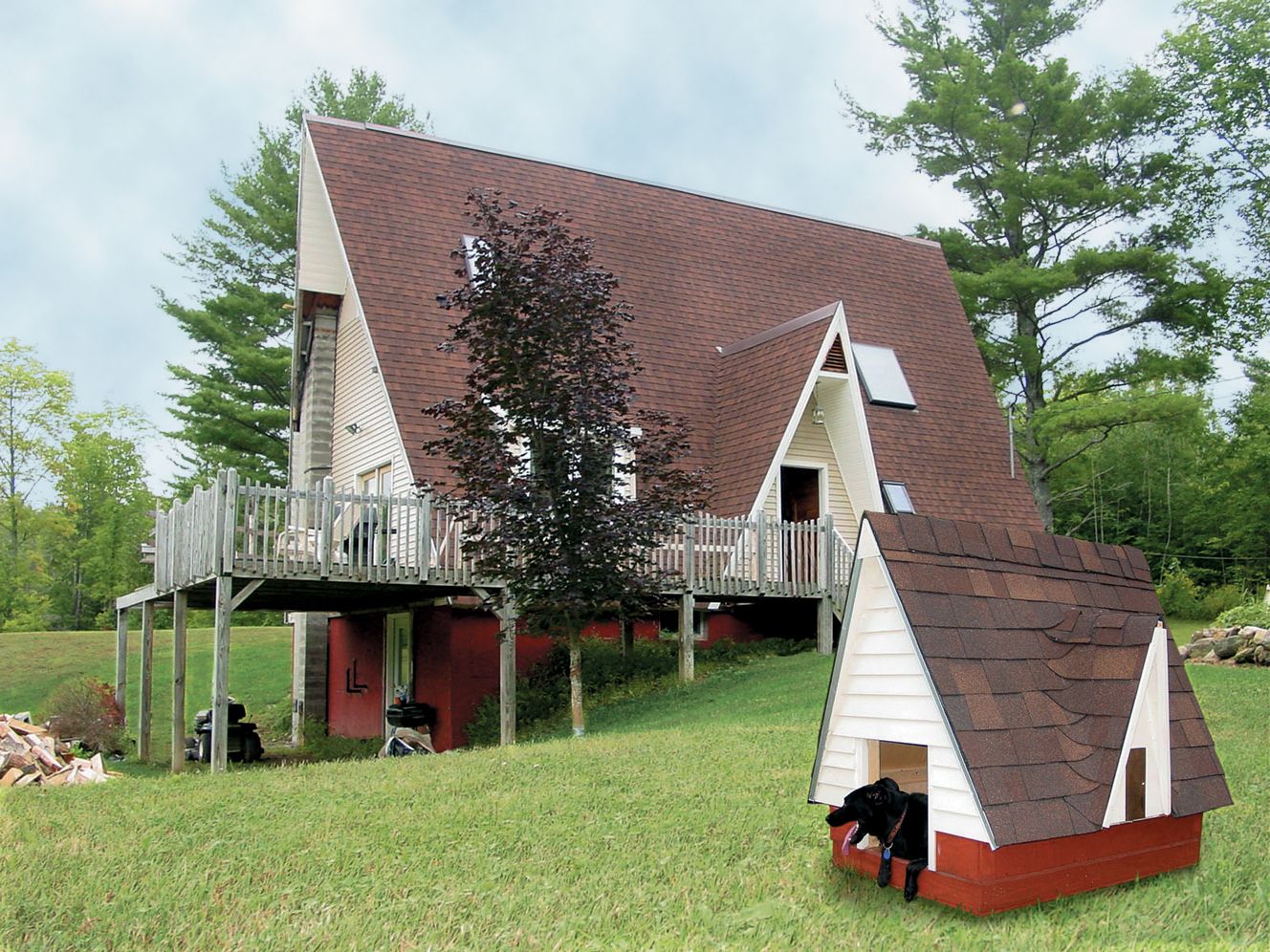 See more on Pets:
• Build a Wall-Mounted Pet Organizer
• Build a Murphy Bed for Your Dog
Cool Southern Porch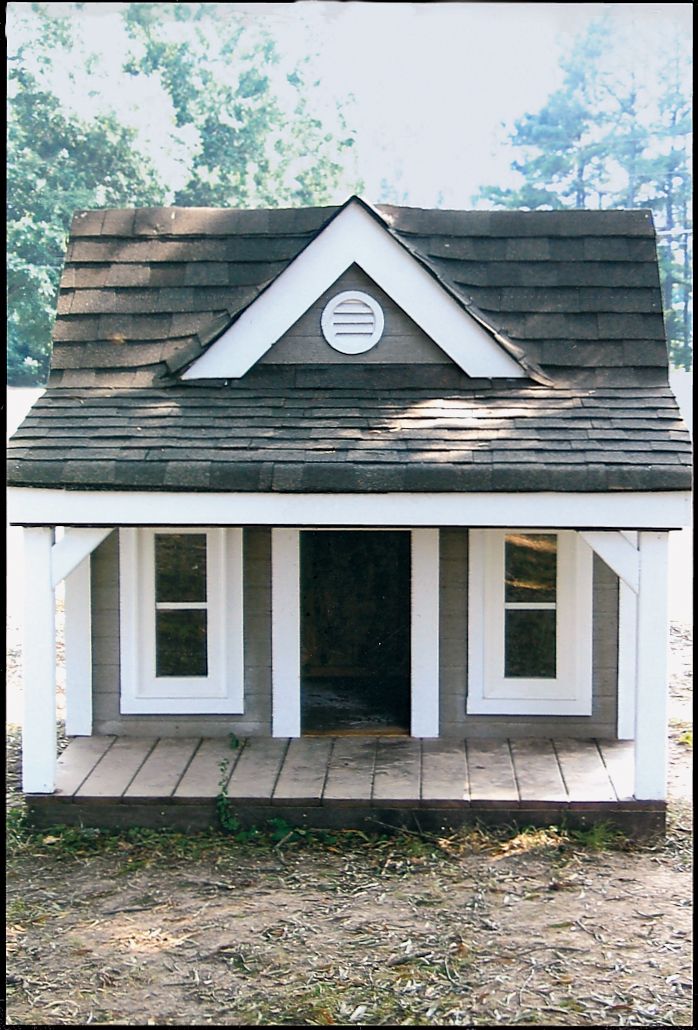 Who: Steve and Sheila Jones
Where: Rock Spring, Georgia
A broad, shaded front porch offers the occupant of this doghouse a cool place to rest on hot Southern evenings.
Complete with Doggie Garage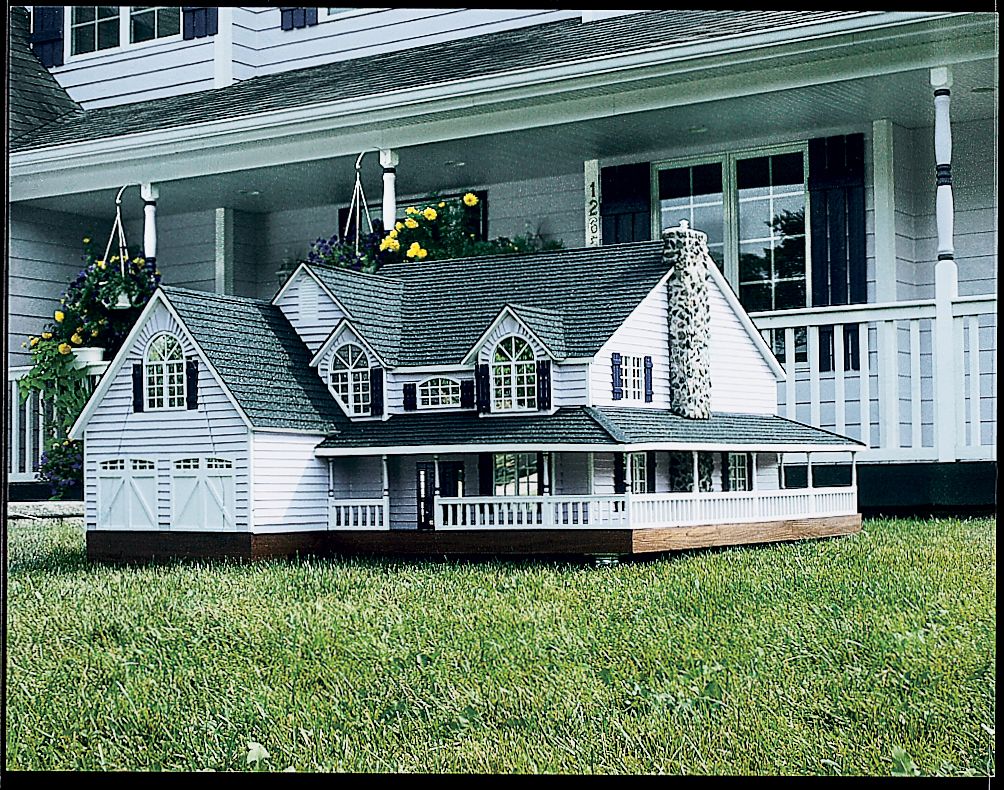 Who: Belinda Palmiter
Where: Davisburg, Michigan
A veritable mutt mansion, with a wraparound porch and a two-bay garage that lifts to make a doggie door.
Working Gutter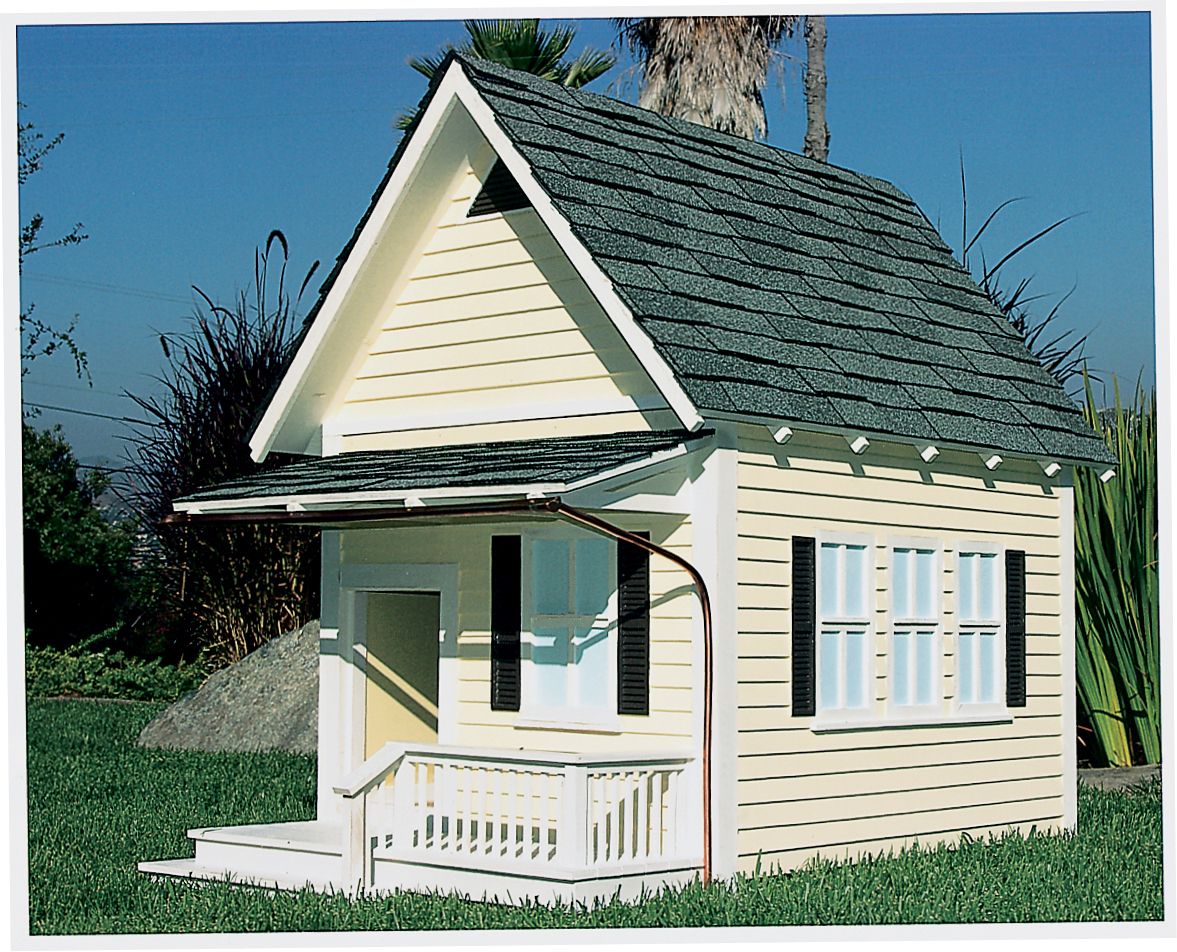 Who: The Fox Family
Where: Escondido, California
All the comforts of home, including shutters, clapboard siding, and a working gutter made from a length of copper tubing ripped in half.
Luxury High-Rise Building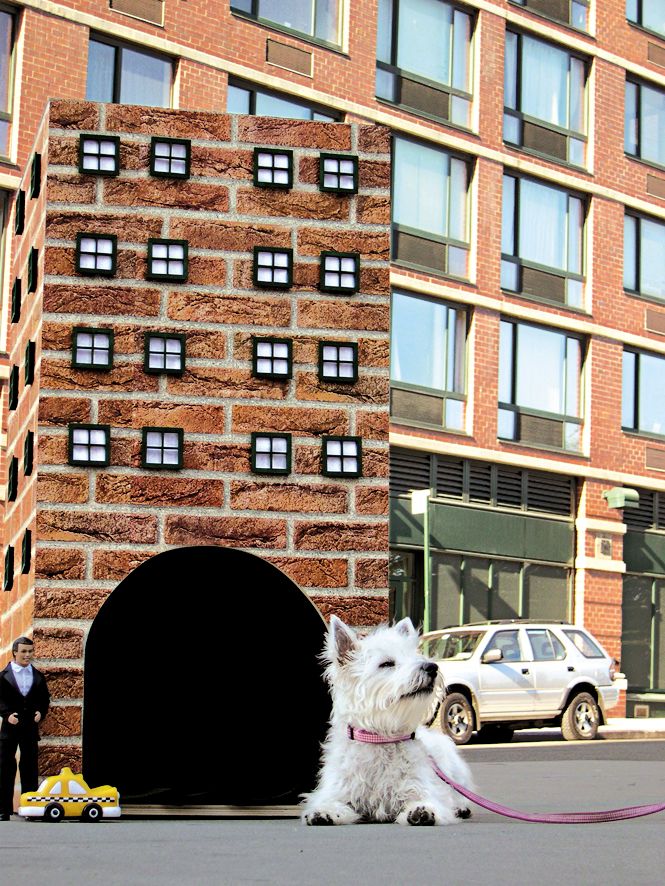 Who: Staci Parrish
Where: New York, New York
Just like the real thing, Frowny's luxury red-brick high-rise includes a doorman, taxi stand, and rooftop garden.
Cozy Colonial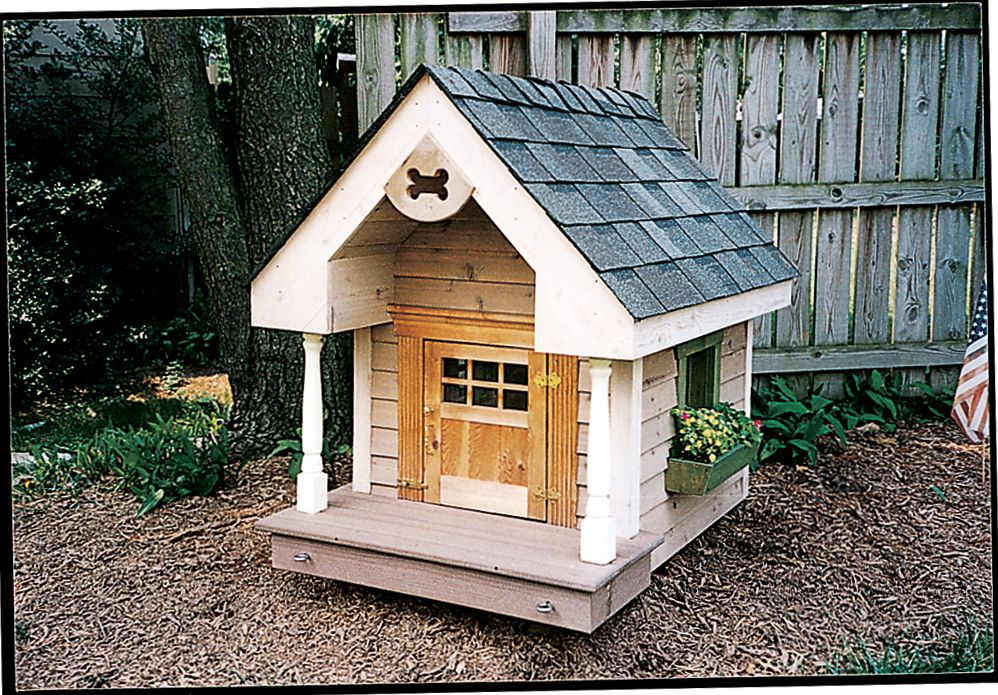 Who: Lauren and Michael Jackson
Where: Erial, New Jersey
It's hard not to be charmed by a cozy canine Colonial, with window boxes and a bone-shaped cutout on the gable.
Dog(house) Cabin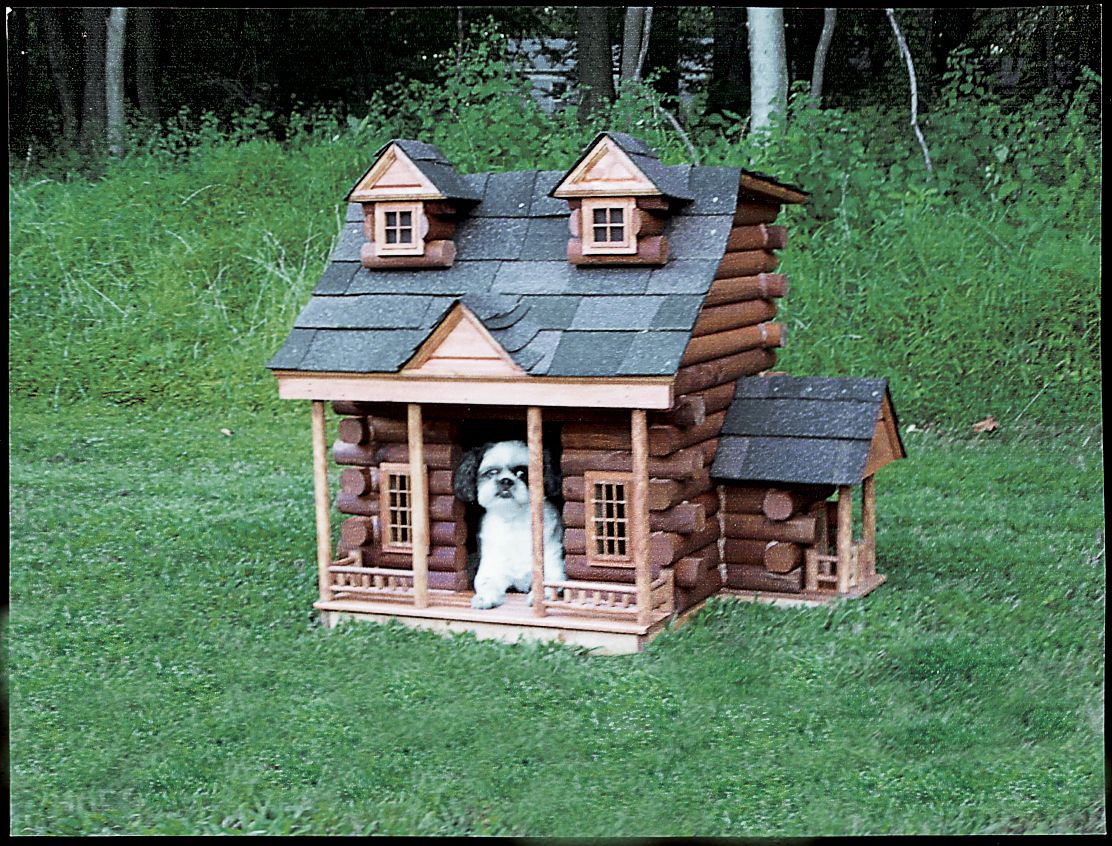 Who: Kelly Hermann
Where: Glen Gardner, New Jersey
A log—or is it dog—cabin, made out of spindles and shingles left over from the construction of a porch on the main house.
Double Doghouse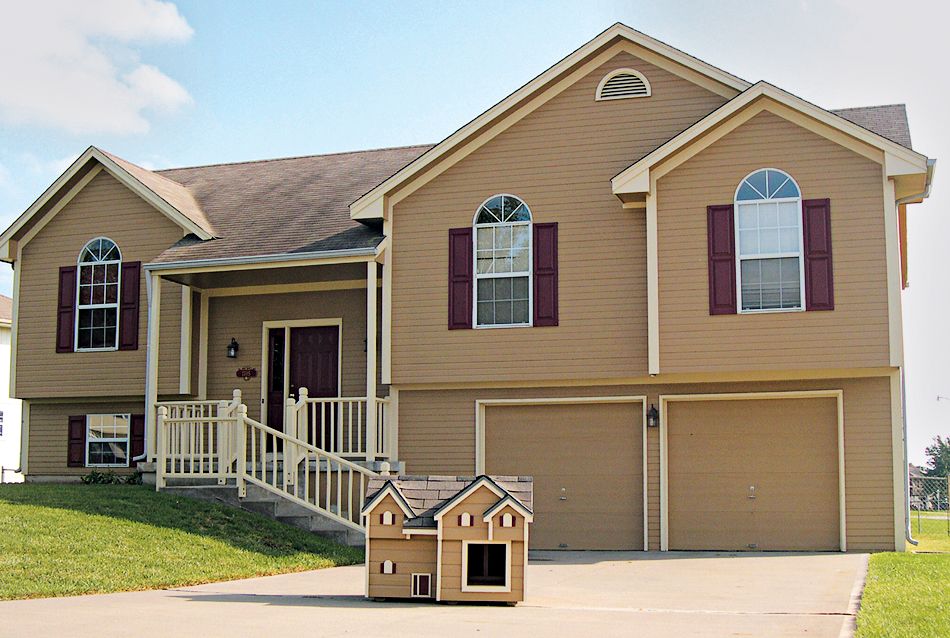 Who: J.C. Davis
Where: Raymore, Missouri
This doghouse-built-for-two is made with scrap siding and cedar trim ripped to size.
Faithful Queen Anne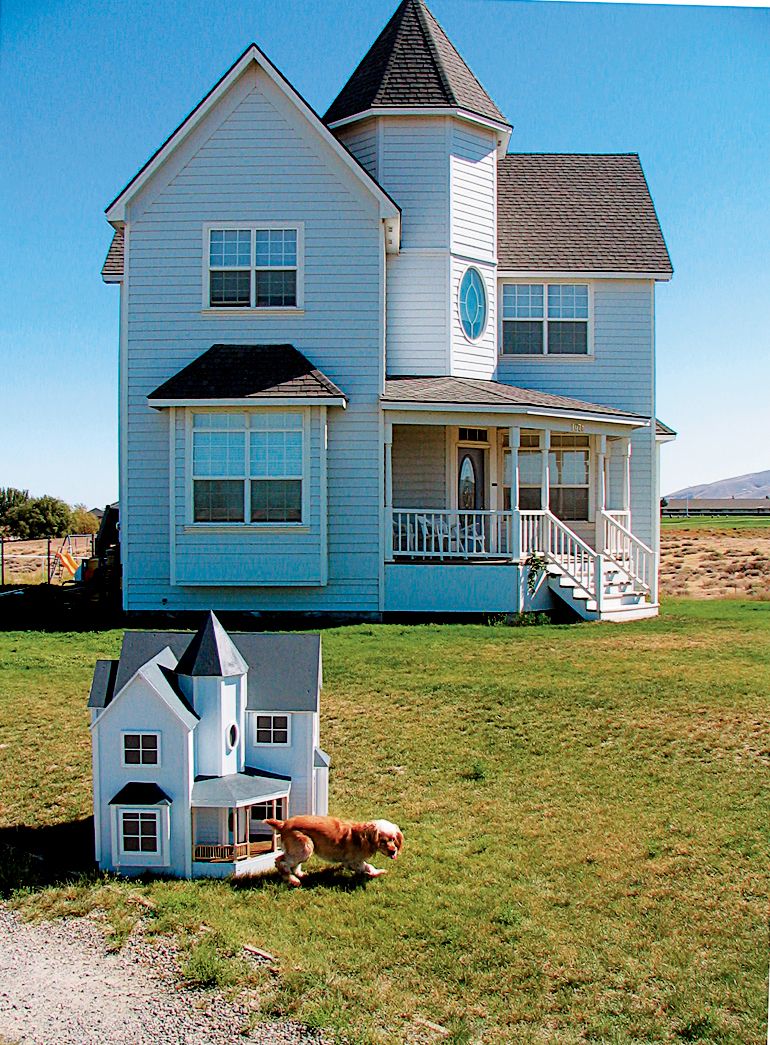 See more on Pets:
• Build a Wall-Mounted Pet Organizer
• Build a Murphy Bed for Your Dog
What You Need to Build Your Own Doghouse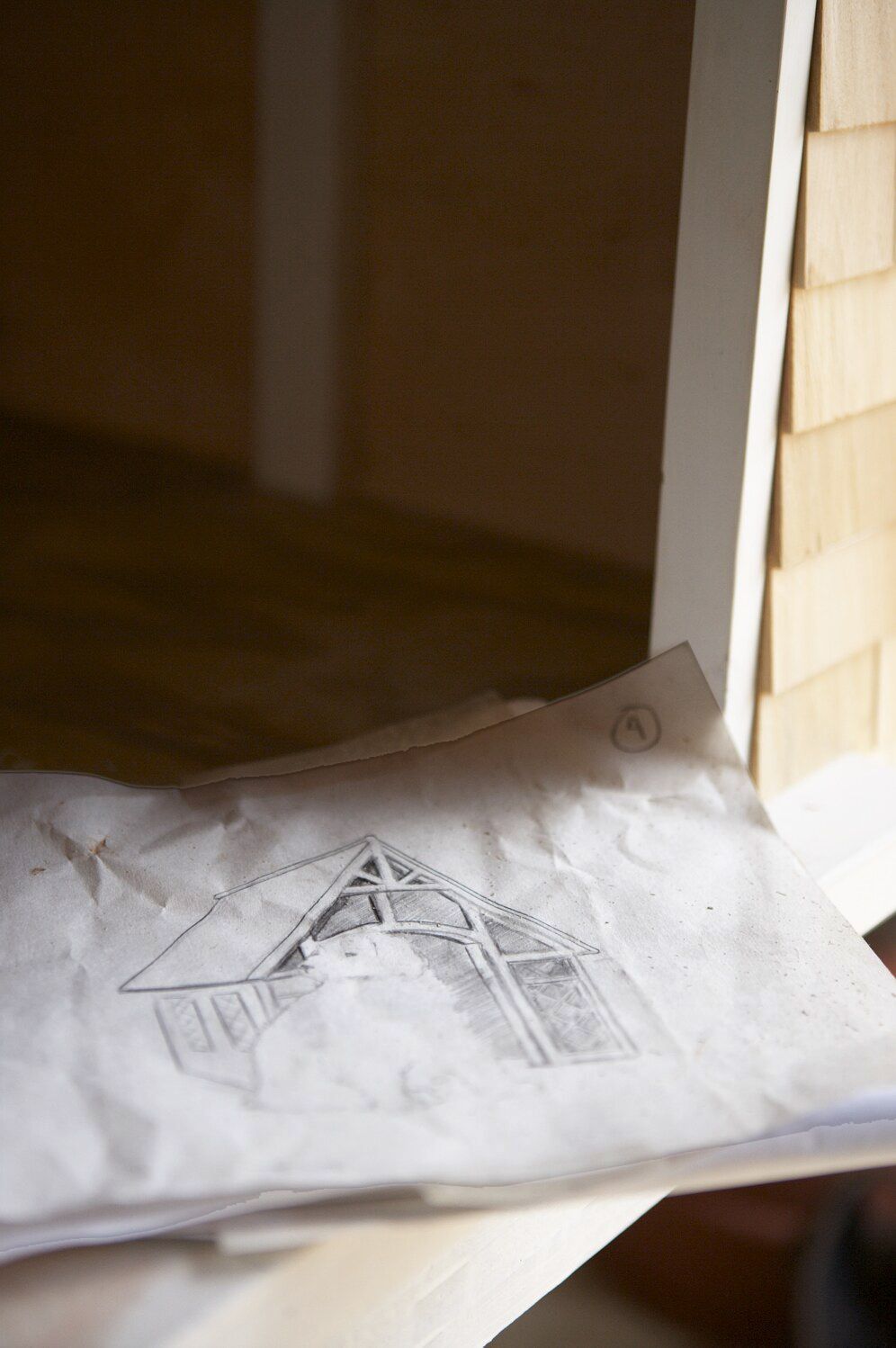 You'll want to use quality materials if you're going to build a doghouse that stands the test of time and a mixed-breed's rambunctiousness, but we don't expect you to mill tiny moldings and other architectural details. Our builders used many stock materials, readily available at building supply stores, hardware stores, and craft shops. Here are some of our favorite prefab parts.
Roofing
Adhesive asphalt sheeting: Ideal for weatherproofing the roof, and it can be cut into strips and laid to give the look of shingles. Paint it gray and—voilà!—you've got faux slate.
Siding
Lauan, or Philippine, mahogany is perfect for making mini-clap-boards. The ¼-inch-thick sheets, which come smooth and paint-ready on both sides, can be scored with a utility knife and snapped.
Walls
Birch plywood: Unblemished and paint-ready, birch ply makes sturdy walls. To build the turret roof on our Queen Anne, we used bendable plywood, available at any good lumberyard or by special order.
Floor
Pressure-treated plywood: Strong and weather-resistant, it makes a tough, durable floor.
Windows
Lattice strips: ¼-by-1½ inch solid wood lattice makes perfect panes.
Fasteners
Galvanized deck screws: essential for the base of the doghouse, which will endure the most contact with water. Standard steel brad nails are sufficient for siding, moldings, and roofing.
Paint and Caulk
Exterior latex paint: Three coats will protect against the elements. Also, exterior paintable caulk is good for sealing around windows.
Doghouse Dimensions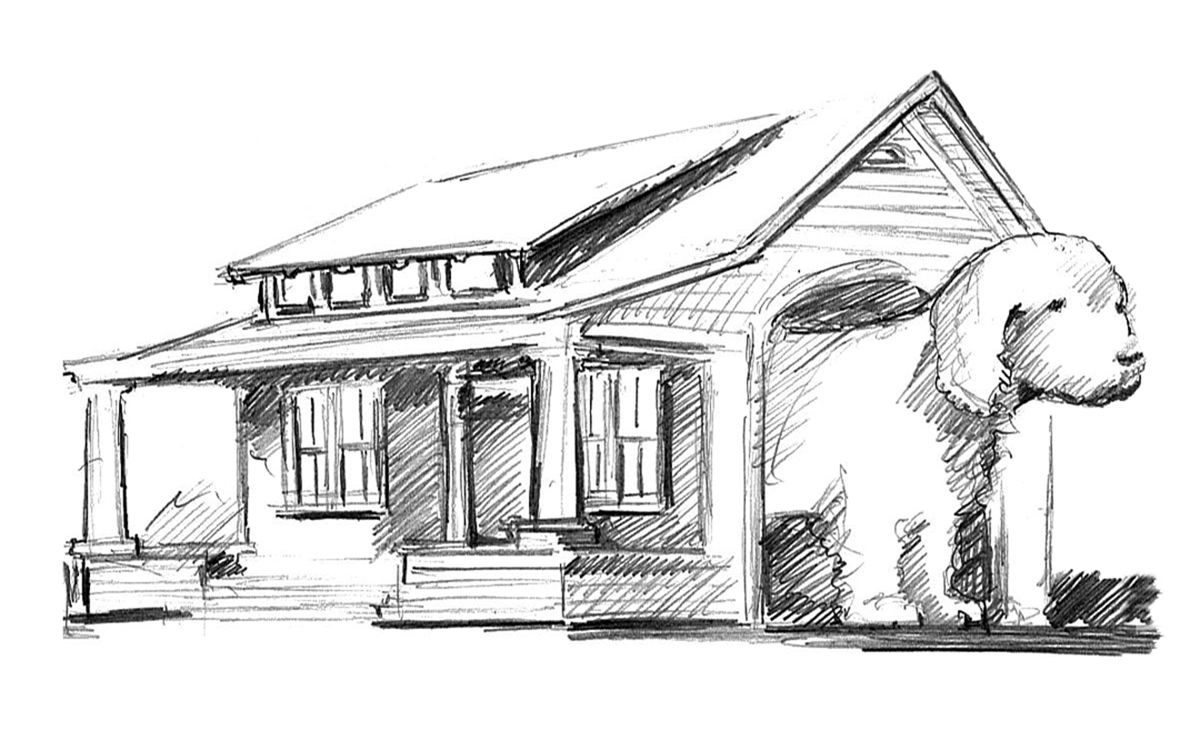 We know that most dogs wouldn't give up their indoor digs to live in a doghouse, unless perhaps it was made of liver snaps. But if you are building a doghouse for your buddy to use as shelter, there are a number of things to take into consideration.
Size
A doghouse needs to be big enough inside for the occupant to stand up, turn around, and lie down comfortably. Measure your dog's seated height from the top of its head to the ground. Ceiling height should be 1 to 2 inches above the dog's head. Unlike some human homes, bigger isn't necessarily better, because it won't hold in the dog's body heat.
Structure
The house should sit on a platform raised an inch or two above the ground. That will not only keep the floor from getting too cold, it will also keep the structure away from pooling water, since your doghouse probably won't have flood insurance. The roof should be pitched to shed rain and be protected with several coats of exterior porch paint.
Interior appointments
Include some kind of nesting material—straw, hay, shredded paper, pine shavings, anything that will keep your pooch warm but won't freeze, like blankets or carpet. In the chilly months, a doggy door in the form of a burlap or canvas flap will work. Just make sure it doesn't seal too tightly for air to get in.