This article appeared in the Fall 2022 issue of This Old House Magazine. Click here to learn how to subscribe.
Anyone who's had to chase a muddy dog through the house understands the appeal of a dog wash located near the entryway. "It's a great way to keep the mess contained," says New York-based architect Dan Contelmo, who points out that it also comes in handy for rinsing off dirty boots and giving houseplants a good soak. A dog-cleaning station tailored to the task is also easier on your back—no more hunching over the family bathtub.
Tips for Designing a Dog Washing Station
Here's how to plan for a dog washing station that best suits your needs.
Where to locate it
Mudrooms, garages, basements, and laundry rooms are the areas that Contelmo focuses on when designing a dog wash; these buffer zones between the outdoors and indoors generally allow homeowners to tie into existing plumbing, saving money. Keep in mind that although connecting to existing supply and drain lines simplifies installation, it likely requires breaking into finished walls and floors. A DIY dog-wash project can cost $1,000 or more just for materials; expect to pay at least twice that if you bring in a pro designer, plumber, or contractor.
Consider the height
A utility, mop basin, or shower pan with pronounced sides installed at waist level eliminates the need to kneel or bend over to wash a dog. This setup is best for small and medium breeds that can be lifted in and out easily or are agile enough to access the tub via a ramp or stairs with nonslip treads.
Prefab dog tubs designed for pro groomers come ready to connect to plumbing but have a utilitarian look. A dog shower is a practical choice for large breeds; size it at least 6 inches taller and wider than the dog. To build one on a budget, use a prefab shower pan that's sloped toward the drain. A shower stall with no door requires a curb to contain splashes. If you add a gate-style door, go with tempered glass in a height that's easy to reach over.
Make your dog comfortable
Slippery surfaces can be stressful for dogs, so make sure the floor is nonskid. For tile, the smaller it is, the more grout lines, which provide traction, Contelmo says. Using a prefab shower pan? Add a rubber mat. Handshowers or pull-out sprayers should be easy to reach; ones that can be operated with one hand let you keep the other hand on your pet.
For an elevated tub, choose a sprayer with an 18-to-24-inch hose that will reach all around the dog. In a stall-style shower, a hand shower with a 3-to-5- foot hose will be most maneuverable. An anti-scald valve is advisable and in some cases is required by code; lukewarm water is best for dogs.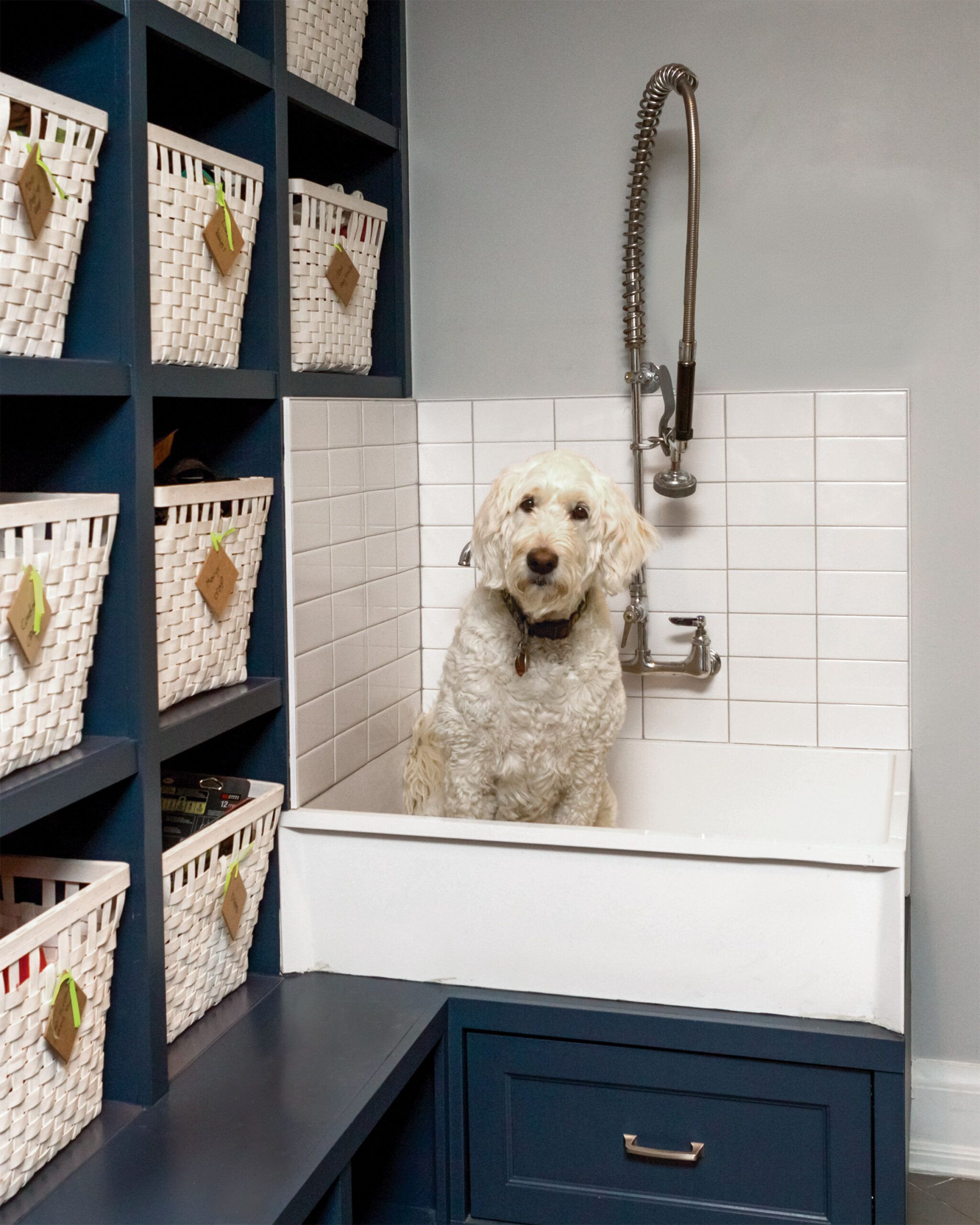 Dog Washing Station Design Ideas
For inspiration, check out these smart dog-wash-station builds for pets of all sizes.
Off-the-shelf solution
A 36-inch-wide acrylic mop basin, 2 feet front to back and 10 inches deep, is set on a back-friendly bench-height cabinet. Home-center subway tile gets a style boost laid in a stacked pattern. The pot-washer faucet was salvaged from a restaurant. Cubby baskets hold essentials, including dog-grooming supplies. The floor (not shown) is durable slate.
Compact shower stall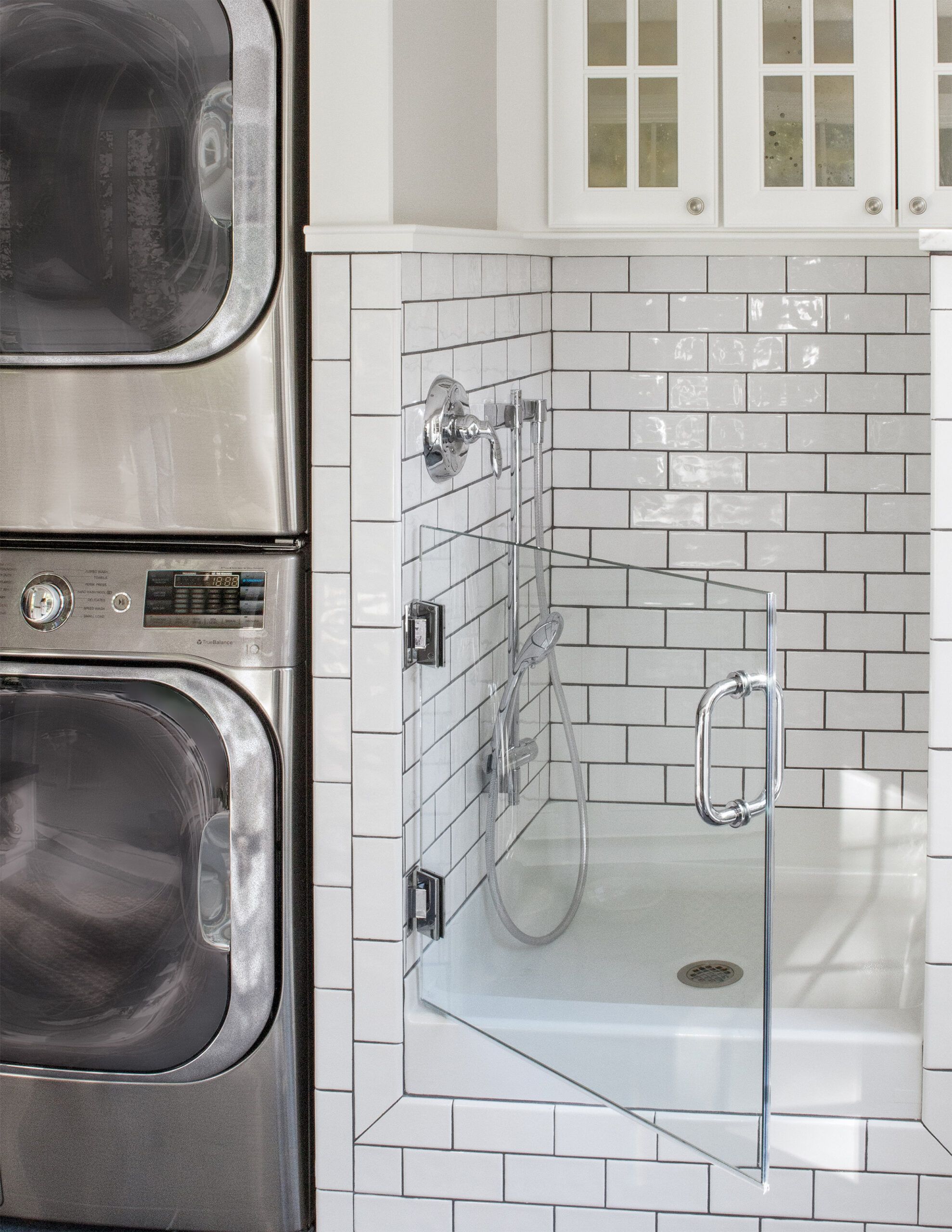 Tucked next to stacked laundry machines for easy plumbing access, a 30-by-30-inch acrylic shower pan, raised a foot off the floor, is sized just right for an 80-pound poodle. Standard white subway tile and a simple hand shower are budget-friendly additions; the 30-inch-high tempered glass shower door ($399) was a splurge—it's kept closed during showers to control splashing.
TOH PRO TIP: "Choose slip-resistant tiles with a matte, textured, or sandy surface for a shower floor. You can also check their DCOF rating: Look for tiles, rated 0.42 or higher." TOM SILVA, General Contractor.
Stow-away stairs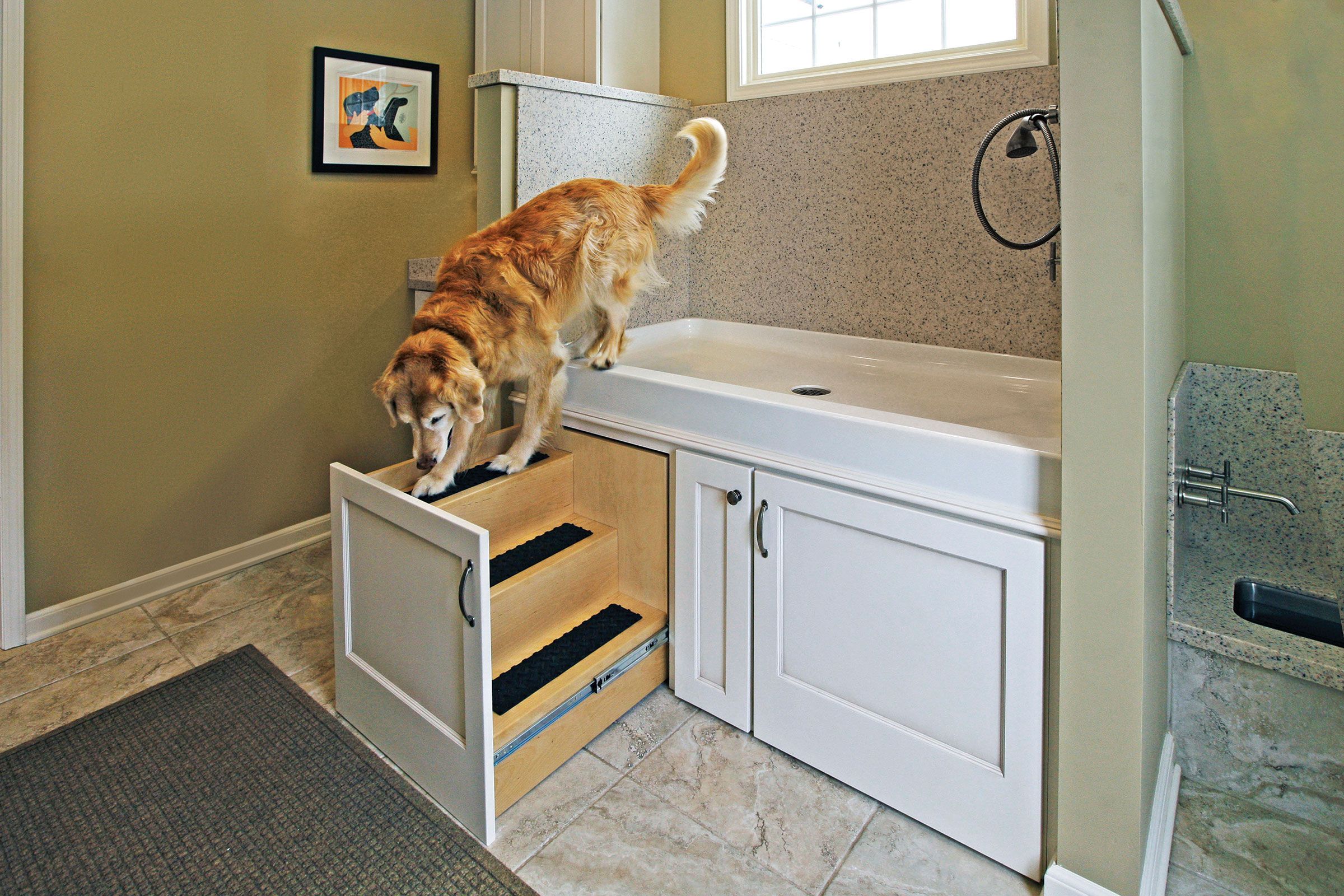 This standing-height dog-wash alcove, located in a mudroom, has three laminate-covered walls and a 60-by-34-inch prefab shower base; a hand shower is mounted at one end. Pull-out steps with nonslip treads and a false cabinet front slide on heavy-duty glides to help the family's large dogs—both calm and nimble enough to safely use them—get up and down. To the right (not shown) is a feeding station equipped with a low sink and, a faucet for freshwater refills.
Stylish and spacious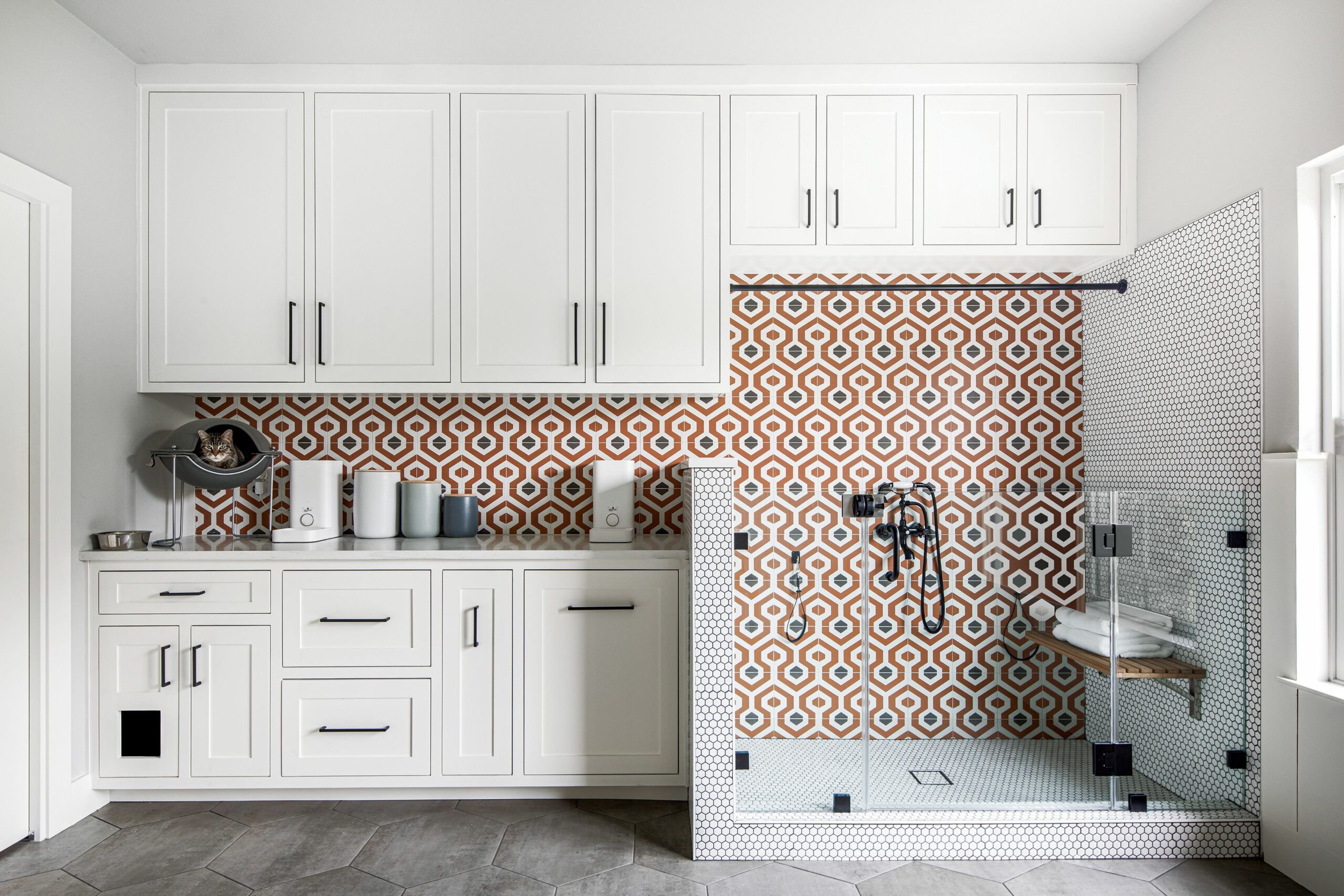 Once a carpeted guest bedroom, this area now houses a bathing enclosure that fits three dogs at once; it was created by tapping into a water line in an adjacent half bath. Large-format porcelain tiles adorn one wall, while 1-inch hex tiles on the shower floor (and elsewhere) minimize slipping.
A fold-down teak bench offers the homeowner a place to perch. The tempered glass door autolocks when closed to keep soapy dogs from escaping; it opens with the press of a button. A tub filler for mop buckets and a rod for drip-drying laundry give the shower multiple uses.