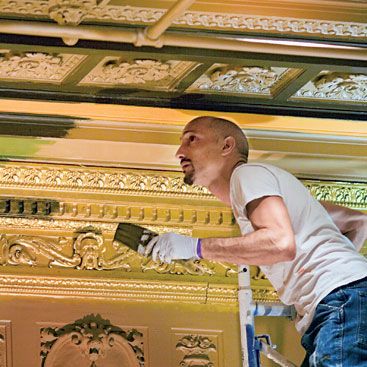 Alpha Workshop's nonprofit company of 30 craftspeople has restored many precious New York sites, including the parlor in the city's mayoral residence, Gracie Mansion, and the Beaux Arts ballroom in the landmark Prince George Hotel. They're known to apply the same care in retouching a fresco in an apartment. But there's another key reason homeowners hire them: Besides reviving the disappearing art of faux finishes, murals, and wallpaper—all modeled after techniques of the Arts and Crafts movement—the group also trains and employs AIDS/HIV-positive adults in the decorative arts. Good deeds as well as great work.
Since its founding by executive director Kenneth Wampler in 1995, "the studio has been known for high quality," says Kelly Castagnaro, spokesperson for Common Ground Community, a nonprofit that owns the Prince George. "Everyone who sees the ballroom is in awe."
Now, they've gained fans beyond Manhattan, going as far as Connecticut and New Jersey for restorations. For clients farther away, crews restore shippable items in their four-story workshop. The program is as much about the staff's well-being as it is about craftsmanship. "Keeping busy helps you stay well," Wampler says.
Some workers had painting and restoration skills when they joined. Others have spent a rigorous eight-and-a-half months honing their skills. Perfection is part of the mission. As Wampler puts it, "Everbody here has an illness. But they're also particularly good at the work that they do."
For more on Alpha Workshops, visit alphaworkshops.org