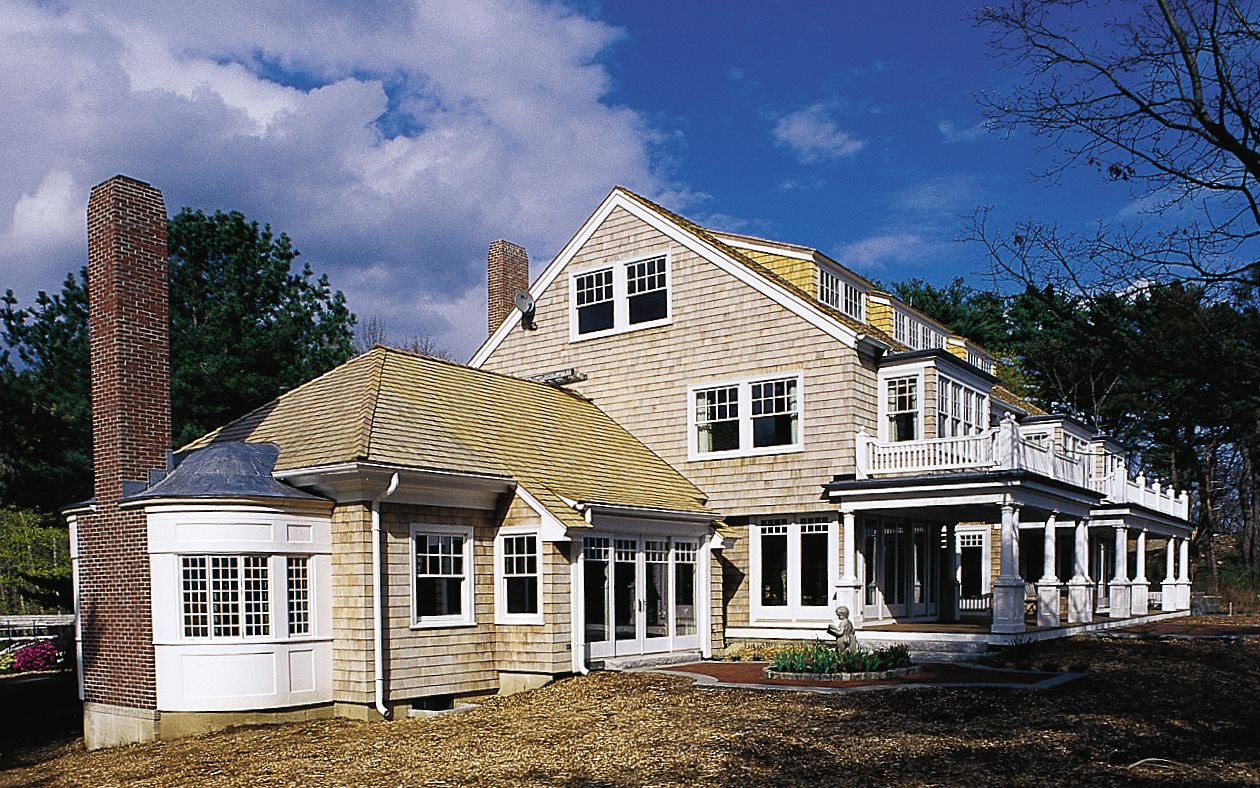 As Yankees, we have a fondness for the tried and true — tried meaning "traditional," and true meaning "long-lasting and fuss-free." Traditional is good, because who wants to stick out or be flashy? True is good because there's nothing worse than spending good money and precious time fixing or building something, only to have to do it again when it fails too soon. And besides, if something was good enough for our fathers, then it's good enough for us.
But, despite our inborn leanings, we try hard to open our minds to new
things, especially if we can see how they are an improvement on the old
— (sorry Dad). Pneumatic nailers. Latex paint. MDF. Maybe even cement clapboards and urethane moldings. Though it's always risky for us conservative types, we are willing to experiment.
This year, we're doing it on the roof in Manchester. Emboldened perhaps
by the synthetic slates we used on the Billerica project (which seem to be holding up just fine), we are trying another alternative roofing material: shingles made of pressure-treated southern yellow pine.
Since our goal is to restore the McCues' house to its earlier glory, a
wooden roof fits the bill. The traditional material of choice would be western red cedar, which we've used to great effect on our Nantucket,
Belmont, and Honolulu projects. But cedar roofs require maintenance — periodic cleaning, application of mildicide in certain conditions — and, like most wood species, today's cedar just isn't as tight-grained and long-lasting as the stuff our forebears got to use.
Ironically, the southern yellow pine that our new shingles are made from
is the quintessential modern tree: grown on a plantation, 25 to 50 years
old, with wide growth rings, it is not exactly renowned for its stability and longevity, especially in outdoor applications. It is, however, a stronger wood than cedar, making it tougher in hail and high-wind conditions. To overcome the wood's tendency to cup and split, the manufacturer has impregnated the shingles with a water repellant. To
protect it against rot, insect attack, fungus, mold, and mildew, the
wood is 100-percent saturated with chromated copper arsenate (CCA)
preservative. The company also offers, and is moving toward solely
offering, the more-benign but equally effective ammoniacal copper quaternary (ACQ) preservative.
The result is a shingle that the company warrants against fungal decay, rot and termites for 50 years, which is 20 years longer than the
highest-rated red cedar roofing. Although it went on with the greenish
tint of the CCA preservative, it has already begun, after three months,
to tone towards a brownish-gray. The company says it will weather to a
uniform silver-gray in about a year.
Mark Mulloy, our roofing contractor, estimates that covering the project
house's large, 5,300-square-foot roof would cost out at about $790 a
square (100 square feet). Western red cedar would have been around $880 a square. The pine shingles retail at around $185 per square (at 5
inches exposure), against about $220 for red cedar. Each scenario
includes covering the entire roof in bituminous membrane and a
three-dimensional nylon mesh that allows air to circulate underneath the
shingles, allowing them to dry out and extending their life. The
manufacturer of the pine shingles doesn't require this last step, but we
Yankees are thinking that one experiment at a time is just fine, thanks.
After a few months working with it, Mark and his crew have learned to
live with this new material, if not love it. Unlike cedar, yellow pine cannot be scored and snapped for quick fitting, so the crew has had to haul a table saw up onto the roof. Also unlike cedar, the pine is not radially cut, and therefore the incidence of true vertical grain is much lower — Mark guesses around 40 percent. "That means," he says, "the
shingles are relying on the water repellant to combat cupping. If that
goes, the cupping will increase."
Since these shingles are 24 inches long, versus cedar's 17 inches, the
exposure can be increased somewhat without risking leaks. By increasing this roof's shingle exposure to 6 1/2 inches, from 5, he's using — and installing — fewer shingles; he reckons he's knocked about $7,000 to $8,000 off the bill. Finally, yellow pine shingles come in narrower widths than red cedar — 3 to 8 inches, versus up to 10 — which makes staggering the joints more time-consuming. Mark and crew dislike that; Tom Silva, however, points out that narrower shingles
expand and contract less than wide ones, allowing the roof to "move"
more easily in changing heat and humidity.
Interestingly, these shingles are very popular along the southeastern
seaboard, known for its tough wind, rain, and humidity. How will they
work in Manchester? Time will tell. So far, Mark is guardedly optimistic. "I'm getting used to them," he says, "and I think I'll end up liking them. I know the homeowners will like the lack of maintenance. I remember being skeptical of those synthetic slates in Billerica too, but I've put them on several more roofs since then and really think they're great."
We'll hope the same is true with this latest newfangled thing.