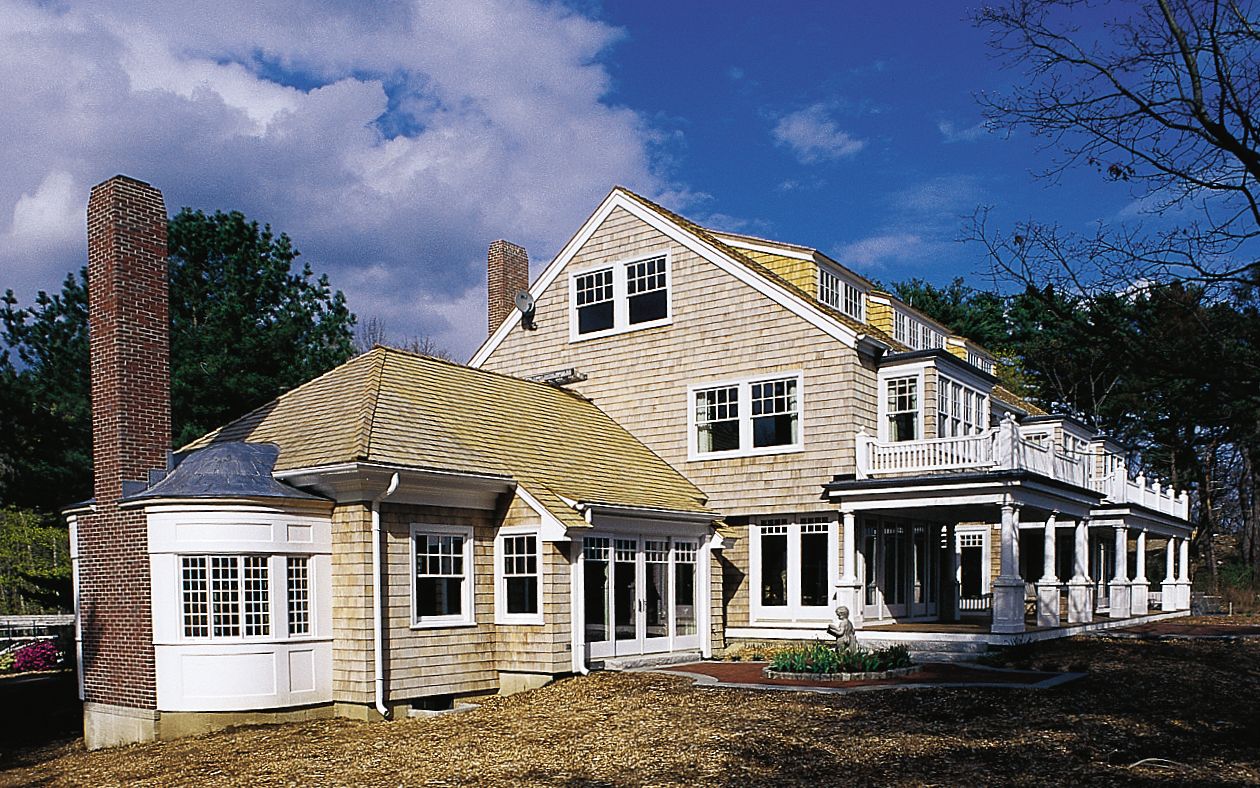 Motoring around Manchester Harbor in a new, 33-foot custom sport cruiser, built in my shop for a client in New Hampshire, I watched the This Old House crew transforming the McCues' house. It was quickly becoming more elegant than many of the other homes that watch over the harbor. And it was obvious that Tom Silva's crew knew how to produce a good product fast. Politely declining a joy ride because of their tight schedule, This Old House invited me to bid on the casework for the project.
The Silva Brothers were taking care of the interior paneling and trim, or millwork; Woodmeister was doing the kitchen; but many of the other
storage areas and functional built-in furniture could be organized into a single casework job: built off-site and installed at an appropriate time in the construction process.
Getting the casework drawings from architect Steve Holt, I organized the pieces room by room:
1. China cabinet (Dining room)
2. Music room
3. Mud room
4. Home office
5. Game room
6. Kitchen alcove
7. Children's bath
8. Master bath
9. Four bookshelves (2nd-floor)
Cabinetmakers tend to specialize in one method of construction or another, as do I. The designs for the McCues' cabinetry throughout the
house call for both beaded face-frame cabinets with inset doors, as well as others using frameless or "Euro" construction with overlay doors. Most of the pieces will be painted, inside and out, while the music room bookshelves and wet bar are mahogany to match the rest of the room, stained on site. In the master bath, the dressing table and vanity will also be stained on site after the stone counters are installed. So in terms of the variety of cabinetry to be built, a job like this one would
typically present some serious challenges.
As to size, relative to large residential homes in the area, the McCue job was about medium: measuring all of the pieces along the floor, pushing
together low and high bookshelves, floor-to-ceiling pantry units, lower
cabinets with counters and upper cabinets above them, there are about 93 linear feet of cabinets in the whole job: 43 plywood boxes (or "carcasses"), all different, into which are installed 66 doors, 17 drawer fronts, and 23 drawer boxes or roll-out trays.
After some discussion about design of cabinetry within the different areas of the house, I received a deposit. It was time to get to work.
By custom woodworking standards, my shop is small and I do not have an abundance of expensive equipment. In order to improve my productivity, I decided last year to put off capital investment in machinery, and, instead, invest in an area that would free up my time spent on
repetitive non-construction tasks. I had the computer for accounting,
Internet research, e-mail, payroll, and even to look at drawings when they came to me as data files. But I was still drawing rectangular plywood boxes by hand (five sides and a door or drawer) at the beginning of each project. This was taking too much time away from planning the unique aspects of a job.
National home supply chains and boutique kitchen and bath stores have raised the bar for communicating design ideas. In minutes, these businesses can provide colorful perspective renderings of cabinet design ideas on their computers. For the most part, these renderings are sales
tools for large cabinet manufacturing companies selling specific cabinets, with listed options, priced at the click of a mouse. British customers are now also able to go online to define a room (overall size, location and size of windows and doors, location of plumbing and outlets), then select a style and color of cabinets — even the appliances they would like to have — and then with another
click of a mouse, see several different perspective renderings of their new kitchen, along with the price. Within days they'll receive a
complete catalog of cabinets and appliances, and have the option of
speaking to a sales representative. This kind of online design should be
available now in the American market soon.
All of my work is custom-built to suit a specific need. I wanted a CAD program that could make my drawing process more efficient. Researching
drafting programs, I found enormous additional benefits for my business.
Besides quickly drawing cabinets with my construction methods, the
program keeps track of every piece of wood that goes into each cabinet
and allows me to print out any list of parts with dimensions. This is a
big time saver over making up cut lists by hand from drawings. Laying
out the parts to cut out of a piece of plywood in order to conserve material is now done with a mouse click instead of a scale rule and
graph paper. Even pricing, down to a foot of edge banding, is calculated
for the entire job in the program. So, with a single product, I greatly
improved the whole process of designing and organizing my projects. Coupled with 3D visualization, the whole design process is much richer with this software. It is a much more interactive process with clients
and architects, and provides better communication with employees and
other subcontractors during the production stage.
This was enough to get me to purchase the cabinet design software. But there were additional benefits I wanted as well. Cutting plywood and drilling holes for shelves is easily done on large machines in production cabinetmaking shops. The software I bought can also write the computer code that the machines use to cut the parts. Ten days after I started at the McCues' house, I e-mailed a file with the final job drawings to a large cabinet manufacturer in Indiana who uses the same software to run his machines.
Two weeks later, most of the parts arrived at my shop, and we began to
assemble cabinets. Partnering with other shops that own production manufacturing equipment allows me to do a better job for my clients by
more easily predicting costs and scheduling. The doors arrived just as
the installation was beginning so they could be painted on site, and the
pre-finished drawers arrived for installation after the cabinets were
finish-painted.
Computer-controlled machining of wood products is currently at the same point in its development as computer-controlled machining for metal products was in the mid-70s. As recently as five years ago, a cabinet shop that used computer-controlled equipment was unusual. Within the next five years, the shop without some computer-controlled equipment
will be the one that's unusual.
While the process for designing and making a cabinet has changed, the
rules have not. Done well, cabinetmaking is a thoughtful,
detail-oriented trade. Large machines, cutting lots of parts quickly, do not replace either quality or appropriate design. But organizing a bunch of cabinetry projects on a computer with the same functionality as a word processing program can streamline the process. Then, getting many parts cut automatically, the cabinetmaker can concentrate on overall quality and the unique aspects of a job.
The McCues have been gracious clients and very easy to deal with. I am honored to be involved with them and their team by contributing in a
small way to the creation of such a lovely home in a community that I
enjoy as well.
Tom Perkins was the cabinetmaker for the Manchester project.